Various Ways to Make a Cake at Home without an Oven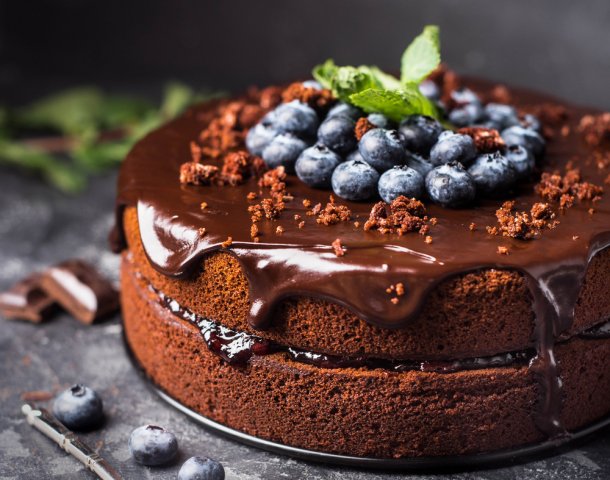 Cake in Pressure Cooker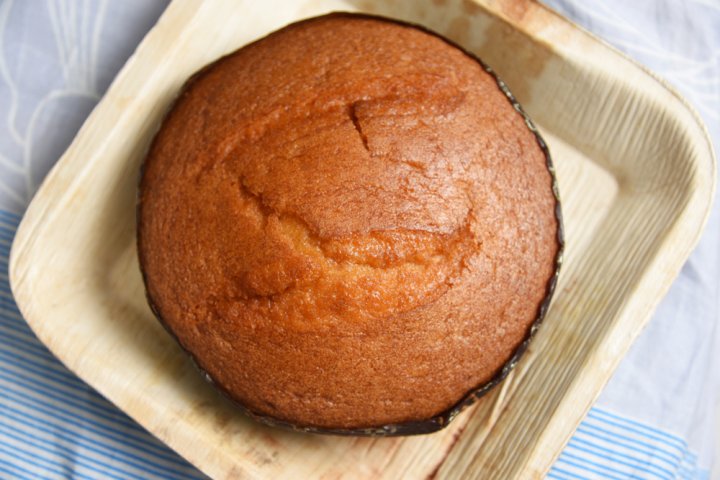 Wondering how to make a cake at home when you do not have an oven? Well, that is completely possible with the pressure cooker method. You can easily bake a cake in a pressure cooker which turns out to be moist and spongy enough. All you have to do is remove the gasket and pour some salt or sand in the cooker. Put a stand in the cooker, pre-heat it and then put your cake mould and bake it for the required time period. You will be good to go.
Cake in Steamer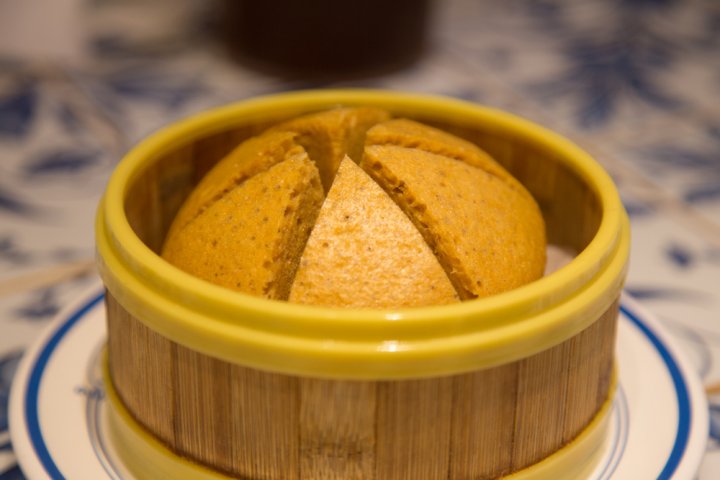 In addition to delicious idly and spongy khaman, you can also make a cake in your steamer too. In fact, the cake made in a steamer is much more moist and soft as compared to that of an oven or a pressure cooker. All you have to do is put the cake batter in a mould and place is gently in the steamer. You can cook on medium or low flame so that the cake turns out to be well cooked from the inside.
Cake in Stove Oven
Using a stove oven is as convenient and simple as other methods like a pressure cooker and a steamer. This comes quite handy to bake a cake when you are not having an oven at your home. Baking a cake in a stove oven is the same as baking it in a pressure cooker. However, it is even easier to use a stove oven which is also used for making batis in Indian households. You just need to place the mould on the wired grill and cover the oven. Cook it on low or medium flame and your cake will be ready.
Step by Step Recipes to Make a Cake at Home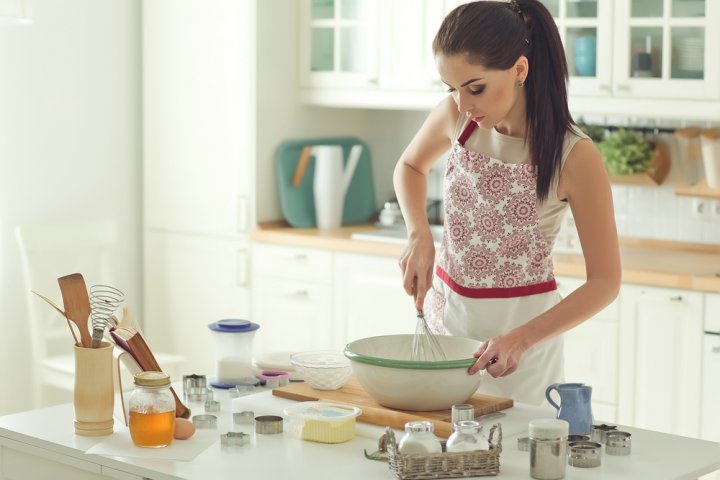 Chocolate Cake in Pressure Cooker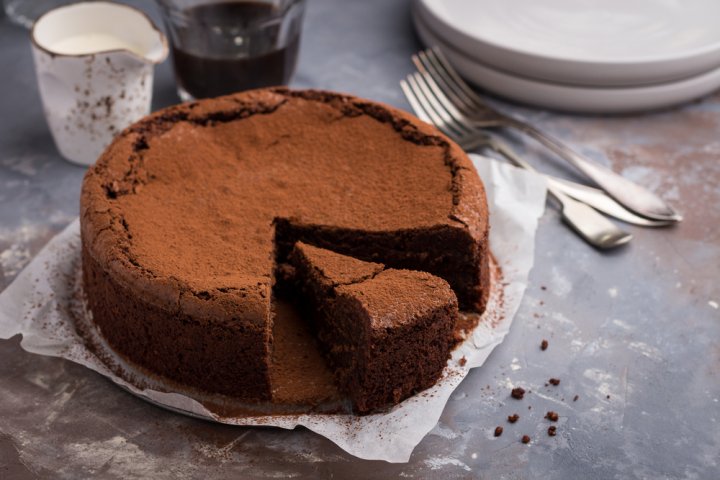 With this recipe you will not only get to learn how to make a cake at home without an oven but also that you can make a cake without flour. This wonderful chocolate cake is made without flour and you should definitely try this recipe right away.
What You Need:
100 gm chocolate
4 eggs
75 gm butter
100 gm sugar
Flaked almonds
How to Make It:
Use the double boiler method to melt the chocolate, in the meantime preheat the pressure cooker.
Take another bowl and whisk butter and sugar together.
Then mix 4 egg yolks, one at a time and keep on whisking, meanwhile whisk 3 egg whites in another bowl and turn them frothy.
Let the melted chocolate cool down and then mix it in the butter mixture along with the egg whites and stir well.
Now that your batter is ready, pour it into a lined baking tray/mould and garnish with flaky almonds.
Put this baking mould into the pressure cooker on a stand and cook for 35 minutes on medium flame.
Serve with vanilla ice cream.
Biscuit Cake (No Bake Recipe)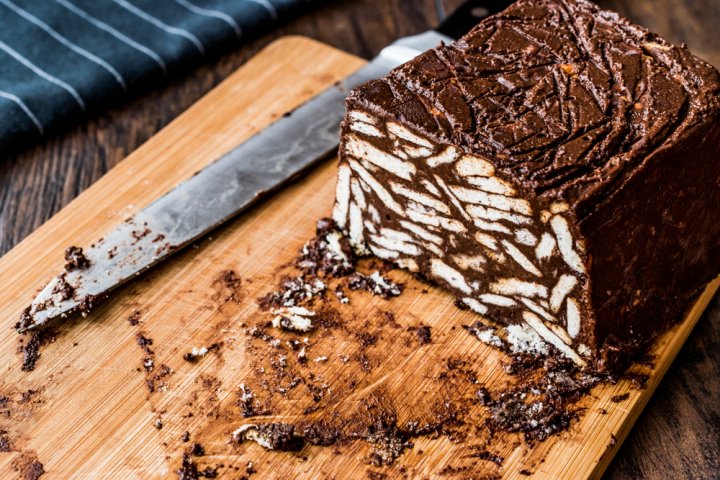 Forget about an oven, you do not even need a pressure cooker or steamer for this. If you are wondering how to make a cake at home without any appliance then this no bake biscuit cake recipe is just for you.
What You Need:
250 gm biscuit (any biscuit)
¼ cup nuts chopped
1 cup full fat milk
1 tsp vanilla extract
3 tbsp cocoa powder
½ cup organic sugar
2 tbsp unsalted butter
½ cup chocolate chips
3 tbsp milk
How to Make It:
Firstly, make chocolate syrup by mixing sugar, 1 cup milk and cocoa powder in a pot on low flame.
Keep on stirring to make sure the mixture is lump free and keep cooking until it gets thick. Keep aside the syrup to cool down.
Line a baking pan and leave it aside.
Break down the biscuits in ½ inch pieces and mix with chocolate syrup and stir well.
Transfer these syrup coated biscuits to a baking pan and press them to create a base. Keep it in the fridge for 1-2 hours to set.
Prepare chocolate frosting by melting the chocolate and milk through double boiler method.
Unmould the cake and pour the chocolate frosting on it. Let it chill and then serve.
Basic Vanilla Cake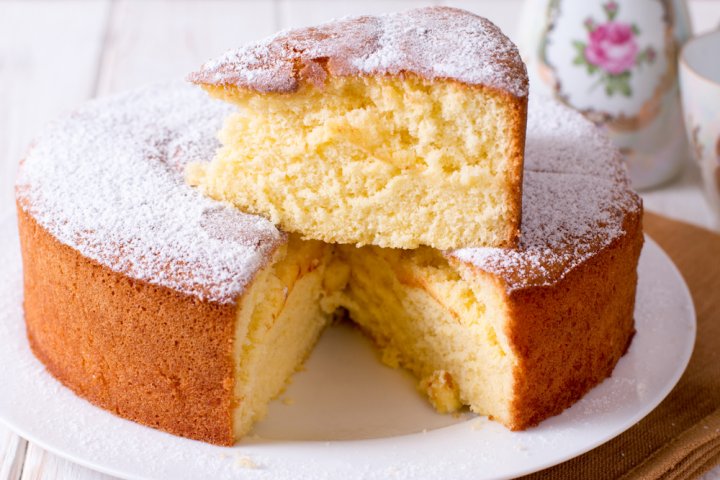 One recipe you can bake at home without making any mistake is that of a basic vanilla cake. Try this eggless cake recipe which can be made in a pressure cooker and enjoy this simple vanilla sponge cake as a snack.
What You Need:
2 cups all purpose flour
1½ cups castor sugar
2½ tsp baking powder
½ cup butter
½ cup water
¾ cup yogurt
1 tsp vanilla essence
¼ tsp salt
How to Make It:
Prepare a 2 x 6 round baking tin by greasing and dusting it.
Take a mixing bowl and sift flour and baking powder in it.
Now add sugar, butter, water, salt and vanilla to it and beat it till everything is blended well.
Then add yogurt to it and beat until the mixture becomes smooth and glossy.
Pour the batter in the baking tin and cook in preheated pressure cooker for 30 minutes and then serve with tea or coffee.
Simple Stove Top Lemon Cake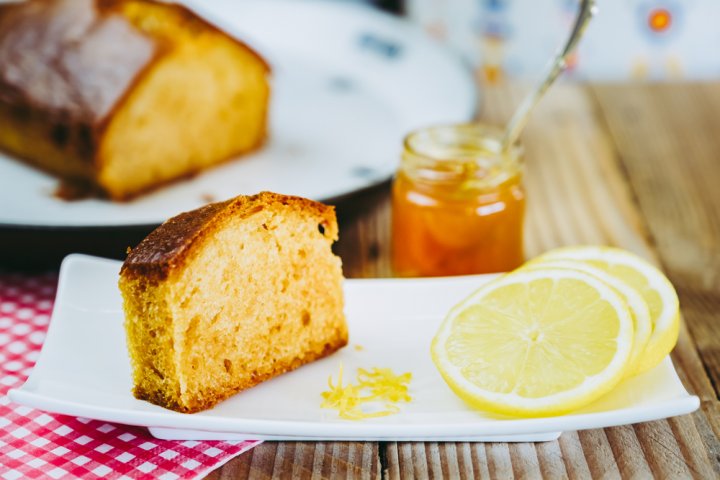 Lemon cake might come across as a tricky recipe to nail that perfect taste. But if you are wondering how to make a cake at home easily with such a flavour then this recipe is just for you. The stove top method is easy to pull off and the end results are simply delicious.
What You Need:
1 cup baking flour
1 egg
1 cup milk
½ tsp baking powder
¼ cup sugar
1 tsp salt
1 tbsp grated lemon peel
1 tsp vanilla
Margarine
How to Make It:
Take a bowl and add the melted margarine and eggs and whisk together.
Add milk to this and keep on whisking to attain a smooth consistency.
Take another bowl and sift flour in it, then add baking powder, sugar, salt and mix well.
Now mix the wet ingredients to the dry ones and then add grated lemon peel and vanilla and mix to obtain a smooth mixture.
Pour the mixture in a prepared baking pan then bake the cake for 10 minutes on medium heat and then 20 minutes on low heat. Enjoy the cake with coffee.
Steamed Moist Banana Cake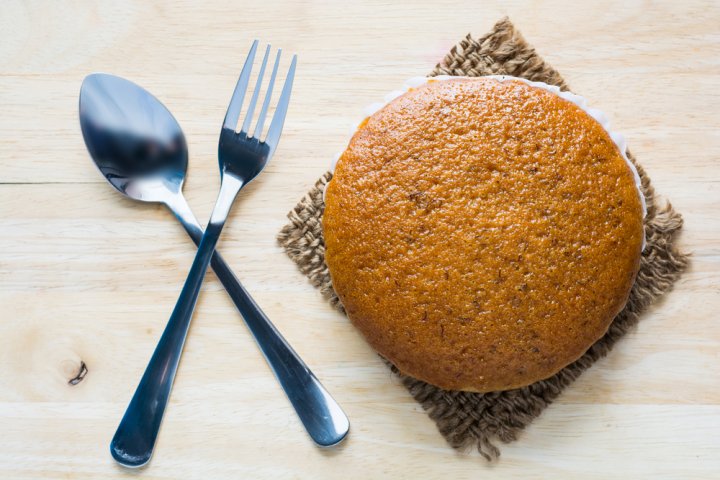 Banana bread or banana cake is one of the healthiest alternatives to regular cakes. The best thing about this recipe here is that you can make it in a steamer and this light cake can be enjoyed at any time in the day.
What You Need:
300 gm bananas (without skin)
250 gm flour
170gm sugar
170 gm melted butter
4 eggs
1 tsp baking powder
1 tsp baking soda
⅛ tsp salt
How to Make It:
Sift the flour, baking powder and baking soda in a bowl and set it aside.
Now melt the butter in a pot and when it cools mash the bananas in another bowl.
Beat the eggs and sugar in a bowl until it becomes thick and creamy.
Then add melted butter and mix, followed by mashed bananas and flour then mix again until everything comes together.
Pour this batter in a lined baking tray.
Heat up the steamer for 10 minutes and then put a baking tray in it.
Steam for 45-50 minutes on high heat and your cake will be ready.
Stove Top Coffee Cake
Learn how to make a cake at home that too in coffee flavour with our simple recipe mentioned right below. You can enjoy it as a snack or just apply frosting on it and enjoy it as a wholesome cake.
What You Need:
1 cup all-purpose flour
¾ cup granulated sugar
½ cup softened butter
1 tsp baking powder
2 tbsp instant coffee powder
1 tbsp boiling water
¼ cup low fat milk
2 eggs
1 tsp vanilla
How to Make It:
Sieve the flour and baking powder thrice, meanwhile add coffee powder to boiling water and set aside to cool down.
Take a bowl and add cream butter and sugar to it till it becomes creamy.
Then add 1 egg at a time followed by vanilla essence and coffee and keep on mixing until everything comes together.
Meanwhile keep the stove top oven on flame to preheat.
Now add the flour in three parts in the butter mix along with milk and mix just enough to combine it all.
Use a prepared baking pan and pour the mixture in it, then bake for 20 minutes on medium heat and then 10 minutes or less on low flame and your cake will be ready.
Healthy Wheat Cake
Do you want to learn how to make a cake at home without egg? This recipe of a healthy wheat cake is just the right answer for it. The eggless wheat cake is easy to make and delicious to taste.
What You Need:
1 cup whole wheat flour
½ tsp baking powder
½ cup sweetened condensed milk
1 tsp vanilla extract
80 gm unsalted butter
½ cup water
4 tbsp sugar
How to Make It:
Prepare a 6 x 6 inches square pan and set aside.
Sieve wheat flour in a large bowl with baking powder, meanwhile preheat the oven at 180°C for 20 minutes.
Now add ½ cup condensed milk and vanilla extract to it but do not mix and set aside.
Take butter in a pan and add water and sugar to it and melt the butter on low flame and bring it to a boil, then add it to the flour mix.
Use a wired whisk to mix it all together to make a smooth batter.
Pour the batter in the greased pan and bake for 45 minutes and then enjoy with tea.
Steamed Marble Cake
You would not have seen such a pretty cake that you would not want to cut into pieces. This steamed marble cake is as delicious as it looks and with this cake you can enjoy two flavours in one bite.
What You Need:
400 gm all purpose flour
200 gm sugar
200 gm butter
20 gm cocoa
10 gm baking powder
¼ tsp salt
50 ml coffee brewed
4 eggs
100 ml sour milk
1 tsp coconut essence
How to Make It:
Sieve the flour and baking powder in a bowl.
Prepare your baking tin and heat up the steamer.
Take another bowl and add cream butter and sugar to it.
Then add coconut essence and eggs one at a time followed by sour milk and then beat again.
Now, fold the flour in it and combine well.
Then divide the batter into two equal portions. Add cocoa powder in one portion and brewed coffee in another.
Now pour one ladle of cocoa mix in the tin and then one ladle of coffee mix and keep on doing this until both the batters are finished.
Cover the baking tin with an aluminium foil and steam the cake until the skewer inserted comes out clean.
Important Baking Tips to Ensure Your Cake Turns out Great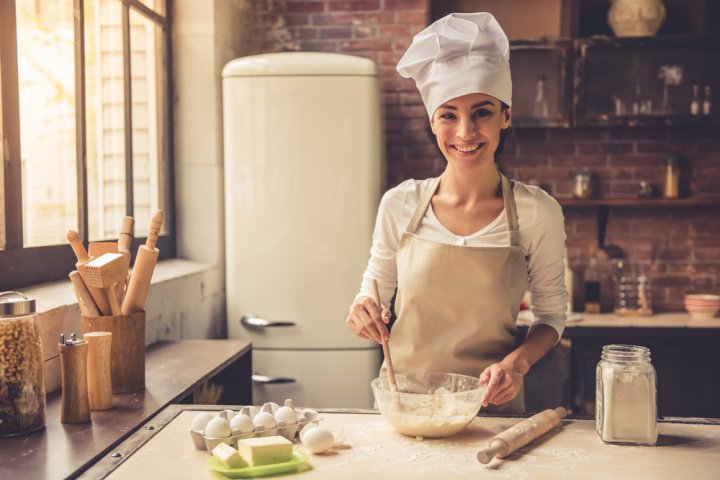 When you are a beginner at baking you can't help but wonder how to make a cake at home which is perfect in terms of both texture as well as taste. For this, we have shortlisted a few important tips for you that will ensure that your cake turns out great every single time you bake it at home. So, check out these simple hacks and polish your baking skills:
Measure the Ingredients and Mix Them Well:

You may have heard every other baker saying that measuring your ingredients accurately should be your utmost priority. It is very important to follow the recipe to the point so that you can achieve the perfect consistency of the cake batter. In fact, not only measuring the ingredients but mixing them correctly is quite important too, to make sure that your cake turns out light and airy.



Let Your Cake Cool Down Completely before Applying Frosting on It:

In order to achieve that perfect texture and look of your cake, make sure that you are letting it chill in the freezer before applying the frosting on it. When the cake cools down completely, it becomes much easier to work on, because of its sturdiness. This will ensure that the cake won't crumble when you start applying the frosting on it.



Buttering the Pan is Important:

Every single step matters a lot when you are learning how to make a cake at home. Even when you get the batter and its consistency just right, you won't want your cake to be stuck in the mould. This is why never forget to butter your cake mould or pan to make sure that the cake doesn't stick to it. You can use some softened butter to grease it and then use all-purpose flour to coat the butter on it.



Keep All the Ingredients Ready Beforehand:

A cake requires lots and lots of ingredients and this is why we would recommend that you should not wait till the last moment to get them together. Rather than finding and pouring the ingredients as the recipe goes, you should better get them measured and ready in bowls beforehand. This will give you the time and flow to prepare the batter in a precise way.
From our editorial team
Start Baking Cakes Like a Pro
Not having a conventional oven should not become a hurdle in your quest for baking delicious cakes. There are so many ways of making a cake even without an oven. We hope this BP Guide would have helped you decide which cake recipe you would like to try out first and delight your family and loved ones. Stay connected with us for more such engaging content.