The Joys of Baking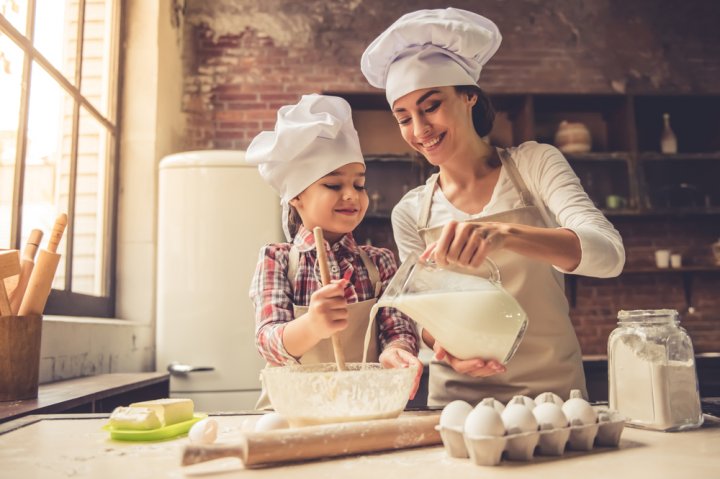 Making good food or creating yummy treat provides great comfort to many people. One form of doing so is baking. According to various sources, it is found that baking provides great therapeutic value and eases the symptoms of depression and anxiety. So, if you are going through a low time in your life, head to your kitchen to bake a cake. Here are a few things which can bring a lot of joy in your life through baking.
1. Baking is creative. You can create great treats out of certain ingredients and make masterpieces and be proud of it.


2. It is relaxing. Knead your worries away, make dough and punch it around or bake a cake to distract you. You will have to concentrate on mixing the right amount of ingredients and soon you'll forget your woes.


3. The aroma of baking simply lifts your mood and brings back a lot of pleasant childhood memories.


4. Cooking or baking for a loved one is a way to express your love. Your smile through the process while you add a little more sprinkle on the cookies or make a colourful frosting for your cake. It brings great joy to see the people you love smile when they eat the treat made especially for them.


5. It is always satisfactory to feed your family the things you made for them instead of buying it from the store. It shows the time and effort you put in it. 6. Baking goodies are great gifts. You can easily break the ice with your new neighbours with a beautifully decorated cake.


6. You can easily turn your art/skill into a business.


7. You can bake with your kids and help stimulate their senses. The kneading of the dough or the sound of the blender increases their endorphins and turns them into happy kids.


8. Last but not the least, baking is a science. If you follow the formula you can whip up a perfect cake.
6 Easy Cake Recipes You Must Try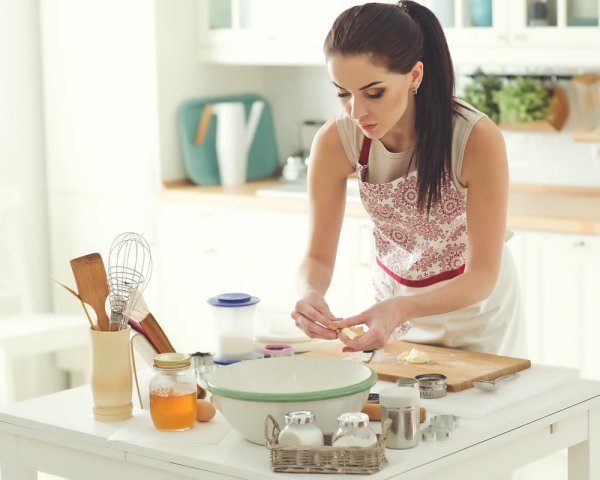 If you want to start baking, then you need to learn by starting with some easy cakes. Here are a few recipes for simple cakes which you can try and make your loved ones happy.
Chocolate Fridge Cake
This chocolate fridge cake is one of the easiest cakes you can start baking with. It is an intense chocolate cake with raisins and crunchy biscuit. You can whip it up in no time and serve it at tea time treat for your family.
Ingredients

A mug full of mixed dried fruits (225g)
1/2 mug of brandy or juice (110ml)
Dark chocolate (300g)
Cocoa solids 70%
Golden syrup (3 tbsp)
Salted or unsalted butter (125g)
Digestive biscuits (13 piece or 200g)
Roasted hazelnuts/toasted flaked almonds, chopped (100g)
Method

1. Take the dried fruits, put it in a bowl and pour in the brandy or juice. Microwave it for 2 or 3 minutes and keep it aside.


2. Smash the chocolate when it then still in the wrapper snaps it in small pieces without taking it out of the wrapper. Empty the pieces in a bowl and add butter and golden syrup in it. Cover the bowl with a cling film and microwave it for at least 2 minutes, till it melts. Keep it aside.


3. Take a baking tin of 20cm and line it up with a parchment paper, you can use less butter to stick it properly in the tin.


4. Take the biscuits and break them into pieces in a large bowl, add the soaked dried fruits in it and mix properly. Take the melted chocolate and add it to the biscuit mixer, mix it well.


5. Pour the mix into the baking tin, flatten the top with the help of a spatula and put it in a fridge for at least 4 to 5 hours. Serve it chilled. You can keep this easy cake in an airtight container for up to one week or freeze it for a month.
Butterless Sponge Cake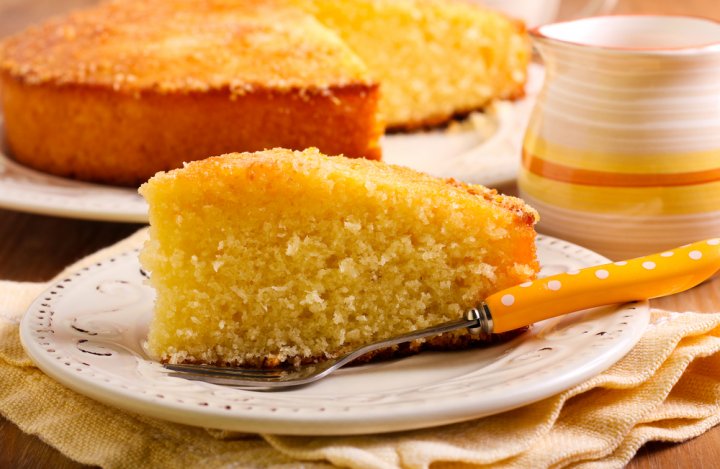 Sponge cakes are very easy to make but you have to use proper ingredients. You can bake this delicious cake in 30 minutes and decorate it as you like.
Ingredients:

Eggs 4
All-purpose flour 3/4 cup
Castor or powdered sugar 3/4 cup
Vanilla Essence 3/4 tsp
Baking powder 3/4 tsp
Cake tins 2, 8" each
Method:

(Preheat oven at 400 F / 204 C)

1. Line butter paper at the bottom of the tins.


2. Properly measure the flour, sieve it and keep it aside.


3. Take the eggs and break them in the mixing bowl.


4. Mix sugar, salt, baking powder and vanilla to the mixing bowls with the egg and beat it till it becomes foamy (to determine if it is beaten properly, you can lift the beater and move it around above the matter you will see a trail left behind)


5. Take the flour and fold it into the batter using a spatula, the proper way of folding is to use cutting, downward, upward and outward strokes. Make sure you add the flour in small quantities.


6. Take the two tins you had kept aside and empty the batter equally into it. Push the batter from the centre towards the side of the tin.


7. Put the tins in your preheated oven and bake for 15 minutes or till you see the sides leaving the edge of the tins.


8. Test the cake by inserting a skewer in the centre, if it is clean, then your cake is done perfectly.


9. Keep the cakes in the tin to cool down before serving it.
Chocolate Fudge Cake
Chocolate cakes are a hit, everybody likes chocolate cakes and when it is a chocolate fudge cake then you'll have to hide a piece or two for you before you serve it or there will be none left for you. This cake is a great hit in parties. Here is how you can bake it in easy steps:
Ingredients:

Self-raising flour 150g
Dark chocolate 50g, melted
Baking powder 1 tsp
Eggs 3
Butter 175g softened
Muscovado sugar 175g
Vanilla extract 1 tsp
Cocoa 30g
Method:

1. Preheat the oven to 180C/fan 170C/gas.


2. Take 2 sandwich tins of 20 cms and line them with butter paper.


3. Take all the ingredients mentioned above and mix them in a processor until it turns smooth. If you find it stiff you can add 1 or 2 tbsp water and mix again.


4. Take the batter and put them equally in both the tins.


5. Bake it for around 20 minutes or till you see it rising.


6. Take it out and leave it to cool for 5 minutes.


7. Mix butter and icing sugar and mix it well in a clean processor, add chocolate in it and mix it again.


8. Put the icing on one of the cakes and put another cake on top of it. You can cover the whole cake with icing or just layer it and leave it like a sandwich.


9. Serve and watch people devour it.
Vanilla Pound Cake
Pound cake is another great cake that can be made easily. If you are a beginner in baking, then you should start with this Vanilla Pound Cake:
Ingredients:

Unsalted butter (room temperature) 1 cup/2 sticks
All-purpose flour 2 cups
Sugar 1 cup
Eggs 4
Vanilla extract 2 tsp
Salt 1/2 tsp
Method:

1. Preheat the oven to 35o degrees.


2. Take a loaf pan (8 1/2-by-4 1/2-inch), butter it and sprinkle some flour on it.


3. Beat the butter and sugar together with an electric mixer on high speed until you see it turning fluffy.


4. Add the eggs, one at a time and beat them well after adding each egg.


5. Add Vanilla extract and salt to the mixer.


6. Switch the mixer to low speed and add flour in small amounts.


7. Beat the mixer, but do not over mix it.


8. Pour the batter into the tin and bake for about an hour. Check it by inserting a skewer in the centre.


9. Take out the tin and let it cool for 15 minutes.


10. Serve it with pride
Microwave Chocolate Mug Cake
Want to try something different for Christmas. You should try baking this great Microwave Chocolate Mug Cake. The kids love it and so do the adults.
Ingredients:

All-purpose flour 1/4 cup
White sugar 1/4 cup
Unsweetened cocoa powder 2 tbsp
Baking soda 1/8 tsp
Salt 1/8 tsp
Milk 3 tbsp
Canola oil 2 tbsp
Water 1 tbsp
Vanilla extract 1/4 tsp
Method:

1. Take the flour, sugar, cocoa powder, baking soda and salt, mix it well in a Microwave safe mug.


2. Add milk, canola oil, water and vanilla extract in it.


3. Pour them in a mug and microwave for 1 minute and 45 seconds.



That's it, you are done
Peanut Butter Chocolate Poke Cake
If you are in love with Peanut butter, then this is one cake you should try for sure. It is tasty and easy to make. You can whip it up in no time for your guests.
Ingredients:

Chocolate cake mix packet 1
Vanilla extract 2 tsp
A pinch of salt
Creamy peanut butter 2/3 cup
Sweetened condensed milk 2 cans
Confectioners' sugar 1 cup



For topping:

Peanut butter filled sandwich cookies (chopped) or peanut butter cups.
Method:

1. Preheat your oven to 350 degrees.


2. Read the directions on the cake mix packet, and prepare according to it.


3. Add 1 tsp vanilla extract and salt and mix well.


4. Take a tin 13x9 in and grease it or line it with butter paper.


5. Pour the batter in it and bake it according to the directions on the packet.


6. Take peanut butter and milk and blend them well.


7. Take a spoon and poke holes in the cake about 2" apart.


8. Pour the peanut butter mixer slowly on the cake; make sure to fill in the holes you're done.


9. Keep the cake and the leftover peanut butter mix covered in the fridge for 3 hours.


10. Add the remaining vanilla and peanut butter mixer together.


11. Add the sugar and beat it until you reach a spreading consistency.


12. Spread it over the cake and add the toppings.
Easy Baking Tips for New Bakers
Like we said before, baking is like science if you know the correct formula you can bake perfect cakes in no time. There are a few tips you should know before you dive into baking.
Method:

1. Always use the right measurement of the ingredients, be precise and follow the recipe religiously.


2. Don't overdo the baking powder or you will ruin your cake.


3. You need to use a high-fat content for cakes, try to use butter or margarine with 75% of it.


4. Your butter for baking should be about room temperature. Hard or too soft butter will kill the consistency of the batter.


5. Always keep all the ingredients ready, within reach before starting baking.


6. Always mix your ingredients well and fold the batter to let some air in.


7. Preheat your oven and use a thermometer for the exact temperature.


8. Do not use eggs from the refrigerator; allow it to come to room temperature.


9. If you want to take out a clean cake from the tin without breaking it, butter the tins properly.


10. Always check your cake by inserting a knife or a toothpick before you take it out from the oven.


11. Let the cake cool off completely before you take it out of the tin.


12. Use the exact ingredients for baking; if you try to substitute it you won't get the desired results.


13. If you run out of cake flour you can use two tablespoons of flour for each cup of cake flour and add two tablespoons of cornstarch. Mix them well and you can use it for baking.


14. You should coat your dry fruits of chocolate chips with little flour before you put them on the cake, they won't sink to the bottom of the cake.
Writer
Sarita Tiwari
Sarita worked in the development sector for 20 years but found her passion in writing. She is a blogger, a content writer and a ghost writer for various industries. When not writing, you will find her spending time with her family, cooking and traveling. She is an introvert and feels that writing gives a voice to her thoughts.
From our editorial team
Conclusion!
There are many ways to cook cakes. But if you are a beginner and want to learn some quick and easy way to make a cake then you should try from above one with more basic and some easy cakes everyone will like. To make an easy cake do follow the steps listed in this article.