Tips on Wrapping Gifts Perfectly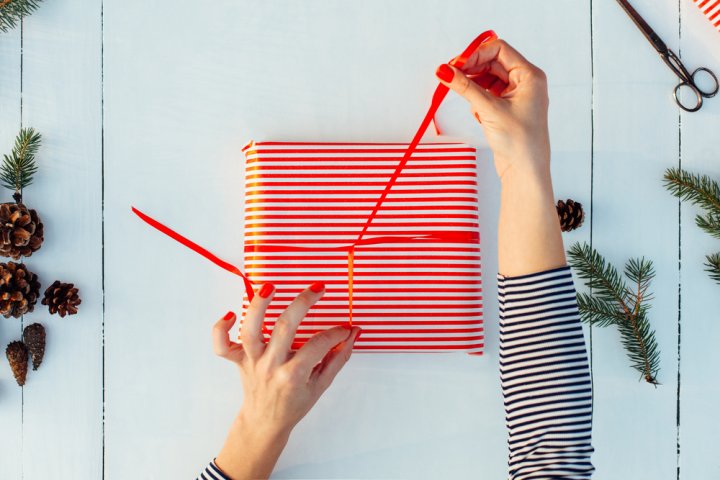 Packing anything properly is an art, and when it comes to gifts, it has to be packed in a way so that it shows the importance of the receiver. Here are a few tips on how to wrap a gift perfectly and present it to someone you love.
Always pick wrapping papers is solid colours. Try to buy paper of good quality so that it does not tear off from the corners and ruin your surprise. It is advisable to use white, silver, gold, or Kraft wrapping papers to wrap wedding gifts to make them look festive and decorative.


Remember to wrap a gift with nice, crisp folds. The folds should be symmetrical; using a box for a gift is a good idea as packing a box is easier than wrapping other gifts.


Use equal length clear tape to tape the paper; you do not want your gift to look untidy.


Finish up the wrapping with a thick ribbon. You can use contrasting colours. You can also wrap it with twine. Be creative, and see what looks unique on your wrapped gift.


Always go for the thickest wrapping papers to wrap a gift, buy a roll with a grid pattern on the back to get it right, and use a double-sided tape for a neat seam.
Some Beautiful Gift Packing Items You Can Order Online
PAISLEYS Blaze Wire Mesh Gift Box/Storage Box - Gold
You can buy this beautifully crafted Wire Mesh Gift Box in gold and make your gift unique for your special friend. This attractive gift box is made of wire mesh with a lid and has a beautiful flower knob on it. You can use it to pack your gifts for a wedding or a party. It is square with dimensions - 6 inches x 6 inches x 4.7 inches. You can buy it from amazon.in.
Hand Printed Paper Boxes With Lid - Medium - Gift Boxes
Another great idea for packing your gift is the hand-printed paper boxes with lid. These boxes are covered with beautiful hand-printed recycled paper. Your loved ones will your idea of wrapping the gift in this box because these boxes are strong and reusable. You can buy this lovely box in different colours and sizes and top it with a bold coloured ribbon or a bow. Buy one of these boxes for Rs. 230 from karibykriti.com.
Arrow Paper Bags
Paper bags never go out of style. They are easy to find and come in tons of different varieties, sizes, and colours. Simply put your gift inside, add a creative tag on it, and give the gift to your favourite person. Paper bags are easily available in markets and even online. You can buy one such paper bag in a pack of 20 from amazon.in. These paper bags come with cute multi-coloured polka dots. You can order these paper bags once amazon starts its delivery process again after the lockdown.
DIY Gift Packing Ideas
Fabric Flower Petal
The best way to pack a beautifully wrapped gift is to decorate it with a bow, but bows are quite common now. Instead of using the same old bow in the market, you can make a beautiful flower with a piece of fabric. It will make your gift look different. It is effortless to make a fabric flower. There are many different kinds of flowers you can make, but if you are a beginner, you can try making this simple flower to start with.
Method
All you need is 3-inch square fabric of your choice to make this forget me not flower. Choose a bright colour for the flower.
Fold the square piece diagonally and gather the sides at the middle bottom corner.
Tie it at the base.
Now construct four or five petals and add pips in the middle, you can also make one more petal using a different cloth.
Tie it all together with the wire in the middle, and your flower is done.
You can make a couple of flowers and put them on the top of your wrapped present or just one flower will a tag would do.
Floating Hearts
So, you have bought a simple present for your hubby on your wedding anniversary, but you want it to look out of the world. What is better than hearts to show him how much you love him. A neatly wrapped gift with floating hearts will do the trick.
Material Required
Brown Paper
Tape and Scissors
Red Paper
Method
First put your gift in a box and wrap it up with red paper.
Then wrap it again with brown paper.
Now, cut two hearts on the brown paper and fold them in the opposite direction.
The red paper will peak from within the half-cut brown papers to give a 3D effect of floating hearts.
Don't forget to click your husband's smile to see so many hearts floating on top of his present.
Holiday Lights
You end up buying a million gifts during the holiday season and have to think of creative ideas of wrapping them. An easy way to do that is to draw holiday lights. This will make your present look colorful and festive.

All you need to do is wrap your gift in a brown or white paper; you can also wrap it in any solid colour. You can either cut out different coloured lights and paste them on the gifts or use colours to draw and paint them. Your gift will instantly look festive, and the receiver will appreciate your creativity.
Origami Bow
Origami is back in style, especially after watching the professor making them in Money Heist. Origami is cute and very creative, although most of them are a little tricky, but you can always make a cute origami bow and put it on your gift.
Method
Put your paper with the pattern side facing down and fold it in half, crease well. The pattern side of the paper should be in the inside.
Fold this in half and crease it again.
Now, open the paper and flip it over.
Now, fold it in half, keeping the patter side on the outside.
Open it and turn it 90 degrees, fold again in half diagonally.
Press the paper along the folded lines, keep the pattern side in.
Press it flat and fold the tip down to 1 to 2 cm. Crease well.
Now, open the paper, you should see a small square in the centre of the paper.
Make mountain folds by creasing along the sides of the square.
Now, for the paperback in on itself, the square should be visible and collapse as you fold it.
Fld the top layer of the paper, so it meets in the middle and flip the folded paper over, repeat on the other side.
Open the paper and watch out for the square forming in the middle.
Press it flat, make sure the folds stay in their place.
Now turn the paper, so the pattern side is down.
Make four cuts along the fold to make two flaps.
Fold the first flap down so that the top of the blow is visible. Now, fold the top to form 2 triangles. Fold both the flaps, repeat to make the bottom of the bow.
Now, fold both the flaps down, this will make the tail of the bow.
Fold the sides in and cut up the centre of the tail.
Now fold the sides you cut inward.
Flip the bow over.
Fold the tips into the centre and tuck them under the square. You can either press it flat or leave it for a 3D effect, and you are done with a cute little bow for your special gift.
The instructions may seem long but if you follow to the tee, it is quite simple and makes a perfect bow.
Yarn Pom Poms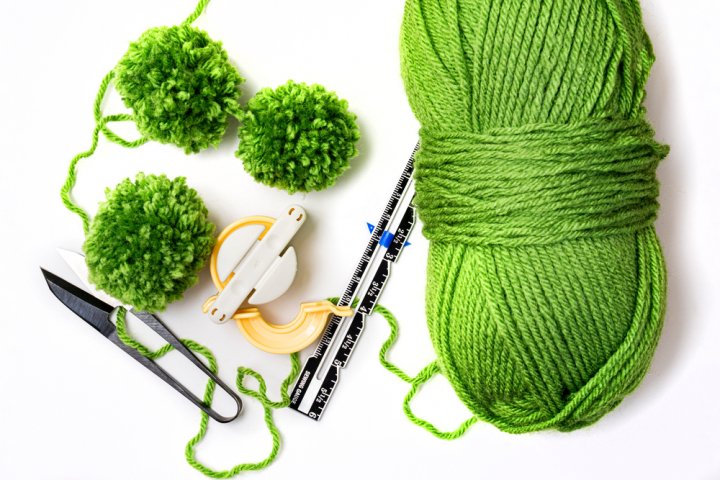 Pom poms are the cutest, and you can use them in many different ways once you learn how to make them. They are straightforward to make and are very attractive. You can choose any colour you want and make a bunch of them to put it on top of your gift. Here is how you make it.

Method
Start with a 12-inch piece of yarn, keep it aside to use it to tie the pompom at the end.
Now, take the yarn and drape it around your fingers. Keep the rest of the yarn put it horizontally across your fingers. If you want to make a large pom drape, hold the yarn across your ring finger or else you can simply wrap it on your forefinger and middle finger.
Start wrapping the yarn on your fingers. Don't wrap it too tight. You can choose to wrap as much yarn you want, depending on the size of the pompom you wish to make.
Now, pull the yarn from the fingers and put it on top of the piece of yarn you kept aside in the beginning.
Tie that separate piece of yarn around the bundle. Tie the knot tightly to hold the pompom together.
Tie a couple of tight knots and trim of the excess yarn.
Now, cut through the loops on both sides of the bundle.
Roll the pompom in your palm lightly to fluff it out.
You can trim the pieces of yarn that stand out, and you are done.
Make a bunch of colourful yarns and decorate your gift any way you want.
Other Creative Ideas for Wrapping Gifts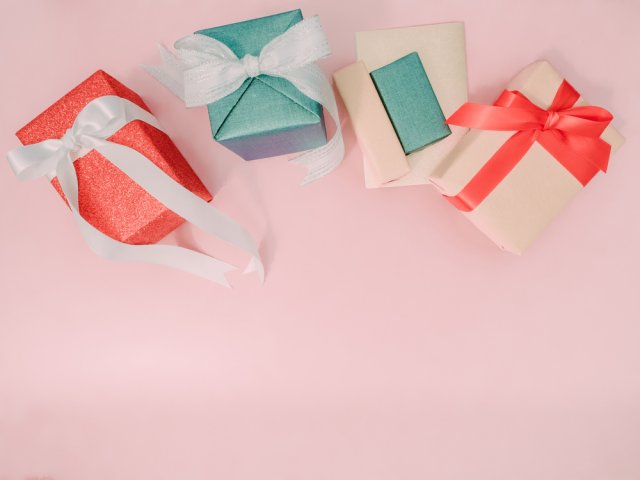 There are many other ways through which you can decorate your gift and hand it to the person you love. All you need to do is to be creative and think out of the box. Here are a few tips on how you can wrap your gifts and make them stand out amidst all the other gifts.
If your friend is a traveller, you can pick different colourful maps and wrap the gift in them. He will love this unique idea.
Wrap your music lover sister's gift in music sheets and tie a gold or silver ribbon on it.
If your mother is an artist, no worries! Cut out her favorite shapes like butterflies, hearts or snowflakes, colour them and stick them on top of the wrapped gift.
Giving out gifts in a mason jar is another cool way to give gifts in something that can be used again.
Looking for a creative way to wrap your kid brother's gift? Cut out different cartoon characters from old books and paste them on the wrapped gifts.
Want to make a gift look special for an art lover, stick some colours on top of the wrapped gift with double-sided tape and watch her smile.
For a puzzle lover, wrap your gift with a crossword puzzle wrapper.
Want to be creative for your dad's gift? Buy a shirt, put the gift box in the middle, and wrap the shirt around it, tie the sleeves of the shirt over the box. He will be happy to receive two gifts in one.
Make stencils of different alphabets and print them on a solid colour wrapping paper. Ask your kids to colour them before they open the gift. They will love the activity and the anticipation of what is inside the gift.
From our editorial team
When You See Your Loved One Smile, It Makes It All Worth It!
Giving a gift is rewarding; when you see your loved one smile, it makes it all worth it. Then the best part is to wait and watch when they tear open the packing and see what the gift packet contains. If the gift is not wrapped, then the fun is almost gone. These days, you can find beautiful wrapping papers in which you can wrap your gifts and make then unique. There are other ways to present gifts, too; if you are the creative kind, you can make many different kinds of packaging for your gifts, which makes a simple gift a special one!