What is a Sponge Cake?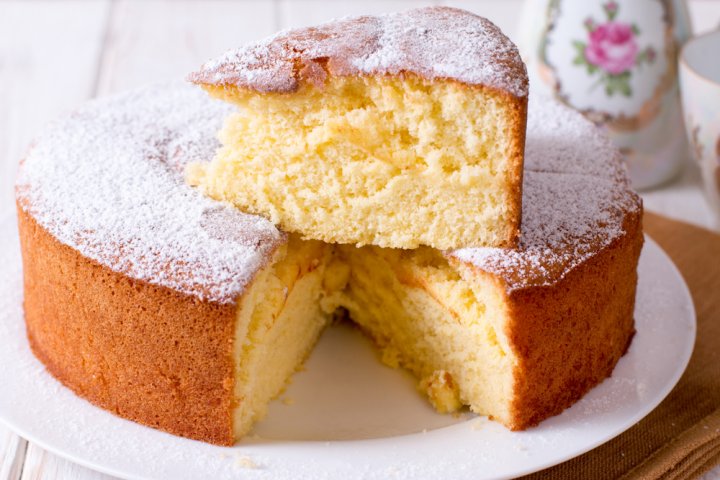 Is there anything more drool-worthy than a slice of cake? Chocolate cake, sponge cake, butter cake, angel cake; The list goes on. Spongy and airy; Or maybe dense and fudgy; Whatever your poison is, there is a cake for it. But the simplest of all and the most versatile is the sponge cake.

Sponge cakes are usually light and airy. The original recipe does not have any fat (butter or oil). The downside is that it tends to be drier than other cakes. But the advantage is that it goes with any filling, frosting, or syrup. You can serve it as such or layer it with a filling of your preference. Just frost it or however, you prefer your cake to be.

Sponge cake uses whole eggs that are beaten beforehand. It depends on the air to make it light and fluffy. Beaten eggs incorporate air in the cake mix, which then swells when heated making the cake rise. It is also crucial that the flour does not form gluten, hence the eggs are beaten first. You can also cheat a little by adding some baking powder to your cake mix.

A good sponge cake should bounce back when pinched. If it doesn't bounce back your cake is too dense and the texture is off.

9 Delicious Sponge Cake Recipes to Try at Home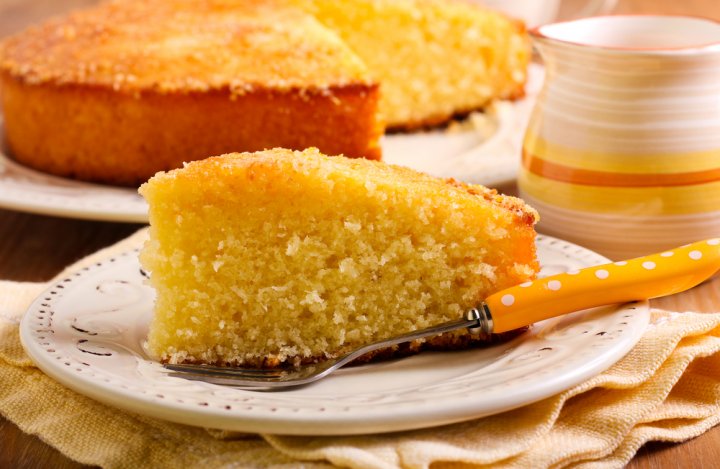 Baking a cake at home need not be complicated. All it needs is a tried and tested recipe with exact measurements. While there are scores of recipes available online, we bring together the best and the easiest of all. Bake away!
Classic Sponge Cake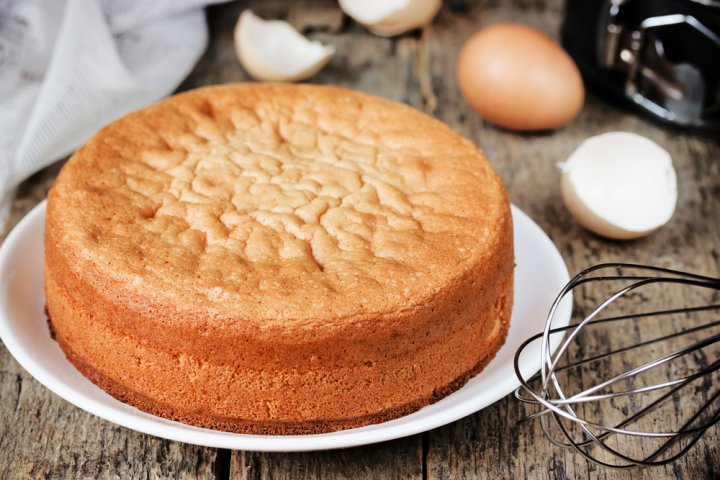 It cannot get any easier than this recipe for a basic sponge cake from BBCGoodFood by Sophia Godwin. Lemon curd and whipped cream would be a perfect filling but you can also add some jam and serve it for tea.
Classic Sponge Cake
Ingredients:
Butter - 225 grams (Softened)
Self-raising flour - 225 grams
Golden Caster Sugar - 225 grams
Eggs - 4 (large)
Lemon Zest - ½ lemon
Vanilla Extract - 1 tsp
Milk - Just a dash
Method:
Preheat your oven. 180°c for a fan oven and 160°c for a gas oven. Line two 20cm cake tins (spring forms are better) with baking parchment and butter it.
Whisk butter and sugar until they blend together. The mixture should be silky smooth and pale in colour. Whisk the eggs in one by one and scrape the sides repeatedly.
Now add the rest of the ingredients along with a pinch of salt. Whisk to combine everything and divide it between the two cake pans.
Bake it for about 25-30 minutes. Insert a skewer and check if it comes clean.
Let the cake sit for about 10 more minutes. Remove the cake from the tins and place it on a wire rack to cool down.
Dust the top with icing sugar and with a filling of your choice.
Victoria Sponge Cake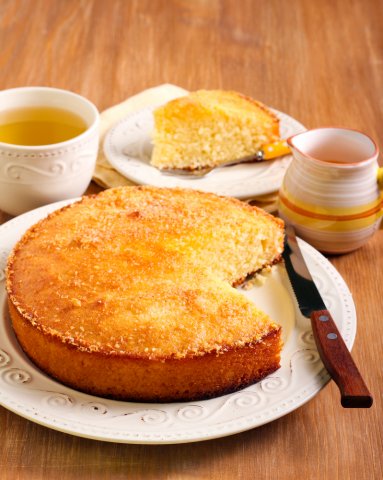 Victoria Sponge Cake is an all-time favourite of Queen Victoria; hence the name. She enjoyed these small, bite-sized cakes with her tea. Though easy to make, the recipe is quite finicky and should be followed to a "T". For you beginners, we have this amazing recipe by Caroline Victoria at AllRecipes.
Victoria Sponge Cake
Ingredients:
All-Purpose Flour - 1 cup
Eggs - 2
Baking Powder - 1 ½ tsp
Butter - 1 cup (Softened)
Confectioner's Sugar - 1 cup
Vanilla Extract - 1 tsp
Milk - ½ cup
Method:
Preheat the oven to 200°c. Grease a spring-form cake tin measuring about 8 inches.
Sift baking powder and flour together in a bowl. Set it aside for later.
Whisk sugar and butter until they are fluffy and pale in colour. Add eggs one at a time. Incorporate the egg well into the mixture before adding the next.
The vanilla extract is next; beat it into the mixture.
Gradually add flour and milk, at last, alternating between the two.
When all the ingredients are incorporated, pour it into the greased pan.
Bake it for about 20 minutes until an inserted toothpick comes clean.
Leave the cake in the pan for another 10 minutes. Transfer it to a wire rack to cool down completely.
Slice it in half horizontally and serve it with custard or jam.
Almond Sponge Cake
Imagine a sponge cake that tastes of almonds! Light and airy as the sponge cake with the rich taste of an almond cake. Not just that, the recipe from Better Homes & Gardens, uses no fat (butter) and hence quite light in calories. Go ahead and add that extra dash of whipped cream without any guilt.
Almond Sponge Cake
Ingredients:
Eggs - 6
All-purpose Flour - 1 ¼ cups
Sugar - 1 ½ cups
Orange/Pineapple Juice - ½ cup
Almond Extract - ½ tsp
Vanilla Essence - 1 tsp
Cream of Tartar - ½ tsp
Method:
Separate the egg whites from the yellow and let it sit for 30 minutes at room temperature.
Preheat oven to 325°F. Use an electric mixer to beat the egg yolks. Let it run for about 5 minutes on high speed.
When the egg yolks are thick, add almond extract, orange juice and vanilla essence. Run the electric mixer on low speed until they are combined in the yolk mix.
Add 1 cup of sugar and once it is incorporated well, increase the speed to medium. Keep beating the yolk mixture until it doubles in volume and thickens more. Add the flour in, ¼ cup at a time; Fold it in.
Wash the beaters well. Beat the cream of tartar and the egg whites on medium speed until soft peaks form. Increase the speed to high and beat all the while adding ½ cup of sugar little by little. Keep beating until stiff peaks form.
Fold the egg white mixture to the yolk mixture, 1 cup at a time. Transfer the contents to a 10-inch tube pan.
Bake it for about 60 minutes; The cake is done if it springs back to once touched. Turn it upside down and let it cool in the pan.
Remove from the pan and serve it with caramel sauce or whipped cream.
Chocolate Cake
Sticky chocolate, fluffy sponge, delicious enough to lick your fingers! These are the basics of an amazing chocolate cake. No filling, just that heavenly slice of goodness. Melissa Hamilton and Christopher Hirsheimer from Epicurious have a finger-licking delicious chocolate sponge cake recipe.
Chocolate Cake
Ingredients:
Cake:
Unsalted Butter - 1 tbsp
Unsweetened Cocoa Powder - 1/4 cup
Cake Flour - ¼ cup
Eggs - 4
Sugar - ½ cup + 6 tsp
Vanilla Extract - 1 tsp
Chocolate Icing:
Heavy Cream - ¾ Cup
Semisweet / Bittersweet Chocolate Chips - 1 cup
Method:
For Cake:
Preheat the oven to 400 °F. Line a 13x9x2" pan with parchment paper. Line the paper and the sides with butter and dust it with cocoa powder. Tap out the excess. Sieve the flour and cocoa powder with a fine-mesh strainer three times. Set the mixture aside for later.
In a large bowl, take two whole eggs and 2 egg yolks. Keep aside the egg whites in a medium bowl for later.
Whisk the whole eggs and yolks using an electric mixer. Set it to low speed for about 1 minute. Change the speed to medium and slowly add in ½ cup of sugar. Keep it going for about 3 minutes until the mixture is thick and lighter in colour. Add in the vanilla and beat it further.
Clean the beaters and dry them. Beat the egg whites until they are creamy. Add 1 tsp of sugar and beat until soft peaks form. Add the remaining sugar and beat for about 30 seconds until the mixture is thick and glossy.
Fold half of the egg white mixture to the yolk mixture. Add half of the dry ingredients over batter and fold in. Continue with the remaining ingredients, gently folding it in until they are just blended.
Transfer the batter to the pan and bake it for about 12 minutes. Or until the cake springs back when touched. Let the cake cool in the pan. Once cool, transfer it to a cutting board. Trim the cake for an even layer.
For Chocolate Icing:
Simmer the cream in a saucepan. Maintain a constant medium-low heat; Take the pan off the heat and add the chocolate chips. Stir it in until smooth and silky. Let it cool for about 15 minutes. The icing would have thickened further.
Slice the cake in three layers and spread the icing between the layers. Spread the remaining icing on the sides and the top of the cake.
Pressure Cooker Sponge Cake
Not everyone has an oven. It is still a luxury rather than a cooking essential to many. And for those who don't have an oven, here's a pressure cooker sponge cake by Lincy's Cook Art.
Pressure Cooker Sponge Cake
Ingredients:
All-Purpose Flour - 1 ½ cups
Eggs - 2
Powdered Sugar - 1 cup
Oil/Softened Butter - ½ cup
Milk - ½ cup
Vanilla Essence / Pineapple Essence - 1 tsp
Baking Powder - 1 tsp
Baking Soda - ½ tsp
Salt - a pinch
Oil/Butter - 1 tsp
Method:
Whisk the eggs until creamy. Add in the sugar, salt and mix. Next comes the oil/butter, whisk again. Pour in the milk at last.
Sift flour, baking soda and baking powder together. Add it in gradually and whisk well until you get a thick batter. If the batter is too thick, add a dash of milk.
Line the cake pan with butter/oil and dust it with flour. Transfer the batter to the cake pan and level the surface.
Remove the gasket and whistle. Place the separator plate in the cooker and heat it with the lid for about 10 minutes.
Shift the cake pan to the pressure cooker using a holder. The sides of the cooker would be too hot to handle it by bare hands.
Close the pressure cooker (neither the gasket nor the whistle). The flame has to be medium.
Wait for the first waft of cake and time it for about 5 - 10 minutes more. Open the lid and insert a skewer and once it comes out clean the cake is done. If it doesn't, close the pressure cooker lid and wait for another 5 minutes.
Use a holder to remove the pan and allow it to cool before transferring the cake.
Run a knife around the sides; Place it upside down over a cutting board; Tap the bottom of the cake slightly; lift the pan.
Slice it and serve it with a filling or topping of your choice.
Banana Sponge Cake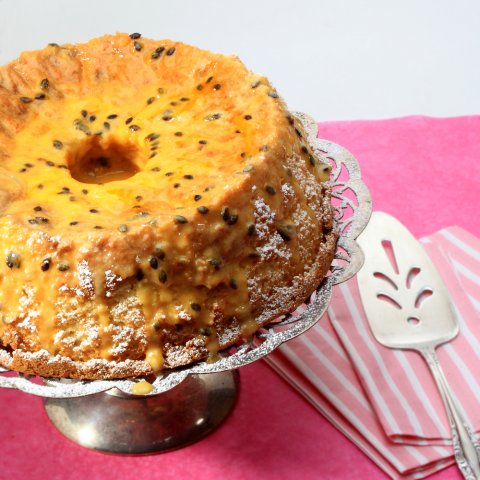 Have some overripe bananas that you wanna finish off? What better way than a banana sponge cake? Here is a recipe by Ann Low on her blog AnnCooJournal.
Banana Sponge Cake
Ingredients:
Ripe Banana - 200 gm
Sugar - 160 gm
Eggs - 4
Milk - 40 gm
Banana Essence - ½ tsp
Vanilla Essence - ½ tsp
Plain Flour - 160 gm
Baking Powder - ½ tsp
Baking Soda - ½ tsp
SP (Cake Stabilizer) - ½ tbsp
Corn Oil - 100 gm
Method:
Preheat the oven at 170c. Butter a 9" cake tin with butter and place a parchment paper.
Mash the bananas with a fork. Sift the flour, baking powder and baking soda together.
With an electric mixer, beat together, bananas, sugar, eggs, SP and milk at high speed until the mixture is thick.
Set the speed to low, add in vanilla essence and banana essence. Gradually add in the flour.
Once it's all incorporated, use a hand whisk and whisk it again.
Add corn oil in 3 batches, folding it after each addition. Keep folding until no trace of oil is seen.
Pour in the batter and bake it for about an hour in the lowest rack.
Check after about 40 minutes. If the topping is too brown cover the tin with foil.
Eggless Sponge Cake
Just because you don't eat eggs, doesn't mean that you cannot partake in this heavenly goodness. Swasthi from Indian Healthy Recipes has this amazing recipe for an eggless sponge cake. Sponge cake takes its airy texture from the vigorous beating of the egg whites. However, if you are a vegetarian, you can replace it with yoghurt or curd.
Eggless Sponge Cake
Ingredients:
All-Purpose Flour - 1 ½ cups
Baking Powder - 1 ¼ tsp
Baking Soda - ½ tsp
Sugar - ¾ cup
Coconut Oil - ½ cup
Milk - 3 tbsp
Vanilla Extract - 1 tbsp
Yoghurt/Curd - 1 cup
Method:
Preheat the oven at 170 °C. Grease a 7-inch cake tray and line it with parchment paper.
In a large bowl, add the curd, sugar and vanilla extract.
Whisk until the curd is smooth and the sugar has dissolved.
Add in the oil and fold until it's all mixed well.
Mix in the baking powder and baking soda.
Gently whisk it until the soda reacts with the curd. The mixture turns thick and frothy.
Sieve flour and gradually add it in, all the while mixing it gently. The batter should be thick.
Add milk to the batter, to thin it out a little and mix again.
The batter should be of ribbon consistency. Transfer it to the cake pan and brush the top with milk for that golden crust.
Tap the pan on the counter a couple of times.
Bake it for about 30 minutes. The cake is done when a toothpick inserted comes clean.
Cool the cake for about 15 minutes before transferring it to a wire rack.
Cool it completely before slicing.
Frost it with chocolate for a delicious bite of melt-in-your-mouth cake.
Tips to Make an Airy and Fluffy Sponge Cake
If there is one cake that amateur and professional alike are scared of, it is the sponge cake. Though sponge cakes are delightful and absolutely heavenly, they can be quite intimidating. But with these tips and tricks, you can master the art of baking a sponge cake at home like a pro.
All the ingredients should be at room temperature.
Sponge cake requires few ingredients and hence the measurement should be precise. Level your cup or scoop with a knife.
Eggs can be a little warm. Warm eggs assimilate more air. If your eggs are in the fridge, place them in warm water for about 10 minutes.
Same goes for fresh eggs. Older eggs struggle to hold air while fresh eggs whip up to a frenzy of air.
Either use a hand whisk(good workout for your arms) or an electric mixer. A blender does not incorporate air into the mixture.
When whisking egg whites and sugar together, the mixture is ready when it is almost white.
The batter should be immediately cooked. So get your oven preheated and the pans greased and ready.
Sponge cakes need attention much more than the other cakes. So keep an eye out for the timing.
Place the cake in the centre of the oven unless mentioned otherwise.
Do not open the oven door when the cake is baking. And only towards the end, you are allowed to check on the cake.
Cool your cake upside down over a wire rack for air to move freely. This prevents condensation.
The cake should be cooled thoroughly. If not cooled properly, cake tends to collapse similar to an uncooked cake.
A perfect sponge cake when pinched should return to its form immediately. If it doesn't your sponge is too dense.
From our editorial team
Baking a cake can be fun!
Baking a cake at home is a fun activity in itself and it also helps you relax. Whenever you can't decide what to gift someone close to you on a special occasion, you can always bake them a cake. The ingredients of a sponge cake can be handled easily and the cake is also very tasty. So you should definitely try baking one soon for yourself or your loved ones!