Indian Food - Lip-Smacking Food and with a Mind Boggling Variety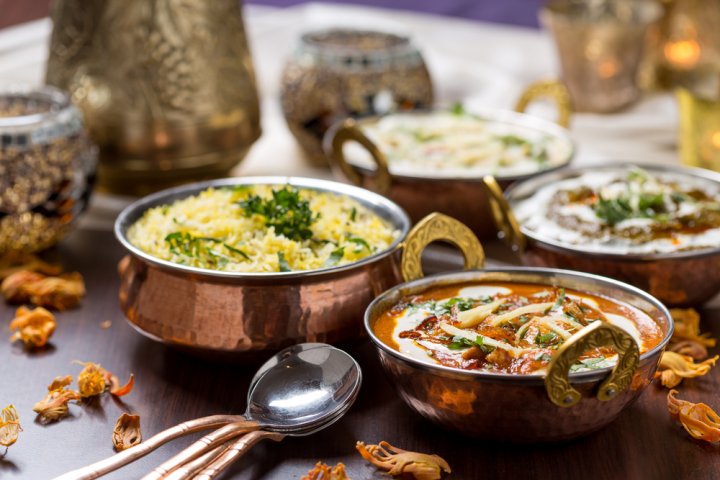 Indian cuisine is one of the most versatile and rich cuisines in the world. In fact, you can find thousands of Indian food recipes from even a single region and this is simply magical for someone who is a die-hard foodie. If you think that Indian food is all about being spicy then you haven't tasted real Indian recipes till now.

You can find a huge diversity on the basis of religion, ethnic groups, culture, climate, and many more. The recipes usually involve a lot of spices and unique blend of ingredients which is hard to find anywhere else. Our sub-sections given below will let you know how you can make different types of Indian recipes in no time.
In India, cooking good food is not just cooking, It's an art. An art, which a mother teaches to her daughter, an art, they love to practice and experiment something new.

Indian food is said to be based on six kinds of tastes or rasas - sweet (madhura), salty (lavana), sour (amala), pungent (katu), bitter (tikta) and astringent (kasya).
Indian Starter Recipes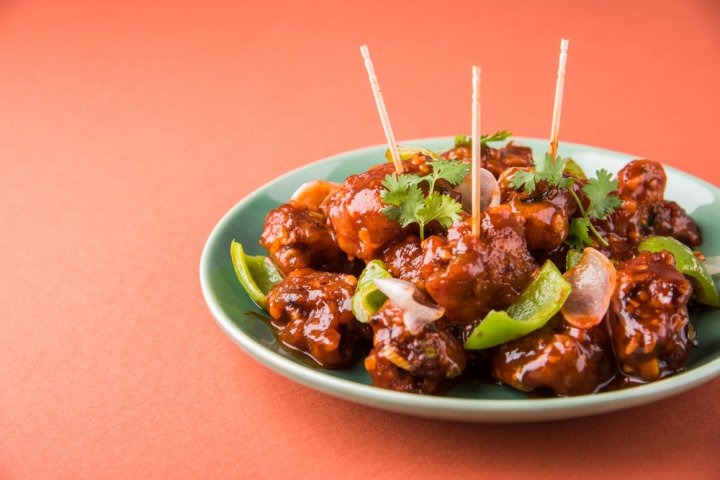 Whether it's a short get-together at home or a grand dinner party, Indian house chefs are always brimming with aromatic food, no matter how big or small the occasion is. We all know that Indians have a list of snacks, or starters or appetizers. "We bring you the best of our Indian starter recipes to prepare for every occasion. From game night to a house party, to Diwali party and family get-together, there are the snacks for all occasions."
Paneer 65
If you are looking for easy Indian food recipes for beginners which can be created in no time then you should try this Paneer 65 recipe. It is perfect for starters and tastes delicious too.


Paneer 65
What You Need:
2 ½ tbsp all-purpose flour, 3 tbsp cornflour and 200gms paneer
1 tbsp rice flour and 1 ½ tbsp. thick curd
crushed ginger and garlic – 1 ½ tsp each
red chilli powder, coriander powder, salt – 1 tsp each
1/2 tsp chaat masala and ¼ tsp garam masala powder
5 tbsp water and oil for deep frying
1 medium onion finely sliced and 8-10 curry leaves
How to Make It
Take paneer and cut into 1 inch cubes. Now mix all dry ingredients, food coloring, ginger and garlic in a bowl and add water to make medium thick paste.
Add paneer into this mixture and coat them well. Deep fry these pieces on medium flame until they turn golden brown and crispy.
Now heat oil in a pan and saute onion and curry leaves on medium flame then add thick curd, red chilli powder and salt as per taste.
Add fried paneer into this mix and cook for 2-3 minutes and Paneer 65 is ready to serve.
Bread Roll
Bread roll is one of the easiest recipes to make that you will ever come across. It is basically stuffed with potatoes and then deep fried. You can enjoy it with chutney or sauce as per your taste.


Bread Rolls
What You Need
Bread slices as per requirement and 6 potatoes boiled and mashed
2 onions, 2-3 green chillies, 3 tbsp coriander leaves – finely chopped
1 tsp cumin seeds and 1.5 tsp coriander seeds
2 tbsp mint leaves and oil for frying
1/2 tsp garam masala powder, 1 tsp chaat masala and salt per taste
How to Make It
Heat 1tsp oil in pan and add cumin seeds. After cracking seeds add onions and green chillies and cook for few minutes then set aside.
Take a large bowl and add mashed potatoes, coriander leaves, mint leaves, coriander seeds, all the spices and onion-chillies fried. Combine everything to make the stuffing.
Now, take one bread slice, dip in water for a second and roll it through rolling pin to squeeze out water.
Place stuffing in its center and bring its edges together to seal the roll.
Once all rolls are ready, deep fry them on medium flame and enjoy with tomato ketch up.
Hara Bhara Kabab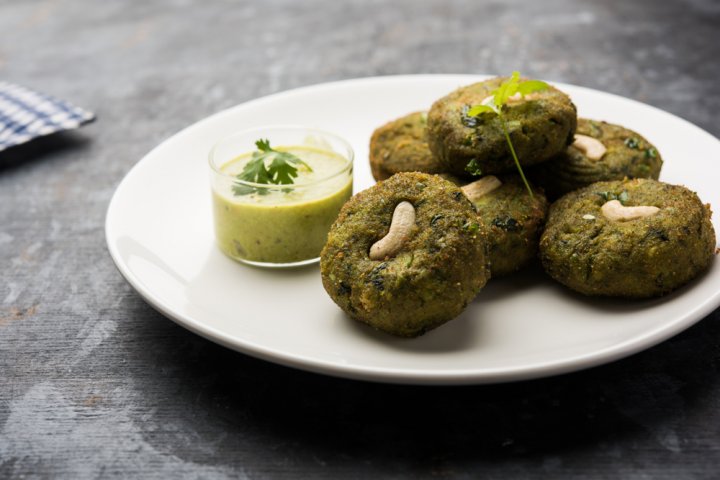 If you are trying Indian food recipes then you surely know that there is always a vegetarian replacement even for typical non-veg recipes. Well, this Hara Bhara Kabab recipe is one of them.
Hara Bhara Kabab
What You Need
2 cups fresh spinach leaves (Blanched in hot water) and 4 tbsp besan (roasted)
2 medium large potatoes and ½ cup green peas - boiled
1 green chilli and 1-1.5 inch ginger – roughly chopped and crushed
1 tsp chaat masala and 1 tsp amchur powder
1/4 tsp garam masala powder, salt and oil as needed
How to Make It
Take chopped spinach in a bowl add grated boiled potatoes followed by peas and green chilli paste.
Mash the mixture and add all dry spices, roasted gram flour and salt and mix well.
Shape into round patties and shallow fry in a pan till they turn crispy and brown. Serve with mint or coriander chutney.
Indian Main Course Recipes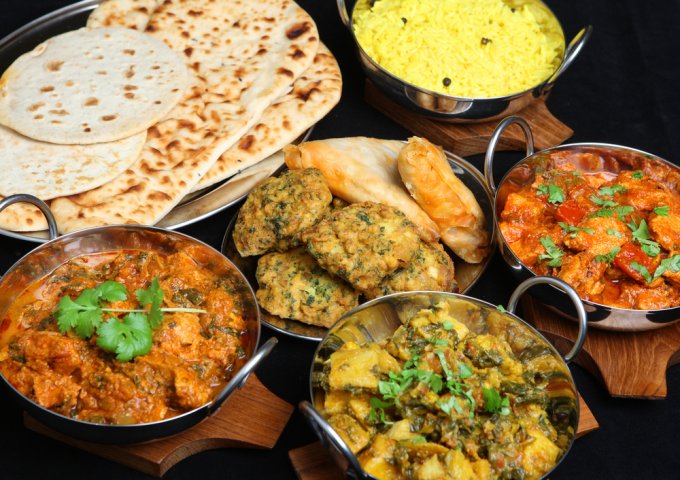 Indian cuisine encompasses a wide variety of regional cuisines native to India. Given the range of diversity in soil type, climate and culture, the cuisines across regions vary significantly from each other. Every cuisine and almost every region, uses its own available spices, herbs, vegetables and fruits. Indian food is also heavily influenced by religious and cultural choices, traditions and festivals that are passed on from generations.

Here we bring you some of the best Indian main course you can try in your own style with our recipes.
Veg Biryani
Biryani is the ultimate food love for all the Indians out there. In fact, it is one of the most authentic vegetarian Indian food recipes that you will ever find. However, its non-veg contemporaries are more popular but if you are vegetarian looking for veg Biryani recipe then you are going to love this one here.


Vegetarian Biryani
What You Need
3tbsp ghee or clarified butter and 1 ½ cups basmati rice (soaked for 30 minutes)
2 cups water and 2tbsp saffron water
2 bay leaf and 2 inch cinnamon stick
1 star anise and 5 cloves
4 cardamoms and 1 medium onion finely chopped
Pepper and cumin seeds – ½ tsp each
1 tsp ginger garlic paste and 5 chopped beans
10 florets gobi and ¼ cup peas
1 chopped carrot and 1 cubed potato
3 sliced mushrooms and 1 cup curd
1/2 tsp turmeric and 1 tsp Kashmiri chilli powder
1/4 tsp cumin powder and 2 tsp biryani masala
coriander and mint leaves as per requirement and salt to taste
6 tbsp fried onions
How to Make It
Heat ghee in a large cooker then saute cinnamon, bay leaf, star anise, pepper, cardamom, cumin seeds etc into it on low flame.
Further add onion, ginger garlic paste and saute them well.
Now, add all the vegetables and mushrooms and saute till they shrink. Keep it on low flame and add curd followed by all spices.
Add fried onions, coriander and mint leaves in it followed by rice and some more biryani masala and salt on top.
Now add saffron water, one tbsp. ghee and 2 cups of water to cook. Cook on simmer for 25 minutes and biryani is done.
Channa Masala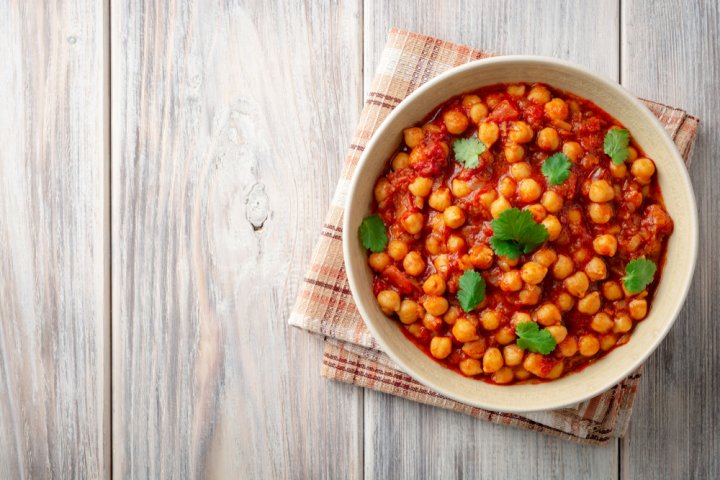 Channa Masala is like the staple vegetable to be eaten out in most restaurants along with Naan or Tandoori Chapati. Why eat out when you can make delicious Channa Masala at home only. You are going to love this recipe here.


Channa Masala
What You Need
3/4 cup chana and 1 ½ cups water
Oil as per needed and 2-3 large onions thinly sliced
1 tbsp ginger garlic paste and 2 medium tomatoes chopped
red chilli powder and salt as per taste
1/4 tbsp turmeric powder and 1 small bay leaf
1 inch cinnamon and 2-3 cloves
1 tsp garam masala and 1 tsp kasoori methi
2 pinch amchur and 2 tbsp coriander leaves chopped finely
cardamom and green chili slit optional
How to Make It
Rinse chickpeas and soak for 8 hours then pressure cook for 5-6 whistles until completely cooked.
Saute onion in 1tbsp oil then saute ginger garlic paste in it. Now add chopped tomatoes and salt and cook till tomatoes turn soft.
Add chili powder and turmeric and saute again. Cool this and blend to make a smooth paste.
Heat 2 tbsp oil and saute bay leaf, cinnamon, cloves and cardamom for some time then add the paste, garam masala and coriander powder and cook again.
Add cooked chickpea and stock if needed. Bring it to a boil then cook for 5-6 minutes. Add kasuri methi and serve with chopped coriander leaves.
Chicken Tikka Masala
Chicken Tikka Masala is a popular and typical Indian non-veg recipe enjoyed by a lot of people usually with rice. It is prepared with so many spices and special method so make sure to follow this recipe to the point.
Chicken Tikka Masala
What You Need
800gms boneless chicken cut into pieces and 1 cup plain yogurt
Ground coriander, Kashmiri chilli – 1 tsp each
1 ½ tbsp. minced garlic and salt as per taste
Butter and vegetable oil – 2 tbsp each
3 ½ tsp garam masala and 2 small onions finely diced
1 tbsp ginger and 2 ½ tsp ground cumin
2 tsp turmeric powder and 1 tsp red chilli powder
400gms tomato puree and 1 ¼ cups heavy cream
1 tsp brown sugar and ¼ cup water
Coriander to garnish
How to Make It
In a bowl, combine chicken with yogurt, ginger and garlic paste, 1 tsp turmeric, 1tsp ground cumin, 2 tsp garam masala, 1 tsp Kashmiri chili and 1 tsp salt and let it marinate for 10 minutes.
Heat oil in a large pan and fry onions till soft. Add remaining ginger and garlic followed by garam masala, cumin, turmeric, coriander and fry for few seconds.
Pour tomato puree with chili powder and salt and cook for 10 minutes on simmer flame by stirring occasionally.
Once the sauce thickens add heavy cream and sugar followed by chicken and cook for another 10 minutes. Garnish with cilantro or coriander and serve.
Dal Makhni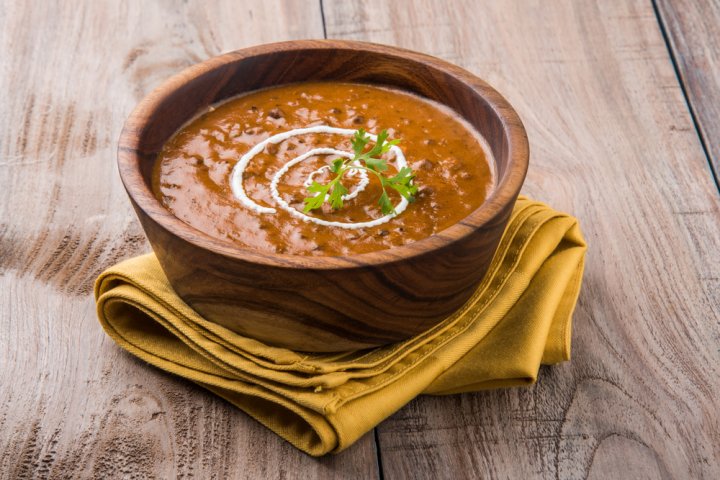 Dal Makhni is quite like the uncrowned king of Indian food recipes. The best thing about it is that it can be teamed up with Tandoori chapatti, simple roti or even naan and would still taste amazing. You can try this recipe here for making Dal Makhni at home.


Dal Makhni
What You Need
2 tbsp overnight soaked red kidney beans and ½ cup overnight soaked urad dal.
Red chilli powder and garam masala – 1 tsp each
4 tbsp butter and 1tbsp sunflower oil
1 large chopped onion and 2 medium sliced and slit green chilies
Tomato puree and fresh cream – half cup each
1 tsp Ginger and garlic paste and 2 inch chopped ginger separately
salt as per taste
How to Make It
Pressure cook rajma and dal with a pinch of salt until they become soft.
Put a frying pan on medium flame then heat oil. Put cumin seeds in it and once crackled put garlic and ginger paste and stir for sometime.
Add onions, green chillies, tomato puree and fry till it turn golden. Now add Rajma and Dal and bring it to a boil.
Add garam masala and salt and cook for some time. You can add some water to adjust the consistency. Once done, pour some fresh cream and garnish with some coriander leaves before serving.
Butter Naan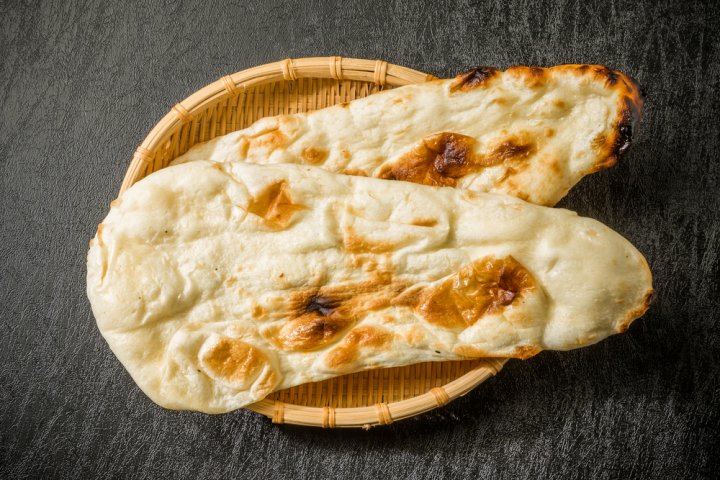 How you are going to enjoy quick easy Indian recipes and cooked veggies without a side of Naan with it? With this recipe you can learn to make naan at home easily.


Butter Naan
What You Need
2 cups all-purpose flour and 1 tsp sugar
2 tsp oil and 2 tbsp butter
1 tsp baking powder and ¼ tsp baking soda
1/4 cup yogurt and salt to taste
Chopped coriander leaves and lukewarm water as required
How to Make It
Take all the ingredients in a bowl except butter and coriander leaves and knead a dough with lukewarm water.
Let it rest for 2 hours by covering it with moist cloth. After it, knead the dough again.
Take a ball size dough and roll in oval shape through rolling pin. Grease the naan with water on one side.
Put the greased side on tawa and after a minute flip the tawa upside down to cook the naan until it turn golden brown.
Serve with butter and coriander leaves on top.
Indian Sweet Dish Recipes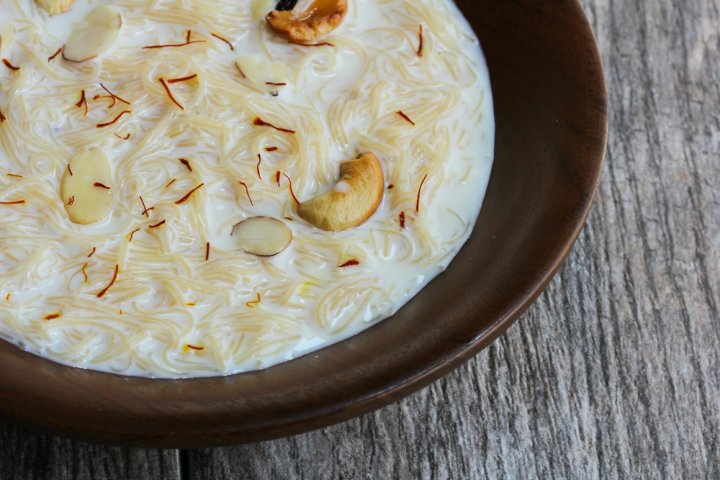 Whether its a festival or a kitty party dinner or a family dinner, it's incomplete without mouth-watering desserts at the last. Who doesn't like to fill his stomach with sweets? Here we are, coming up with some of the mouthwatering desserts recipes, you will love to try at your home if you are a true chef.
Gulab Jamun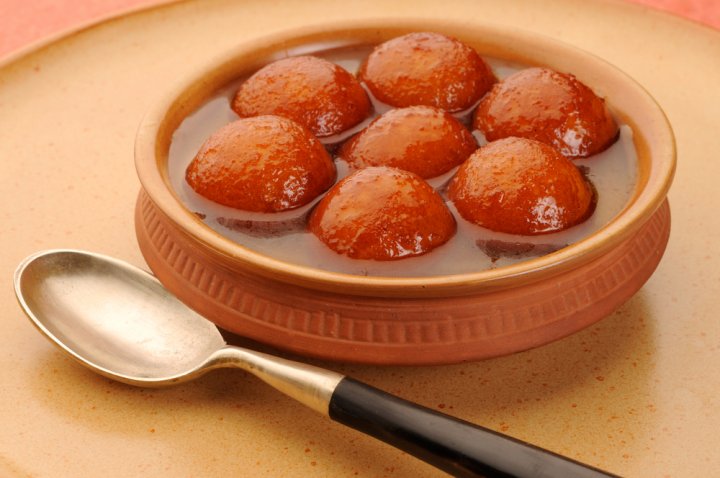 No traditional Indian food recipes and perfect Indian dinner is complete without including a wonderful sweet dish in it. So, here we are presenting one such recipe called Gulab Jamun.


Gulab Jamun
What You Need
200gms khoya and ¾ cup grated paneer
3tbsp all-purpose flour and 2tbsp fine sooji
1/2 tsp cardamom powder and 1 tbsp milk
1/4 tsp baking powder and oil for deep frying
250gms sugar and 1 cup water
1 tbsp rose water
How to Make It
Grate khoya in a bowl and mash well followed by grated paneer, sooji, all-purpose flour, baking powder and cardamom powder. Make sure there are no lumps left.
Add milk if you are unable to make balls and then leave the mixture aside for 30 minutes.
Make small balls of all the dough then dissolve sugar in water to make sugar syrup of one thread consistency and add rose water in it.
Deep fry gulab jamun balls on low flame until they turn deep brown in color. Remove excess oil and pour them in sugar syrup. Let them be for a while and then take them out to serve.
Gajar Ka Halwa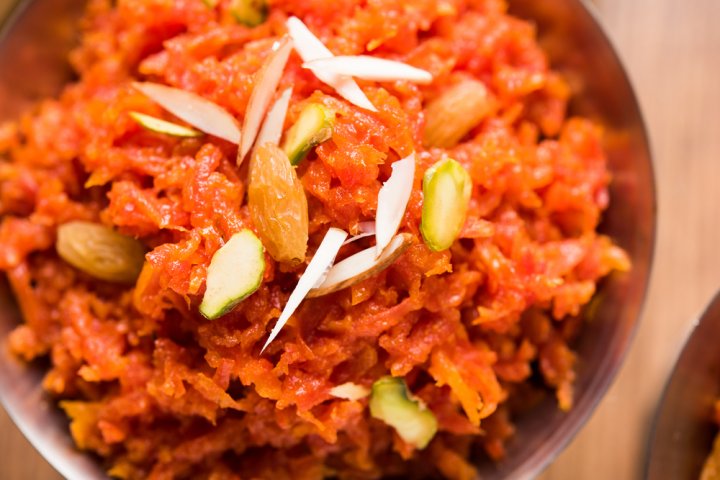 There is no such thing as too much sweetness when it comes to having Gajar Ka Halwa in winters. You can spot this sweet dish in almost all Indian households in winter days and you should also give it a try.


Gajar Ka Halwa
What You Need
1/2 kg carrots and ½ liter milk
1/2 cup sugar and ½ tsp cardamom powder
2 tbsp ghee and mixed nuts
How to Make It
Wash carrots and grate them and dry roast the nuts.
Bring milk to boil in a deep pan and add grated carrots in it to cook on a medium flame.
When the milk evaporates completely, add sugar and let it cook until half of the moisture evaporates.
Saute the halwa in ghee and sprinkle cardamom powder on it. Let it cook for 2-3 minutes then serve with roasted nuts on top.
Rice Kheer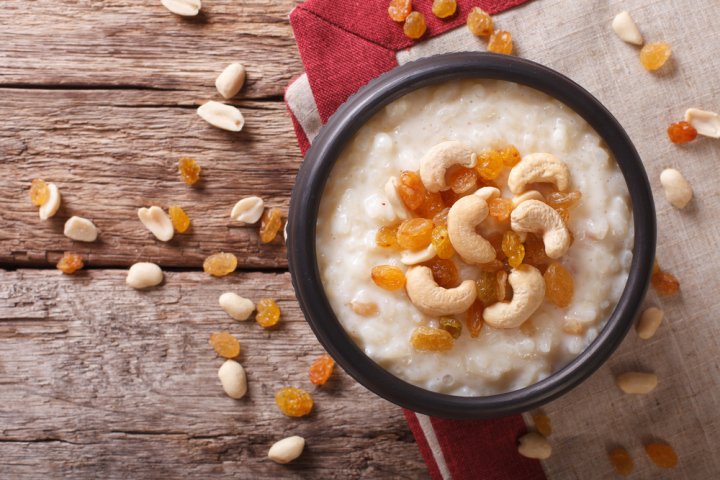 Last but not the least, we have amazing and super delicious kheer to go with the Indian food recipes and main course meal. Made out of reduced milk and rice, this kheer is perfect with traditional lunch.


Rice Kheer
What You Need
5 cups full cream milk and ¼ cup rice
1/2 cup sugar and ½ tsp cardamom powder
Mixed nuts and raisins
How to Make It
Boil rice and milk in deep pan then cook over low flame. Don't forget to stir occasionally until the milk becomes thick.
When thickened, add sugar, nuts and raisins and cardamom powder.
Serve hot.
India is rightly called the Land of Spices. No country in the world produces as many varieties of spices as India.

Indian food system classifies food into three categories: Saatvic (fresh vegetables and juice), Raajsic (oily and spicy food) and Taamsic (meat and liquor).
From our editorial team
Food, a first love for so many Indians
Diversity is the mother of variety. The same rule is there for food too. As in India, there is different food culture in every state of India. You can find a whole new variety of food when you drive from central India to any part of India, and the best part is that they will all be delicious. The Indian kitchen is a tradition which is generally handed by a mother over to the next generation. Like any good love story, when it comes to falling in love with food you can never forget the first recipe you made. But don't stop right there. Food has no boundary it has no relation, It is a bridge to make a good relationship. So, why to wait? Start your own new love story and get into the kitchen.