Does It Make Sense to Splurge on Luxury Jewellery Brands?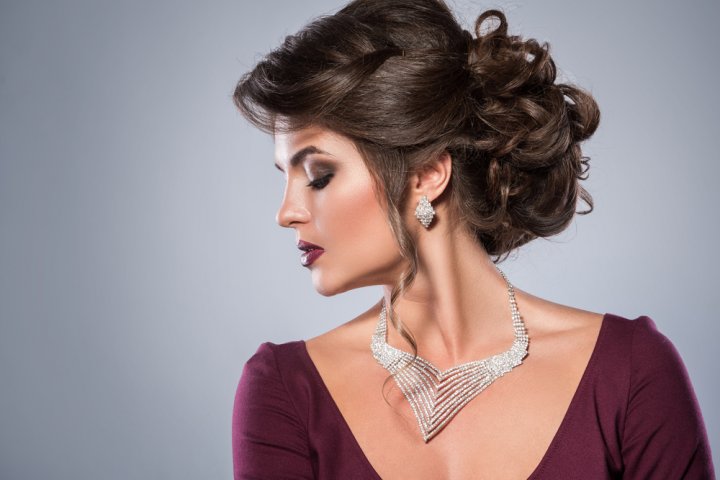 Jewellery is an absolute essential and if you are a woman you will definitely agree. We all love to buy and flaunt our prized possessions. Have you ever thought about why people love to buy jewellery and that too branded jewellery? Here are some of the most important reasons:
We love to show-off our status and style and the best way to do this is to wear branded jewellery. Branded jewellery is made of the highest standards and shows your personality.


The luxury brand jewellery pieces are made of the finest precious metals like gold and platinum and high-quality gems.


Branded jewellery becomes your identity and adds value to your personality and style.


Buying or gifting high-end jewellery is the best way to celebrate special occasions like weddings or births in the family. It would be cherished for a lifetime.


Shopping is often done emotionally, and when you buy branded jewellery it brings a sense of pride and confidence in you. It is an achievement and can boost your self esteem.


Since branded jewellery is made of the finest metals and gems it is a great investment.


It will always be treasured by you, it brings pride because you pay a good amount for it and appreciate it every time you wear it.


Although it is not a good thing to flaunt your economic status but we all tend to do that and the best way to do is to wear a luxury jewellery piece and have everyone talk about it.
Top 5 Luxury Jewellery Brands in India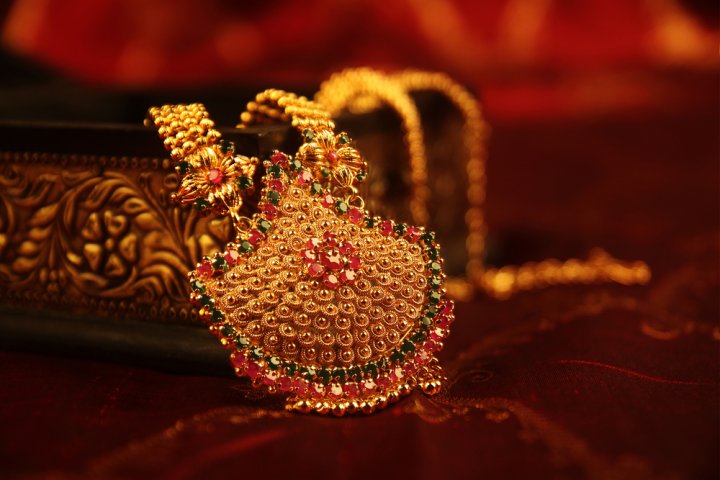 Here is a list of the top 5 luxury jewellery brands available in India. So, the next time you plan to buy a high-end jewellery piece look through the list and choose the best one for you.
Tanishq
Tanishq does not need any introduction. It is one of the leading jewellery brands in India. Tanishq is a division of the Titan Company and is headquartered in Bengaluru, Karnataka. The name Tanishq is made from 2 words – "Tan" meaning body and "Nishk" meaning gold ornament in Sanskrit.

Tanishq was launched in 1994 with exquisite 18 karat gold watches which were studded with precious stones, and now it is famous for its 22 karat jewellery in gold, not to mention its diamond jewellery. The designs of Tanishq are known to be some of the best traditional as well as contemporary pieces.

It is also known for its standards and business ethics. Tanishq follows strict guidelines for providing the best gold jewellery which can be checked for its purity with the help of a karat-meter available in all the 274+ Tanishq stores across 160+ cities in India. Tanishq lets you check your jewellery bought from other stores for its authenticity which made it even more popular when women found out that they were being cheated by their age-old family jewellers.

Tanishq not only offers the best jewellery but takes good care of their artisans and craftsmen, with benefits like health-care and financial aid. Tanishq's state-of-the-art factory is located in Hosur, Tamil Nadu with 3 other units in Dehradun, Pantnagar and Sikkim.

Tanishq continued to be the leading jewellery brand and in 2011 it started educating its customers about diamonds by airing commercials featuring Amitabh and Jaya Bachchan which led to a sale boom and enabled it to cross the ₹ 5,000 crore turnover mark. One of the best things about buying jewellery from Tanishq is that it follows a standard gold price and does not let the local market price influence it. The gold used for making jewellery in Tanishq is 40% recycled gold which they acquire from various exchange schemes.

Tanishq has also joined the list of recipients of the prestigious Red Dot Design Award which is one of the world's highest honour for product design, therefore, you can be assured of buying the latest and the best designs from Tanishq.

Tanishq makes jewellery for different occasions like weddings, festivals, etc. and the designs vary with cultures and traditions. It also makes jewellery for all age-groups and mindsets. Tanishq is currently serving more than a million customers every year. You can also buy its Mia jewellery range for working women, Rivaah for weddings and Aveer which was recently launched for men.

If you are wondering what are the different kinds of jewellery you can buy from Tanishq then you can buy kundan jewellery, solitaire diamonds, wedding jewellery, engagement rings, polki jewellery, South Indian jewellery, gold jewellery, mangalsutra, platinum jewellery, pearls, etc. Check out the Tanishq website and see for yourself. Don't blame us if you fall in love.
Malabar Gold and Diamonds
Malabar Gold and Diamonds is one of the leading luxury jewellery brands, not only in India but also in 10 other countries, and is operating 250+ stores worldwide. It has 10 wholesale outlets and state-of-the-art factories across India, Middle East & Far East and is one of the top 5 jewellery retailers in the world. It is known for its "Era" and "Precia" brands of jewellery.

Malabar Group was founded in 1993 in Kozhikode and has a vast number of experts to make some of the most stunning jewellery pieces in gold and diamond. India has the most number of outlets and the group is earning most of its revenue from the Indian market itself. Prominent personalities associated with the brand include tennis star Sania Mirza and Malayalam superstar Mohanlal as their first brand ambassadors. The brand has a team consisting of 14 nationalities who are proficient in more than 50 languages and has made a mark in the most prestigious malls and department stores around the globe.

Malabar Group has bagged the "Super Brand" award for 5 years, as well as the "Retail Jewellers India" organisation accolade in 2017 for contributing to the gemstone and jewellery industry. It was also recently recognised as one of "The Economic Times Best Brands" in 2019.

The brand is also known for its excellent corporate social responsibility by committing itself to make a difference to society and human life. The key areas of their CSR initiative include health, education, housing, environment and women empowerment and it has helped over 600,000 patients by providing them with lifesaving drugs.

You can buy solitaire diamonds, spiritual jewellery, party wear jewellery, casual wear jewellery, office wear jewellery, gold jewellery, maang tikka, platinum jewellery, etc from Malabar Gold & Diamonds. Check out Malabar Gold & Diamonds for their complete product portfolio.
Kalyan Jewellers
Kalyan Jewellers started with 1 showroom in a single city and now it is one of the major luxury jewellery brands in the country and West Asia with around 8,000 people working for it around the world.

It was founded by T. S. Kalyanaraman in 1993 in Thrissur, Kerala with a capital of ₹ 7.5 million but it started in 1908 as a family business with an aim of nation building and self sustenance in pre-independent India. The founding fathers of Kalyan Jewellers practised ethical, honest and transparent business practices and became one of the leading luxury jewellery brands in India.

India is a diverse country with different cultures and traditions therefore Kalyan Jewellers creates jewellery keeping the diversity of the country in mind. They have some of the finest craftsmen who are experts in creating unique designs. Kalyan Jewellers has 144 retail stores in India and the Middle East with "My Kalyan" hub-and-spoke model outlets acting as customer service centres which enable people from rural areas to reach out and buy the jewellery they desire without any hassle.

You can by wedding/bridal jewellery by state, antique jewellery, uncut diamonds, polki diamonds, everyday diamonds, pearls, gold jewellery, gemstones, platinum, etc. Check out Kalyan Jewellers for more details.

Buying your next luxury jewellery from Kalyan Jewellers can be a good choice especially if you are planning to gift it to someone special.
Tribhovandas Bhimji Zaveri (TBZ)
Another luxury jewellery brand in India is Tribhovandas Bhimji Zaveri (TBZ) which started in a village called Saurashtra in Gujarat in 1864. TBZ is known for its uniqueness, purity, quality and service throughout India. TBZ has a huge number of satisfied customers in the national and international market. It has made a mark through its traditional and handmade jewellery which is in high demand during the festive season in the country.

You can be assured of getting the best quality gold and diamond jewellery at TBZ as they are selling hallmarked gold jewellery with an ISO 9001:2008 certification which has created a trust between them and the customers. The best part of TBZ is that it is not a mass production unit because it believes in taking care of each piece of jewellery produced to make it perfect for the jewellery lovers.

TBZ was founded by Tribhovandas Bhimji Zaveri in Zaveri Bazaar in Mumbai and is currently run by his sons Gopaldas and Shrikant Zaveri. It is running 37 stores in 23 cities across 11 states which have made it a leading jewellery brand. You can buy diamond jewellery, necklaces, earrings, jadau, bridal jewellery, gold jewellery, platinum, lightweight jewellery, etc. from any of their stores. You can also check out TBZ – The Original to see the kind of jewellery pieces they offer and go on an online shopping spree.
Joyalukkas
Joyalukkas started its journey in 1956 in Thrissur, Kerala and today has 140 stores in 11 countries. It is a brand known for crafting some of the best traditional South Indian gold jewellery and is proud to have Kajol as its brand ambassador. Joyalukkas has more than 8,000 people working for them around the globe who are committed to making excellent gold and diamond jewellery. The intricate and beautiful jewellery designs created by Joyalukkas have resulted in serving more than 10 million loyal and satisfied customers. It has also received the first ISO 9001:2008 and 14001:2004 certifications which was just the beginning of its achievements.

Joyalukkas opened the world's largest showroom and the first diamond cave in Chennai which is known as the jewellery hub of India. The showroom provides exquisite jewellery pieces which are one of a kind.

If you are wondering what kind of jewellery you can buy from Joyalukkas then you can visit their website – Joyalukkas. Some of the kind of jewellery pieces you can buy from Joyalukkas include uncut diamonds, gemstones, gold jewellery, platinum jewellery, pearls, daily wear jewellery, party wear jewellery, office wear jewellery, silver jewellery, gold coins, gold bars, etc.
Luxury Jewellery Brands Around the Globe
Other than some of the best Indian luxury jewellery brands, there are brands which are famous all around the globe for their perfection and unique jewellery pieces. If you are one of those who are planning to buy an international brand then here is a list of some of the best luxury jewellery brands to choose from:
From our editorial team
Invest Your Money Only in the Best Luxury Jewellery Brands
When buying luxury jewellery, you should invest your hard-earned money only in the best luxury jewellery brands. You are assured of complete satisfaction and peace of mind, even if it comes at a little premium. We hope this BP Guide would have helped you decide which luxury jewellery brand you would like to choose for your next jewellery purchase. Stay connected with us from more such engaging content.