Easy and Tasty Egg Recipes for Kids and Adults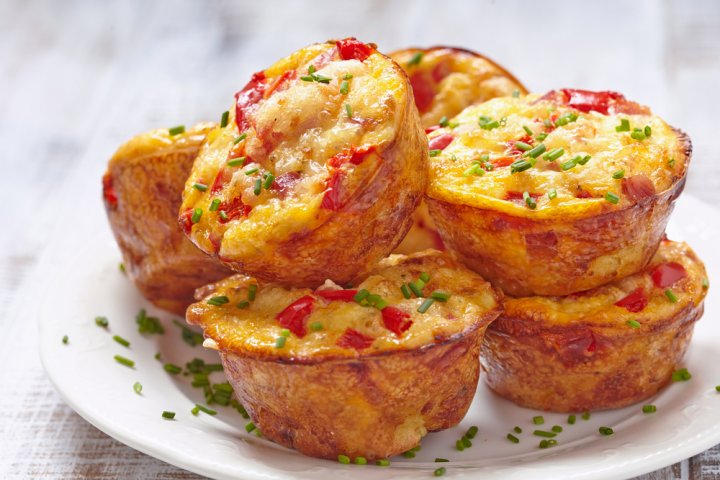 Eggs are essential for overall growth and are a rich source of protein. While everyone loves simple and quick recipes like omelettes and boiled eggs, little do we experiment with the eggs. Eggs are an extremely important source of nutrients other than protein such as vitamins, iron, minerals, carotenoids, etc. Let us deep dive into the health benefits of eggs before going ahead with the tasty, easy and super quick egg recipes for kids.
Health Benefits of Eggs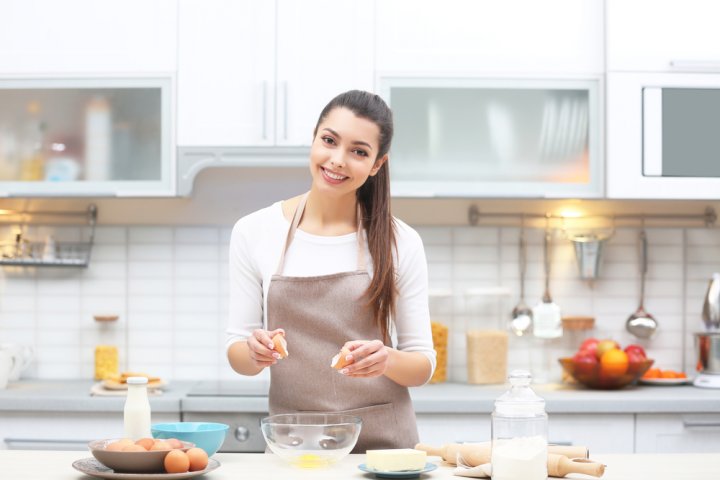 This BP Guide will help you discover some of the most important health benefits of eggs before going ahead with the tasty, easy and super quick recipes of eggs.
Rich Source of Protein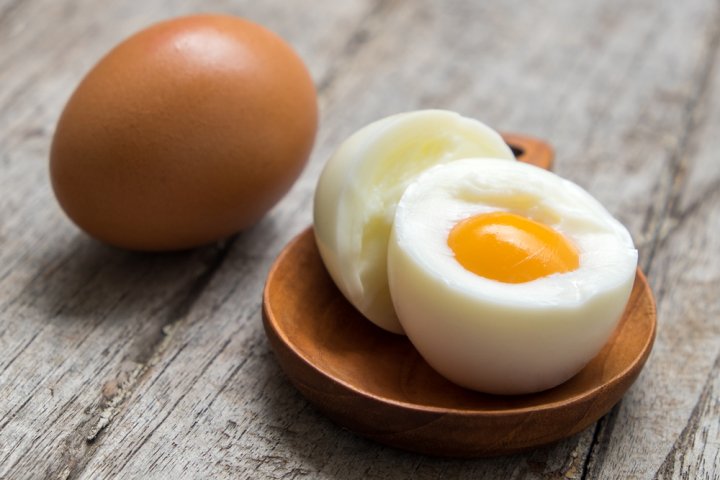 One egg contains approximately 6.3 grams of protein that is very essential for your overall growth. There have been multiple research studies done on the protein requirements of the human body which suggest that on an average there is a need of 56 grams per day of protein for a sedentary man and around 46 grams per day of protein for a sedentary woman. However, the exact amount of protein that your body needs depends on a lot of factors such as physical activity throughout the day, age, health, muscle mass and so on. As kids are more active and it is therefore suggested to give them 1-2 eggs per day.
Perfect Source of Good Fat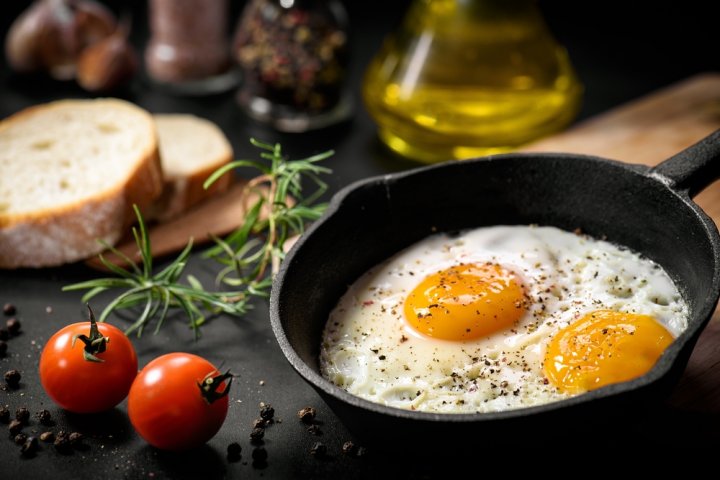 Egg is a rich source of both saturated and unsaturated fat therefore it is best for the kids who are involved in a lot of physical activities, long hours of learning and so on. Across the world, obesity has become a grave concern and has even gripped the kids. In order to fight the obesity problem, you can introduce eggs in the diet of your kids which is a healthy as well as a tasty snack alternative rather than fries, burgers and other such junk items. You can add boiled eggs and poached eggs in the daily routine of your kids. You can also try one of the recipes that we have suggested here.
High Iron Content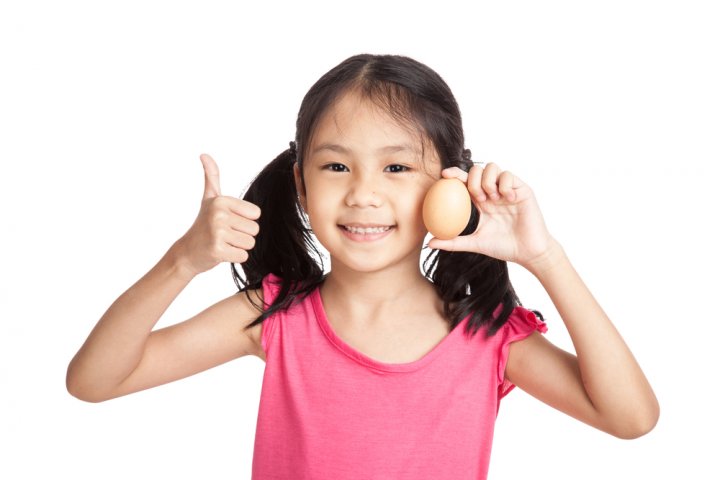 First of all, it is important to understand why you need iron content in your body. Iron ensures that your blood cells are maintained at a healthy level. This is very important to ensure that the oxygen is reaching every part of the body and therefore helping in the overall internal and external development of the body. 1 egg contains approximately 1.75 mg of iron and therefore 1-2 eggs a day will ensure that your kids get the required iron on a daily basis.
Rich Source of Amino Acids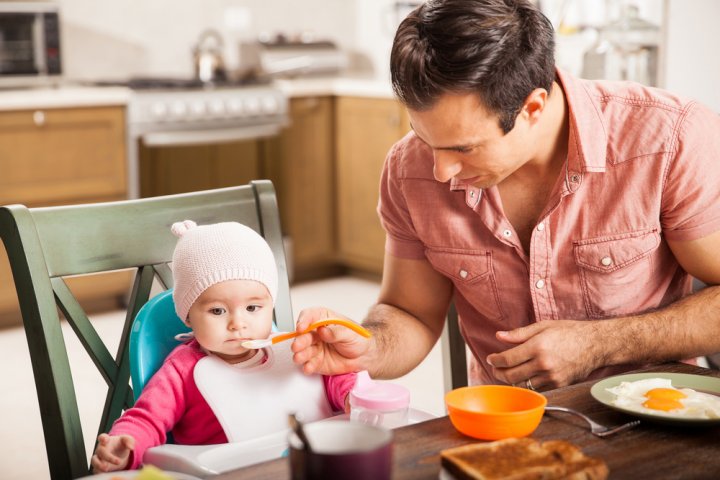 As you would be aware, amino acid plays an extremely important role in your body assisting in the functions like creation and growth of skin, muscles and even the connective tissues. Moreover, it is the amino acid that helps in building the strength of the muscles as well as tissue. Eggs are a rich source of amino acids and therefore should be given to the kids in their diets without fail. You will be surprised to know that eggs consist of 9 essential amino acids and therefore you can get all nine of these amino acids from eating eggs.
Easy and Quick Recipes of Eggs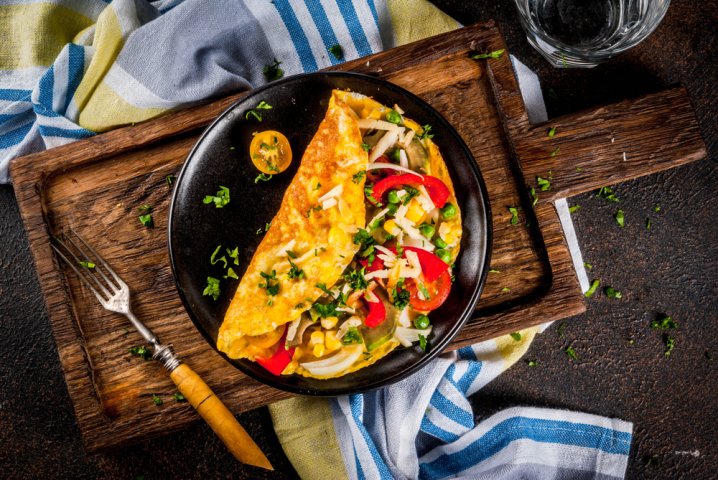 Now that you have understood the importance of an egg diet for your kids, let us make this super-food even more interesting. Here are some quick and delicious recipes for ensuring that your kids eat eggs everyday:
Egg and Potato Scramble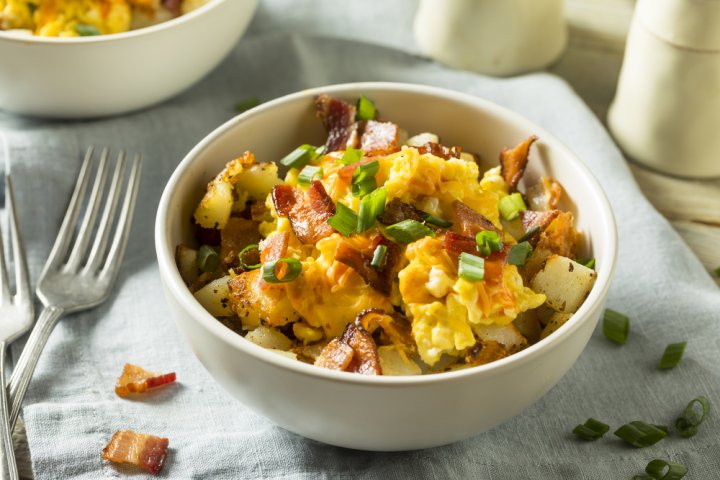 You would have hardly come across a kid who does not have a liking for potatoes. Fry it, mash it, wedge it or prepare it any other way you want, the taste remains delectable. The ingredients that you need are very simple and yet have a lot of flavours. You need:
Ingredients:
Eggs – 2
Onion – 1
Potato – 1
Cumin seeds – ¼ tsp
Capsicum – 1 (if your kid likes it)
Turmeric powder – ¼ tsp
Oil/butter – 1 tsp
Salt to taste
How to Make:
After collecting all the items, start with beating the eggs and sprinkle a pinch of turmeric over it.
Thereafter grate the potatoes and the chopped onions in another bowl and set it aside.
Take a pan and add butter or oil followed by the cumin seeds and wait for them to splutter.
Thereafter put the grated potatoes and onions in the pan and fry them until the potatoes are cooked well.
Put the cooked potato and egg in the egg mix and thereafter pour the mix in the heated pan. Stir and cook the eggs well and thereafter serve it with ketchup.
Egg and Veggie Loaded Paratha
A nice mix of veggies and egg is what makes the diet of your kid healthy and nutritious. You all know how kids throw tantrums in eating veggies. How about making a dish that is filling, full of nutrition and super tasty that your kids are going to love? Here are the simple ingredients that you need for making this egg paratha:
Ingredients:
Eggs – 2-3
Chopped veggies like carrots, onion, coriander, capsicum, spinach, etc. – 1 cup
Wheat flour – 3-4 cups
Butter/oil/ghee – 1 tbsp
How to Make:
Take a bowl and break the eggs into it and thereafter add the veggies.
Beat the eggs and veggies to form a smooth mix.
Take another large bowl and combine the wheat flour and knead the dough with the egg mixture in it.
Make small sized balls from the dough and roll them evenly with a rolling pin.
Heat a pan and pour 1 tbsp of butter/oil/ghee. Put the paratha on the pan and cook it well on both the sides.
You can use more oil or butter as needed. That's all, super delicious parathas are ready to be served with fresh yogurt or chutney.
Egg Sandwich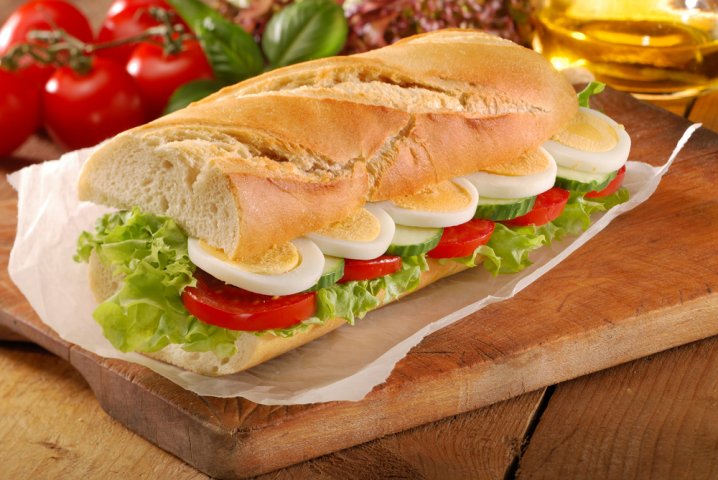 If you are looking for something that is easy to eat, non-spill and your kid's favourite then this egg sandwich is for you. Moreover, you can use scrambled, poached, or fried eggs in an egg sandwich depending on how your kid likes it. Following are the simple ingredients that you would need for this egg sandwich:
Ingredients:
Sandwich bread (or whichever bread is available) – 4 slices
Eggs (the way you like it) – 2
Lettuce – 2
Mayonnaise – 2 tbsp
Onion (chopped) – 1
Carrot (chopped) – 1
Butter/oil – 1 tbsp
How to Make:
Here we will share the recipe of a boiled egg sandwich because boiled eggs are the healthier option.
Boil 2 eggs for 1 sandwich and then remove the shell once boiled well.
Thereafter slice the eggs into 3-4 slices. Set the egg slices aside.
Heat a pan and put 1 tbsp of butter/oil. Now put the chopped onion and carrot in the pan and lightly fry it.
You can add ginger and green chillies depending on the taste of your kids.
Toast the sandwich bread slices and spread the mayonnaise on the bread slices and top it with fried onion and veggies.
Thereafter, put the slices of the boiled eggs on the bread.
You can make it more interesting by putting tomato ketchup and a cheese slice on the top.
Cover with another slice and the sandwich is ready to serve to the kids.
Egg Omelette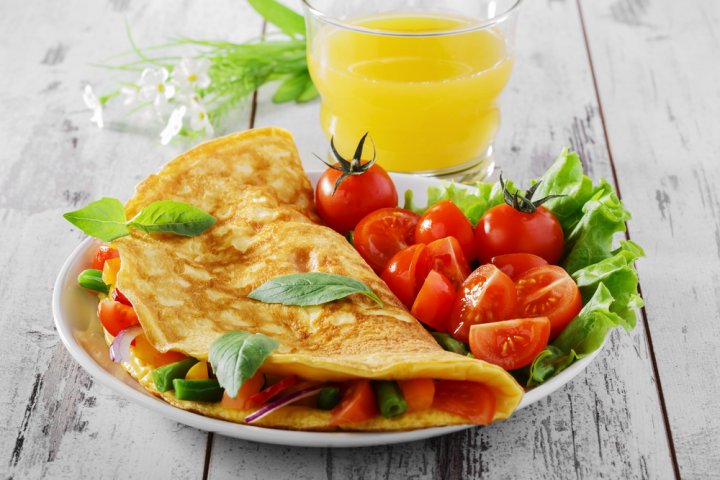 A classic and loved by all, give a twist to your regular egg omelette by adding veggies and meat depending on the preferences of your kids. The ingredients you require are:

Ingredients:
Eggs – 3
Veggies – optional
Meat – optional
Cheese – as per the taste
Salt to taste
How to Make:
Break 3 eggs in a bowl and beat it nicely before adding veggies or the meat chunks.
Make sure that the veggies and meat chunks are chopped just about the right size supporting the taste of the omelette and not overpowering it.
For more smoothness, you can add 1 tbsp of milk but that is completely optional.
Heat the pan and put butter followed by the omelette mix and cook it nicely on both the sides.
Grate the cheese on top of it and take it off from the heat in a serving plate for the kids to eat.
Egg Burrito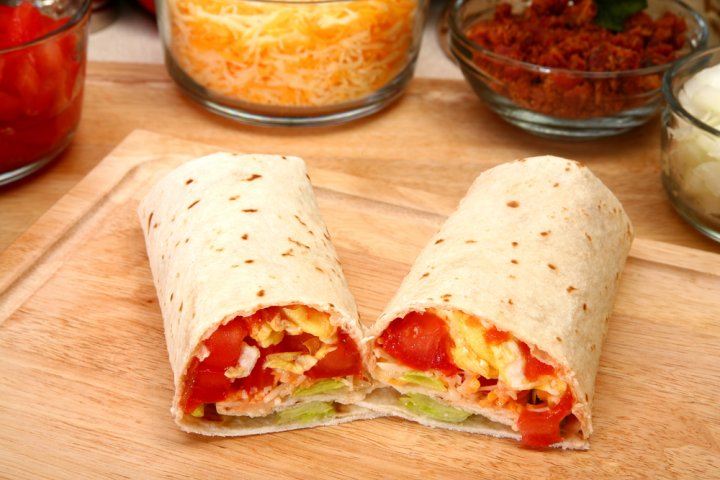 You only need a few ingredients to assemble this quick and super tasty dish. You all know that kids like something that they can eat on the go. Moreover, you also want to give them something in their evening snack box which is easy to eat and spill-proof. Here are the simple ingredients you need for making an egg burrito:
Ingredients:
Scrambled eggs – 3
Veggies – all that your kids like
Tortilla
Salsa sauce
How to Make:
Cook the eggs with a lot of veggies such as spinach, tomatoes, broccoli, etc. and set it aside.
Heat the tortilla in a pan and stuff it with the egg mix that you have prepared.
Heat the stuffed tortilla wrap till it becomes golden brown.
Serve it hot with the salsa sauce for your kids to fall in love with the dish.
Egg Fried Rice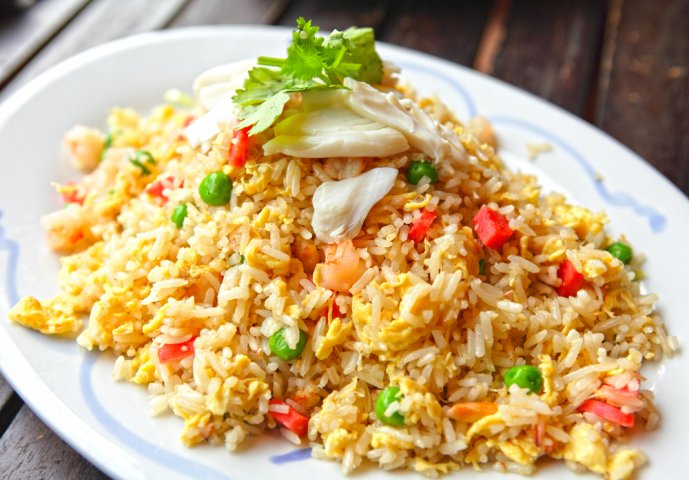 Perhaps the simplest and yet the most loved recipe by kids and adults alike, egg fried rice is healthy and filling. To make egg fried rice you need:
Ingredients:
Cooked rice
Eggs
Cooking oil
Veggies
Soy sauce
How to Make:
Take a pan and put oil in it followed by cumin seeds.
Once the cumin seeds start to splutter, break the eggs into the pan and add the veggies.
Once the rawness of the veggies is gone and the eggs are in scrambled position, put the cooked rice in the pan.
Add soy sauce and stir it for 3-4 minutes before serving it hot in a plate.
You can serve the rice with fresh yogurt too.
Egg Noodles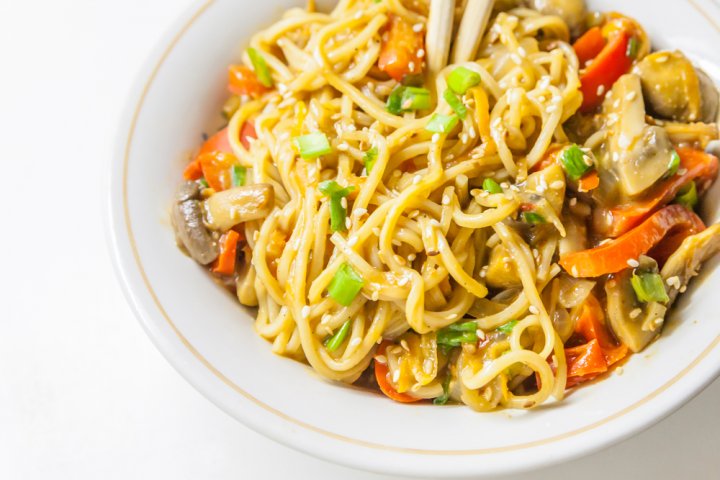 Kids love eating noodles and therefore as parents you have a lot of options to trick them into eating the veggies by adding them to the noodles. To make the noodles healthier and tastier, you can even try adding eggs. For making easy egg noodles in the Chinese style, you need:
Ingredients:
Boiled wheat noodles – 2 cakes
Eggs – 2-3
Capsicum (chopped) – ½ cup
Onion (chopped) – 1
Veggies of your choice – ½ cup
White pepper – as needed
Cooking oil – 2 tbsp
How to Make:
Heat a pan and add 2 tbsp of oil into it and break the eggs into the pan once the oil is heated up.
When the eggs are scrambled, add the veggies and stir fry.
Remember that the secret to make good noodles is the temperature of the pan.
All the Chinese dishes are made on high flame even if you are making it in your regional style. So make sure that the flame is high enough but the veggies and eggs do not burn.
After 1-2 minutes add the boiled noodles in the pan and stir fry for 2-3 minutes on high flame.
Add white pepper and salt to taste and mix well.
Serve the delicious egg noodles with ketchup.
Egg Dosa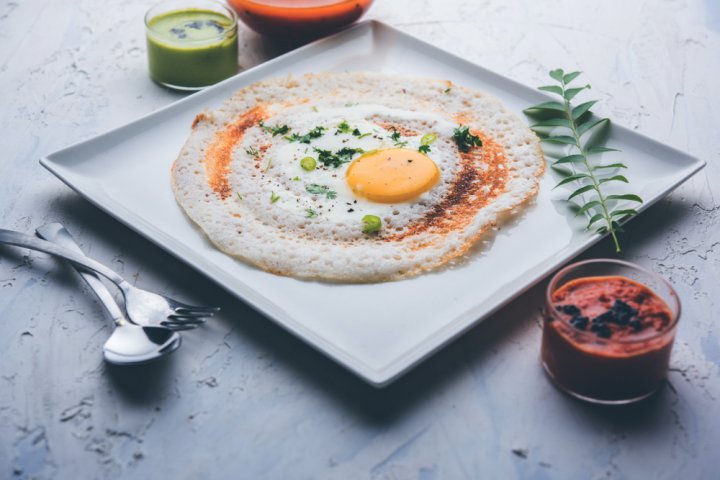 Give dosa a twist with eggs to make the dosa even more interesting. Dosa in itself is an energy breakfast that keeps your kids satiated for long and energetic. For making this egg recipes for breakfast you need:
Ingredients:
Dosa batter
Eggs
Gunpowder
Black pepper powder
How to Make:
Heat a pan with 1 tbsp cooking oil and spread the dosa batter according to the thickness that you like.
As the dosa is cooking, break an egg on the dosa to make an half fry egg.
Sprinkle gun powder and black pepper powder and you are done.
The goodness of dosa and egg makes this breakfast satisfying and delicious.
Baked Eggs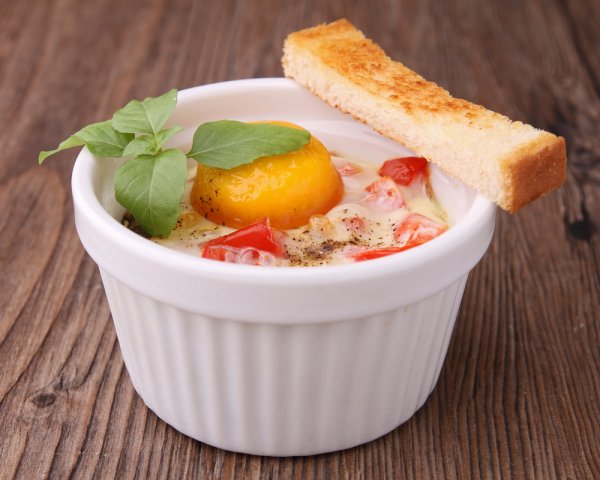 It could not get easier and tastier than this, as baked eggs are a perfect example of minimal cooking but maximum taste.
Ingredients:
Eggs – 8
Cream – ½ cup
Onion (finely chopped) – 1
Cherry Tomatoes – 1 cup
Spinach – 1 cup
Parsley – for garnishing
Basil Leaves – for garnishing
Butter – 2 tbsp
Salt and pepper – to taste
How to Make:
Crack the eggs and add salt, pepper and some cream to it followed by whisking.
Take a pan and heat the butter and chopped onions followed by spinach, tomatoes, and basil leaves.
Add salt and pepper according to your taste.
Take a mould and add both the vegetable mix and eggs to it.
Bake the mixture for 5-6 minutes at 180°C and your baked eggs are ready to be served.
Egg Tacos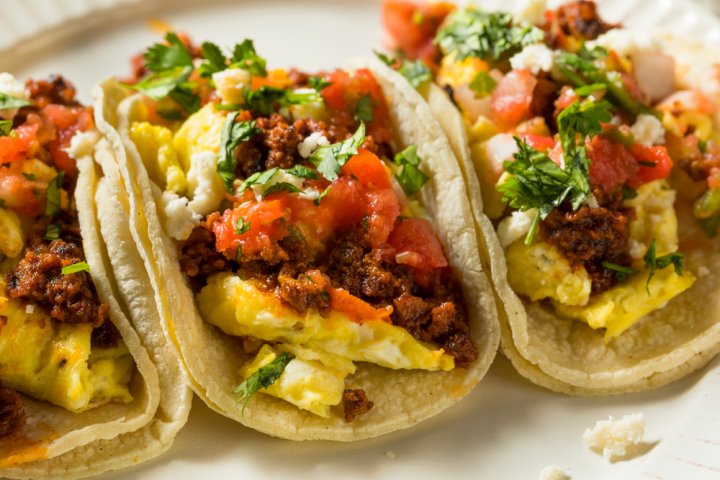 Last but not the least, these egg tacos are a perfect mouth watering egg recipe for lunch for your kids and family.
Ingredients:
Eggs – 4
Butter (unsalted) – 1 tbsp
Avocado (thinly sliced) – ½
Pepper (freshly ground) – to taste
Tortilla chips
Canned corn or beans
Salsa – ¼ cup
Cheddar cheese – ¼ cup
Coriander or fresh cilantro – 2 tbsp
How to Make:
Break the eggs in a bowl and add salt and pepper as per your taste to whisk it well.
Heat the butter in a pan and cook the eggs for 2-3 minutes.
Tip in the egg in the tortilla chips and top it up with salsa, avocado, cilantro and salsa.
Different Types of Eggs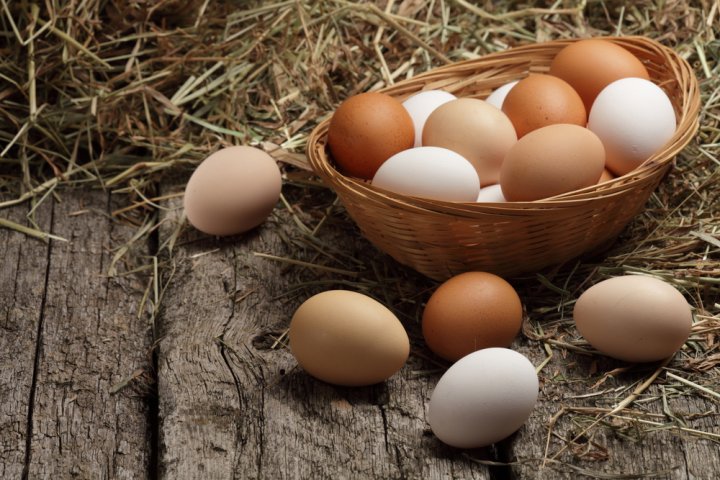 While making these recipes it is important to understand different types of eggs:
Egg Grades:

Eggs are normally categorised into Grade AA, A and B eggs depending on the appearance, whites and shape of the yolks.



Processed Eggs:

A few examples of processed eggs are powdered eggs, liquid eggs, etc. Just like any other processed food, avoid buying processed eggs if you have the option of fresh eggs.
From our editorial team
Eggs – Power Packed with Health and Nutrition
Eggs are packed with health and nutrition and are great not just for your kids but for your entire family. We hope this BP Guide would have convinced you that preparing healthy and delicious egg recipes is not difficult at all and is a great way to fulfil the dietary requirement of your kids. Stay connected with us for more such engaging content.