Eggs: The Breakfast Essential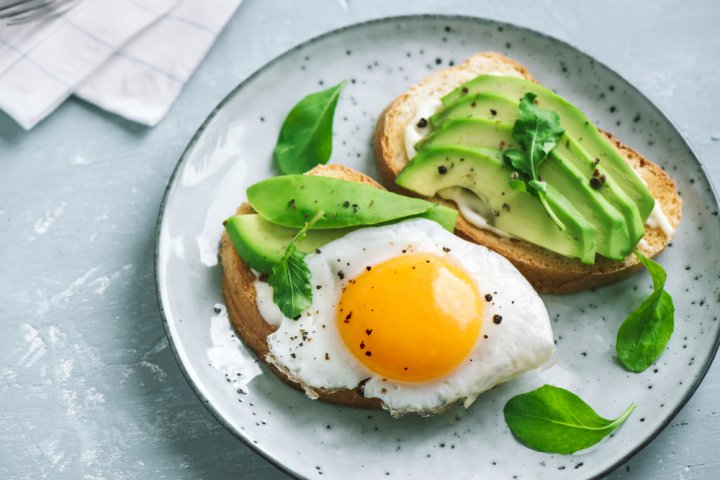 Breakfast is the most important meal of the day and it is smart to make it a healthy one. A healthy breakfast is a good habit that produces rich dividends in the long run. There is one item that is packed with nutrients and is a part of almost any healthy breakfast around the world. The item is considered to be the humble egg. Eaten in various forms, eggs are a delicious way of being healthy.

Moreover, some egg dishes are delicious but very easy to prepare. These dishes do not consume much of your time, doesn't demand you to be a master chef yet gives you a healthy and delicious fare. Let us look at some easy and egg recipes as well as the health benefits of adding eggs to our diets.
5 Quick and Easy Indian Egg Recipes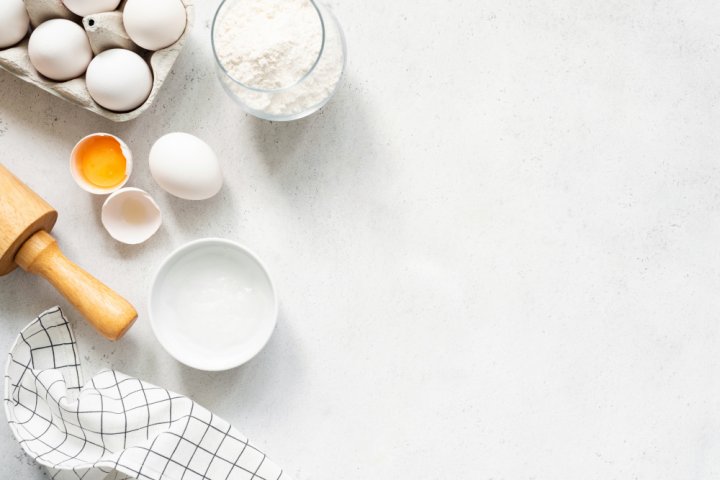 If you are looking to add eggs to your breakfast meal then you are at the right place! We the Indians know that there is nothing better than a wholesome, spicy, fragrant Indian dish. Nothing sets the mood for us Indians than the aroma of our cuisines. Follow this BP Guide for 5 quick and delicious Indian egg dishes recipes made with the humble egg, spices that are found in every Indian kitchen, and bare minimum methods:
Omelette with Onions and Tomatoes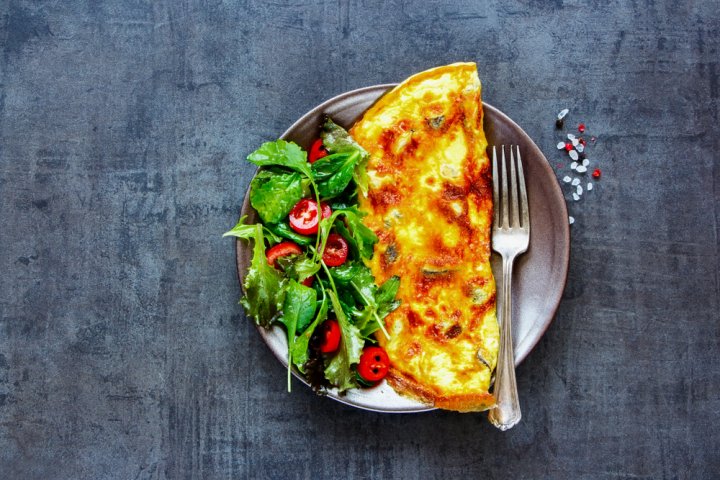 Ingredients:
½ of a large onion
½ of a large tomato
1 green chilli (optional)
2 large eggs
Salt to taste
Procedure:
Chop the onion and tomato into small cubes.
Chop the chilli into small pieces.
Take a bowl and crack the 2 eggs in it. Add a pinch of salt, the chopped onion, tomato, and chilli to it and whisk until the egg whites and the yolks get well combined.
Heat a frying pan, put in 2 tablespoons of oil, and wait for the oil to heat up.
When the oil is hot enough put in the egg mixture and cook until the omelette becomes firm.
Bread Omelette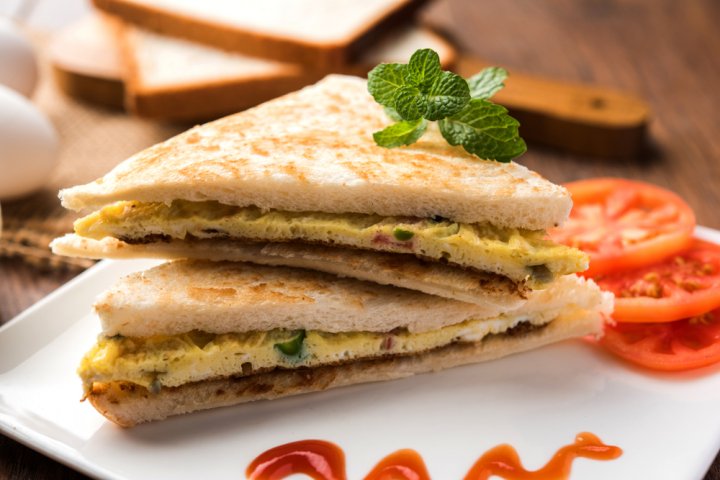 Ingredients:
4 slices of milk bread
4 large eggs
1 large onion
2 green chillies(optional)
Salt to taste
Procedure:
Finely chop the onions and green chillies and set aside.
Take a medium-sized to a large bowl and crack the 4 eggs in it.
Add a pinch of salt, the chopped onions and chillies to it and whisk until the egg whites and the yolks are properly combined.
Heat 4 tablespoons of oil in a frying pan.
Dip a piece of bread in the egg mixture until it is well coated and fry both sides in the pan. Do this with all the 4 pieces of bread.
Egg Bonda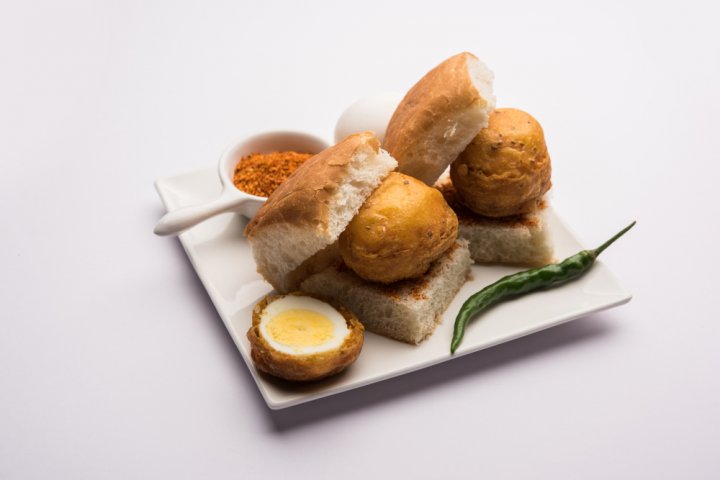 Ingredients:
5 boiled eggs
½ cup of gram flour(besan)
2 tablespoons of cornflour
1/8 tablespoon of carom seeds(ajwain)
¼ tablespoon of red chilli powder
½ teaspoon of turmeric
½ tablespoon of garam masala or meat masala(optional)
Salt to taste
Water as required
1 medium-sized onion
1 green chilli
1 tablespoon of finely chopped ginger and garlic
Procedure:
Blend the onion, chilli, and the finely chopped ginger and garlic with 2 tablespoons of water to make a fine paste.
In a bowl mix the dry ingredients which are gram flour, cornflour, carom seeds, chilli powder, turmeric, salt, and the masala powder. Add the onion paste to it and mix well until well combined. Your batter is ready.
Poke tiny holes in the hard-boiled eggs with a toothpick and slice them each into 2 pieces.
Dip each piece in the batter and coat it well. Deep fry each piece until the batter becomes golden brown In colour.
Boiled Egg Sandwich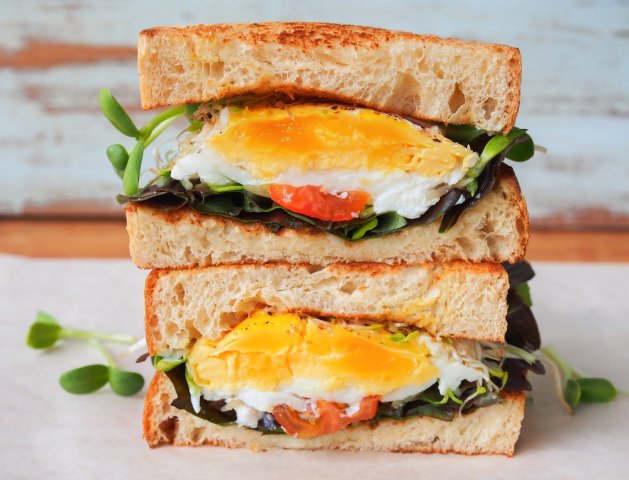 Ingredients:
2 boiled eggs
2 slices of cheese (any cheese)
Butter
4 slices of milk bread
Procedure:
Coat each surface of the bread with a little bit of butter, about the amount you usually put on buttered toast.
Cut the boiled egg into slices or lightly smash them with a fork.
Place the sliced or smashed eggs on a piece of bread. Top it with a slice of cheese and another piece of bread. Do the same with the other 2 slices of bread.
Heat a tablespoon of butter in a frying pan and carefully place a sandwich in it.
Press it down with a spatula until the bottom bread becomes brown in colour.
Now carefully flip the sandwich and cook the other bread in the same manner. Be careful to not burn the bread.
Do the same with the other sandwich. This sandwich turns out the best in a sandwich maker or a grill. So, if you have them, use them instead of the frying pan.
Paneer Egg Burji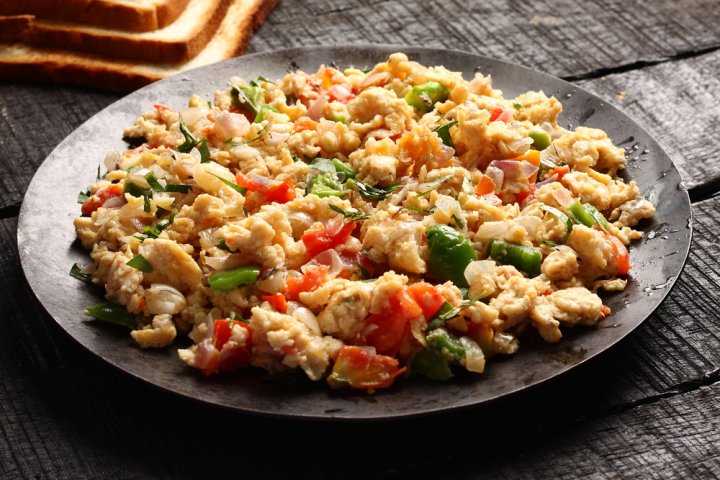 Ingredients:
4 eggs
½ cup of finely chopped paneer
½ cup of finely chopped onions
½ cup of diced tomatoes
¼ cup of grated carrot
2 chopped green chillies
½ teaspoon of cumin powder
1 teaspoon of coriander powder
½ teaspoon of red chilli powder
¼ teaspoon of turmeric powder
½ teaspoon of garam masala
½ teaspoon of chaat masala
Salt to taste
Coriander leaves for garnishing
Procedure:
Start by heating oil in a frying pan.
Add the cumin and let it splutter. Then add the chopped onions and green chillies and saute until the onions are golden brown. Add the tomatoes and saute until it becomes soft and mushy.
Add salt, coriander powder, chilli powder, cumin powder, turmeric and saute for 2 minutes.
Crack the eggs in it and cook until the eggs start scrambling.
Mix the paneer, carrots, and coriander leaves in it and cook for 3 minutes.
Finally, sprinkle the garam masala and chaat masala on top and cook for a minute.
Take it out of the skillet and garnish with coriander leaves.
5 Easy International Egg Recipes
Sometimes, our taste buds deserve a change. To enable that, BP Guide brings you the recipes of 5 easy and quick international breakfast dishes with eggs
Shirred Eggs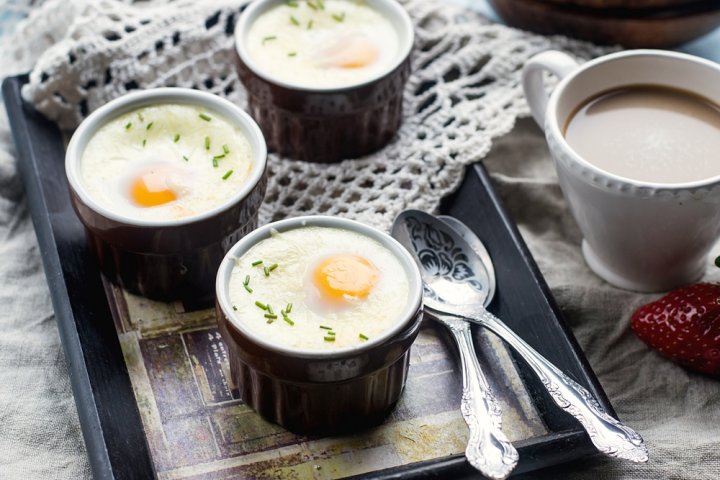 Ingredients:
4 teaspoons of melted butter
8 tablespoons of heavy cream
8 eggs
¼ cup of shredded cheddar cheese
Black pepper to taste
Salt to taste
Procedure:
Take 4 ramekins or small baking dishes and coat the insides with the melted butter. Make sure to thoroughly coat the bottom and the sides.
Crack two eggs into each ramekin then add two tablespoons of heavy cream into each of them.
Sprinkle salt and pepper as per your taste.
Preheat an oven to 180 degrees celsius and bake for 10 to 15 minutes.
After that, take out the ramekins and top it with shredded cheddar cheese and put back in the oven for about a minute until the cheese is melted.
Scotch Eggs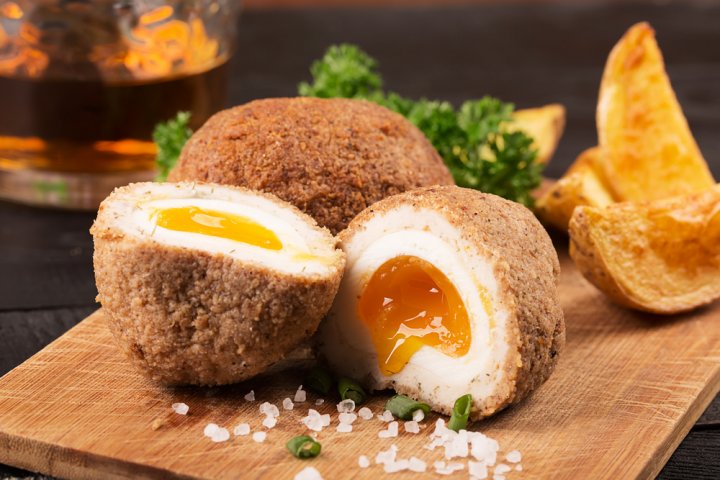 Ingredients:
1 cup of flour
6 large eggs
1 cup of finely crushed corn flakes
¾ cup of minced sausage meat
Salt and pepper to taste
Procedure:
Soft boil 4 eggs and set aside to cool.
Take a bowl and crack the remaining two eggs in it. Whisk it well to make the egg wash.
Take two more bowls and put the flour in one and the crushed corn flakes in the other.
Peel the soft boil eggs and wrap each one of them in the minced sausage meat. The eggs should be properly encased in the sausage cover.
Take a sausage wrapped egg and coat it first with the flour, then the egg wash, and lastly the corn flakes.
Follow this same procedure with the rest of the eggs.
Then deep fry the eggs until the outside becomes golden brown.
Frittata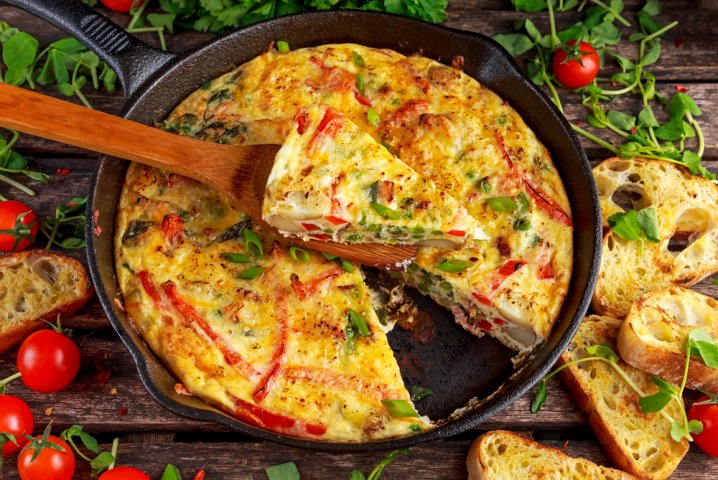 Ingredients:
6 large eggs
¼ cup of heavy cream
2 small potatoes
2 cups of spinach
2 cloves of garlic
2 teaspoons of ajwain(use thyme leaves if you get them)
1 cup of shredded cheese(optional)
4 slices of bacon(optional)
Salt to taste
Procedure:
Take a bowl and whisk in the eggs, salt, and heavy cream. Set it aside.
Peel and cut the potatoes in thin slices. Cook the bacon in a frying pan for 8 to 10 minutes or until it becomes crispy.
Remove the bacon from the pan and set it aside.
Keep 2 tablespoons of the fat on the pan. Saute the potatoes in the bacon fat with a sprinkle of salt and pepper for about 4 to 6 minutes or until the potatoes become golden brown. If you are not using bacon then saute the potatoes in 2 tablespoons of oil.
Then cook the spinach, garlic, and ajwain for about 30 seconds or until the spinach wilts.
Put in the bacon and mix the ingredients in the pan. Spread it evenly across the bottom of the pan with the back of a spoon or spatula.
Sprinkle the cheese evenly on top. As soon as the cheese starts to melt, pour the egg mixture over the cheese and cook until the edges start to set.
Bake the frittata in an oven preheated to 200 degrees celsius for 8 to 10 minutes.
Devilled Eggs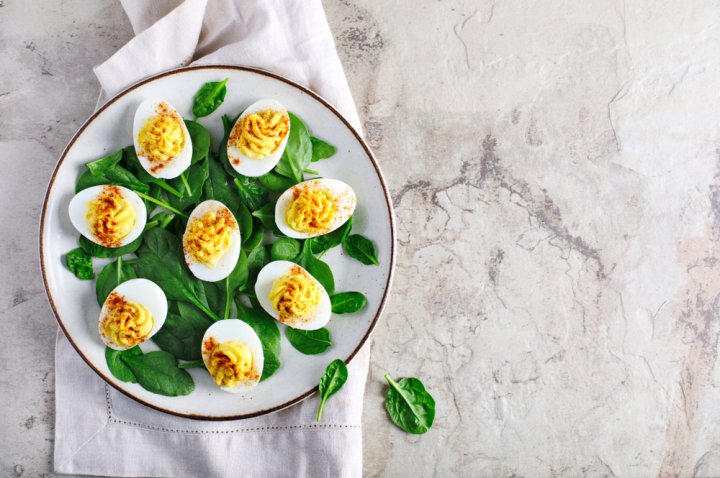 Ingredients:
6 large eggs
¼ cup of mayonnaise
1 teaspoon of mustard
1 teaspoon of white vinegar
Salt and pepper to taste
Paprika for garnishing
Procedure:
Hard boil the eggs and set it aside to cool. Do not overcook the eggs. The yolk must neither be soft nor too hard. Boiling for about 7 minutes in medium heat should do the trick.
After cooling, crack the shells and cut the eggs into halves. Carefully spoon out the egg yolks in a bowl.
Mash the egg yolks and add the mustard, white vinegar, mayonnaise, salt, and pepper to it.
Mix them well. Spoon the mixture into the egg whites and garnish with a sprinkle of paprika.
Tamagoyaki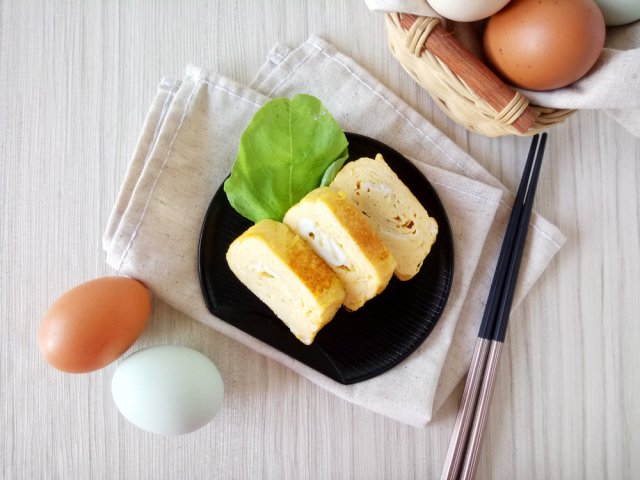 Ingredients:
4 eggs
1 tablespoon of soy sauce
1 tablespoon of mirin(rice wine used for cooking)
1 tablespoon of sugar
Salt to taste
Procedure:
Crack the 4 eggs in a bowl and beat them until the yolk and the egg whites are properly combined. Add to it the soy sauce, mirin, sugar, and salt and give it a mix.
Heat oil in a frying pan and put a little bit of the egg mixture in it.
Over medium heat, cook the egg mixture and while the top is still slightly uncooked fold the egg into a roll. Follow it up by pouring a little bit of the egg mixture and doing the same.
Continue this till the egg mixture is over. You might find this way of cooking complicated. In that case, just fry the egg like a normal omelette.
Health Benefits Of Eating Eggs
Not only are eggs a potent source of protein but they are also rich in as many as 11 minerals and vitamins. Eating eggs is like giving your body a health boost. The following 4 benefits of eggs further proves that statement:
Rich in Nutrients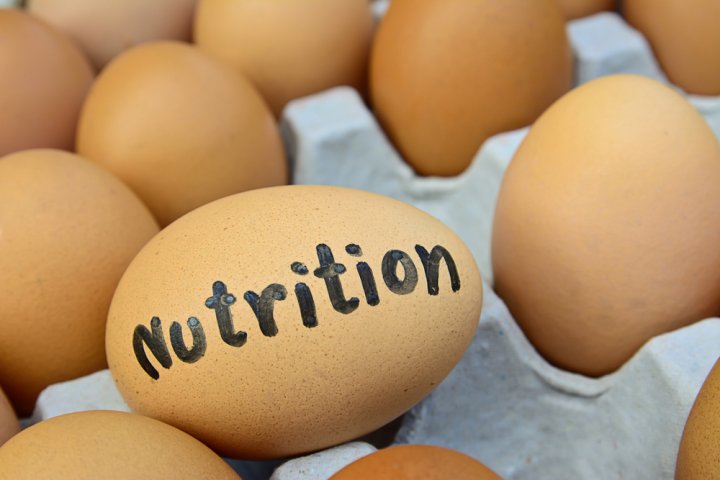 Eggs are filled with nutrients. To begin with, they contain high-quality protein that is necessary by the body to build, strengthen, and repair. These quality proteins contain the right amount of the 9 amino acids needed for proper growth and maintenance. Besides, eggs contain vitamins A, B2, B5, B12, D as well as iodine, iron, and phosphorus. It also fulfills your selenium and folate requirements. Eggs are also a good source of Omega-3 which is a family of essential fats that our body requires for our cell membranes to work smoothly.
Contains Good Cholesterol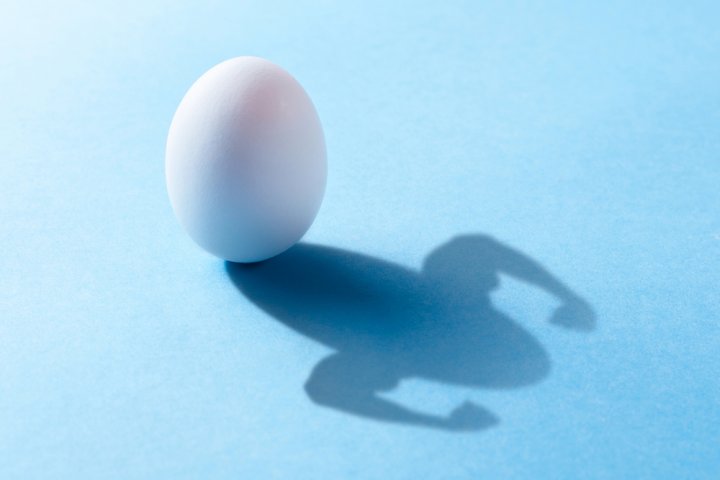 Consuming eggs regularly increases the levels of high- density lipoprotein in our bodies. This jargon is known as "good cholesterol" in common lingo. Higher levels of high-density lipoprotein can reduce the risk of developing heart diseases.
Good for Your Heart, Eyes and Brain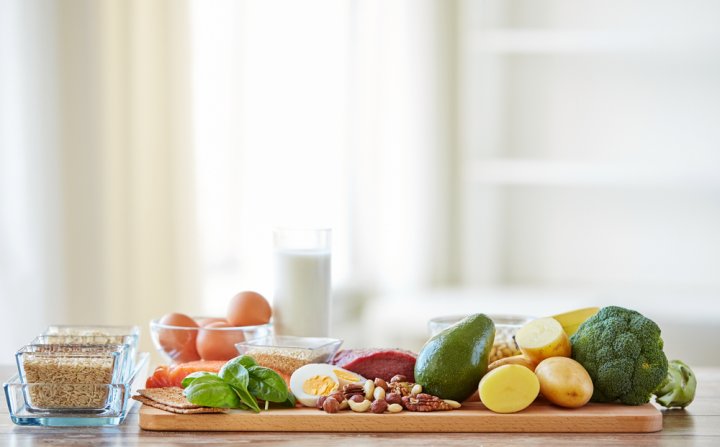 Eggs are beneficial for our heart, eyes and brain. You have come to know how beneficial it is for the heart from the previous paragraph. Now let us look into its benefits for our eyes and brain. Eggs are one of the dietary sources of the nutrient choline. Choline is necessary for normal cell functioning and is especially required for healthy brain development of the baby during pregnancy. As for the eyes, eggs are rich in zeaxanthin and lutein- two antioxidants, that prevents the risk of developing many eye diseases including macular degeneration and cataracts.
Helps in Weight Loss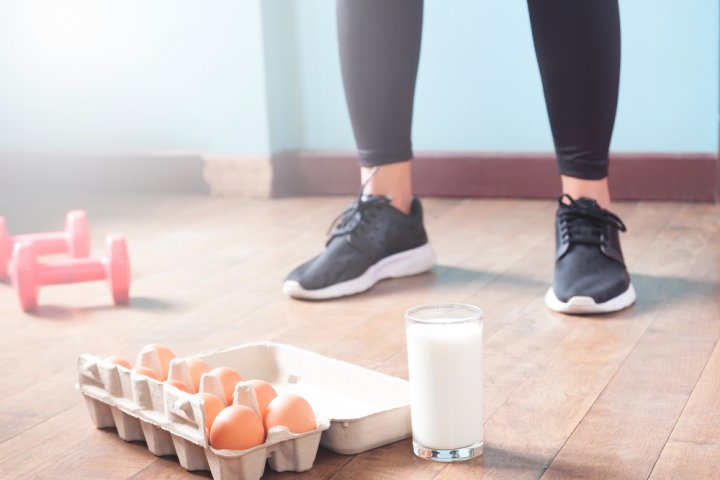 It all boils down to this. If you want to lose weight then you have to eat… eat eggs. It has been found that eating eggs keep you full for longer thus discouraging binge eating. It also reduces the fluctuations in insulin and glucose levels thus helping in weight management.
From our editorial team
Store Them Well
A quick tip, storing your eggs properly will help them last longer. Refrigerated eggs usually last for up to a month, and is the most common way of storing them. You also should not consume eggs if they are cracked, so make sure you check for the same while buying yourself a carton of eggs.