Benefits of Eating Lunch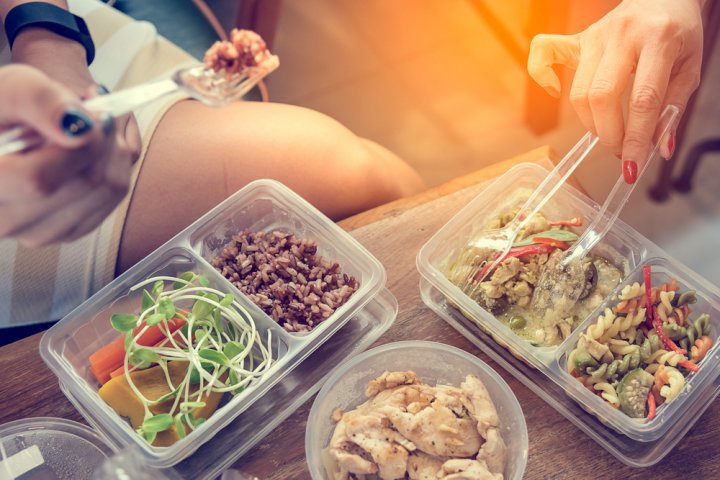 Your eating habits play a vital role in keeping your body healthy and fit. If you eat unhealthy junk food or don't eat at the right time, it will cause severe health problems in the near future. To stay healthy, you should eat all the three important meals of the day – breakfast, lunch, and dinner on time. All these meals are equally important, but lunch is one of the most crucial meals. Generally, people eat lunch at their workplace so they ignore the nutritional value in it. They tend to skip lunch or eat unhealthy snacks and this unhealthy lunch practice affects their digestive system badly. A healthy lunch has numerous benefits as explained below.
Gives You the Daily Nutrition You Need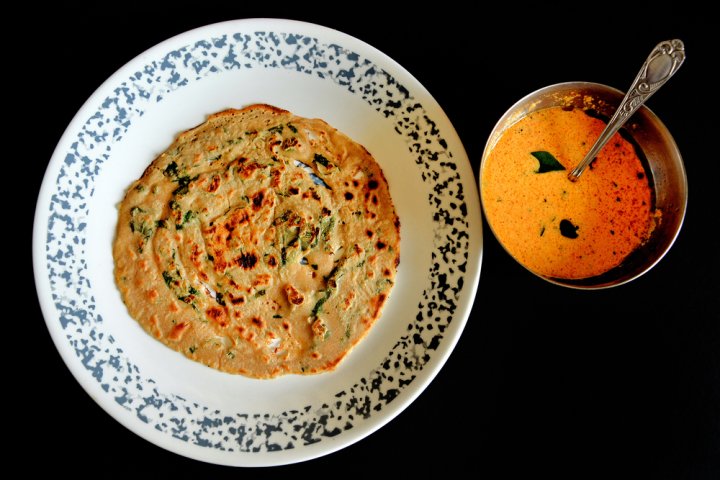 Breakfast is a rush time, where you have to get ready for office, drop off your kids to school and have to reach your office on time. In all this stress, you don't have time to eat your breakfast properly, so you should use lunchtime as an opportunity to redeem yourself. You should include nutritional foods in your lunch so that your morning miss of nutrition can cover up the loss. In your lunch, you can include some proper nutrition such as; Veggies like spinach, cauliflower, beans, etc. in the case of Vegans, Whereas non-vegetarians can eat chicken, fish, etc., You should also include some freshness in your lunch with curd or curd smoothies. Try to eat a heavy protein-rich diet in lunchtime, so that you can easily digest it.
Improves Your Productivity Level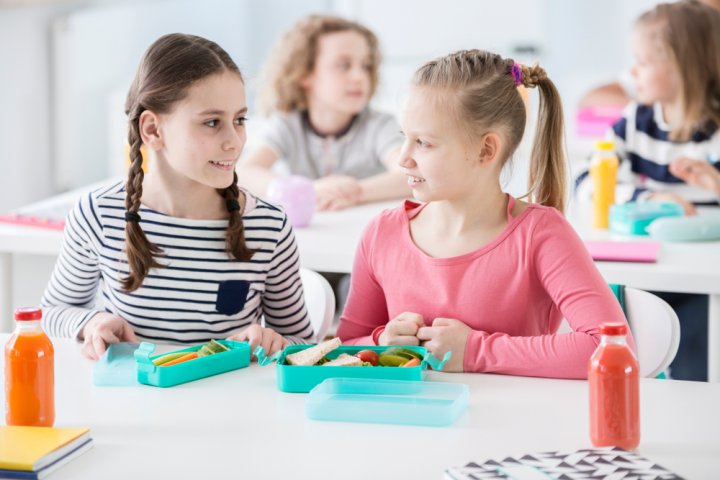 Food works as a fuel in our body which burns and gives the strength to work all day. So, if you make your midday meal healthy and nutrition rich, then you can improve your productivity and increase your stamina. According to a study published by Population Health Management in 2012, by consuming an unhealthy diet your productivity level reduces by 66%. So, for a working person, it's difficult to eat healthy breakfast and dinner due to work commitments. But their lunch is in their hands so they should try to make it as healthy as they can.
Regulates Your Body Weight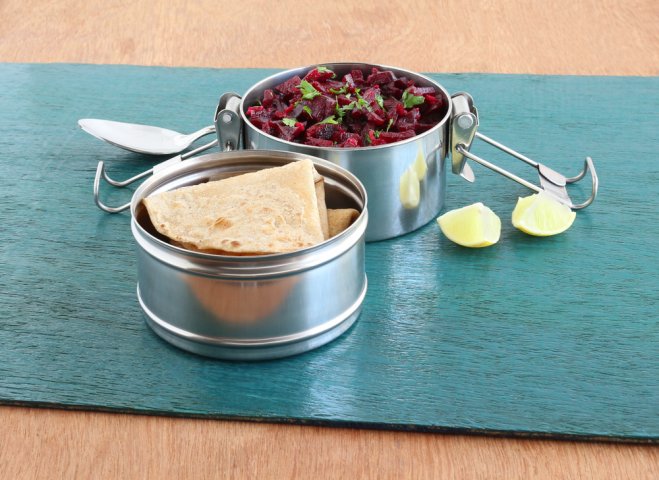 If you want to lose your body weight and have been skipping lunch in lieu to reduce your body fats, then you are doing it all wrong. On the contrary, by doing this you are creating a problem of obesity which will increase your body weight. So, if you want to reduce your belly fat, then replace your chip and soda lunch with a proper lunch which includes sabzi, roti, rice and curd. By eating a healthy lunch, you can maintain the ideal body weight easily.
Easy Tips to Pack Lunch Quickly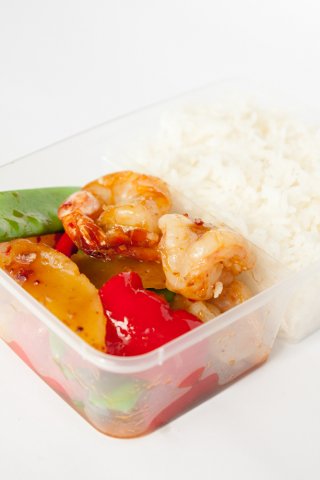 It's always good to pack your lunch with you. This way you prevent yourself from eating unhealthy food. So, always give home-packed lunch to your kids and bring a lunchbox with you to the office. By eating home cooked lunch, you can lead a healthy and productive life. That's why we have enlisted a few easy tips to pack your lunchbox. You can easily pack healthy tiffin by following the below tips.
Keep Your Lunch Simple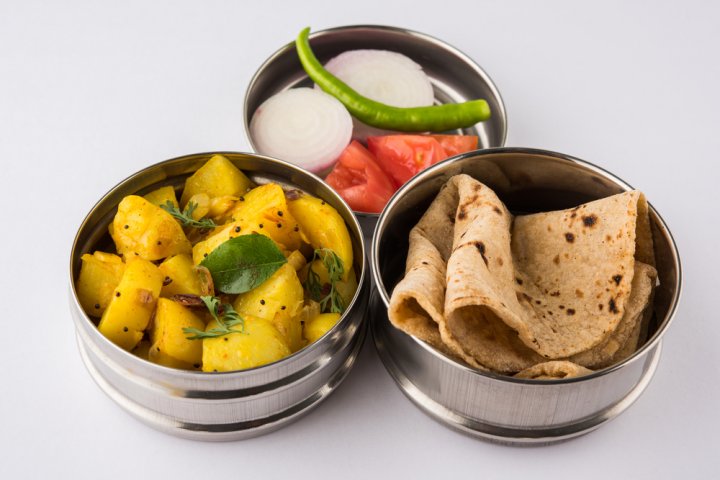 Your lunchbox needs to include simple but healthy food. In your lunch box pack one seasonal sabzi with few chapatis and refreshing curd or salad. Don't include too much food in your lunchbox, just pack food in the quantity which you can eat. That's because if you include over the top dishes in your lunchbox, then you are likely to get tired and stop packing lunch. So, don't go overboard with your lunch, just keep it simple and healthy.
Set up Everything the Night Before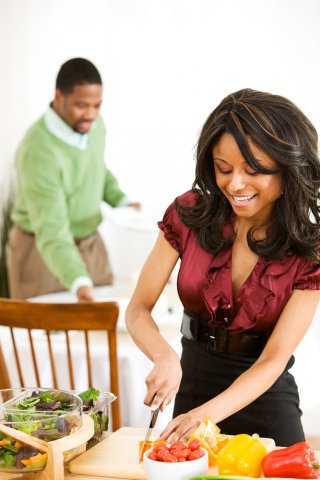 If you have to rush early in the morning to your work, then prepare your lunch in advance. You should prepare all the ingredients for your lunch the night before so that you don't have to rush in the morning. You can chop your vegetables or can cook sabzi for your lunch in advance and in the morning all you need is to heat your sabzi and make fresh chapatis for your lunch. If you prepare everything in advance, then you can focus on your breakfast properly and won't have to rush for your work.
Pack Liquids in a Sealed Bottle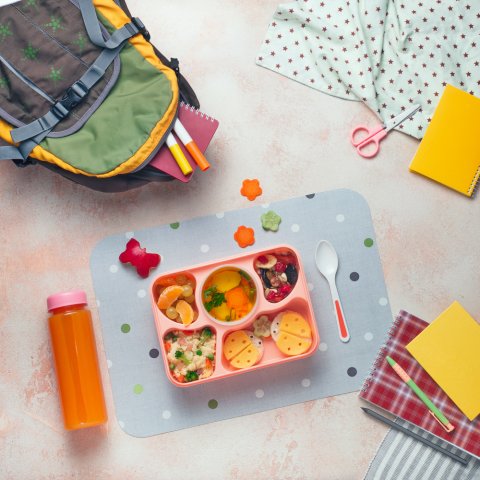 If you are going to bring liquid in your lunch like dal or curry, then pack liquid dish in the separate airtight container so that your liquid won't spill. Moreover, if you like to drink fresh yoghurt smoothies in your lunch, then pack them in a sealed bottle. That's because if any of the liquid spill, then it's going to ruin your whole backpack. Especially, when you are packing lunch for kids, try to avoid a liquid diet in their tiffin, but if you have to pack, then use airtight containers.
Easy and Delicious Indian Lunch Recipes to Make an Instant Lunch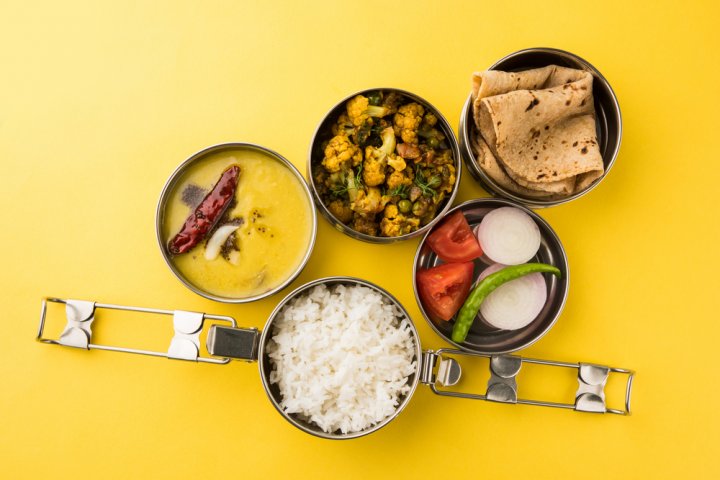 If you are a lazy cook or don't know cooking, then you don't have to worry much. That's because there are plenty of easy Indian lunch recipes available which you can easily cook for your lunch. Moreover, all these recipes are very healthy and packed with nutritional values. So, to stay healthy and productive, you can try following easy Indian lunch recipes and pack them in your lunchbox.
Vegetable Rice
Vegetable rice is a perfect rush hour lunch recipe and can be easily packed in a lunchbox. This dish tastes delicious when you serve rice with your choice of yoghurt dip or dal. This is an easy lunchtime recipe which can be prepared as mentioned ahead.
Required Ingredients:
Good quality rice
Fresh vegetables like potatoes, capsicum, peas, etc.,
Other staples like ginger, garlic, etc.,
Cooking process:
Wash one bowl of rice and boil them in pressure cooker with double amount of water.
Stir fry all the roughly chopped vegetables in dry spices and herbs of your choice.
When rice absorbs all the water, add the fried vegetables in them and season the rice according to your taste.
Tips:
The recipe turns out perfect with basmati rice.
Make sure veggies are finely chopped so that they can evenly cook.
If you want to serve rice with side dish, then moon dal or dal tadka is best.
Masala Bhindi
The delicious okra cooked with traditional Indian spices makes the perfect lunch recipe. This is dish is often cooked in North Indian household because of how easily it can cook and it can also be easily packed in the lunchbox as it's a dry sabzi.
Required Ingredients:
Bhindi 250 gms
One bowl of water
7-8 tbsps mustard oil
1 tbsps of Spices- turmeric, fennel seeds, jeera seeds, fennel powder, aamchor, pepper powder
One bowl of finely chopped onions and one tsp of chopped ginger
Lime juice, salt and sugar according to taste.
Cooking Process:
Heat oil and add jeera and fennel seeds, let them splutter.
Add onion and lightly brown them.
Add ginger, water, turmeric and stir.
Mix all spices on bhindhi and put in the heated with some water.
Sprinkle some spices like fennel powder, amchor, and pepper.
When bhindhi is cooked add lime juice and serve.
Tips:
Make vertical cuts in bhindhi so that spices can easily cover it.
Dry bhindhi properly before cooking because if it is wet, it leaves a greasy liquid.
Low Fat Dahi Chicken
If you are a non-vegetarian, then you should include this low fat Indian chicken curry in your lunch menu. It is a yoghurt based dish so it is very refreshing and rich with protein.
Required Ingredients:
1/2 Kg boneless chicken.
2 ½ cup of yogurt.
1 tsp cumin / jeera powder, 1 tsp garlic paste, 1/2 tsp red chilli (rang) powder, a little less than 1/4 tsp turmeric/haldi
Finely chopped green chillies, onions, tomatoes, coriander leaves.
2 tbsps oil and 1 tbsp salt.
Cooking Process:
Take the yogurt and mix in the cumin powder, garlic paste, garam masala, haldi and red chilli powder. Add the chicken and slit chillies. Keep aside for 30 minutes.
Heat up oil in pan and add onions, cook then till they get translucent.
Add tomatoes and cook for few minutes before adding the marinated chicken.
Keep cooking till gravy reaches your desired consistency.
Garnish with fresh coriander leaves.
Tips:
Cook dish till the yogurt thickens and coats the chicken completely.
Serve dish with rice, roti or naan.
Rava Dhokla
If you are in the mood for a little healthy snack for lunch, then you can cook the sweet and tangy dhokla. It is a traditional Gujarati dish which is very healthy and delicious.
Required Ingredients:
1 ½ cups semolina.
1/2 cup curd.
2 tbsp oil, and salt as per taste and fruit salt.
1 tbsp of mustard seeds and sesame seed.
1/4 tsp asafoetida.
Finely chopped coriander.
Cooking Process:
Mix semolina , curd, green chili paste,oil, salt with 1 ½ cup of water and whisk well. Keep aside for 30 minuets
Just before baking the mixture add fruit salt and water. Mix gently.
Grease your microwave bowl with oil and pour mixture in it. Cook the mixture according to your microwave setting till it gets double in size.
Heat 1 tbsp oil in pan and add mustard seeds, sesame seeds and asafoetida. Sauté them for 30 seconds and pour it over dhokla.
Sprinkle coriander leaves to garnish.
Tips:
Cut dhokla pieces when it's cold otherwise they won't soak in the tadka.
Soak dhokla for few minutes in syrup before serving
Always add fruit salt just before the baking as bubbles formed with the salt helps in cooking.
Spicy Vegan Potato Curry
If you are looking to add carbohydrates rich dish in your lunch to get energy, then you should try this easy spicy potato curry.
Required Ingredients:
4 peeled and cubed potatoes.
2 tbsps vegetable oil.
1 diced onion, 3 minced cloves, and one diced tomato.
For seasoning: 2 tbsps ground cumin, 1 ½ tbsps cayenne pepper, 4 tbsps curry powder and 4 tbsps garam masala. Salt to taste
1 cup drained and rinsed garbanzo beans and peas.
Coconut milk 14 ounce.
Cooking Process:
Cook potatoes in large pan with salted water. After boiling for few minutes, reduce the heat to medium, cover and simmer for about 15 minutes.
Drain water and keep aside to cool down for few minutes.
On the other side, heat oil in large skillet. Stir onion and garlic till they turn translucent for about 5 minutes. Add all the seasoning and cook for 2 more minutes.
Add the tomatoes, garbanzo beans, peas, and potatoes. Pour in the coconut milk, and bring to a simmer for about 5 to 10 minutes before serving.
Tips:
Cover your dish with aluminium foil as it will keep your dish moist.
Serve the curry with roti or naan.
Mint-Cucumber Raita Recipe
To keep your lunch refreshing and digestive, you should incorporate a cucumber side dish with your main lunch dish. Especially, in summers eating fresh cucumber mint raita keeps your body cool and energetic.
Required Ingredients:
2 cups hung curd and whisk it to smooth.
1/2 bunch of mint leaves.
1 cucumber.
3/4 tsp cumin powder, 1/4 tsp red chili powder, ½ tsp sugar and salt as per taste.
Cooking Process:
Grate cucumber and chop mint leaves. To remove excess moisture from cucumber, squeeze them with towel to eliminate extra water. This will keep mixture from becoming too runny.
Mix all the ingredients together in a large bowl, removing any major lumps.
Serve always chilled raita.
Tips:
It is a cooling dish which keeps your body cool in hot climate.
You can eat raita with chapatis , rice or chips.
You can create salad dressing with raita also.
Cook a Balanced and Nutritious Lunch
Your lunch is a very important meal of the day, so it needs to be nutritionally well balanced. Your lunch should include some carbohydrates, proteins, fats and other important nutritions. That's why you need to include different dishes in your daily lunch. For example if you have eaten carbohydrate rich aloo curry on Monday, then on Tuesday eat a protein rich dish like spinach. Try to create a balance in your lunch recipes. Also, try to eat seasonal dishes; Like in summers add curd in your lunch to tone down heat level of your body and similarly, in winters take a hot tea after your lunch to warm up your body. So, try to balance the nutrition level in your lunch to lead a healthy and productive life.
From our editorial team
Meal Prep Isn't Just a Fad! It is the Key!
Home cooked meals are definitely a dream for any working professional. The timing and the work pressure definitely puts you off cooking. But cooking your own meals is probably the easiest way to a healthy lifestyle. Contrary to the popular opinion Indian foods hold the key for weight loss. Cut back on the fats and add more pulses, legumes and seasonal veggies in your diet. You could also do meal prep over the weekend. Plan your meals for the week. Cut and freeze the veggies. Make enough dough to last you for a whole week, portion them out and refrigerate them in individual boxes. This way you can have fresh, home cooked meals throughout the week.