How Egg Benefits Your Health?
Rich in Nutrients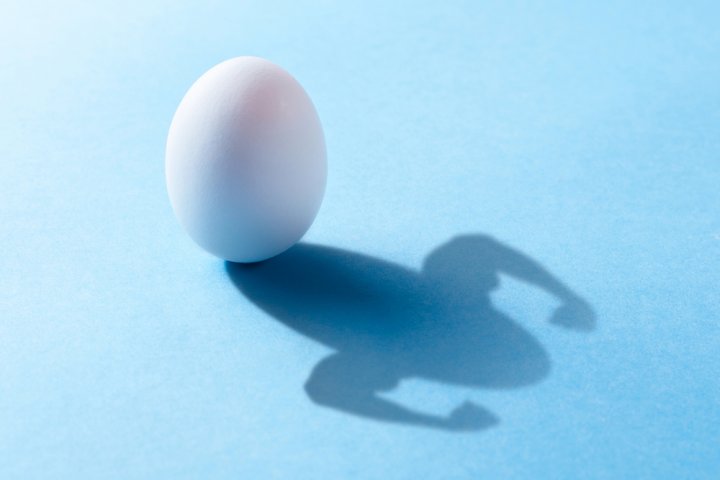 Almost every dietitian and nutritionist will recommend you have eggs in your diet due to its various benefits. Apart from egg recipes Indian mentioned below, you can consume egg in whichever way you want to receive a lot of nutrients in your body. Eggs are a good source of Vitamin D, Folate, Vitamin B2 (riboflavin), selenium, Iron, Iodine, Vitamin A, E, B5, B12 and Phosphorus. Well, that's a lot to remember, but eggs do have all of these nutrients in it.
Great Source of Protein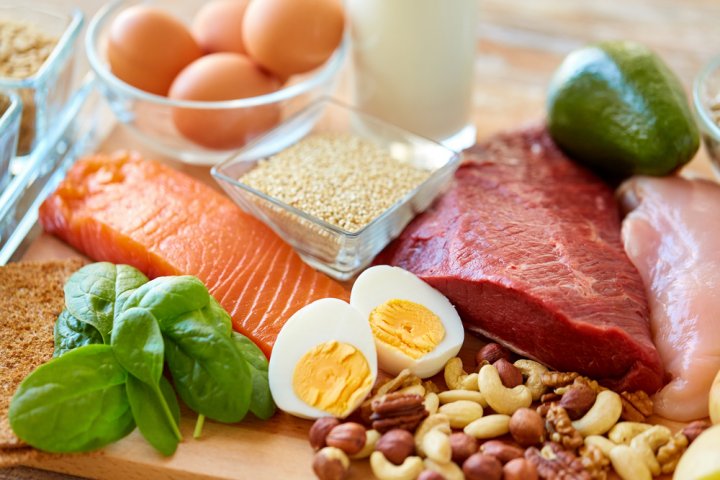 You must have heard of it from many people around you that eggs are a fantastic source of quality protein, and it is true too. A single egg contains 6.3 gm of high-quality protein which helps in strengthening, building and repairing tissues in the body. Eggs also contain amino acids in right amounts, which are essential for the body's growth and development.
Help with Weight Loss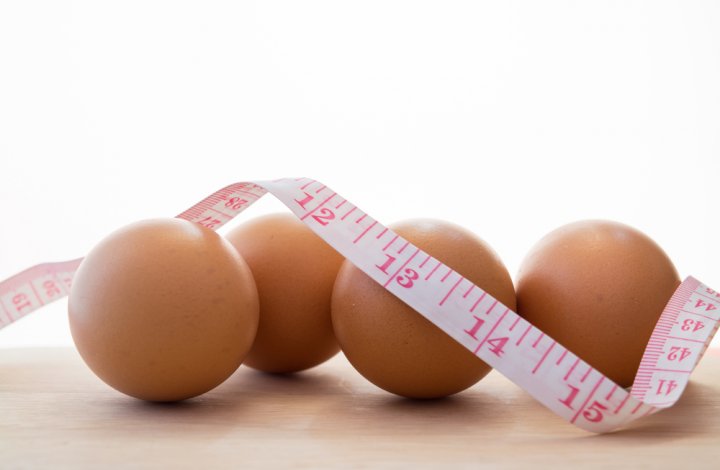 This may sound unbelievable to many, but yes, you can lose weight with the help of eggs. Eggs are often recommended for weight management, and the reason is that it makes you feel full. It increases the kind of hormones which gives you a high level of satiety after your meal, and eggs also decrease the rate at which food leaves your body.
Beneficial for Eyes Too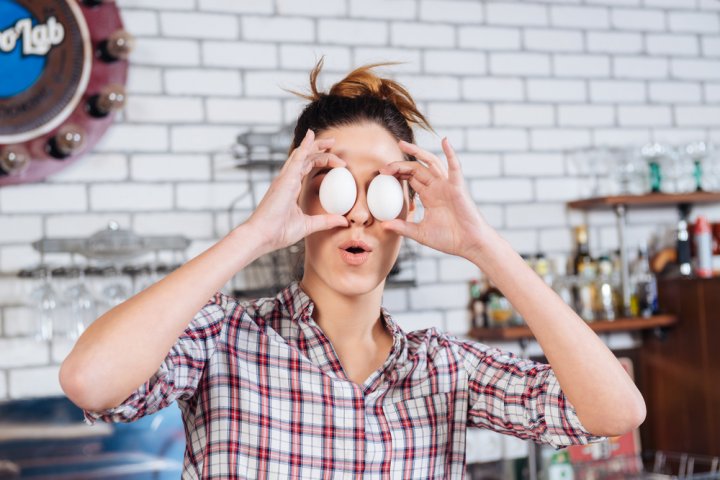 If you are looking for a fantastic remedy to heal your eyes, then eggs are your way to go. Eggs contain antioxidants, which help fight with the degenerative vision, a common issue that increases as you age. Eggs are rich in Vitamin A and Omega-3 Fatty Acids, which are believed to protect your eyes from retina damage.
Egg Recipes Indian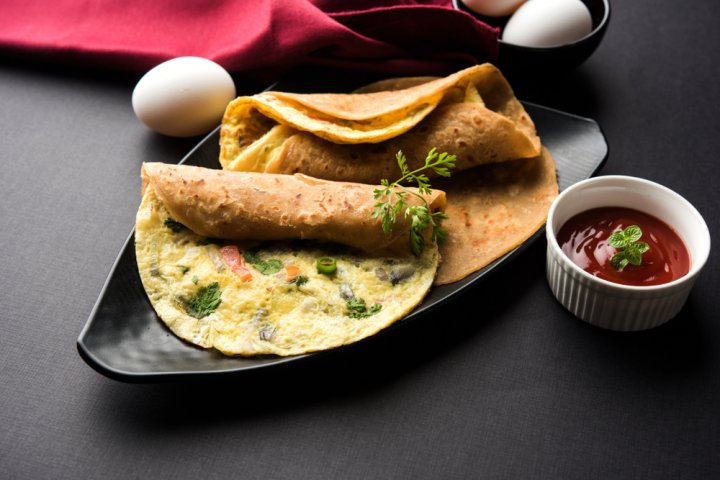 Egg Curry
Indian renditions of various recipes are a huge hit not only in India, but internationally too. You should also try one such Indian recipes of egg called egg curry. A popular Punjabi dish which is spicy, delicious and so flavourful that you just can't forget its taste.
What You Need
4-5 boiled eggs and 2 tbsp oil
2 onions, 3 tomatoes, 1 green chilli – finely chopped
1 tsp ginger garlic paste and 4 tbsp cream
1¼ water and ¼ tsp kasuri methi
1 tsp sugar and 1 tbsp coriander leaves chopped
Red chilli powder, garam masala, coriander powder – 1 tsp each
1/8 tsp turmeric and salt as per need
How to Make It
Heat 1 tbsp oil in a pan and saute eggs until they turn golden then set aside and sprinkle some chilli powder on them.
Now, add 1 tbsp oil in the same pan and saute cumin and mustard seeds then add onion and chilli and saute until they turn golden.
Now, add ginger garlic paste and saute then add tomatoes and saute until the mixture becomes mushy.
Now add red chilli powder, coriander powder, turmeric, sugar, salt and garam masala and fry everything then pour water as you need.
As the curry starts to get thickened, add eggs and kasuri methi. Once they are cooked, add fresh cream and serve with chopped coriander leaves on top.
Egg Chaat
This super simple and breakfast kind of recipe is something you would like to make over and over again. This egg chaat is a quick recipe and full of nutrition too.
What You Need
3 boiled eggs and 1 tbsp tomato ketchup
1 tsp tomato chilli sauce and 3 tsp tamarind extract
1 tsp lemon juice and 1 tsp roasted cumin
1 green chilli, 1 spring onion - chopped
2-3 tbsp boondi and salt to taste
How to Make It
Take a bowl and mix tomato ketchup, tamarind extract, tomato chilli sauce, lemon juice, green chilli, salt and roasted cumin.
Now, cut the boiled eggs in a plate into two or four pieces and spread this mixture on them.
Sprinkle chopped spring onions, boondi and garam masala on them and enjoy.
Egg Butter Masala
You must have heard about Paneer Butter Masala, but discovering egg butter masala recipe is a whole new level of unlocking egg recipes Indian flavoured. This juicy recipe is finger licking good as the spices really come together with the flavour of butter in it.
What You Need
4 hard boiled eggs and 1 ½ tbsp. butter
Chopped onion and tomatoes – ½ cup each
9-10 cashew nuts and 2 cloves
Red chilli powder and garam masala – 1/2 tsp each
Turmeric and kasuri methi – ¼ tsp each
1 tbsp ginger garlic paste and 1 tsp coriander powder
1 cardamom and 1 inch cinnamon
1 tbsp cream and salt to taste
coriander leaves for garnishing
How to Make It
Take a pan and heat butter in it and then saute the eggs until they become golden brown.
Now add chopped onions, tomatoes and cashew nuts to the pan and once softened add salt, turmeric and red chilli powder and cook for 5-6 minutes.
Let the mixture gets cool down then blend it with ¾ cup of water and set aside.
Now heat ¾ tbsp. butter in the same pan used earlier and add cinnamon, clove and cardamom and saute for 30 seconds followed by ginger garlic paste then saute for a minute.
Now add blended mixture to this along with ¼ cup water and cook for 7 minutes on medium flame.
Add kasuri methi to it and cook for 2 minutes then add eggs and cook for 3-4 minutes then serve with cream and garnished coriander leaves.
Egg Bhurji Mumbai Style
You haven't eaten the best egg recipe yet if you haven't tasted this egg bhurji till now, and that too made in Mumbai style. One of the most loved egg recipes Indian for dinner too, this one is something you should definitely try at home.
What You Need
4 eggs and 2 tbsp vegetable oil
2 onions, 2 tomatoes, 2 green chillies, 1 capsicum - finely chopped
2 inch ginger finely chopped and 3-4 curry leaves
Cumin, red chilli powder, turmeric powder – 1 tsp each
Salt and Pav bhaji masala – as per taste
A pinch of hing and 2 tbsp butter
Chopped coriander leaves for garnishing
How to Make It
Take a large bowl and whisk eggs in it and keep aside.
Heat oil in a pan and add cumin, onions, green chilli, hing, capsicum, curry leaves and ginger in it and saute for 3-4 minutes.
Now, add tomatoes and coriander leaves and saute again then add 1 tbsp butter, red chilli powder, pav bhaji masala, turmeric powder and salt and mix well.
Finely pour beaten eggs and keep on whisking it until cooked well.
Top with some butter and chopped coriander leaves and enjoy with buttered pav.
Egg Vindaloo
Egg Vindaloo is a special and unique Goan egg curry, which is definitely quite different from traditional egg curry recipe. You are going to love its sweet, sour and hot flavour all at once. Learn how to make this dish with the recipe given below.
What You Need
4 boiled eggs and 3 tbsp oil
1 cup chopped onions and 1 green chilli slit
Cumin seeds, red chilli powder and ginger garlic paste – 1 tsp each
1 inch cinnamon and ½ tsp sugar
1/4 cup chopped tomatoes and chopped coriander leaves
3 tbsp rice bran oil and ¾ tbsp. white vinegar
1/2 tsp garam masala and salt to taste
How to Make It
Make tomato puree and set aside then heat oil in a pan and add cinnamon and cumin, fry for 30 seconds.
Add chopped onions and saute till they turn golden brown then add ginger garlic paste and cook for 2 minutes.
Now, add green chilli, garam masala, red chilli powder and saute for 2 minutes then add tomato puree and cook until it dries completely.
Now add a cup of water, sugar, white vinegar and cook for 4 minutes then add eggs and cook for 5-7 minutes and your recipe is ready.
Egg Noodles
There is one such egg recipe in Indian flavoured that can be made in 20 minutes. The recipe requires minimum ingredients and can be put together quite easily. Check out the recipe down below for more details.
What You Need
2 cakes noodles (serving 2) and 2-3 eggs
1 garlic cloves chopped and 2-3 green chillies slit
1 tsp vinegar and ½ cup bell peppers chopped
Pepper powder and olive oil – as needed
1 onion chopped and 1 carrot julienne
1 tsp soy sauce and 1 tsp any hot sauce
How to Make It
Cook noodles till al dente, drain them and sprinkle 1 tsp oil and toss them.
Break eggs in a bowl and set aside.
Heat oil in a pan and add green chillies and garlic and when they crackle add veggies and fry till they are partially cooked.
Remove the veggies in a plate and set aside then pour eggs and scramble them till cooked.
Now, sprinkle salt, black pepper and vinegar to eggs along with sauces and cook till they bubble.
Add noodles, and cook on high flame for 1-2 minutes and serve hot.
Egg Kurma
Egg Kurma or Korma is a wholesome egg dish which can be enjoyed along with Biryani, pulao or even with a paratha. In fact, you can even enjoy this recipe with chapatti. IAt can be enjoyed in dinner or lunch.
What You Need
4 boiled eggs and 2 tbsp oil
1 cup sliced onions and 1 cup chopped tomatoes
3 slit green chillies and 1 tsp ginger garlic paste
Chilli powder, roasted coriander powder – 1 tsp each
Almond paste and cashew paste – 1 tsp each
2 tbsp coconut paste and salt to taste
Turmeric powder, garam masala, black pepper – 1/2 tsp
How to Make It
Heat oil in a pan and add green chillies and saute for a while then add onions and saute until they turn golden.
Add ginger garlic paste and cook for a while then add tomatoes and cook until the mixture becomes mushy.
Now, add salt, turmeric and red chilli powder and cook for 5 minutes.
Add cashew paste, almond paste and coconut paste and cook for another 5 minutes until oil separates.
Now, add 1-2 cups of water, black pepper, garam masala, coriander leaves and cook for 4-5 minutes.
Add eggs and cover the pan and cook for 15 minutes on low flame and your recipe is ready to devour.
Tips for Making Egg Recipes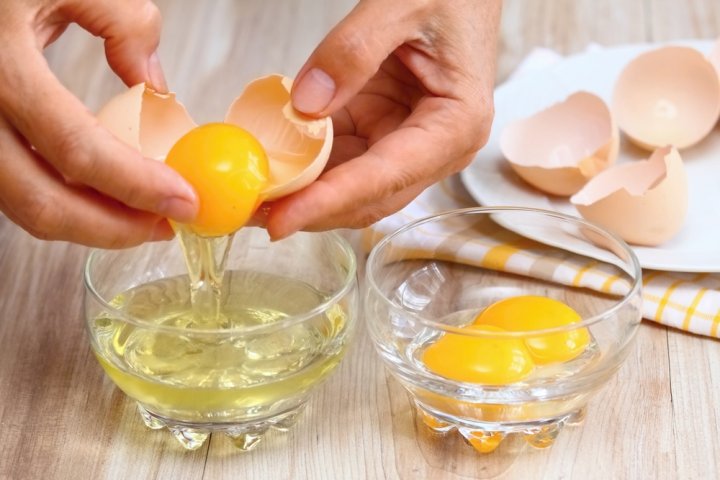 There is undoubtedly a wide variety available for trying out Indian recipes with eggs. Well, they sure taste amazing, but you need a bit of guidance and help when it comes to cooking eggs. Here are a few tips that will come handy for you when you are making any recipes with eggs.
Nonstick Pan is Important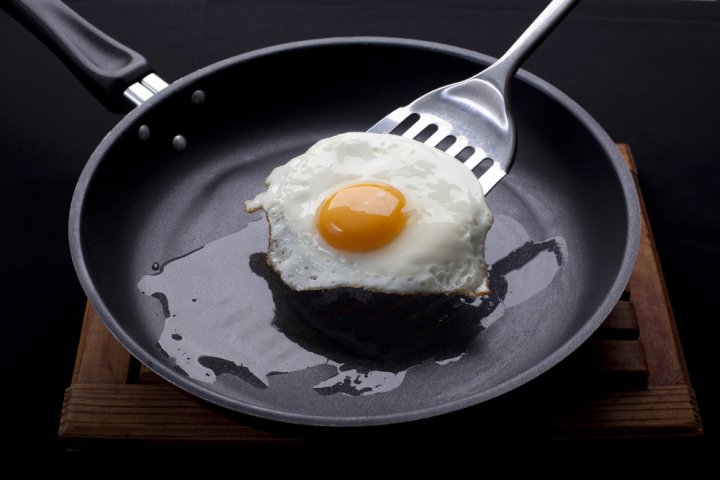 This should be considered as the unsaid rule of making egg recipes that a nonstick pan is must to use. If you are cooking eggs in regular pans, then there is a chance that they might stick to the surface. The nonstick pan will ensure your eggs doesn't stick and turns out well. However, remember that you use a good quality spatula to ensure that you do not end up scratching your pan.
Keep the Heat Low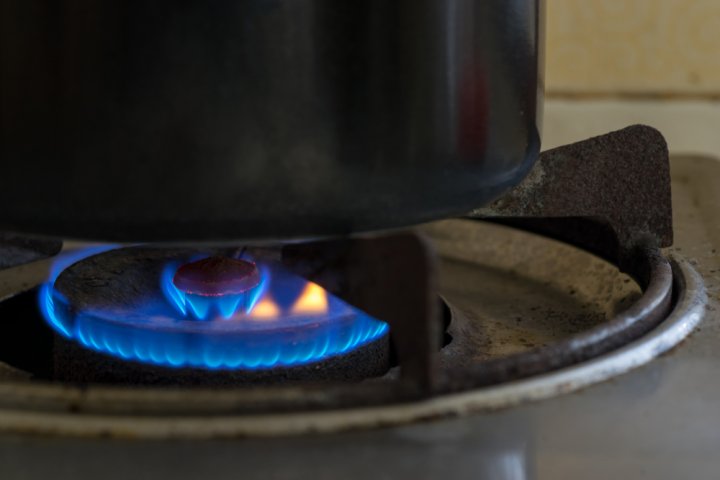 If you are frying eggs or making any recipe consisting of them, then you must make sure to keep the heat low. Keeping the heat high would instantly turn the eggs brown and crisp, which may look good, but they taste dry and tight. Turning the heat low would yield whiter, softer and soft eggs which are just amazing in taste.
Fine Mesh Strainer for Scrambled Eggs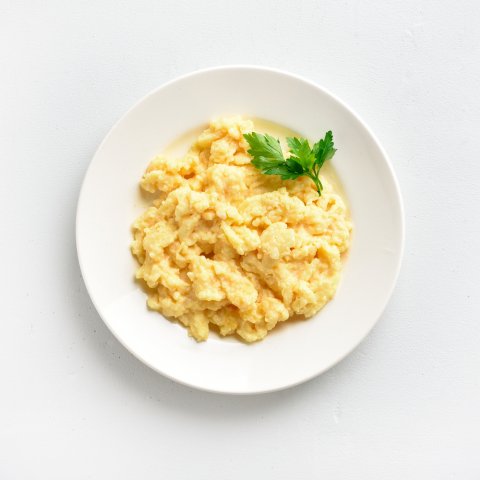 If you still haven't learned some tasty egg recipes Indian for scrambled eggs, then we have a simple trick for you to ace this recipe. You need to beat the eggs together until the mixture becomes smooth and then pass it through a mesh strainer directly in the pan. This not only yields amazing scrambled eggs but also removes any impurities, if present.
Peel the Boiled Eggs Right Away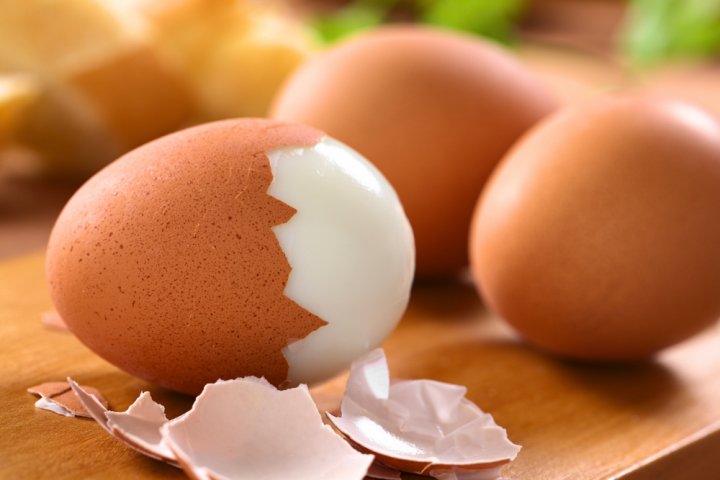 If you want to have boiled eggs or want to make a recipe out of boiled eggs, then we have a really important hack for you. Just when you are done boiling the eggs, peel them right away. For this, you can run cold water on them to normalise the temperature. Waiting for long will make the egg harder to peel. Also, start by peeling from the bottom side of the egg, as it will prevent the egg from falling apart.
From our editorial team
Eggs are Extremely Healthy, Except for When They are Not!
This might seem like a confusing statement, but the meaning is simple. Eggs are considered as superfood by all nutritionists, but it is not suitable for everyone. Eggs are not considered to be healthy for people with heart problems or those having high cholesterol levels. Such people are advised by doctors to avoid eating eggs, or at least the yolks of the eggs. Though this fact is debatable, still egg yolks in general are considered to be full of fats, which should be avoided if having any such problems.