Why Icing is Important for Cakes?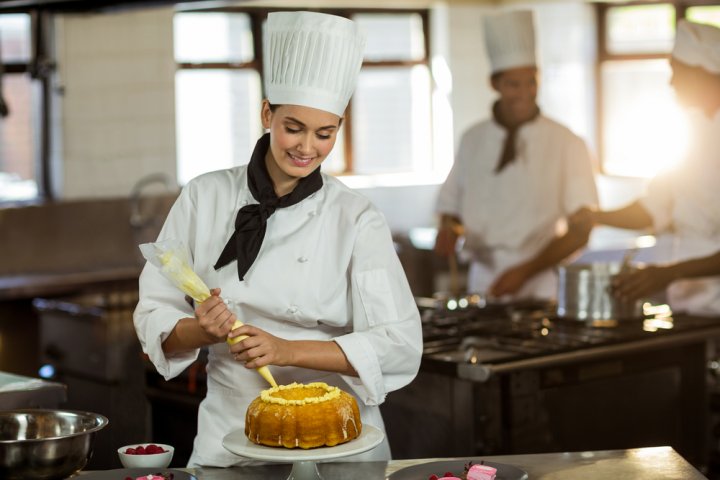 Covering cakes with icing and other items was first introduced around 1683. Icing or frosting is a sugar-based soft mixture that is used to improve the texture and appearance of baked recipes like cookies, pastries and cakes. It contributes to the richness and flavour and provides a smooth surface on the baked item and makes it easy to decorate on. The icing also works as a protecting layer that helps in preserving the freshness of the baked dessert. Typically, the cake will remain fresh for a few days depending on the kind of icing used. It acts as a protective layer and seals in flavour and moisture. Icing also improves the appearance of a cake, especially the cakes made for special occasions looks quite festive with icing and decoration.
3 Mistakes to Avoid While Making Icing at Home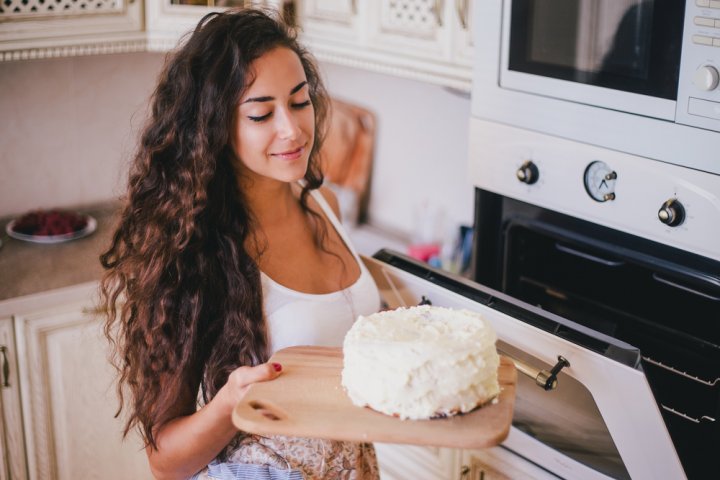 Do Not Use Cold, Hard Butter Straight Out of the Fridge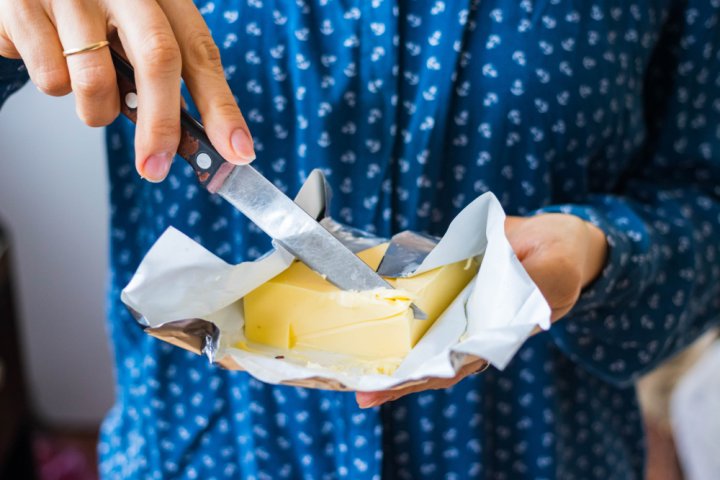 Butter is one of the main ingredients required in an icing recipe. It is important that this ingredient is at room temperature or soft when you prepare the icing. You must be able to press a finger firmly without digging into the butter block. If you cannot do this, then set aside the butter for at least 15 minutes and check again. Also, the butter should not be in an almost melted state and looking curdled. If this happens then put the melted butter in the refrigerator for 10 minutes to firm it up again.
Use the Right Sugar for Icing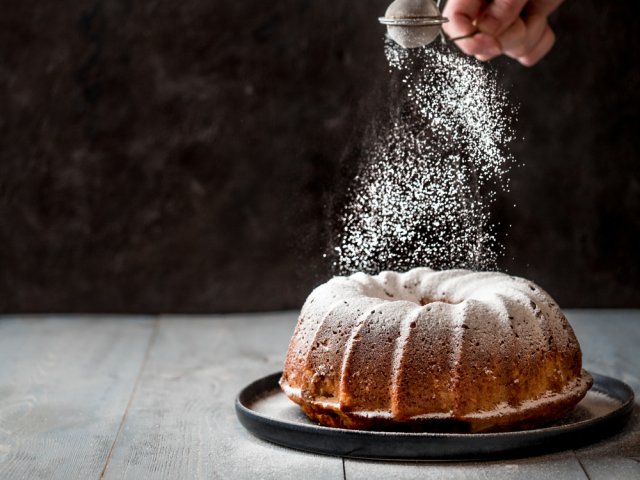 Basically, there are two types of frostings – the complicated European butter-creams and the simple American style frostings. Both these are delicious, but note that they are not interchangeable. So, you need to know when to use these frostings.


Pay Attention to the Temperature of the Ingredients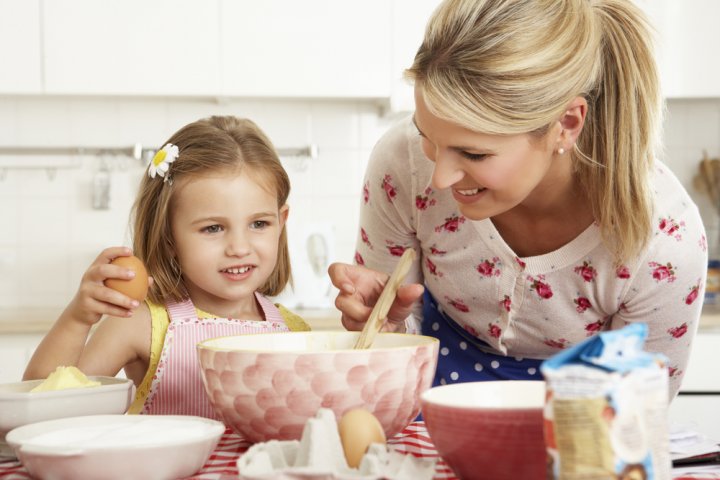 The ingredients used for icing or frosting should be at room temperature, as cold ingredients are likely to curdle or break the frosting. If your work area is steamy or sweaty then frosting might melt. In that case, fill a bowl with ice cubes and place the mixing bowl in it to chill the frosting quickly to avoid disaster.


5 Ways to Make Icing for Cakes, Cookies and More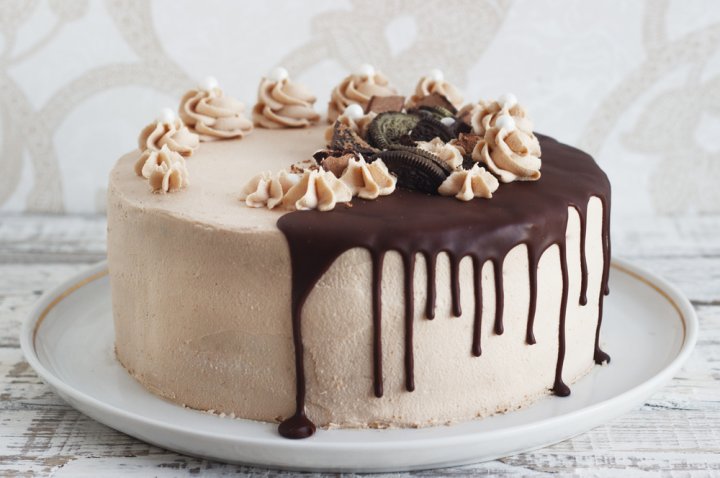 Basic Vanilla Icing Using Butter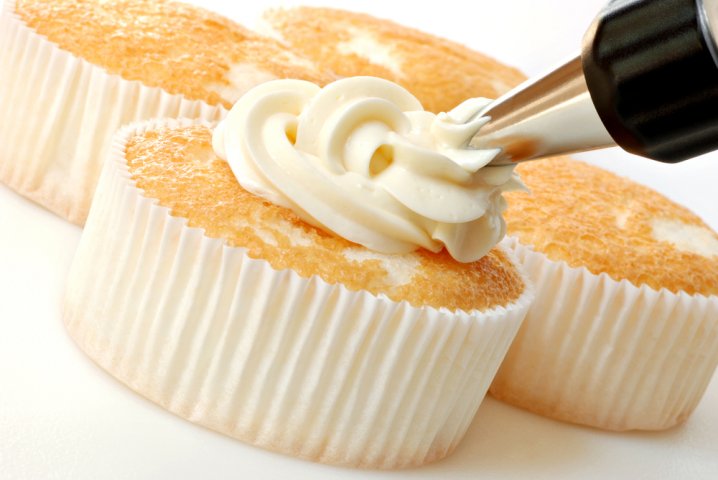 No baked confection whether it is cupcakes, pastries or cakes is complete without an icing on top of it. An icing of a perfect consistency and flavour will not only enhance the taste but the cake will also look beautiful. Icing is usually made of milk or water and sugar and enriched with other ingredients such as cream-cheese, egg-whites, butter or flavourings. The simplest icings are Vanilla Icing, Buttercream Icing, Cream-cheese Icing and Glace Icing. More complicated icings are made by using egg-whites, glycerine, sour cream or cheese, or ground almonds like in marzipan. Icing is applied on the cake using special tools like a spatula or by rolling it and draping on the baked item. Depending on the type of icing used, the application method also varies. Icing is also used as a filling in between the cake layers.
Vanilla Icing:
Ingredients:
Vanilla extract – 1 tbsp
Whole milk – ¾ cup
Softened butter – ¾ cup
Confectioners' sugar – 12 cups
Method:
Combine milk, vanilla, butter and sugar. Beat the ingredients on medium speed until the mixture is fluffy and smooth. The icing can be used on cupcakes or cakes.
Buttercream Icing:
Ingredients:
Confectioners' sugar – 2 cups
Vanilla extract – 1½ tsp
Softened unsalted butter – ½ cup
Milk – 2 tbsp
Food colouring – 3 drops (optional)
Method:
Cream butter using a hand mixer or a wooden spoon until fluffy and smooth. Gradually, incorporate confectioner's sugar into the mixture and beat well. Add in vanilla extract.
Add milk and beat for another 3 to 4 minutes. Finally, add food colouring and beat for a few seconds.
Cream Cheese Icing:
Ingredients for Cream Cheese Frosting for Cupcakes:
Cream cheese – 226 grams (room temperature)
Salted butter – 86 grams (6 tbsp)
Powdered sugar – 460 grams (4 cups)
Vanilla extract – 1 tsp
Ingredients for Cream Cheese Frosting for Cakes:
Cream cheese – 452 grams (16 oz)
Butter – 172 grams (¾ cup)
Powdered sugar – 1,150 grams (10 cups)
Vanilla extract – 2 tsp
Method:
Add butter and cream cheese in a bowl and beat until both the ingredients combine well.
Add half the quantity of powdered sugar into the mixture and beat until it is smooth.
Add in vanilla extract and the remaining powdered sugar. Mix until all the ingredients combine well. You can vary the amount of powdered sugar depending on the required consistency.
How to Make Icing for Vegan Baked Items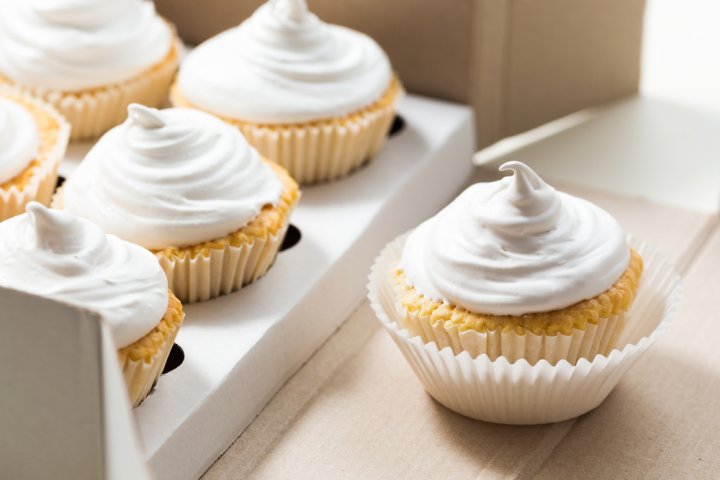 Vegan Vanilla Icing:
Vegan Vanilla Icing is creamy, velvety, smooth and deliciously sweet. It is a recipe that uses just 4 ingredients and is perfect for cookies, cupcakes and cakes.
Ingredients:
Powdered sugar – 450 grams (3¾ cups)
Vegan butter – 45 grams (3 tbsp)
Soy milk – 60 ml (4 tbsp)
Vanilla extract – 2 tsp
Method:
Mix together vegan butter, half the quantity of soy milk, powdered sugar and vanilla in a bowl.
Beat the mixture with an electric mixer starting with low speed and then increasing the speed. Add the remaining soy milk and blend slowly until you get a thick and smooth mixture. The consistency should be thick enough to spread easily.
Tips:
You can use almond milk or any other non-dairy milk instead of soy milk.
To get the desired consistency, you can vary the amount of soy milk. Also, the water content is high in some of the vegan butters, which can make the icing too runny. So, make sure to use only as required. If you end up with a very thin icing then add powdered sugar to get the desired consistency.
How to Make Icing for Cookies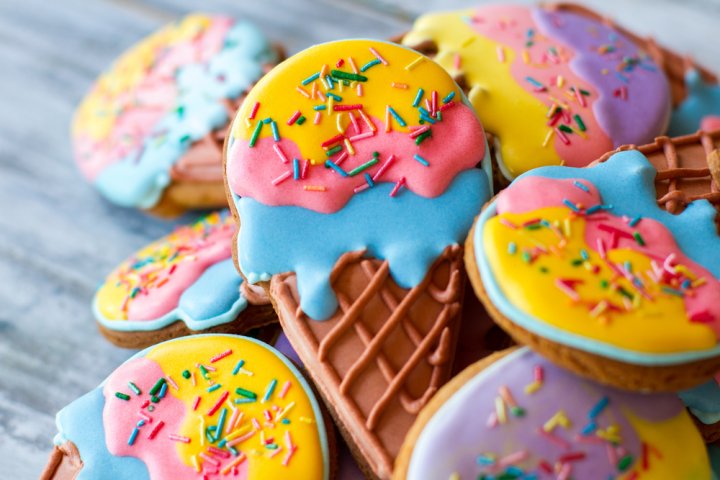 The procedure to make perfect icing for cookies is quite simple. All you need to do is stir up some milk, vanilla and sugar along with a dash of food colour. Cookie decoration is easy and fun.
Ingredients:
Powdered sugar – 1 cup
Milk – 2 – 3 tbsp
Vanilla – 1 tsp
Method:
Combine all the above ingredients in a bowl and whip it until you get smooth and fluffy mixture.
Tips:
Ensure that your cookie icing doesn't run, cool the cookies before icing them.
You can adjust the consistency by varying the amount of milk you add.
How to Make Icing for Cake Decoration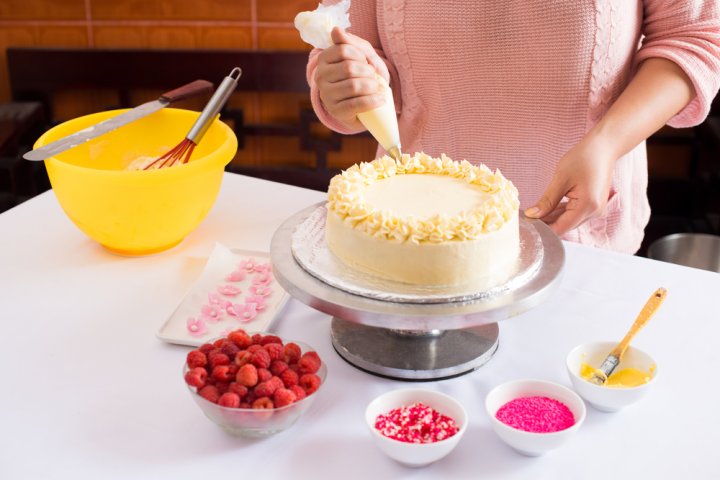 Royal icing will make your cake decoration a breeze. The cake will look beautiful and the icing creates a really pretty texture. The icing will set just in an hour and after 4 hours, it will harden and hold on to whatever form you shape it into while decorating.
Ingredients:
Egg whites – 160 grams
Powdered sugar – 690 grams (6 cups)
Lemon juice – 2 tsp.
Method:
Use bain-marie and heat treat the eggs for about 2 to 3 minutes. Make sure to whisk constantly. Heat the egg-whites until they are just warm. This method will get rid of any potential bacteria and makes them safe to use.
Beat the egg-whites using whisking attachment in a large bowl for about two minutes or until foamy.
Now gradually add in sugar into the egg-whites along with lemon juice.
Whisk at a high speed to get a thick and smooth icing mixture.
At this stage, the icing is just right to be used on the cookies. You can add more sugar to make it stiff to get the desired consistency.
Cling wrap the bowl and make sure there is no air in it to prevent the icing from hardening.
This icing is adequate to use for one large cake.
How to Make Icing without Butter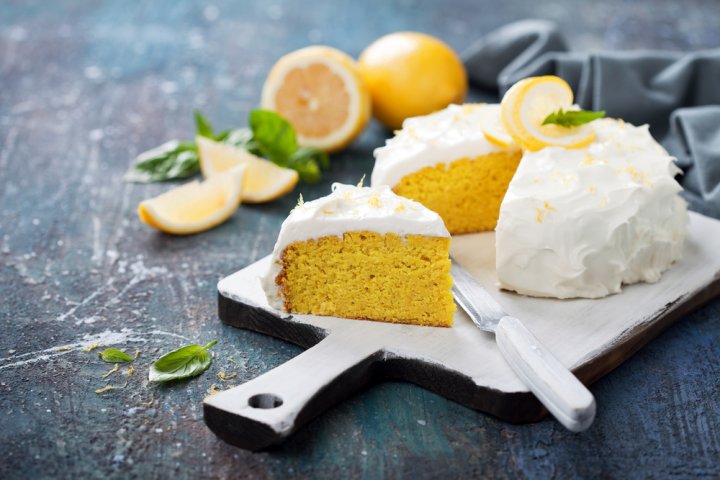 Traditional icing recipes for baked goods use butter as it provides the required stiffness and richness to the icing. However, there are several options to replace butter in the recipe with ingredients like cream-cheese, margarine or coconut oil. Here are the two icing recipes without butter:
Coconut Oil:
Coconut oil solidifies below the room temperature and hence a great choice to replace margarine or butter. However, it gives a nutty coconut flavour to your icing. Also, if it is stored at a warm temperature or not prepared correctly, there is a possibility that it could separate. So, the trick here is to solidify the coconut oil before using it in the recipe. Cool the cake completely before icing on it and once done put the cake back in the fridge until it is time to serve.
Ingredients:
Coconut oil – ½ cup
Vanilla extract – 1 tsp
Confectioner's sugar – 2 cups
Method:
Melt the coconut oil in a microwave or a double boiler.
Beat sugar, vanilla extract and coconut oil in a bowl with an electric mixer and blend them to get the desired consistency.
Tips:
To get a rich flavour, yet retain the nutty flavour, you can use ¼ cup coconut oil and ¼ cup butter.
You can use unrefined or refined coconut oil.
Cream Cheese Icing without Butter:
This icing is fluffy, light, delicious and creamy. It is an effortless and simple recipe that you can make in just 10 minutes. It is perfect for cakes and cupcakes.
Ingredients:
Cream cheese – 450 grams
Powdered sugar – 500 grams
Whipping cream – 2 tbsp
Cornstarch – 2 tbsp
Lemon juice – ½ tsp
Vanilla extract – 1 tbsp
Salt – ½ tsp
Method:
Bring the cream-cheese to room temperature and mix it with whipping cream, salt and lemon juice in a bowl.
Beat this mixture on medium speed until it turns fluffy and light.
Gradually add powdered sugar until you have used two cups of it.
Finally add vanilla extract.
Continue mixing on medium speed for another 2 to 3 minutes. At this stage, check for consistency. If it is stiff add a tbsp of whipping cream and if it is too soft you can add more sugar to it.
The frosting becomes lighter if you whip more similar to whipped cream frosting.
Tips:
Different Flavors of Cream Cheese Frosting:
Lemon Flavor – Use 1 tbsp of lemon juice for fresh cream. You can add more if you want a flavour similar to tart buttercream.
Chocolate – Mix 2 tbsp of cocoa powder and powdered sugar before blending the ingredients together.
Peppermint – Use 1 tsp of peppermint extract in place of vanilla extract.
Caramel – Instead of fresh cream add thick caramel sauce about ¼ cup in the final stage. The consistency of this icing will be soft, so piping firm swirls will be difficult. Also, the frosting will be rather sweet.
Maple – Use Maple syrup in place of cream. The icing is absolutely delicious.
Bonus Idea: Best Cake Decorating Tools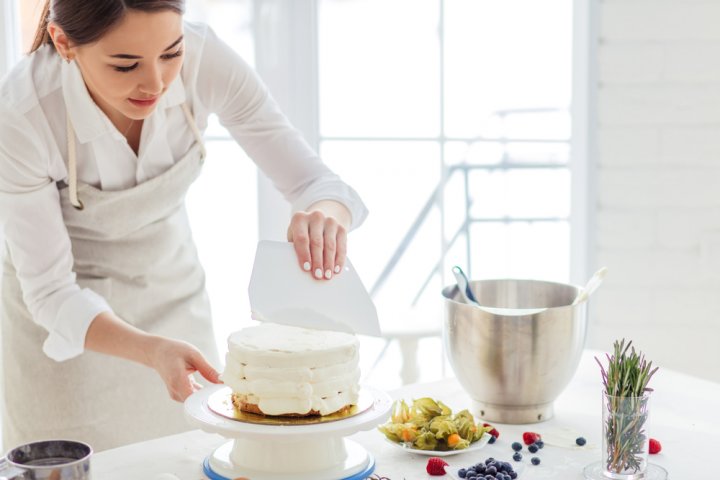 The world of cake decorating is full of fancy things from cutters to piping tips that are required to create beautiful designs. However, it is not necessary to buy everything available at the store. Start with the basics and buy only those that are needed to nail that impeccable smooth surface on the dessert.
Cake Pans – The most crucial thing to make pretty cakes. Professional pans have straight sides, which keep the cake straight when they are stacked one on top of the other.
Parchment Paper – This is the best baking friend, as it helps in perfect release of your baked item every time. Also, it is useful while covering the cake with fondant.
Turntable – Decorating a cake is not possible without this tool. Though a platter or plate can be used for this purpose, it limits the range of motion while icing. So, this tool is an essential companion that is useful for almost everything from crumb coating, filling to decorating.
Scrapers and Spatulas – If you want a cake that is precisely decorated then using just any spatula found in your kitchen is not acceptable. To get a smooth covering for your cakes whether it is ganache or buttercream, you need a specially angled icing spatula that is designed specifically to apply icing on a dessert. A multi-purpose metal scraper is another useful tool that you will need for frosting purpose.
Writer
Malathi
Malathi is a freelance content writer offering blogging, ghost-writing, and copywriting services. In addition to developing digital marketing content, she maintains niche websites related to kids, parenting, and pregnancy. Malathi's works have been featured on several prominent blogs and websites. When she is not writing, you will find her exploring exotic locales on our beautiful planet.
From our editorial team
Icing Completes Your Cake
We hope this guide would have helped you to understand why icing not only makes your cake look nice but also holds it all together. If some of you were apprehensive about preparing good icing at home, we hope the recipes mentioned here will help you in making great icing quickly and without much fuss. Stay connected with us for more such engaging and relevant content.