Mumbai - The City of Dreams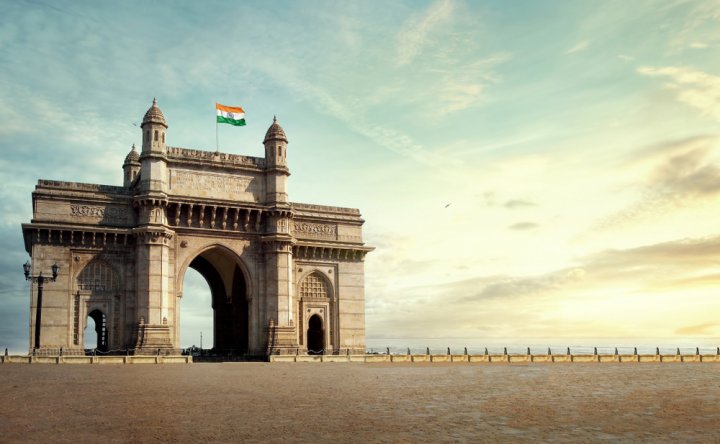 Located on the western coast of India, Mumbai is forever bursting with vibrant energy and life. It is also the busiest city and the financial capital of the country. It is nicknamed as the 'City of Dreams' or 'Mayanagari' as it offers limitless opportunities to fulfil one's dreams and aspirations. It also boasts of many beautiful structures that were built by rulers and kings during the British rule. Though the city has seen tremendous development and grown exponentially in the past several decades, it has also managed to retain its 2000 years old rich past.

Mumbai is also the pioneer of several interesting things like being the city with India's first 5-star hotel, first passenger train and first theatre for movies, and many more things. The city is a fantastic blend of several ethnic races and cultures. Mumbai also boasts of unique and vibrant cuisine, and the street food of Mumbai is something you can't miss out on! A few offbeat spots that you can visit during your visit to the place include Global Vipassana Pagoda, Dr. Bhau Daji Lad Mumbai Museum, Haji Ali Shrine, Siddhivinayak Temple, Fort Bassein, Flora Fountain and Maharaj Vastu Sangrahalay.
4 Tips to Stay Safe in Mumbai City
Travelling at Night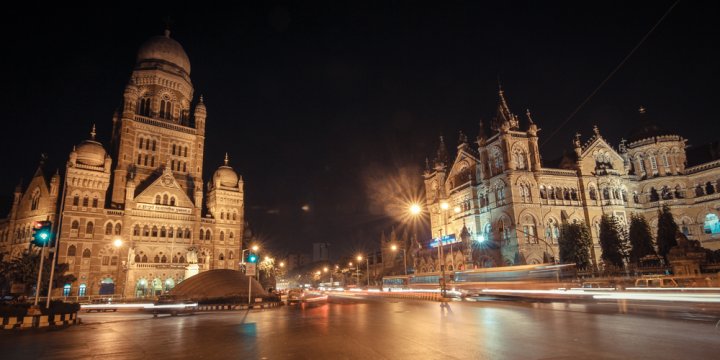 Mumbai is crowded even in the wee hours of the night. However, the city may not be all that safe for outsiders. It is advisable, especially for single women to stick to tourist hot spots or to have a Mumbaikar accompany you. There are also police patrols in several places, which can be approached without any hesitation if needed.
Beware of Petty Thieves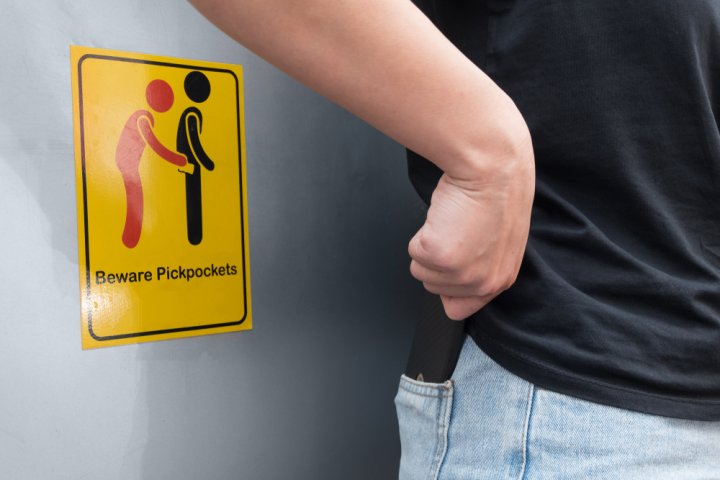 Pickpocketing is common in crowded places like markets, bridges, and local trains. Make sure all valuables are inside a bag and out of reach. Be always on the alert!
Monsoon Safety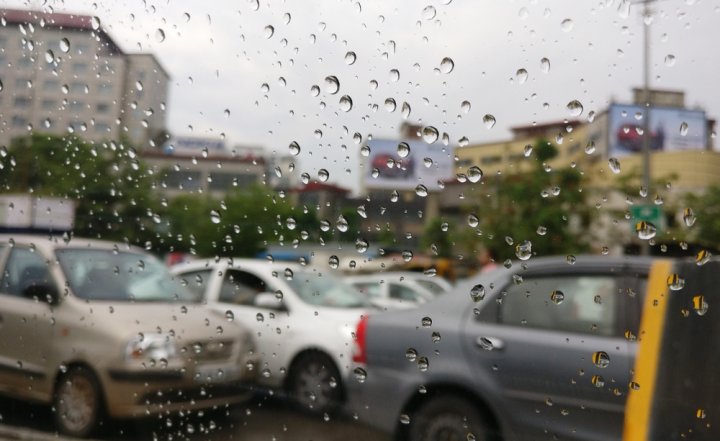 Monsoons in Mumbai are magical, but it is safe to be prepared for it. Carrying a sturdy umbrella is a must along with plastic bags for electronics and other things that can be damaged by the rain. Wearing rain boots or shoes with rubber soles can avoid slipping. A change of clothes is always handy in the worst situation.
Try Using Only Pre-paid Taxis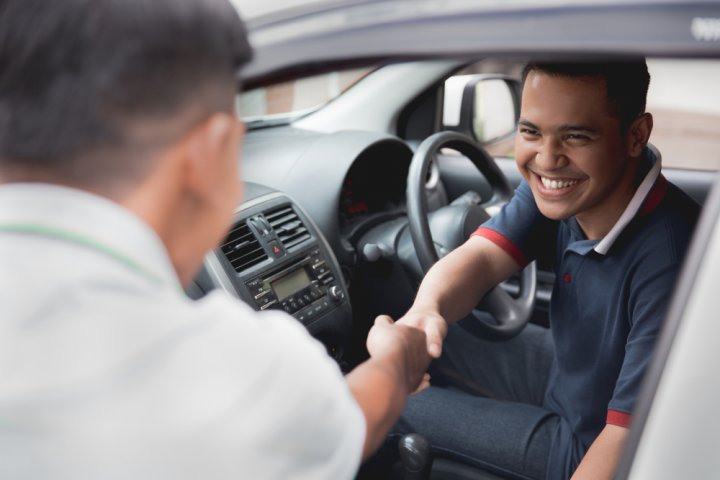 We advise tourists to avoid using local taxis, especially if travelling alone. Local drivers may intentionally take you to a different hotel than the one you asked for or take you on a much longer route. Though not common, you may also be assaulted. These issues can be avoided by booking pre-paid taxis at your hotel or by using OLA or Uber cabs. These options are slightly expensive but beneficial for the peace of mind.
10 Fun Things to do in Mumbai on Weekend
Bollywood Tour
This full-day tour is a must for Bollywood lovers. You can visit the film city and various other studios during the trip. Mumbai Film City offers two hour guided bus tours of its 20 indoor studios and a live shoot if it's taking place at that time. There are six tours organized every day starting at 10:30 am, with the last one at 4:30 pm, and it costs Rs. 599 per head for Indians and $49 for foreigners. A live show tour of TV serial sets is also possible from 4 pm to 5:30 pm during which visitors can take pictures with the actors. This costs Rs 1,600 per head for Indians and $49 for foreigners. Bollywood tours, established in 2003, also offer a drive past the residence of the famous Bollywood stars, a visit to the dubbing studios, and a live dance show apart from the two-hour film city tour.
Igatpuri Camping and Water Sports
At the Igatpuri Secret Camping site, people can enjoy an array of water sports along with an enjoyable camping experience. Well hidden inside a jungle, the beautiful campsite conducts several activities for people of all ages. Visitors start the day at 3:30 pm with water activities like kayaking, river raft boating or swimming, after which they enjoy local food for dinner and can engage in stargazing and star trail photography.

Night treks are also available for those who are interested. The campers can wake up the next day to witness the marvelous sunrise. The Igatpuri lakeside is a beautiful spot for landscape photography and a perfect destination for those looking to get out of the hustle and bustle of the city life. A twenty-four hour stay (1 day + 1 night) at the camp costs Rs. 1,400 per head. There are also seasonal offers that tourists can avail.
Sanjay Gandhi National Park - A Rendevouz with Beautiful Nature
Sanjay Gandhi National Park is a great spot to enjoy nature in Mumbai. It has more than thirteen hundred species of flora and five hundred species of fauna. Visitors can spot leopards, kingfishers, lions, and several species of butterflies at the park. It also has two artificial lakes that are home to crocodiles and migratory birds all year long. Moreover, visitors can enjoy stunning views of the Western Ghats in the backdrop.

Kanheri Caves, which are over two thousand years old are the major tourist attraction here. Several other activities are offered including a tiger and lion safari, boating, mini train and a walk along nature trails, for which prior booking is recommended. Guests can spend a whole day at the park but they must carry a picnic lunch as no restaurants are available inside. The entry fee is Rs. 48 per Adult and Rs. 25 per child and an additional Rs. 5 for the Kanheri Caves.
Prithvi Theatre
Prithvi Theatre is one of the best theatres in the country. Located near Juhu Beach, it is the central hub for theatre enthusiasts. Prithvi Theatre, run by the Kapoor Family of Bollywood offers a peep into the creativity of talented writers, actors, and musicians. The theatre is open to art lovers from all backgrounds and offers carefully curated plays, storytelling sessions, classical music concerts, and several workshops for people interested in the performing arts.

The "Prithvi Festival" conducted annually has an assortment of performances by local, national and international theatre groups. It conducts memorial concerts on the 28th of February with a lineup of talented musicians across genres of jazz, folk, classical and fusion. It is open from 1 pm to 9 pm on all days except Mondays. The theatre also has a Cafe and an Art Gallery which are also worth a visit.
Karjat - A Fabulous Weekend Getaway
Karjat is the perfect getaway from the crowded city of Mumbai. It is 63 km from the city and located close to the river Ulhas. The place offers a spectacular natural beauty comprising of mountains, forts, and rock-cut caves as well as a variety of adventure sports like trekking, river rafting, waterfall climbing, rappelling, etc. Tourists can travel to Karjat by road or by train in about 2-3 hours. Kondana Caves are an ancient rock-cut Buddhist cave group that is known for its architecture and scenery. One has to trek for an hour from the village of Kondana to reach the caves that are situated at the base of a waterfall. On the eastern part of Karjat is the Kothaligad fort, which has a temple and a cave at its foothill.

For people who love an adrenaline rush, Ulhas Valley and Bahiri Caves are a must-visit. Visitors can participate in hiking, trekking, and several water sports in the river. The Kondeshwar and the Jain temple are magnificent structural marvels that you should not miss visiting. Karjat also has something for movie fanatics; ND Studio is the place where the shooting of popular TV serials and movies like Slumdog Millionaire and Devdas took place.
Elephanta Caves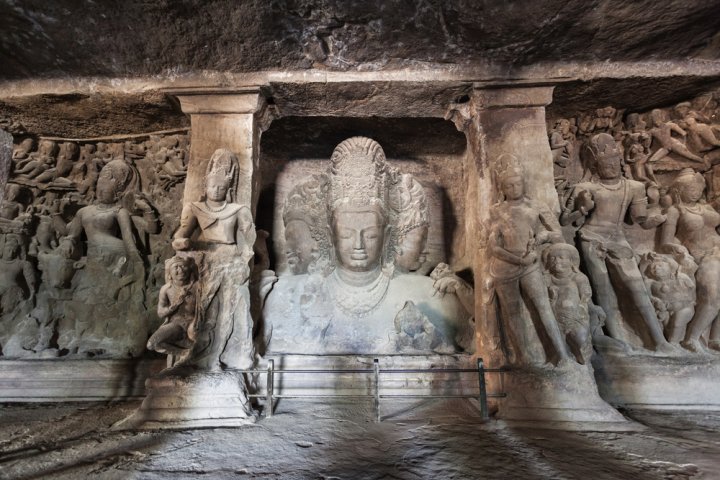 Located 10km from the Gateway of India on an island called Gharapuri or the Elephanta Island, are the most famous rock-cut caves of India known as the Elephanta Caves. These caves traced back to the 5th-7th century, contain two groups of Buddhist caves and Hindu temples with imageries of Shiva, Ganga, and Parvati. The first cave, also known as the great cave, is home to several statues of Shiva, including a Trimurti sculpture depicting Shiva with three heads. Caves 2-5 are located on the Cannon Hill and comprise of several pillars and small chambers. The Sitabai cave temple situated on the Stupa hill is one of the famous caves owing to its conversion into a church during the Portuguese rule.

The caves are open to the public from 9:30 am to 5:30 pm. Visitors must reach the island on a ferry from the Mumbai harbour. The first ferry leaves at 9 am and the last one at 2 pm. After the one-hour ferry ride, one must trek for about 30 minutes to reach the first cave. The boat for the early trip returns from the caves at 12 pm and the last one at 5:30 pm, so tourists are advised to plan their trip accordingly.
An Opera at NCPA
The National Centre for Performing Arts is a multipurpose cultural centre in Mumbai. It presents several performances and workshops by famous artists from around the country as well as international groups. The theatre has the first and only orchestra, the Symphony Orchestra of India, which performs in collaboration with the world's leading conductors and soloists. Visitors can travel to the NCPA either by road or train as it is located fairly close to the Churchgate and Chhatrapati Shivaji Terminus (CST). They can attend the theatre, music and dance performances that happen throughout the month as well as dine at the restaurant and cafe located on the premises.
Heritage Walks
Visitors can best explore the story of Mumbai on foot. Various heritage walks take place in the city, covering everything from history and architecture to food. The Byculla heritage walk, Churchgate and Heritage Mile Walk, Horniman Circle Walk, among others, cover the heart of Mumbai. Tourists can take a stroll along the bylanes of Byculla, visit the Gloria Church, the old Fort, Victoria Terminus, Flora Fountain, Kala Ghoda, and even the Marine Drive through these walks.

Bandra Past and Present Walk take people through the history of the place, comparing the present culture and architecture of Bandra to the past. There are also several other unique walks in the city that you can explore. The Bookworming walk allow people to step into the shoes of fictional characters and protagonists from the best-selling books – 'Maximum City' written by Suketu Mehta and Gregory David Roberts' 'Shantaram'.

Irani Cafe Food walk is perfect for those foodies out there, who would like to explore the history of Iranian food over conversation and chai while visiting several Iranian joints. There is also a Dharavi Slum Walk, where visitors can witness the various business activities that take place, including pottery, recycling, a soap factory, and many more things. These walks can range from 2 to 3 hours and a lot of them are only conducted on request.
Dharavi Leather Shopping
Dharavi is home to one of the largest leather markets in the world and a perfect stop to shop for goods that are of good quality and reasonably priced. The stores sell bags, belts, clothes, and suitcases, among other items. Prices can range anywhere from INR 350 for wallets and belts to INR 10,000 for good quality bags. Excellent Bag Works and Torro are some of the stores that sell bags at negotiable prices. Some of these shops also make customizable items from the raw material of your choice.
Kune Waterfalls Trek
Kune Falls is a scenic waterfall located near Kune village 94 km from Mumbai. The water cascades down the hills of Sahyadri or better known as the Western Ghats, from a height of 200 meters. Enveloped in lush green forests, Kune Falls attracts a lot of tourists in the monsoon season. Swimming and bathing are allowed at the foothills when there are no heavy rains. Monsoon would be the best time to witness the falls in its full glory. You can also check out the Kune church located just a short walk away from the falls as well as Triose Plaza, which is full of eateries like Kareem's, Chaat Cafe, and more.
From our editorial team
Best Time to Visit Mumbai
Mumbai experiences coastal climate and is humid most of the year. However, in the winter months from November to February, the weather is pleasant and less sticky as compared to other seasons. This would be the right time to explore the city. June to October is monsoon when the city experiences incessant rainfall. It is challenging to move around as the low-lying areas often get flooded. However, towards the end of the monsoon that is mid-September to October, you can enjoy the mild romantic showers and enjoy visiting attractions like Worli Fort, Sea Face, and beaches in Mumbai.