Why Order Food with Uber Eats
Benefit of Ordering Online with Uber Eats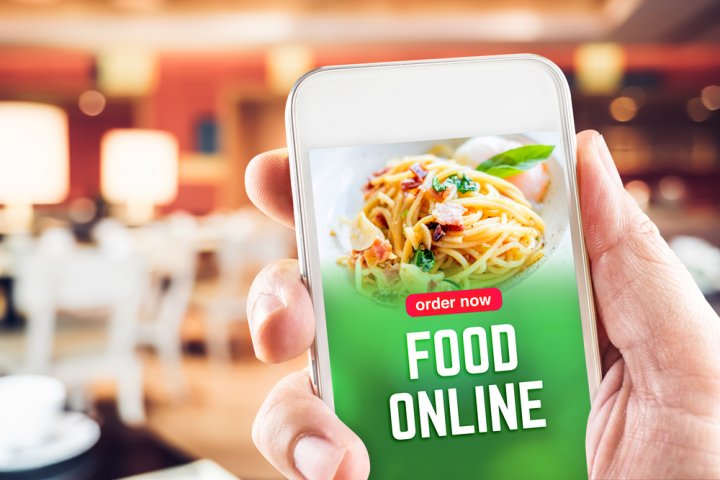 With most services now available online, ordering food through multiple apps is no less than a blessing. At the click of a button, you can now order food and save yourself from hunger pangs, presenting with several delicious & lip-smacking food options to choose from at the comfort of your home/office/space.

Uber Eats was launched in India after much pomp and hearsay. Seamlessly integrated with an Uber Ride App, a rider can choose to order a meal during travel which offers a great deal of convenience, reliability, and a wide array of. When you log in to the app, the interface is different for you vs. the interface for another person and is customized to your location, popularity of restaurants around you and their prices, not to forget keeping dietary requirements in mind as well.

To ensure a smooth delivery process, the app allows you to save your address and search from recent deliveries and present you with multiple choices. The app follows the same mechanism for tracking as is used for uber rides business.
How to Order Using Uber Eats
The only aim of Uber Eats is to Deliver the best meals from your choicest restaurants to satiate your hunger. To ensure a smooth delivery process, the app allows you to save your address and search from recent deliveries and present you with multiple choices. The app follows the same mechanism for tracking as is used for uber rides business.

So to begin with, all you need to do is to open the app and select the person symbol on the app button from the bottom bar; choose settings under saved places and add your address where you want your food to be delivered. Once you've saved your places for delivery, tap on home/work and enter a new address, filling your general location regarding your sector/colony or apartment name.

Move onto choosing your delivery option from: deliver to door (adding details of your flat number and floor) to receive delivery at your doorstep; meet at vehicle (where you can meet the food delivery & collect your meal from the delivery partner), this helps in situations where you don't have a parking space; business name (when you'd like to receive food delivery at your office). You can also add a delivery note for any additional instructions.
Easy to Order Steps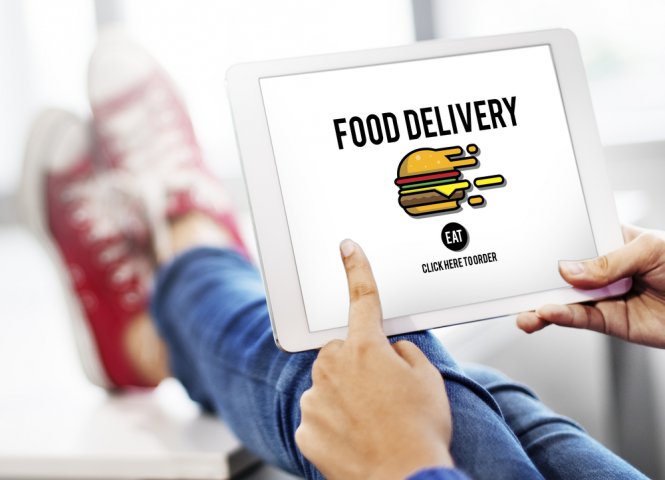 It's effortless to place a food delivery order on the Uber Eats app. To begin with, open the app and set your location to view the choices for delicious food in and around your area. Move onto choosing from budget-friendly options to splurging celebrations by filtering your price options. The next step would be looking for flavours you're craving for, looking out for new cuisines or browsing through select categories. You can filter the choices by most popular and get inspired by what others around you are ordering. You can also track your order in real time.

If you have a discount code or promo coupon, you can apply it to your order by selecting the profile tab from the bottom bar, selecting promotions, entering the code and click on APPLY. Your discount will reflect automatically in your cart during checkout.
Uber Food Delivery in Major Cities Across India
Delhi
Uber Eats has partnered with over 200 restaurants in the Delhi-NCR alone for food delivery services which allow consumers to order from their local favourites from places like Moti Mahal, Pita Pit, Dimcha or Barista. Some of the most popular restaurant in Delhi/NCR are:
Gurugram: Burger Club, Biryani Blues, Goli Vada Pav No.1, Kulcha Walas, Om Sweets & Snacks, Café 31, Bikanervala, Chaayos, Nandan's, Café Roameo, Salad Company, Dilli Light chur-chur naan, The Lunch Box,and Egger's Madhouse.


Noida: Biryani by Kilo, Sagar Ratna, Healthie, La Pinoz Pizza, Shahenshah, Rotees n More, Desi Dakaar, Hungry Chow, Bistro 37, Nawab 104, and Zaika of Purani Dilli.


Delhi: Bille di Hatti, BTW, Punjabi Parantha, Gopal Sweets Corner, Singh's Vada Pav, Shammi Bhai Lassi Wala, Govardhan vegetarian, Puri Bakers, Mr. Crust Bakers, Wendy's and Giani's.
There's a list of endless restaurant options available in Delhi/NCR.
Chennai
From popular categories of biryani, South-Indian, juices and smoothies, barbeque, ice-creams and desserts to sandwiches, middle-eastern, or seafood, Chennai is a foodie's paradise. Chennai's top restaurant partners in alliance with Uber Eats include Sangeetha, Saravana Bhavan, Raj Bhavan, Aboorvam, Ratna Café, Udipi, Nithya Amirtham, London Bubble Co., Brijwasi Sweets, Chai Kings, Indian tiffin center, Murugan Idli, Dindigul Thalappakatti, Meat and Eat, Thulir Juice shop, Drunken Monkey, Fruit Shop, and Faaso's.
Lucknow
No longer do the people of Lucknow have to queue up to enjoy Galaouti Kebab at Dastarkhwan or form a line at the Royal Café to relish their famous basket chaat. From the hot favourite Shree Rajbhog to US Pizza and Belgian Waffles, gorging on your favourite dishes can be a dream come true in comfort of your personal space with Uber Eats. Lucknow's popular food choices include relishing Biryani, Chicken dishes, BBQ, Bakery, North Indian, and other comfort foods.

You can now choose from an assortment of top eateries in Lucknow that include Bajpayee Kachodi Bhandar, Mubeen's, Moti Mahal, Jumboking, Sharma Ji ki Chai, Esselates Al-Bake.com, Keventers, Goli Vada Pav no.1, Al Cock.com, Pizza Cave, Kareem Kababi, Shukla Chat House, Good Bakery, and Burger Point.
Mysuru
From creamy Polar Bear Ice Creams to the iconic Nalpak to Tina's café, from delicious pizzas and portions of pasta to Mysuru's favorite biryani from Hotel Hanumanthu's or Khan's, whatever you're craving for, you can order to be delivered at right at your doorstep. A go-to app for all soulful foodies, whether it's a college reunion, working lunch or a house party, or merely a hunger pang at odd hours, Uber Eats can cater to everyone and anyone for absolute satisfaction.

You can avail some exclusive discounts on foods and drinks by simply ubering them from your favorite eateries. Some of the most popular categories of food include Biryani, Pizza, Ice-Cream, Frozen Yogurt, Burgers, South-Indian and North-Indian cuisines. And among the top contenders with these delicious offerings are Zafran, Bombay Tiffanys Annexe, Mannar's Café & Restaurant, Shree Mahalakshmi Sweets, Frosting, Lokapavaniupahar, Highway 18, Manthop, Café Mysore, and Taja Tindi.
Vadodara
From the ethnic favorites like Chappanbhog to Global favourites like Marco's, zipping through Vadodara's bylanes, Uber Eats can deliver your favorite delicacies to wherever you are. Some of the top categories for ordering food in Vadodara include North-Indian, fast-food, burgers, pizzas and ice-cream/frozen yogurts. Other equally tasty options cover the South Indian, Chinese, barbeque, American, Lebanese, French, Greek, Asian and Middle Eastern cuisines.

Few of the top restaurant partners in the city are Lalabhai Sevusal - Raopura Towerwala, SSR South Corner, Fusion Dosa & More, CN Bumiya, Satyavijay Farsan, Keventers, Krishna, House of Bakery-Tandalja, Balubhai's Khaman, Jagdish Farsan, Rajasthan Ice-Cream & Kulfi, Saladific, Jay Ambe Smoothies & shakes, Fassos, Freshco's The Health Café, Behrouz Biryani, Yes Frankie and Chaat Street.
Nagpur
A bustling city like Nagpur has many locals and tourists to cater to from the perspective of a melting pot of cultures. Uber Eats in Nagpur aims to enable everything from the traditional poha to global favourites like pizza. With mouth-watering delicacies from some of the top-notch eateries like Haldirams, Panino, Gokul Vrindavan, Jog Hospitality, Al Zam-Zam or Fuel Station, Uber Eats can deliver the best to anywhere you are.

Some of the most popular food choices in Nagpur include Biryani, Pizzas, Desserts, Sandwiches, Street Food, Paranthas, Juices and Smoothies, Thalis, Rolls, Rice Bowls, Café treats and Healthy Bits.

The top restaurant partners include Amrutlal Foods, Gangour, Bombay Sweet Mart, Flavors of Maharashtra, Fruit Bites, Café John, Reddy's All About Idlis, Gau Ganga-Natural Food Products, Bhavanagri Farsan, Zatpat Ghas, Annapurna Sweets & Namkeen, and Patodiwala.
Ahmedabad
The jalebi fafda from Iscon Ganthiya or Honest's bhaji-pav can now find their way through to your doorstep with Uber Eats, not to forget more delicious options from Sankalp, Havmor, or Little Italy.

Ahmedabad's popular food choices include desi guju pizzas, dosas, rolls, homemade ice-creams and kulfi, biryani, sandwiches, Gujarati thaali, baked dishes, fresh pieces of bread, and desserts. The top restaurant partners include Farki-Gurukul, Kabir Restaurant, the Big F, Vipul Dudhiya Sweets, Neelkamal Coffee Bar, Gajanand Food, Jay Bhavani Vada Pav, Jani Locho & Khaman House, Karnavati Dabeli, Das Khaman, Yuvi Café, Mad over Juices, Azad Sweets & Restaurant, Chetna Ganthia Rath, Chai Wai, and TandoorworkZ.
Kolkata
Kolkata is popular as the city of joy and what better way to celebrate this joyousness but with the sweetness and tanginess of tasty eats! Whether it's the sandesh at Balaram Mullick or lip-smacking biryani from Arsalan, after serving millions of hungry tummies, Uber Eats brings in a variety of delicacies to your home with the choicest cuisines ranging from macher jhol, biryani, kosha mangsho to aloo tarkari with luchi.

The top restaurant partners in Kolkata include FNP cakes, Sharma Brothers, Wow! Momo, Kurry Patta, Juicy Fresh, Haldirams Prabhuji, Nalin Chandra Das, Drunken Monkey, the Yellow Straw, Paris Café, Chai Break, Mehban, and Zeeshan.
Bhopal
Whether it is desi favorites like Jalebi & Kachoris, lip-smacking kebabs from Hakeem's, all time favourites from Bake n Shake, Sandwiches from Sagar Gaire or the most coveted Veg Thali from Manohar Dairy, Uber Eats can deliver all almost all your favorites to your home!

Bhopal's cuisine is influenced a great deal by Mughlai dishes as well as adaptations from the Marwari culinary culture. With breakfast beginnings focused on poha-jalebi or rabdi-jalebi to lunch from Bapu ki Kutiya for a non-veg meal, New Market for a plate of chole bhature or other vegetarian delights at Sagar Gaire, there's no dearth of eateries and delicacies in Bhopal. Few other popular restaurant partners with Uber Eats include Sharma Chinese Food, Milan Sweets & Namkeen, Top n Town, Mamaji Jalebi Wale, LHD India foods, Chappan Bhog, Polimera's Swadish Kitchen, Arya Bhawan, and Nerbada Restaurant.
Ludhiana
You no longer need to squeeze your way through the crowds to taste your favorite butter chicken at
Baba Chicken or wait till the place clears up at Panditji De Paranthe for delicious paranthas. From desi favorites like samosa and gulab jamun on college road to international favorites like Captain Sam's Pizzas, order in your top favorites at Uber Eats. From Chur Mur Golgappe to Panna Lal ke Pakode, Kulche Chole to Champ and tikka rolls, the list is endless in what you can choose to eat when ordering in.

Uber Eat's popular restaurant partners also include Oberoi Special for north Indian dishes, Sartaj Sweets and Savories, Rishi Vaishno Dhaba for breakfast and brunch, Khalsa ice-cream, King's Tandoori for Indian, Chinese and Vegetarian food, New Newyork Pizzeria, New Special Jammu Puri, Sher-E-Punjab, and Delhi Riyasat.
Bonus Tip: Tipping Gets You Brownie Points and Better Service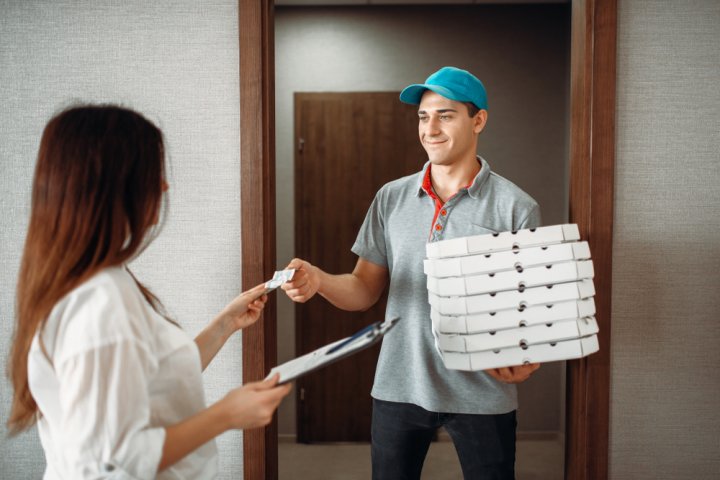 When ordering food online, it is quite easy to add a quick tip rather than fumbling around in your wallet for spare change. Despite this efficient system, paying online isn't always the best way to tip the delivery executive. When you pay online or with a card, the delivery rep doesn't immediately receive that money. Some platforms pay their delivery staff weekly, which delays the tips even more, and while minor delays in such payments don't seem much, tips form a big part of a delivery rep's regular income keeping in mind the long working hours and fighting against all the odds to deliver orders on time.

Further, if a restaurant has a credit card or debit card fee for every transaction, then it will impact tips too. So, in most transactions, even though, Uber Eats app allows you to make all payments on the app, eliminating the need to exchange cash, it is feasible to tip in cash, which also would factor in tipping extra during bad weather, long commute during peak hours. Also keep in mind, that when you don't tip, perhaps the quality of service by the delivery partner may get affected in terms of delay in delivery! You can also rate your delivery executive on the quality of his service.
From our editorial team
Try to Order from Restaurants with Closer Proximity
It's obvious that restaurants with closer proximity to your place would be able to deliver faster. It is taken lightly, and often people end up regretting their decision of ordering from a faraway place. Try to order from outlets closer to your area unless you're ordering for something specific and something special or you are patient enough to wait for your food to arrive. Happy eating!