Facts You Didn't Know About Biryani!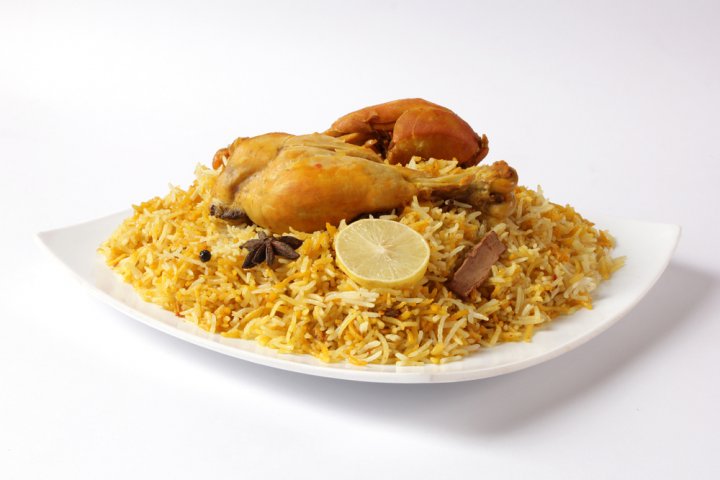 Like tea and coffee, Biryani is another culinary magic that is liked across India in its own delicious versions and cooking methods. There are different theories about origin of Biryani; while some suggest that it was introduced by Mughals and was ought to be an army dish as in the war camps, cooks are not supposed to have all the essential ingredients to cook a full course meal and hence they would carry rice, basic spices and cook Biryani with whatever meat is available near the battlefield. But, there is no authentic record of Biryani being invented by Mughals or any written history, which suggests that Biryani was already existent outside India in that era. Another theory suggests that the Indian dish 'Pulao' termed Biryani after the Mughal invasion in India, and the word biryani originated from the Persian word 'birinj' for rice.

No matter what the real story behind Biryani is, the fact remains that Biryani is loved across India. There are two types of Biryani based on the cooking method – Kachcha Biryani (raw meat is marinated with spices and cooked with rice) and Pukka Biryani (meat and rice are cooked separately, combined and finished before steam cooking for few minutes). And then there are Biryani dishes named after different places or the way they are cooked such as Lucknowi Biryani, Hyderabadi Biryani, Dum Biryani (the vessel is sealed with flour paste to preserve the steam and aroma), Mumbai Tawa Biryani, etc.

Though Biryani is known to be a mainly non-vegetarian dish with the use of mutton and chicken, a lot of people prefer the vegetarian version where veggies and soya chunks replace meat. In India, Biryani is not only a dish but a celebration, a gift, a love affair, a bet, and sometimes a bribe.
The Preparation of Hyderabadi Biryani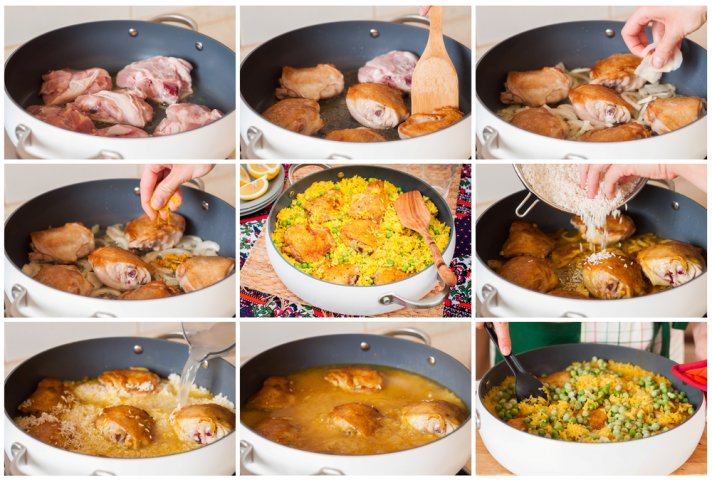 The basic ingredients of Hyderabadi Biryani remain the same as the other famous versions of Biryani. Basmati rice is soaked for 3-4 hours in water before it is added in boiling water along with salt, few green cardamoms, bay leaves, few black peppercorns, a cinnamon stick, and is cooked only up to three-fourth part done. Simultaneously, mutton or chicken pieces are mixed with salt, ginger paste, and garlic paste and set aside.

Then the water is drained, and the rice along with the herbs is set aside. Then finely sliced (not chopped) onion is fried (in oil) till it becomes golden brown and is placed on an absorbent paper after draining the oil. Now is the time for some grinding; you need to fine-grind the remaining cloves, black peppercorns, remaining green cardamoms, one cinnamon stick, and caraway seeds into a powder form. A paste is to be prepared with the help of the freshly prepared spice powder by mixing it with half of the fried onions (we have to keep the remaining half to be used later), red chili powder, mint leaves, coriander leaves, curd, one tablespoon oil and mix them nicely. Now add this paste to the mutton pieces and marinate for 2 hours.

Heat 2 tablespoons clarified butter (ghee), add 2-3 cinnamon sticks, few black cardamoms and sauté for about a minute. Then add marinated mutton, stir well and cook on high flame for 5 minutes. Now cover the vessel and cook on low heat till the time the meat starts leaving the bones. Now take a thick bottom pan and heat ghee in the pan before spreading a layer of rice. After this, layer mutton over the rice and then sprinkle chopped mint leaves before spreading the remaining rice as a layer over the mutton. Mix a few strands of saffron in two tablespoons of milk and sprinkle it on the top. Finally, cover the lid with dough and keep few pieces of charcoal on top of the lid while the Biryani is cooked under low flame for few more minutes and the juicy, mouth-watering Hyderabadi Biryani is ready to be served.
Best Biryani in Hyderabad
Biryaniwalla & Co.
Located in the Banjara Hills area of Hyderabad, Biryaniwalla and Co. is a popular food joint that sells not only delicious Biryani but North Indian Food, Veg Food, Chinese Food, and Seafood as well. The place looks like a regular non-veg food joint, but once you enter the restaurant, the beautifully decorated interiors and the lighting sets the right mood for a full course meal. The Biryani is cooked in the original Hyderabadi style and is loved by many. Apart from Biryani, Patthar Ka Gosht, Paneer Malai Tikka, Khubani ka Meetha, and Gajar Ka Halwa are also the delicacies you can try here.
Sarvi Restaurant
Famous for its Biryani, Haleem, and traditional ambience, Sarvi restaurant is also located in Banjara Hills and is renowned for its affordable food options. You won't be complaining of the sober ambience as the food is affordable and lip-smacking. Tangri Chicken Kebab, Chicken Dum Biryani, Mirchi Ka Salan, and Chili Mushroom are few of the famous cuisines of this place. This place is perfect for a full course meal and heaven for food lovers. Do book your table in advance to avoid any last-minute waiting as the place is mostly crowded.
Hotel Shadab
Located in Ghansi Bazaar area, this is a popular hotel for the foodies and one of the places where you can enjoy Mughlai and Persian food. If you love spicy food, then try their Chicken Dragon, Chicken Drumstick, and Mirchi Ka Salan. The place can conveniently sit about 200 people, and more people are waiting for their turn to taste the delicious masala biryani and kebabs.

The history of this hotel dates back in 1953 when a small canteen selling Irani Chai, coffee and snacks became an instant hit; later an AC multicuisine restaurant (big deal at that point of time in India) was opened in 1983 by the name Shadab Persis, and it was finally in the year 2002 when Hotel Shadab was opened. Don't forget to end your meal with the sweet Lassi Faluda, which is another specialty cuisine of this place.
Cafe Bahar
Café Bahar started in the year 1973 as a tea and coffee joint with Irani tea as its specialty. Over a period of time, this small tea and snacks joint has turned into a full-fledged restaurant now which serves delicious Mughlai, Hyderabadi Biryani, Mutton Tikka Masala, and Bheja Fry to continental food today. You can even go here after a late-night movie to satiate your taste buds as Café Bahar is opened till 1:00 a.m. Located in Basheer Bagh area of Hyderabad, this place is often crowded by its loyal customers who stop by just for quick snacking of sugary cream buns or Irani Samosa available in their bakery section.
Bawarchi
If you are in no mood to wait for your turn to try an aromatic plate full of Biryani or haven't been able to book a table in advance in one of the restaurants, then this is a suitable place as Bawarchi has got ample sitting area and the setting is also lovely (not too fancy). Also, parking and valet parking is available here for the convenience of guests. The most famous dishes are chicken biryani, fish biryani, and grill biryani. The Biryani of Bawarchi is light, and the chicken would be tender and juicy. Bawarchi is located in the Nallakunta area, has separate AC and Non AC sections, and is a perfect place for large groups.
Peshawar
Based on the name of a city of Pakistan, this is a place where you can actually taste Pakistani delicacies which include Mutton Chapli Kebab, Peshawari Seekh Kebab, Peshawari Boti Kebab and Dum Pukht (gravy mutton cooked over slow fire and made by Persian culinary methods) and their Badam Halwa is a must-have to end your meal on a sweet note. Not to forget the Mutton Biryani, which is cooked by their secret method and tastes heavenly. The sitting ambience gives a royal feel, and takeaway option is also available here, which is located at Lakdi Ka Pul, Hyderabad.
Rayudu Biryani House
Not only for the iconic Hyderabadi Biryani, but this place is famous for different varieties of Biryani like Andhra Style Biryani, Avakaai Chicken Biryani, Gongura Chicken Biryani, Kheema Biryani, and Gongura Mutton Biryani to name a few. The prices are very economical, and the place is mostly crowded with its loyal customers. It is not very spacious, so be ready to line up for your turn or get it ordered at your place. This 15-year-old eating joint is located in the Moti Nagar area and is open till 10:30 p.m.
Shah Ghouse
Shah Ghouse is located in Salarjung Colony, Tolichowki, Hyderabad, and is famous for its delicious Haleem and Hyderabadi Biryani. You'll also find Biryani, North Indian, Chinese, Seafood, Mughlai, and Arabian delicacies like Mutton Biryani, Fish, Afghan Chicken, Hyderabadi Chicken Biryani, Khichda, and Shawarma, etc. The interiors are beautiful, and the place is spacious, even for a large group of people. This place is open from 5:00 a.m. till 1:30 a.m. so that you can satisfy your hunger pangs even in the wee hours.
Hotel City Diamond
It is one food heaven for the night creatures as it's opened from 12 in the noon till 4 in the morning. The indoor ambience is quite plain and simple, but the rates are pocket-friendly, and home delivery option is also available. They have an enticing and aromatic menu, and the most popular dishes to try here are Chicken Biryani, Haleem, Beef Biryani, Khichda, Raita, Mutton Biryani, and Hyderabadi Biryani. Hotel City Diamond is located in Mehdipatnam Circle, Mehdipatnam, and average price for two persons is around Rs. 250.
Paradise Biryani
Paradise Biryani is one of the most popular Biryani joints in Hyderabad located in the Gachibowli area, and they serve Mughlai and North Indian cuisines. There is a separate portion for the takeaway lovers, and the segregated dining area is beautifully decorated. The spacious interiors have ample space for large gatherings and the service is also prompt. The popular dishes here include Mutton Biryani, Chicken Biryani, Murgh Platter, Brownie Chocolate, Masala Papad, Carrot Halwa, and Mutton Kebab.
Hotel Mukarram
Hotel Mukarram is located in Amberpet area of Hyderabad; the restaurant has average interiors and ambience, but the food is delectable and they have a range of Mughlai and North Indian dishes from Seekh Kabab, Boti Kabab, Mutton Kali Mirch, Mutton Fry, Mutton Masala, Mutton Biryani, Chicken Biryani Chicken Tandoori, and Chicken Masala, etc. They also serve Qurbani Ka Meetha, and Kaddu Ki Kheer among sweet dishes, and the prices of all the items are very economical. The restaurant is open from 5 in the morning till 1:00 a.m. It's important to know that beef is mentioned as mutton at this particular place.
Writer
Rahul Banerji
Rahul began his stint as a freelance writer after working in the corporate world for ten years. He enjoys writing on various topics and is an avid blogger. His interest in science, technology, politics, current affairs and the latest trends helps him to back his writing with well researched facts. Rahul finds solace in gadgets, nature and spirituality.
From our editorial team
Ever wondered where Biryani originated from?
Hyderabadi Biryani is a blend of Persian cooking methods mixed with Indian spices and herbs and is believed to date back in the 18th century. It was experimented and developed in the Royal Kitchen of Nizam of Hyderabad, and the unique way of preparation and the whole herbs and spices used in the making gives it her signature aroma and taste. There are stories about how they used to cook more than 50 varieties of Biryani with shrimp, fish, red meat, chicken, hare, and deer meat. It is prepared with dum (sealed pot) method on a slow fire and was initially cooked over charcoal in huge earthen or metal pots. There is no hard evidence to support this claim; however, it is speculated that it has been there since the time of the Nizams.