Lesser Known Details about Indian Street Food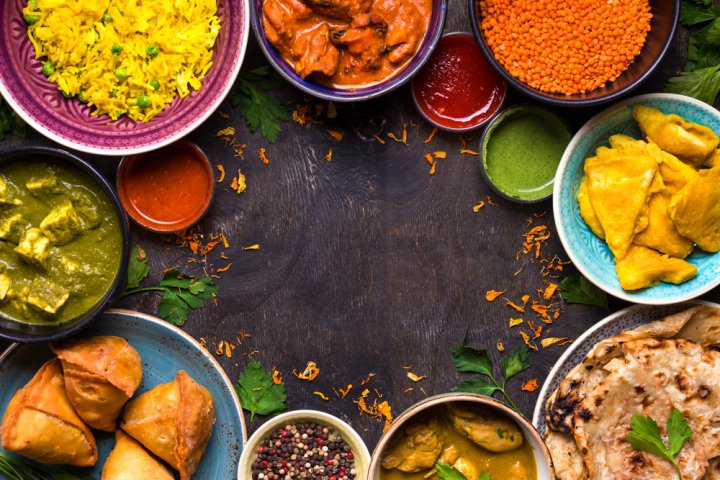 What Makes Street Food so Popular?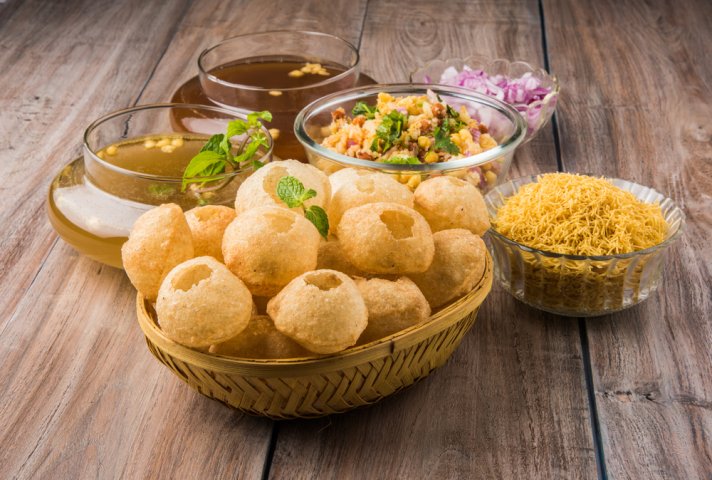 One of the first things people notice about a place is food and the base of any culinary heritage is its street food. India is a culturally diverse country and it's only natural that its heritage has a strong hold in the kind of food it has to offer. Each region of the country has its own street food specials. While Maharashtra has vada pao, keema pao, sevpuri, paani puri, pao bhaji and the likes to boast of, Punjab's specialty includes paranthe, chole bhature, kulcha and lacchey. And the Indian capital, New Delhi absorbs cuisines from its neighbors – Punjab, Haryana and UP, in addition to the Mughlai cuisine. Street food in India is one of the best things to enjoy and no fine dining establishment can really match up to the experience of standing by a stall, overloaded with the tempting treats.
Lip Smacking Chaat Varieties from North India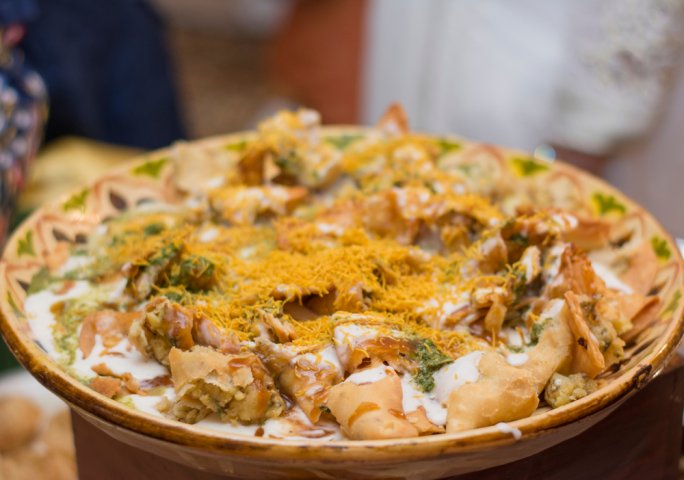 North India is rich with a variety of street foods, primarily an assortment of chaats. One of the most popular street snacks in the country, chaat has its origins in the royal kitchen of Emperor Shah Jahan, and has since then been modified innumerable times, moving from the alleys of North India to other parts of the country, especially Gujarat.

Easy to prepare and extremely flavorful, there's rarely anyone who can resist the taste, tease and temptation of a chaat, the popularity of which is known all over the world now. From a raj kachori to bhel papdi, dahi bhalle to paani puri, paapdi chaat to sev puri, chaat is quite versatile. Whether you hit the streets or make it at home, some of the most trendy chaat choices, these days include fried aloo chat wrapped in fiery spices and tossed with chutney, chana chaat with a gorgeous mix of chickpeas, potatoes, green peas, pomegranate, tomatoes with a mint and tamarind chutney, the three bean chaat which includes a bright mix of green beans, rajma, pomegranate, cucumber, potatoes, spices and herbs. Then there's grilled fruit chaat with a variety of fruits, marinated with mustard oil, anardana, black salt and honey, and char-grilled.
Top 5 Regional Street Food Dishes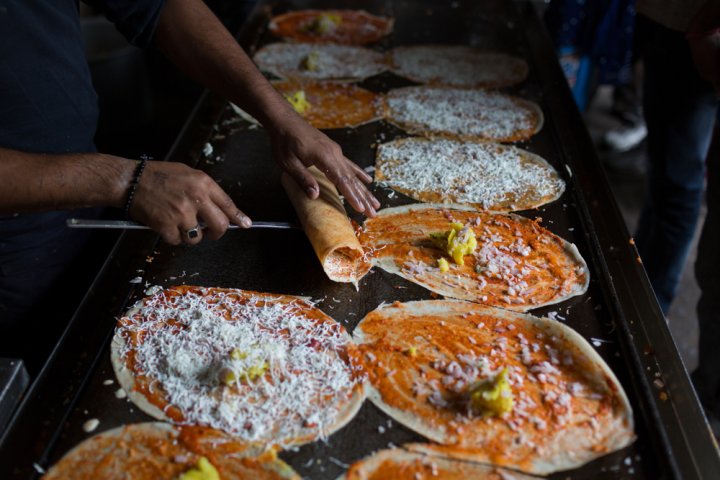 Most people prefer fine dining for exploring different food cuisines, in comparison to getting them on the streets, on account of hygiene and freshness. While the safety standards and necessary precautions are a must, why one must test the street foods is on account of reasons of economics, making them pocket friendly, you can also be assured on the culinary authenticity of the food on the streets, also making for a encouraging platform for conversations and making friends. In addition, the consumption of street food also promotes the economies for small businesses. Of the vast cultural heritage that India has to offer, some of its best street food comes from the by-lanes of Mumbai, Delhi, Kolkata, Lucknow and Amritsar.

Mumbai is popular for its pav, from the samosas to vadas, bhajia to bhaji, the city can cook up and roll anything and everything into a pav! Not to forget the flavored sev and bhel puris. When it comes to Delhi, the city can be versatile for its offerings of food items, from the likes of melt-in-the-mouth kebabs, nihari, haleem to Punjabi chole bhature, butter chicken, dal makhni and more! From the sweets domain, jalebis and halwas rule the city.

Bengal shares a fair bit of credit of making street food famous across the globe with their selection of jhalmuri, chop, ghughni chaat, shingaras, rolls and their characteristic sweets – rasgullas and sandesh, something to die for!

The city of Nawabs, Lucknow takes a lead in the non-veg department of street food with their kebab assortment of tunde, galouti kebabs, kormas and sheermal, with further inclusions of kulcha nihari, kulfi and katori chaat. And finally, Amritsar has the delicious Amritsari kulchas, chicken tikkas, makke di roti and sarson da taag and their trademark lassi.
Best Street Food from India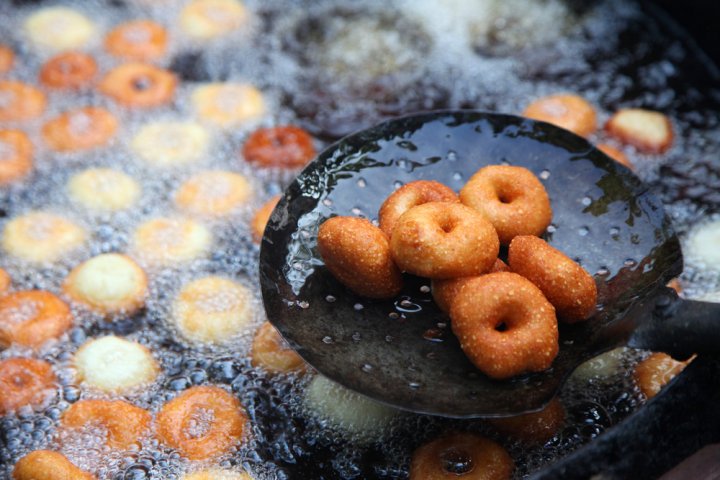 Mumbai's Misal Pav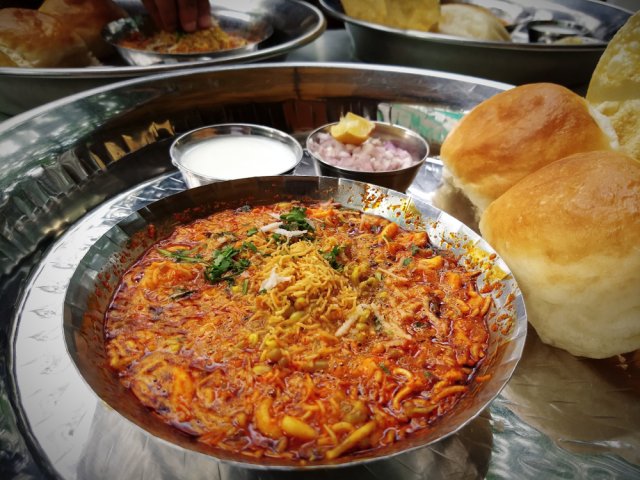 A popular Maharashtrian dish, the misal pav is a mix of a spicy curry made of sprouts mixed with farsan and served with pav on the side. This yummy dish can be gorged on for breakfast or any other time of the day to appease your taste buds. Since it is most popular in Mumbai, off the many places you'd get misal pav, there are a few you must try out, when in Mumbai.

Aram's a small eatery at Mint Road, that has authentic misal pav in its offerings in two different varieties. One is mixed with farsan, while the other has both yogurt and farsan. Then there's Vinay Lunch Home at Charni Road with five varieties that include special misal, dahi misal, puneri misal, special dahi misal and sweet dahi misal. Panishankar, a popular restaurant is high on misal pav and easy on the pocket, located at Girgaum.
Galouti Kebab from Delhi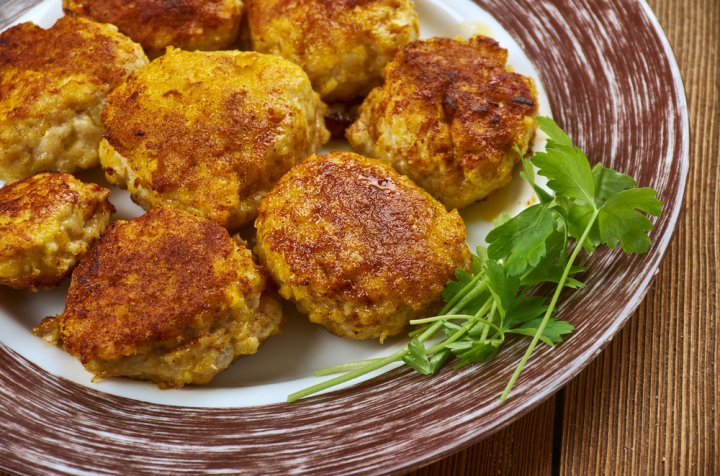 Galouti kebab is a known street food from Lucknow, originally made for the Nawab of Lucknow, who had no teeth and could have these easily as they were juicy and really soft to eat. Galouti means 'soft' and melts in the mouth. Made of the finest lamb cuts, which is minced finely and then tenderized, blended with over 150 exotic spices for a flavored dish, the mince is shaped like a patty and fried.

Being Lucknow's speciality, galouti is but obviously at its delectable best in the city of Nawabs. However, there are some amazing offerings of the dish in Delhi as well. Aminabad ki galouti is quite an experience with ulta tawa parantha at Tourist, Janpath; Rumi's Kitchen in Gurgaon is known for the galouti kebabs with a lip smacking blend of Awadhi flavors, Babu Shahi Bawarchi at Pragati Maidan comes with a lineage of cooks from the Mughal era serving the most delicious variety of galouti kebabs amidst other delicacies.
Indori Kachori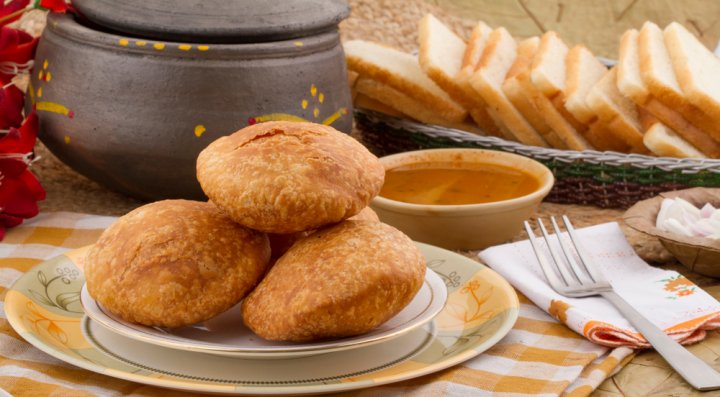 Indore's specialty is kachoris, typical round balls of fine flour, flattened and filled with stuffing of yellow moong or urad dal, chickpea flour, black pepper, red chili powder, salt and some other spices. There are a variety of kachoris that rule the street food in Indore, some of them being – aloo ki kachori at Lal Balti Kachori, one of the popular eateries in Indore. This kachori is made of aloo, served with spicy and special green chilly chutney.

Then there's Ravi Alpahar in Anand Bazar with aloo kachori served with green or onion chutney, Gelda Kachori shop in Rajwada with seasonal offerings of matar kachori, bhutte ki kachori and pyaaz kachodi made of 56 different spices and garlic. The dry fruit kachori, available in most sweet shops, and most popular at Uttam Bhog, opposite Bombay Hospital is made of an assortment of dry fruits and is sweet.
Andhra's Punugulu
A common street food in the coastal region of Andhra Pradesh, pungulu is made of urad dal and rice batter, deep fried and served with a spicy chutney. It is typically made out of the left over idlior dosa batter that's turned sour or is over-fermented in most Andhra homes, while most others make it with fresh batter. With a super crispy crust and tender on the inside, punugula can be made plain, with leafy green vegetables or with chopped veggies and they are often served with palli chutney made of peanuts, coconut chutney or kandhi pachadi made of toor dal. Ameerpet area is popular for punugulu in Hyderbad.
Thukpa in Arunachal Pradesh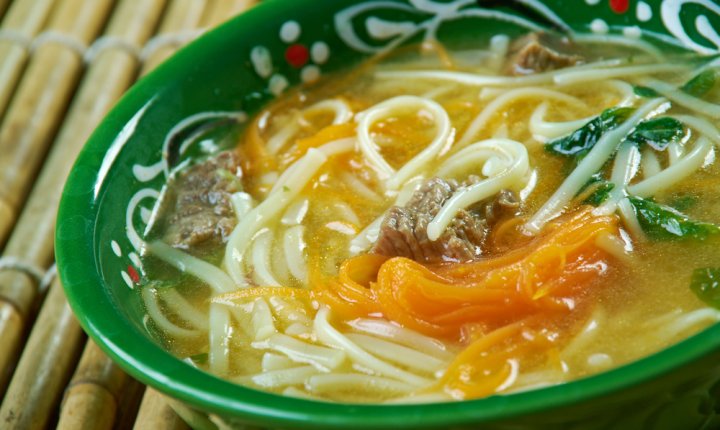 A Tibetan noodle soup also known as amdo thukpa is a popular street food among Tibetan populace and Himalayan people of Nepal, extending to different parts of Bhutan, Sikkim, Nagaland, Assam and Arunachal Pradesh. Hugely popular in Arunachal, thukpa is a speciality among all the available street foods, and is had either at lunch, dinner or when hunger strikes, which is pretty much at any time of the day! A hearty soup of noodles, veggies and a protein item thukpa is ideal for all kinds of vegetarians and non-vegetarians and makes for a complete meal on its own. It comes in four different varieties of thenthuk, gyathuk, pathug, drethug.
Bihari Litti Chokha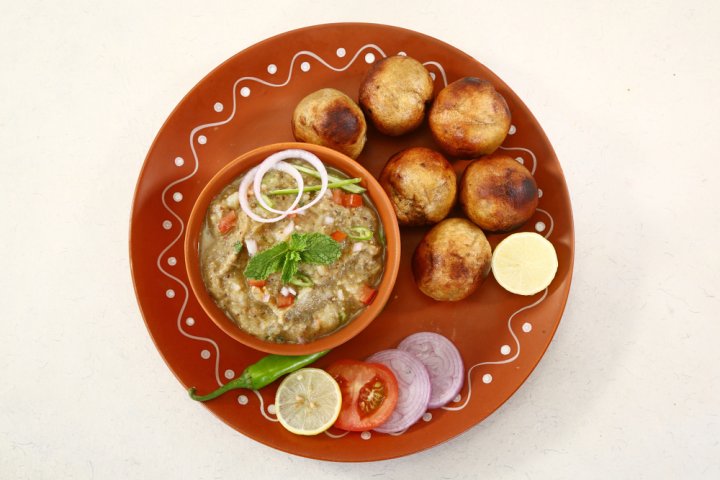 Popular in Bihar, Jharkhand and parts of Eastern U.P, litti chokha was originally a staple diet for farmers, before it became famous in India, thanks to its easy accessibility in terms of pricing as well as the fact that it has cooling properties, which kept the farmers active for most parts of the day in summers.

A dough ball made of whole wheat flour with stuffing of roasted chickpea flour, herbs and spices, it is roasted over coal or cow dung cakes or wood, and then tossed with loads of ghee. Some varieties of this lovely dish also include curd, salt and ajwain in addition to other ingredients.

A famous Bihari delicacy that's popular all across the country, chokha is a mix of eggplant, potatoes, tomatoes and spices, which isn't cooked like the usual subzi but is roasted, typically with mustard oil. The dish is healthy in the way it is grilled and roasted, but for the dripping desi ghee!
Goa's Chorizo Pao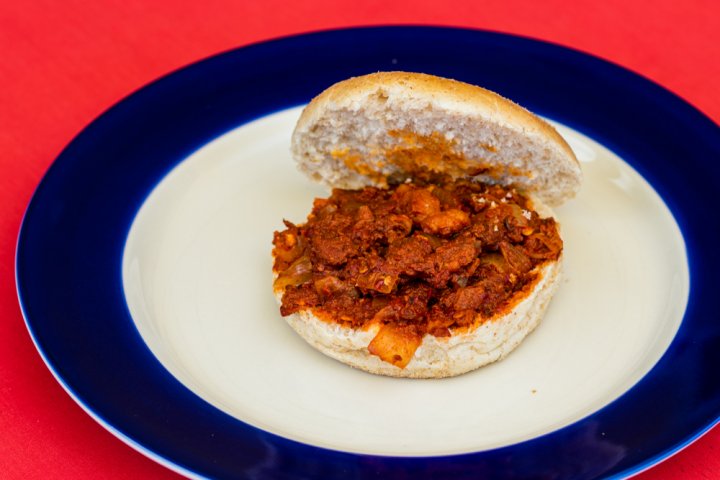 Considered a street food, chorizo pao, a Goan delicacy is also available in shacks, restaurants and small eateries in Goa. A delicious finger food item, chorizo pao can be enjoyed for breakfast, as a quick snack or even a meal. Goan choris or rosary bead sausages are popular worldwide, mostly homemade in Goa, they are made with the finest pork, chillies, spices and homemade vinegar. Fried chilly choris in a soft pao is the best! Plenty of hawkers on the main highway are seen serving the chorizo pao as early as seven in the morning in Goa. Wherever you go, you will find chorizo pao!
Gujarati Dabeli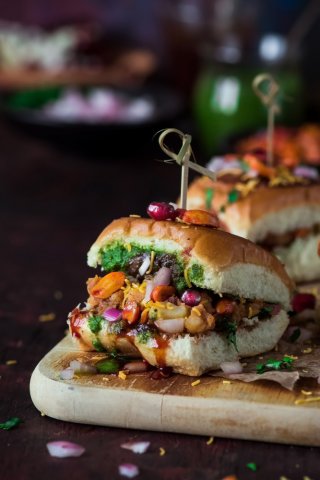 A popular street snack that originated in Kutch, Gujarat, dabeli or double roti is a spicy snack made of a mix of boiled potatoes with a special masala, put together in a burger bun or pao and served with tamarind, date, garlic or red chilly chutneys. It is also garnished with roasted peanuts and pomegranate. Dabeli masala which is the most important ingredient in the dabeli is readily available in most Indian cities, manufactured chiefly in Kutch.

The masala is a dry paste of dried red chillies, black pepper powder, salt, clove, cinnamon, dried coconut, coriander, turmeric, cumin, cardamom, black salt, bay-leaf and some other spices. It has a shelf life of 6 to 12 months and can be found not only in Gujarat, but also in Maharashtra, Karnataja, Rajasthan, some parts of Telangana and most other Indian states.
Jammu & Kashmir's Kalari Kulcha
A conventionally seasoned cheese item that's native to Rajouri, Poonch and Udhampur in the Jammu province, in Jammu & Kashmir, Kalari is very dense and is usually sautéd in its own fat and is salted before serving. Typically made from cow or buffalo's milk, kalari is crafted out of uncooked full fat milk, and the solid part is packed in small bowls of leaves and then left to dry under the sun.

The taste of kalari differs in each part of the state. Commonly eaten in Jammu & Kashmir as a street snack, the kalari is flavored with spices, topped with chopped veggies and rolled into a kulcha, served with a garlic and chilly chutney. One of the best places to try this street food is at the Singh Cafeteria, Udhampur Gol Market.
Banana Buns from Karnataka
The banana or Mangalore buns is a popular breakfast and tea-time snack in the Udupi Mangalore region of Karnataka. Sweet and soft fluffs of pooris made of maida and banana as the chief ingredients. These banana buns need 4 to 6 hours of fermentation and have a shelf life of 2 days or so. They are usually served with a spicy coconut chutney and sambhar or without any accompaniments. Mildly sweet and deep fried, the banana bun is a Karnataka savory. Places in Bengaluru like Darshinis, the Halli Manne in Malleswaram, Chetty's corner in Seshadripuram and many other eateries serve these delicious buns as a savory snack to most college students and office-goers.
Bonus Tip: Here's Why Kolkata is India's Best Street Food Hub!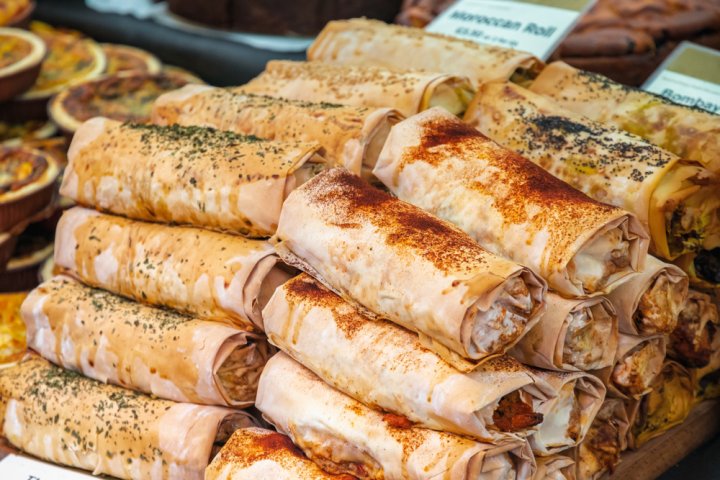 When it comes to selecting the best variety of street food in the country, Kolkata rules the list. With an overwhelming number of food stalls across its unusual localities, Kolkata has a huge variety of delicious temptations in the business of street food.
Puchkas: standing tall on the top are the unassuming Puchkas or Gol Gappe (as known in North India), with some of the best puchkas available at Bhawanipore or Maharaja Chaat centre in Southern Avenue. Also available are tasty add-ons like dum aloo puchkas, paapdi chaat and dahi puchkas.


Kathi Rolls: Kathi Rolls were first invented in Kolkata with some really lip-smacking stuffings in soft rotis. Nizam's in New Market, Kusum's or Hot Kathi Rolls at Park Street have some of the best Kathi rolls to offer.


Oriental or Tibetan Delights: Tiretti Bazar is known for an early morning offering of soups, dumplings, momos and Tibetan breads, which get over mostly by 7am! The area is most frequented by late night party revelers and morning walkers for some delicious Chinese Breakfast.


Fish Fry: Being a staple item on Kolkata's cuisine the iconic fish fry is available all over and include fish varieties of Anchovies, Mallet and Rohu or Katla with some of the best available at the Golpark 5-point crossing on the Gariahat side, and in Tollygunge.
ul>
From our editorial team
Treat Your Taste Buds in the Indian Streets
Easy on the wallets, street food is a tasty solution to your food cravings at unusual hours. The myriad varieties of each dish available make street food even more desirable. You can go down to any street food corner and eat different varieties of the same dish on different days of the same week! However, make sure that the street food vendor is serving hygienic food because you wouldn't want to please your taste buds at the cost of your health.