Best Places for Street Food in Mumbai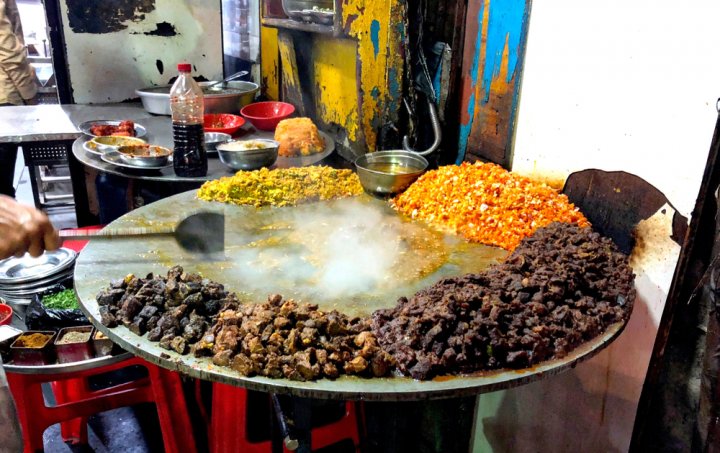 Mumbai, the 'City of Dreams' is a melting pot of different cultures and diverse traditions, where people from all parts of the country visit and many of them stay here forever. To fulfil the taste needs and eating habits of these people, Mumbai has a mix of different eating options which include luxury dine-outs, budget restaurants to street food outlets selling various local, international and experimental cuisines which are satiating the hunger pangs of millions of people.

Few famous places for having the best street food in Mumbai are – Girgaum Chowpatty, Mohammed Ali Road, Zaveri Bazaar Street, Bhendi Bazaar, Grant Road, Sion, Linking Road, Worli, Charni Road, Tardeo, Malad, Churchgate, Marine Lines Station, Tardeo, Jogeshwari, Colaba, Chembur, Mulund West, Charni Road, Kandivali, Goregaon West, Khau Galli, Fort, CST Station, Dadar, Crawford Market, Haji Ali, Vile Parle, etc.

There are so many varieties of street food available in Mumbai that it's a bit difficult to cover all of them in a single article, but for the convenience of our readers and to include maximum food items, we have segregated the 'famous street food in Mumbai' into three groups.

Famous Street Food to Have for Breakfast in Mumbai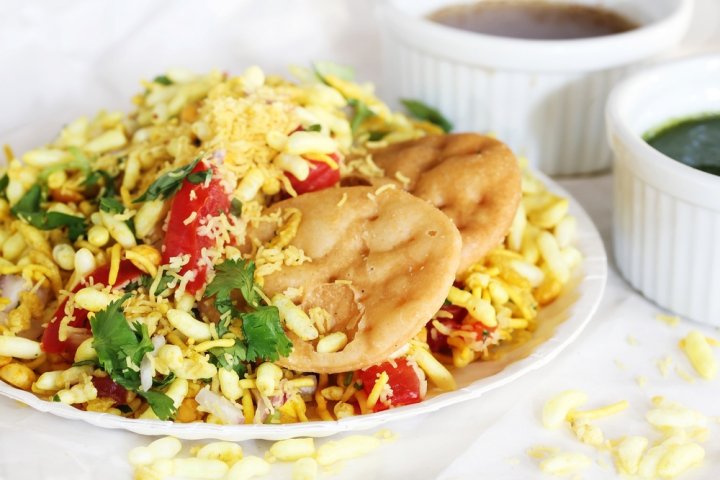 Mumbai is one of the cities 'which never sleeps' and for those who sleep, morning comes early as they have to catch the local train or metro to reach their offices/destinations. Travelling consumes a good amount of time in most people's everyday schedule and the breakfast options mentioned below bring respite for those who are unable to have their breakfast at home due to paucity of time. But, if you are visiting Mumbai for the first time, then you must try these mouth-watering recipes.
Vada Pav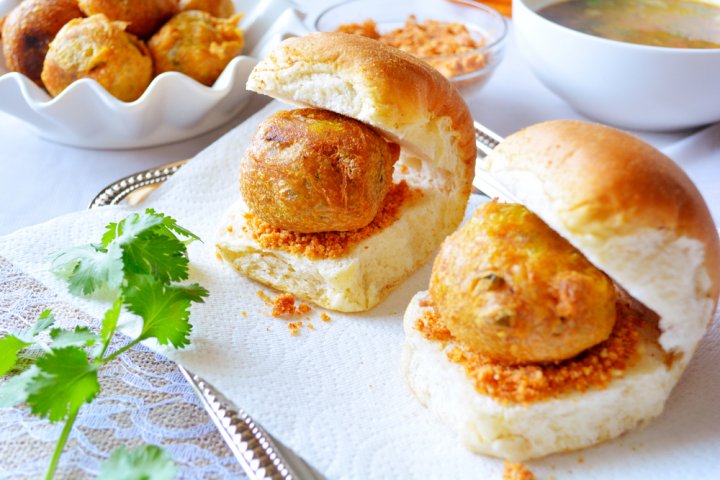 Also known as the 'Poor Man's Burger' or 'Mumbai Burger', Vada Pav is one of the most popular street food items in Mumbai in which a mashed potato spiced mixture is fried into a patty (vada), and then sandwiched inside a pav (bun bread). The dish is served fresh with different sweet and spicy chutneys (sauce), garlic powder sauce and fried chillies. Ashok Vada Pav in Dadar, Victoria Terminus and Vada Pav Samrat in Vile Parle area are some of the prominent places where you can relish tasty Vada Pav.
Bhelpuri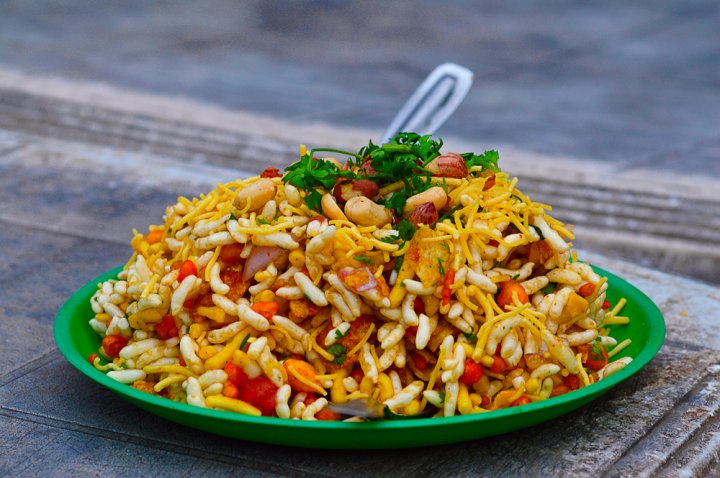 A light breakfast, Bhelpuri is liked by people of every age group as you can ask the Bhelpuri seller to customise it as per your taste. The basic ingredients include puffed rice and sev, which are mixed well with sweet and spicy chutneys, onions, boiled potato cut into small pieces, tomatoes, fried peanuts and garnished with chopped cilantro and a few drops of lemon juice. Bhelpuri has a nicely balanced, sweet, tangy and spicy flavor which is the speciality of this crunchy snack. You'll find a lot of street vendors selling scrumptious Bhelpuri at Juhu Beach and Girgaum Chowpatty.
Pav Bhaji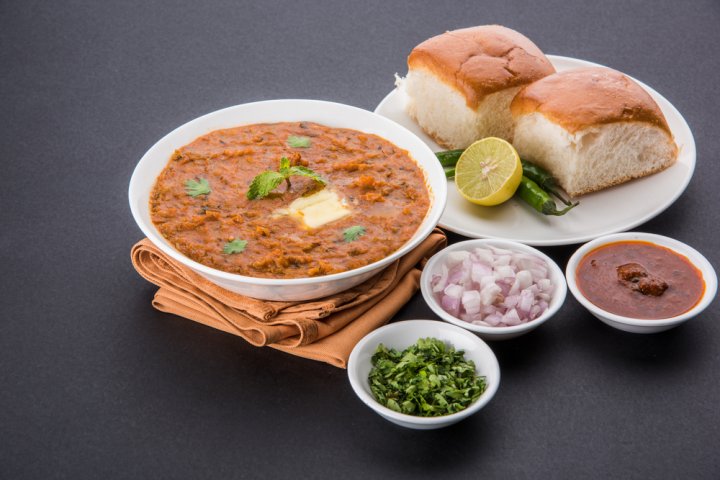 Pav is a soft bun which is cut into half and heated in butter on a pan and served with bhaji (boiled and mashed vegetables are cooked with spices and seasonings). The bhaji is topped with butter, garnished with chopped cilantro and served along with nicely cut onion, lemon and chilli. Pav Bhaji is one food which will kill your hunger pangs at any time and is available almost everywhere in Mumbai, with Juhu Beach and CST among the most popular places for trying it out.
Mumbai Sandwich (Bombay Sandwich)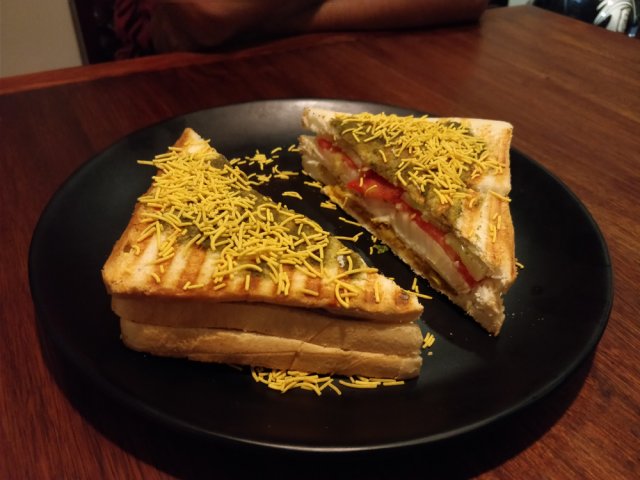 A sandwich which has been customised as per the taste and eating habits of Mumbaikars, Mumbai Sandwich has three layers of breads which are buttered on either sides, then a layer of cilantro and mint chutney (to give the sweet and tangy flavor) is applied and the innermost layer of vegetables includes onion rings, beetroot, tomato, cucumber and mashed potatoes with shredded cheese and a dash of chilli powder and cumin powder. The sandwich can be toasted on order or you can even have it without grilling. Famous places for enjoying delicious Mumbai Sandwich are Bhendi Bazaar, Worli Sea Face and VT.
Bun Maska and Mawa Samosa with Tea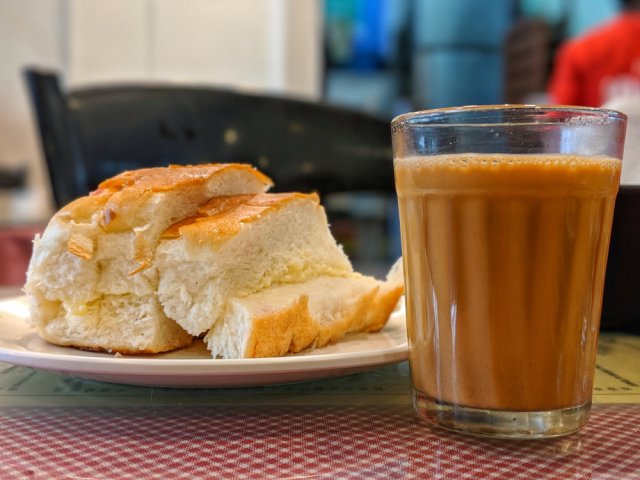 If you want to ditch the spicy food and have something plain yet tasty, then look out for Bun Maska with tea. The bun (baked fluffy bread) is diagonally sliced and a thick layer of butter is placed. A bit of spices can be sprinkled for added taste and the Bun Maska is ready to take you on a ride of heavenly taste along with the Irani tea. Mawa Samosa is a stuffed sweet patty and is quite popular in Mumbai. You can try this at Ali Bhai Remji Road opposite station, Grant Road East and Dadabhaji Naoroji Road near CST.
Famous Mumbai Street Food to Tuck into for Lunch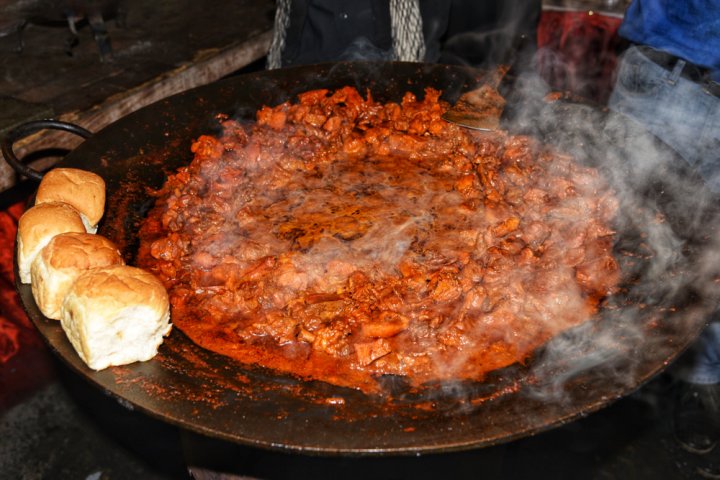 We know that non-veg lovers are also reading this article and they must be wondering about not having a single breakfast item for them! Well, Indians like their breakfast light. But, Mumbai streets have lots of options for the non-vegetarians as well. We have picked the best one of those for you along with the vegetarian recipes for lunch.
Shawarma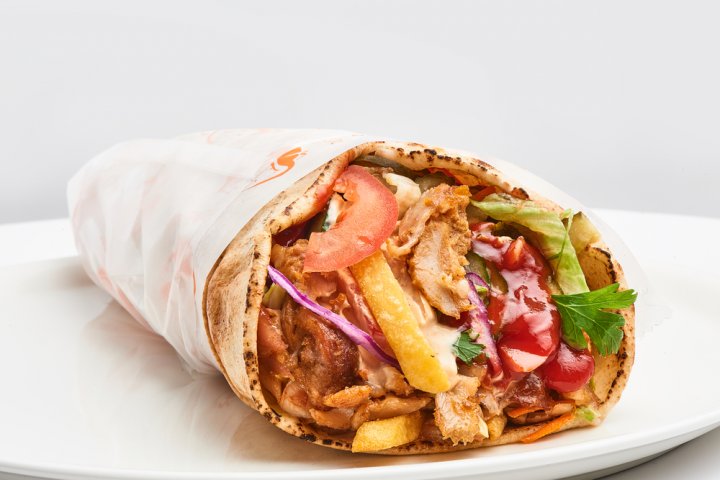 Shawarma is a non-vegetarian dish of Middle Eastern origin in which thin slices of meat are cut from a cone shaped stack, which is roasted on a slowly rotating vertical rotisserie. The meat can be of lamb or chicken and these thin slices are then wrapped along with various spices and often garnished with cucumbers, tomatoes, onions, etc. and served with mint and other chutneys. Khau Galli has a few shops which offer amazing Shawarma and other non-veg dishes.
Bombay Duck Fry or Bombil Fry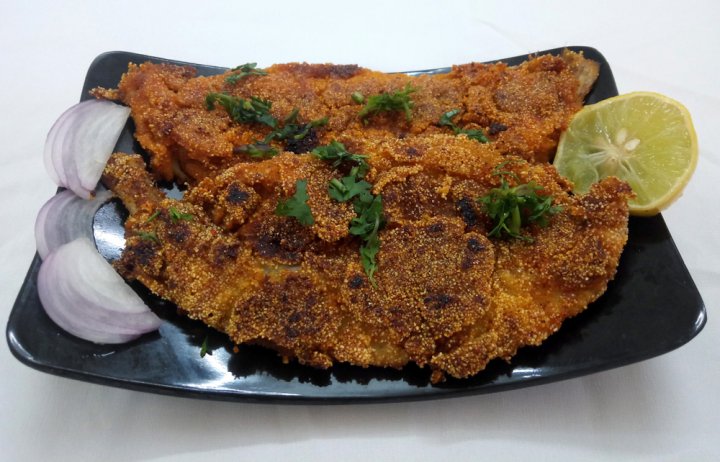 Before you start imagining about a duck being served on your platter, let's be clear that there is no duck in Bombay Duck Fry (also called Bombil), instead it's a dish made from fish (a type of lizard fish). The fish is coated with a layer of semolina and deep fried till it becomes crispy resulting in a crisp outer while the fish remains juicy and creamy on the inside. It's mostly served with a full thali meal which includes chapati, rice and a variety of side curries to provide a complete and fulfilling experience. You can enjoy this fish food at various food joints at Dadar West, Bandra West, Carter Road and Bandra.
Steamed Idlis and Vadas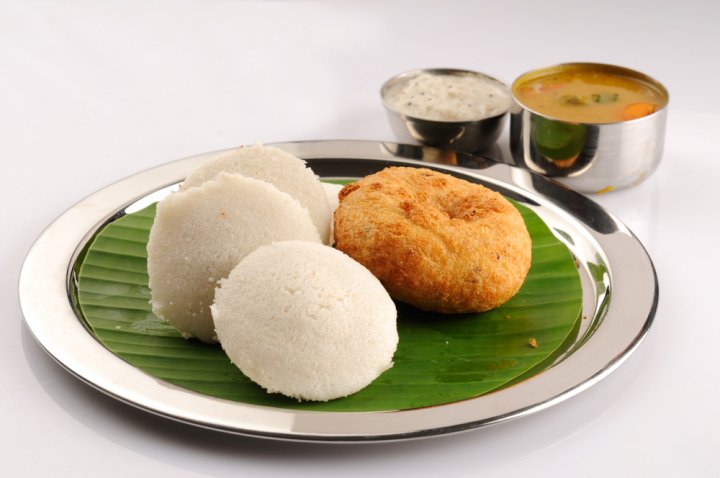 Steamed Idlis and Vadas are the best lunch option for the health conscious who refrain from oily and spicy meals. Idlis are small batters of lentils and rice, which are steam cooked. Similarly, Vadas are doughnut shaped fritters which are prepared by a small dough of lentils, onions, chillies and curry patta leaves. Both the dishes are served with sambhar (a curry made with vegetables, lentils and spices) and coconut chutney. You can try them at Anand Bhawan and Udipi Idli House in Matunga East.
Misal Pav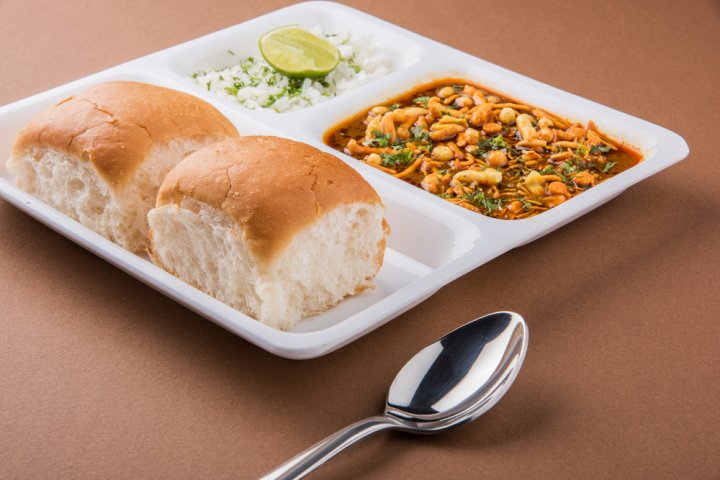 Misal Pav is originally a dish from Pune which became popular in Mumbai and today this dish is available in almost every nook and corner of the city. Misal is a recipe prepared by curried lentils topped with poha, chivada, tomato, chopped onions and finally, some potato bhaji before it's served with a pav and curd. If you are looking for a light and healthy street food in Mumbai, then you must try Misal Pav. The famous places for this mouth watering crispy dish are Naupada in Thane West and Charni Road, Mumbai.
Parsi Cuisine at Kyaani and Co.
The Parsis are a community from Iran who settled in India some 1,000 years ago. They have a rich culture and their culinary style is also impressive. They have a wide range of mouth watering dishes which include Chicken Salli Boti, Keema Ghotala, Kheema Butter Fry with Pav, Mutton Chop, Akuri, Cup Mawa Cake, Jujubes (sugar coated jelly candies), Parsi Custard and Prawn Cutlet among many other items. You can try Parsi cuisine at Kyaani & Co. located on JSS Road, Marine Lines and Jimmy Boy on Bank Street near Horniman Circle in Mumbai.
Famous Mumbai Street Food That's Perfect for Dinner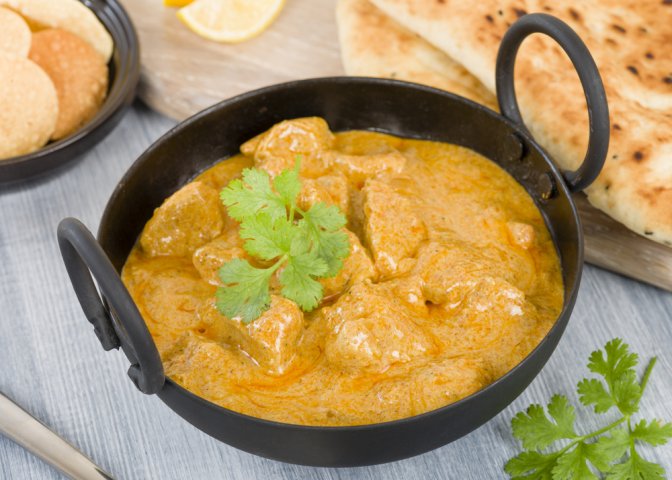 Mumbai is famous for its nightlife and late night parties, but a nice evening is incomplete without good food. Also, if you are visiting Mumbai for business or leisure, then there are plenty of places to roam around, party, go on a long walk or simply sit and enjoy the gushing sea winds. And, once you are tired and hungry, good street food in Mumbai is available at almost all the famous places to stimulate your taste senses and to satiate your hunger pangs. Let's check out some of the famous street foods in Mumbai which can be a part of your evening schedule.
Biryani and Kebabs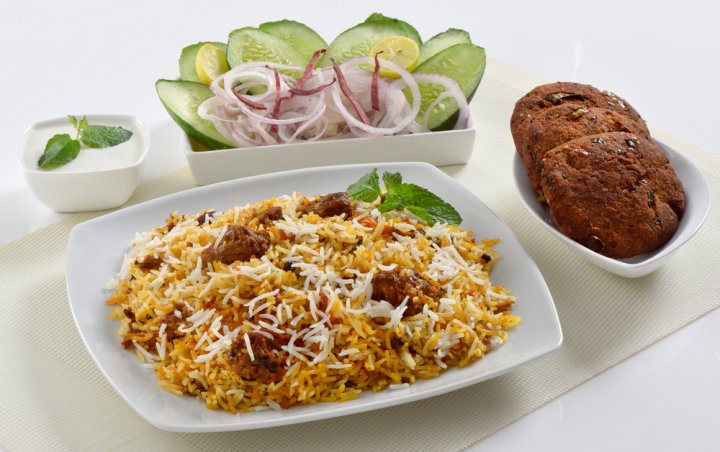 Biryani is a famous food in which lamb or chicken meat is cooked and rice is semi-cooked separately. Then layers of rice and meat pieces are spread in 3-4 layers over each other in a big vessel, post which the vessel is sealed and this mixture is heated on medium flame till the time the rice and meat are completely cooked. The ingredients used in the preparation of Biryani are rice, meat or chicken, spices, curd, dry fruits, garlic and mint, etc. Similarly different types of Kebabs viz. Kalmi Kebab, Tangri Kebab, Reshmi Kebab, Galawati Kebab and Seekh Kebab are also available at various places like Bhendi Bazaar, Mahim, Grant Road, Marine Lines, Mohammed Ali Road, etc.
Mughlai Food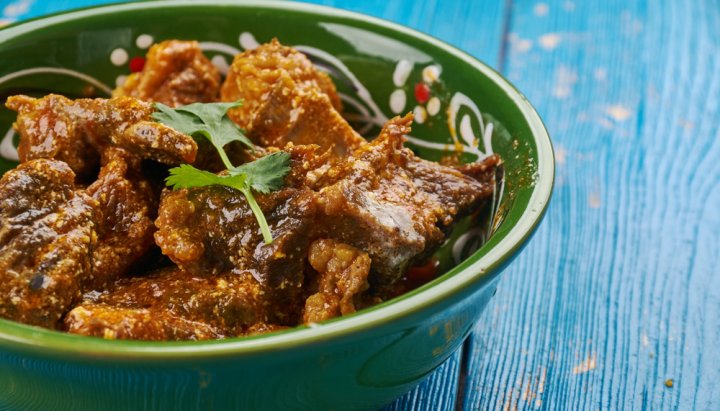 Some of the best and authentic Mughlai dishes including Malai Tikka, Changezi Chicken, Nihari, Mutton Korma, Mutton Bheja Nihari, Butter Tawa Chicken, Mutton Nizamuddin, Mutton Lahori, etc. are available at different places in Mumbai. The famous food joints where you can try Mughlai food in Mumbai are Mohammed Ali Road, Jogeshwari, Colaba, Khau Gali, etc.
Frankie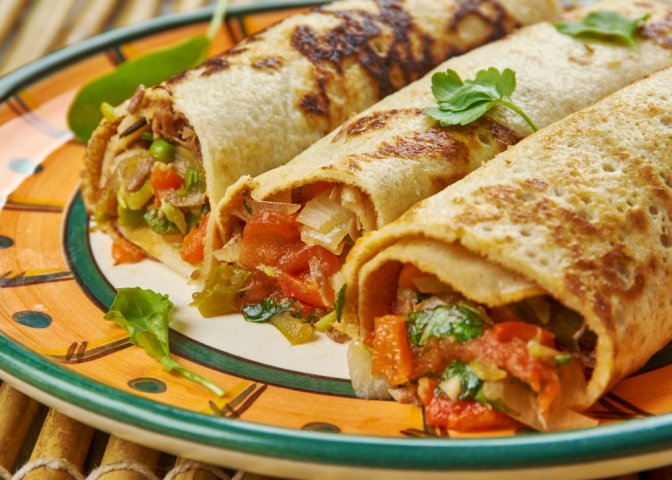 Frankie is a famous roll in which a juicy naan bread is coated with egg and heated over a tawa. Then mutton or chicken cooked with onions, tomatoes and spices is stuffed inside it along with some sauce and rolled before serving. There is a vegetarian version as well which is minus the egg coating and the stuffing is of vegetables or small cheese cubes fried with onions, garlic, tomatoes, etc. Tibbs Frankie is famous for their delicious frankies and they have outlets in various parts of Mumbai. Apart from them, Mamaji Sandwich & Frankie in Ghatkopar East and R. B. Roll in Vikhroli are the other famous places for having a frankie in Mumbai.
Zunka Bhakar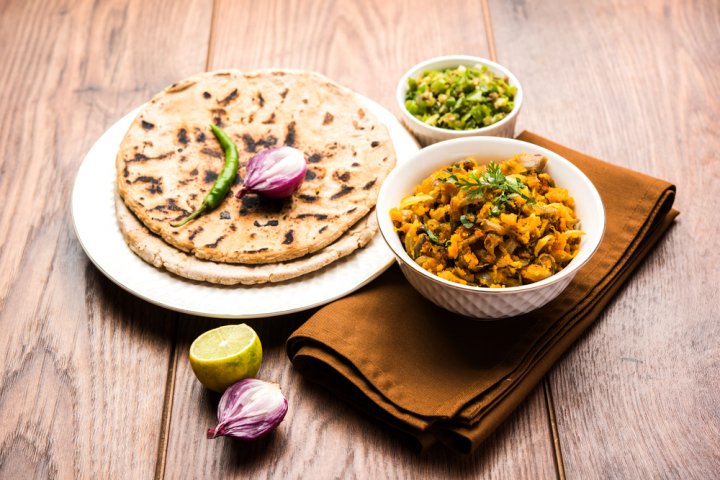 Zunka Bhakar is a healthy and traditional Mumbai dish which is made of two words – "Zunka" which is a dish prepared from chickpea flour, mustard seeds, curry patta leaves and spices and "Bhakar" which is a type of bread prepared from jowar (sorghum) wheat. Both of them are served with mint raita, chutneys and raw onion and chilli. You can find them at various street-side food joints in Mumbai and there are many stalls opposite BMC Headquarters selling Zunka Bhakar.
Mysore Masala Dosa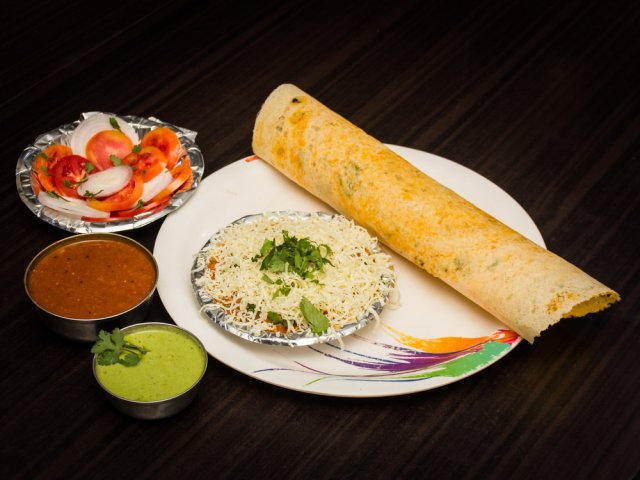 Like Idli and Vada, Dosa is also a famous south Indian dish which is a pancake like dish made from fermented rice batter. The pancake is filled with a layer of mashed vegetables, onion, cheese and sauce filling and then cooked and folded. The Mysore Masala Dosa is served with sambhar (curry made of vegetables, spices and tamarind pulp), red chutney and coconut chutney. Apart from Mysore Masala Dosa, the other varieties of dosas are Chinese Dosa, Jini Dosa, Cheese Dosa and Schezwan Cheese Dosa. You can relish Dosa outside Sophie College, Khau Gali, Bora Bazaar, Airoli and many other major markets in Mumbai.
Famous Street Food Snacks in Mumbai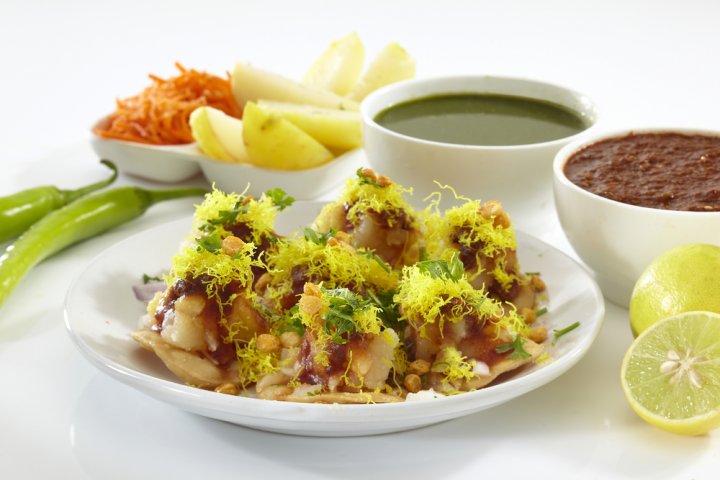 Pani Puri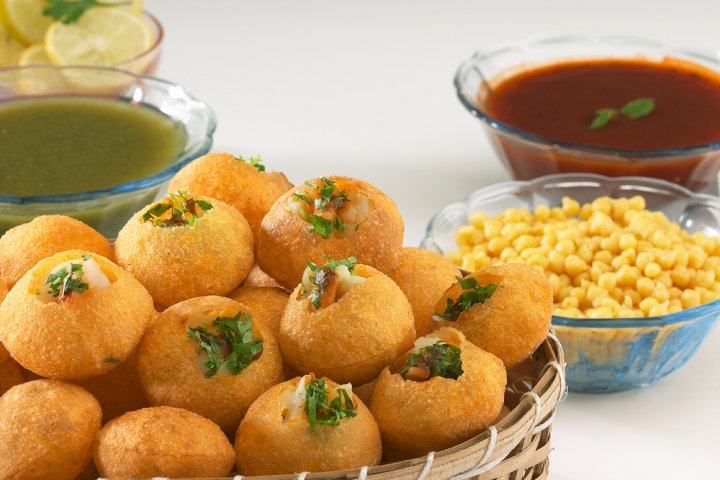 Little puris are filled with boiled potatoes and chickpeas stuffing with spices and then filled with chutney and flavoured water (they can have 4-5 different flavors). You will find street vendors selling Pani Puri in all the market areas of Mumbai.
Falooda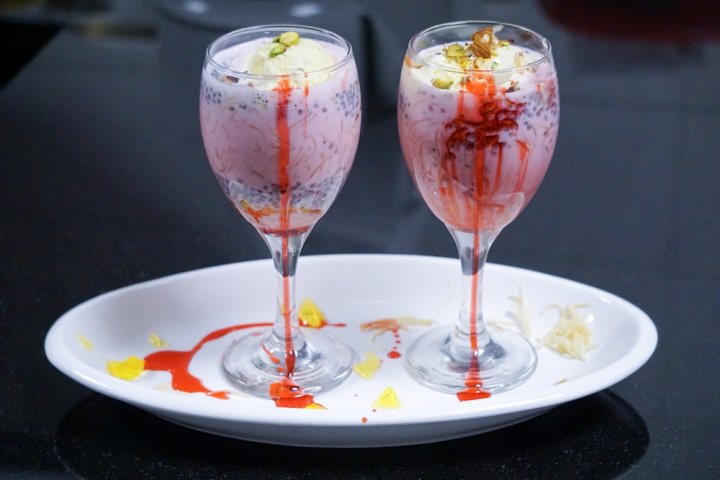 A summer delight, Falooda is an Indian version of the Persian dessert. Falooda is an exotic drink in which boiled vermicelli is mixed with milk, pistachios, almonds, basil seeds, rose syrup and topped with kulfi (Indian form of ice cream). The famous places to try Falooda are Badshah in Crawford Market and Bachelor's at Chowpatty Sea Face.
Writer
Rahul Banerji
Rahul began his stint as a freelance writer after working in the corporate world for ten years. He enjoys writing on various topics and is an avid blogger. His interest in science, technology, politics, current affairs and the latest trends helps him to back his writing with well researched facts. Rahul finds solace in gadgets, nature and spirituality.
From our editorial team
Mumbai Offers a Very Satisfying Street Food Experience
Because of the diverse cultures and rich traditions of the citizens of Mumbai, there are so many street food dishes on offer in Mumbai that can satisfy the taste of any foodie. We hope you would have loved this BP Guide. Stay connected with us for more such engaging content.