Tips on Making the Most of the Street Treats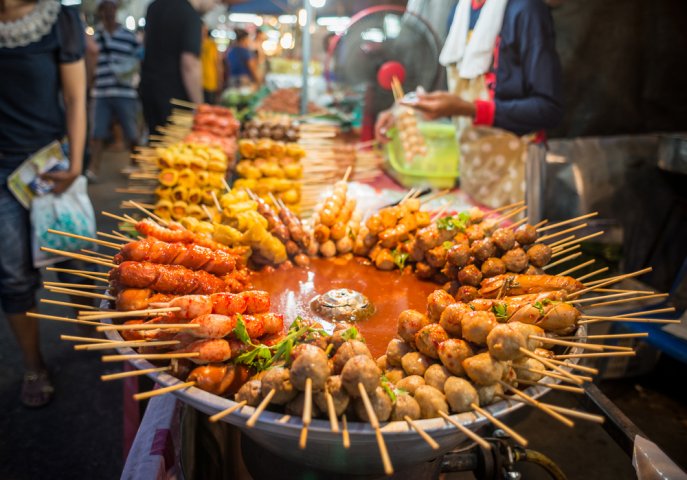 Safety Standards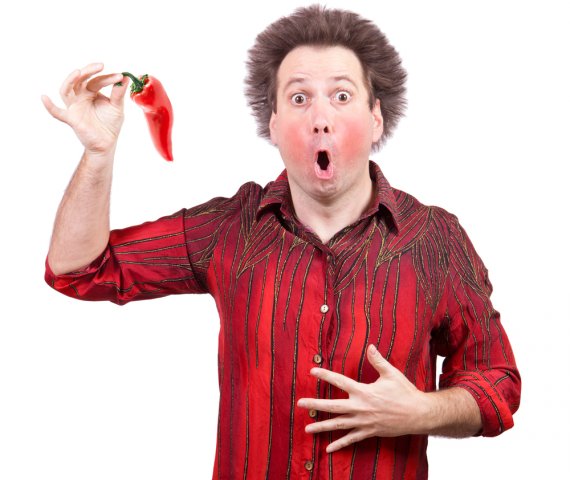 India's vibrancy in terms of its culture, traditions and colourful festivals with some really amazing cuisine is quite intriguing and even if you cover every part of the country on a traveling spree, you'd still have enough and more to explore! Describing Indian food and its taste & flavours cannot be expressed in words enough, for even though, the local curries may tingle your taste buds, your tummy may be unable to handle the variations of spices and density of the dishes. When you'd like to gorge on street food specifically, it is best to keep a few things in mind to do justice to the culinary experience without worrying about catching a bug.

To begin with, eat where the locals do, look for places that are popular among the locals, which would lead you to where food is fresh, authentic & yes spicy! It's a common practice to re-fry the stocked snacks, which kills any harmful germs, so don't panic. Further, be sure of the cleanliness surround the street stall or the people engaged in cooking. If the utensils, or the kitchen accessories they're using seem dirty or unhygienic, its best to skip eating there. Trust your instincts and scoot!
Go Vegetarian!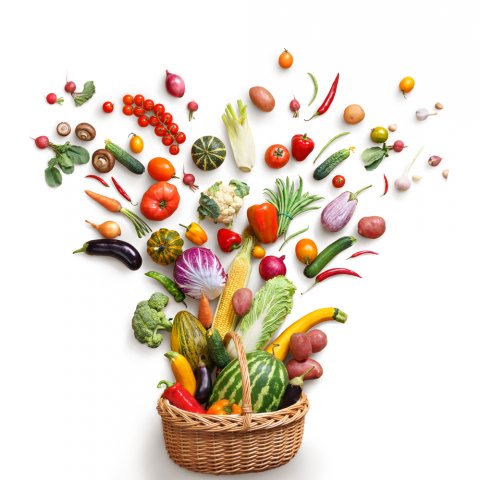 When eating out on the streets, it is best to stick to your vegetarian palate. Unless you're an expert at selecting meat, you really don't know how long the meat has been lying around, before being used in a dish. However, exceptions being there, some stalls have Kebabd and Tikkas that are grilled only when ordered, which makes it acceptable to ingest. The crowd flocking a stall will most likely be your barometer, for it will explain the movement of food items, making it highly unlikely that it is stale. The meat chunks hanging on skewers aren't stale, just marinated pieces to get their distinct juicy flavors!
Water Woes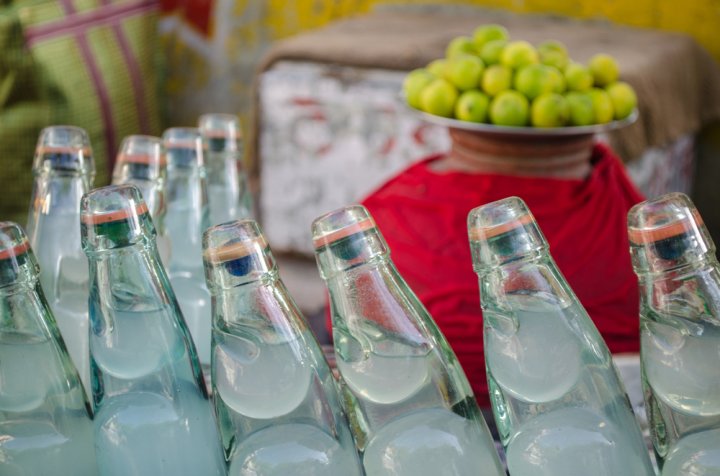 Be mindful of drinks from the Street stalls, specially the cold one, for the water may not be boiled necessarily, and/or if the ice used to chill the drinks is made of clean water or not. The best way to gauge the safety quotient of water is not to follow the local, for they can handle the water better than visitors. Instead, buy only mineral water or carry boiled water with you at all times.
Best Street Food in India
Bhelpuri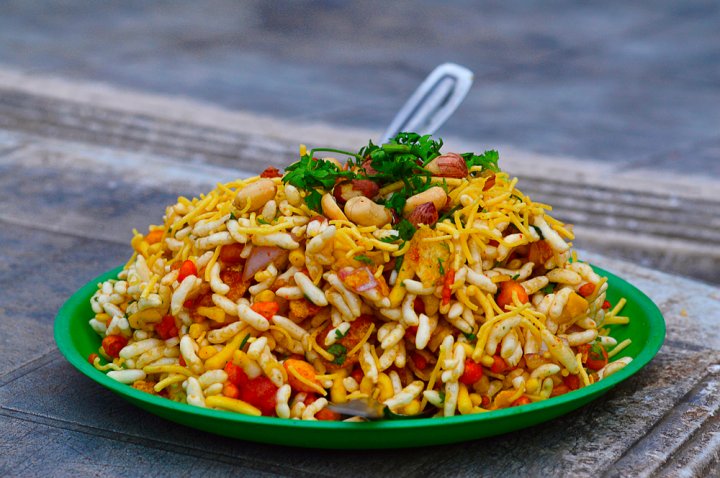 A savory snack that originated in the Indian subcontinent, Bhelpuri's from the chaat genre, made of puffed rice, vegetables and tamarind sauce. Bhel as its fondly called is often connected to the Mumbai shoreline like Juhu or Chowpatty and is believed to have been brought into the city by the Gujarati populace who made it with a blend of complex flavours added to the North Indian Chaat. As time changed, Bhel spread far and went through a makeover with the addition of Mangalorean, Sindhi and other regional flavours. A typical mix of Bhelpuri includes puffed rice, sev made from gram flour, potatoes, onions, chat masala & chutney with a blend of some other fried snacks. With a rich balance of sweet-salty-tangy & spicy, the add-on of different chutneys makes it one of the most loved street foods in the country.
Kathi/Kati Rolls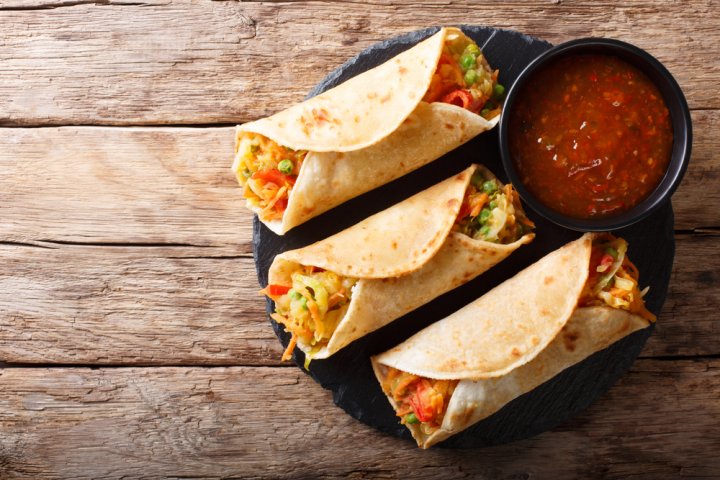 Kati Roll has its origin in Kolkata and in its original creation is a skewer roasted kebab wrapped in a parantha roll. The Kati roll was said to have originated in Kolkata's Nizam restaurant based on a popular belief that it served as a quick meal on the go. Back then, the restaurant used iron skewers to make their kebabs on account of the skewers' durability and easy upkeep. However, with the restaurant's growing popularity, the iron skewers became challenging because of their length & weight to meet increasing orders. The iron skewers got replaced with bamboo ones that were lightweight and available in bulk. These bamboo skewers were called Kati/Stick and that's how the popular street food got its name of Kati Kebab or Kati Roll. The kathi roll like any other street food has evolved over the years and witnessed innumerable changes across the streets. Now, a typical Kathi will have a filling in an Indian roti suiting both vegetarian and non-vegetarian palettes. Different permutations and combinations of chopped veggies, potatoes, paneer, eggs, chicken, mutton or fish-filled inside a roti, parantha, naan or roomali is available readily now.
Pakode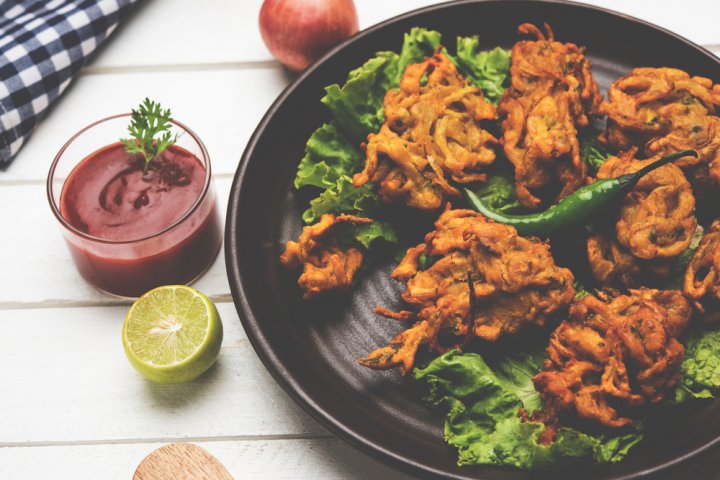 Pakoda aka pakodi/ fakkura/bhajji/bhajiya or ponako, call it what you want, is actually a fried fritter which became popular across India and also in the western world for the sheer simplicity with which its made and the huge variety that comes along with it. Pakoda, is known differently in different parts of the country and made slightly differently as well. For instance in Karnataka, Andhra and Maharashtra, Pakoda's called Bajji, purely because it is deep-fried and any vegetable that's deep fried is suffixed with Bajji. Usually, Pakoda is made of a mix of finely chopped onions, green chillies and spices mixed in gram flour, and then rolled into little balls or sprinkled making different shapes in hot oil & deep fried. Crisp on the outside and medium crisp to soft on the inside pakodas can be made of onions, potatoes, eggplant, spinach, plantain, paneer, cauliflower, tomatoes or chilli peppers and even pumpkins.
Chaat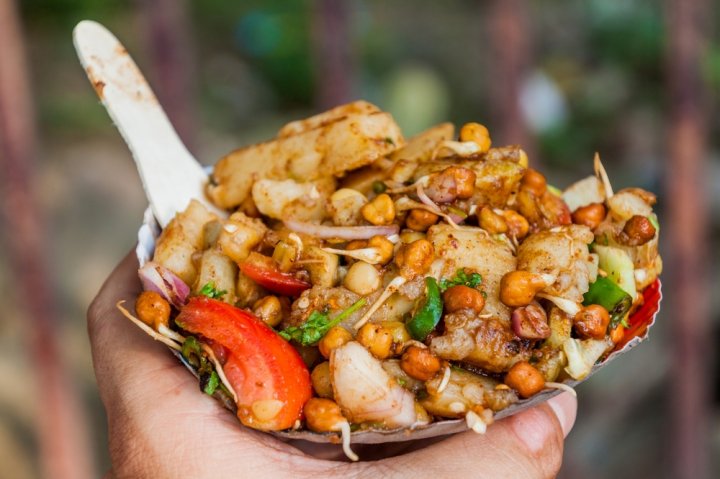 A savory snack that's usually served as an hors d'oeuvre on the street stalls or food cards across the country, Chaat was originally created in Uttar Pradesh and has a wide variety of the dish made of fried dough in combination with different other ingredients. Originally, a mix of potatoes cut into pieces, crisp fried bread, dahi vada/Bhalla, gram, chickpeas & tangy/salty spices with dried ginger and tamarind sauce, with a garnish of fresh coriander and yoghurt, Chaat has now diversified and served differently in different regions of the country. The usual ingredients remain the same more or less, including yoghurt, chopped onions, coriander, sev, and chaat masala. All ingredients mixed together, the chaat is finally served on a small metal plate/banana leaf (dried & shaped like a bowl).
Pav Bhaji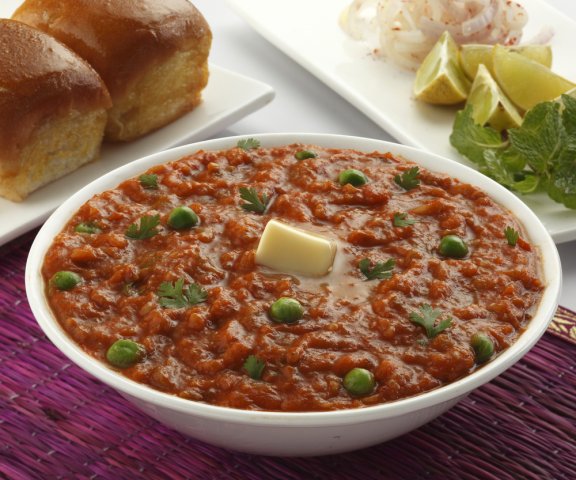 Made of a thick vegetable curry, fried and served with a soft bread roll called Pao/Pav, Pao Bhaji's a fast food item in the genre of street food. Created way back in 1852, as a lunchtime dish on the quick to make the menu for mill workers in Mumbai, Pao Bhaji spread to being served at restaurants throughout the city and is available everywhere! With several variations to the original dish, the essential ingredients to the dish remain fixed with a spiced mix of mashed veggies in a thick gravy, served hot with buttered soft rolls, usually cooked on a flat griddle. The variations to Pao Bhaji include: Cheese atop the bhaji, fried pao tossed in the bhaji, paneer in the bhaji, mushroom in the bhaji, khada pao bhaji with solid vegetable chunks, jain pao bhaji made without onions and garlic and with plantains instead of potatoes, Kolhapuri pao bhaji with a Kolhapuri spice mix and white pao bhaji without any spices or chilli powder.
Aloo Tikki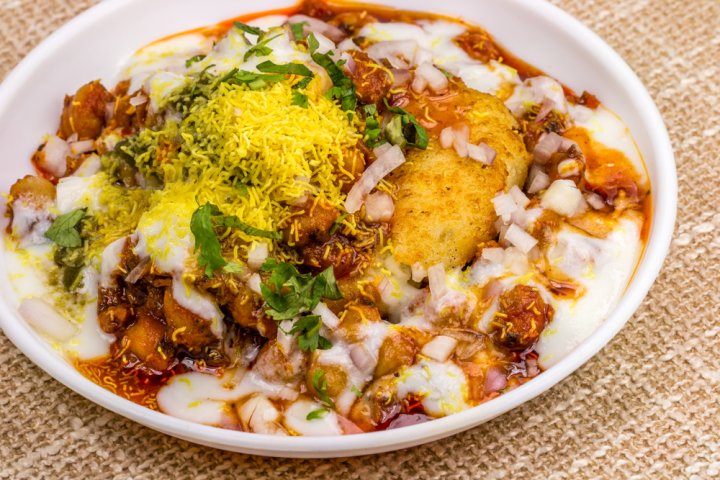 A popular street snack that's made of boiled aloo, peas and various Indian curry spices, Aloo Tikki is actually a potato cutlet/croquette, served hot and warm with a side inclusion of sweet & tangy sauces with the possible addition of yoghurt or chickpeas. It is the Indian alternative to the western Hash Brown! Like most other street snacks which are served differently in different parts of the country, Aloo Tikki in Mumbai is served with a spicy curry & various chutneys and known as Ragda Pattice. In North of India, it is typically made in potato patties with a mix of coriander, peas & spices, fried deep in oil, with a possible sandwich made in some eateries.
Samosa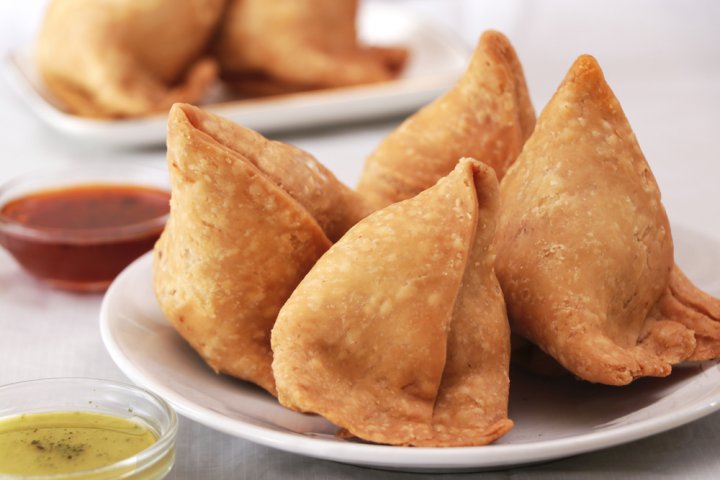 A fried or baked savoury filled with spicy potatoes, onions, peas or lentils, shaped into a triangle, cone or as a crescent, a Samosa is often served with different chutneys and is popular in most parts of the world. Known as an appetizer or entrée item in local Indian cuisine, the Samosa belongs to a family of pastries & dumplings that's popular from Northeast Africa to Western China and its ancient recipe, that's used mostly in the near east and Indian subcontinent includes a mix of a cup of oil/melted butter, a cup of warm water, and 1tsp of salt with dough. Samosa's outer crust is deep fried and crispy made of maida/all-purpose flour, stuffed with a mix of mashed potatoes, onions, green peas, lentils, spices, green chillies and/or fruits, fried deep in vegetable oil to a golden brown shade and then served hot with fresh mint/coriander/tamarind chutney.
Momos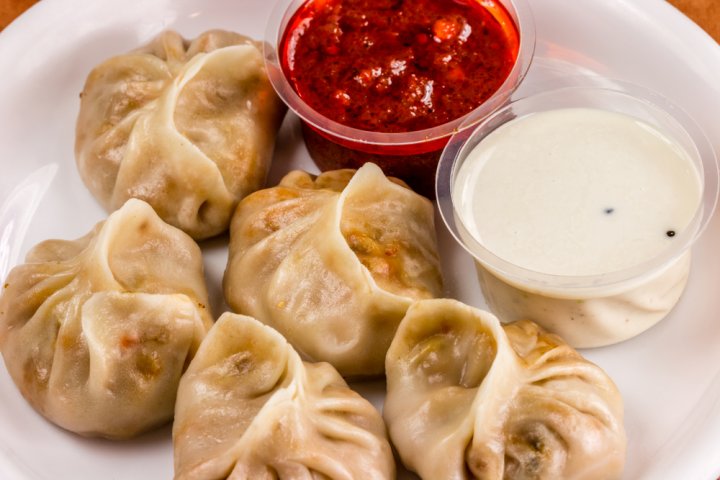 A South Asian dumpling, popular across India and the Himalayan regions of a wider South Asia, Momos are native to Bhutan, Tibet, Nepal and North Indian region of Ladakh, Northeast Indian areas of Sikkim, Darjeeling, Assam and Arunachal Pradesh. A type of steamed dumpling with a filling, Momo's original filling was usually meat (of yak) because of the restricted availability of vegetables earlier in Tibet. Later, the Momo diversified and came to include vegetables and other meat forms to feet a diverse population of Indians with vegetarian and non-vegetarian preferences.

Typically a Momo is filled with minced meat, veggies, tofu, paneer or local hard cheese with a combination of vegetables and meat. The dough is rolled into small & flat circular pieces, filled with stuffing and shaped like a half moon or crescent. Meat's preferred for the fat that gives flavoured juices to the Momos. The momos are also panned or deep-fried as a variant after being steamed.
Puchkas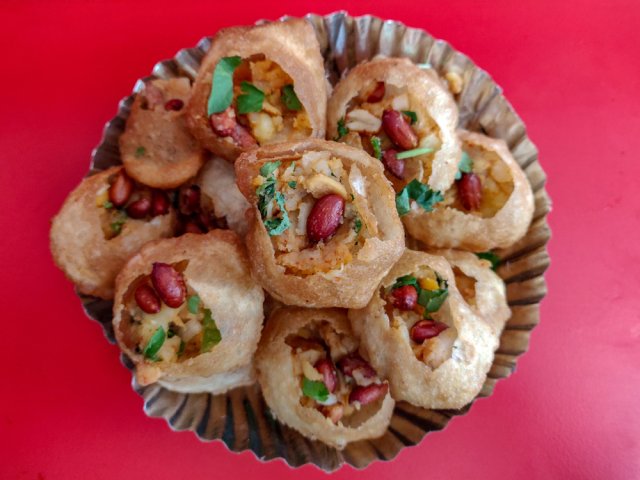 A round, hollow puri, crisply fried and then filled with a mix of flavoured water with a topping of tamarind chutney, chat masala, potato, onion or chickpeas and chillies, Paani Puri has other interesting variants as well and different names according to the region its served in! Paani Patashi in Haryana, Fulki in MP, Puchka in West Bengal, Bangladesh & Nepal, Gol Gappas in UP and Delhi, Pakodi in some parts of Gujarat and Gup Chup in Chattishgarh, South Jharkhand, Bihar & Odisha, Paani Puri's also served as Dahi puri with Yogurt, Sevpuri with gram flour snacks and Masala Puri. A Puchka however, differs from Paani Puri in the way it uses a mix of boiled grams and mashed potatoes for filling and is tangy in comparison to its sweetish counterpart, with the water being sour and spicy.
Chowmein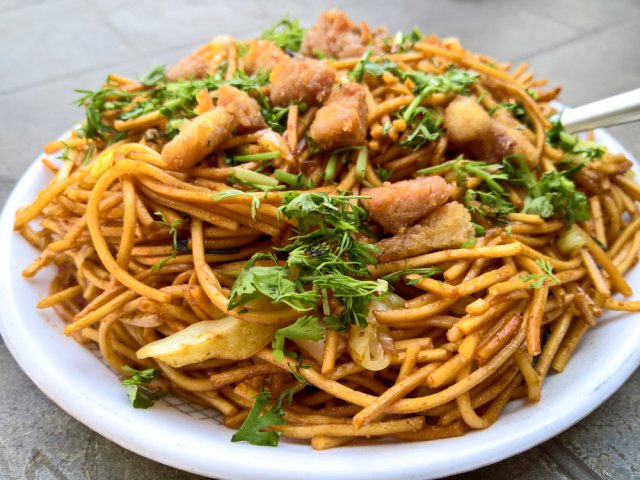 Primarily popular in India, Chowmein refers to stir-fried noodles and more or less an Indo-Chinese version of Chinese Noodles which makes for a delicious blend of Chinese flavours & cooking style with the Indian palate. Although many Indian restaurants have a Chinese menu aside from the regular on their listed offerings, the Indo-Chinese noodles are mostly favoured as an integral part of the country's street food philosophy. Chowmein is essentially noodles fried in vegetable or sesame oil with veggies cut into thin juliennes and sometimes egg/chicken, some minced garlic & ginger, sliced green chilli & chopped celery, sliced onions, soya sauce, vinegar, hot sauce for a spicy dish, salt, pepper (both black and white).
Bonus Tip: Top Rules for Eating Off the Street!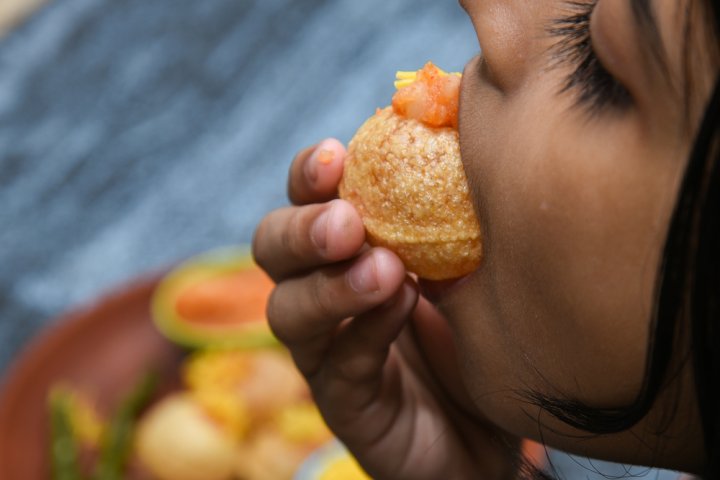 Street food is not only tempting but also cheaper and flavorful. However, it's not always safe, given the way its cooked, or the water or things that are added to it whilst cooking. Here are a few quick tips to help identify the rights and wrongs of street food consumption.
Be Aware: Find out more about what's usually preferred in the area you're interesting in for your choice of street food and get a basic gist of what the food should look like and how it should ideally be served. People who are local to the area or visitors who flock the stalls there won't be boasting about the food for its staleness or unhygienic condition.


The Waiting Game: A busy food stall directly highlights its popularity and the moolah implies the quick turnaround of dishes, making it challenging for the germs or bacteria finding their way in! Standing in a line may be irritating, but it is worth the safe & tasty dish you'd be eating of.


Salad vs. Water Woes: It's strongly advisable to avoid drinking water or using the ice off the street stalls, unless the water's boiled in front of you. This also means that while you think taking a break from non-vegetarian delights or carb-laden street meals is healthy, you'd be missing thinking about the water that's used to service your fruits and vegetables or salad dishes.
From our editorial team
Hygiene Is a Must
Now, that we have shared with you a list of best street foods of India, you can go for it at any time. Although street food is love for almost every Indian but your health should be on top on your priorities list. So, you should always have in your mind that Hygiene is a must. Before having street food look at the ambience of the place first, that there should be cleanliness, the area should be clean. Do not eat outside food cooked in the same oil again and again. Use only mineral and pure water for drinking. It is not necessary that all street food are unhygienic, there are lots of places where you can get delicious food. What you need to do is just go for the best.