Raksha Bandhan: The Festival of Sibling Bonding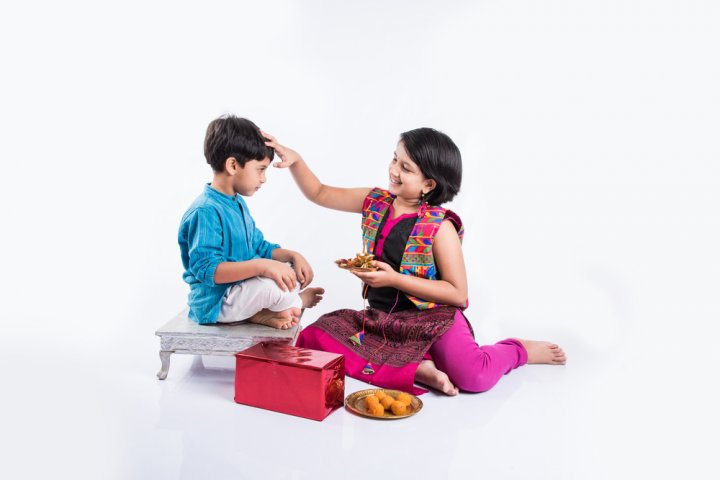 Raksha Bandhan is a festival which has its origin in a particular community, but it is celebrated whole-heartedly with love and care by all. On the full moon day on the month of 'Shravan' (Hindu solar calendar) that is August, the auspicious festival of Raksha Bandhan, commonly known as Rakhi is celebrated around India and Nepal.

Rakhsha Bandhan means 'bond of protection'. The siblings pray for each other's well being and wish for their lifetime happiness and goodwill. The 'tilak' is applied on the forehead of the brother by her sister and a sacred thread or bracelet called 'rakhi' is tied around the wrist while praying for good health and long life of the brother.

Rakhi celebration has been going on for generations and it is such a sweet and traditional way to celebrate the brother-sister relationship. A small string can make a lifelong bond and every year it reminds that no matter where the siblings are located around the world in this string will keep tying them forever and they will be standing beside one another whatever the situation may arise. The happiness surrounds everything and fun revolves in the air to let you know that celebration of the sweet and sour relation which is called Raksha Bandhan is close by.

As soon as the Raksha Bandhan season arrives the street shops are filled with all the colorful rakhis in various designs. It's almost always impossible to find the rakhi you love, not to mention the massive crowds of shoppers you encounter in the markets. A better idea is to make a Rakhi at home by yourself, sitting comfortably at home and enjoying your own handcraft.

This handmade Rakhis definitely brings the sister and the brother closer and the relationship become stronger. It is a sentimental and shows affection of the sister, towards the brother. A little effort will make this loving occasion a memorable one forever. This is one way you can make him feel special and also it shouts 'best sister ever'!
Rakhi Gift Ideas for Siblings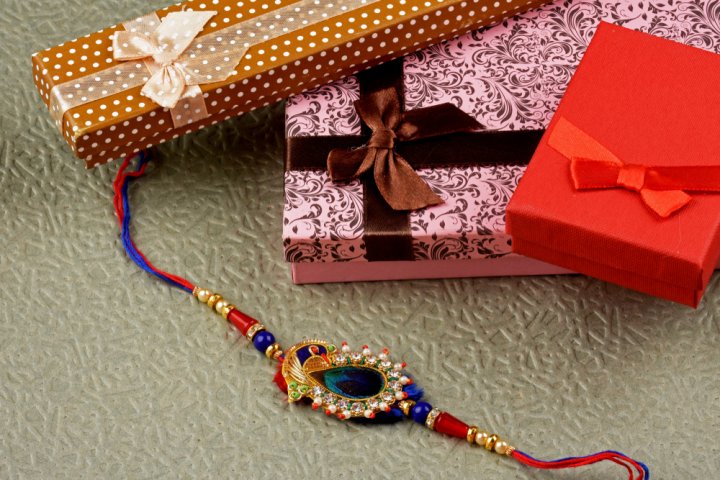 Despite all the crazy battles between siblings while growing up, Rakhi has been always the celebration of being the best companion and expressing the appreciation of existence with a gift full of love. To ease the gift giving process, here are a few gift ideas for both brothers and sisters to gift one another and celebrate the day.
Rakhi Ferrero Combo: For your sweet tooth siblings this can be a perfect gift to enjoy the occasion. This smart Rakhi gift consists of Ferrero Rocher's large chocolate box along with a special Rakhi for the occasion.


USB Astro Light: This can be a very useful gadget for your sibling who cannot live without a laptop. It is a space age accessory that can be plugged into the USB socket of the computer and will produce a ready light up. It is a perfect gift for them who work at night or during travel.


Personalized Chocolate: This is an amazing gift which can be personalized with a name and a special caption on the wrapper and make your sibling's day special. It's a unique gift which is ideal for the special occasion like Rakhi.


Combo Gift: A wonderful combination of coffee mug, chocolate and Rakhi for brother, which can never be an old choice. An engraved wooden Rakhi, 5 pieces of milk chocolate, coffee mug and a table coaster completes the combo gift set comes in a beautiful gift box.


Make Your Own Hand Made Rakhi to Celebrate the Festival: 10 Ideas for Rakhi Handmade
You can make this wonderful special festival more personal with homemade rakhis. The ceremonial thread can be made with hundreds of beautiful rakhi making ideas and materials. Whatever you do from your heart by your own will reflect your love and affection. You can also make rakhi envelopes and puja platters by yourself.
Get Rakhi Making Material Online
If you want to make your own rakhi from scratch, and choose all the components first and then start making it, then there are various options on the web where you can buy the material. If you want to be on the safe side or just started for the first time, then start with a rakhi making kit which has everything that you may need to make a handmade rakhi for the occasion.
Peacock Motif Rakhi
How to Make a Peacock Motif Rakhi at Home
What you need:
Glue
Pearl beads
a leather or foam blue colour base
Golden dori, beads and charms
Blue, white and turkish colour stone
Glitter and shiny colours
How to make it:
Take a small piece of blue foam and draw an outline of the peacock and cut two same pieces
Put glue on the outline and use the glitter colour on the neck of the first piece of peacock
Cut small pieces of oval shaped foam for the tail of the peacock and with glue put blue glitters on it
Put the golden string dori on the back of the motif and place the golden dori. Put another piece of foam peacock over it
Decorate the string dori with beads and charms
Use the golden string zari to outline the peacock and the blue, turkish and white stones all over to complete the design
Beautiful Rakhi with Kundan Work
Making a Rakhi with Kundan Stones
What you need:
Drop kundan, round kundan
Mirror, Mirror round, Makhmal cloth
Coloured ball chain, gold chain, stone chain
Colour pearls, silk thread, thread cutter
Fabric Glue
Scissors
Approximate time needed to make this rakhi is 20 to 30 minutes
How to make it:
Take a piece of cloth, flod it and put fabric glue over it
Put the makhmal cloth over it, putthe mirror and mirror round on the middle with glue
Decorate with drop kundan, round kundan stones and circle it with coloured ball chains of your choice and cut the extra makhmal cloth
Take a silk thread dori and attach below the rakhi, put another piece of makhmalcloth with glue to secure it
Allow the design o dry
Use some colour pearls and add to the silk thread
Tie up the ends of the pearls and also the last portion of the thread
Rakhi Made of Jute
Rakhi Designed Using Jute
What you need:
Jute Rope
Stone, colour spray
Thick paper, circular object
Glue
pencil and Scissors
How to make it:
Take the hard round base and add glue, then make circles of jute rope over it
Make somemore small designs with jute rops and add over the circular base
Take another round base and glue it, then put a double jute rope as the dori, add the rakhi over it and let it dry
Spray bright colour or/and Add stones of your choice and make beautiful design over it
Make a Quilling Rakhi at Home
Quilling is trendy right now, from jewelry to crafts, this has become an essential thing to try. For a quilled rakhi you will need a quilling strip, slotted tool, stone, ribbon, adhesive and scissor. With few beads and quilling technique you can make a flower or peacock and use a bright satin ribbon to tie with it.

Let's see how to make a DIY handmade quilled rakhi with paper quilling. This cute rakhi is made using a wonderful craft and can be made by little sisters for their lovely brothers. This one is also super quick to make.
Make a Quilling Rakhi at Home
What you need:
Paper quills (you can make your own paper quills with the help of quilling kit or get them from market) of different sizes and shapes
Thin satin ribbon
Kundan Stickers
Glue
Scissors
How to make it:
Make paper quilling of different sizes and shapes of your choice
Paste round stones on the center of the quilled paper
Use the thin satin ribbon and place the stones or beads with the quilled design
You own handmade quilling rakhi is ready
Silk Thread Rakhi
Silk thread rakhis are one of the earliest DIY rakhis made. This old technique was used to make them at a time when there was not much option for buying and handmade rakhis were the only option.
Silk Thread Rakhi:
What you need:
silk thread
donuts of 3 sizes
pearl ball chain, ball chain, stone chain
kundan
fancy dori
gold beads
jump rings
fabric glue
How to make it:
Take the donuts and glue it with slik threads
Put two jump rings in between the dori in the donut
Put glue on the side of the donut and paste the pearl ball chain
Tie a silk thread around the chain and donut
Put and glue other two small donuts in over the bigger one
Add gold and stone chain over the joint of the donuts to decorate
Use the fancy dori inside the jump rings and make a knot
Put gold beads through it and make another knot to secure it,also add stones over the donuts for decoration
Your silk thread rakhi is ready to use
DIY Photo Rakhi Idea
Personalise your rakhi by taking a stamp size or passport size picture of your brother or some candid moments that both of you had spent together, and stick it in the middle of a cloth or anything you want. Make designs around the picture, using material like zari or jute work and present it on the very day.
Making a Photo Rakhi
What you need:
Foam
Diamond chain
Satin ribbon
Kundan rhinestone, zari and beads
Photo
Fabric glue
How to make it:
Use the foam and cut it in round shape
Place zari, beads, and kundan rhinestones and make a beautiful design
Keep a round space in between for the photo
Add the ribbon to the back of the foam and place a round shaped photo in the centre of the design
You photo Rakhi is ready to present
Make a Rakhi with Matchsticks
Matchsticks are great stuff with which you can make literally hundreds of designs by cutting them in mini sizes or using them as they are. You may need a golden thread or silver ribbon and some stones or kundans and decorate your rakhi with a visually appealing design.
Rakhi with Matchsticks
What you need:
Wedding card
Nail polish, glue, scissor
Matchsticks
Rhinestones and pearls
Lace, beads, stone, ball chain
A piece of cardboard
How to make it:
Colour the head of the matchsticks with nailpolish, put glue on few pieces of cardboards and stick the matchsticks in pattern to make a design
Cut a small round shaped card board and attach the designed matchsticks over it with glue
On a small hard wedding card paper, cut in round shape and put a Rhinestone in the middle. make circles of ball chains around it
Put it over the matchstick design
Add the ribbon with glue in theback of the rakhi and cover it with a piece of round wedding card. Your Matchstick rakhi is ready
Make a Rakhi with Earbuds
This is such a fun and creative way to make a rakhi, just by cutting earbuds and pasting them in a decorative manner. You also colour them for a more beautiful looking rakhi. Take a golden cord and tie some charms and pearl beads to it, put some craft jewels and make a beautiful rakhi with it in no time.
Make a Rakhi with Earbuds
What you need:
Fabric glue
A base to make rakhi
Ear buds
Golden beads or pearls
Fancy pearls
Silk thread
How to make it:
Cut the ear buds and keep the white ends
Glue the base cloth or small card board piece
Put the white ends of the earbuds upon the glue and make a round design
Put some more earbuds over the former earbuds, and in the middle add some small golden beads wih glue
Make a string with stitching golden beads and pearls
Attach the string on the back of the rakhi base
Finish with adding some decorations of stone if needed
Handmade Bedazzled Rakhi
Indian festivals are big, bright and beautifully colourful, and their very nature demands for glossy and shiny things. This special handmade bedazzled rakhi by you can make the day more charming. You will need a foam, ribbon, scissor, a small velvet or cotton cloth, fine glitters, crystal beads and adhesive. You can also put small charms in the ribbon by tying them, which will look more gorgeous on hand.
Bedazzled Rakhi
What you need:
A foam ribbon
Scissors
A small velvet or cotton cloth
Glitter
Children's craft crystals or any shiny beads
Kid friendly adhesive
How to make it:
Use the scissors to cut the foam ribbon to a regulated size
Spread the child-friendly glue on the velvet or cotton cloth smoothly
Sprinkle glitter all over and stick the craft crystals or beads in a pattern or design
Paste the cloth to the ribbon to complete your Rakhi
Reuse Old Materials for Rakhi
If you have several letter beads lying around your home, just grab them before throwing out and see if you can really make something from it. Take a satin or leather cord and put the letters like 'bro' 'bhai' or your brother's name and tie it in the middle altogether. This will be a very decent rakhi which he can wear even after the occasion is over.
Reuse Old Materials for Rakhi:
What you need:
A 1.5 mm leather cord in the colour of your preference
6 x 6 mm beads of your choice
Scissors
How to make it:
Cut the leather cord to a length and you don't need to be precise as these rakhi bracelets are adjustable
Tie a knot over half way to the thread. Add alphabet beads of your choice and tie another knot at the end of the beads
Bring both side of the cord around and make a shape of circle. Take the right side of the cord and wrap around the loop
Wrap around two times and insert the 1 cm cord in the loop
Pull the end of the opposite side of the cord
Put the cord gently to create a knot
Repeat with the other side and cut any extra left over thread. Your elegant rakhi bracelet is ready. Follow the bloglink for detail instruction
Handmade Rakhi Cards to Accompany Your Rakhi
An important day is incomplete without a card and you can always feel great if you make it by your own. Handmade cards for rakhi are an excellent way to express gratitude, love and endearment towards your sibling.
Handmade Patterned Rakhi Cards
Handmade Patterned Rakhi Cards
What you need:
colourful patterned paper
floral embellishment
some colored rhinestones
satin ribbon
glue
scissor
How to make it:
Take a coloured card as the base and paste the handmade paper with glue over it
Fix a satin ribbon along the centre
Over the ribbon put some floral embellishment at the centre
put a medium sized rhinestone at the centre
your patterned rakhi card is ready
Handmade Traditional Rakhi Cards
Handmade Traditional Rakhi Cards
What you need:
handmade paper
moli thread
pressed flower
golden zari
ganesha or swastika design
bright paint
How to make it:
cut the paper in desired size and fold it in the middle
leave half inch border and paste the moli in a rectangular shape
line with a decorative border in inside with a bright colour
paste the motif of ganesha or swastika a little off centre
write Happy Rakhsha Bandhanorany short message below the motif
enclose the card with rakhi
Handmade Embroidered Rakhi Cards
Handmade Embroidered Rakhi Card
What you need:
paper card sheet
coloured embroidery threads
seweing needle
glass beads
pattern
tracing paper
How to make it:
cut the paper in the desired size and fold it
trace the pattern on the front size of the card
embroider on the pattern line and stitch or paste the bead where you need
your embroidered rakhi card is ready
Tips and Ideas to Make DIY Rakhi Thali or Platter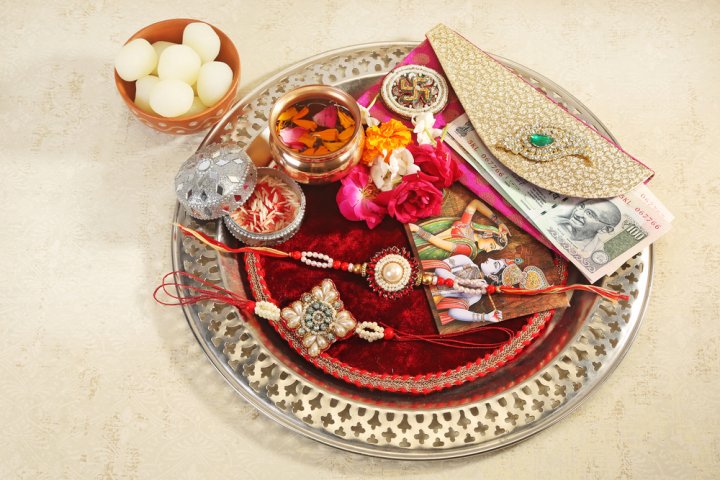 The celebration of siblings love cannot be completed if you don't have a decorated thali for the occasion. Add a smile to your brother's face by making a decorated thali with your rakhi.
Steel Thali: You can easily transform a plain steel with your chosen colors. You can use oil paints and decorate with mirror cuttings along with kundans, stones, zardozii, and make a traditional thali.


Ceramic Thali: Paste some velvet paper inside the thali and stick it. You can paint the bowl as you wish. Decorate the bowl with a beautiful pearl chain on the side. Now keep a decorated coconut with beads and studs and rice and kumkum.


Designer Thali: Take a little expensive designer thali and just add kundans in the side of the thali and some in the middle. Your gorgeous thali for the occasion is ready.


Bamboo Plate Thali: Bamboo plates are inexpensive and looks so much like handcrafted. You can stick a beautiful cloth on the plate and decorate with beads, stones earthen pitchers and paints. You can use pearl chains too.


Pista-shell Thali: This is such a unique design you can make for the special day. The Pista-shells can be decorated with golden or silver color and stick them on the edges of the thali and decorate with various dry food items by coloring and sticking them together.
Raksha Bandhan is just not a festival for brothers and sisters, it is also a sign to show the bonding between two people to keep peace and prosperity around and keep a friendly relation. Praying for long life and hoping for a bright and promising future is what Rakhi symbolizes. The handmade rakhi illuminates the inner joy of the siblings, which is a lifelong treasure. Anything you make from scratch is fun, economical and it shows the effort which is never visible in a store bought thing. Let the happiness stay within the heart and celebrate this Rakhsha Bandhan with handmade rakhis.
From our editorial team
Make Your Brother Feel Loved
The festival of Rakhi is the perfect time to put the spotlight on your brother. Show your affection with a carefully chosen gift, a handmade rakhi, and perhaps a hand made sweet - the time and attention taken by you will not be missed by your brother and it will strengthen the bond.