Why is Yoga Better Than Gym or Other Exercises?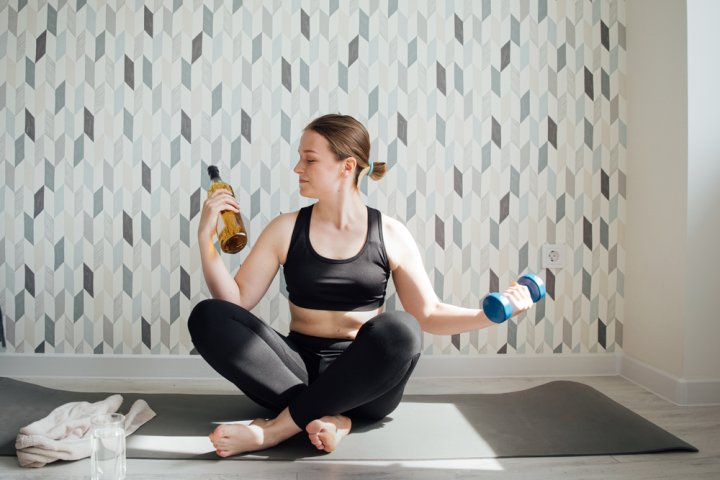 There is often a debate going on whether Yoga is better or a gym routine works better. Here are some of the reasons to prove that Yoga is way better than exercising at a gym:
Yoga rejuvenates both internally and externally - The poses in Yoga are good for lymphatic, circulatory, digestive system, and other body systems, including mental well-being as well. Along with strong muscle building, it is also the best way to detox your body. The gym, however, concentrates only on cardio and muscle strength generally.


Yoga will help focus better - This is the reason yoga studios do not have mirrors, unlike gym. Yoga ensures that the focus stays on the body and mind.


Increased efficiency - Yoga strengthens the body and tones it by working for multiple muscle groups at once and using the entire body. In the gym, the use of weights or equipment will create a need to work on each muscle group separately.


Provides with a leaner body - The stretching of the muscle groups while doing Yoga will result in a leaner body, compared to gym workouts, which are generally focused on building bulky muscles.
Benefits of Yoga: A Brief Overview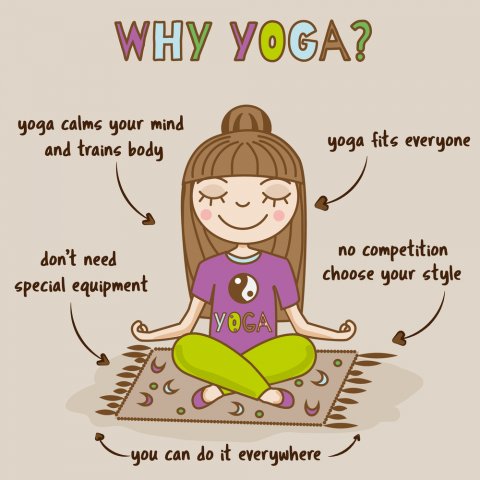 Yoga tones muscles and strengthens them.
It improves flexibility, balance and coordination.
It develops and boosts self-esteem.
It gives better control over mind and body.
Strengthens the immune system.
Reduce fat.
Improves blood circulation in all parts of the body.
Helps to focus and sleep better.
Relieves chronic pain.
Detoxify the body and help organs function better.
Improves inner calmness.
Helps reduce stress and inflammation.
8 Best Free Yoga Apps for Android
1. Daily Yoga
Daily Yoga is an app that majorly focuses on fitness through Yoga and helps individuals to tone their bodies. The yoga postures suggested in the app will help to get rid of excess fat. The app also includes Pilates, HIIT, and Vinyasa for all abilities. It has over 500 flows and 70 yoga programs. The app also offers a two-week program for beginners to get started and learn the basics.

This app is available both on Android and iOS systems with In-app purchases available, and the file size is about 74.4 MB.
2. 5 Minute Yoga
This is the best app for those individuals who do not have a lot of time and like to squeeze in a yoga session with only a few minutes at their disposal. The Yoga sessions are planned in such a way that each session contains only five poses, one minute each. The app also starts a countdown and explains the muscle groups that are benefitting from the pose.

This app is available both on Android and iOS systems with In-app purchases available, and the file size is 23.3 MB.
3. Simply Yoga App
This is one of the best apps for beginners and helps them understand and learn the basics without spending any money on a subscription. Though it is free, there is no compromise on the quality. The Yoga sessions have both audio and video to help the user get the pose right. The app has 30 poses that are perfect for beginners; although there are ads on the screen every few seconds, this app is worthwhile for beginners. The full version of the app is also available without any ads. It has intense techniques and custom routines for users.

The app is available both on Android and iOS systems with no In-app purchases available, and the file size is 111.3 MB.
4. Down Dog
Down Dog is one such yoga app that will always keep up the curiosity level and enthusiasm high because the user will not repeat the same session twice. The app has configured over 300,000 different sessions to bring in the surprise factor every day and create different sessions. There is also an option to choose from seven different instructors. The reminder for breathing is also there in the app, which is of great help for beginners to stay on track.

This app is available both on Android and iOS systems.
5. Yoga Studio
Yoga Studio is mostly focused on prenatal Yoga. Those who are not pregnant also have access to 65 sessions, which are suitable for people with any skill level. It has over 150 yoga sessions and also has a feature to create a custom routine. However, a full suite of poses and custom sessions require a subscription. The prenatal section of the app is the best feature as it concentrates on the yoga sessions for expecting mothers.

The app is available both on Android and iOS systems with In-app purchases available, and the file size is 182.7 MB.
6. Asana Rebel
Asana Rebel is one of the top-rated Yoga apps in the market. The app has a wide range of poses configured to form different sessions. It also has guided meditations, challenges, and high-intensity workouts along with Yoga to help the user reach their fitness goal with collective impact. The app also shows the number of calories burnt during the session. It shows the time duration of the exercise and a preview of the subsequent exercise.

The app is available on Android and iOS systems with in-app purchases available.
Notable Mention: A Paid App which is Worth the Price!
Pocket Yoga is an app that lets the user download everything into the phone, so there is a requirement of an internet connection while taking up a yoga session. Even if the user is stuck elsewhere with no internet connectivity, there is absolutely nothing to worry about or miss a session. The sessions vary in difficulty and contain different poses. The app also has a feature that helps perform the pose correctly and get all the benefits. Some tools also allow the user to track the progress and keep the motivation level high.

This app is available on Android, Mac, and iOS systems with in-app purchases available, and the file size is 131.3 MB.
Writer
Malathi
Malathi is a freelance content writer offering blogging, ghost-writing, and copywriting services. In addition to developing digital marketing content, she maintains niche websites related to kids, parenting, and pregnancy. Malathi's works have been featured on several prominent blogs and websites. When she is not writing, you will find her exploring exotic locales on our beautiful planet.
From our editorial team
Start with Simple Asanas!
If you're a beginner and just starting with yoga, then we recommend not to directly jump to complex yoga asanas, as not only you might not be able to do them, but also you'll be more prone to injuries of the back, shoulders and other body parts. It would be better if you start slow with simpler asans, and once you master them, move on to more complex ones!