Top 5 Wishes for Brother on Bhai Dooj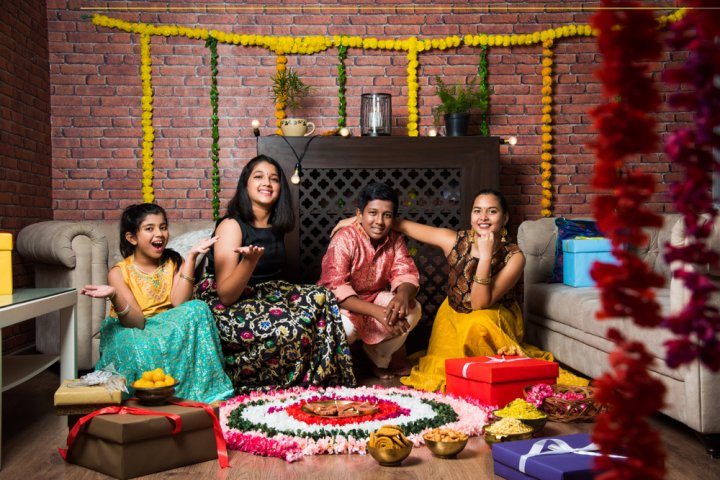 Festivals are not only days to involve in traditional puja, offerings, gifts, and making merry. It is also the time to pour your heart out to your loved ones. Especially on occasion such as Bhai Dooj, sisters often write letters or cards to their brothers. In today's time, we also post a lot of messages on social media. If you are not a big fan of words and are finding it difficult to express your love in words, don't worry. Here are 5 Bhai Dooj messages you can send your brother, and show the love and care you have for them. Pour your heart out, and customise the cards and gifts for your beloved brothers.
#1 Message
My brother, you have been my constant support, partner in crime, my best friend, and a mentor; you have been my everything all this while. We grew together, played together, and will be together throughout the years to come. A happy Bhai Dooj to you! Thanks for being with me always, and supporting me to the core. I wish you a long and happy life on this auspicious occasion of Bhai Dooj.
#2 Message
Though distance separates us, we know, our love brings us together. Of all the gems, you are the most precious, the treasure that life has given me. Happy Bhai Dooj to you. I pray for your happiness, prosperity. Best of luck for all your endeavours. And lots of love, support, and wishes for the years to come. I hope we can celebrate the next Bhai Dooj together!
#3 Message
I never needed a superhero, as you are with me. Lots of love and prayers for your dreams to come true on this happy occasion. We have shared memories and dreams, and you have always been sticking with me in troubling times. Thanks for all the days you have supported me and made my tears go away. You have been the reason for my smile always, and will continue to be. A happy Bhai Dooj to you!
#4 Message
A Tom and Jerry Duo, we had always been. There is no fun without either. The fights and quarrels have always been my happy memories all these days. Travelling to the other part of the world hasn't stopped those haunting memories of love and laughter. Miss you, but never stopped loving you. A Happy Bhai Dooj from your loving sister.
#5 Message
You are my sun, bringing warmth whenever I needed. You are my moon, walking with me for my safety every day. You have made my days cherished. You are my North Star, guiding me on the right path. You are my prized possession, who has loaded me with love, courage, affection and support. Lots of love from me to you brother, a Happy Bhai Dooj!
Top 5 Gifts for Brother on Bhai Dooj
#1 Philips Bluetooth Headphones
Gadgets are men's best friends often. Your brother, too, would like to add more to his collection. Gifting your dear brother a gadget is a good idea to show your love. This Bhai Dooj, gift your brother Philips SHB3075 BASS + Bluetooth headphone. The device comes with 32 mm speaker devices, Bluetooth connectivity, flat-folding design, and built-in microphone. This wireless headphone comes in blue colour, and has noise isolation features. If your brother loves music or is a movie lover, who watches movies and net series, then this Bluetooth headphone is an excellent choice. One can enjoy music on the go, and attend calls with crystal clear sound.

A stunning experience is assured by this power-packed headphone. Communicating with your brother becomes easy when you gift him this headphone. Using the headphones is comfortable, thanks to the soft, breathable ear cushions. The headphone is compatible with Android and Windows devices. It also has magnetic functions, and you can place an order for one on croma.com. The headphones are priced at Rs. 1,999.
#2 The Charcoal Gang - Giftbox from The Man Co.
Gift your brother a grooming kit this Bhai Dooj. It is one of the best ways to shower your love for your brother. The Charcoal Gang is a combo of body wash, shampoo, face scrub, face wash, cleansing gel, and soap. The charcoal body wash (250 ml) consists of lemongrass and cinnamon, helps in fighting acne, and smoothens skin. It also has antiseptic properties. It helps in skin lightening and gives a skin detox, and eliminates all blemishes from the skin. The Charcoal shampoo comes with the goodness of peppermint and clove. This 250 ml pack helps in managing frizzy hair and can prove to be helpful in hair growth.

The Charcoal Face wash has the goodness of rosemary and Ylang Ylang essential oil, and helps in rejuvenating the skin. It also aids in reducing stretch marks. Charcoal Soap Bar eliminates dirt and dust from the skin. Blocked pores can be treated with this soap bar. It helps in removing pigmentation and improving skin complexion. Isn't it a great choice to make your brother happy and groomed? Buy this pack from themancompany.com for Rs. 2,695.
#3 Park Avenue Men's Accessories Set
A gift set of men's accessories of Brooch and Wallet are stylish gifts that can make your brother feel happy. The set consists of brooch, wallet, and purple solid anchor lapel pin. The wallet is in brown colour, and has one main compartment. It also has 4 card holders, flap coin pocket, and 2 slip pockets. The length of the brooch is 8.5 cm. The leather wallet from Park Avenue is durable, and easy to clean. For the men who love to stay fashionable and stylish, this is a complete set to complete the look. This accessory set for gifting is available for Rs. 1,799 on Myntra.
#4 Custom News Bulletin
Looking for some innovative gifts? Then the customised new bulletin for your brother is what you need to go for. The professionals create an authentic news bulletin for your brother. They are scripted and shot by professionals. This professional news bulletin makes your brother, star of the show. This is again easy to get done. Answer a few questions, which helps in getting to know your brother better. You can also upload 5 images to be presented during the show. Choose the pictures you or your brother loves the most. You would be able to do these, only after making the payment. You get the script in hand for approval in 2 days, and you can go through it. Approve or make corrections, wherever needed. The professionals will then create a video, and send it through an email. The video runs for a minute, and consists of 100 words. It is your choice about the language – English Hindi, or both.

If you're short on time, then don't worry! You can pay additional charges and get a quick delivery as well. You can also go for the 3 minute video option, with a script of 300 words. Visit Oye Happy to purchase the basic bulletin, priced at Rs. 3,950.
#5 Bhaidooj Tikka Thali with Personalized Tray & Hershey's Chocolates
Does your brother has a sweet tooth? Then Bhaidooj Tikka Thali is what you can gift to your brother. After all, Bhai Dooj involves offering favourite sweets to your brother. The thaali comes with chawal and roli. The hamper comes with 3 Hershey Chocolate Bars, and you can customise this designer thaali, to suit the taste of your brother. If you want to personalise, then get it done online by uploading the image online.

Send this personalized hamper oval meenakari work puja thaali to your brother, with the delicacies. A Hershey's Cookies and Cream Bar, and 2 Hershey's Cookies and Chocolate Bars are what you get with the puja tray. You can send a message with this personalised wooden tray for your loving brother. You can purchase it from igp.com for Rs. 1,245.
3 Amazing Ideas to Celebrate Bhai Dooj with Your Brother!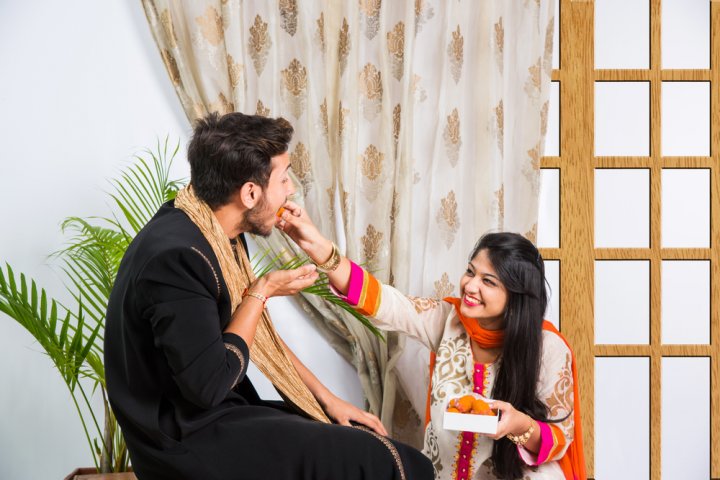 While gifts are significant factors about celebrating Bhai Dooj, there is something else you need to do to make this day memorable. Here are cool and easy ideas to make this day special for your brother. In fact, you can make it a day of celebration for your entire family.
Cook his favourite meal: Why don't you try your culinary skills this Bhai Dooj? The best way to decide on the dishes and foods is to gather information on what your brother likes, especially, if you are planning to do bring in a new dish. Continental, Chinese, Italian, or Indian, you have enough choices. Instead of ordering the food out, make his favourite meal yourself. Nothing throws light on the affection and care you have for your brother, like cooking his favourite meal. Put some efforts in the décor of the dining area.


Go out for an outing (movies or dinner maybe): For a movie buff brother, or the one loves to go out and enjoy, an outing is what you need to plan for. Prepare a schedule to meet your brother's programme for the day. It can be a dinner with your brother or your entire family, or try taking him to his favourite movie. Ensure, the restaurant you choose, and the movie you pick are preferred by your brother. If your brother would be able to give you all his day, then you can go for a movie, and finish your dinner. You can alter the plans based on what your brother likes, a theme park or one-day picnic too can be on the list.


Take a weekend holiday: Not everyone has the privilege of taking a day's off on Bhai Dooj. Even the most loving sister like you might be held up due to various reasons. So what is the way out? Choose a weekend. You need to consider the availability of your brother too. Make weekend plans for this Bhai Dooj - it has multiple advantages. You can go for a tour of two days, or explore multiple options.

Throw a party if you have more than one sibling. For the siblings, who are separated by miles, a weekend holiday is a chance to reunite. You can try to meet your brother at his place or can call him to yours. In short, you can bring in various ideas you have been making for years come true, with a weekend holiday for this Bhai Dooj.
From our editorial team
Celebrating a Function in India is Never Complete Without Gifts!
Celebrating any function in India is never complete without gifts. Gifts are not only material evidence of your love or a symbol of an occasion. But they tell the one who receives it how much you care for them, and your knowledge of their interests. Photo frames, perfumes, mugs, and flowers are common gifts for brothers. If you are looking for gifts that would come handy and stand out in the crowd, keep visiting BP-Guide!