Why Make Vegetarian Snacks, Even if You Eat Meat?
Even if you like and crave non-vegetarian food, veg snacking can be healthy, light and yes, delicious as well. And for the vegetarians, the good news is, that you also have lots of options for snacking and your non-veg lover friends can't tease you with the 'paneer and aloo only' tag anymore. Veg snacks are light and healthy as compared to non-veg snacks and are perfect party starters in summers or during tea time and the 'just like that' snacking.
Keep it Light and Healthy
While veg snacks are lip-smacking when served piping hot, too much of spice and oil can give adverse after-effects. So, better to use less oil and spicy flavours; rather you can try baked or air fried options. For those who like spicy and tangy, different chutneys or sauce can be used to boost the taste to satiate your taste buds. We are starting with few veg recipes which require no cooking and are the easiest to prepare. In the later part of the article, we have picked delicious veg recipes which would require an oven or stove for cooking.
Recipes for Vegetarian Snacks That Don't Need Cooking
These are veg recipes which can be prepared with minimal efforts, are almost oil-free and perfect for small hunger pangs. The basic ingredients are either available in the kitchen or can be easily fetched from a nearby store.
Schezwan Paneer Cold Sandwich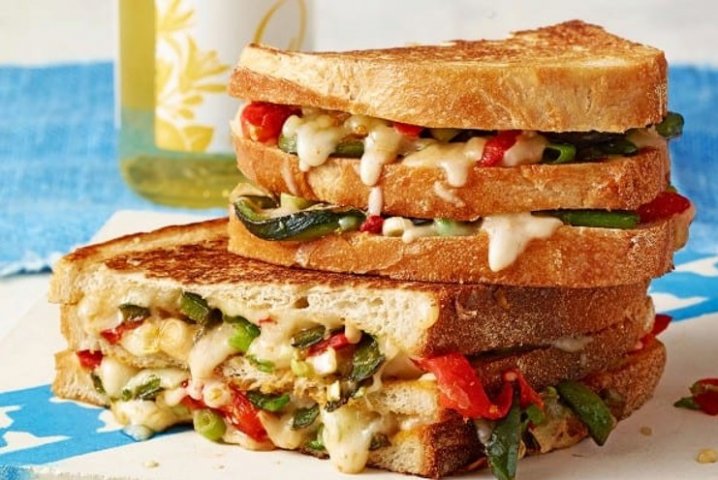 A perfect sandwich for the oriental cuisine lovers! The peppy and tangy flavor derived from Schezwan sauce, tomato sauce and freshly prepared sour cream will delight your senses while the soft cheese balances the tanginess of the recipe.
Ingredients needed are:
8 bread slices
¼ cup aromatic schezwan sauce
2 tbsp tomato ketchup
¾ cup chopped paneer (cottage cheese)
½ cup thick curd
½ cup bell pepper
1 tsp lemon juice
Salt to taste
You can use brown or white bread, and add yellow and red bell pepper if you prefer
How to make it:
Firstly, we'll prepare the schezwan paneer stuffing by combining the coloured capsicum with tomato ketchup, schezwan sauce and salt in a big bowl and mixing them well.
Now add the paneer and after mixing it gently, segregate the stuffing in 4 equal portions and keep aside.
Similarly, divide the sour cream into 4 equal parts and keep them aside.
Take two bread slices and keep them on a clean and dry surface, now apply one part of the sour cream on both the slices.
Finally, spread the schezwan paneer stuffing evenly on a slice and sandwich it with another bread slice while the sour cream side is facing downwards.
Make 3 more sandwiches using the same process, cut diagonally and serve fresh.
Pinwheel Sandwich
A delightful and cool looking sweet and spicy snack, the Pinwheel Sandwich is perfect to serve in small parties and has a tantalizing flavour. Slices of bread are layered with cheese, jam and green chutney and rolled up to shape pinwheels. Diced capsicum and olives add to the tangy and crunchy flavour and make it a tongue tickler snack.
Ingredients needed are:
6 bread slices
2 tsp cheese spread
2 tbsp mixed fruit jam
1 tsp mustard sauce
1 tsp green chutney or chilli sauce
1 tbsp butter
2 tbsp finely chopped black olives, and
2 tbsp coloured capsicum (red, green and yellow)
How to make it:
To start with, cut out the crust from the bread slices and flatten each bread slice with a rolling pin.
Now place a slice of bread on a clean and dry surface and spread 1 tbsp jam evenly over the slice, place one more slice over it and evenly spread ½ tbsp of mustard sauce and 1 tbsp of cheese spread evenly over it.
The third and final layer goes on top of it with a bread slice and evenly layered mix of ½ tbsp green chutney and butter over it.
Finally, place the finely chopped olives and slices of capsicum in the end.
Now tightly roll the bread from the olive and capsicum to the other end and cut the roll into 6 – 7 equal portions.
Quick Bhakarwadi Chaat
Bhakarwadi is a popular Maharashtrian snack which is enjoyed with tea, but when added with spices, veggies and sev tossed together; it makes an exciting Quick Bhakarwadi Chaat. For preparing this hassle-free bhakarwadi chaat you require:


Ingredients needed are:
1 ½ cup mini bhakarwadi (readymade)
¼ cup deseeded and chopped tomatoes
¼ cup chopped cucumber
¼ cup chopped onions
1 tsp chilli powder
½ tbsp jeera powder
½ tbsp chaat masala
¼ cup sev
2 tbsp nicely chopped coriander
2 tbsp lemon juice and salt to taste
How to make it:
Take chopped cucumber, tomatoes and onions in a big bowl and add cumin seed powder, chilli powder, chaat masala and coriander; followed by sev and lemon juice.
Now add salt and black pepper powder to taste, and mix all the ingredients; add mini bhakarwadi on top and toss the chaat.
Serve fresh to your guests and get praised for this mouth-watering snack.
Mushroom Aloo Chaat
Another tangy chaat which is nutritious, light and easy to make the vegetarian snack at home, the ingredients required for making Mushroom Aloo Chaat are:
Ingredients needed are:
200 gms mushrooms
200 gms potatoes
200 gms onions
200 gms tomatoes
½ tbsp garam masala
1 tbsp chaat masala
amchur powder
salt to taste and coriander for garnishing
You would also need three chutneys for this chaat which are green, red and garlic chutney.
Green Chutney
2 cups coriander leaves
20 gm ginger
4 green chillies and salt to taste


Red (Tamarind) Chutney
100 gms tamarind
1 tbsp lemon
200 gms sugar


Garlic Chutney
50 gm garlic and
salt to taste
How to make the chutneys:
To prepare green chutney, mix all the ingredients and grind to a fine paste.
For tamarind chutney, soak the tamarind in water and sugar for about an hour, grind it to a fine paste and sieve the chutney.
Garlic chutney is also easy to prepare as you just need to make a nice garlic paste, add a pinch of salt and some water to dilute the chutney.
Now, cut the mushroom into halves, boil the potatoes and cut them into small pieces after peeling, chop onions, tomatoes and green chillies and mix all the veggies in a deep bowl.
Then add amchur powder, salt, garam masala and lemon to this mixture.
Finally, add all the three chutneys, sprinkle chaat masala, garnish with coriander leaves and mix well before serving the mushroom aloo chaat.
Veg Snacks Recipes Which Require Cooking
Let's check out these yummy veggie snacks, they need some basic preparation and little frying or baking and make for a perfect party starter. You can also use them for tea time snacking or serve to guests at a kitty party.
Tandoori Paneer Tikka In Oven
Tandoori Paneer Tikka is marinated paneer, which is skewed and grilled or baked in an oven and makes for a perfect party starter. You would require:
Ingredients needed are:
250 gm paneer or cottage cheese
1 medium-sized onion
1 bell pepper (red, green or yellow)
For marination the ingredients required are
200 gm hung curd
1 teaspoon ajwain
1 tablespoon ginger-garlic paste
2 teaspoons Kashmiri red chilli powder
1 teaspoon jeera powder
½ teaspoon turmeric powder
1 teaspoon coriander powder
1 teaspoon dry mango powder
½ teaspoon garam masala powder
½ teaspoon black pepper powder
1 teaspoon chaat masala
1 tablespoon oil
½ tablespoon lemon juice
½ teaspoon black salt and regular salt as required
How to make it:
Chop the paneer and veggies in square shape and keep them aside.
Take the curd in a large bowl and whisk to smoothness, mix all the spice powder with curd and add paneer and veggies to this marinade.
Refrigerate for two hours and then bring the marinated mixture to room temperature.
Skewer the paneer and veggies alternatively on skewers, arrange them in a plate and brush with little oil or butter.
Keep them in a preheated oven (for 15 minutes at 240 degree Celsius) and then bake it for 20 minutes 240 degree Celsius or till it turns golden; don't forget to turn the skewers, halfway during the baking process.
Now take out the paneer and veggie cubes on a plate, sprinkle some lemon juice and chaat masala and serve hot with mint chutney and onion rings.
Khaman Dhokla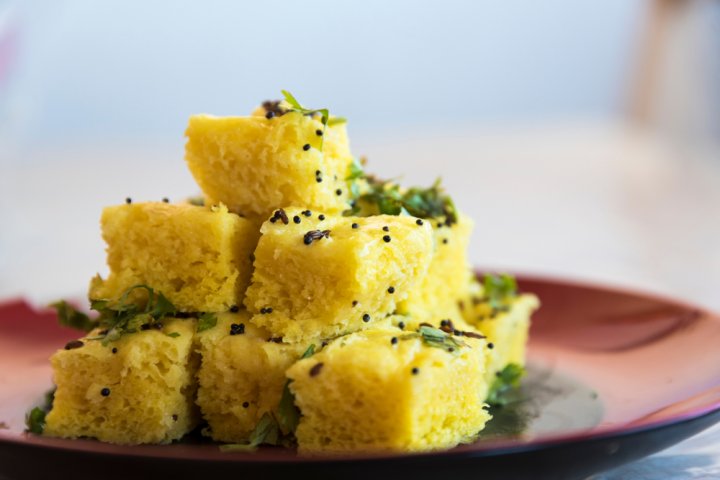 Khaman Dhokla is a popular Gujarati snack which is yummy, light and fluffy. The basic ingredients required for the batter are:
Ingredients needed are:
1.5 cup gram flour (besan)
1 tablespoon semolina
2 pinches turmeric powder
3 teaspoon ginger-green chillies paste
2 tablespoon eno
2 pinch asafetida
1 teaspoon lime juice
salt as required and 1 cup water
For tempering khaman, you would need
1 teaspoon mustard seeds
1 teaspoon cumin seeds
2 teaspoon white sesame seeds
1 chopped green chilli
8 to 10 curry leaves
2 teaspoon sugar
1 teaspoon lime juice
2 tablespoon oil and 1/3 cup water and for garnishing
2 tablespoons grated coconut and 2 tablespoon chopped coriander leaves are required
How to make it:
Grease a microwave-safe pan with ½ tbsp oil.
Now take 1.5 cups besan in a bowl and add asafetida, turmeric powder, lime juice, ginger-chillies paste and salt.
Add 1 cup water, stir to make a soft paste and then add semolina.
Again stir to a thick batter minus any lumps.
Now boil 3 cups of water in a cooker, add eno and then the batter.
Stir so that the batter becomes frothy and bubbly, and then pour this batter into the greased pan.
Now cover and cook on high temperature in microwave for 2 minutes, check with a toothpick if it's done and if required, heat a bit more.
Once the dhokla is cooled, remove it from the pan.
For tempering, heat oil in a small pan, add mustard seeds and allow them to crackle.
Now while it's crackling, add cumin seeds, chopped green chilli and 10 curry leaves; stir, then add sesame seeds and as soon as the sesame seeds change colour, turn the stove off.
Add 1/3 cup water (be careful of the sudden sizzle), sugar, again stir and allow the mixture to come to a boil.
Let the mixture cool and then pour this mixture evenly on the dhokla.
Garnish with coriander leaves and grated coconut and serve them to your guests.
Veg Shammi Kabab
A veg version of Shammi kabab, made from black chickpeas, this is a delicious snack which can be also used for a full-fledged meal with paratha, mint chutney and onion rings. For preparing these crispy veg Shammi kababs, you require:
Ingredients needed are:
1 cup dried black chickpeas
2 cup water
½ tbsp salt for pressure cooking the chana
1 medium sized finely chopped onion
1 teaspoon coriander powder
1 finely chopped green chilli
½ teaspoon garam masala powder
½ teaspoon red chilli powder
½ tablespoon ginger paste
2 tablespoons gram flour
2 tablespoon chopped coriander leaves
salt as per taste and oil for frying.
How to make it:
Soak the black chickpeas overnight, drain the soaked water and pressure cook for 15 minutes with salt and water.
If the chickpeas are cooked well, then drain the water and turn the chickpeas in a large bowl and mash them into a semi coarse mixture.
Now add all the ingredients except oil; mix it well and make small round shaped kebabs.
Now fry them in oil on a medium flame till they turn crisp and turn brown on both the sides.
Drain them on paper napkins and serve hot with onion mint salad and some mint chutney.
Cheese Balls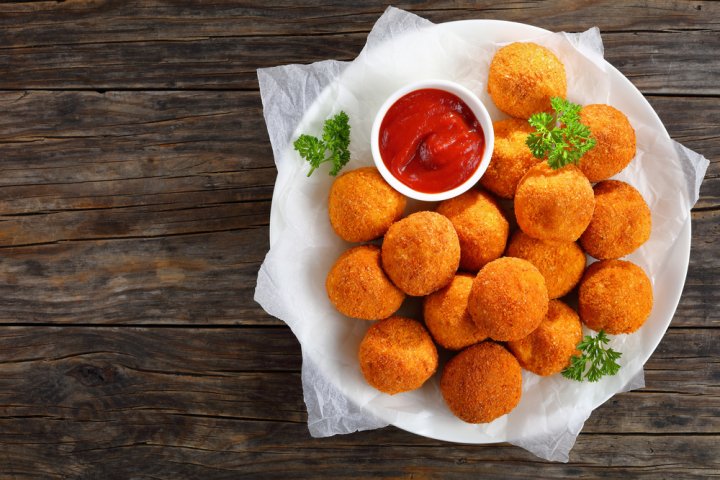 To make tasty and pretty looking cheese balls, you require:
Ingredients needed are:
3 small potatoes
60 gm cheese
1 pinch garam masala
⅓ teaspoon black pepper powder
4 tablespoon besan
1.5 tablespoon chopped coriander leaves
3 pinches black salt and oil for frying
How to make it:
Boil the potatoes, peel and mash well in a mixing bowl.
Allow the mashed potato to cool down and then add all the spices, mix well and then add cheese and salt and again mix nicely.
Now make small balls from this mixture and test fry a tiny ball in hot oil in a frying pan.
Turn over when the balls start to become golden and fry till the balls become crisp and golden.
Take them out on kitchen paper towel and serve hot with tomato ketchup.
From our editorial team
What Healthy Vegetarian Snacks Are on Your Plate?
Hopefully, we were able to open your eyes to the variety of healthy veg snacks recipes out there! You can make it with cooking and without cooking all of the snacks are nutritious, delicious and easy to prepare. To get started, simply pick a few of your favourites and enjoy as part of a healthy, well-rounded vegetarian diet. If you're interested in the delicious veggie-based recipes, then stay connected with us.