The Simplest Egg Recipes at Any Time of the Day!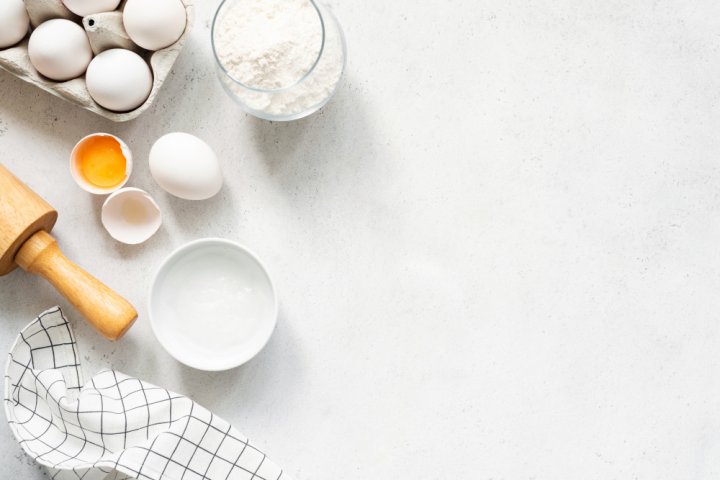 A hectic morning schedule is a regular thing for most of us now. Surely, you are hunting for ways to cut down the chase and come up with quick recipes for breakfast. After all, it is the most important meal of the day and must not be omitted at any cost. So, what could be simpler than quick egg recipes? It is one of the most versatile and convenient ingredients to work with. Talking about eggs, it is an all-arounder when it comes to any meal and is also perfect for lunch and dinner. They were literally made to be eaten at any time of the day! Below, we bring you some easy and interesting egg recipes that suit any meal!
5 Simple Egg Recipes You Can Make at Home
Are you always in a rush but don't want to quit on a meal? Are you tired of ordering from outside and looking to make some homemade food? Are you working on a diet and searching for healthy options? Quick and simple egg recipes are a solution to any of these questions indeed! Here are some simple egg recipes:
1. Egg Omelette in a Cup
Made from beaten eggs, an omelette is probably one of the most known egg recipes. There are many variations to the basic omelette recipe for you to experiment with. Also, it is one of the most filling meals, perfect for breakfast and dinner.

Here is an interesting take on the classic egg recipe that calls for minimal ingredients. It is healthy as well as tasty!
Ingredients needed
4 eggs
2 egg whites
½ tsp black pepper powder
Salt to taste
Capsicum- ¼ cup
Onions- ¼ tbsp
Oil
How to Make
Crack open the eggs into a mixing bowl.
Add the egg whites and the rest of the ingredients (except oil).
Whisk well until combined.
Take 4 microwavable cups and grease them with oil.
Pour the egg mixture equally into the greased cups.
Place the filled cups into the microwave and heat for 2 minutes.
Insert a fork and check if done.
Tip: If you see the mixture bubbling out of the cup, stop and stir. Then, place it back into the microwave.
2. Shakshuka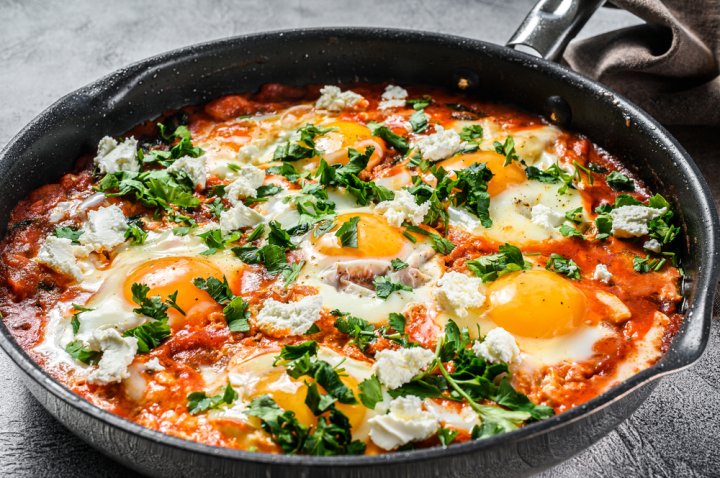 Shakshuka is a middle eastern egg recipe loaded with amazing flavors, yet it is effortless to make. Apart from the chopping part, cooking this tasty and delicious dish hardly takes up any time.
Ingredients required
5 eggs
Red capsicum - 1
Half an onion
2 cups of tomato puree/sauce
2 tomatoes chopped
1 clove of garlic
½ tsp chili powder
½ tsp pepper powder
¼ tsp paprika powder
Salt as needed
Olive Oil
How to Make
Drizzle olive oil into a pan, and add the onion, garlic, and capsicum.
Sauté for 5 to 6 minutes.
Add the chopped tomatoes, tomato puree/ sauce, and the spices and salt.
Now sauté till done well.
Crack open the 5 eggs with space apart from each. Do not mix into the sauce!
Cover the pan and let cook for 5 to 6 minutes.
Remove from the heat and serve.
Tip: Always be careful not to overcook the eggs. It should be runny while serving.
3. Waffle Omelette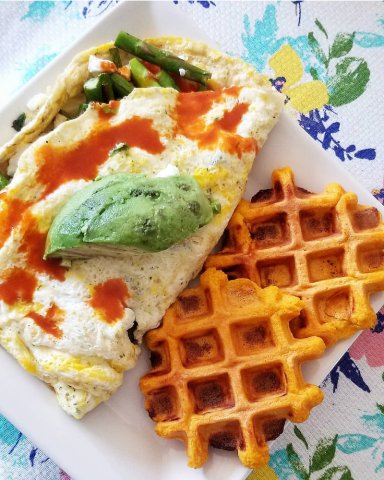 Here is a fun and easy way to cook your eggs. Not only do you get a super fancy meal but also plenty of time as you don't have to hover around the stove while it gets cooked. Eggs in a waffle maker is convenient to make. Besides, you can customize it with any ingredients that you prefer!
Ingredients required
2 eggs
½ cup carrot
½ cup capsicum
Salt, to taste
Pepper, to taste
Cooking spray
How to Make
In a bowl, add the eggs. Beat it well until fluffy.
Now, add in the other ingredients. Combine well.
Next, grease a waffle iron with the cooking spray.
Pour the egg mixture into the waffle maker and leave it closed until cooked.
4. Baked Tomato Egg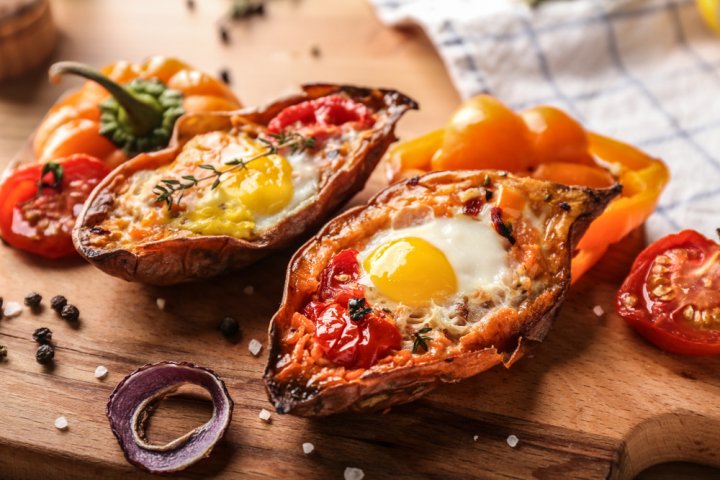 If you like the combination of eggs and tomato, with a dash of spice to it, then this simple egg recipe is for you. Be it any rush hour of the day, this deliciously simple recipe with eggs and tomato is sure to save the day!
Ingredients required
2 eggs
2 tomatoes - medium large
1 tsp parsley
¼ tsp mixed herbs
Salt, to taste
Pepper, to taste
How to Make
Take a tomato and scoop out the insides. Scrap off with a spoon.
Next, crack open an egg into this tomato bowl.
Sprinkle the herbs, salt, and pepper over the eggs.
Microwave till eggs are cooked. Probably will take around 5 minutes.
Tip: Never use overripe tomatoes for this recipe.
5. Cheese Egg Muffins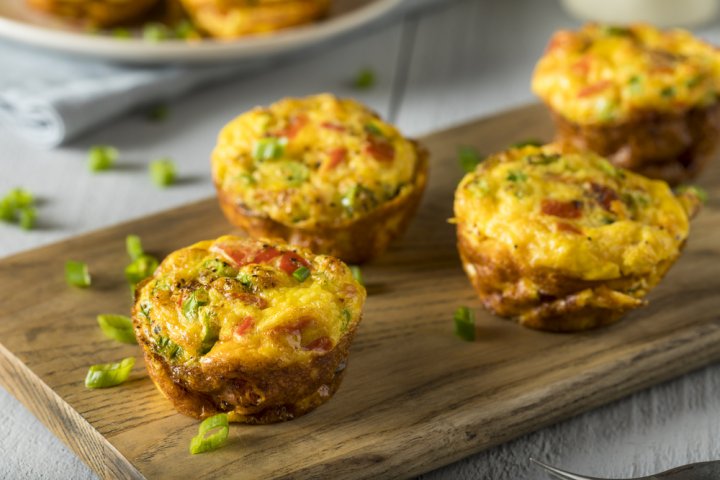 This is a great low carb take on a simple egg recipe. Besides, it is a make-ahead recipe that leaves you feeling relaxed on any busy day! The addition of green chilies and cheese to the eggs makes for a heavenly and delicious treat that you will enjoy for sure.
Ingredients required
5 eggs
1 tbsp green chilies (chopped)
1 cup cheese
1 tsp herbs seasoning
½ cup chopped onions (optional)
Salt and pepper (to taste)
How to Make
Preheat the oven to 190° C.
Spray the baking cups with nonstick spray.
In a bowl, add the eggs, salt, and pepper and beat well until combined.
In the baking cups, first put grated cheese.
Sprinkle the green chilies and onion over this.
Next, pour the egg mixture onto the cups.
Gently stir the cups with a fork.
Bake in the oven until all the muffins are puffed up and cooked well.
Tip: While reheating the muffins, make sure not to overheat them. It turns rubbery if overheated.
Bonus: Easiest Egg Recipe Ever!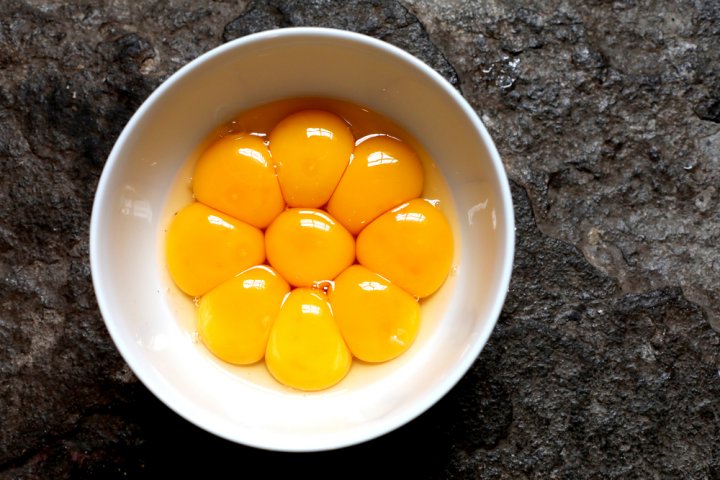 There are plenty of ways that you incorporate eggs into your diet. There are literally loads of recipes on the internet for you to try out. But if you are in search of the easiest egg recipe on earth, then here is one! Slice boiled egg whites into half and remove the yolks into a bowl. Add hummus, salt, and pepper to the yolks, mix well, and fill the egg halves with it! It couldn't get any easier than that!
Writer
Rubina Cheruvalath
Rubina is a free thinker and a dreamer. She believes that there is something to be learnt from everything. In spite of securing a technical education, Rubina chose to think beyond it and work in the management field. A proud mum of two boys, she aspires to explore the world with her family and create cherishable memories.
From our editorial team
Who Should Avoid Eating Eggs?
Though considered a protein bomb for the human body, eggs also bring with themselves amounts of cholesterol; therefore, people who have heart diseases or are at the risk of heart diseases must avoid them or keep egg intake at minimal.