Why Should You Be Eating Mangoes this Season?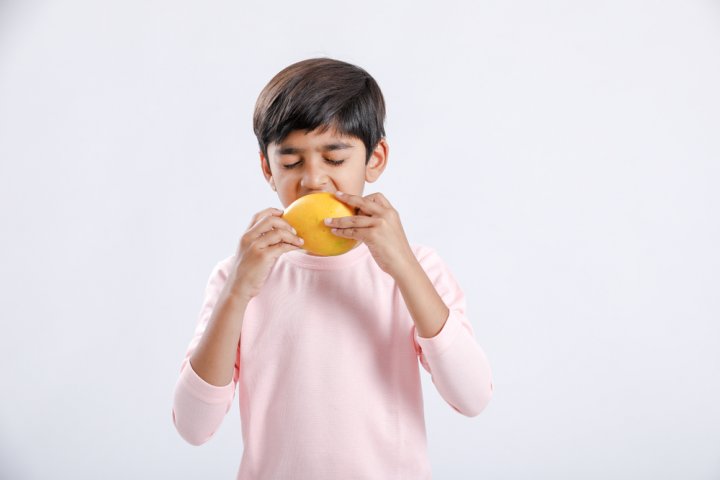 Mangoes are considered as wonder fruit reasons: one, the most delightful and delicious taste it offers. And two, the nutritional and health benefits that it provides. Apart too there is another reason why it is also a very popular fruit since time immemorial. Mangoes blend in perfectly well with any recipe; be it sweet or savoury.

If you have not given enough speculation into the medicinal and health benefits of the mango, then here is some food for thought for you.
Protects against heat strokes: Ayurveda suggests having the mango fruit in summer to energize the human system and to regulate normal blood flow during the hot months. Moreover, mangoes will help you in hydrating the body and minimize the feeling of dryness if you are out in the sun for long.


Strengthens the immune system: Mangoes are a powerhouse of carotenoids and vitamins A and C. These nutrients play a vital role in strengthening the human immune system. Considering the prevailing pandemic situation, there is no doubt that you should be doing all that it takes to strengthen that immune system of yours!


Supports digestion: Mangoes are jam-packed with fibres, which is very beneficial towards digestion by making the elimination of food waste easy. Moreover, mangoes are rich in enzymes that aid in breaking down proteins and eases up the assimilation of food in the body.


Good for the skin: Being a great source of beta carotene, mangoes are one of the best remedies for skin problems. Beta carotene in the mangoes gets converted to vitamin A in the body and help to promote healthy and glowing skin by cleansing from inside out. Moreover, mangoes make for an excellent scrub for the entire body!


Maintaining cholesterol levels: Vitamin C, pectin and fire in mangoes aid in lowering bad cholesterol levels. Moreover, the potassium in mangoes is amazingly beneficial in controlling blood pressure and heart rate.
Sweet Recipes with Mango
Mango Cheesecake
This recipe is a desi take on the authentic mango cheesecake where in cheese is replaced with hung curd or dahi.
Ingredients
For the base
Arrowroot or digestive biscuits – 125 gm
Butter- ¼ cup
Powdered sugar- 1 tbsp
For the filling
Mango pulp- 1 cup
Sugar- 1 cup
Salt
Egg yolks- 4
Gelatin- 3 tbsp
Cream- 2 cups
Hung curd- 2 cups
Mango slices for garnishing
How to Make
Powder the biscuits and add melted butter and sugar to it. Line the base of the cake tin evenly with this mixture and pat to flatten it. Leave it to cool.
Double boil the gelatin with ½ cup of water till melted. Add the mango pulp, sugar, salt and the egg yolks to a bowl and mix well.
Cook this over low heat till combined well and slightly thickened. This is the custard. Add the gelatin mix to the custard and stir well till combined. Remove from heat and leave to cool.
Whip the cream till thick and slowly fold this into the custard mix. Also, add in the curd and mix well.
Transfer this mixture over the biscuit layer in the cake tin. Decorate the top with mango slices. Refrigerate for at least 6 to 8 hours.
Quick Mango Pudding
This simple and delicious pudding combines the sweetness of the ripe mangoes and the sourness of passion fruit. Making a pudding can't get any easier than this!
Ingredients
Mango- 1 ripe
Vanilla ice cream- 6 scoops
Thick cream- 2 tbsp
Passion fruit- as required
How to Make
Peel the ripe mango and dice it up. Add this to a blender or food processor and whizz it up to form a smooth puree.
Add the vanilla ice cream and the thick cream and blend again. Transfer this into the serving bowls.
Scoop the passion fruit and place this onto the top of each of the mango pudding bowls. Place in the refrigerator and serve chilled.
Mango Hand Pie
Mangos make for a great filling for pies as they taste delicious in combination with puff pastry. Here is an easy, no-fry recipe of a mango pie.
Ingredients
Fresh ripe mango- 1 ½ cups
Vanilla essence- ½ tsp
nutmeg powder- 1/8 tsp
Puff pastry sheets
Milk- 2 tbsp
Cinnamon powder- ½ tsp
Honey- 1 ½ tsp
Egg white- 1
Powdered sugar- 1 ¼ cups
How to Make
In a heated pan, sauté the diced mango for around three minutes. Add the vanilla extract, honey, and spices and cook for another 2 to 3 minutes. Keep stirring. Remove from the heat.
Now, allow cooling completely. Defrost the puff pastry sheets and cut 6 circles using a 6-inch biscuit cutter. Place 1 tbsp of the cooled mango filling into the centre of each of the puff pastry circles.
Fold in half and pinch the edges to stick well. You may use a fork to seal the edges well.
Beat egg white in a bowl till frothy. Brush the top of the pies with this mix to get the perfect glaze. Bake this in a preheated oven for about 15 minutes.
Tropical Mango Pops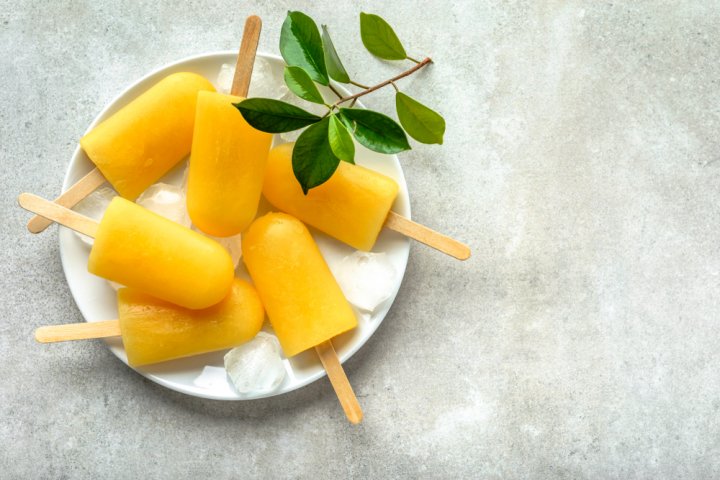 Here is a recipe that is truly a tropical getaway. This tropical mango pop is a delicious sweet treat that you would enjoy on any hot day! Plus, a great way to treat the kids when they ask for ice lollies!
Ingredients
Fresh ripe mango - 2 cups
Coconut milk - 1/3 cup
Fresh lime juice - 1 tbsp
How to Make
Place all three ingredients into a blender or food processor. Blend well until smooth. Pour into pop moulds and freeze until firm.
Mango Lassi With A Twist
This recipe is a contemporary take on the traditional mango lassi. Mango sorbet and fresh mango pieces go into this delicious sweet drink. Mango sorbet can be made at home by blending simple sugar solution, mangoes, and lime juice and then chilling them until firm.
Ingredients
Fresh ripe mango - 1
Mango sorbet - 2 big scoops
Yoghurt - 150 gm
Milk - little/ as needed
Chopped pistachios - for garnishing
How to Make
Place the mango pieces, mango sorbet, and yoghurt into a blender or food processor. Add milk as needed to make the lassi thin. Pour into glasses and garnish with chopped pistachios.
Savoury Recipes with Mango
Mangoes are a versatile ingredient and make up for both savoury as well as sweet dishes. Although they are more popular with sweets and desserts! Here are a few amazingly delicious mango savoury dishes that incorporate the sweetness of mangoes into savoury ingredients.
Mango Pilaf
In this nutritious delicacy, the sweetness of the mango is not cloying. It is balanced with the savoury, salty and spicy notes. Perfect when served with curd raita or dal curry.
Ingredients
Basmati rice (soaked and drained) - 1 cup
Mango puree - 1 cup
Water - 1 cup
Biryani masala - ½ tsp
Mustard seeds- 1 tsp
Coconut oil- 1 tsp
Turmeric- ¼ tsp
Green chillies - 2
Salt
Curry leaves
Cashews (soaked and drained) - ½ cup
How to Make
Heat oil in a pan. Splutter the mustard seeds.
Add the curry leaves, green chillies, and turmeric. Sauté well for around 20 seconds.
Add the rice and sauté till grains turn opaque. To this, add the mango puree, cashew nuts, biryani masala, water and stir well — cover and cook for 20 minutes.
Once cooked, fluff with a fork and serve hot.
Mango Chutney Chicken
This curry and mango chutney combination of the chicken dish is a winner as it hits all the right spots- sweet, sour, and spicy!
Ingredients
Boneless chicken cubes - ½ kg
Curry powder - 1 tbsp
Mango chutney - ½ cup
Minced garlic cloves - 1 tbsp
Salt
Pepper
Cooking cream - ½ cup
How to Make
Heat oil in a large pan. Add the chicken and brown well. Add in the curry powder, salt, pepper, garlic, and stir well - Cook for around 2 minutes.
Add the mango chutney and bring to a boil. Reduce the heat, cover, and cook until chicken is done. Stir occasionally.
Mango Salsa
Salsa is a sweet and savoury relish that is great as a side dish for veg and non-veg dishes. It is probably the easiest and quickest no-cook recipes with mango fruit.
Ingredients
Ripe mango - 1
Red bell pepper- 1
Chopped red onion- 1/3 cup
Fresh lime juice- 2 tbsp
Cilantro/ coriander leaves (chopped)
Salt
Pepper
How to Make
Dice up the mango and bell pepper into cubes. Mix all the other ingredients with the mango and bell pepper. Refrigerate for up to 4 hours and serve chilled.
Mango Pulissery
An authentic south Indian delicacy, this sweet-savoury combo dish speaks of the proud heritage of Kerala.

Ingredients
Ripe mangoes (peeled) - 5
Green chillies- 3
Turmeric powder - ½ tsp
Coconut (grated) - ½
Cumin- ½ tsp
Garlic cloves- 4 to 5
Curd- ½ liter
Coconut oil
Fenugreek, Mustard seeds, dried chillies, curry leaves- for tempering
How to Make
Heat oil in a pan. Add the mangoes, green chilies, and turmeric powder. Cook till soft.
Grind the coconut, cumin, and garlic into a fine paste. Add this paste to the cooked mangoes.
Mix well and cook for 2 minutes. Let the mixture cool. Add the curd to this.
In another pan, add oil and splutter the mustard seeds. Add fenugreek, dried chilies, curry leaves and temper. Add this onto the dish.
Mango Kadhi
This version of the mango kadhi is a twist to the traditional Gujarati dish, also called "Fajeto".
Ingredients
Mango puree - 1 cup
Besan/ chickpea flour - 2 tbsp
Ginger - 1 tbsp
Green chilli - 2
Oil - 2 tbsp
Fenugreek - ½ tsp
Mustard seeds - 1/2 tsp
Cumin seeds - ½ tsp
Asafetida - ¼ tsp
Dry red chillies - 2 to 3
Turmeric powder - ½ tsp
Curry leaves
Salt
How to Make
Place the chickpea flour, ginger, curd, and green chillies in the blender and make a smooth paste. Heat oil in a pan.
Add the mustard seeds, cumin, fenugreek, asafetida, dry red chilies and curry leaves. Now add the curd paste, 3 cups of water, turmeric powder, salt, and the mango puree.
Bring the kadhi to a boil and cook in low flame for 20 minutes. Heat ghee in a pan and temper mustard, fenugreek, cumin, and dry red chillies.
Pour the tempering over the cooked kadhi. Serve hot.
Bonus: Immunity Booster Mango Drink
With the flu season around the corner and the COVID 19 pandemic fear conquering more heights, one must keep the body prepared to fight it. Recipes that enhance the immunity building power of the body are much in demand these days. Mango is a magical fruit that is said to be a powerhouse of antioxidants and also has many medicinal benefits, including increasing immunity of the body.

This golden vibrant mango smoothie is jam-packed with vitamins and minerals that is sure to increase the disease-fighting strength of the body.
Ingredients
Mango cubes - 1 cup
Banana (frozen) - 1
Orange (peeled and pitted) - 1
Turmeric powder - ¼ tsp
Almond milk - 1 cup
Black pepper - a pinch
How to Make
Blend all the ingredients in a blender or food processor until smooth and creamy. It is best when consumed immediately. But can also be stored in the fridge for one to two days.
Writer
Rubina Cheruvalath
Rubina is a free thinker and a dreamer. She believes that there is something to be learnt from everything. In spite of securing a technical education, Rubina chose to think beyond it and work in the management field. A proud mum of two boys, she aspires to explore the world with her family and create cherishable memories.
From our editorial team
Make Mangoes a Part of Your Daily Diet!
Mangoes are great to be consumed fresh but equally tempting when incorporated with any dish - sweet or savoury. We suggest you make the best out of the seasonal fruit and make it a part of your daily diet, as the benefits of doing so are so many!