Easy and Convenient! Mug Meals are a Life Saver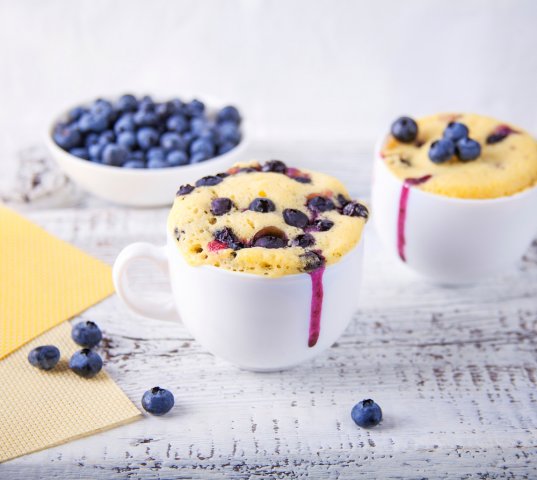 There are times when you are not in the mood of cooking traditional dishes or you are running short on time, this is when mug meal recipes can be a great option. Mug meals are easy and convenient because they are quick meals that can be prepared in a few minutes. They are a real treat not only for your taste buds but can be served as snacks or as proper meals. Moreover, they are highly nutritious and are enough to satiate untimely hunger pangs.

Moreover, mug meals can be prepared without creating a mess in the kitchen and do not require lots of ingredients. Furthermore, they are not really very expensive to make, and anyone in your family can make them without any difficulty, be it your kids or parents. If you are not willing to spend tons of money on hundreds of ingredients and complex dishes, try out these recipes and save yourself all the trouble.
Savoury Mug Meal Breakfast Recipes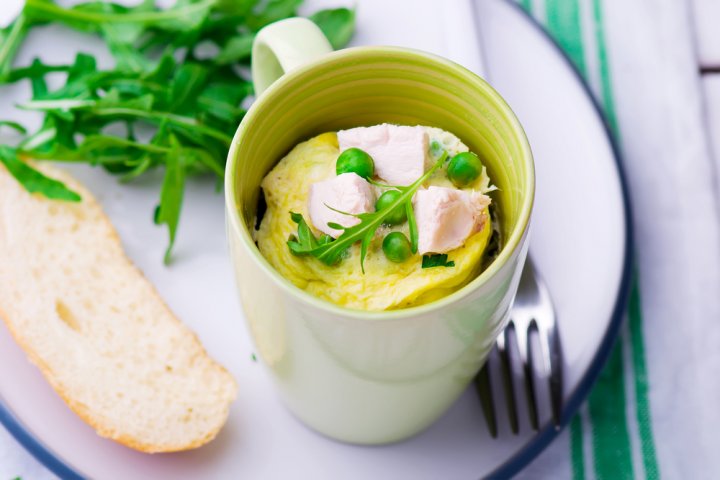 Egg in a Cup
To cook an easy yet delicious breakfast, give this egg mug a try:
Ingredients:
1 large egg
10 gm polyunsaturated margarine
100 ml water
1 slice wholemeal bread
1 x 5 ml spoon malt or white vinegar
Method:
The equipment required for this purpose is a measuring jug, a small bowl, knife, measuring spoons, a microwave-safe mug, kettle, knife, toaster, sharp knife, dessert spoon or slotted spoon, tissue paper and oven gloves.
To get started, first boil 100 ml water in the kettle.
Next, take a small bowl and crack an egg in it.
Simultaneously, toast a slice of wholemeal bread and apply a thin layer of margarine over it.
Next, cut it into almost 5 cm of squares.
After this, fill ⅓ cup with hot water and pour in the vinegar.
Next, add the egg and prick the yolk with the tip of a sharp knife.
Now, place the mug in the microwave for about 30-40 seconds on full power.
However, the timing depends on the intensity of the oven.
Check the egg immediately if you hear any sound as the egg may be cooked.
Now, remove the cup and turn the egg over by using either a dessert spoon or a slotted spoon.
Next, place it back in the microwave to cook the other side and heat it for about 15 seconds on full power.
Now, take out the cup and remove the egg by using a slotted spoon and put it on a folded piece of tissue paper.
Now, drain away the water and dry the cup with a tissue paper before putting the egg back.
Lastly, add the toast to the cup and serve it hot. You may also sprinkle some salt and pepper on it according to your taste.
Cheese Omelette
To spice up your mornings, try out this delicious cheese omelette:
Ingredients:
1 cup stale bread pieces
¼ cup pre-cooked finely chopped meat
¼ cup diced vegetables
2 tbsp shredded cheese
1 tbsp butter
3 tbsp milk
1 large egg
A dash of salt and pepper
Method:
Begin by adding the butter to the mug and microwave it for 20 seconds or until the butter is completely melted.
Next, take a bowl and crack the egg into it. Whisk it properly with milk.
Now, add salt and black pepper according to your taste.
After this, stir the meat, vegetables, and cheese into the egg mixture.
Now, add this mixture to the mug and fold in the bread cubes.
Now, leave the mug for 60 seconds so that the mixture gets absorbed completely.
Then, microwave it for 1½ minutes or until the mixture is solid and cooked.
You may then sprinkle some fresh parsley over it and serve hot.
Beef and Egg Breakfast Mug
In order to make amazing beef and egg breakfast mug, follow this mouth-watering recipe:
Ingredients:
Beef sausages
1 cup chopped fresh vegetables
½ cup shredded cheese
8 eggs
Salt and pepper as per taste
Method:
You can use tomatoes, capsicum, baby spinach, bell peppers, zucchini, or green onions, etc.
For cheese, you can take any of your choices such as cheddar cheese, American, or Monterey Jack.
For toppings, you can go with salsa, ketchup, sriracha or sour cream. The toppings are completely optional.
To begin, start by mixing 1 pound ground beef with either 2 tsp chopped fresh sage or ½ tsp rubbed sage, 1 tsp garlic powder, 1 tsp onion powder, a pinch of salt and crushed red pepper. Make sure all the ingredients are combined well.
Next, heat oil in a large non-stick pan at a low-medium flame.
Add the sausage mixture to it and cook for 10-12 minutes on a medium-high flame, occasionally stirring and breaking into a half inches crumbles.
Now, spray cooking oil in a microwave-safe mug and add 1 egg and 1 tbsp water to it.
Whisk the egg well and add the sausage mixture.
Now, place the mug in the microwave and cook it for 60 seconds on high power or until the egg is set.
Now, top it with cheese and microwave it again for 20-30 seconds.
Lastly, season it with salt and black pepper and serve hot with the toppings.
You can refrigerate the sausage mixture for up to 4 days for later use.
Savoury Mug Meal Lunch Recipes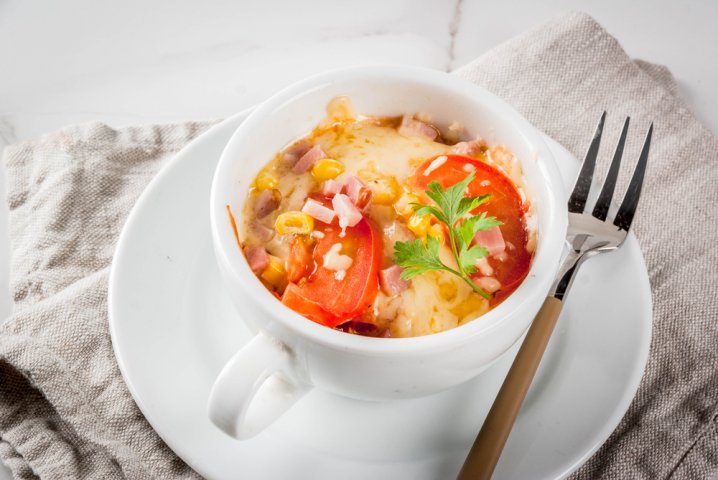 Cheese and Herb Muffin
Give your day a fresh start with these cheese and herb muffins:
Ingredients:
100 gm parmesan cheese
10 gm fresh basil
10 gm fresh chives
1-2 sprigs fresh thyme
250 gm self-raising flour
5 ml bicarbonate soda
85 ml sunflower oil
2 eggs
100 ml semi-skimmed milk
100 ml low-fat natural yogurt
Method:
Start this recipe by grating the parmesan cheese, and washing the herbs.
After this, chop all the herbs finely either with scissors or a sharp knife.
Do not forget to remove the stems of thyme.
Next, take a mixing bowl and add in the flour and soda. Combine both the ingredients well.
Now, add parmesan cheese and chopped herbs in the same bowl.
Next, measure the oil with a measuring jug.
Then, take a bowl and beat the eggs in it.
Now, add these whisked eggs to the oil.
After this, measure out the milk and yogurt, then add them to the measuring jug containing the oil and egg mixture.
Next, combine both the wet and dry ingredients and stir well.
Then, spoon the mixture into the mugs.
Now, place the mugs in the microwave to cook for about 4 minutes on full power. Make sure they are firm when taken out.
Serve hot with a cup of coffee.
Egg Fried Rice in a Mug
If you are running short on time, try out this recipe, and treat yourself:
Ingredients:
1 cup cooked jasmine rice
2 tbsp frozen peas
2 tbsp chopped red pepper
½ stalk sliced green onion
1 tsp mug bean sprouts
1 tsp shredded purple cabbage
1 large egg
½ tsp oil
½ tsp onion powder
¼ tsp five-spice powder
Method:
Start by putting the rice into a large mug.
Now, layer the peas, red pepper, beans, green onions, and cabbage on the top.
Then, cover the mug with a cling film to prevent anything from falling out.
Now, make one or two holes with a knife tip in the film.
After this, microwave the cup on full power for about 1½ minutes.
Simultaneously, whisk the egg and add in the dried seasoning.
Pour this mixture into the mug and mix it with the vegetables and rice.
Again, cover the mug with the wrap and microwave it for 1½ minutes.
Now, remove the mug and give all the ingredients a good stir.
Use a fork to check the rice. Make sure everything is properly cooked. Serve hot.
Egg, Ham and Mushroom Cup
This egg, ham and mushroom cup recipe is really easy and quick to cook:
Ingredients:
4 eggs
4 tbsp water
⅔ cup finely diced mushrooms
3 thin slices deli ham chopped
¼ tsp grounded black pepper
2 tbsp grated cheddar cheese
Method:
Start the recipe by spraying 2 microwave-safe coffee mugs with olive oil or any cooking oil of your choice.
Next, crack 2 eggs in both the mugs.
After this, add 2 tbsp water into each mug and whisk well.
Once the mixture is combined, stir in the diced mushrooms, black pepper, and ham. Make sure the ingredients are divided equally in both the mugs.
Next, put the mugs into the microwave for 60 seconds at full power.
Stir the mixture in each mug and microwave it until the eggs are set, for almost 60-90 seconds.
Lastly, sprinkle some cheese over them and serve hot.
Savoury Mug Meal Dinner Recipes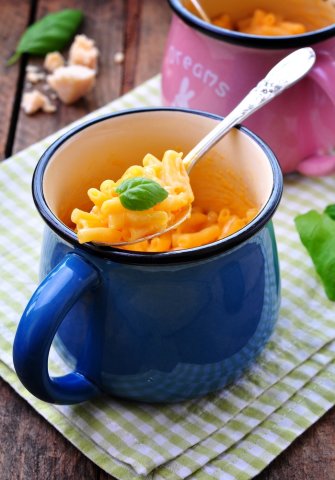 Microwave Mug Pizza
If you are in the mood for a pizza, make this one with only a few ingredients:
Ingredients:
3 tbsp plain flour
A dash of baking powder
A pinch of bicarbonate soda
A pinch of salt
3 tbsp milk
1 tbsp oil
1½ tbsp tomato pasta sauce
1½ tbsp grated cheese
A pinch of oregano
½ tbsp sliced pepperoni
Method:
Take a large mug, add in the flour along with the baking powder, bicarbonate of soda, and salt.
Next, pour in the milk, oil, and combine all the ingredients well.
Now, top it with a pasta sauce, and sprinkle over the cheese and oregano.
Now, put the oven-safe mug in the microwave and cook it on full power for 60 seconds.
Now, remove it and add the pepperoni slices.
Then, microwave it again for about 20 seconds and serve hot.
Ramen
To make quick and delicious dinners, make this ramen recipe:
Ingredients:
1 cup chicken stock
¼ portion ramen noodles
2 tbsp frozen mixed vegetables
2 tsp dark soy sauce
½ tsp chili sauce
1 tbsp sliced green onions
Method:
Start by adding all the ingredients to the mug.
Either take a big mug so that everything sets in or set the quantity accordingly.
Next, place it in the microwave and cook for 2 - 2½ minutes.
Take it out and check if the noodles are cooked.
After this, add chili sauce and green onions and serve hot.
You may also add other sauces and garnishes of your choice.
Burrito Mug
To make this delicious burrito mug, you need:
Ingredients:
1 large 9-inch tortilla
2 eggs
2 tbsp beans
2 tbsp grated cheddar cheese
2 tbsp chopped scallions
A pinch of salt
Pepper, salsa and sour cream for garnishing
Method:
Start by placing the tortilla in a mug and pressing it.
Next, break the egg in the tortilla and whisk it without tearing the tortilla sheet.
After this, add beans, scallions, and cheese.
Next, sprinkle some salt and black pepper.
Now, place the mug in a microwave and cook it on full power for about 90 seconds.
If it is not cooked properly, you can microwave it for again 30 more seconds.
Now, remove the mug and let it cool for sometime.
Serve it with sour cream and salsa.
Mac and Cheese
To cook easy and tasty mac and cheese, follow this recipe:
Ingredients:
½ cup elbow macaroni
½ cup water
3 tbsp milk
A pinch of salt and black pepper
¼ cup shredded cheddar cheese
Fresh chive for garnishing
Method:
Start by adding macaroni to a large mug.
Next, add water and salt, and microwave it for at least 3 minutes or until the macaroni is cooked.
After this, stir it and check the tenderness.
Next, put in the milk and mix well.
Now, sprinkle over some salt and pepper and mix again.
Microwave it for about 30 seconds or until cheese is combined well with the macaroni. Lastly, garnish it with fresh chives and serve hot.
Additional Tips for Making Mug Meals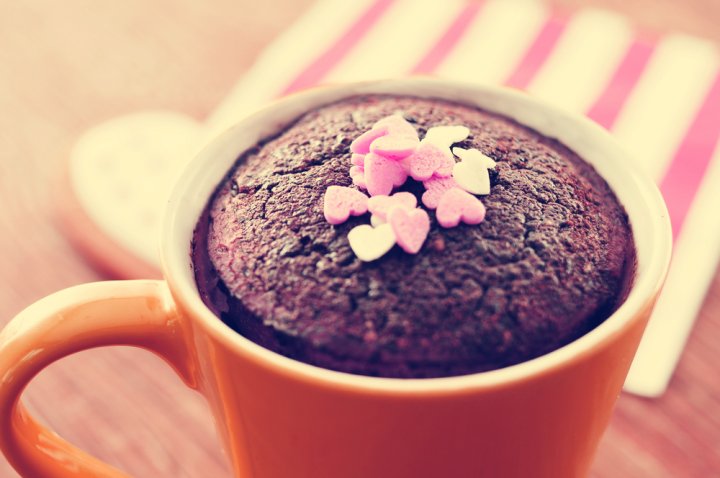 These are some important tips to keep in mind when preparing mug meals:
When making mug meals, make sure that the mug is microwave-safe so that it does not break or get damaged.
Also, do not overfill the mug with more liquid as it can spill while spinning and can create a mess or even damage the microwave.
Moreover, while taking out the mug, do not forget to wear gloves. This is so, because, the mug can be hot and may burn your hand.
In addition to all that, you can cover your mugs with cling films when placing them in the microwave to avoid splashes.
From our editorial team
Mug Meals – A Great Alternative to Full Meals
As you would have discovered by now, mug meals are a great alternative for full meals, particularly when you don't have time or are not in the mood to cook an elaborate and time-consuming dish. Moreover, they are extremely healthy, wholesome and delicious. We hope this BP Guide would have helped you decide which mug meal recipe you would like to try out for your breakfast, lunch and dinner. Share your experiences with us and stay connected for more such engaging content.