Art of Sharing Gifts on Christmas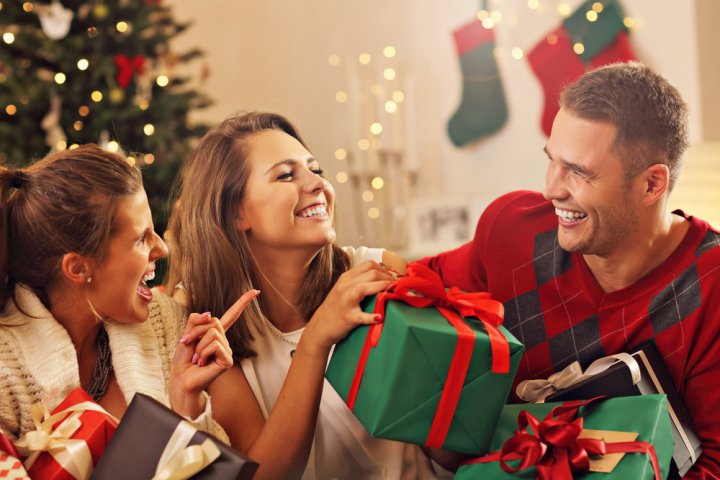 Christmas gifting is a fun tradition that goes back a long time. Like with every other major festival, giving presents on Christmas is a way to let family, friends, and relatives know that you love and care for them. Buying gifts for everyone is an extensive process, as presenting a gift at Christmas is a social practice, a way of affirming connections and giving thanks to everyone from your relatives to your co-workers. Christmas shopping has in fact given rise to a multi-million dollar industry.

But buying gifts for our near and dear ones is more than just a necessary formality. It's a means of strengthening the moral bond between you and your loved ones. However strategic, competitive or non-voluntary it may be, it still helps to bring you closer to your family and remind you that you are not alone in this world.
Guidelines for Buying Gifts for Him This Christmas
Choose Practical Over Frivolous Gifts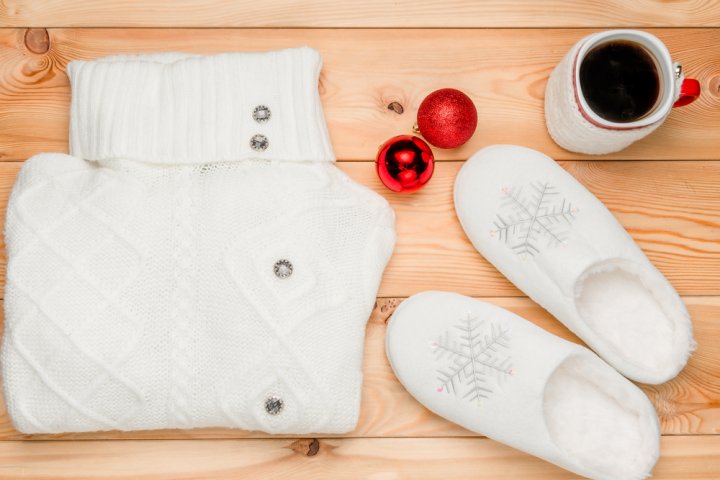 Gifts are a way of physically expressing your love for your boyfriend. When it comes to buying gifts for your boyfriend, there is practically no dearth of occasions. People assume that Christmas gifts should be expensive and extravagant. But before you go ahead and splurge on an expensive gift for your boyfriend, ponder a little over what he really wants. Will it not be better to get him something that he would actually use rather than blowing away your money on costly trinkets?

Choose seasonal and festive gifts that he would be able to use. Like a warm jacket or a sweater. If you are adept at knitting, you could knit him a scarf or a hat. You could give him bedroom slippers, or maybe a robe. Practical gifts don't essentially have to be boring. Even something as simple as socks can be a wonderful present if you pick a pair with a fun pattern.
Plan in Advance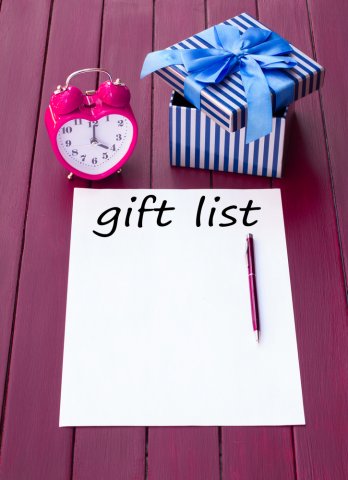 If you want to surprise your boyfriend with a wonderful Christmas gift without breaking the bank then you need to plan in advance. Advance planning also allows you the opportunity to customise gifts, order gifts online, and find good bargains. When you have time you can take advantage of sales and save money on gifts. Proper planning also will also help you decide on a better gift for your boyfriend as you will be able to explore options and check out multiple stores. When you order your gifts in advance, you can make up for any shipping delays and also have plenty of time to replace or change if the product is damaged or not to your liking.

A great way to ensure that you always have the perfect present for any occasion is to create a 'gift closet' in your home. It can be a box or a shelf where you could store all your gifts. Each time you come across a product that can be used as a gift, purchase it and place it in the closet, to be given to a specific person on a particular occasion. That way you never have to worry about a shortage of money or unavailability of a particular product in the market. You will have your very own gift store.
Try to Make the Gifts Personal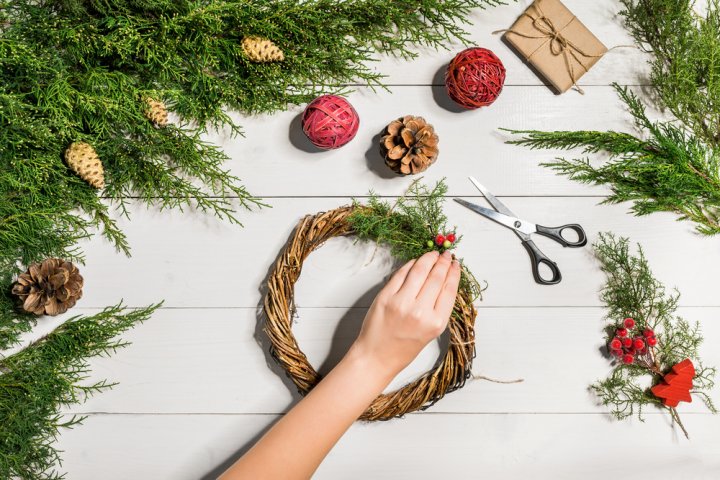 This Christmas, opt for a handmade gift for your boyfriend. DIY gifs might seem overwhelming to you but it's not too difficult to make. It also doesn't take much time creating a beautiful handmade present for your boyfriend. Start gathering all your supplies needed to make a handmade present so that you can make it easily afterwards. You can personalise it with his favourite saying, colour, name, and pattern.

The handmade present is the most beautiful way of expressing your love and care for him. It shows that you have given him your quality time to keep him happy. Handmade gifts can bring the tear, laughter, jaw-dropping expressions and many more. Making gifts on your own can help you to save money and when you will finish this creative project, it will give you immense joy. The moment you will see him wear, use or display what you have created for them will give you a special feeling.
10 Amazing Gifts You Can Give Your Boyfriend for Christmas
Aurora Ice Colour Changing Alarm Clock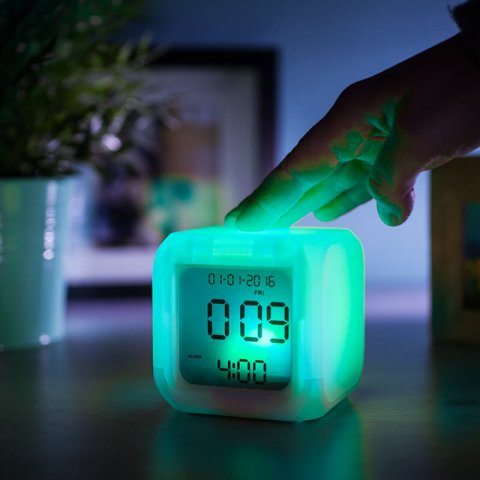 If your boyfriend loves gadgets, then this gift is a perfect choice for him. Gifting a clock means declaring that your time is his and his time is yours. This clock will look great on his nightstand and also help him wake up on time.

Aurora Ice Colour change clock is not just an alarm clock but also a bedside lamp. Just tapping the top of the clock turns on the light with a digital display showing 12 hours time format. The redeemimg feature of the clock is that the colour of the light changes every hour making it quite delighful to look at. The light can be switched on or put on 30 seconds timer. This clock runs on 4 AAA batteries. It also has an built-in alarm feature. Get this clock for Rs.1,428 on prezzybox.com
Constantin Double Trouble Puzzle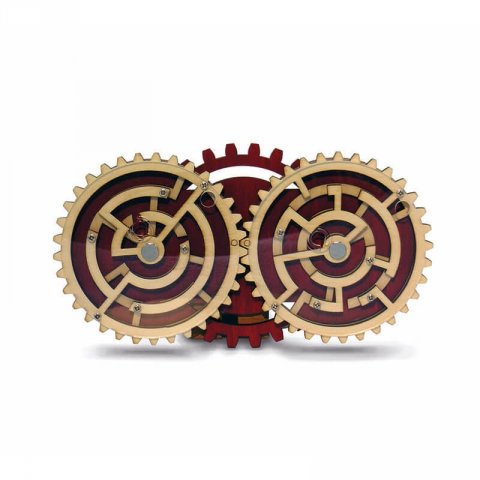 Solving puzzles improves memory power and increases creativity. If your lover is a dedicated puzzle fanatic, then he must always be on the lookout for puzzles and riddles that challenges his brain. If you want to get him intrigued, then you should give him cryptic crosswords, tangled mazes, and abstract jigsaw puzzles.

The Constantin Double Trouble Puzzle may look simple enough but is actually pretty hard tio solve. The design with two mazes and one ball in each which has to be manoeuvred in a way to get it completed, will surely get your boyfriends brain juices flowing. This Puzzle can only be completed with skill, experience, and subtle hand. Buy this Puzzle for Rs.1,428 on prezzybox.com
Ticket Stub Diary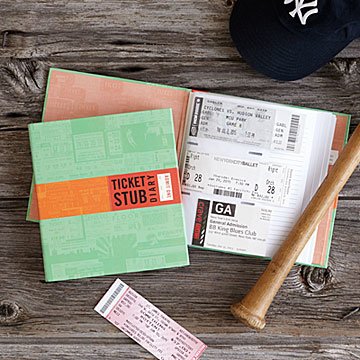 If your boyfriend is into the habit of preserving things like ticket stubs movie dates, concerts, amusement parks etc. then get him something to store these safely. These pieces of paper are memorabilia of your relationship and a reminder of happy times that you two have spent together.

This Ticket Stub Diary from uncommongoods.com will help you store all your precious collectibles safely and securely. It comes with clear sleeves that fit a variety of ticket sizes with extra space to jot down little notes. The pages are 100% acid-free. Buy this Ticket Stub Diary for Rs.826.
Surprise Him with a Weekend Getaway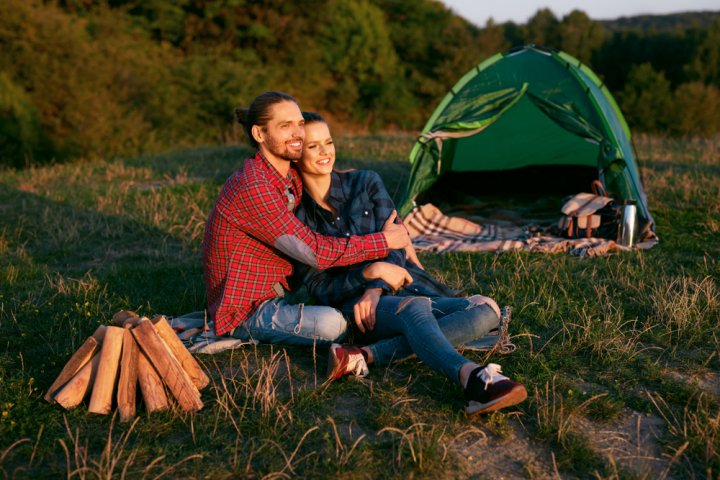 Plan a weekend getaway for you and your boyfriend. Celebrate Christmas in Kochi, where you can witness beautiful homes and churches decorated with ornamental lighting along with Christmas trees. Try some delicious traditional Keralian cuisine. There are many beautiful churches that you can visit. During this time Kochi also celebrates other festivals like Kochi Muziris and Cochin Carnival. Participate in the celebrations and experience a brand new way to celebrate Christmas. Munnar is another place you can visit during Christmas break. If your guy loves hill stations, then he would love Munnar which is known for its amazing weather and tea plantations.
Portable Table Tennis Set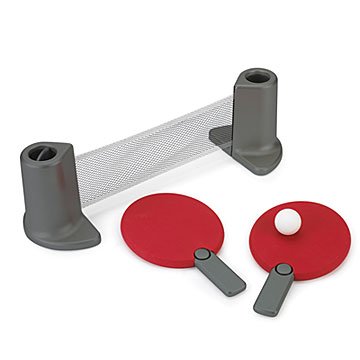 If your boyfriend spends his whole day in a cubicle then you can give him something which could entertain him and keep him proactive. This portable table tennis is fun for people of all ages and will make him more active.

The Table Tennis set from Uncommongoods.com is made of ABS plastic, polypropylene, and terylene making it lightweight and portable. You boyfriend will be able to carry it with him wherever he goes. Buy it for Rs.2,751.
Solar Powered Charger and Light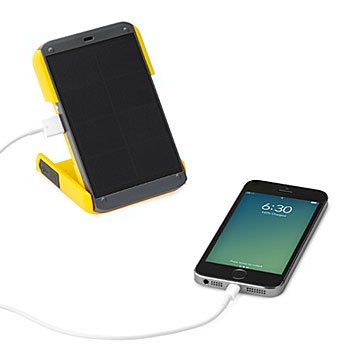 If your lover, is fond of new gadgets and contraptions, then this solar powered charger and light will definitely be to his liking. A handy gadget which runs on a sustainable power source, this charger cum light will ensure that your phone never runs out of battery in the middle of an important call.

The charger is extremely lightweight and connects to your the phone via USB port. It takes just 2 hours for the device to be fully charged. Once charged, the light lasts for up to 150 hours. It also has an SOS beacon feature. The pack contains one solar light cum charger, a stand, and a 3000 mAh inbuilt battery. Buy this amazing device for Rs.4,128 on uncommongoods.com
Diana Instant Camera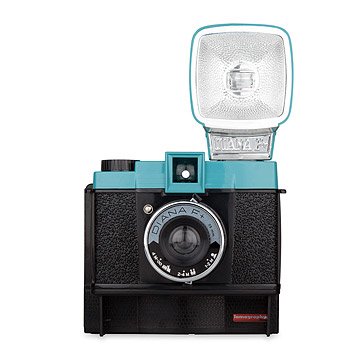 If your boyfriend loves photography, then you should gift him something that encourages him to pursue his passion. An instant camera is the favourite instrument of every candid photographer. The Diana Instant Camera can tint up images with different flashes and can shoot self-focus photos easily. The retro look of this camera is sure to impress any photography lover. Apart from the camera itself, the pack includes flash adapters, coloured gel, flash filters, and close-up lens, lens caps for 55mm photos and a carrying strap. Use Fujifilm Instax mini film with this camera for best results. You can buy it for Rs.1,721 from uncommongoods.com
World Cup Sunglasses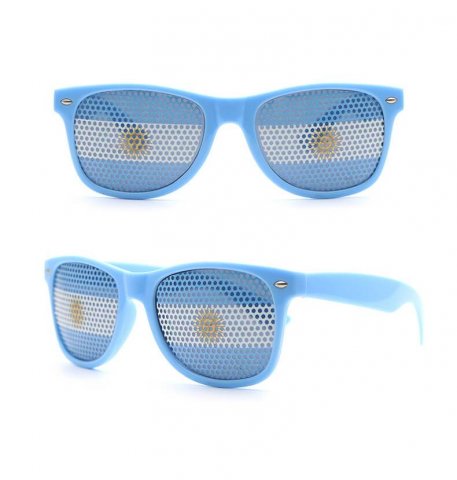 Most men love football and if your boyfriend falls into that category then a fun gift for him would be glasses featuring his favourite team. If you have been with your boyfriend for a while then you must know what his favourite team is.

The World Cup Sunglasses from bigsmall.com are made of durable plastic and tinted with the flag colours of all the major football teams in the world. With these, your boyfriend can proudly flaunt his team colours without the need to paint his face! The sunglasses are available in 7 variants with the flag colors of Argentina, Brazil, England, France, Germany, Portugal and Spain. Buy them for Rs.450 a piece or the whole set for Rs.2,800.
Beeropoly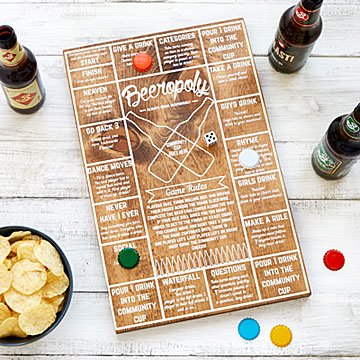 Make those night-ins and house parties more fun with the Beeropoly Board Game from uncommongoods.com. Gift your boyfriend this unique game which invites players to carry out a series of challenges while they get more and more drunk. The player standing last has to drink the community cup.

This classic board game includes a Pinewood board, dice and 6 coloured bottle caps. This game can be played by a maximum of 6 players. Buy it for Rs.2,410.
Symbol of Science Engraved Gift Pen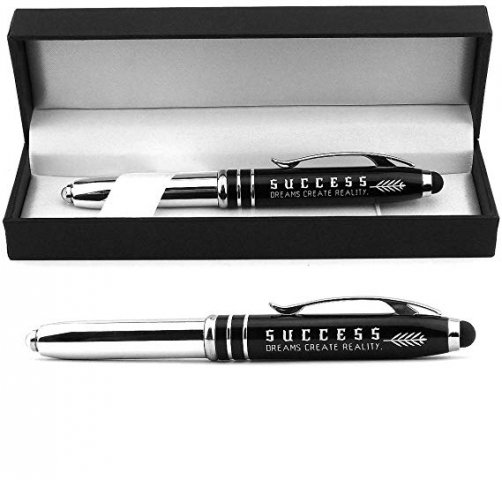 A pen is a gift which is useful to almost everyone. Whether your boyfriend is a student or a working professional, a pen is something which one always requires. The Inkstone Success Gift Pen from amazon.com has an inbuilt LED light and a stylus tip. It will come in handy while writing cheques, scribbling something on the phone and also when he is looking for his keys in the dark. The pen comes with a satin lined presentation case which makes it perfect for gifting. Buy it for Rs.2,192.
Don't Forget the Gift Wrapping Part!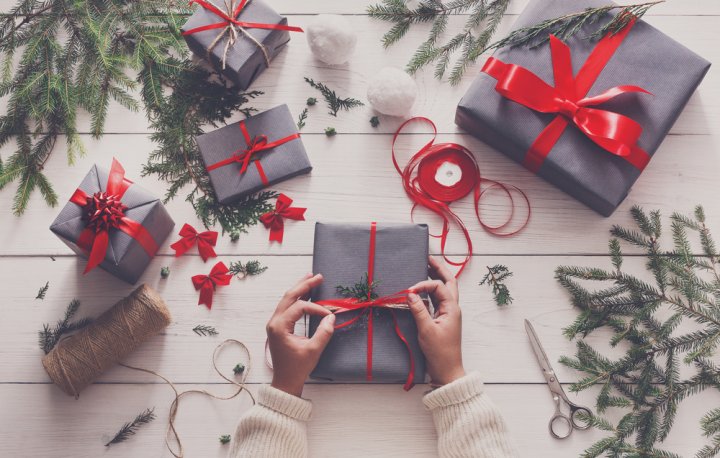 Glittered Photo Tags Wrapping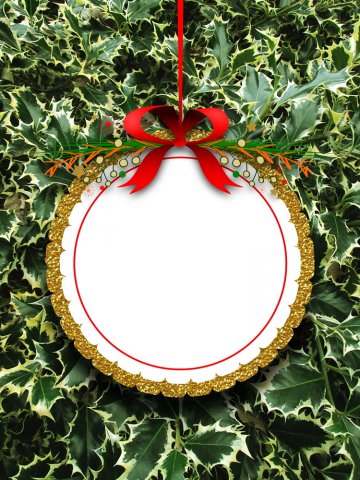 After putting in so much time and effort on choosing the right Christmas gift, you can't just hand it over to him with the packaging it came in. It's true that most guys don't even focus on such things, but it's a nice gesture on your part to try and present the gift in a nicer way. You could wrap your gift in printed wrapping paper or customise it with personal photos.

Print out your favourite photos and paste it in the centre of the wrappings. This will remind him of the special memories that you shared together in the past. add glitter to the edges of the photograph for a more festive look.
Game Time Wrap Idea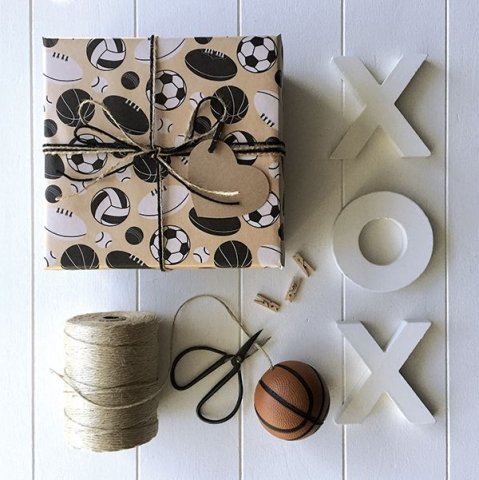 If your boyfriend is a sporty guy then we have the perfect gift packaging idea for you. Wrap the gift you have bought for him in simple brown or mono colour paper. Print out clip arts of sports equipment, logos of his favorite sports teams or pictures of his favourite sportsmen and women. Cut them out and paste whimsically on the package. Tie a black ribbon or twine around the package as a finishing touch.

You can buy black and white twine and black ribbon for Rs.420 from amazon.in. You can stick the cutouts on pieces of cardboard if you want a more 3D effect. The best part is that it's extremely easy to do and doesn't even take a lot of time. Don't forget to add a small note or a gift tag with a special message for him.
Special Things You Can Do for Him This Christmas
Plan a Romantic Date with Him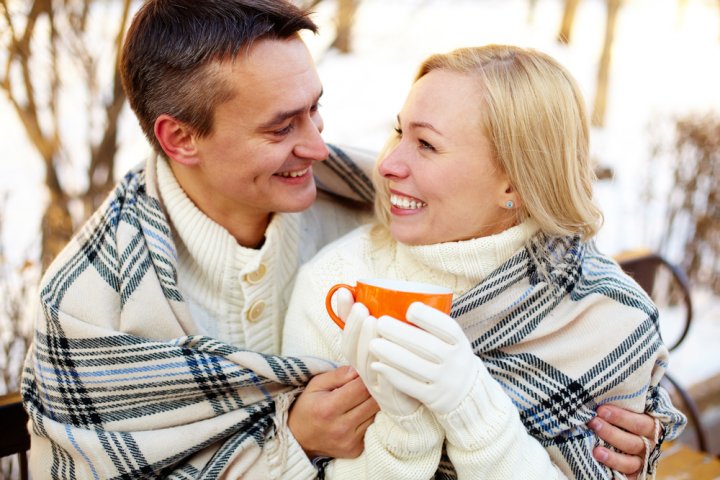 Winter is the perfect time to cuddle up and get cosy with your boyfriend. Why not plan a romantic date with your boyfriend this Christmas, so that you two can spend some quality time together? You could go for a romantic pre-Christmas dinner at a favourite restaurant or have a cosy night in. Spend it drinking hot chocolate and watching your favourite movies. If you are looking for something a bit more romantic, then arrange a candlelight dinner right at the comfort of your home. Get a good bottle of wine and some delicious food. You could also go for a picnic and enjoy the winter sun while it lasts. There are also many outdoor concerts and fairs during winter that you could visit together. Winter weather is usually good, so make the most of it.




Give Him a Jar of Happiness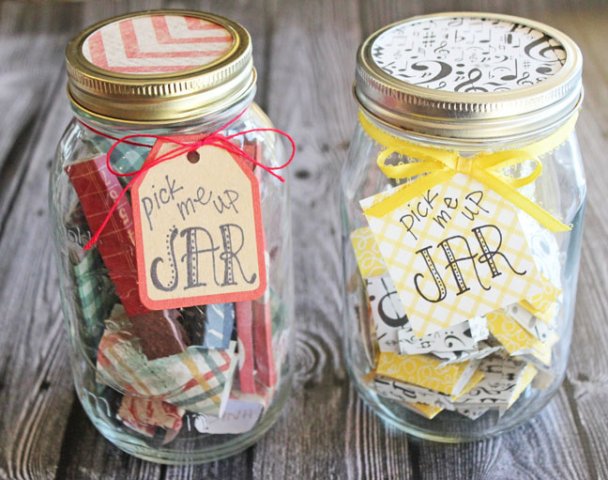 If your boyfriend is feeling a bit blue this winter then we have just the thing for him. A jar filled with happy memories, inspirational notes and all those wonderful things you have done together can perk him up instantly. To make a Happiness Jar, write down your happiest and funniest memories in bits of coloured paper. Fold them into little chits and fill up a mason jar with them. Add some of his favourite sweet treats like chocolates and candy bars. Decorate the jar as you please and gift it to him. Last but not the least, make a label that says 'The Jar of Happiness' or 'The Happiness Jar' and attach onto the mason jar. This is truly a gift that will not be judged by its price tag but will be worth the grateful smile of your loved one.

From our editorial team
Surprise your boyfriend with extraordinary Christmas gifts
This Christmas stray a little from the tried and tested path and surprise your boyfriend with some cool and innovative gifts. Always remember that every gift does not have to be material. sneaking away together for some alone time or creating something handmade for him can sometimes be more precious than even the most expensive store-bought gifts.