Mumbai, a Heaven for Foodies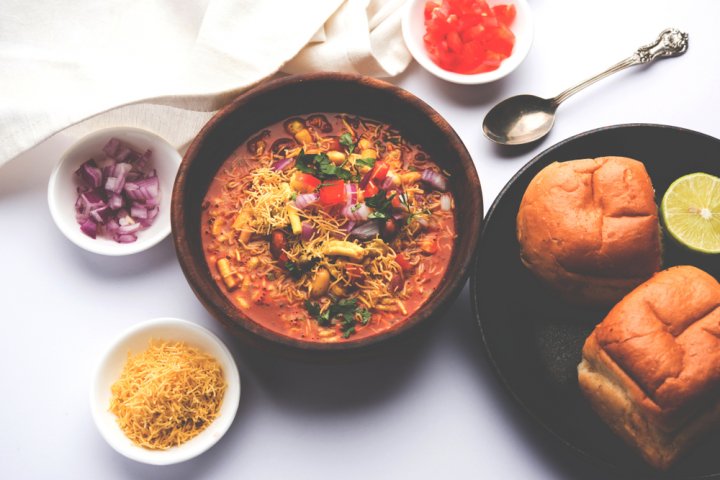 Street food is the one thing people look forward to when they travel to different cities or countries. When you talk of travelling across India, Mumbai is usually on the top of the list of many people and so is the variety of food available on the streets of Mumbai. The mega city is known for its street food and you will find people eating on the road side all through the day as it is cheap and delicious.

Since, Mumbai is the capital of Maharashtra, it is mainly dominated by Maharashtrian food and Vada Pav is the most popular of them all. Other great street food includes Ragda Patties, Pav Bhaji, Bhelpuri, Misal Pav, Egg and Keema Pav, Kebabs and many more delicacies. But make no mistake, Maharashtrian food is not the only thing you will find on the streets as the city is home to people from across the country who bring their culture and food with them, giving Mumbai its distinct culture. If you crave sweets, you can easily find great tasting falooda in different flavours, gola (crushed ice with flavoured juices).

Next time when you plan to visit Mumbai don't forget to check out some of the most famous Mumbai street food mentioned below.
Vegetarian Street Food in Mumbai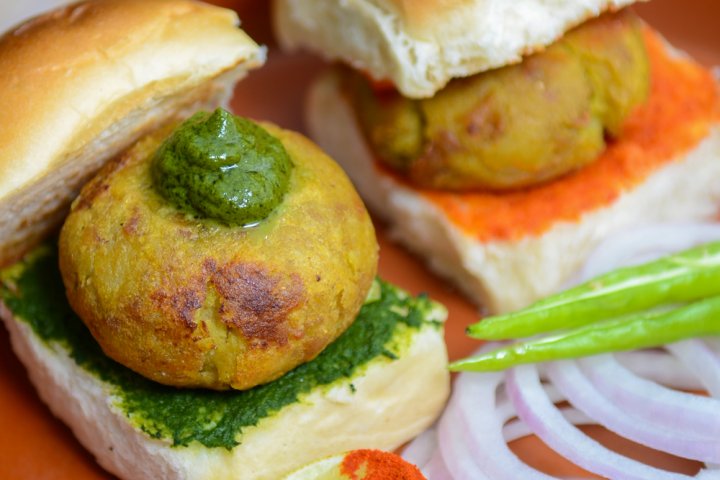 Zunka Bhakar
Zhunka Bhakar is one of the most popular street foods in Mumbai. If you love onions, you'll like Zhunka Bhakar. It is made with chopped onions cooked with mustard seeds. The dish is seasoned with curry leaves for that extra flavour added to the chickpea flour. It is mainly eaten with jowar roti and you can find this dish in almost all Mumbai houses. It is easily available on the streets of Mumbai.

.
Vodka Panipuri, Pratap Da Dhaba
Pani puri is liked by all. It is served with different flavoured water but you'll be surprised to find it with Vodka. If you like to taste different things that you ought to try this Vodka Panipuri when you are in Mumbai. Head to Link Plaza, Andheri West to try it. It costs Rs.800 for two people, and you won't forget the taste of this innovative dish for a long time.

Ragda Patties
Ragda Patties is made with chick peas and deep-fried patties made with mashed potatoes. Ragda is mainly a thick gravy cooked with various spices and Patties is made of mashed potato cake. A dash of green and tamarind chutney is added to it to give it a sweet and sour flavour. It will remind you of chhole tikki from North India. You will find it in every nook and corner of Mumbai but if you want to taste good Radga Patties you can go to Kailash Parbat at Sheela Mahal in Colaba.
Vada Pav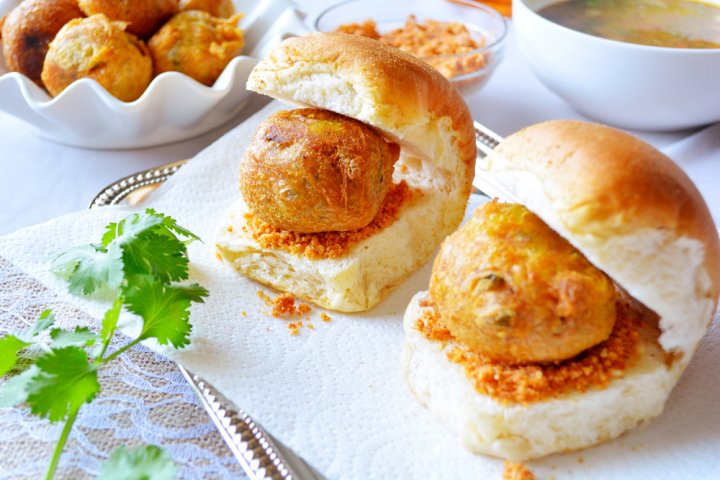 If you are in Mumbai and don't try its famous Vada Pav then you would really be missing out. It is known as the poor man's burger and it the most popular street food there. It is made of spicy mashed potato mix which is deep fried and served with a bun. It is garnished with various chutneys as per your taste. The dish sounds rather simple but its high in demand and its affordable too. You will love the fried green chillies served with it. You can try a good plate of Vada Pav at Ashok Vada Pav stall near Kashinath Dhuru Marg, Dadar.
Misal Pav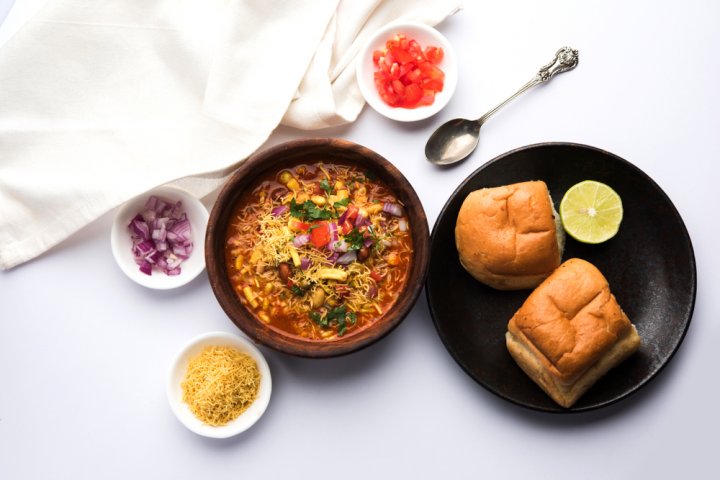 Misal Pav is another very popular street food in Mumbai. It is from Pune and is made with a mix of curried lentils which is topped with potato bhaaji, poha, onions and tomatoes. You can also add yogurt to it if you like. It is served with a bun. Side dishes like papad, buttermilk or butter are served with Misal Pav to quench your hunger pangs on the road. Mumbaikars usually eat it for breakfast and it is one of the healthier street food options available in Mumbai.

A great treat of Misal Pav can be eaten at Mamledar Kacheri at Naupada in Thane West.
Pav Bhaaji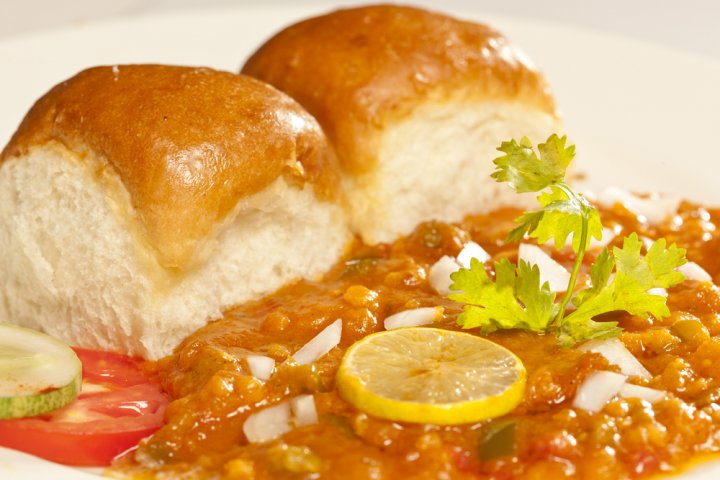 Pav Bhaaji is another great street food in Mumbai available everywhere. It has a history of its own. It is said that Pav Bhaaji came into being when left over vegetables were mixed together and cooked as one and served to the workers with bread; later it turned into one of the most popular and affordable food which is loved by all. It is made by boiling and mashing a variety of vegetables and seasoned with spices. It is served with hot bun garnished with green coriander and chopped onions. It is a filling dish and you will find it on the streets round the clock.

You can find great tasting Pav Bhaaji at Shri Krishna Fast Food counter at Juhu Beach or at Cannon Pav Bhaaji on Dadabhaji Naoroji Road near CST.
Batata Vada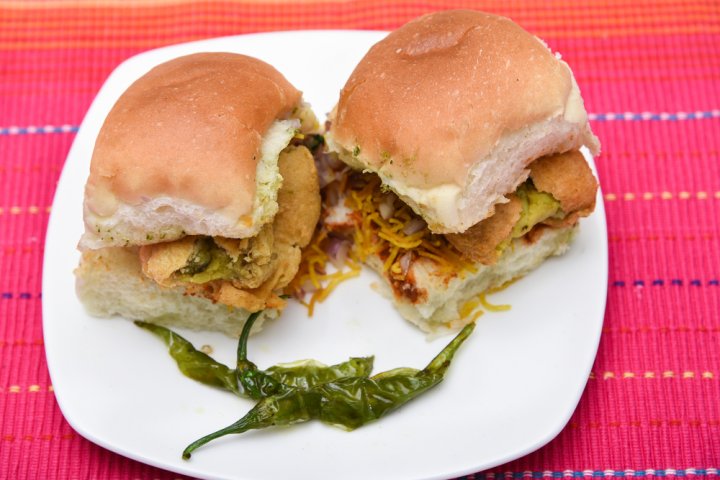 Batata Vada is a great tasting vegetarian fast food in Mumbai. Batata is potato in Portuguese which was brought to India by Portuguese people. It is also known as Aloo Bonda and is a must try. It is made of boiled mashed potatoes coated with chickpea flour and is deep fried. It is served with green and tamarind chutney. You can eat it alone or add buns to it to make it more filling. Although it is big in size, but it is light on your stomach and the added spices makes it a tasty treat for all.

You can try Batata Vada at Shrikrishna in Dadar Market.
Non Vegetarian Street Food in Mumbai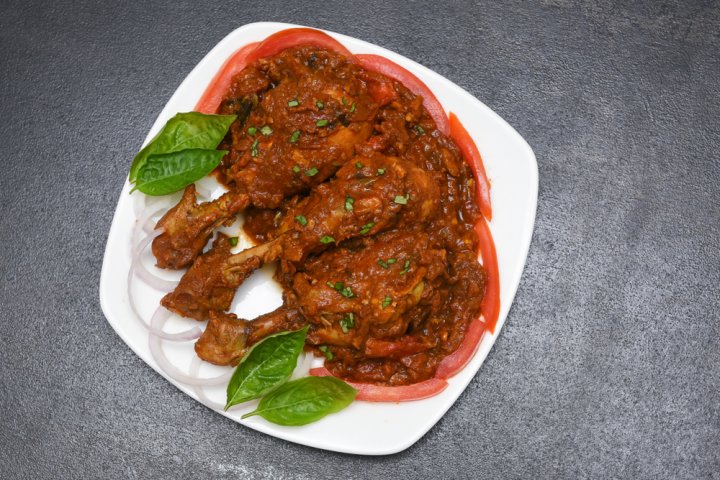 If you are a non-vegetarian and can't compromise with non vegetarian food while visiting Mumbai, stress not, as you will find a variety of non-vegetarian food on the streets of Mumbai. Here is a list of the most popular of them all.
Keema Pav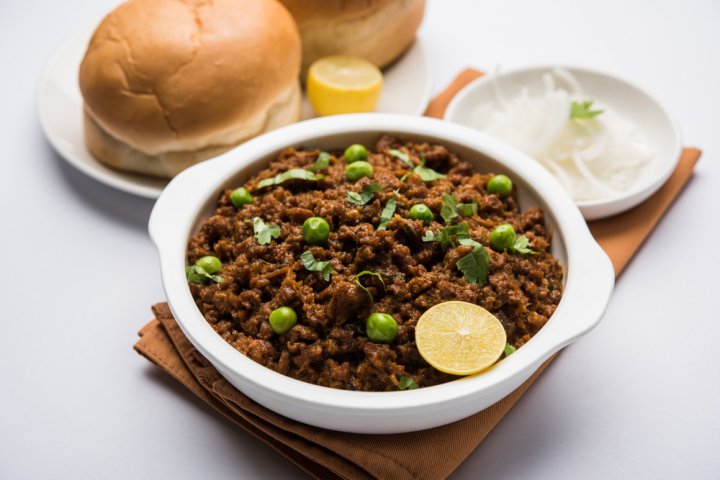 If you are a meat lover then you ought to try Keema Pav in Mumbai. It is a signature Parsi dish and can be eaten at any hour. It is minced mutton cooked in various spices and tomato gravy and served with Pav. You will find yourself licking fingers at the end of your meal. It is one of the most demanded non-vegetarian foods in Mumbai. You will find it in almost all the cafes and restaurants or street hawkers.


Frankie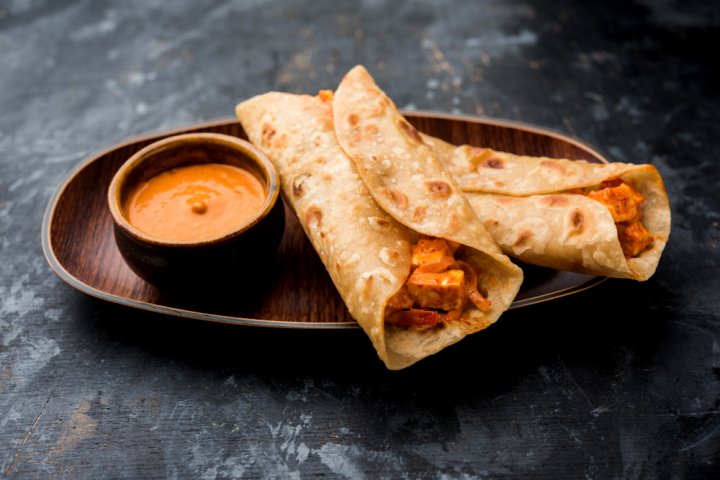 When shopping in Mumbai or busy sightseeing, you need a lot of energy and you can get that from a good Frankie. It is being sold in Mumbai since 1930's and is still as popular as it was back then. It is an Indian flatbread (roti) coated with eat and stuffed with a variety of fillings be it vegetables or meat. Meat lovers love to eat it with fillings of minced mutton or chicken tikka. It is easy to eat or carry with you as it is served wrapped in a foil and you can eat it while on the move. You are guaranteed to get a hot Frankie as it is made when your order it to satisfy your hunger for a heavy snack.

You can get a great Frankie roll at Tibb's Frankie outlets all over the city.
Baida Roti
Although its sounds funny but it tastes great. Baida Roti is a very popular street food in Mumbai and people swear by the Baida Roti served at Bademiyan on Tulloch Road in Colaba. It is a square fried patty made with spiced meat (mix of chicken, mutton or bheja/mutton brain) added with whipped eggs and onions. It is served with delicious green chutney.


Akuri On Toast
You will probably hear about Akhuri on Toast in Mumbai only as it is a popular street food and is a Parsi dish. It is made with spicy scrambled eggs with fried onions, ginger, coriander, chopped green chillies and a dash of black pepper. It is usually eaten with bread of Pav accompanied with a glass of hot tea. Akuri on Toast is made differently in each family, people use different spices and fruits to enhance its flavour and its liked by all.

Try the Akuri on toast at Jimmy Boy, 11 Bank Street, Vikas Building, Off Horniman Circle.
Kebabs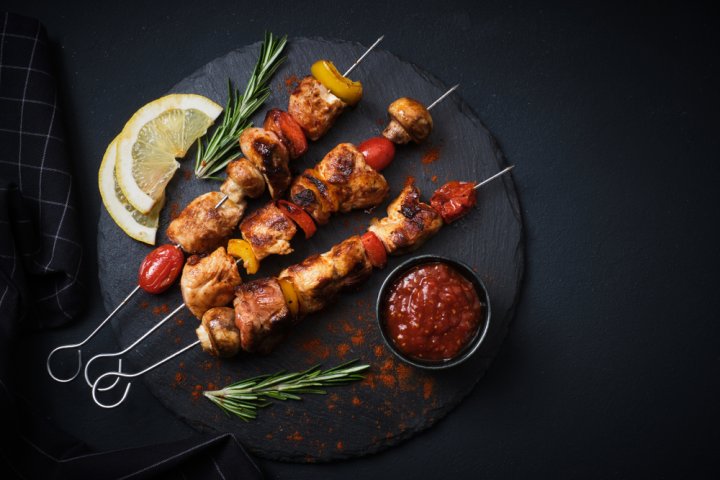 When in Mumbai you'll hear of the street that never sleeps, the Mohammad Ali Road and its famous for its kebabs. The road is filled with crowded outlets serving great tasting kebabs all different kinds. These kebabs are made by minced mutton or chicken meat mixed with various spices to give it a smell which will make you run to eat it. It is a crisp on the outside and juicy from inside patty of meat and is eaten either by itself or with different Indian breads. You will find kebabs in all the non-vegetarian outlets but you must try ones at Mohammed Ali Road for Rs.250 for two people.
Chicken Tikka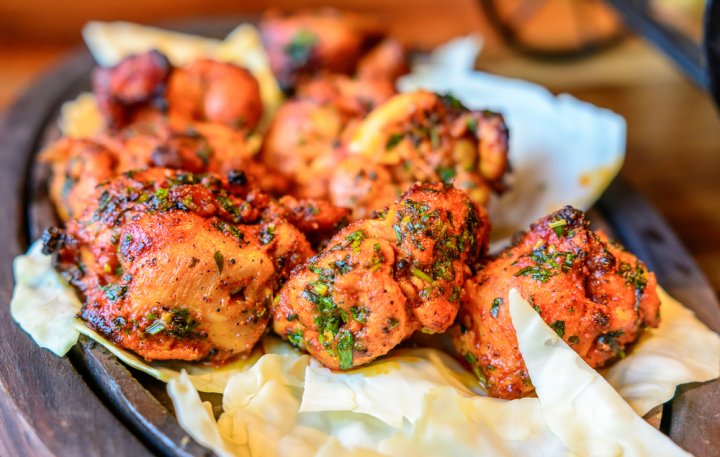 Chicken Tikka is one dish that not only Indians love but you'll hear a lot of foreigners talking about it. It tops the list of non-vegetarian street foods served in Mumbai. You trip to Mumbai is incomplete unless you try this roasted or grilled chicken dish marinated in ginger, garlic paste and red chilli powder. It is served with onion rings and you can either eat it alone or have it wrapped in a roti and carry it with you while you shop.



Bombay Duck Fry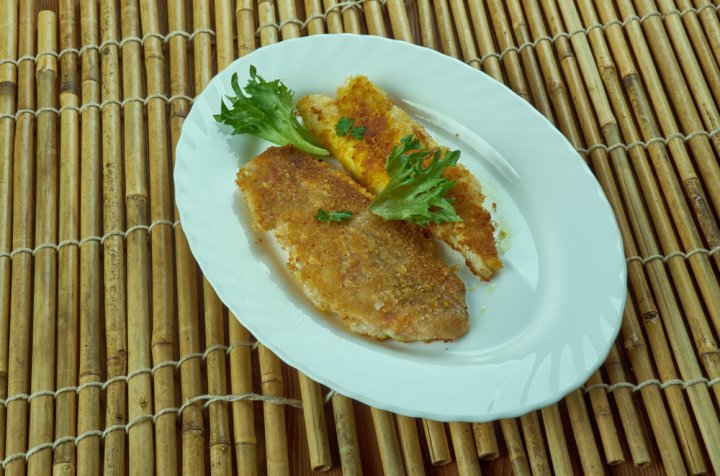 Don't worry if you don't want to eat a duck. You don't have to, but still can have this tasty, traditional Mumbai dish known as Bombay Duck Fry. It is one of the most favourite dishes in Mumbai which is nothing like its name. The dish does not have any duck but is made of a type of a lizardfish. The fish is cut into small strips, coated with semolina for a great crispy crunch and deep fried in red curry. One can eat it with roti, rice and is served with a lot of different side dishes as well.

You can find great tasting Bombay Duck Fry at Gomantak Boarding House Restaurant in Dadar West.
Sweet Street Food in Mumbai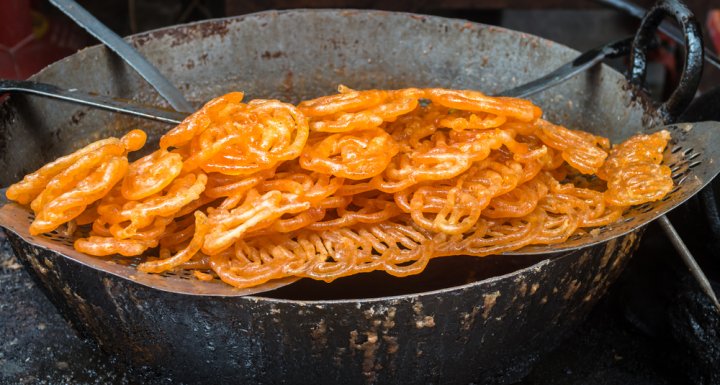 After a good meal right in the streets of Mumbai, you might want to have a dessert. You will find a variety of sweets in Mumbai served on the streets and loved by people of all ages.
Modak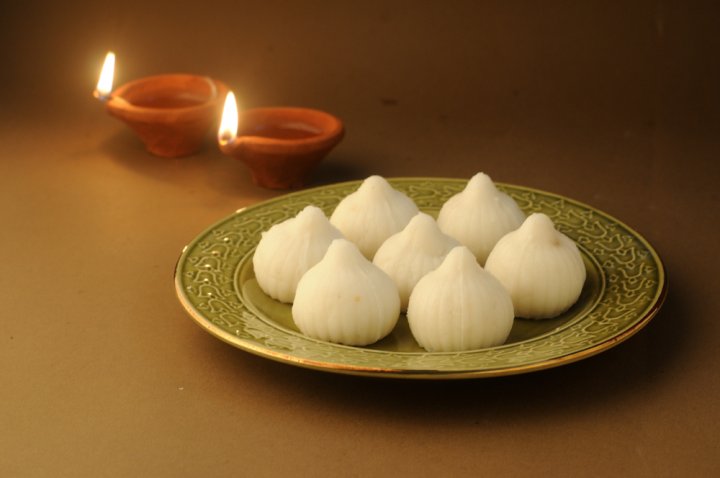 If you are a Maharashtrian or know anyone in Maharashtra, you'll know the significance of Modak. It is a delicious sweet made with wheat flour kneaded with milk and stuffed with grated coconut, sugar and variety of nuts. It is then shaped like a teardrop. It is usually steamed but people like to fry it too. Modak is known as the favourite of Lord Ganesha and is made specially during Ganesh festival. You can find this special sweet all round the year in various sweet shops in Mumbai and enjoy it.
Mewad
You scream, I scream, we all scream for ice cream. Well no need to scream when you are in Mumbai. You'll find Mewad ice cream carts all over Mumbai in a variety of flavours. It is served in cups and cones and is topped with a variety of fresh fruits or falooda. Run after that ice cream cart when you see one to taste this tasty treat.
Falooda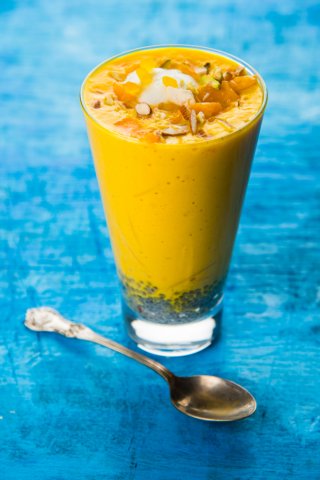 Falooda is an excellent sweet dish served on the streets of Mumbai. It is served in a glass with flavoured milk, vermicelli topped with fruits or nuts. You can also have it garnished with rose syrup to add an extra sweet smell to it. People usually like to add a scoop of their favourite ice-cream to it. This chilled glass of Falooda kills the humidity of Mumbai and provides that much needed energy for a lot of fun things you intend to do while you are in Mumbai.

Falooda was brought in India by the Mughals, and it was known as the drink for rich people but is available now at very affordable prices. You can get a great glass of Falooda Opposite Crawford Market while shopping there.
From our editorial team
The Foodie Paradise
Mumbai never fails to surprise you and always has something for everyone. You might like a sweet, or a spicy dish. You might fall in love with their vada pavs, or might keep craving for the delicious seekh kebabs at Mohammad Ali Street. But make no mistake, you'll definitely find something for all kinds of palates there. It has no dearth of street food options and if you're a foodie, Mumbai can be your paradise!