Learn About the History and Diversity of Indian Food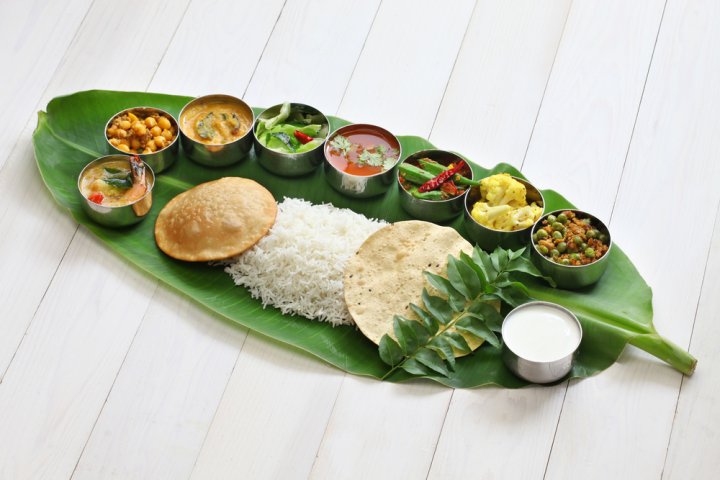 Indian food is famous all over the world for its variety, spices, herbs and medicinal properties. India, being a country with diverse cultures, different geographical and climatic conditions, has an entire gamut of cuisines ranging from typical ancient Indian dishes to Mughlai and Western dishes, courtesy the Mughal and British era before India's independence.

Many Indian food brands like Haldiram, Bikanerwala, Amul, Vadilal, MTR Foods, Mother Dairy, Heritage Foods and Patanjali Foods are famous not only in India, but across continents. There are many famous variants of Indian food viz. Bengali, Gujarati, Kashmiri, Punjabi, Mughlai, Rajasthani, North Indian, South Indian, etc. All of them have different methods of preparation and the ingredients are mostly used as per their availability and the weather of that particular place. These recipes of different taste and flavors have been passed on from one generation to another and they still contain the authentic flavors.
History of Indian Food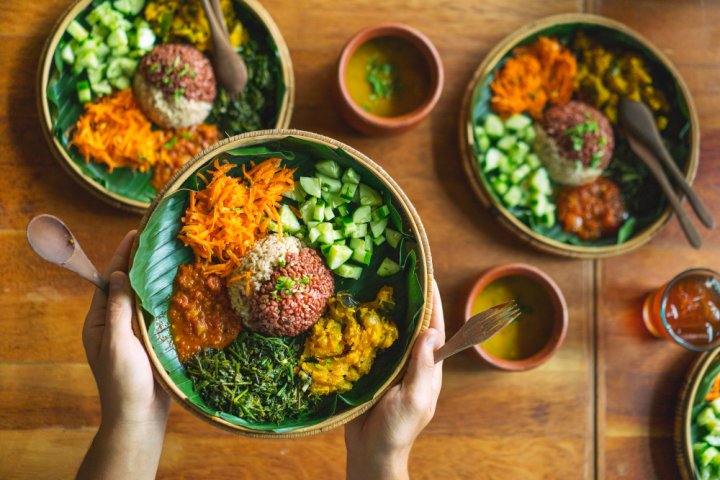 Two of the greatest ancient Indian civilisations – Harappa and Mohenjo-daro, laid the foundation of the "Indian cuisine", as we know it today. Initially, cereals and pulses were used in the preparation of meals, but it was the Vedic Period which gave the original structure of the complete diet that included vegetables, grains, honey, dairy products, fruits and meat. The use of special herbs as spices was also introduced in the daily diet of the people. Then, during the Maurya and Gupta Empires, meat consumption was strictly banned due to religious reasons and most people were vegetarians. The food was prepared so as to act as a medicine for the human body and help people to have a healthy mind and body, thus encouraging them towards a spiritual path.
Indian Street Foods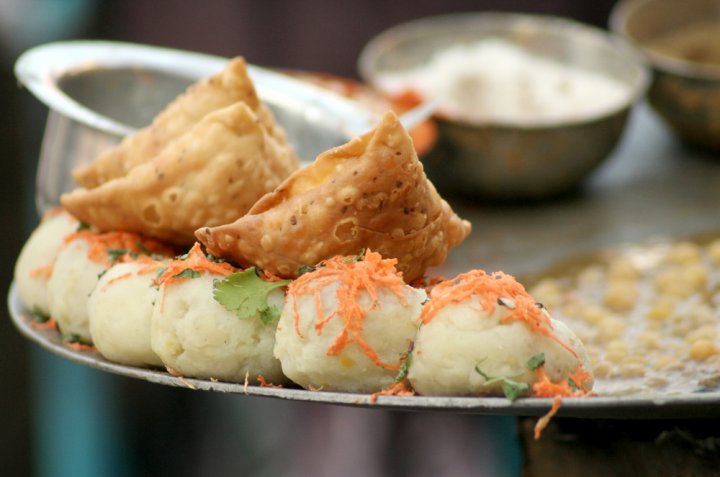 In today's India, street foods are not the typical Indian foods; but a mix of foods from different cultures and countries which are mixed with Indian cuisines and herbs. The most famous street foods include Dahi Bhalle, Chat Papdi, Aloo Tikki, Samosa, Momos, Golgappe or Puchka or Panipuri, Bhelpuri, Chowmein, Poha, Jalebi, Dahi-Jalebi, Kachori-Sabji, Vada-Pao, Misal-Pav, Dabeli, Mirchi Bhaji, Dal Vada, Paddu, Ragi Mudde and non-veg items like Kakori Kabab, Shammi Kabab, Galavati Kabab, Bombil Fry, Tangri Kabab, Chicken Afghani, Chicken Tikka and numerous other items which are simply mouth-watering and you can satiate your taste at very economical prices with these readily available street foods.
Medicinal Properties of Herbs Used in Indian Foods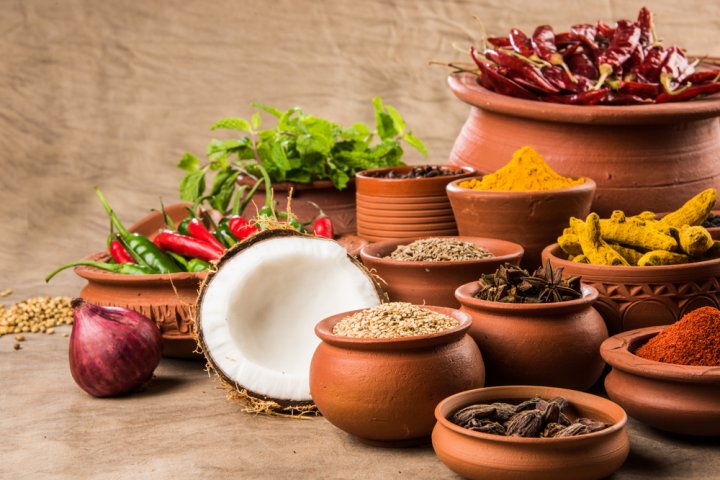 Since ancient times, many herbs, seeds, and even different parts of plants and trees are used in Indian foods as spices or as an addition to the recipes for fusing flavors in the recipe. All of them have some or the other medicinal or health factors associated with them, e.g. asafetida aids digestion, bay leaves detoxify the body, carom seeds aid digestion, cumin seeds are helpful to treat diarrhoea and vomiting and are also good for eye-sight and strength, cloves are useful in gum and tooth related problems, black peppercorn has high levels of antioxidants and useful in controlling the blood sugar and cholesterol levels, cardamom seeds act as a mouth freshener and are also helpful in digestion.
The Best of Indian Breakfast: 5 Comforting Dishes to Start the Day With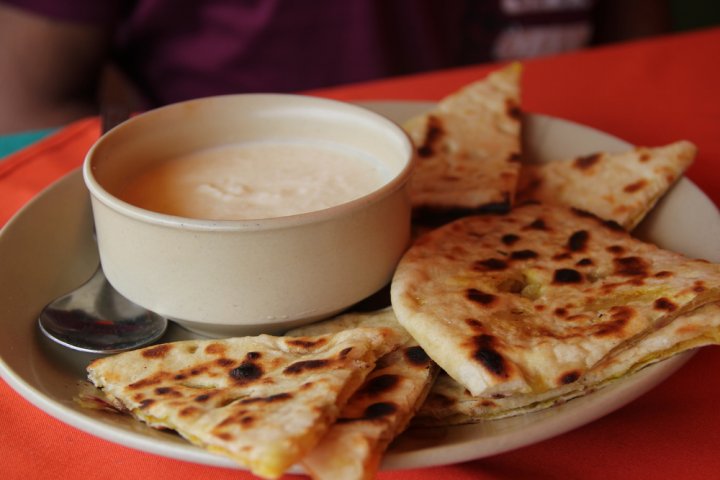 In India, breakfast is often light, unlike western countries where heavy breakfast is considered good for the daily routine, especially due to the cold weather. Breakfast in Hindi is called "Alpahar", which literally translates to "Light Food". The entire country has dozens of varieties in breakfast and some of them are seasonal and depend on the temperature and the weather of that particular region. We have picked a few of the most famous breakfast items from different parts of India which are relished and are famous across the country.
Upma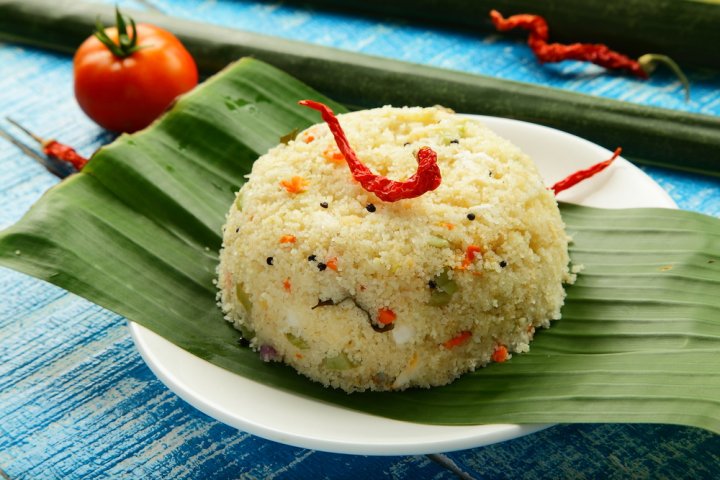 Upma is a famous south Indian dish prepared mainly from semolina mixed with spices and vegetables. Raw semolina is roasted in a pan till it becomes light brown in colour. Then the roasted semolina is set aside while spices and vegetables are sauteed in ghee or oil. Then the roasted semolina is mixed with the sauteed spices and boiling water is added. The mixture is then stirred till the semolina becomes a bit fluffy, peanuts and cashews can also be added as per taste and convenience.
Paratha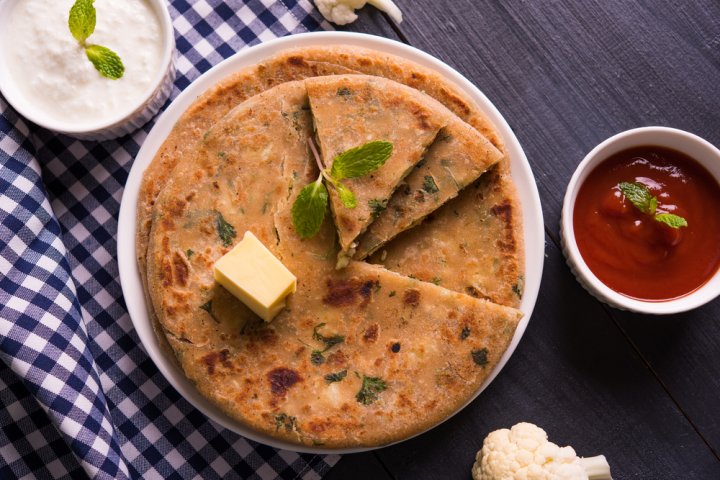 Paratha is a popular flatbread not only in India, but also in a lot of Asian countries like Sri Lanka, Nepal, Bangladesh, Pakistan, etc. Paratha is a typical staple food of India and is made by baking flattened whole wheat dough on a tava and finally ending the process by shallow frying in oil, butter or ghee (clarified butter). Plain parathas are layered by coating each layer with ghee/oil and the process is repeated to 3-4 layers. But, there are other varieties of stuffed parathas in which the stuffing is packed inside the dough (not layered). The most popular ones are Aloo Paratha, Mooli (radish) Paratha, Gobhi (cauliflower) Paratha and Paneer (cheese) Paratha. Some parathas are also made by mixing different vegetables and spices with the dough and then cooking it like a plane paratha.
Poha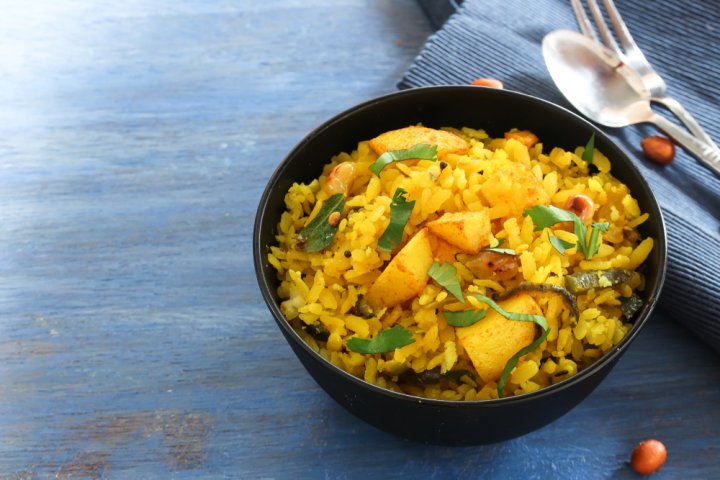 Poha is another famous and light breakfast in India which is prepared from flattened rice (Chiwda in Hindi) which is light rice flakes. These rice flakes are moistened a bit and then fried on a low flame along with already sauteed mustard seeds, green chilli, curry leaves, finely chopped onions and fried peanuts. Sweet and sour home-made sauces (chutneys) can be added for flavor.
Dalia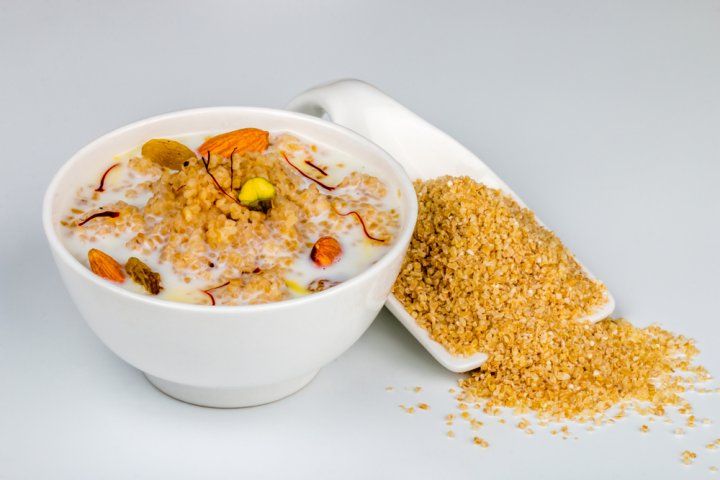 Dalia (cracked wheat) is another very popular and easy to cook breakfast recipe in India. It can be simply soaked for some time, strained and then boiled with milk and sugar to get a tasty sweet porridge like dish or it can be prepared salted with the help of veggies like beans, peas, carrot and onions. Dalia is very tasty, nutritious and high in protein content. Some people also make Dalia Upma and Dalia Khichdi as well.
Luchi Torkari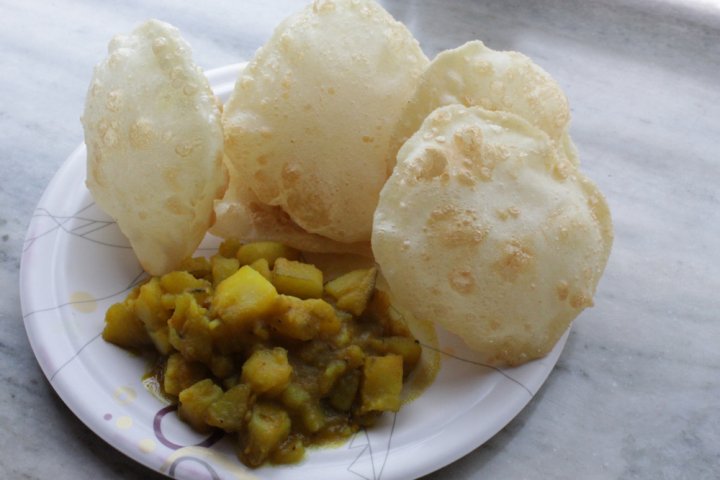 Luchi Torkari is a West Bengal dish and is very popular in Bengal, Assam and Bihar. Luchi is a small bread made of refined flour; the refined flour dough is prepared by mixing a pinch of salt and mixing it well with some amount of oil. The dough is set to rest for 15 minutes and the Torkari is prepared which contains potato, chillies, tomato, salt, turmeric powder and a few more spices. Small balls are made from the dough and then flattened into small breads; these breads are then deep fried in ghee/oil and served with the Torkari.
Feast on the Best Indian Lunch: Dishes from Four Corners of the Country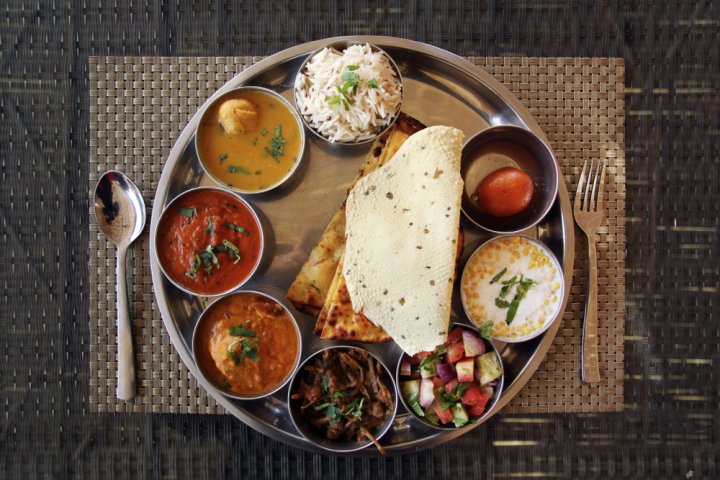 Dishes made of rice and lentils are a must for lunch for most Indians which is not very heavy, but a moderate mix of breads, rice, vegetables, lentils, curd, etc. Let's check-out what Indians like having for lunch.
North Indian Lunch Dishes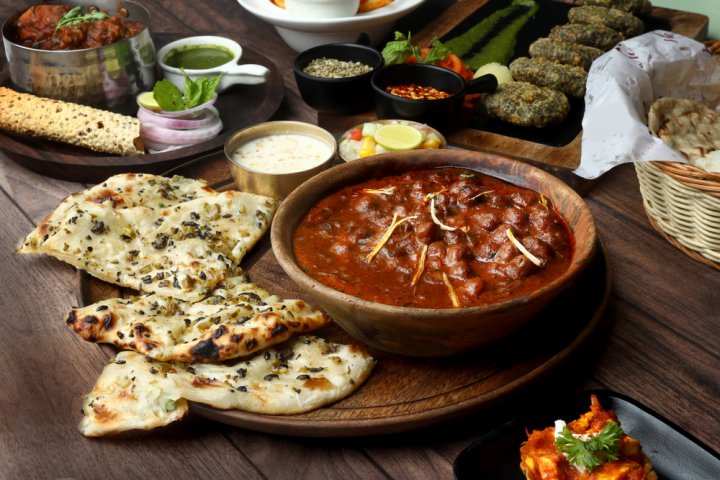 North Indians like their lunch with a lot of variety and preferably with salad and buttermilk. Some of the popular North Indian lunch cuisines are Dal Tadka (lentils mixed with a small amount of spices fried in ghee), Roti (flour bread), Jeera Rice (rice fried with cumin seeds), Lassi (buttermilk – sweet or sour), Mix Veg (mixed vegetables), Paneer Butter Masala (spicy cheese curry), Papad, Chana Masala (chickpea curry), Choley-Naan (gram curry and a special type of bread) and Rajma-Chawal (kidney beans with rice).
South Indian Lunch Dishes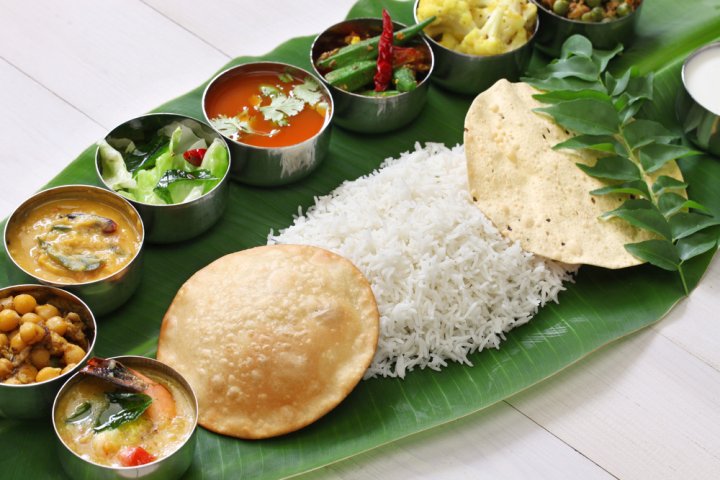 South Indian dishes are less spicy as compared to North Indian dishes and coconut and tamarind are used to add flavors in most of the dishes. The taste of South Indian flavors is very subtle, a bit tangy, and rice and lentils are the most widely used ingredients in most of the dishes. A few of the popular dishes are Tamarind Rice, Sambar (mix veg cooked with special spices), Rasam, Mango Kuzhambu, Ariti Pooru Kobri and Instant Rava Dosa (made from rice flour).
East Indian Lunch Dishes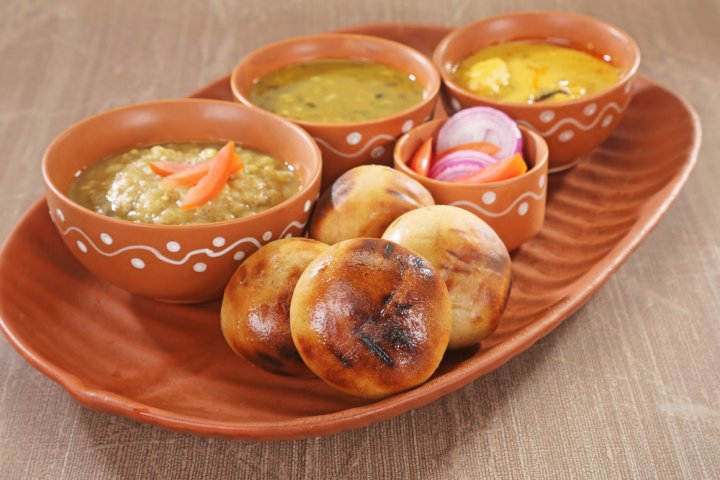 The states of West Bengal, Jharkhand, Assam and Bihar essentially comprise India's eastern region. Some of the popular lunch dishes of this region include Litti-Chokha (baked flour dough balls filled with chickpea flour mixed with spices and served with mashed mix veg), Aloo-Posto (potato cooked with poppy seeds), Cholar Dal (skinned chickpeas cooked with spices), Tauk Dal (lentils and sour mango cooked with a tangy flavor), Labang Latika (a popular Bengali dish), Gurer Payesh (milk boiled with jaggery till it becomes thick and condensed).
West Indian Lunch Dishes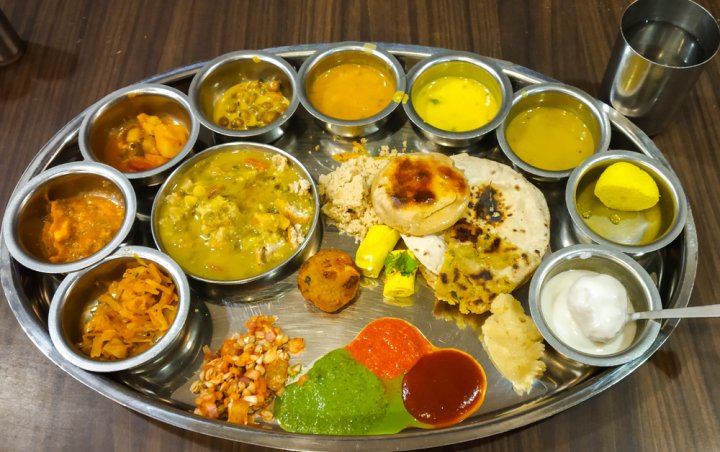 Maharashtra, Gujarat and parts of Rajasthan cover the western part of the country and they have a very different taste from the other regions of India. The most popular lunch dishes in West India are Gatte-Ki-Sabji (gram flour dough mixed with spices is shaped into balls and then cooked in hot water, finally adding these balls in a spicy gravy), Undhiyu (Gujarati mixed vegetable dish), Dal Bati Churma (dal is prepared with mixed lentils and bati is a baked hard bread prepared from wheat flour), Gujarati Kadhi (gram flour balls cooked in curd), Ghevar (Rajasthani sweet cake made from refined flour dough cooked in sugar syrup), Khandvi (snack made of gram flour and yogurt), Pav Bhaji (soft bread served with thick vegetable curry fried in butter) and Varhadi Aloo Bhat (spicy rice dish cooked with spices and fried potato).
Popular Non-Veg Lunch Dishes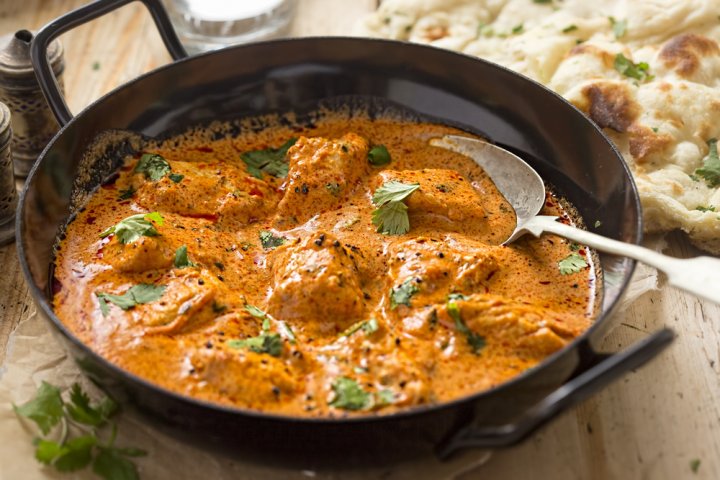 Moving on to a few popular and mouth-watering non-veg dishes, the most noteworthy dishes are Chicken Curry, Malabar Fish Biryani, Aatukkari Kuzhambu (South Indian style lamb curry) with steamed rice, Machcher Jhol (fish cooked with mustard, red chilli and other Indian spices) and Goan Fish Curry.
Choose from the Best Indian Dinner Items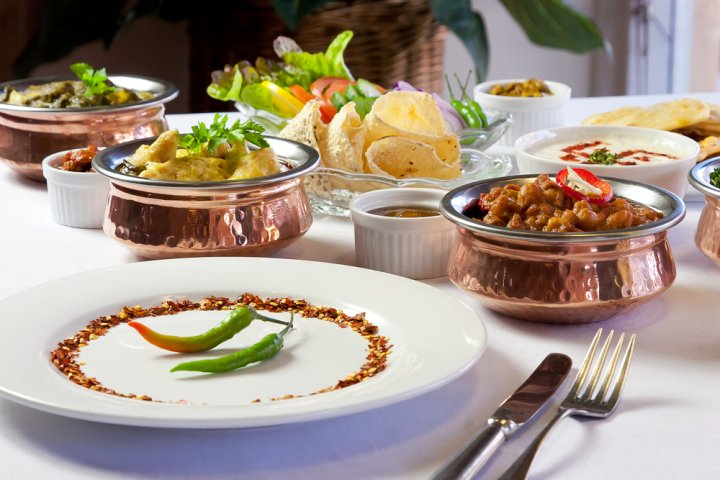 Dinner is considered the hearty and heavy meal of the day in India and most of the people want it spicy, buttery and should include a bread item. We have picked the most popular dinner dishes in India and most of them are well known and cherished throughout the country.
North Indian Dinner Dishes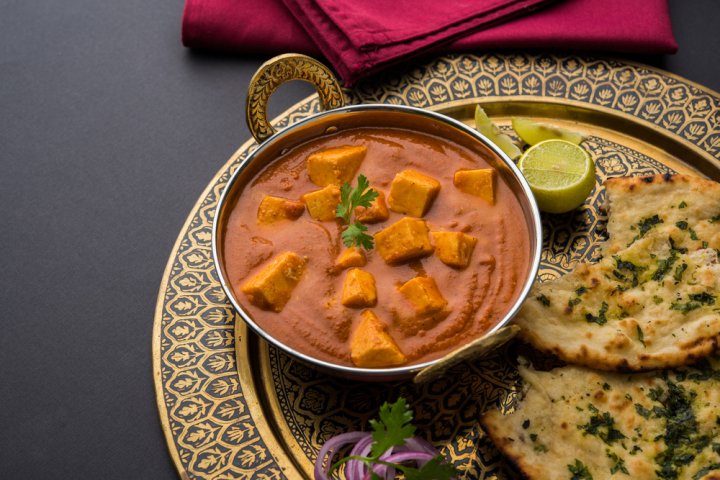 Spicy curries, lentils, veggies and breads with butter spread on them makes the most of the North Indian people's platter when it comes to dinner. Dum Aloo Puri (potato curry with deep fried bread), Laccha Paratha (fluffy paratha with many layers), Mutter-Paneer (green peas and cheese curry recipe), Palak Paneer (spinach and cheese dish), Bajre-Ki-Roti with Sarson-Ka-Saag (pearl millet bread with mustard plant curry), Malai Kofta and Gajar-Ka-Halwa (sweet dish made with carrot, milk, sugar, clarified butter and dry fruits) are some of the most popular North Indian dishes.
South Indian Dinner Dishes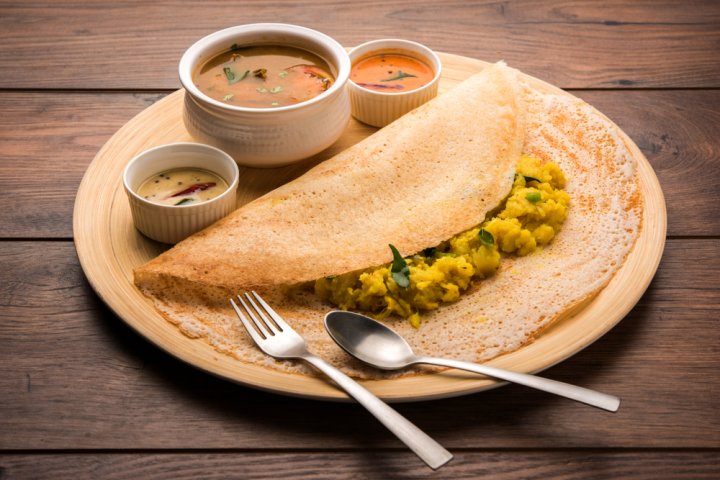 South Indians love rice and lentils and the same is evident from the dinner items like Masala Dosa (batter of soaked and ground rice and lentils is spread on a hot tawa with a little oil and vegetable stuffing is filled inside it, after that it is rolled and served with sambar), Idli Sambar (saucer shaped rice flour balls which are steamed and served with sambar), Bisi Bele Bhaat (spicy rice based dish), Pongal Kootu (vegetable curry with six to seven different vegetables with a tickling taste), Dal Rasam (split pigeon peas cooked with spices), Tomato Gojju (tomato curry recipe), Akki Roti (rice bread) and Sambar Rice.
East Indian Dinner Dishes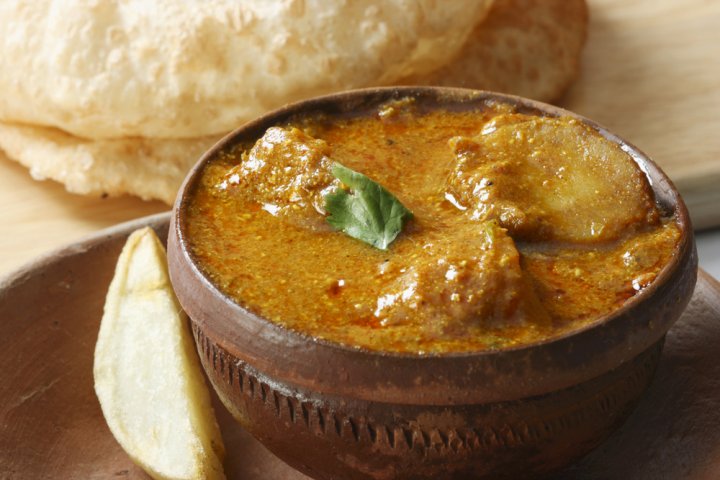 Some of the important dinner recipes which are quite popular and common in East India are Aloo Phoolkopir Dalna (potato and cauliflower curry), Chanar Dalna (split bengal gram curry cooked with potato and spices), Begun Bhaja (brinjal sliced, coated with spices and then fried), Koraishutir Kochuri (green peas mixed with spices and stuffed inside a bread, which is then deep fried), Methi Baigan (fenugreek and brinjal recipe), Supto Bhat (light and less spicy vegetable curry with rice), Malpua (kind of a sweet pancake).
West Indian Dinner Dishes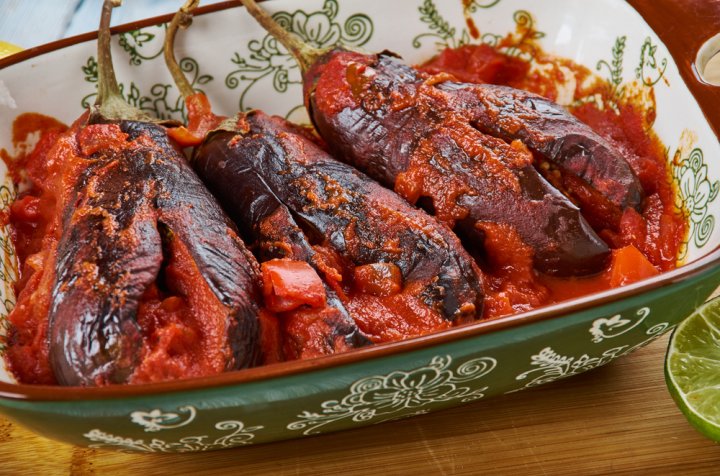 People in West India like a mix of spicy and veggie and they also like experimenting with breads. Let's check out some famous West Indian dishes which are quite popular like Bharva Baigan (stuffed brinjal), Zunka Bhakri (traditional vegetarian dish) with Bajra Roti (pearl millet bread), Methi Ka Thepla (fenugreek mixed bread), Toor Dal (split pigeon peas), Lasaniya Batata (spicy baby potato curry) and Sabudana Khichdi (a sago cuisine).
Non-Veg Popular Dinner Dishes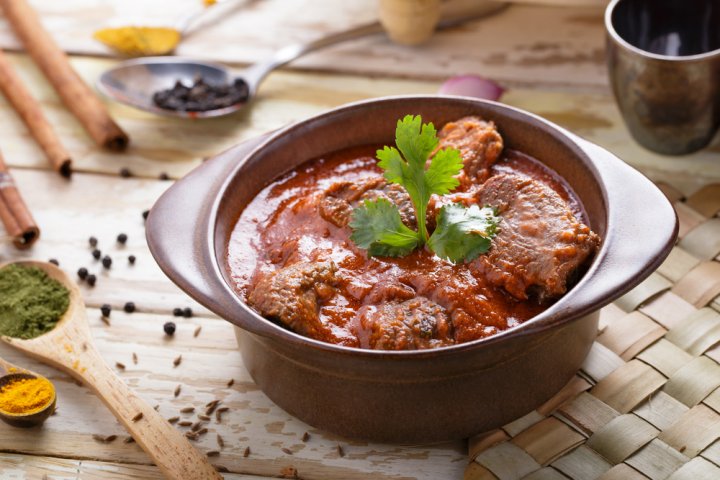 Non-veg dinner recipes are mostly spicy and mouth-watering chicken, mutton or fish items like Butter Chicken, Mutton Rogan Josh, Gongura Mamsam (South Indian mutton recipe), Kosha Mangsho (Bengali style mutton thick curry), Macher Jhal (East Indian popular fish curry), Bombay Duck (famous Bombay fish recipe), etc.
End the Meal on a Sweet Note: The Best Indian Sweets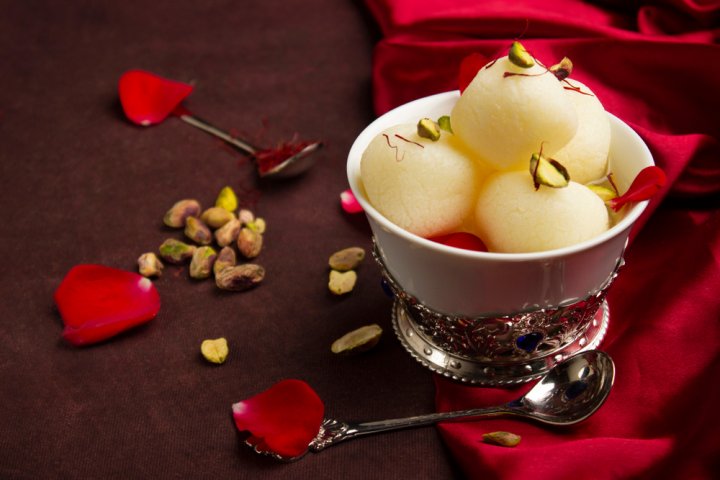 Let's complete the article on a sweet note and check these four immensely popular sweet dishes - Rasgulla is a world famous Bengali sweet and is prepared by dipping cheese balls in sugar syrup. The second one is Mysore Pak, which is a world renowned South Indian dish and prepared with gram flour, ghee and sugar as the main ingredients. Kheer is another popular North Indian sweet dish made by boiling soaked rice with milk and sugar till the time it becomes thick and condensed. West Indians have their favourite Shrikhand which is a very popular dessert prepared from yogurt, cardamom, saffron and sugar and is best served cold.
Writer
Rahul Banerji
Rahul began his stint as a freelance writer after working in the corporate world for ten years. He enjoys writing on various topics and is an avid blogger. His interest in science, technology, politics, current affairs and the latest trends helps him to back his writing with well researched facts. Rahul finds solace in gadgets, nature and spirituality.
From our editorial team
Discover the Exquisite Diversity in Indian Cuisine
India is a land with great diversity which is aptly reflected in its cuisine as well. We hope this BP Guide would have helped you to discover many mouth-watering Indian dishes which you would be eager to relish. Stay connected with us for more such engaging content.