What is Janmashtami All About?
Before you head on to the section of Janmashtami recipes, you should first know about Janmashtami and its history and origin. This Hindu Festival is celebrated as the birth of Lord Krishna who is believed to be the 8th incarnation of Lord Vishnu according to Hindu Mythology.

Krishna was the one who killed Kans, an evil king and saved the people of Mathura and Gokul. The story goes a long way but what makes Janmasthami so popular is because of the way it is celebrated in India. Hindu devotees fast for the whole day, decorate temples and the a Dahi-Handi celebration is arranged in many places in India. Apart from grand pujas, you can see people taking part in huge Julus and enjoying their heart out on this occasion.
7 Delicious Janmasthami Recipes (Regular)
Dhaniya Panjiri
Dhaniya Panjiri is the ultimate staple for Janmashtami recipes because this is what is prepared for the Prasad on this day. If you are celebrating Janmasthami then make sure to make this Prasad for everyone to give after the Pooja.
What You Need:
100gms Dhaniya powder
3 tbsp pure ghee
Half cup makhan and half cup desiccated coconut
Half cup powdered sugar and some cashews and almonds
How to Make It:
Heat one tablespoon ghee in a pan and then roast dhaniya powder in it. Then put it aside and roast makhana in the remaining ghee.
Prepare a powder with roasted makhana and also cut almonds and cashews in small pieces.
Mix roasted dhaniya powder, sugar, coconut, dry fruits and makhana powder together. Dhaniya panjiri is ready to eat.
Sweet Lassi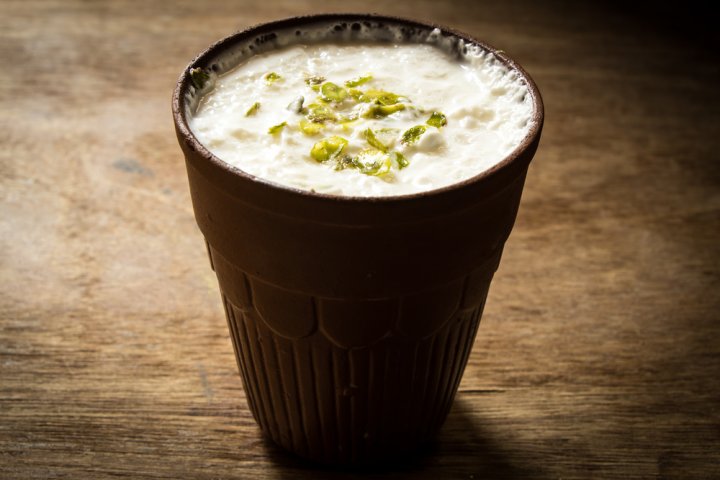 Sweet Lassi for Janmashtami is a rather different recipe but the importance of curd and yoghurt on Janmashtami is known to everyone. You can even use it as a Prasad too, alongwith the Dhaniya Panjiri as Makhan and Yoghurt is said to be loved by Krishna very much.
What You Need:
2 cups chilled fresh curd and around 2 cups of milk and water mixture.
10 to 12 tbsp sugar and 1 tsp cardamom powder
Few strands of saffron and a few ice cubes
Chopped dry fruits or your choice
How to Make It:
Take 8 to 10 cardamom pods and crush them. Take the seeds out and make fine powder out of it.
In a bowl, take the curd and use a blender to make it smooth.
Add sugar, chilled water and milk mixture and then blend again. Keep on blending until the sugar dissolves completely.
Now add cardamom powder and few saffron strands and blend again. Pour the sweet lassi in glasses and garnish with chopped dry fruits.
Nariyal Barfi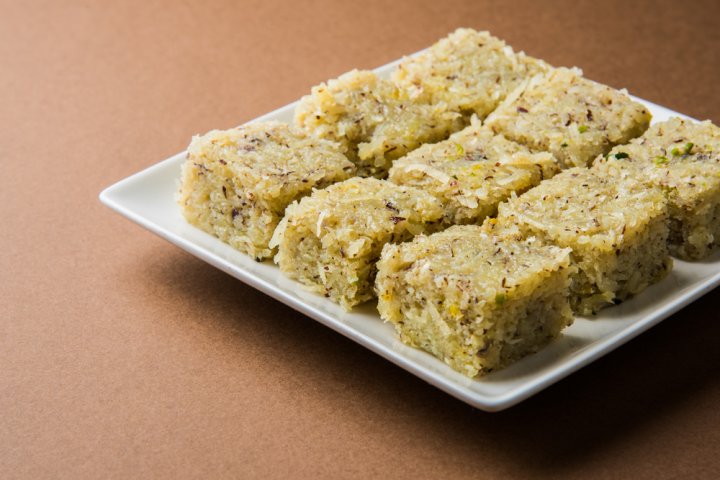 Whether it is Janmashtami or Ganesh Chaturthi or any other big celebration in India, coconut barfi is enjoyed a lot by everyone. What makes it everyone's favorite is that it is easy to make and tastes amazing. In fact, it has great shelf life too. So, learn to make some at home through the recipe given below.
What You Need:
2 ¼ cups grated coconut and 1 ½ cups sugar
1 tsp ghee and 1/8 tsp cardamom powder
2 tbsp pistachios and 4 tbsp milk
How to Make It:
Heat ghee in a pan and roast some cashews if using and set aside.
Put coconut, sugar and milk in the same pan and cook on medium flame.
After a while the mixture turns gooey then add cardamom powder.
Continue to cook until the mixture comes off the pan and pour immediately on a greased plate.
Level it to make a square and then cut into pieces once completely cooled down.
Gond ke Laddoo
One of the most popular Janmashtami recipes is Ladoos made out of edible gum. It is not only delicious in taste but also great for health too. You can check out the recipe right below.
What You Need:
6 tbsp ghee and ½ cup gond
Chopped dry fruits as per your requirement
2 tbsp poppy seeds and 1 ½ cup dry coconut, grated
3/4 cup dry khajur and ¼ tsp cardamom powder
1/4 tsp nutmeg powder and 1 cup jaggery
2 tbsp water
How to Make It:
Heat the ghee in a pan and roast gond in batches then crush the gond with rolling pin.
Roast dry fruits, coconut and poppy seeds and set aside then roast khajur powder with 2 tbsp ghee and mix with dry fruits mixture along with gond powder.
Add cardamom powder and nutmeg powder in the same bowl and mix well.
Pour 1 string jaggery syrup on dry fruit mixture and once mixed well, start making ladoos.
Chaklis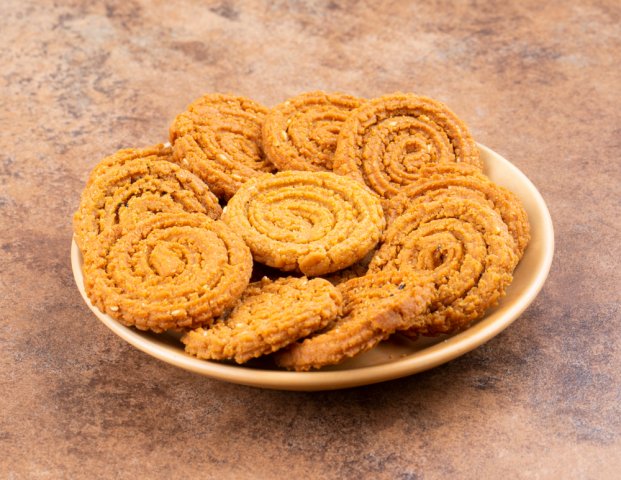 Chaklis are popular in Indian kitchen and are usually made on festivals. These types of food items are a great excuse for the entire family to come together and munch on snacks and enjoy the festival together.
What You Need:
1 cup rice flour and ½ cup besan
2.5 tbsp oil and water as required
Turmeric powder, ajwain, cumin seeds – ½ tsp
1tsp red chilli powder and a pinch of asafoetida
1 tbsp sesame seeds and salt as per need
How to Make It:
Take rice flour and gram flour in a bowl and add all spices and mix everything together.
Heat oil in a pan and pour it in the mixture. Now heat water and add it in the flour mix to knead a dough.
Cover the dough for 30 minutes and then apply some water in chakli maker and place dough inside it.
Prepare chaklis in round shape forming concentric circles.
Deep fry the chaklis and enjoy with some chaat masala on them.
Instant Kalakand
You just can't imagine a wholesome Janmashtami meal without a nice dessert. And for the same we have this kalakand recipe to recommend which can be made instantly without much trouble.
What You Need:
3 cups milk and 2 tsp lemon juice
1 ½ cups milk and ¼ cups sugar
1/8 tsp cardamom powder and 2 tbsp chopped pistachios
How to Make It:
Bring 3 cups of milk to a boil and then add lemon juice and keep stirring till whey gets separated.
Turn off the stove and then use a muslin cloth and drain the cheena from milk.
Run through cold water and strain the excess water and keep this cheena aside.
Take remaining milk and cook on medium heat. Once it comes to boil, simmer the flame and let it cook for 5-6 minutes.
Add sugar and mix on sim flame for 2-3 minutes and then add prepared cheena and mix again.
Keep stirring until you get thick mixture then turn off the flame and add cardamom powder.
Let it cool completely and then serve with chopped pistachios on top of it.
Malpua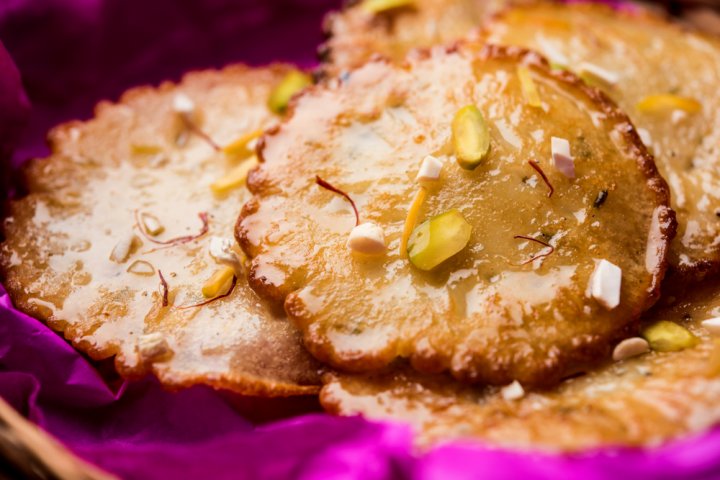 Now that you know how to make kalakand, we can move on to another popular sweet dish in India called Malpua. We found a really simple recipe for it that you would surely like.
What You Need:
200gms all purpose flour and 100gm semolina
1 tsp fennel seeds and ½ tsp baking powder
1 tsp cardamom powder and 500 ml milk
1 cup ghee and 250gms sugar
250ml water and 50gm khoya
chopped pistachio and saffron as required
How to Make It:
Firstly, prepare sugar syrup by placing water in a cooking pan over medium flame. Now add sugar in it and stir until dissolved. Once its thick, remove the pan from flame.
Mix all purpose flour, semolina, fennel seeds, khoya, baking powder, milk and cardamom powder and prepare a mixture. The batter should be of pourable consistency.
Heat ghee in a pan on low flame and pour a ladleful of batter. Cook until golden brown and then drop in sugar syrup. Finally, garnish with pistachio and saffron.
5 Falahari Recipes for Janmashtami
Sabudana Khichdi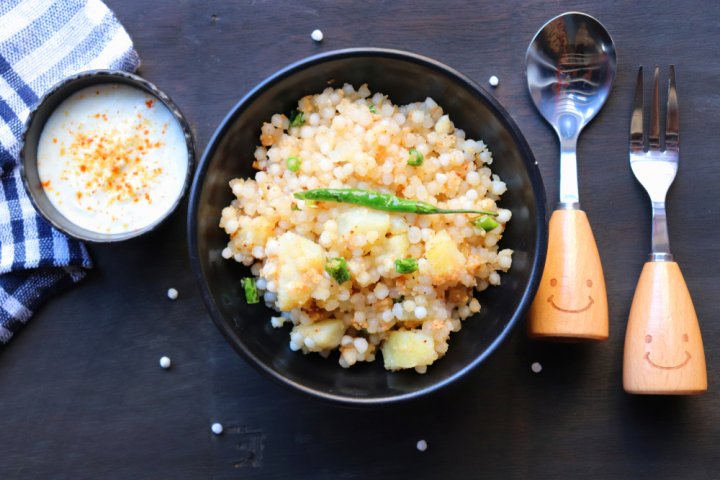 Let's start this section of Falahari Janmashtami recipes with the most loved one which is Sabudana Khichdi. It is easy to make and delicious to eat.
What You Need:
1 cup sabudana and 1 cup water
1 tbsp oil and 1 medium potato
1/2 tsp cumin seeds and 2 tbsp raw peanuts
1-2 green chillies and 6-7 curry leaves
Salt and sugar – ½ tsp each
Juice of ½ lemon and 1 tbsp chopped cilantro
How to Make It:
Soak sabudana overnight with 1 cup water and drain the excess water in morning. You can check the pearls are ready to cook by smashing them.
Heat oil on medium flame and then add cumin seeds, diced potatoes and cook for 3-4 minutes followed by raw peanuts and then cook for another 3-4 minutes
Add green chilly, curry leaves and cook for few minutes followed by sabudana, salt and sugar.
Cook for few minutes and then serve with garnished cilantro.
Singhare ki Poori
The next Janmashtami falahar recipe that you can try is Singhare ki Poori is easy to make and tastes great when paired with falahari sabzi.
What You Need:
2.5 to 3 cups singhare ka atta and 1 cup of mashed potatoes.
1-2 green chillies and 1 tsp cumin powder
2 tsp oil and rock salt as required
Water and oil
How to Make It:
Add all ingredients in a bowl like atta, mashed potatoes, minced chillies, cumin powder, rock salt and then add water.
Knead in a dough. Make small balls and roll pooris with a rolling pin.
Deep fry them in a pan and you are good to go.
Falahari Aloo Ki Sabji
You should know how to make vrat ke aloo as you can enjoy them with the pooris mentioned above. It is going to taste quite like the regular poori aloo and you will have a nice falahari meal for you.
What You Need:
2 cup boiled potatoes and 1 tbsp oil
1 tsp cumin and 1 ½ ginger paste
1 tsp minced green chillies and water as required
Rock salt as per taste and 1 tsp lemon juice
How to Make It:
Boil the potatoes and cut into small pieces and mash some potatoes to make gravy.
Heat oil in a pan and add cumin followed by ginger and green chilli paste.
Cook for a while then add potatoes followed by water.
Add mashed potatoes and cook for a few minutes.
Add lemon juice and salt as per taste and the sabji is ready.
Samvat Rice Khichdi
Samvat rice khichdi is a popular falahari recipe because it is so quick to make and is also good for health. Check this recipe given below for it.
What You Need:
100gms samvat rice and 100gms potato
3-4 tbsp ghee and ½ tsp cumin
2-3 tbsp chopped coriander and 2 chopped green chillies
Black pepper powder and rock salt as per taste
How to Make It:
Soak samvat rice for half an hour and then drain excess water.
Heat ghee in a pan and add cumin, once cooked add green chillies and black pepper powder.
Add samvat rice and roast for 1-2 minutes and then add 2 cups of water, rock salt as per taste and cook with lid closed for 3-4 minutes on medium flame.
Take another pan and heat ghee then add diced potatoes in it. Cook until golden brown then set aside and roast peanuts in same pan.
Add potatoes and peanuts in samvat rice khichdi and serve with chopped coriander. If you are wondering what to eat in Janmashtami fast then this recipe is perfect.
Aloo Paneer Kofta
And our final falahari option for Janmashtami recipes is aloo paneer kofta. If you want to try out a nice flavorful Falahari dish then this is the one.
What You Need:
200gms paneer and 3 medium sized potatoes (boiled, peeled and grated).
Black pepper powder, red chilli powder, garam masala powder – ½ tsp each
Rock salt and chaat masala as per required
1-1.5 tbsp chopped coriander leaves and 1-5-2 tbsp corn flour
2-3 tbsp mixed chopped dry fruits and 1.5 tbsp khoya
Vegetable oil for frying
How to Make It:
Mix all ingredients in a bowl except dry fruits, add more salt or seasoning as per taste.
Take medium sized ball and flatten it and place dry fruits in the center.
Seal the kofta covering dry fruits and prepare these koftas with all the dough.
Heat oil for shallow frying and add koftas and fry till then turn golden brown from both sides.
Serve with green chutney.
From our editorial team
Janmashtami Fasting
Fasting is a norm among Indians during Janmashtami. However, you must take care of yourself and put your health first. Eat falahaari foods and eat in good quantity so as to not feel dizzy or unwell later in the day. After all, it is a festival that you ought to enjoy with your near and dear ones.