What are Millets & How They Help You Lose Weight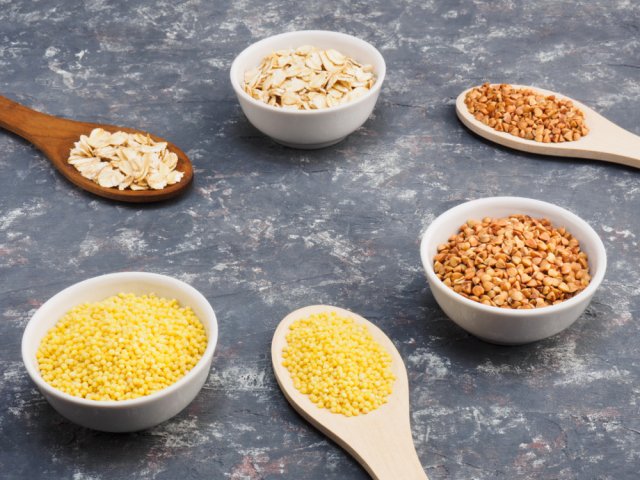 If you have been trying to lose weight, you must know the goodness of quinoa and how it helps shed weight, but it is quite expensive. We have good news for people who want to lose weight naturally without burning a hole in their pockets. You can try eating millets. They are super healthy and can be found easily in the market all over India. These millets are loaded with protein and provide all the nutrients needed to stay healthy without storing fat in your body. They are also called superfoods because you can easily replace them with wheat or rice and still feel good.

Millets are small seed grasses which grow in semi-dry areas of Asia and Africa. They are high in protein and fiber, which aids in losing weight. They are also packed with iron, magnesium, minerals, potassium, Vitamin E and B, so in other words, if you start eating millets, you won't need any other supplements to keep you healthy. You can use millets in various ways. You can mix it in your wheat flour and make delicious and healthy rotis; you can also make khichdi or eat it as porridge for breakfast. You can also make wonderful pieces of bread, upma, idli, etc. with millets. They are easy to make and do not take too much time to prepare it.
11 Benefits of Eating Millets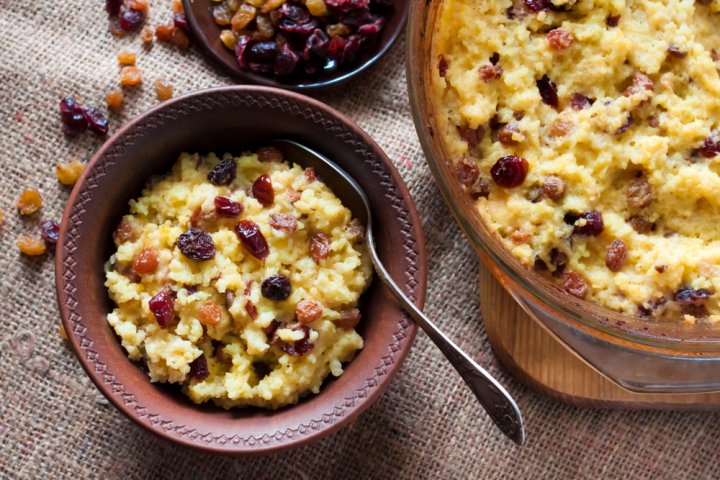 We often hear young people getting sick with an illness known to happen at an older age and feel surprised. One of the major causes of young people getting sick is their lifestyle and eating habits. People are busy and don't get too much time to prepare a complete meal for themselves, therefore eating a lot of store-bought junk food or street food. These junk foods are no doubt delicious but are also very unhealthy. Although we know the risks we put ourselves at when eating junk food, but we can't resist it mainly because it saves a lot of time and is easily available. It is high time we start thinking about what we put in our mouth to stay healthy.

You can adapt a good eating habit easily by including millets in your diet. There are many different kinds of millets in the market, and come in various shapes and sizes with high health benefits. Millets provide you with all the nutrition needed for your body. A 100 gram of millets has 78 calories of energy, 4.2 grams of total fat, out of which saturated fat is 0.7 grams, total carbohydrate content is 73 grams, dietary fiber is 8.5 grams, and protein content is 11 grams. If this is not enough to convince you to start eating millets, read on.
Millets are loaded with minerals like copper, magnesium, phosphorous, and manganese. They provide you with a balanced diet and prevent life-threatening diseases.


Millets are a great way to keep you full and lose weight. They have a low-calorie count and give you ample energy without feeling hungry for a long time.


Eating millets decreases triglyceride levels in your body and thins out your blood, preventing blood platelet clumping. This helps in preventing heart diseases and coronary artery disorder.


Since millets are high in magnesium, they help relax the muscles inside the arterial wall and reduce your blood pressure.


If you have diabetes, you can benefit from eating millets. Magnesium stimulates the levels of insulin and increases the efficiency of glucose receptors in our body. It helps balance the sugar levels in your body and reduces the chances of getting diabetes type 2. If you add flaxseeds, makhana, etc., with it, you can increase its goodness and benefit from it.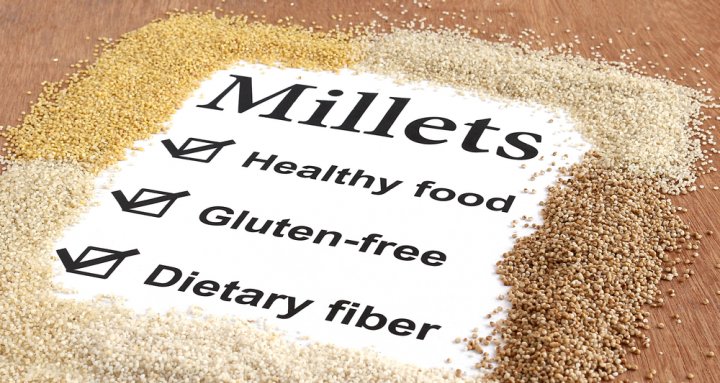 People who like to detox their bodies once in a while can easily use millets to do so. Millets have curcumin, ellagic acid, Quercetin, and catechins, which help eliminate foreign agents and balances the enzymatic reactions in our body. This naturally detoxes your body and keeps you glowing.


Boosting your immunity is one of the major concerns for people these days due to the spread of Covid-19. If you feel you have a weak immune system, you should start eating millets. Millets provide you with the much-needed protein and help in making your immune system stronger.


Most of us these days are complaining about not being able to sleep at night. Insomnia is mainly caused due to stress, but if you start eating millet porridge at night, it will help raise serotonin levels in your body and helps you relax and sleep better.


Women who undergo menstrual cramps can eat millets to relax during their periods. Due to high levels of magnesium, millet helps in reducing cramps during the menstrual cycle.


Millets are perfect for lactating mothers. It helps in the production of breast milk. You can start by eating Ragi to improve milk production and feed your child without any problems.


Millets are great for people worried about skin issues. They are rich in amino acids called L-lysine and L-proline, which help in creating collagen. Collagen is the agent that helps in maintaining skin elasticity and removes wrinkles and fine lines from your face.
10 Types of Millets That Help You in Weight Loss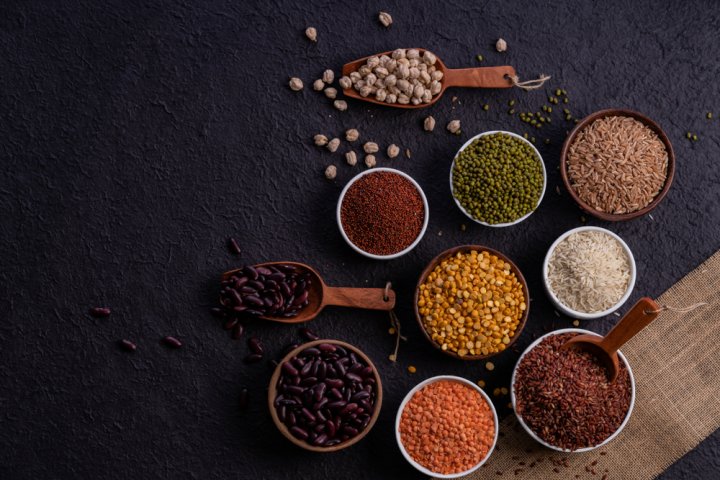 Now that you know the benefits of millets, let us look at different millets available and how they can benefit you.
Sorghum (Jowar): You must have heard about Jowar or Jowar rotis. They are a popular millet and can help you in your weight loss journey. It is high in calcium, iron, protein, and fiber. It is also gluten-free; therefore, if you are allergic to gluten you can easily eat Jowar and get all the nutrients needed.


Foxtail millet: These are also called kakum or kangni and can be found as semolina or rice flour. Foxtail millets have carbohydrates which balance your blood sugar levels. It is also high in iron and calcium, which boosts your immune system. They help in regulating your blood cholesterol and increases HDL cholesterol levels in your body. If you want to eat millets for weight loss, you can start with Foxtail millets. It has high levels of Tryptophan, an amino acid that digests at a slower rate and prevents you from eating time to time, leads to weight loss. You can easily use them in many Indian recipes and enjoy your meal and stay healthy.


Finger millet: Also known as Ragi, is common millet. It has great nutritional value, and you can easily replace it with rice or wheat. It is packed with calcium and other essential minerals that help you stay fit and lose weight.


Pearl millet: Bajra or Pearl millet is also a very common millet eaten in India. It is packed with calcium, magnesium, protein, iron, and fiber. It is excellent for people with type II diabetes and low HB as it contains eight times more iron than rice. Bajra is high in fiber; therefore, people with constipation and other digestion issues should consume Bajra daily.


Buckwheat or kuttu: Kuttu is mainly used during fasts, but you can eat it daily to follow a healthy diet. It is great for losing weight as it keeps you full for a long time. Kuttu also helps in lowering your blood pressure and improves your heart. Researchers have shown that eating kuttu can also help in fighting breast cancer and childhood asthma.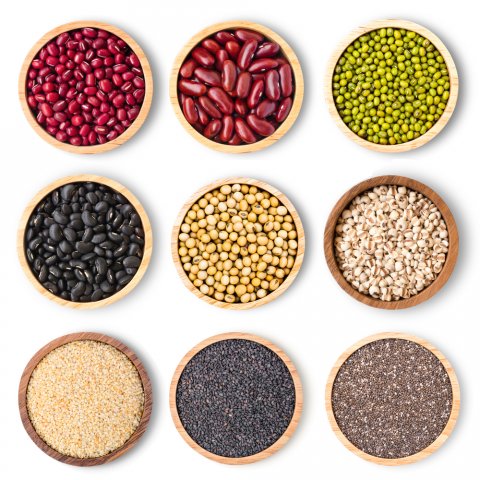 Little millet or moraiyo/kutki/shavan/sama: Another good millet to eat daily is Little millet or Sama. It is beneficial to replace your rice with Sama. It is high in minerals like potassium, zinc, iron, and calcium. It also has high levels of vitamin B, which is a great antioxidant. It has about 5.2 grams of fat with a good content of unsaturated fat, which boosts your metabolism and helps in losing weight. You can easily make delicious kheer or porridge with it and eat it almost daily.


Amaranth millet: If you want to eat quinoa but can't, then you can easily start eating Amaranth millet or rajgira. It is mostly used during Navratri fast to make rice and other dishes, but it will be good to eat it daily to stay healthy. Rajgira is high in iron, manganese, phosphorous, and has only 103 calories in 100 grams, which helps you lose weight naturally without starving yourself.


Barnyard millet: Also known as samvat ke chawal, is good millet to add in your daily diet. They are the highest in fiber and good for people who want to lose weight healthily. It has 342 calories per 100 gm and is rich in essential minerals.


Proso millet or barri/chena: Proso millet is high in vitamin B like thiamine, niacin, and riboflavin. It also has vitamin E, which works as an excellent antioxidant. You can eat it daily and feel healthy.


Kodo millet (Kodra): It looks a lot like rice. They are rich in phytochemicals and antioxidants. Kodo millets are great for people who are looking to lose some weight. Various research has shown that Kodo millet reduces knee and joint pains and helps in regularizing your menstrual cycle.
4 Healthy Recipes Using Millets for Weight Loss
Here are five great recipes made from different millets. You can make them at home and serve them to your family to inculcate better eating habits and staying fit.
Savoury Pearl Millet Porridge
To make this recipe, you'll have to soak millet overnight, but it comes out great. A person with diabetes can enjoy it and benefit from it.
Ingredients
2/3 cup pearl millet bajra
1/3 cup moong dal
2 tsp ghee or coconut oil
1 tsp cumin seeds
4 cloves garlic finely chopped
2 medium potatoes peeled and quartered
1 medium carrot cut into chunks
1 large tomato quartered
2-3 green chillies slit
1 tsp salt
1/2 tsp turmeric powder
1 tbsp coriander powder
1 tsp garam masala powder
2 cups finely chopped spinach
Method
Soak millet overnight.
Soak moong dal in water and drain it right before you need it in the khichdi.
Heat ghee in the pressure cooker and add cumin seeds, garlic, chillies, and vegetables, saute for a minute.
Put in drained moong dal with the dry spices and salt.
Add 4.5 cups of water and boil it.
Put the lid on.
Switch to low flame after three whistles and cook for 20 minutes.
Wait for the pressure to release completely, open and add chopped spinach in it.
Close the lid again and leave it for ten more minutes.
Serve it with salad or chutney of your choice.
Vegetable Jowar Upma Recipe
If you like eating Upma, you can try this delicious Jowar Upma. It is a great dish to make for breakfast or snacks.
Ingredients
1 cups Barnyard Millet
1/2 cup Fresh coconut, grated
1/2 teaspoon Mustard seeds
1 teaspoon white urad dal (split)
Green chillies, finely chopped
5-6 curry leaves, finely chopped
1/4 teaspoon asafoetida (hing)
1 tablespoons sesame (gingelly) oil
Salt, to taste
Method
Heat oil in a pan and put in mustard seeds, urad dal and let it crackle.
Add in curry leaves, ginger, green chillies, asafoetida, and jowar.
Stir it till it is roasted.
Add coconut and 1 cup of water with salt.
Now stir it continuously till it boils, now turn the heat to low and cover the pan.
Wait till it thickens, turn the heat off and take it out on a plate and let it cool.
Now take a steamer and oil idli plates with oil.
Divide the mixture into 20 oval-shaped dumplings.
Now put each dumpling in the steamer and steam for around 10 minutes on high heat. Remove them and serve it with chutney.
Mixed Millet Bhel Puri
This is a great recipe for snack lovers. It is healthy and tasty and easy to make.
Ingredients
1 Cup mix millet flakes
1 cup ragi flakes
3 cups puffed rice flakes
1/2 cup peanuts, roasted
1/2 cup amaranth & brown rice namkeen
2 tbsp chaat masala
3 tbsp black sesame
4 potatoes (diced), boiled
2 onions, chopped
2 tomatoes
4 tbsp lime juice
2 tbsp green chilles
3 tbsp green chutney
Handful of fresh coriander
3 tbsp moringa leaves powder
Method
Add all the millets in a bowl with ragi flakes and puffed rice flakes.
Add roasted peanuts with amarnath and brown rice namkeen.
Now sprinkle chat masala and black sesame over it.
Add potatoes, tomatoes, onions, lime juice, and green chillies in it and mix well.
Add moringa powder and green chutney mix in it and mix again.
Garnish it with lots of coriander leaves and serve with hot tea.
Instant Ragi Dosa Recipe
This is an excellent way of treating your kids with dosa and keep them healthy as well.
Ingredients
Ragi flour/ Finger millet flour – 1/2 cup
Wheat flour – 1/4 cup
Onion – 1
Green chilli – 1
Curry leaves – 1 sprig
Cumin/ jeera – 1 tsp
Salt – as needed
Water or Butter milk as needed
Method
Take a bowl and put in ragi, wheat flour, chopped onions, green chillies, curry leaves, cumin, and salt with 1/4 cup of buttermilk in it.
Stir it well and make a thin batter.
Heat a dosa tawa and drizzle some oil on it.
Put in a ladle full of batter like you do for normal dosa.
Add some more oil and cook on a medium flame for a couple of minutes.
Flip it and cook for one more minute.
Remove and serve with sambhar and chuteny.
From our editorial team
Include a Variety of Millets in Your Diet
As mentioned in the post, there are a lot of varieties of millets available, and each of these provides different benefits to the body in the form of different kinds of nutrients and minerals. Hence, keep alternating between the different types rather than sticking to just one type!