Little Ways to Enjoy July Travel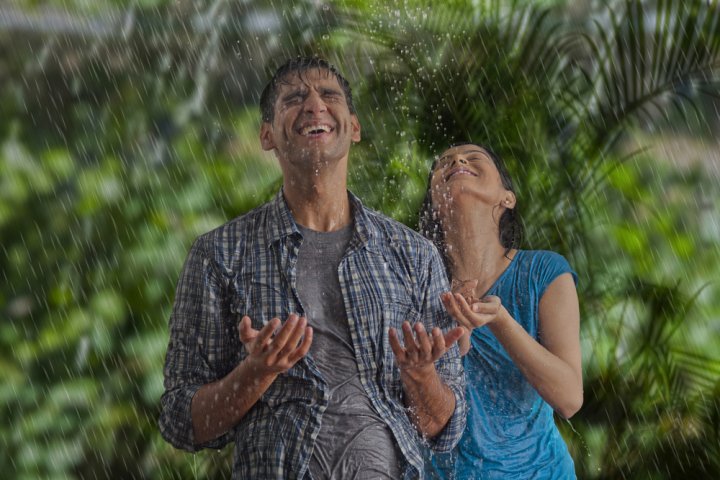 July means monsoon season in most of the places in India, and it brings to mind the perfect rhythm of rainfall and images of the rain-washed forest and lush green tea-estates outdoors and freshness all around. Monsoon offers the best experience for every wanderer, reducing stress and allowing you to bask in the beauty of nature.

Plan a tour in July only if you love monsoon:
Enjoy vacation: Monsoon should not stop you from travelling to your dream destinations, relax in the cool and wet weather. During the monsoon in a very less crowd. You will get offers and cheaper options for accommodation during this lean season. You may not need to book a hotel in many places in advance as the rooms remain available during this time of the year.
Feel raindrops and the fresh smell of earth: July is a remarkable time and a treat for the nature lovers. Monsoon brings forth some unexpected stunning destinations to enjoy the natural beauty and smell the real nature.
Cool and more green than other time of the year: There are more things that the month of July offers than just rain while you travel to your favourite destination. Beautiful scenery, cool weather, breathtaking fresh vistas, lush green forests and gigantic waterfalls, all can make your travel worthy enough.
Runaway from the madness of everyday life: Monsoon brings something special everywhere and you can feel the serene nature without any chaotic noise during this time. Get yourself out of the couch and the crowd of the hustling city traffic and enjoy the great mountains, deep valleys, dense forests and a variety of wildlife in different stunning places of India.
10 Best Places to Visit in July
Shillong, Meghalaya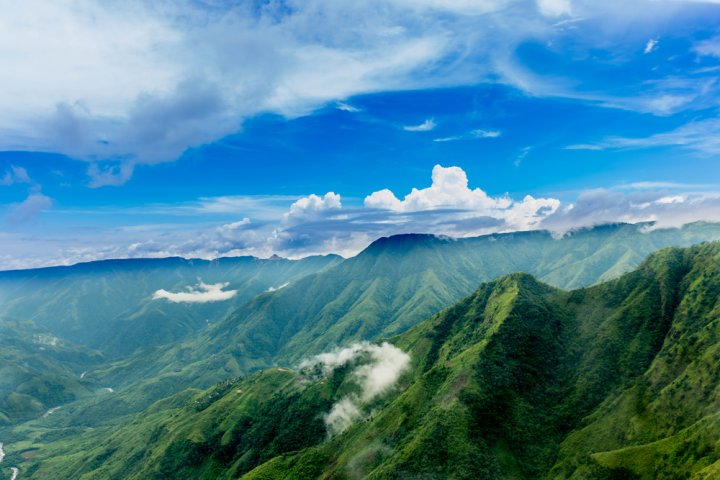 The capital of Meghalaya, Shillong also called 'The Scotland of the East' lies in the eastern part of India, at an altitude of 1,520 meters or 4,990 feet above the sea level. The city stretches for about 6 km on an elevated track. Shillong enjoys a lengthy monsoon, which arrives in June and ends almost till August. March to April and October to November are the best months to visit Shillong. The main attraction of Shillong is the waterfalls with heights ranging from 12-13 m to 96 m. The Caroline Falls with a swimming pool at its base, the Gunner's fall, Spread eagle falls, Sati falls, Sweet falls, Elephant Gait and the Elephant Falls, Upper and Lower Elysium falls, Beadon Falls, and Bishop falls are some of the major waterfalls to visit while you roam around Shillong. Shillong also has peaks like Shillong peak, Sohpetbneng peak, Dingei Hill, Dumpeep Peak which are must-visit places. Lakes like Ward Lake is an important tourist destination in Shillong. It is constructed among the pine-wood which overlooks the lake. Other attractions include Asia's cleanest village Mawlynnong, Botanical Garden, and beautiful churches.
Munnar, Kerala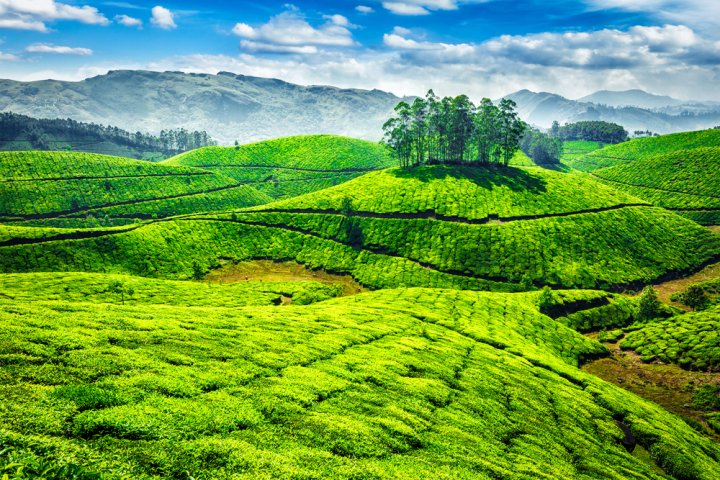 There are several reasons to visit Kerala in monsoon season. If you ever wish to be in a lush and peaceful destination, then visit Munnar in the monsoon season and enjoy the beautiful Western Ghat. It has a pleasant climate throughout the year. Munnar is best known for its beautiful and rare Neelakurinji blooms which appear once in every twelve years. It is certainly a sight to enjoy once in a lifetime as the hill station is covered with a breathtaking hue of blue during this time. During the rainy season, the place is covered with lush green foliage and magnificent waterfalls with voluminous water.

Munnar has various scenic points from where you can capture some breathtaking views of monsoon. It has an asymmetric slope of the Nilgiri hills, which is a picturesque place which is open from 10 am to 8 pm. You can watch the sunset from the Pothamedu viewpoint, and it is a great place for hiking, trekking and photography. Other adventures which you can try are the boat tour of Kundala Lake, ride an elephant in Carmelagiri Park, visit the surreal valleys of the Eravikulam National Park open from 7.30 am till 4 pm. You can also trek and take the nature walk to have a glimpse of the Lockhart Gap. Munnar is budget-friendly during monsoon season and you can see the real beauty of nature with discounts on hotel tariffs.
Valley of Flowers, Uttarakhand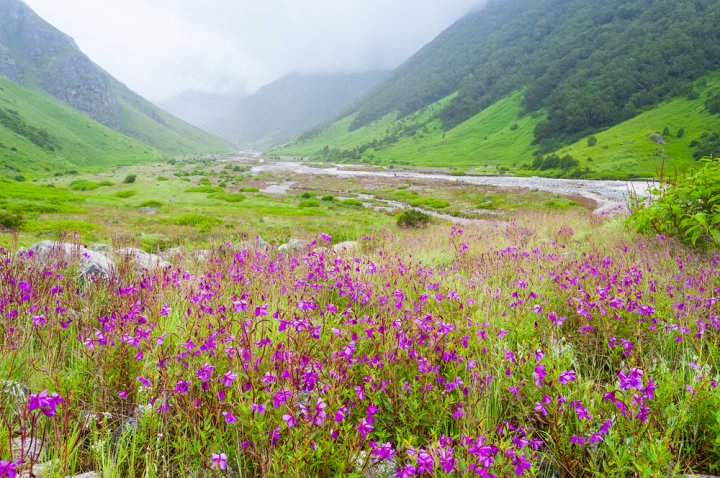 One of the most beautiful places on earth, bordered by Nepal and Tibet, with a stunning landscape is the Valley of Flowers which comes alive with the monsoon rain. It is a high altitude Himalayan valley which has around 300 different varieties of alpine flower that looks like a bright carpet of colours that comes with snow-capped mountains at the background. You can visit the Valley of Flowers National Park is located in Chamoli Garhwal, which is close to Nanda Devi National Park, about 370 miles from Delhi. The best time to visit there is from mid-July to mid-August when the flowers are full bloom and looks fresh after the monsoon rain. The flowers are in every possible shade and it comes with amazing trekking experience. You are sure to enjoy the place, as it is the most beautiful sight you will ever see in the lap of nature.
Coorg, Karnataka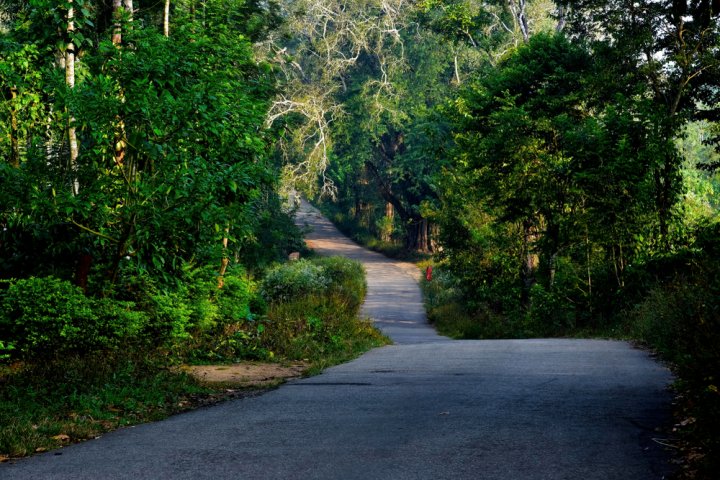 Coorg is one of the beautiful hill stations of India, with lush green and serene surroundings and one of the most popular destinations of India. The weather is comfortable and pleasant most of the day there. Monsoon starts around June and lasts till September. The area receives heavy rainfall due to great green coverage. If the rain makes you happy, this is the time to visit the place with a temperature around 23 to 2 degrees. Some of the most beautiful waterfalls here are Jog and Abbey Waterfalls, which gushes down with speed and forms a strong mist all around during monsoon season. The range of Western Ghat which is under World Heritage sights, Kodagu is a charming place that will give you fresh monsoon experience with lush green mountains, coffee plantation and romantic weather.
Pelling, Sikkim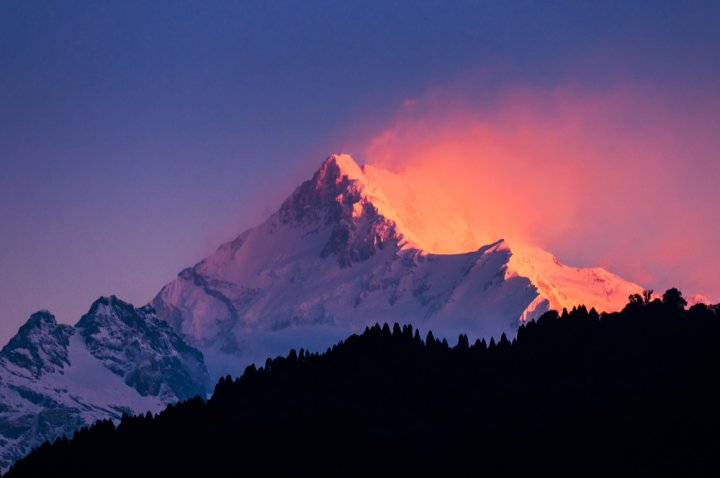 If you enjoy Buddhist culture and monasteries, then Pelling is among the best places to visit. The place is guarded by Kanchenjunga. It is beautiful in all seasons but it looks more beautiful when it is raining. At this time of the year, Pelling is lush green with blue skies and beautiful landscapes. July to September is the monsoon season and it is quite adventurous to visit during this time. The rain has its own charm and if you do not mind to drench yourself in the raindrops then you will surely see the swollen waterfalls. Pelling is situated at an altitude of 6,800 ft. and it is 130 km away from Siliguri and 115 km away from Gangtok, the capital of Sikkim and it is very well connected with jeep and bus services. It rains heavily during July, and as it is the low season, the tariff for hotels and tours come down and becomes budget-friendly. Yet it is worthy to enjoy the pristine wilderness of monsoon during your July visit to Pelling.
Dalhousie, Himachal Pradesh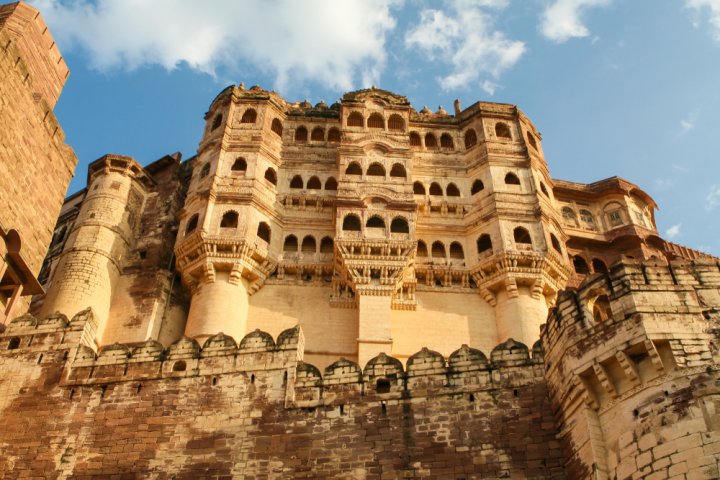 You can plan for Dalhousie at any time of the year as it has something to offer all the year-round. You can expect mild showers rather than heavy rain in the month of monsoons there. The monsoon brings a quite romantic and fresh look to the hill station due to its lush green coniferous forests. Moderate rainfall does not cause any inconvenience to your plan or outdoor activities. The best places to visit in Dalhousie are the colonial-era buildings, Bakrota hills for sightseeing, Chamunda Devi Temple where you can see the idol of Chamunda Devi, rock garden which is an ideal place for nature lovers and Sach Pass where you can enjoy the trekking. Then, there is also the Tibetan market, which is a paradise of handicrafts and souvenirs.
Lakshadweep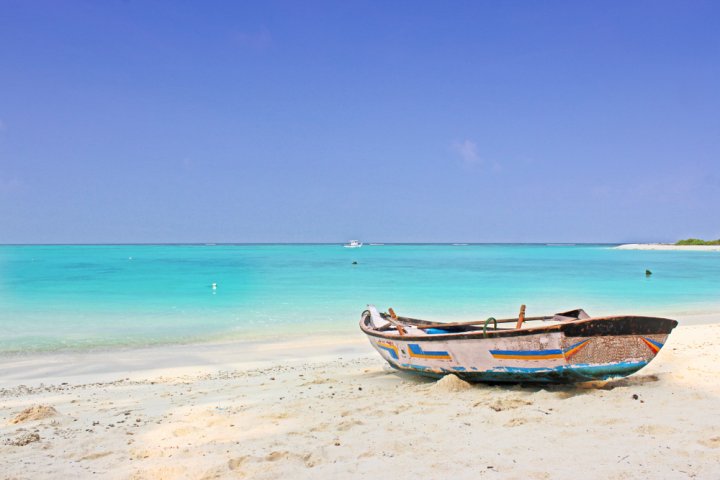 The Lakshadweep archipelago seems to be a few dots on the map of India, but it is a gorgeous part of India's southwestern frontier. It is a beautiful place untouched from industrialization and progress and hence it is full of natural beauty and elegance. The place is symbolically linked with each other by white beaches, coral reefs and deep blue sea. It is a marvellous looking largest territory of India. It has a total area of 700 sq. km of coral reef, 35 islands and the extended sea zone of more than 7, 00,000 sq. Km. All the islands are shaped like a boat and the lagoons are shallow. The water in the lagoon is clean and crystal clear to look. Enjoy turquoise corals and beautiful coastline along with other activities like swimming, surfing, snorkelling, canoeing, kayaking, water skiing and many more.
Darjeeling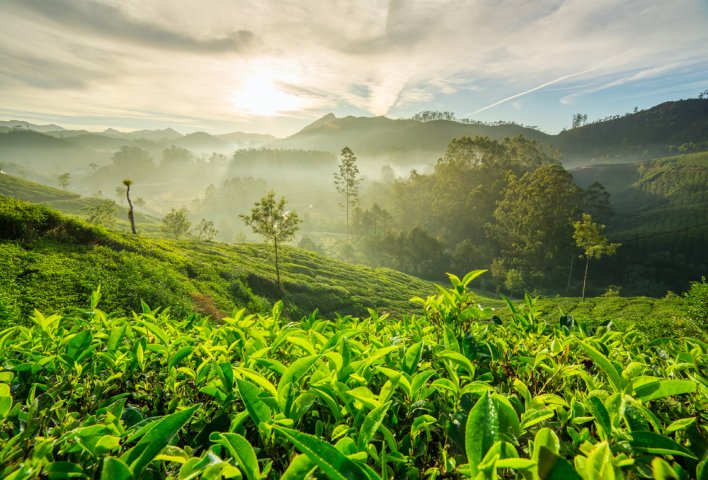 One of the Unesco world heritage site – Darjeeling is a popular postcard-pretty hill station and is a perfect place to enjoy Himalayan ranges with walking tracks, monastery, valleys, tea plantations, and of course the nostalgic toy train ride. This favourite tourist place is famous for its evergreen places to visit like Tiger Hill famous for its sunrise; Batasia Loop, an elevated area below Ghum, a spiral railway track through a tunnel over the summit with a great panoramic view of tea garden, Peace Pagoda located in the adjacent Nipponzan Myohoji Buddhist Temple, you can see the panoramic view of Darjeeling from here, Ghoom Monastery and oldest ancient glory of Buddhist culture, Padmaja Naidu Zoological Park, one of the most exquisite place for rare flora and fauna which is famous for the largest population of snow leopard; Rock Garden a rocky picnic area with plenty of activities; Happy Valley Tea Estate without which visiting Darjeeling will be incomplete. In the monsoon season, the entire hill village looks green and serene with fresh leaves of the trees and dark forests. The sound of the raindrops over the cottages creates a unique romantic atmosphere. One of the most awesome experiences of Darjeeling during monsoon is mist or the fog. Just take an umbrella and you are all set to roam around the local areas.
Kodaikanal, Tamil Nadu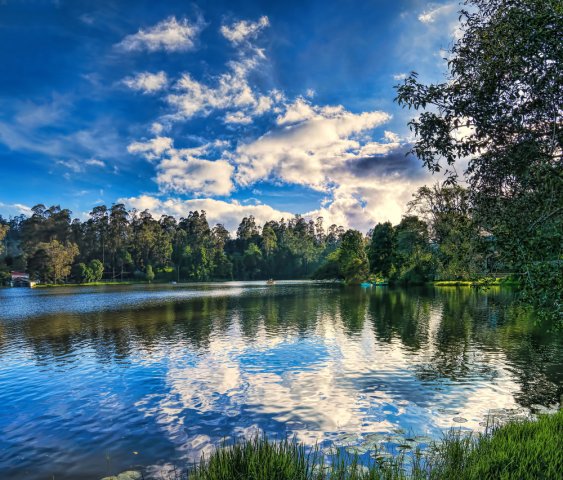 When we speak about monsoon, droplets of rain washing over trees, sweet earthly fresh fragrance, masala chai and pakoras, come to mind. Kodaikanal is the gift of the forest and this hill station is a retreat. It is fondly known as Princess of the Hill Station and it rests on the elevation of 2000 m above the sea level. It is renowned for its star-shaped man-made divine looking Kodaikanal Lake. The views of monsoon season when it rains here are something to cherish forever. The place is covered with lush greenery and mystic forest on the towering hill. There are several amazing scenic points including the green valley view like Pillar rock, Suicide point, Berijam Lake, Dolphin's nose, Coakers Walk and Bryant Park. Kodaikanal has some majestic waterfalls, which looks gorgeous and voluminous in the monsoon season – Fairy Falls, Bear Shola Falls, and Silver Cascade. The Bear Shola Falls gets its life in monsoon and is termed as a seasonal fall, the name is from the story of the bear's drinking water here. Silver cascade is a famous waterfall and it is quite a stunning view to watch the waterfall cascading through the greens.
Orchha, Madhya Pradesh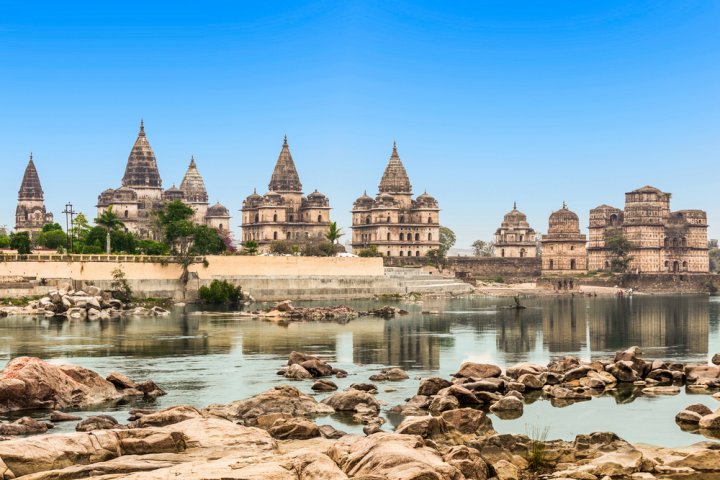 The tranquil village is in the northern part of the state and the meaning of Orchha is 'a hidden place'. The name justifies the place as it is a small village hidden by the forest from the main traffic area. Orchha is situated on the banks of the Betwa River in Madhya Pradesh, and it is a historical region which has an effect of the medieval age and it also emits the old charm. This is one of the most famous tourist places of the state popular for its striking palaces, forts, carved temples and other aesthetic structures. It is one of the most romantic spots on earth and is surrounded by historical forts, memorials and heritage buildings. Some top tourist sites of Orchha are Ram Raja temple, Jahangir Mahal, Chatris, Chaturbhuj temple, Laxminarayan temple, Raj Mahal and Phool Bag.
Things to Remember While You Plan a Trip in July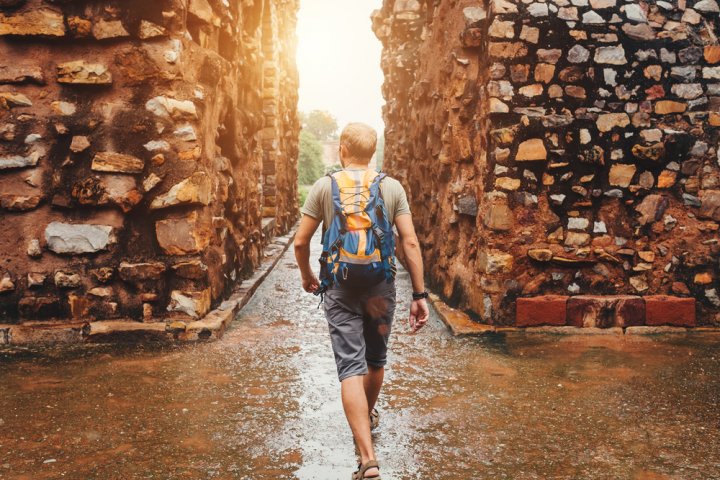 What to expect during monsoon travel:
Pros– During the monsoon season, nature comes to life, waterfalls fill up and gushes down from a height. It is easier to connect with locals and experience more authenticity. You also get cheaper accommodation and friendlier staff members due to fewer people; Less crowd during your trip as well as taking photos.
Cons– You might get more humidity, afternoon showers, standing waters and thunderstorms at the rainy season during July. Flash flood, risky trekking, less enjoyable scuba diving and boating are some facts to consider during the season.
Pack your essentials, keep your eye on the weather reports, walk and drive carefully. Allow yourself some extra time while you travel and enjoy the madness of monsoon during your next July trip.
From our editorial team
Precautions for Travel in July aka Monsoon Season
Travelling during July means that you are most likely to experience rains all over India with differing intensity. It takes someone with an enthusiastic affection for rains to enjoy travelling in the monsoon. But whoever you are, you need to take some extra precautions. Make sure the fabric you wear is comfortable and quick drying. Rather than natural fabrics, synthetic like polyester dry fast. Also, your shoes should be waterproof else you run the risk of spoiling your shoes. You also run the risk of infection too. Talking about infection, make sure you have the basic medications for fever, cold and also first aid. With these in hand, your travel this monsoon season should be a breeze.