Bread Maker: Make Your Life Easier with This Gadget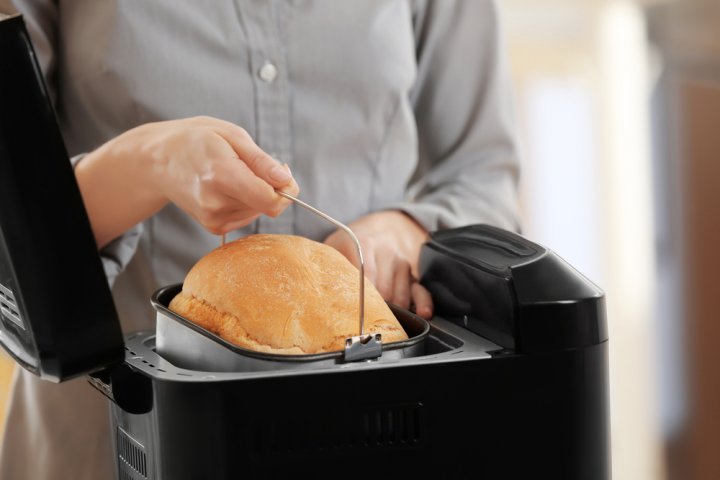 Bread makers have made life easier and convenient with their high functioning technologies. They have several benefits, both for unskilled cooks and cooks who have limited time. The bread-making machines are highly portable and can be installed in every home now. No more pre-ordering the bread is required. Moreover, they are very simple to use and operate. The bread machine does the hard work and kneads the bread dough for you.

By baking at home, you can assure the quality of the bread. You do not have to worry about the preservatives and chemicals being added to the bread. With a few simple recipes, you can make delicious fresh bread every day, within the comfort of your own home. Furthermore, they can be cleaned easily as compared to traditional ovens. In addition to all that, they do not create a mess and are fun to use. Additionally, they can be used for multi-purposes such as for making cakes, jams, pizza and pasta dough.
Amazing Bread Maker Recipes
Banana Chocolate Chip Bread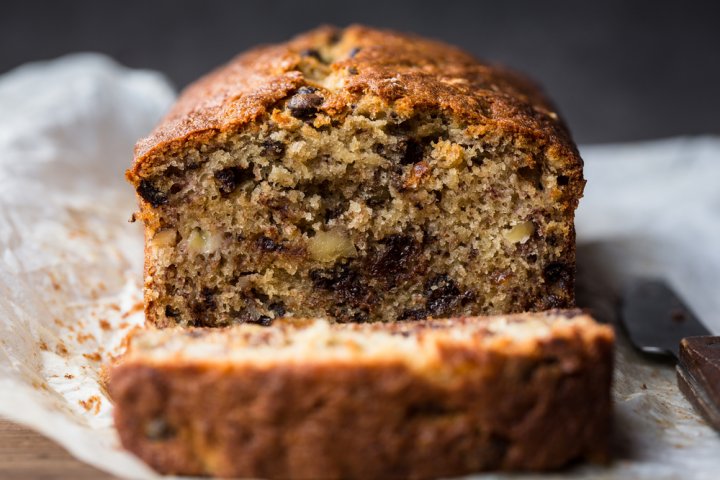 This stunning bread, filled with rich chocolate chips and walnuts, is a great choice for breakfasts or unwanted cravings. The ingredients you need are two eggs, 1/3 cup of melted butter, 1-ounce of milk, two mashed bananas, two cups of bread flour or all-purpose flour, 2/3 cups of sugar, 1.25 teaspoon of baking powder, 1/2 teaspoon of baking soda, 1/2 teaspoon of salt, 1/2 cup of chopped walnuts, and 1/2 cup of chocolate chips.

Begin this recipe by cracking eggs in a bowl. Next, add butter and milk into this and whisk well. After this, add in the mashed bananas and combine well with the help of a fork. Now, pour this mixture into the bread pan and keep it aside. Next, take another bowl and add all the dry ingredients. Now, stir these ingredients and combine them. Add this dry ingredient mixture into a pan.

Place the pan in the bread machine and press the "Quick Bread" button on your bread-maker. Let it complete the one cycle and check if the bread is cooked. Now, take out the pan from the machine and remove bread from the pan. Place it on a cooling rack and let it cool a bit. Now, enjoy your delicious bread with a cup of coffee or tea.
Bread Machine Bagels
Start your day with these mouth-awakening bagels that are super easy and quick to make. The ingredients you need are 1¼ cups of warm water, 3½ cups of all-purpose flour, 1½ tbsp of granulated sugar, 1½ tsp of salt, and 2 tsp of active dry yeast or quick-rise yeast. You can choose anything for toppings according to your likings such as poppy seeds, sesame seeds, shredded cheese, and coarse salt, etc.

Start by adding water, flour, sugar, and salt to the bread machine. Do not change the order of the ingredients. Now, create a small well on the top of the flour. After this, put the yeast inside water, flour, and then cover it with flour. Next, set your bread machine settings on the "Dough" button. This will help to mix the dough mixture more easily. Moreover, it will allow the mixture to rise. After adjusting the settings, punch down the dough in the pan and leave it inside for about 10 minutes.

After this, remove dough and make several dough balls by dividing them into equal parts and shaping equal pieces, then shape each by rolling it in a circular motion. Now, make a ring in the center with your finger and stretch it to give a bagel shape. Next, cover this in a damp towel and allow it to rest for 10 minutes. Preheat the oven to 425 degrees and at the same time bring a large pot of water to a boil. Now, put the bagels into boiling water and lower them gently.

Let the bagels sit in the water for about two minutes and flip them. Cook both sides for 1-2 minutes. Take them out of the water and put them on a baking sheet lined with a silicone mat. After this, brush the bagels with egg wash and put on the toppings. Now, place them in the bread machine and bake for about 20 minutes.
Bread Machine Pretzels
These mouth-watering bread machine pretzels do not only look sensational but are amazingly easy to make, too. The ingredients required for this recipe are one cup of water at room temperature, one tbsp. of butter at room temperature, two tablespoons of sugar, one tablespoon of salt, 2 3/4 cups of all-purpose flour, two teaspoons of dry active yeast, six cups of water for cooking water, 1/3 cup of baking soda, one egg for brushing, three tablespoons of melted butter, and two teaspoons of coarse salt for topping.

Begin with adding one cup of water, butter, sugar, salt, flour, and dry yeast in a bread machine pan. Make sure to put the ingredients in order and do not mix them. Next, adjust the settings to the dough and press the start button. When one cycle is completed, take the dough out and transfer it to a floured surface. After this, preheat the over to about 400F. Now, line the baking sheet with parchment paper and spray it with cooking spray.

Next, divide the dough into equal parts. Now, roll the pieces into 18-20 inches ropes and then shape them into U. Take 2 ends and cross over them twice. Now, bring the ends towards yourself and fold them down while leaving ends to overhang a bit. Lastly, press them down a bit where they intersect at the bottom. On the other hand, make baking soda water by bringing about six cups of water to simmer and put in the baking soda gradually.

Stir it to dissolve and lower the heat in order to maintain the simmer. Put the pretzels into the water without overcrowding the pot. Cook each side for about 30 seconds. Next, transfer them to the baking sheet.  Simultaneously, prepare the egg wash and brush it on the pretzels. Now, sprinkle over some coarse salt. Finally, bake them at 400ºF for 10-12 minutes or until turn golden brown. Remove them and brush with melted butter.
Cinnamon Rolls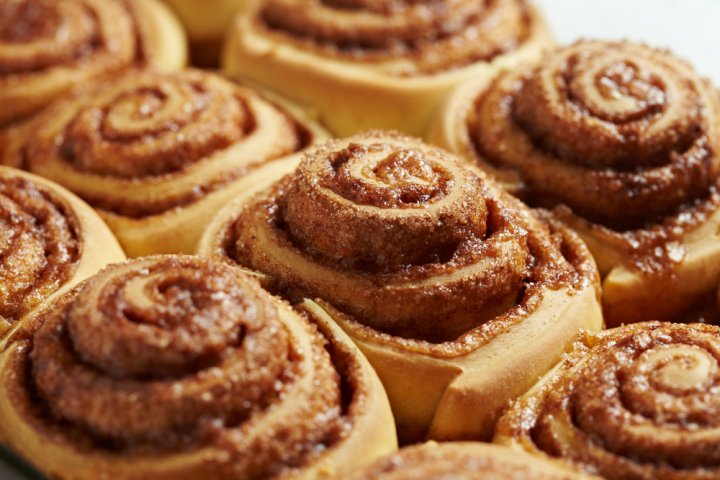 Craving for a delicious healthy dessert? Give this recipe a try. For this, the ingredients you need are 3 1/3 cups of bread flour, one cup of milk, 1/4 cup of butter, one large egg, three tbsp of sugar, two tsp of active dry yeast, 1/2 tsp of salt. For the filling, 1/4 cups of butter, 1/3 cups of chopped and toasted nuts, 1/4 cup of sugar, two tsp of cinnamon, 1/2 tsp of nutmeg. For the icing, you need one cup of powdered sugar, two tbsp of milk, and half tsp of vanilla extract.

Start by adding the flour, milk, butter, egg, sugar, yeast, and salt into your bread machine. Keep it running on one cycle and then remove it. Now, place it on the floured surface and knead for a minute. When the cycle is done, place the dough onto a floured surface. Allow it to sit for about 15 minutes. Next, roll out into a rectangular shape to approximately 1/4-inch thick. Next, brush the melted butter on the dough. Now, mix the filling and spread it over the entire surface.

Now roll up the dough and cut it into circles with a sharp knife approximately 1-inch thick. Now, place them in the greased pan and cover with a tea towel and leave them in a warm place for about 30 minutes, until double in size. Now, bake it in a 350° oven for almost 25 minutes. When done, preparing the glazing mixture. For this, combine powdered sugar, milk, and vanilla in a bowl. Combine all the ingredients until a smooth paste is formed. Now, pour this over and drizzle with powdered sugar.
Bread Machine Whole Wheat Pizza Dough
Making pizza dough in a bread maker is very quick and easy to make. The ingredients you need are one and a half cups of water, one tablespoon of olive oil, two and a half cup of whole wheat flour, one cup of all-purpose flour, one tbsp of granulated sugar, one tbsp of bread machine yeast, one tsp of salt, and one tsp of dried oregano.

Start by adding wet to dry ingredients in a bowl of the bread machine. Now, adjust the settings on the dough and let it complete a cycle. After this, divide it into two halves. Next, place it in a round disk and bake at 425 for about 10 minutes. Remove the pan, and put cheese, pizza sauce, and toppings. Now, cook it for another 10 minutes. Serve it hot.
Roasted Garlic Bread for the Bread Machine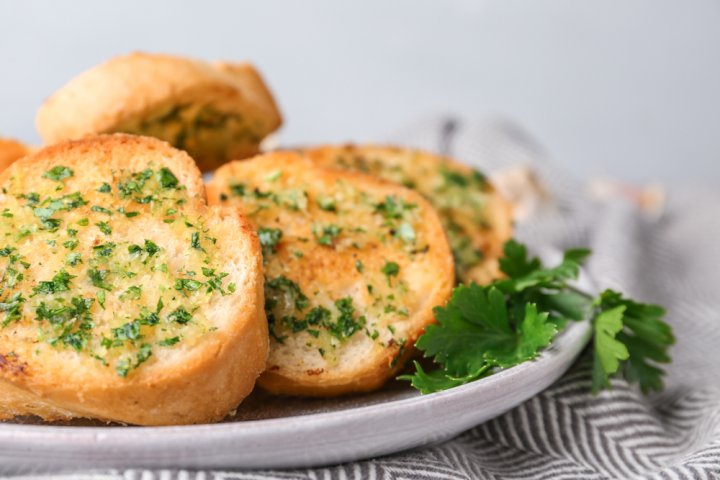 This amazing garlic bread recipe is rich in flavours. The ingredients required are one bulb of ​roasted garlic, three tbsp of butter, four cloves of minced garlic, half a cup of water, 1/3 cups of milk, 2-3/4 cups of bread flour, 1/3 cups of grated parmesan cheese, two tbsp of sugar, one tsp of salt, half tsp of garlic powder, and 1-1/2 tsp of bread machine yeast.

Start by preparing garlic. Squeeze them out of cloves and mash them slightly. Next, take a microwave-safe dish and add butter and minced garlic. Now, microwave it at full speed for 1-2 minutes until garlic is fragrant. After this, add all the ingredients to the bread machine pan except the garlic. You may also add slight warm water during kneading if required. In case, the dough is too wet or soft, add more flour. Next, add mashed garlic 10 minutes before the last kneading cycle ends. You are recommended to select the basic cycle and use the medium or light-coloured crust. Enjoy it with mayo sauce.

Bread Machine Onion and Olive Bread
To spice up your snacks and appetizer game, try out this olive and onion bread recipe. To make this recipe, you need 8 oz of water, two tablespoons of olive oil, two cups of all-purpose flour, one and a half white tablespoon of white granulated sugar, one teaspoon of salt, ¾ teaspoon of dried thyme, 200 ml can of chopped black olives, ¼ cup of dried minced onion, and two teaspoons of tsp bread maker yeast.

Add in all the ingredients in the pan in the given order. However, add yeast in the last and make sure to follow the instructions when adding salt and sugar. While adding the salt, make sure to pour it away from the yeast around the outer edge of the mixture. And when adding sugar, pour it opposite to the salt, around the outer edge of the mixture, away from yeast.

After this, dig a small crater in the middle of the flour, away from the salt, sugar, and water. Next, set your bread machine settings on the normal mode and follow the manufacturer's instructions for baking. Serve it hot with dip sauces and enjoy.
Pepperoni Cheese Bread
Looking for delicious appetizer recipes? Give this pepperoni cheese bread a try and thank us later. The ingredients you need to make this are one cup of water at 80°. One tbsp of butter, two tbsp of sugar, two tsp of ground mustard, half tsp of salt, half tsp of cayenne pepper, 1/4 tsp of garlic powder, three cups of bread flour, 2-1/4 tsp of active dry yeast, one and a half cup of shredded Mexican cheese, and one cup finely chopped pepperoni.

Start by adding water, butter, sugar, ground mustard, salt, cayenne pepper, garlic powder, bread flour, and yeast in a bread machine pan. Now, adjust the machine to the basic bread setting. Now, bake it according to the bread machine's directions and check the dough after 5 minutes of mixing. You may add one to two tbsp of water if required. Before final kneading, add in the cheese and pepperoni. Serve it with chilli garlic sauce and enjoy.
Additional Tips for Bread Maker Recipes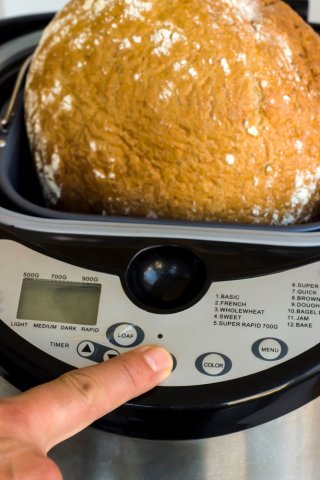 While cooking in the bread machine, you should consider the following things. Make sure to preheat the machine to the desired temperature and warm the ingredients, too, in order to bring them to an even temperature. You may also let them sit at room temperature for a while. Moreover, try to add in the wet ingredients first and dry later when making bread, so that the machine kneads them properly. Also, always put the yeast in the end because if you don't do it, the dough won't rise.

Furthermore, check the dough after the first 5-10 minutes of the first kneading cycle as it will help you know how well the bread is rising. You should add instant yeast as it saves time and does not add the yeast directly to the wet ingredients. Additionally, use a plastic spatula to help a loaf out of the pan and use the handle of a wooden spoon to remove the kneading paddle from the hot loaf of bread. This is so, because, it will not damage the machine and keep it last longer.
From our editorial team
Make Your Own Flour Mix!
If you plan to make your own bread for daily use, you can prepare a healthy flour mix of your preference, by pre-mixing all the dry ingredients. You can add whole wheat flour, multi-grain flour, healthy seeds like sesame and flax seeds, and even ground nuts to the mix. You can even make keto-friendly bread from almond flour and/or shredded coconut. The options are endless!