Basic Tips on Eating Healthy This Diwali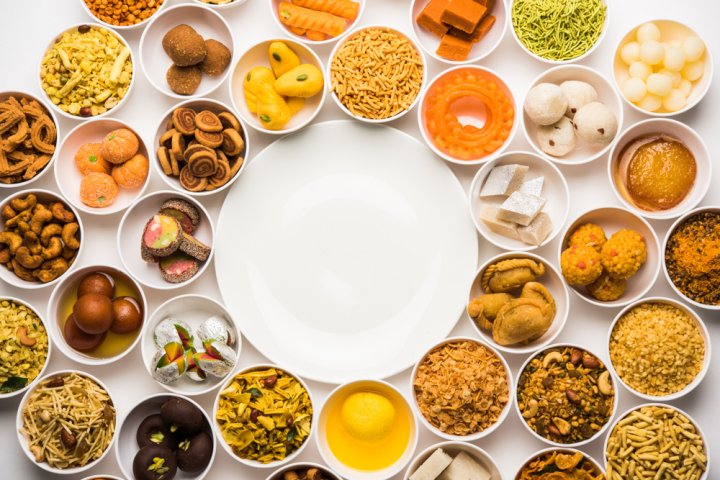 Eating at Home Rather Than Buying from Outside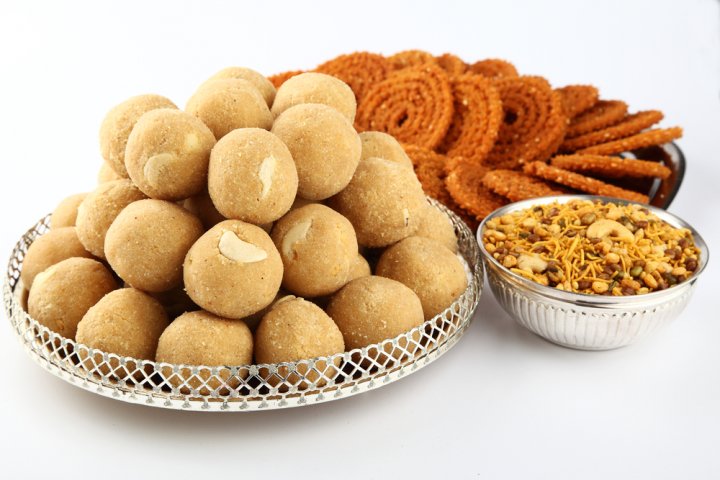 Synonymous with fun-family and food, Diwali is filled with love, laughter and delicious eats! Albeit a time of celebration, when the festivities ebb, the binge-eating starts revealing its ugly side in your weight gain. But this Diwali, don't let a few sweets, chaklis or other festive savouries ruin your healthy diet or your fun! Eat and stay healthy by enjoying the festive treats by making them at home. Homemade stuff is always healthy and trustworthy. You can use refined flour, ghee/oil and sugar in a limited manner or go for sugar-free sweets to retain your weight and enjoy eating your favourite snacks/sweets in a healthy manner.
Don't Forget Time for Your Workouts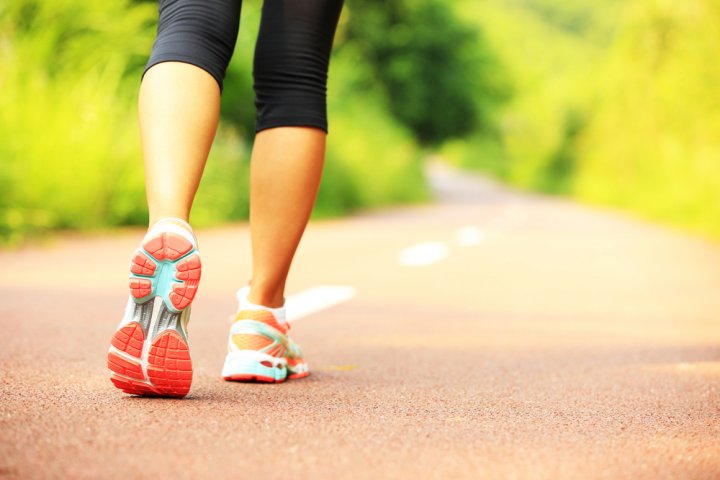 Festivities, family time and celebrations make it hard to continue your fitness regime. However, some time to practice a few exercises or yoga poses is something you can manage for your Good. Try waking up early and do a quick workout or a ½ hour walk and burn off any extra calories! When you eat, eat small so as to avoid the extra calories and still enjoy what you like. It is eating mindfully. Don't skip your meals, as staying hungry to save space for delicious eats only makes you eat more! Eating on time will ensure a full stomach and brain signals to eat more will be next to nil!
Look for Healthy Alternatives to Traditional Eats
This Diwali go avant-garde and instead of eating sweets laden with ghee and sugar, gorge on delicious and crunch alternates like dry fruits and nuts. Both healthy and tastier, these serve as healthy alternatives to oily snacks and sweets. However, please don't go overboard with the healthy alternatives as well, as they can cause havoc to your stomach and skin as well. Just take a handful and just once. Keep drinking ample water as it will help flush out toxins from your body and prevent overeating as well.
Easy and Healthy Diwali Recipes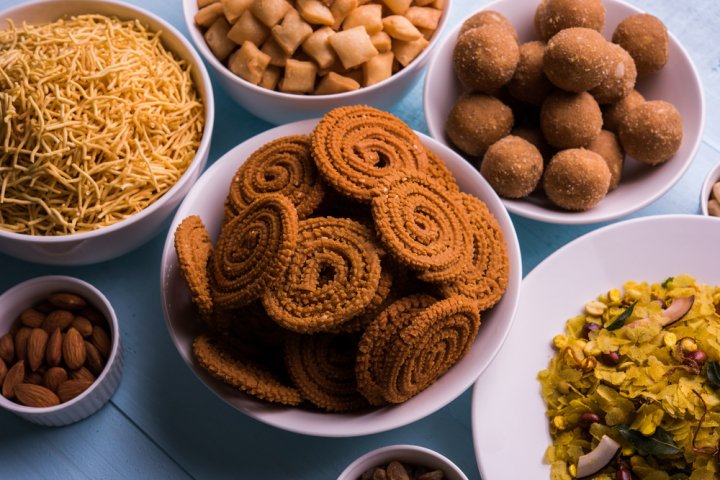 Soya Hara Bhara Kebab
Give a twist of health to the otherwise restaurant styled Soya Hara Bhara Kebabs! From using them in burgers as patties to using them in wraps for lunch for the kids or mini sliders in a potluck, these kebabs will be a sure shot hit this Diwali
Ingredients:-
A cup of soya granules
1 chopped green chilli
a tsp of ginger paste
1 tsp garlic paste
1 cup green peas
2 cups of chopped spinach
1 tsp amchoor powder
2 tbsp besan
1 ½ tsp salt and 3 tbsp oil (apportioned).
Method
Soak the soya granules in hot water and set them aside.
Now, heat some oil in a pan and add the green chilli and the ginger-garlic pastes and sauté them till they turn fragrant, next add the peas and salt, cover and cook for about 8-10 minutes or till the peas are cooked.
Add spinach and amchoor and sauté for a couple of minutes or till the spinach wilts. Set it aside to cool.
Now, in another pan, dry roast the besan till you get a nutty aroma and the flour turns light brown.
Strain the granules, draining the water completely and add them to a grinder with the green pea and spinach mixes.
Blend a few times till the mixture is coarse and then transfer it to a bowl.
Mix it with the besan and form the flat circles/tikkis and set aside.
Now, heat the remaining oil in a non-stick pan and add 4-5 pieces of the circles without crowding the pan and cook them on each side for about 5-8 minutes till they turn golden brown, continue till all the kebabs are done and then serve hot with mint or coriander chutney.
Tandoori Paneer Tikka
Spicy, juicy and slightly smoky, Tandoori Paneer Tikkas are essentially marinated cubes of cottage cheese which make any occasion or festivals like Diwali extra special! They are usually cooked on a super-hot clay oven or on a Tawa.
Ingredients (For the Marinade):
½ tsp lemon juice
½ tsp chilli powder
½ tsp roasted ground jeera
¾ cup fresh dahi
½ tsp ginger paste
½ tsp green chilli paste
1 tsp kalimirch powder
few strands of Kesar
½ tsp ajwain
1 tsp saunf powder
¾ tsp Haldi
1/3 cup besan
1 tsp oil and salt to taste.
For the Tikka:
12 paneer cubes cut in 50mm
1 tbsp oil for cooking
1 tsp chat masala
1 tbsp finely chopped dhania.
Method
Combine the Kesar strands and milk in a small bowl and mix them well.
Now, add the paneer cubes, and the marinade to a deep bowl with the saffron milk mix, tossing gently and keep it aside for ½ hour.
Now thread 3 pieces of the cubes on a satay stick and follow it through with the other pieces as well.
Heat a non-stick Tawa, greasing it slightly with ½ tbsp.
Oil and play 2 satays on it, cooking them till the paneer cubes turn light brown from all sides.
Next, sprinkle chat masala over them evenly, repeat this process with the rest of the paneer skewers and serve your tikka with mint chutney immediately.
Garlic Yogurt Party Dip
An easy yoghurt dip that's made out of just a few ingredients in less than 5 minutes, garlic yoghurt dip is fresh, creamy and flavorful, perfect to be enjoyed with fried food, kebabs and more!
Ingredients:-
1 cup plain and full-fat dahi/Greek yoghurt
¼ tsp garlic powder
¼ tsp onion powder
¼ tsp salt
1 tsp thyme (dried)
1 tsp olive oil and 1 tsp lime juice.
Method:
Take the yoghurt and whisk it well, now add the garlic and onion powders and thyme to it.
Add salt to taste with a pinch of pepper, with olive oil and lime juice.
Whisk all the ingredients together to a creamy texture and serve with your choice of appetizers.
You can replace the garlic powder with a freshly minced garlic clove mixed with the thyme and even add, parsley/dried dill and chives to make the dip more flavorful.
If you'd like to avoid lime juice, then replace it with apple cider vinegar.
Mango Semolina Cake
An eggless mango sooji/semolina cake's super easy to make is moist and dense in texture and deliciously aromatic! A perfect cake for the seasonal mango treats!
Ingredients:-
1 cup sooji
1 cup mango puree
¼ cup olive oil
½ cup sugar
1 tsp baking powder
½ tsp elaichi powder
¼ cup cashews and pistachios (chopped).
Method
Begin by preparing the puree by cutting the mangoes and extracting the pulp, blend well to a smooth consistency.
Chop the nuts and keep them aside.
Now, mix the dry ingredients with the wet ingredients to a smooth mix without lumps and keep the batter aside for about 20 minutes.
Preheat the oven at 180C and grease the baking pan.
Pour the batter into the tray and garnish it with some chopped nuts on the top, baking it for ½ hour to 40 minutes.
After 25 minutes, check the cake and insert a toothpick, if it comes out clean then remove the tray immediately. Let it cool down completely, cut and serve.
Chikki Nut Bars
With Diwali just a few weeks away, it is that time of the year, when nearly every house is stocked with dried fruits and nuts which considered edible gifts thanks to their longevity. Make some delicious and crunchy Chikki Nut Bars which are dairy and gluten-free and gift them ahead to your loved ones this Diwali.
Ingredients:-
1.5 cups of almonds
peanuts and pista
¼ cup maple syrup
¼ tsp salt (optional).
Method
Begin by pre-heating the oven to 325F.
In a deep bowl, mix the nuts and maple syrup, then line an 8" baking tray with parchment paper and pour the mix into it.
Pack the mix tightly to avoid the bars getting deconstructed.
Bake the mix for ½ hour (+/- 5 minutes according to your oven's temperature).
Allow the mix to cool down completely and then cut into the desired shape for smaller portions.
The chikki nut bars are ready and can be gifted or stored in an airtight container for 1-3 weeks and refrigerated for a month.
Apricot Energy Balls
Apricot energy bites are exceptionally tasty and sweet with each bit filled with 46 calories and 1.7gm of sugar with a healthy mix of healthy fats, fibre and protein. Very easy to make, these lil' bites are loved by kids and very nutritional.
Ingredients:-
½ cup raw almonds
1 cup dried apricots
2 tbsp unsweetened shredded coconut
1 tbsp chia seeds
¼ tsp vanilla essence and ½ tsp ground cinnamon.
Method:
Put the almonds in a food processor and pulse till they come out chopped roughly.
Add the apricots, coconut, chia seeds, vanilla essence and cinnamon to them until the whole mix is chopped well.
Now using 1 tsp (heaped) at a time, form the mix into balls, refrigerate them all once done for about an hour and your apricot energy balls are ready to be savoured in an airtight container.
Coconut Til Ladoo
Coconut and Til Ladoos are really easy to make that make Diwali and any other festival super special, ready to be gorged on in less than ½ hour from start to finish!
Ingredients:-
a cup of white & black sesame seeds
¾ cup of grated coconut or powdered unsalted palm sugar
¼ cup of dried coconut and 1 tsp of butter/ghee.
Method:
Grind the sesame seeds coarsely and then add the jiggery, coconut and til to a non-stick pan and cook on low flame.
Add the ghee and mix well with the ingredients in the pan, cooking it all on low heat, stirring gently to avoid burning it or letting the jaggery getting stickier.
After 12-15 minutes, when you have a thick mass leaving the sides of the pan which becomes difficult to stir further, remove it from the heat and let it cool down to room temperature.
Then, grease your palms with some ghee/butter and roll the mix into small ladoos.
The coconut til ladoos can be stored for 2 days at room temperature or refrigerated for 4 days.
Diwali Chivda
Mildly spicy, the Chivda is quick and easy to make and an apt tea-time snack with a crisp texture. You can enjoy this roasted treat during Diwali with your loved ones.
Ingredients:-
2 cups of white poha (thin)
1/3 cup peanuts
1/3 cup roasted chana dal
1/3 cup cashews
¼ cup chopped dry coconut slices
2 tbsp golden raisins
1/3 cup oil for deep frying.
For tempering:
14 curry leaves
2 sliced/chopped green chillies
¼ tsp Haldi
a pinch of hing
2 tsps powdered sugar
salt to taste ½ tbsp
sunflower or peanut oil.
Method
Measure all the ingredients and keep them aside in a bowl. Now, heat a Kadai and then lower the heat.
Add the poha and roast it evenly without stirring with a ladle too much as it can break the poha, you can just shake the pan gently.
After cooking for 3-4 minutes, the poha flakes will change the texture and become crispy. Don't brown the poha and remove it to a plate and set it aside.
Next, heat some oil for deep frying, add the peanuts and fry them till they turn crisp. Remove them with a slotted spoon and set aside.
Now, add the dried coconut slices and fry till they turn light golden and crispy, remove like before and set aside.
Continue the step and fry the roasted chana dal and cashews similarly. In the end, fry the raisins till they swell and plump up in size.
Now, heat ½ tbsp oil in the pan, lower the heat and add curry leaves, green chillies and hing, stir and sauté.
Then, add haldi and salt to taste, stir and then add the powdered sugar, keep stirring till the sugar starts caramelizing.
Add the roasted poha with the fried ingredients, shake the pan gently to mix it all well and then continue the sauté for 4-5 minutes gently.
Turn off the heat and let the poha still for a couple of minutes and then remove the pan contents into a bowl, set it aside to cool to room temperature, store it in an airtight container and then serve it as a tea-time snack.
Baked Chakli
Dry jar snacks or popularly known as namkeen made during festive occasions have a different feel and vibe to them! not to forget delicious tea-time snacks. Chakli is one such delicacy which can be made either by deep-frying or baking.
Ingredients:-
240gms of rice flour
½ cup Dalia (powdered in a blender)
1/8 tsp baking soda
1 tsp red chilli powder
1 ¼ tsp salt
¼ tsp hing
¼ cup til
2 tbsp oil
¾ cup water.
Method:
In a large bowl, add the flours and spices and mix well with a spoon or with your hands, then stir in the til seeds and mix again.
Now pour some hot oil into the flour mix and blend well. Pour water and make it into a smooth dough without over mixing it.
Line a baking tray next with parchment paper, put the dough into a chakli press and make swirls.
Bake them in a preheated oven at 160 degrees C for 25-30 minutes or till they turn golden brown.
Check them in the interim, after 15 minutes to avoid over-browning them.
Once done, let them cool down and then store in an air-tight container to be served at tea-time.
Whole Wheat Nankhatai
A popular and traditional Indian cookie, the Nankhatai is well-loved by both adults and kids alike and is available in most Indian bakeries.
Ingredients:-
1 cup all-purpose flour/ 125gm maida
¼ cup besan
½ tsp baking soda
1 tsp baking powder
2 tbsp sooji
2-3 pinches of grated nutmeg
½ tsp elaichi powder
½ cup un-melted ghee
½ cup sugar, ½ tbsp Dahi
1-2 tbsp milk and few almonds.
Method:
Powder the sugar finely in a grinder and then cream the ghee & powdered sugar in the blender, making it into a smooth, light and creamy mix.
Sift the dry ingredients, set them aside and then add dahi to the creamy ghee & sugar mix, blending it together.
Now, add the sifted dry ingredients to the mix with sooji, elaichi powder and the nutmeg powder as well, mixing it all gently and not kneading it.
Gather it all into a smooth dough and pinch medium-sized balls from the dough, rolling them evenly in your palms and slightly flattening them.
Now, press the almonds onto these dough balls at the top lightly.
You can also some criss-cross designs on the nankhatai with a toothpick or a fork.
Place the Nankhatai in a baking tray next, keeping space between each piece as they expand during baking.
Now bake the contents in a pre-heated oven at 180C for 20-25 minutes, remove and place them on wire racks till they cool down.
In the end, store them in an airtight container.
Bonus Tips: Celebrating Diwali in 2020 in a Cleaner & Greener Way!
Gleaming with lights, splendour, fireworks, flamboyance and more Diwali is all about illuminating our lives with love, laughter and celebrations. However, while once the festival was all about lighting earthen lamps and spending quality time with loved times, today it has become a spectacle that's damaging the environment and is just a façade of festivity. With just a little effort, you can still have fun and ensure that your celebrations are cleaner and greener. Here's how you can do it: -
Enjoy the Traditional Diyas – and decorate your home with the warmth and glow of the earthen lamps, lanterns and candles. Make it a peaceful, yet radiant Diwali, while saving up on your electricity bill as well!


No Fireworks – is the best way to be this Diwali and avoid getting caught in accidents, injuries, health challenges, not to mention the release of toxic gases, smoke and pollution! You'd also opt for eco-friendly crackers low on sound and high on fun, without burdening the environment.


Invest in Floral Splendor – by investing in colourful rangolis made of assorted flowers that add a sense of uniqueness, beauty and fragrance to the festivities. You can enjoy a blend of different flowers and create exceptional patterns.


Go Green – by choosing healthy gifts and environment friendly like kitchen herbs, feng shui plants, terrariums, bonsai and other indoor plants. Say no to plastics and use everything that's non-plastic. Recycle and wrap things responsibly.
From our editorial team
Stuck Up Some Delicious Recipes for Your Guest!
Diwali, the festival of lights is all about celebration. It's the time of the year when days go by to meet friends and relatives for sweets and snacks. During the Diwali season, sweets and namkeens are shared as a token of love and respect. The markets are flooded with sweetmeats, mithais, and namkeens of all varieties because the rule of every gathering is, no one meets anyone without goodies packed in lovely, glossy packs!

In fact, since you don't know how many guests will pay a visit during the festival, It's a smart idea to store items at home so that you don't spend time cooking food when the guests are visiting. Since the demand is massive during the festival, it's a smart idea to prepare some food at home, like sweets, so that you can eat clean during the festival. These simple Diwali recipes will prove to be your time-saving recipes, but at the same time, you'll be able to serve tasty and nutritious food to your loved ones.