Why Easy Snacking
The twenty-first century is not only the advent of a new millennium but also the best period in the history of mankind in terms of technology, science, architecture, space exploration and medical care. This is that time for humans when they have all the comfort and means at their disposal and the only thing required is the effective management of population and religious and boundary related issues. In this fast-paced world, no one wants to lag behind and people are constantly living in FOMO, so much so that sometimes having food at the right time is not the priority for many of us and inadvertently, we compromise on our health.

To know about few healthy and easy to make snacks at home (not your usual Maggi and omelet) proves a boon when you are stuck at home and have limited resources for preparing a meal or maybe you are too lazy to cook a proper meal. This way, you'll be able to have something at home which is quick to make and you don't even need special ingredients for the recipes.
Keep It Light and Healthy
Snacking is never an option for a full meal and should be treated as filler in between two full-time meals when you are feeling like munching on something while working from home or watching your favourite show. Keeping this in mind, your food should be oil-free or cooked in less oil and shouldn't be too heavy to digest. You can add flavours or sauce etc as per your preference, but try not to make it too spicy.
Easy Snacks to Make at Home without Cooking
The easiest of snacks are the one's which need no cooking and some cutting and mixing should solve the purpose. We have picked few snacks which can be made at home in no time and with ingredients easily available at home.
Bhelpuri
Also known as Jhaalmuri in the Eastern part of India and Churumuri in Southern India with little variations, Bhelpuri is a popular snack across the country. Prepared from puffed rice (2 cups), roasted peanuts (2 tablespoons), sev (1/4th cup), chopped onions (2 tbsp), tomatoes (4 tbsp), boiled potatoes (4 tbsp), salt, chaat masala, chilli powder, 1 green chilli and coriander leaves (2tbsp). Normally, tamarind chutney and green chutney are used to get the tangy and sweet taste, but you can also use sweet and sour ketchup if the chutney is not available.

Fry or roast the peanuts and keep them aside, cut the boiled potato into half-inch cubes, chop the onions, tomatoes, green chillies and coriander leaves and now we are ready to make the Bhelpuri. Ensure that the puffed rice is crunchy and if it's not, then roast them until crisp and cool it completely. Now add the veggies and the puffed rice properly and then add a little number of chutneys. Finally, add the peanuts and sev and garnish with coriander leaves and lemon water. Do eat it fresh, as keeping the Bhelpuri even for 5 minutes may turn it soggy.
Paapdi Chaat
Paapdi Chaat is another mouthwatering recipe that can be made in minutes and the same chutneys as used in Bhelpuri can be used in this recipe as well. Paapdi or Papri is a small and crisp, disc-shaped poori prepared from flour. The word 'chaat' means a recipe that is sweet, sour and spicy and has an intimidating taste. Paapdi Chaat is famous street food and is often available in restaurants as well. To start with, fried, baked or ready to eat Paapdi (you may need around 15 pieces) is available at stores and other ingredients include boiled potato (1 large), boiled chickpeas (½ cup), ½ cup steamed green gram sprouts (optional), chopped onion (1 medium), chopped coriander (2 tbsp), fresh curd (½ cup), pomegranate seeds (optional) and sev (½ cup).

Add sugar to curd and mix well with a spoon or beater, place the Paapdis in separate serving plates (4 – 5 paapdis per plate) and add a layer of nicely sliced boiled potato followed by boiled chickpeas and green gram sprouts. Now add little garlic chilli chutney, chopped onions and the curd mixture followed by green and tamarind dates chutney. Sprinkle some coriander powder and chaat masala before decorating it with sev, chopped coriander leaves and pomegranate seeds and the yummy Paapdi Chaat is ready to serve.
Chicken Salami Sandwich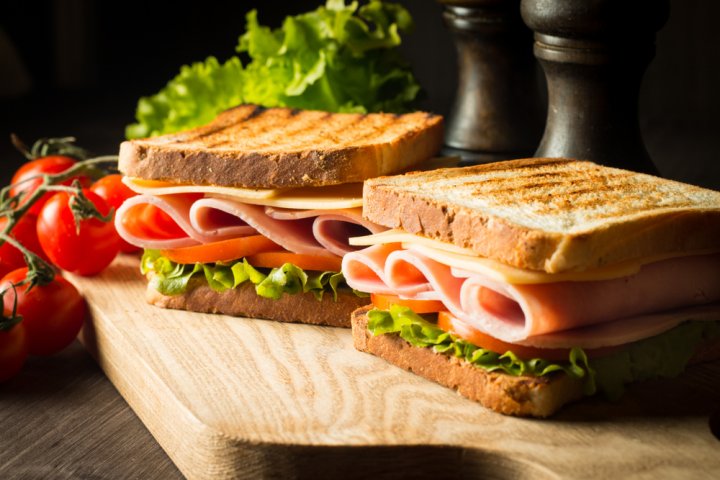 One of the easiest recipes for the non-veg lovers, Chicken Salami Sandwich can be prepared well in 10 – 15 minutes. This American style breakfast has mayonnaise, lettuce, cheese slices, tomato ketchup, onion, chicken salami and a few tomatoes. It is an on the go meal and can be made using brown or white bread depending upon your preference. The basic quantity required for making 3 sandwiches is 6 slices of bread, 6 slices chicken salami, 3 cheese slices, 2 sliced onion, 2 sliced tomatoes, 1 cup lettuce, tomato ketchup (2 tbsp), mayonnaise (2 tbsp), salt and pepper.

Spread mayonnaise on one side of bread and tomato ketchup on the other bread. Now place one salami slice over the bread with tomato ketchup followed by a cheese slice, onion, lettuce, tomato, another salami slice and sprinkle some salt and pepper powder. Now close with the piece of bread which has mayonnaise spread over it and enjoy the sandwich.
Sprouts Salad
A quick, healthy and protein-packed delicious salad prepared with sprouts, fresh veggies, herbs and lemon; sprouts salad is one of the easiest and healthiest easy snacking options. The basic required ingredients include sprouted green gram (¾ cup), chopped onions (1tbsp), chopped tomato (1 small), finely chopped cucumber (¼ cup), 1 grated small carrot, 1 small finely chopped green chilli, chopped coriander leaves (2 tbsp), lemon juice (1 tbsp), chaat masala and salt as required. You can also use grated coconut, cornflakes, grated ginger and fresh mint leaves (all these ingredients are optional)

To prepare sprouted green gram, wash and soak it in boiled and cooled water for 8 – 10 hours, then drain off and rinse in drinking water. Now tie the moist beans in a muslin cloth and keep them in a partially covered bowl at a warm and dark place. Let it rest for a few hours and if required, sprinkle some water to keep the cloth moist. The sprouts will be ready in 8 hours to 2 days depending upon the weather conditions. Take the sprouted green gram in a bowl and add the veggies, salt and pepper powder as per taste and finally, add freshly squeezed lemon water before tossing them in the bowl. You can garnish with mint leaves and garlic as they are good for digestion and consume the salad while it's fresh.
Fruit Custard
Fruit custard is a dessert that is served after meals but it is also easy to make the snack at home without cooking. This chilled dessert is a delight in the summers and is especially liked by children. You can purchase custard powder from the market or can also use corn starch or cornflour and add your favourite flavour in the custard. You can choose seasonal fruits as per availability like a banana (1 medium-sized), mango (1 small), pomegranate (half) and apple (1 medium) etc. Try to use the sweet foods and not sour ones like grapes, kiwi and orange etc. as they may alter the taste of fruit custard.

For preparation, you need 2 cups milk (almond milk or soya milk can be used for lactose intolerant people), 2 tablespoon custard powder or corn starch, 2 tablespoon organic sugar and refrigerated fruits (uncut). Now heat the milk in a wide pan and add sugar to it. Simultaneously, take the custard powder in a small cup and firstly pour 3 – 4 spoons of milk and stir well so that it's free from any lumps. When the milk in the pan turns hot, pour 2 tablespoons of milk-custard powder mixture to it. Keep stirring and cook on low flame until the custard becomes thick. Now take it down from the flame and whisk well to get a smooth mixture. Cover the pan immediately and let it cool down to normal temperature and then refrigerate to chill. And in the final step, add the fruits to serving bowls; pour the custard over them and mix gently. Relish the fruit custard fresh and chilled.
Easy to Make Snacks at Home in Minutes
Now moving on to snacks that needs some action over flame or oven, but still doesn't take forever to cook and these easy to make snacks at home can be enjoyed anytime and are also apt for a small kitty party or get together.
Pakoda (Various Styles)
Pakoda, also known as Pakora, bhajji, bhajiya or bhaja in different parts of India is a popular crispy fritter. This famous snack is a street food and also a part of the full meal in many restaurants. This deep-fried snack is oily in nature and hence it's advisable to soak the oil with a tissue paper to reduce the fat content. Pakoda can be made from various vegetables like potato, onion, cauliflower, eggplant; leafy greens like spinach, coriander leaves, etc and other eatables like cheese, chicken and mutton.

The ingredients required are gram flour (½ cup), corn starch or rice flour (¼ cup), 3 green chillies, ginger-garlic paste (1 tbsp), carom seeds (½ tbsp), garam masala powder (½ tbsp), salt, edible oil for frying (as required) and veggies like capsicum (¼ cup), cabbage (1 cup shredded), cauliflower (1 cup diced), sliced potatoes (½ cup) and cheese cubes (½ cup)

Firstly, wash and cut the vegetables in 2 inch long pieces. Now add them to a bowl along with ginger garlic paste, garam masala, salt, a pinch of asafetida and little amount of red chilli powder or finely chopped green chillies. Leave them for 10 minutes and in the meanwhile, make a paste (should be thick) of the gram flour with water and add carom seeds, a little amount of salt and red chilli powder. Finally, heat oil in a pan and slide a small amount of the gram flour paste to check if the oil is ready for frying. Now mix the veggies in the paste and start frying till the pakoras turn golden brown. Fry them in batches and serve hot with tea and green chutney.
Bread Pizza
Who doesn't like a cheese melting, flavour oozing hot piping pizza? Well, if you are unable to find a pizza base and want a quick recipe that can give you the deliciousness of pizza, then bread pizza is an easy to make the snack at home.

A bread pizza can be made in an oven or in a pan with a lid and the basic ingredients required are slices of bread (4), pizza sauce and/or tomato sauce (2 tbsp), oregano (½ tbsp), red chilli flakes (½ tbsp), 1 medium onion (cubed and then layers separated), ½ cup capsicum (cubed and deseeded), grated cheese (½ cup), 1 small and firm tomato and 10 olives. To make in the pan, grease the pan with 1 tbsp oil and begin to toast the bread on one side. Now remove the bread, keep it in a tray and then spread pizza sauce on the raw side. Next keep a layer of onions, tomato and capsicum and then grated cheese on the top along with herbs and chilli flakes. Finally, place the bread on the pan one more time and cover the lid. Toast till the cheese begins to melt, turn off the flame and serve hot and fresh bread pizza.
Egg Paratha
Egg Paratha is not only an easy snack to make at home, but is a full meal during emergency periods. This simple to make recipe requires wheat flour (½ cup), 2 eggs, chopped onion (1 small), 1 chopped green chilli and coriander leaves (1 tbsp chopped), salt and pepper for taste. Break the eggs in a bowl and add veggies, salt and pepper and beat the mixture till it turns frothy, make dough with warm water and start making the paratha till it's half cooked. Now open a layer of paratha and pour half of the mixture inside the paratha and then start toasting it on the Tawa at low flame till the paratha turns golden brown on both sides. Repeat the process with the other paratha and your egg paratha is ready to eat with chutney or vegetable salad.
From our editorial team
Choose Your Snack Healthy
Snack mindfully, not mindlessly. This means being aware of what and why you're eating. Plowing through a bag of chips in front of the TV is an example of mindless eating, whereas listening to your body's hunger cues and if truly hungry choosing nutritious snacks such as string cheese, fruit, or low-fat popcorn is an example of mindful snacking.