Why is Aloe Vera Used in Hand Sanitizers?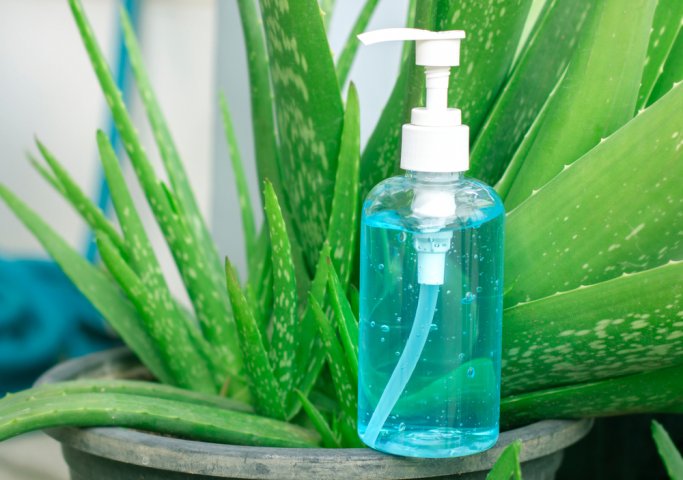 It is a common notion that use of hand sanitizers makes your hands rough. In fact, just wetting and drying your hands strips the excess oil from your hands. But if you use a high quality sanitizer with the best moisturising properties you will not feel dryness in your hands. However, it is very important to wash your hands far more regularly in this pandemic and much more consciously than usual. You can use a hand sanitizer with alcohol for maximum safety but you may feel the need for a sanitizer with some natural properties that will keep the softness intact in your hands even after several hand washes while ensuring proper hygiene.

Using aloe vera in hand sanitizers is a great solution to maintain the balance of natural ingredients and alcohol. There is a fundamental difference between using a hand sanitizer with or without aloe vera. A hand sanitizer typically dries out your hands due to extreme alcohol level in it. A hand sanitizer should contain 60% alcohol to kill the germs, but if it additionally contains aloe vera, which is a natural moisturiser, then not only will your hands remain soft but the germs will be erased as well. There are several benefits of using aloe vera in hand sanitizers, some of the most notable benefits are:
Aloe Vera Kills Bacteria:

Aloe vera has antibacterial, antiviral and anti-fungal properties which makes it a unique medicinal plant. Using aloe vera in the hand sanitizer, not only makes it quite herbal but also useful in diminishing the germs.



It's a Natural Moisturiser:

Use of aloe vera as an effective moisturiser is widespread from ancient times. It is nowadays also used as the main ingredient along with alcohol to retain the softness of your hands. It is used in many forms by different brands to make moisturised hand sanitizer.



Soothes Itching and Irritation:

It is a well known fact that aloe vera soothes irritated skin and helps to speed up the healing of rashes that are caused by dry skin or the use of some harsh products. It has anti-inflammatory properties and anti-microbial capabilities which help to prevent infections.
Different Ways to Make Hand Sanitizer with Aloe Vera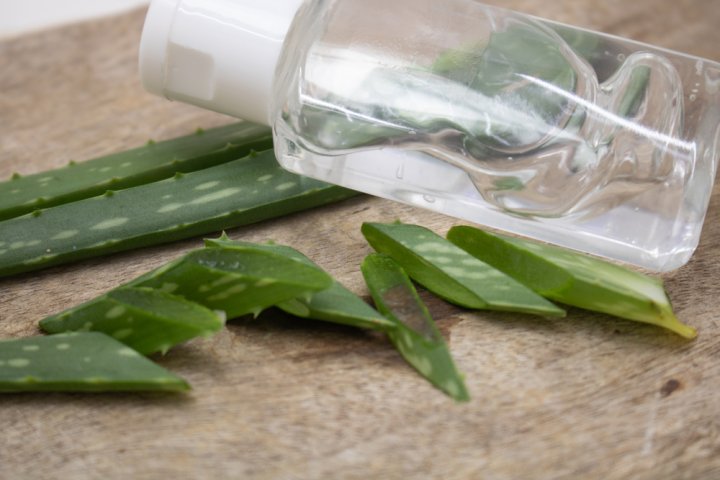 Nowadays, hand sanitizers have become one of the most essential things to carry in handbags or pockets whenever you go outside. When you are travelling or do not have access to soap and water, a hand sanitizer can be the real lifesaver. You will need it all the time when you are outside and on the go. You must have seen that in this pandemic situation, there is a shortage of hand sanitizers now. Making a few samples at home with active ingredients can be extremely helpful for you.
Make Hand Sanitizer with Fresh Aloe Plant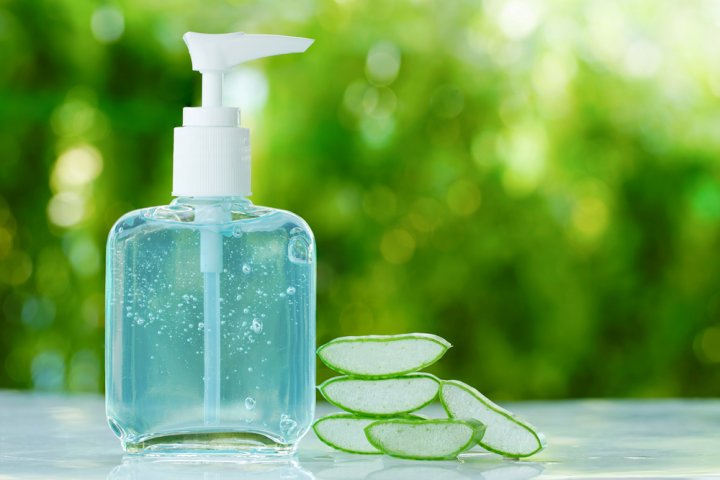 When you decide to make a hand sanitizer by yourself with a fresh aloe plant, it will take a little effort to do so. But it is worth the effort as it is a highly beneficial and chemical-free process.
How to Make:
You will need an aloe leaf, either from your home or bought from the store.
Please make sure the plate is cut 2-3 inches from the base, slice the length of the leaf down the spine and peel it off.
You will find the aloe gel inside, all raw and pure, use a spoon to collect the gel.
Now use a blender to transform the gel to a foam-like consistency and make sure there are no chunks left.
Preparing the sanitizer is easy now, as you will need alcohol and the aloe plant gel foam.
Mix the aloe plant gel with alcohol and give a good blending again for a few seconds.
This pure hand sanitizer will last for a good 2-3 weeks.
Use Vodka and Aloe Vera to Make Hand Sanitizer
When it comes to killing germs and pushing away unwanted viruses and bacteria, old-fashioned soap and water hand-washing works best. But today you have to rush outside whenever needed in this pandemic situation, and you do not have much time for anything. So using a hand sanitizer is an efficient way to keep yourself safe. You might think of making a hand sanitizer at home as they are not always available in the market when needed. But even if you do not have the patience to create one at home from scratch, you can buy the ingredients and make batches of hand sanitizers for daily use. Making it at home will keep you worry-free and safe too. But what if you do not have isopropyl alcohol available? You can then use any high proof alcohol to make the hand sanitizer. Here is how to go about it:
How to Make:
Take pure white aloe vera gel from the aloe leaf or store-bought and use vodka.
As hand sanitizers need 60% alcohol, vodka qualifies in that part.
Make a foam of the aloe vera gel and mix vodka.
You will mostly need ¼ cup of aloe vera and ¾ cup of vodka to make the sanitizer effective.
Aloe Vera Hand Sanitizer with Exotic Fragrance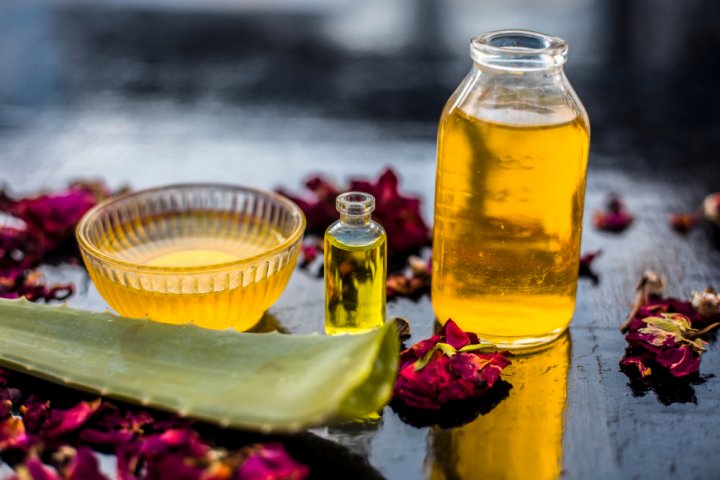 A homemade all-natural hand sanitizer can be sufficient to kill germs as well as smell good for a long time too.
How to Make:
To make this sanitizer recipe take aloe vera juice and alcohol in the correct proportion.
Mix it with a few drops of antibacterial essential oils like tea tree, clove, cinnamon, orange, eucalyptus, rosemary, peppermint, etc. as per your choice.
10-12 drops of each are enough in a ½ cup of aloe vera and ¾ cup of alcohol solution.
Always be careful of the phototoxic oils, which can cause burns or irritation on your hands when used under the sun if you have a sensitive skin.
You can also use 1 tbsp venerable glycerine to make it more moisturised.
Blend them all to form an aromatic hand sanitizer.
Nourishing Aloe Vera Hand Sanitizer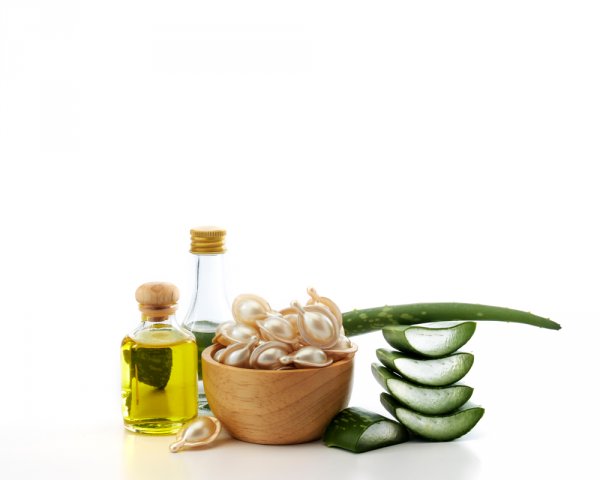 A nourishing hand sanitizer might not be suitable for proper hand sanitisation unless added with a minimum of 60% of alcohol. But in the pandemic situation, you cannot rule out situation of not using the adequate amount of alcohol which is needed. When making a nourishing hand sanitizer, you have to use commonly available natural antiviral ingredients.
How to Make:
In a spray bottle add 5 drops of vitamin E oil, 60% alcohol, 3 tbsp witch hazel with aloe vera gel.
Add 3-5 drops of any essential oil you like such as lavender, tea tree, rosehip seed oil, etc. along with sufficient cool distilled or boiled water.
This sanitizer will give a soft calming effect to your hands along with hygiene and nourishment.
Readymade Organic Hand Sanitizers
If you are an organic lover, then using something pure must be important for you. If you do not have time to make something organic from scratch, then you can use the safe and hygienic store-bought hand sanitizers. Some of the best ones are mentioned below:
Organic Harvest:

Organic Harvest Hand Sanitizer is 100% vegan and cruelty-free, paraben-free, mineral oil-free and animal ingredient free. It is suitable for all skin types and it ensures to kill 99.9% germs and maintains hand hygiene at all times. A pack of 6 bottles of 250 ml is available on Organic Harvest for ₹ 750.00



Aloe Vera and Neem Hand Sanitizer:

The Man Company's Aloe Vera with Neem Hand Sanitizer has 70% alcohol, and it is safe for all skin types. Neem is an ingredient which is anti-inflammatory, antibacterial and anti-fungal and also prevents infection. Aloe vera keeps your hands soft and moisturised. A 500 ml bottle is available on The Man Company for ₹ 250.00



Non-Sticky Aloe Hand Sanitizer:

This Plum Hello No-Stick Hand Sanitizer is a non-sticky cleaning gel version which cleanses efficiently without leaving the skin sticky. The aloe keeps your hands moisturised along with eliminating viruses and bacteria. A pack of 4 bottles of 100 ml costs ₹ 200.00 on Plum.
Store-bought hand sanitizers can be used for a long time as they have a longer shelf life, but homemade hand sanitizers though they can be used for shorter time, you can get almost the same effect of killing germs with guaranteed purity.
From our editorial team
Homemade Hand Sanitizers are Great for Your Hands
Homemade sanitizers having aloe vera don't harm your hands because you know that you have used the best quality ingredients in preparing them. Moreover, the recipes for preparing these is also simple and once you start making them regularly you will get used to making them quickly. We hope you would have loved this BP Guide. Stay connected with us for more such engaging content.