Benefits of Video Editing Apps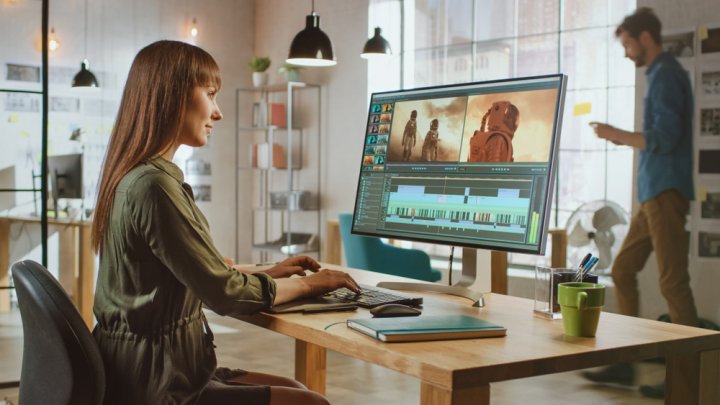 Mobiles have changed the world in the last two decades and with better and upgraded cameras in mobiles, digital photography and video shooting are now within the reach of a common man. With smartphone manufacturers introducing 8K recording, digital camcorders and cameras will soon be a thing of the past. In the last decade itself, smartphone cameras have seen an upgrade from 5 MP to 100 MP cameras of today. With the growing popularity of smartphone cameras and more and more people recording video clips on their phones, video editing apps have also gained immense popularity. Earlier video editing apps were commonly used by video editors to make professional-looking videos, but now anyone can make eye-catching videos with the help of these video editing apps.

Good video editing apps save time and money as now you don't have to hire the services of a professional video editor for customising the videos as per your choice. Moreover, you can make quality videos for which these video editing apps provide you various options viz. splitting videos, rotating them, crop, pan and zoom, slow motion, stabilise video, playing reverse, adding text or emoticons, colour tuning, green screen, adding mosaic, scene de-tech, mixing various audio's and adding special effects or filters in your videos.
Top 10 Video Editing Apps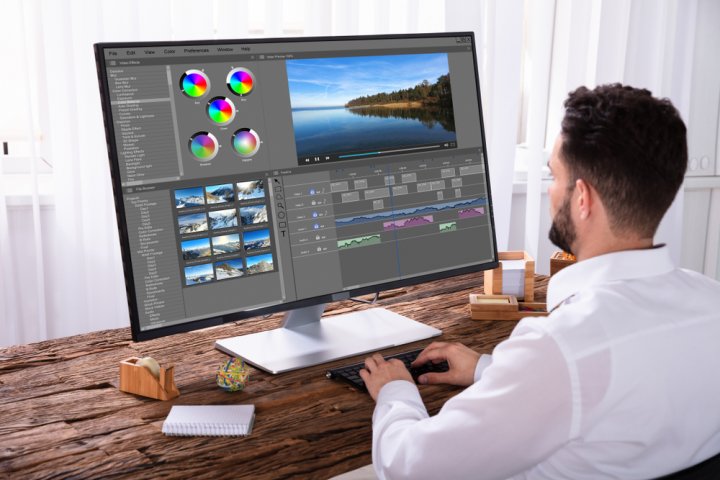 We have researched and picked the top 10 video editing apps for our readers. These are the most popular and highly rated apps which are used by millions to edit their videos and get more engaging and quality content. We have categorised them for android, iOS and desktop users so that no matter what OS you are using, you can select the one which suits your needs.
Best Video Editing Apps for Android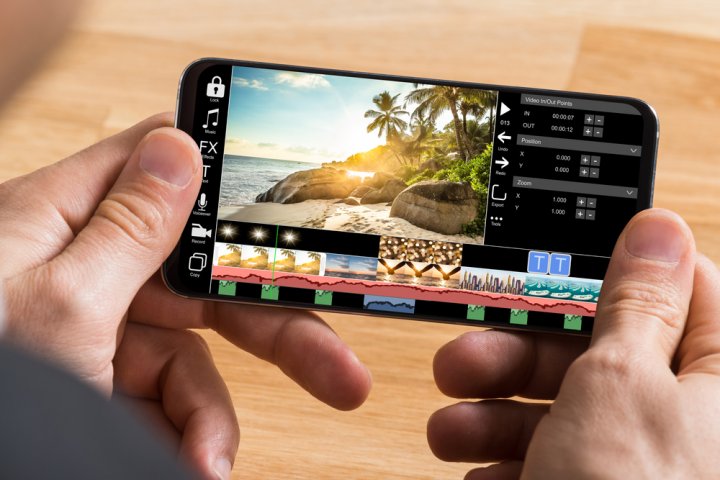 Quik
Quik is a video editing app developed by GoPro which is a US-based technology company founded in 2002. GoPro is famous for its action cameras. The company also develops various mobile apps and video editing software. Quik was designed to edit the videos captured by different GoPro action cams; however, you can still use this app on other devices even if you don't own a GoPro camera. You can also import photos from a GoPro camera to other compatible devices.

The app automatically finds the best parts of your clips; you can add effects and transitions, and sync the videos with the music of your choice. It allows for up to 200 video clips and photos from your gallery, Google photos, albums, Dropbox, GoPro Quik Key, or GoPro Plus, while you can customise them with text and music. Quik can also spot smiles and faces from your video clips and lets you adjust the points you want to highlight and the layouts as well. You can merge clips, add a GPS tag, speedup or slow down the speed, and add a soundtrack to play in the background. The 24H feature of this app can automatically analyse a day's footage and make an attractive video from them.
KineMaster
For those of you who have some hands-on experience with video editing apps, you can try the KineMaster video editing app as it's a full-featured app with vivid features and an easy to use interface. It has powerful tools like blending modes, multiple video layers, speed controls, chroma-key, subtitles, transitions, stickers, voice-overs, and special effects which provide amazing control over your videos and it is especially useful for YouTubers and video bloggers.

Some more interesting features include slo-mo, time-lapse, ducking, immersive volume envelope, as well as the auto volume option. You can also add motion to layers with key-frame animation and use multiple aspect ratios as well. With KineMaster's Asset Store getting updated every week, you'll never run out of creative ideas while experimenting with new graphics, fonts, stickers and music to provide a unique look to your videos. KineMaster allows you to upload videos of up to 4K resolution at 30 fps and though this app is free for users but leaves a watermark on the videos, and a few features are restricted. To remove the watermark and unlock all the features of this app, you have to shell out US$ 5 (about ₹ 375.00) per month or you can opt for the yearly subscription which costs US$ 40 (about ₹ 3,000.00) per annum.
WeVideo
A cloud-based video editing software, WeVideo was founded in 2011 in Europe and its headquarters is in California, USA. WeVideo is also a Microsoft Education Partner, a Premier Dropbox Technology Partner and a Google for Education Partner other than being a video editing app. The USP of this app is it's easy to use features that can be used by users of all skill levels and you can create professional-looking videos with a few clicks.

You can make videos on Windows, Mac, mobile or Chromebook and get the flexibility of unlimited storage for your videos due to the cloud-based applications (though free users get only 10 GB). Premium users also get access to over 1 million bits of stock media which includes images, videos and music tracks. The features of WeVideo include 'green screen' which lets you make videos like a big-budget movie, multiple formats for web and mobile, and the ease to edit videos with no upload wait time. WeVideo is free for users but leaves a watermark. For removing the watermark and get access to all the features of the app, they have three plans viz. Life, Education and Business.
Vizmato
If you like making movies or short films, then Vizmato is the right app for your android phone. The easy-to-use interface allows you to edit your videos seamlessly by adding filters, music, themes, text and effects into your movie. You can share these videos on social media platforms like YouTube, Instagram, Facebook and others to showcase your talent and earn accolades. Vizmato has more than 40 special effects, 20 video themes, and 140 samples of background videos that can be used in your movie.

The interesting and amazing voice changer feature lets you cloak your sound like a chipmunk, baby, ghost and other random characters. The 'slideshow maker' allows you to convert your photos into videos along with a theme of your choice and complete the video with royalty-free music. The live recorder lets you shoot HD videos, moreover, this app has all the regular features of a video editing app like speed up, slow down and the reverse effect, etc. Vizmato is free for users, but to get rid of the watermark, get a Visual FX pack, and to gain access to the complete library of royalty-free music you have to subscribe to the Pro version which comes at a nominal fee of US$12 (about ₹ 900.00) per year.
Best Video Editing Apps for iPhone and iPad
iMovie
Designed especially for iOS and Mac users, iMovie is a great app for people new to video editing as it has simplistic features and an easy to use interface. It's a companion app of the desktop version of the app with the same name. This app helps you to create movie-style videos and clips on your iPhone or iPad. You get ready to use themes from Apple for video creation with transitions, music and coordinated titles. Enhance your videos with built-in musical tracks, sound effects, fast-forward, slo-mo and various inbuilt filters and you can narrate your own voice-over as well.

The other features of iMovie include green screen, picture-in-picture and split-screen. You can also choose from the customisable movie logos and credits, 14 trailer templates and also record trailer videos from the app. Once you are done shooting the video, you can move them from your iPhone to iPad or Mac to refine them further, or you can also connect the mobile app to a monitor to edit it on a large screen. You can save the finished videos to your photo library or share it on social media in 4K or FHD at up to 60 fps. The newer version has an interesting feature which automatically matches the soundtrack added by you to the movie length.
CyberLink PowerDirector
A Taiwanese multimedia and software company, CyberLink was founded in 1996 and has regional offices in the USA, Japan, and the Netherlands. It creates mobile and desktop applications for video and photo editing, AI facial recognition technology, and backup solutions as well. The Power Director video editing app was released in 2001 and since then it has undergone many improvements and updates to emerge as an excellent video editing app. You can easily edit 4K and FHD videos with features such as slo-mo, voice-overs, especially effects, action movie effects, background editing, and many more such features.

Some of the special effects include audio editing with fade effects, picture-in-picture, video collage effects, and the blue screen or green screen that can be used for editing background environments. With an in-app purchase, you can upload and share videos in FHD or 4K on Facebook, YouTube, etc. CyberLink PowerDirector has garnered a rating of 4.6/5 on the Apple app store and the paid version is available for US$ 4.99 (about ₹ 375.00) per month.
Splice
One more awesome video editing app by GoPro, Splice is worthy of its name as it can seamlessly join different video clips. The simple interface makes the editing and trimming of videos easy and with a few taps you can add special effects like slo-mo, sound, and transitions. Splice is specifically designed for iOS users and helps you create customised, professional-looking videos on your iPhone or iPad. No wonder it has 70 million-plus downloads from the Apple app store and a rating of 4.7/5 from 179.5K users.

The various options Splice provides you for video editing include applying filters, adjusting background colours and orientations; you can also add title slides, custom outro, and text overlays, choose transition styles and control the speed between different transitions, apply pan and zoom effects to get lively photos. Splice is free, but monthly, quarterly, and yearly subscriptions are available to unlock the full features.
Best Video Editing Apps For Desktops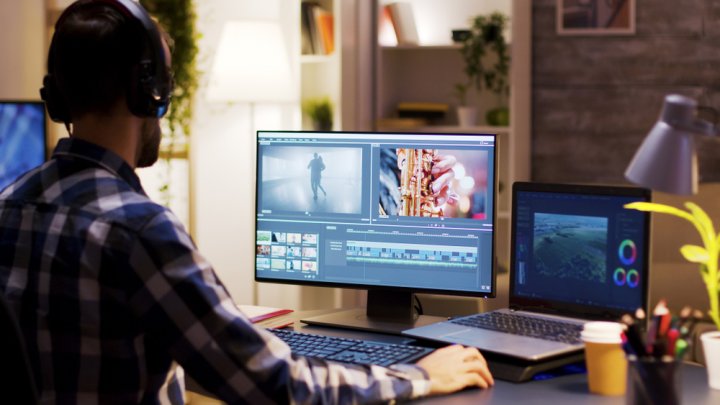 Adobe Premiere Pro
One of the best video editing apps meant for professional video editors, a timeline-based video-editing software, Adobe Premiere Pro was first launched in 2003 and it has been constantly improving with newer updates since then. Adobe listens to user feedback and strives to make the app better with changing needs and technology. From beginner to professionals, anyone can use this app as per your skill level and you don't have to convert your video to begin the editing process as it supports multiple formats. Simply import the video from the host device and start editing. It gives you the flexibility to work on multiple projects at the same time without having to close the previous projects you were working on. Moreover, it can be integrated with other Adobe apps to easily move data between software. They provide a 7-day free trial after which you can buy the monthly plan for ₹ 1,420.00 per month or the annual plan for ₹ 16,236.00 per year.
Lightworks
Developed by a British software company, Lightwork Design Ltd. established in 1989, Lightworks is a lesser-known video editing software that works on the non-linear editing system. However, being lesser-known among its peers doesn't mean that the software is inferior to its competitors. It has millions of users across the world due to its availability on Windows, Linux and Mac. The app has features like drag-n-drop, colour grading, blending, apply effects using key-frames, etc. You can access all the features of Lightworks free of cost with few limitations like exporting only HD files in MP4 format to YouTube, stereoscopic output, timeline rendering, and project sharing not being available in the free version. This app has also been used in Hollywood Movies like "The Wolf of Wall Street", "Hugo", and "Pulp Fiction".
DaVinci Resolve
One of the most powerful apps for video-editing, DaVinci Resolve is famous for its developed colour grading program. It has amazing features like a multi-cam editing feature, trimming a video using the cursor, Fairlight audio functionality which is a feature developed for quality audio production using multiple features of sound editing, sweetening, recording, sound effects and mixing. DaVinci Resolve is compatible with Windows, Linux and Mac and the free version is good for basic editing. The pro version is meant for advanced projects and can be purchased for ₹ 26,250.00.
Writer
Rahul Banerji
Rahul began his stint as a freelance writer after working in the corporate world for ten years. He enjoys writing on various topics and is an avid blogger. His interest in science, technology, politics, current affairs and the latest trends helps him to back his writing with well researched facts. Rahul finds solace in gadgets, nature and spirituality.
From our editorial team
Evaluate All Video Editing Apps Carefully
Once you have decided to start using a video editing app it is important that you not only evaluate all the video editing apps but also do a cost-benefit analysis before deciding which app would suit your requirements the best. We hope this BP Guide would have helped you to familiarise yourself with the top video editing apps across Android, iOS and Windows. Stay connected with us for more such engaging content.