What Makes Jaipur Different From Other Tourist Places?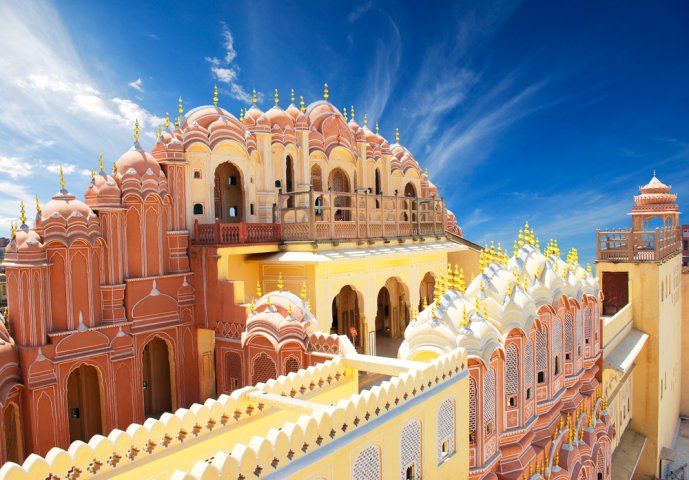 Mind Blowing Historical Places Like Havelis, Forts, Museums, etc.
So, while you are contemplating that what to buy in Jaipur, you should also know that what makes Jaipur so special and different from other cities. Starting from the background of this amazing city, you can find a number of mind-blowing historical places in Jaipur.

There are a number of havelis, forts, museums, zoo and other historical buildings which are all about stunning architecture and royal past of this city. Unlike other history lessons, these aren't boring at all and will keep you hooked till the end of your trip in Jaipur.
Great Handicraft and Textile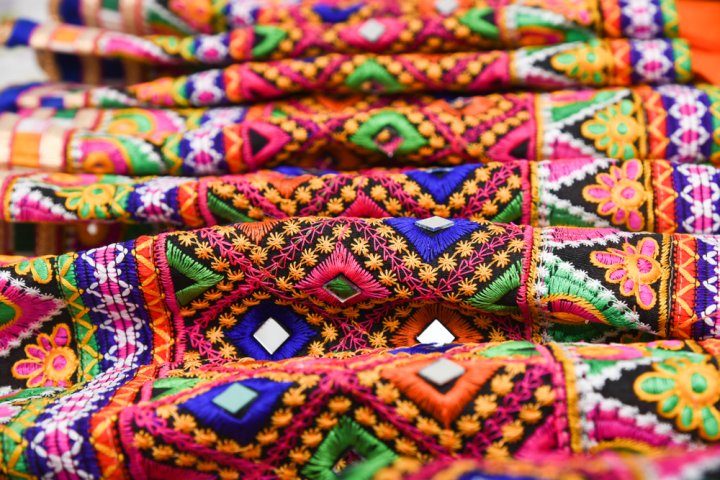 Jaipur is very popular for its textiles. The traditional Rajasthani textile technique and handicraft prepared here is popular not only in the entire country but internationally too. Tourists who come to visit Jaipur make it a point to buy the Jaipuri rugs and handicraft items from here on their way back home. This is something you won't find anywhere else in the country.
Unique and Colourful Culture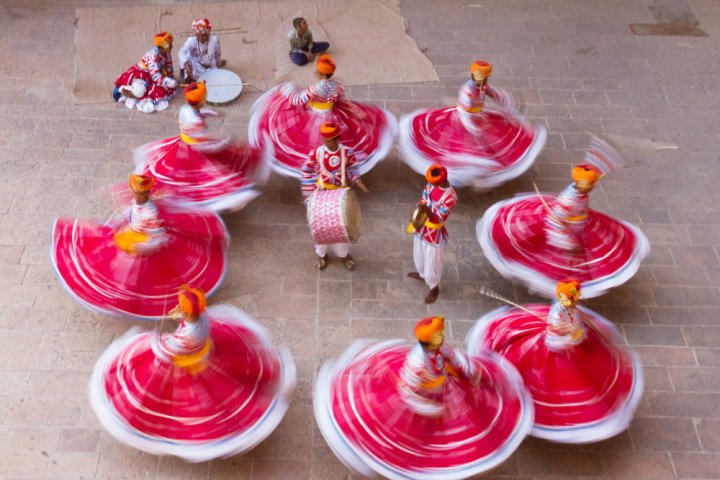 The culture of Rajasthan is beautifully portrayed and presented by Jaipur to its tourists since forever. From the gorgeous Bandhani dupattas to traditional Rajputi Poshak to awe-inspiring forts, everything out here depicts the royal lineage and inheritance of Rajasthani culture.

The state celebrates various festivals vibrantly and this is why you must plan your trip around such festivals such as the popular Teej festival .
Superb Food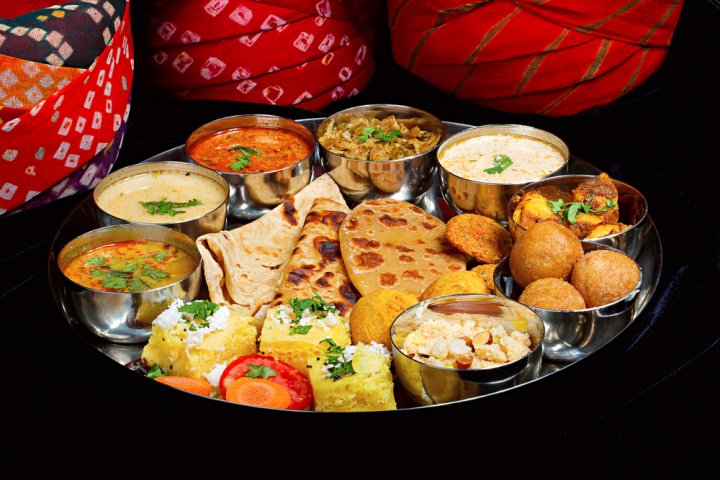 Talking about the specialty of Jaipur, how can we miss mentioning the amazing food of this city. Whether it is the popular Rajasthani Dal Bati Churma or the amazing dessert called Ghevar, you will never get tired of the food here. Also, when you are eating out in Jaipur, make sure to check for the level of spices as well as quantity of ghee in the chapati and Bati.
Some Really Beautiful Things to Buy When in Jaipur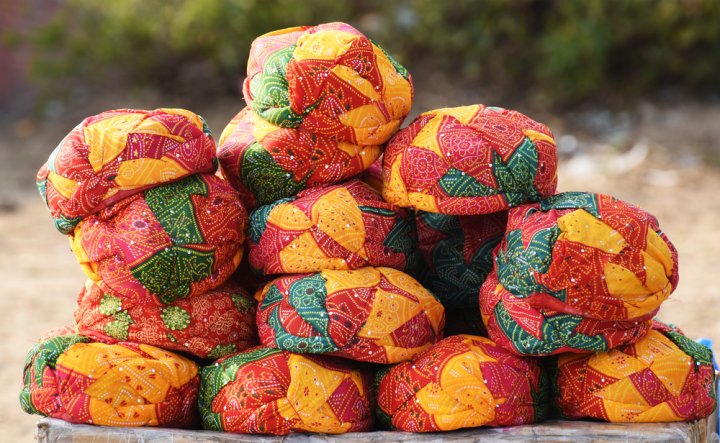 Bandhani Clothes
Sikar House is known as one of the most popular wholesale cloth markets in Jaipur. If you want to buy the popular Bandhani clothes then you can find some here in Sikar House. However, you will mostly find unstitched fabric of bandhani print in Sikar House.

If you want to buy Bandhani print saree or dupattas then you have the perfect option of Bapu Bazar to find them easily.

Bandhani is known as the signature design of Rajasthan which is all about tying and dying the fabric in a unique way. This involves some talented craftsmen and this is why it would be so wonderful to buy Bandhani print dupattas or sarees for your loved ones from Jaipur. You can find this print in various types of colours done on various types of fabrics in Jaipur.
Kundan Jewellery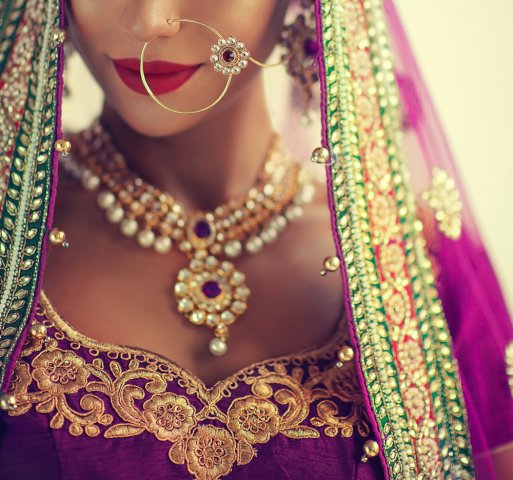 Kundan is a very traditional form of Indian gemstone jewellery whose origin is believed to be the royal courts of Rajasthan and Gujarat. This makes it even more important for you to buy a traditional Kundan jewellery when you are bidding goodbye to Jaipur for the last time.

Flourishing from the time of the Mughal era, Kundan is basically uncut gemstones set with gold foil between them and used in making heavy and elaborated jewellery pieces in Rajasthan.

You can find many brides wearing Kundan jewellery even till now which looks absolutely remarkable. In a lot of Kundan jewellery made in Jaipur, you can find meenakari work in reverse which gives you a piece of jewellery to be worn in reversible way too. You can easily find some amazing Kundan Jewellery sets in Johari Bazar area of Jaipur.
Embroidered Bed Sheets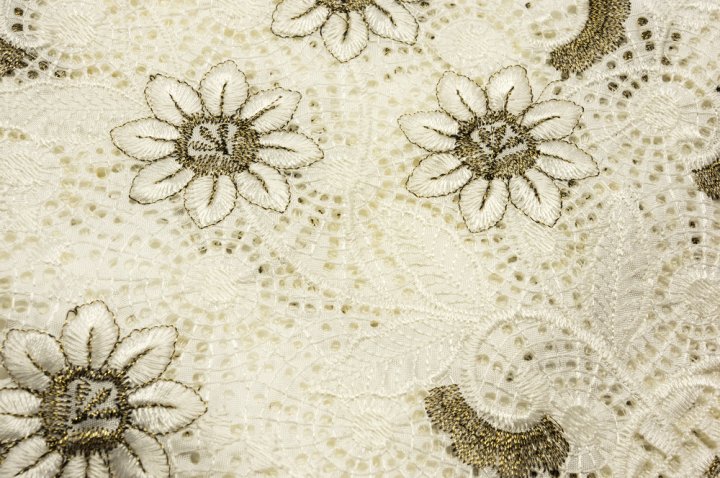 If you are wondering that what to buy in Jaipur that's iconic and super useful at the same time then you cannot find a better option than embroidered bed sheets. Jaipur is equally popular for its textile markets as it is for its historical places and you just can't afford to give the bed sheets here a miss.

You must have seen regular cotton bed sheets but embroidery makes them unique and different. You can find a huge collection of such bed sheets for all types and sizes of beds.

The best thing is that despite being so authentic and unique, you can find these embroidered bed sheets at affordable prices in Jaipur. The best places to buy such bed sheets are Badi Chauper, Nehru Bazar and other random local shops.
Ghevar - The Epic Jaipuri Delicacy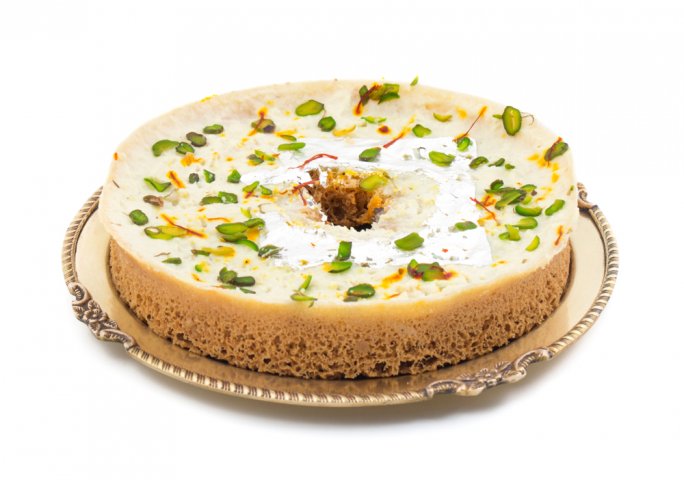 Ghevar is a special type of Rajasthani sweet dish prepared at the time of Teej festival out here. This disc shaped sweet is made out of all-purpose flour and then soaked in sugar syrup. What makes it really special is that Ghevar can last for a really long time and hence you can buy it as a souvenir for your family from Jaipur.

You can find many varieties of Ghevar in Jaipur like Mawa, Malai and plain too. We would recommend you to buy plain ghevar for your family.

If you want to buy the best Ghevar in Jaipur then we will recommend you to head straight to Sodhani Sweets in Lal Kothi area. You can even buy it from any local shop as you will find delicious Ghevar in entire Jaipur.
Meenakari Work Items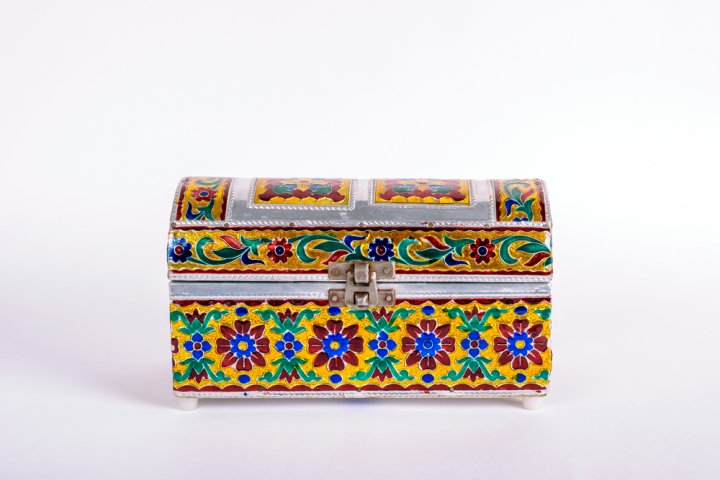 Enameling or Meenakari is the art of decorating the surface of metal with colorful different substances. The final result looks absolutely breathtaking and this is the reason that Meenakari is one of the biggest attractions in Jaipur for the tourists.

If you want to find the answer of what to buy in Jaipur then Meenakari items would be the best choice to make. Not only in form of jewellery but you can find Meenakari work done on various types of items too like utensils, home décor items, etc.

From stunning showpieces to exquisite jewellery collection, Jaipur will never disappoint you when it comes to finding the best Meenakari items. The major colours you will find in Jaipur are red and green as pink meenakari is done in Varanasi. You can explore the Johari Bazar for Meenakari items and jewellery.
Leheriya Saree
Just like Bandhani print, Leheriya is another form of traditional tie dying practice done in Rajasthan. You can find many women in Rajasthan wearing Leheriya saree on daily basis which looks absolutely unique and beautiful.

Leheriya is a form of printing in which saree is generally dyed in two different colours and wave like printing is done on the fabric through special methods. You can find various colours and embellishment details on Leheriya saree in Jaipur easily.

You can find the best variety of leheriya saree in Jaipur which can go on to be quite expensive too. However, for the souvenirs you can find simple leheriya sarees from Bapu Bazar and Nehru Bazar areas. You can also find another variant of Leheriya pattern called Mothara which is more detailed and form of checkered pattern on the saree.
Gemstones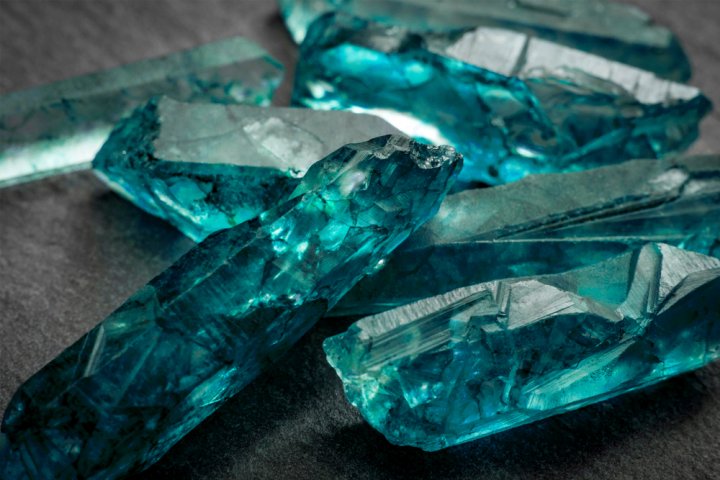 From semi-precious to some really unique and expensive gemstones, you can buy it all in Jaipur. Jaipur is a hub for these gemstones which can be used in jewellery, home décor and other showpiece items.

However, with the flocking tourists in Jaipur, you can find many people selling fake gemstones at sky high prices. So, make sure that you do not get scammed by them. Rather than buying the gem stones from some local shops and vendors, you can buy them from authentic shops in the Johari Bazar area of Jaipur.

Apart from all, The Gem Palace, Rasav Gems and New Maharaja Gem Palace are some of the most popular and most trusted gemstones shops in Jaipur for buying stunning gems.
Mojris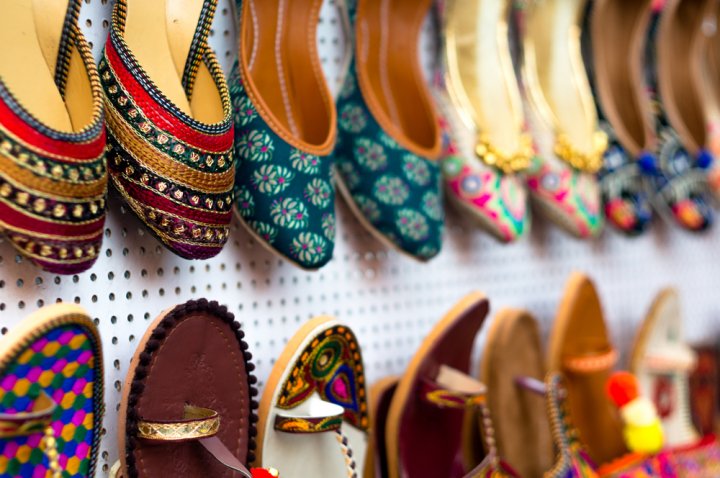 In recent times, the trend for Mojris has risen and you can find many people selling them online or through Instagram. However, if you want to buy authentic Mojris then it is the time to start shopping in Jaipur. These mojris are going to be the best gift you can buy for your loved ones, from Jaipur.

These are basically handcrafted footwear which has evolved a lot through the centuries and now you can find some amazing designs of Mojris for men and women in Jaipur.

You will instantly like the quality and prints of Mojris in Jaipur and do not even get us started on the versatility you will find there. If you want to buy the best Mojris in Jaipur for men and women then M.I. Road and Nehru Bazar are the best areas to hunt for them.
Lac Bangles
Jaipur is a city which never disappoints you when it comes to buying unique handcrafted jewellery and other items. You can literally find a zillion colors of Lac Bangles in Jaipur which are further embellished with stones and kundan.

Jaipur is actually quite popular for buying Lac Bangles with Kundan work on them which looks absolutely gorgeous. The best part is that you can match them up with your Kundan necklace too.

You also get variations in sizes, colours and types too. There are thin bangles and some gloriously thick kadas too. You can also find lac bangles with meenakari work done on them in Jaipur. The best part is that you can find these types of bangles anywhere in Jaipur with the best quality. Still we would recommend you to buy some from Johari Bazar or Bapu Bazar.
Puppets (Kathputli)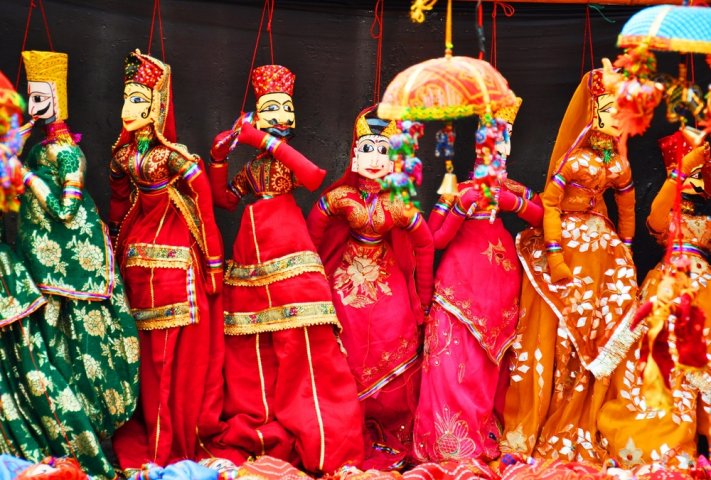 If you still haven't found the apt answer for what to buy in Jaipur then unique puppets of Kathputli can be the perfect answer for you. They are by far the most unique item in this list which are actually a specialty of Rajasthan.

If you are staying at a high end hotel in Jaipur then you will easily find your hotel organizing a Kathputli show for you. The best part is that you can buy some as a souvenir for your friends too.

Kathputlis are special type of string controlled Indian puppets which perfectly display the history and culture of Rajasthan. You can buy some from the Kathputli Nagar in Jaipur which is basically a slum area making Kathputlis since years.
Top Shopping Markets in Jaipur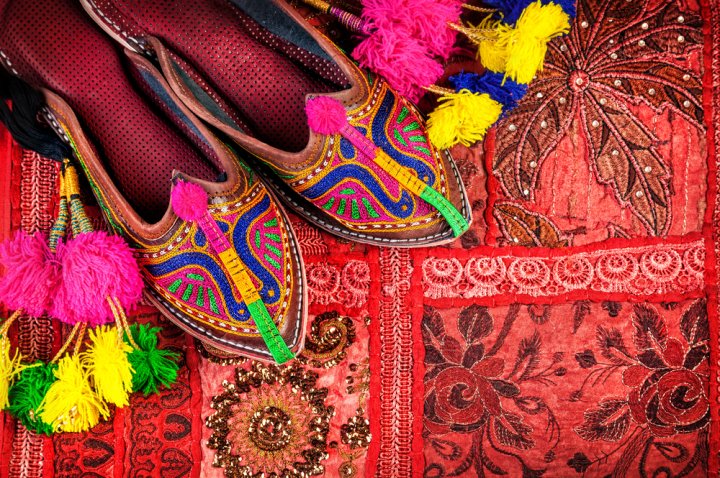 So, you have got to know about the beautiful things you can buy from Jaipur on your way back home as a form of souvenirs. But do you even know about the markets out here in Jaipur? To help you out a bit more, we are going to talk about the top shopping markets in Jaipur where you can buy the above mentioned things.
Johari Bazar
If you want to know where to buy jewellery in Jaipur then Johari Bazar is the perfect answer for it. This is a local market popular for gemstones, jewellery and handicraft items in the city. From artificial to precious, you can find all sorts of jewellery here which are breathtaking to look at. The market remains open throughout the week between 10am and 11pm.
Tripolia Bazar
Tripolia Bazar is another local and street market in Jaipur which is popular amongst the locals here. Located near the Chandpole area in Jaipur, this market is popular for Lac bangles and jewellery along with textiles, utensils, carpets and rugs too. So, if you are planning to buy the popular Jaipur rugs then this is the place for them. It remains open from 10am to 11pm every day and remains closed on Sundays.
Bapu Bazar
To be true, Bapu Bazar is hands down the most popular market in Jaipur which is too big to be covered in a single day if you are actually buying stuff here. This is a wholesome market where you can buy home décor items, clothing, footwear, fabrics, bedspreads, craft items and many more. You just need plenty of time to spend here. This market remains open from 10.30am to 7.30pm all week long.
Chandpole Bazar
Still struggling to decide what to buy in Jaipur then you can find your answers in Chandpole Bazar. This is the market which is going to remind you about the stuffs you didn't even know you wanted. Some of them are jewellery, marble showpieces, knick knack items and a lot of other unique and super affordable items. This market remains open throughout the week from 10am to 11pm.
From our editorial team
Pink City Treats
Jaipur will not fail to impress you with all its havelis, forts, food, hospitality and culture. Make sure you take back good souvenirs that will leave you with fond memories of your trip. Before visiting any of these bazaars, make sure you know if these places accept cash or other modes of payment and if there are functional ATMs nearby. You wouldn't want to be cash strapped after having found the perfect souvenir to back home.