What You Should Know About New Mexico Before Paying a Visit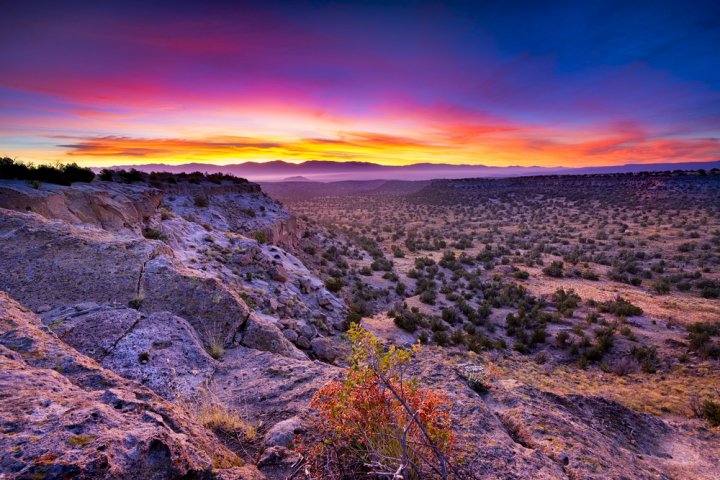 Located in the southwestern part of USA, New Mexico is one of the four Mountain States and shares the Four Corner Region with three other US states of Utah, Colorado and Arizona. Situated at an altitude of 1,741 m and spread over an area of 314,920 sq. km., this is the fifth largest state in USA. An estimated more than 35 million trips were taken by tourists from all over the world to New Mexico in 2017 as per the official figures. In this short and comprehensive guide, we will try to cover a few important facts about New Mexico and the 10 best places to visit in New Mexico.
About New Mexico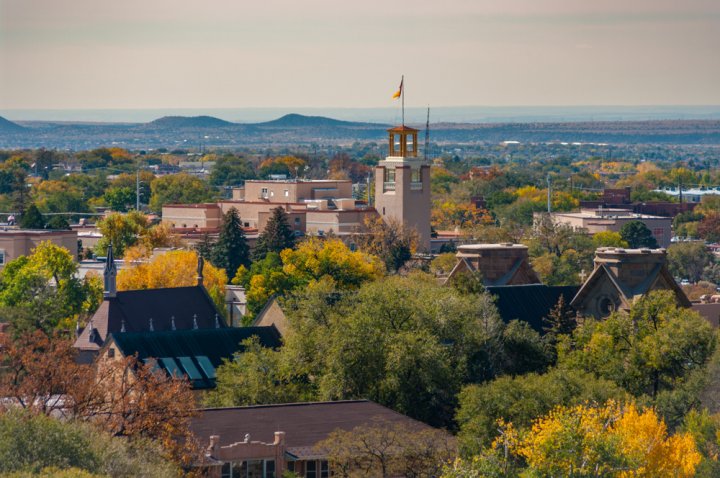 The United States won the war with Mexico in 1848 and New Mexico (also pronounced as Neuvo Mexico in Spanish) was declared a territory of USA. It's capital and cultural centre is Santa Fe, which was founded in 1610 and is the oldest capital city in the USA. Albuquerque is another popular and also the largest city in New Mexico. About 33% population of New Mexico still speak Spanish at home. New Mexico is gifted with natural marvels and has 3 national parks, 7 national forests and 32 state parks.
Best Time to Visit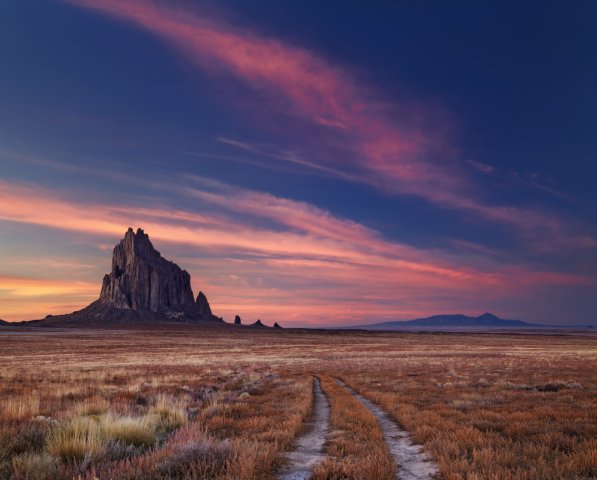 In the months of September and October, most parts of New Mexico experience moderate weather and people from any part of the world can easily adjust to the temperatures hovering between 8 to 27 degrees. November is a bit cold and the minimum temperature drops to as low as 1 degree. But, if you like snow and are planning for skiing and winter games, then December and January are the months to visit. People who like warm weather should consider going in June and July when the minimum temperature is in the range of 13 to 16 degrees.
Budget and Preparations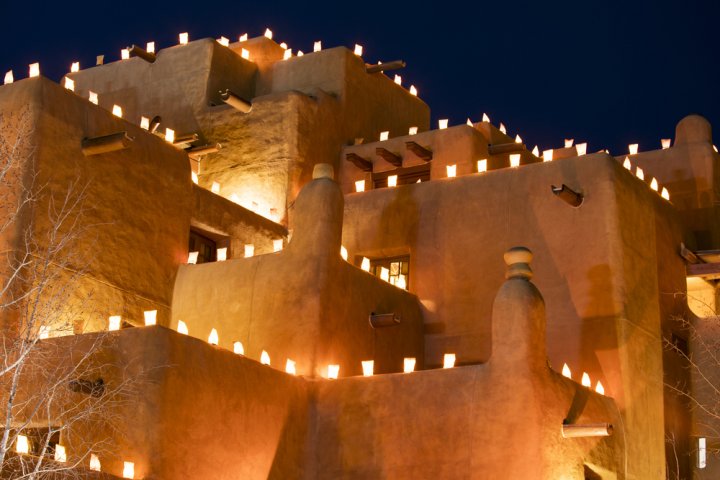 Apart from your air travel expenses, the average price of staying in New Mexico (depending on the city where you are planning to stay) can vary from US$30 (for OYO Rooms) to US$150 for well known 3 star hotels. Also, the rate may vary as per the season. Apart from this, food (US$20 per person per day), local transport (US$42 per person) and entertainment or shopping (US$25) may make way for an additional US$90 per day expense in your budget. If you are going in winters, then make sure to carry some winter clothes and heavy jackets which can be worn during outdoor activities. In addition, if you are allergic to certain foods, please check with the restaurant / hotel before gorging on a new dish. Generic medicines and continued medications (if any) should go into your travel bag without even mentioning.
10 Best Things to Do and Places to Visit in New Mexico
Outdoor Activities Available in New Mexico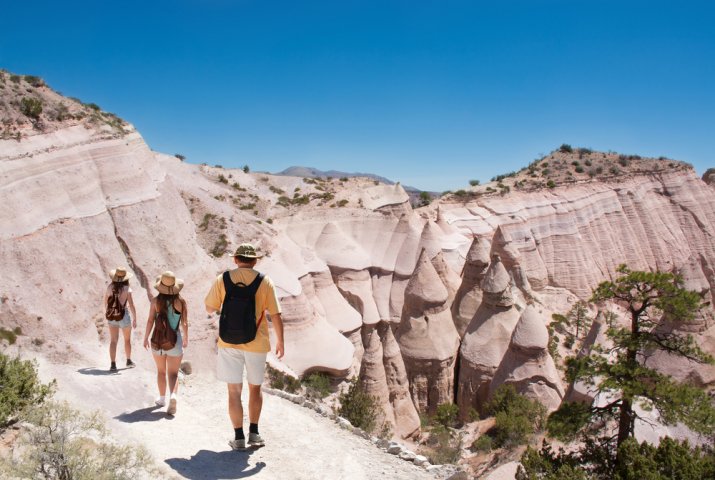 You have a plethora of options when it comes to outdoor activities in New Mexico. Be it rainbow ballooning in Albuquerque, rafting in swallowing rivers, skiing in Taos or horse riding in the mountains, this state with vivid geographical marvels has something to offer for everyone.
Albuquerque Hot Air Balloon Rides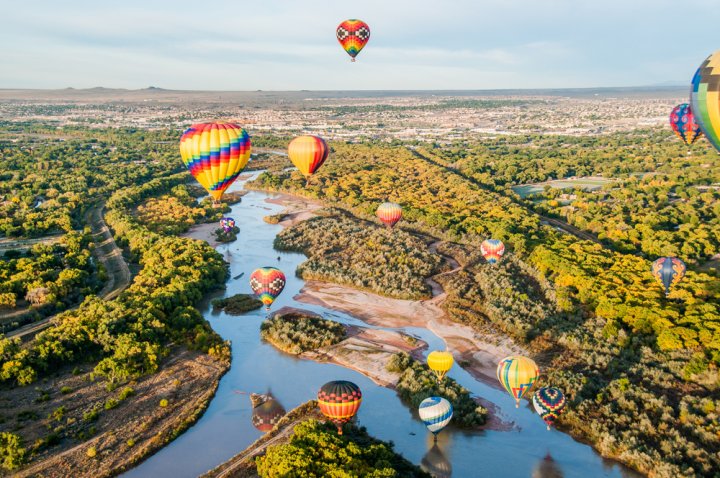 Also known as the Duke City (associated with the history of this city), Albuquerque is famous for the balloon rides and the Balloon Fiesta Season (a ballooning festival held between October 1st to October 15th every year). Flight time in the air is around 1 to 1.5 hours and the entire flight from take-off to landing lasts for 2.5 to 3 hours. This is an absolutely wonderful and mesmerising experience with breathtaking views of the city of Albuquerque and the aerial views of the river Rio Grande and the valley underneath. The hot air balloon ride costs around US$140 for adults and US$100 for children on sharing basis, and if you want a private ride (wedding proposal or anniversary), then you may have to shell out US$350 for adults and US$250 for children and as a welcome gesture, a complimentary toast of champagne and continental breakfast is also offered for both the rides.

The hot air balloon ride is also an adventurous activity for people who are afraid of heights or have motion sickness problems as the slow ascend of the balloon makes the rise into air all the less frightening. The balloons hover at a height of about 1,200 to 1,500 feet and the exquisite view of Mother Nature and man-made marvels at the same time are a delight to watch.

Rio Grande Gorge Rafting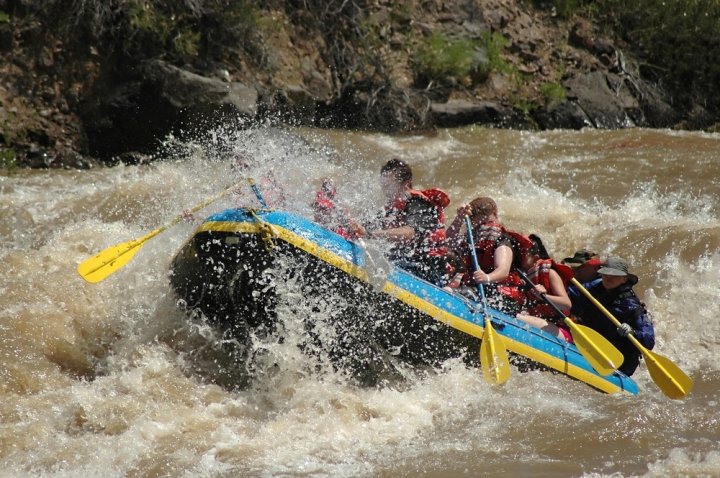 The Rio Grande is the fourth-longest river in the United States and stretches for more than 3,000 km. in length and covers the entire state of New Mexico. This river originates in Colorado in USA and ends in the Gulf of Mexico. The water taken from the river is used for irrigation by both USA and Mexico. The Rio Grande Gorge rafting provides a perfect outing for the entire family. During the course of the rafting, you get to see beautiful birds and splendid wildlife along with ancient petroglyphs (Rock Art) and springs of fresh and clean water.

Racecourse Rafting is a popular half day trip which is a good option for the first timers or water lovers who have limited time to spend on this adventure before moving on to the next one. There are several departures throughout the day and you can choose the timing as per your convenience. Most of the tour operators provide family rides as well and have well-trained professional divers as accompanying guides. A half-day tour costs around US$60 per person and the entire voyage lasts for about 3 hours. Similarly, a full-day trip will cost you around US$120 and lasts for 6 to 7 hours. The trip starts between 8:30 to 9:00 a.m. and you get a complimentary Hot Chicken Fajita Lunch in-between. This full-day trip provides you a relaxing float on the water and additional kayaking for the adrenaline lovers.

The Must Visit and Famous Parks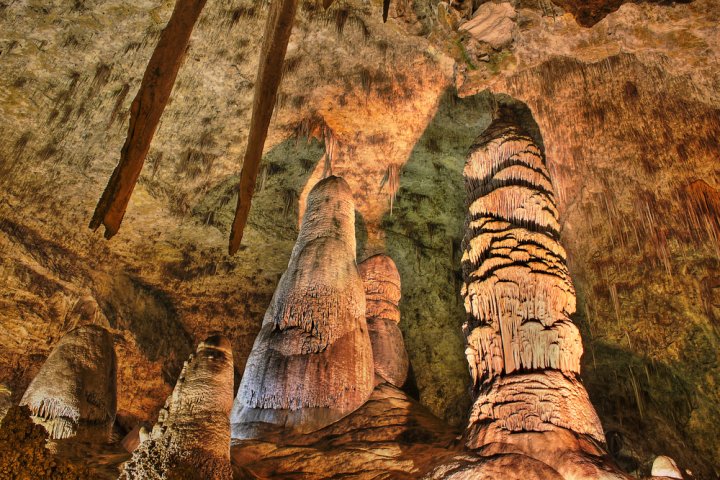 Out of the three National Parks located in New Mexico, we have selected the two most famous ones. These are not the normal Nature Parks, but are famous all over the world for their uniqueness and cultural importance.
White Sands National Monument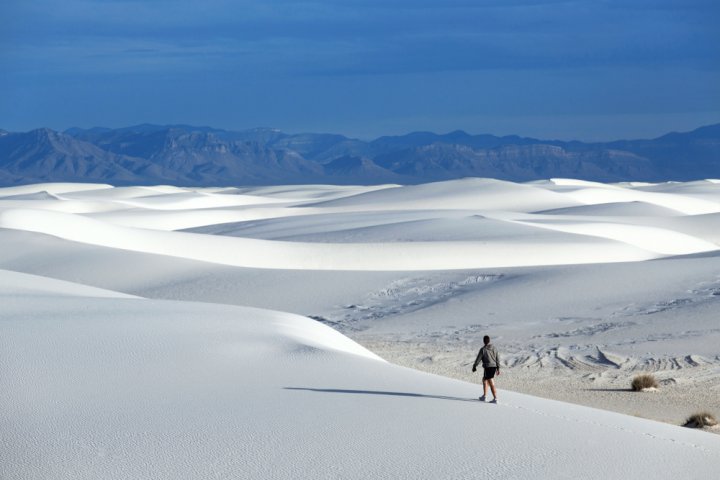 The White Sands National Monument stand at an elevation of 1,291 m in the mountains surrounding the Tularosa Basin and is spread over an area of 581 sq. km. A trace fossil footprint of humans and ground sloths dating shows that ground sloths were living in the Ice-Age at this place and humans were hunting here about 11,700 years ago. It was declared a National Monument on January 18, 1933 by the order of then President Herbert Hoover. The name "White Sands" denotes that this monument contains the world's largest Gypsum sand dunes field and that is what makes it so unique among all the National Parks of the world.

More than 300 species of plants, 250 species of birds, 50 species of mammals, 7 species of amphibians, 1 species of fish, 30 species of reptiles (including the diamondback rattlesnake) and various species of insects have their home in this Park and numerous plants and animal species have adapted to the environment of this place for over millions of years. Thus, as a traveller you get a plethora of options to watch, capture photos and to live the moments. There is a well-defined area of 26 km long Dunes Drive near the visitor centre which includes designated parking areas where visitors can stop and explore the dunes. Apart from this, rangers are also available to guide day and evening walks through the dunes. Every year, approximately 500,000 people visit this National Monument and get awestruck by its beauty.

Chaco Culture National Historical Park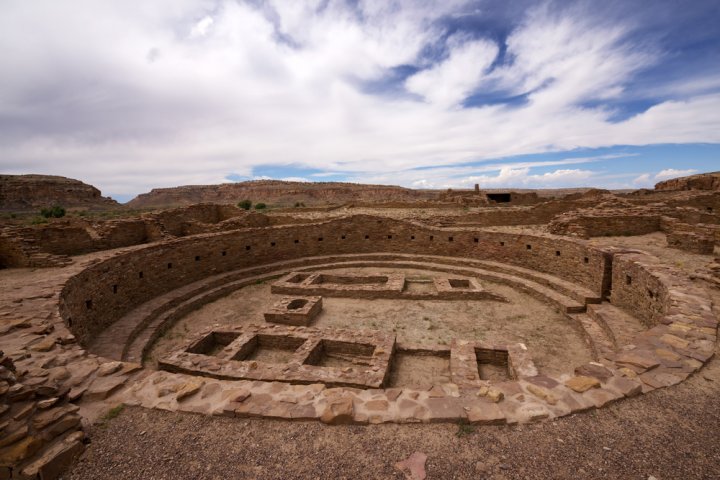 Also known as Chaco Canyon, this Park is spread over an area of 137 sq. km. and is one of the UNESCO World Heritage Sites. Located in the northwestern part of New Mexico, this park has a 15 km stretch which was built between 900 and 1,500 A.D. and was the centre of civilisation for the ancestral Pueblo people. One can find the remains of structures which were four storeys tall and were constructed by bringing sandstone blocks and timber from far away areas; archaeological researchers suggest that these structures were built to align with solar and lunar cycles. Visitors have to go through a rough ride in SUVs to reach the canyon and many tourists opt for camping. It has several places of historic and cultural importance apart from the scenic beauty of nature.
Mountainous Areas for the Adventure Lovers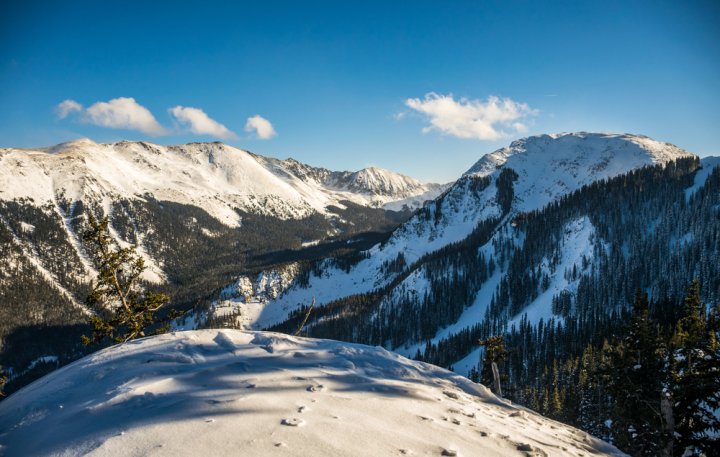 There are more than a dozen mountains in New Mexico and all are worth visiting for their enigmatic and serene beauty. We are mentioning two of the most popular mountains which attract the most visitors every year.
Taos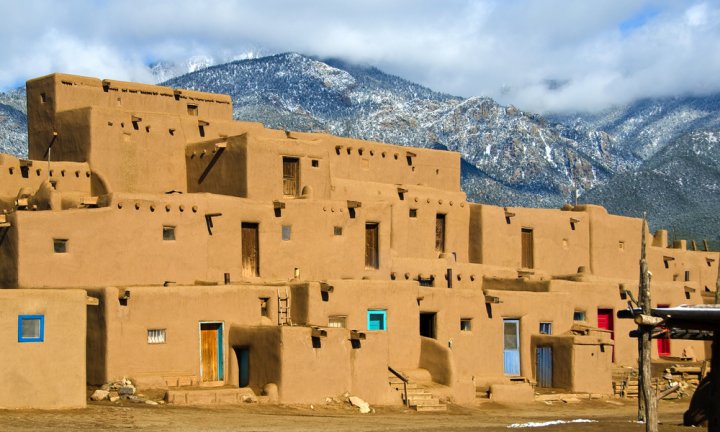 Located near the town of Taos, Wheeler Peak at 13,166 ft. is the tallest mountain in New Mexico and belongs to the Sangre de Cristo Mountains. Taos was once rumoured to be the 'City of Gold' by nomadic tribes which existed here thousands of years ago. Taos Pueblo, declared as a World Heritage Site is a traditional pueblo village and home to several Taos Indians. Travellers are welcome inside the village to have a look at the historic Pueblo houses and to experience the life of locals. As per their tradition, no running water or electricity is allowed from outside and hence discovering their way of survival is a completely different experience. Ghost Ranch and Taos Ski Valley are other popular tourist destinations.
Sandia Mountains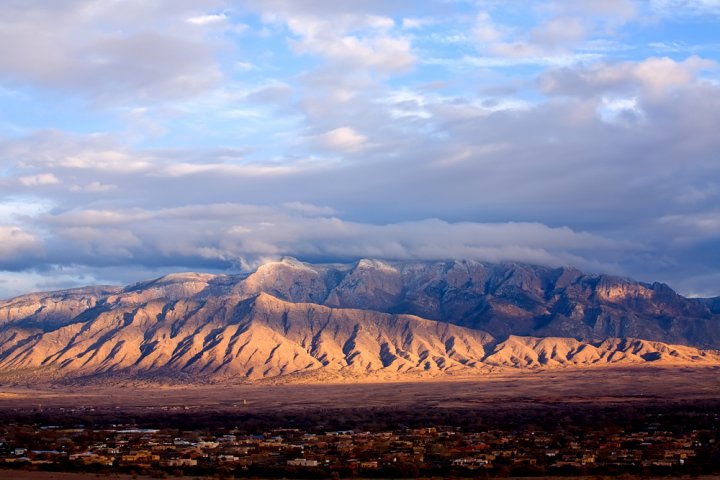 The Sandia Mountains lie on the eastern part of the famous city of Albuquerque and its highest point is Sandia Crest which stands tall at about 3,255 m. These mountains turn pink during sunset and thus the name is derived from the word 'Sandia' which, in Spanish means watermelon. An interesting fact about Sandia is that these mountains were uplifted in the last ten million years as part of the formation of the Rio Grande Rift. There is a Sandia Peak Ski Area, which is in close proximity of the Sandia Crest and has a gift shop, a restaurant, a scenic overlook, and a large electronic communication site for visitors. The Sandia Crest Scenic Byway (22 km long) is also a popular place for motorcycle riders where they can quench their adrenaline rush with the vroom.
New Mexico is Known for its Natural Formations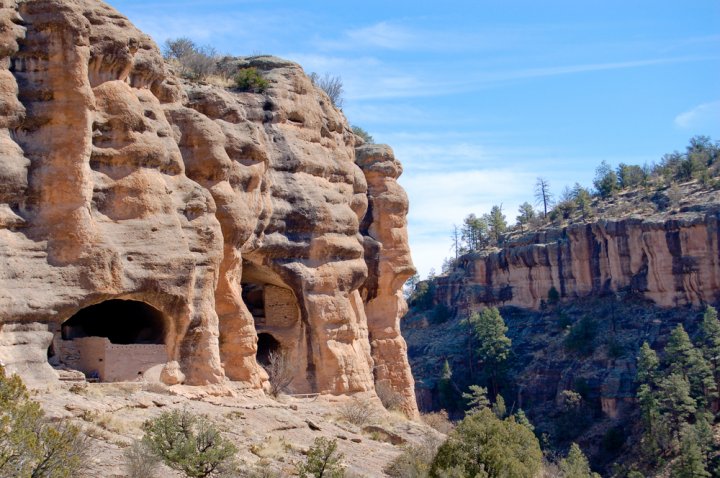 New Mexico is also known as the Land of Enchantment because it is blessed with deserts, rivers, springs, white sand dunes, splendid wildlife, forests, ancient monuments and variations of colours in the sky; New Mexico has numerous natural phenomenon to explore and enjoy the beauty of mother nature.
Gila Cliff Dwellings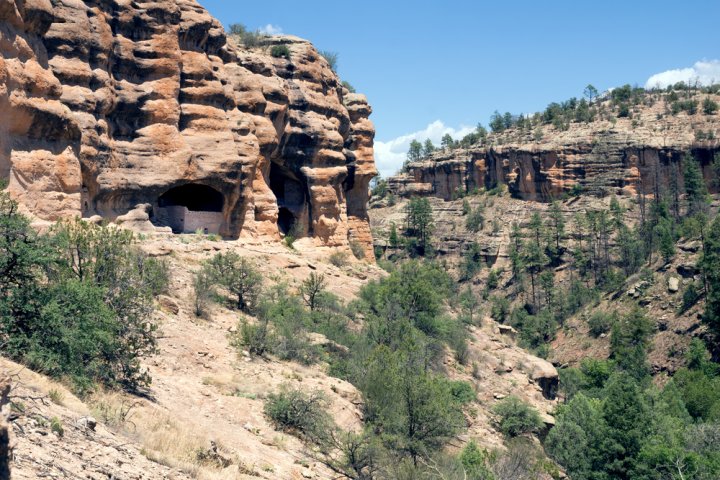 At the Gila National Monument the main attraction are the Gila Cliff Dwellings which were constructed in the 13th. century by the ancient Puebloans of the Mogollon Era. These landscapes are about 6,000 to 7,000 feet above the sea level and are along the branches of the famous Gila River. A museum and visitor centre jointly operated by the U.S. Forest Service and the U.S. National Park Service has several items displayed from the exhibits of Apache and Mogollon periods. Several beautiful hot water springs are also located near the visitor centre and adventure lovers can enjoy hiking activities in the forested parks.
Carlsbad Caverns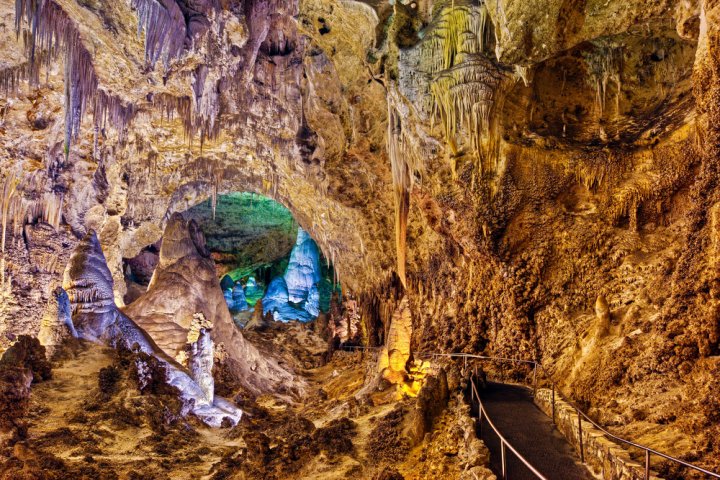 The town of Carlsbad is situated in the southeastern part of New Mexico. The very popular Carlsbad Caverns are a part of a huge cave complex near the town of Carlsbad. The 'Big Cave' is the main attraction and contains the world's largest underground chamber known as the 'Big Room'. An elevator from the visitor centre gives direct access to the Big Room and inside the gigantic chamber you can enjoy the enigmatic view of electrically lighted stalactites, stalagmites and natural pools of water.
Places of Historical Importance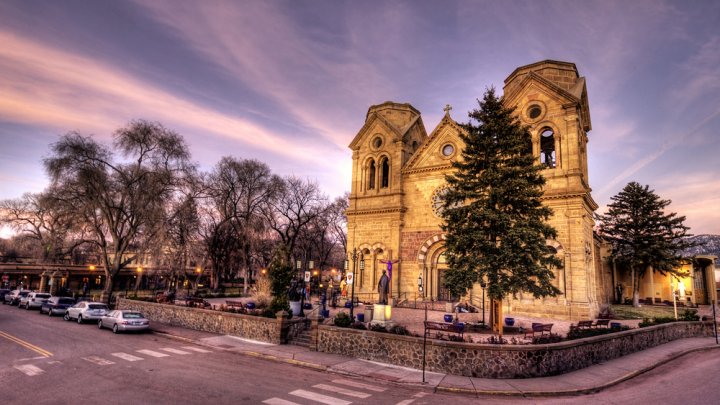 Among many places of historical importance, Santa Fe and Chaco Canyon are the two most visited places and worth mentioning because of their deep rooted history and impression on the modern day society of New Mexico.
Santa Fe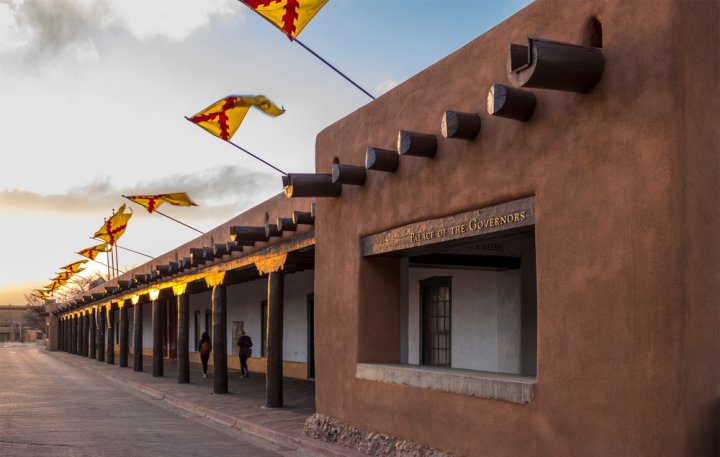 Spanish Voyagers founded Santa Fe in 1610. Today, it is one of the most beautiful and oldest cities of USA. Santa Fe is the capital of New Mexico and any new construction in the city has to be aligned with the 'Santa Fe Style' of Pueblo Architecture; thus ensuring that the entire city mesmerises the visitors with its beautiful and picturesque architecture. The Palace of the Governors Museum located in the nation's oldest public building and the New Mexico Museum of Art with more than 20,000 artworks are the must-see places.
Chaco Canyon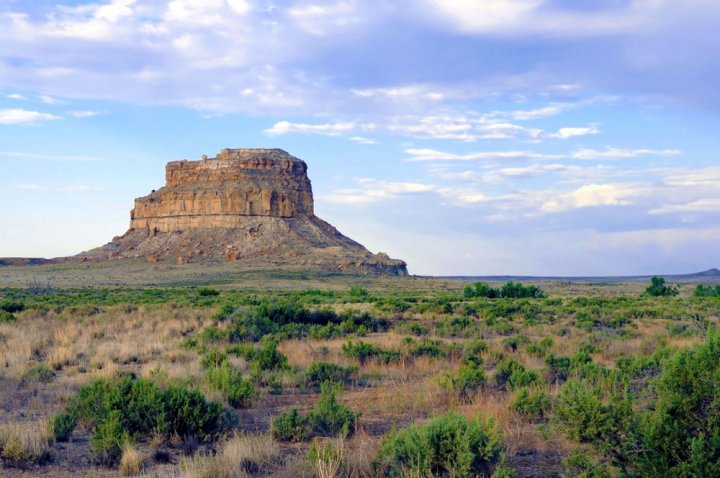 A part of the Chaco Culture National Historical Park and a UNESCO World Heritage Site, this park is located in northwestern New Mexico, between Albuquerque and Farmington. Chaco Canyon was a major center of culture for the Ancestral Puebloans between 900 and 1,150 AD. Fifteen major buildings were built by the Puebloans after they quarried and carried sandstone blocks and timber from far-off areas. Spread over an area of 137 sq. km., it has several notable places to visit viz. Pueblo Bonito, Nuevo Alto, and Kin Kletso, which have heights of 6,200 to 6,440 ft and are worth visiting for the history aficionados as well as the adventure lovers.
Writer
Rahul Banerji
Rahul began his stint as a freelance writer after working in the corporate world for ten years. He enjoys writing on various topics and is an avid blogger. His interest in science, technology, politics, current affairs and the latest trends helps him to back his writing with well researched facts. Rahul finds solace in gadgets, nature and spirituality.
From our editorial team
Plan Your Next Trip to New Mexico
New Mexico - The Land of Enchantment is an exquisite tourist destination which can delight a visitor of any preferences. From rich history and culture, delectable cuisine, breath-taking landscapes to beautiful cities, New Mexico has it all.