What are Microgreens?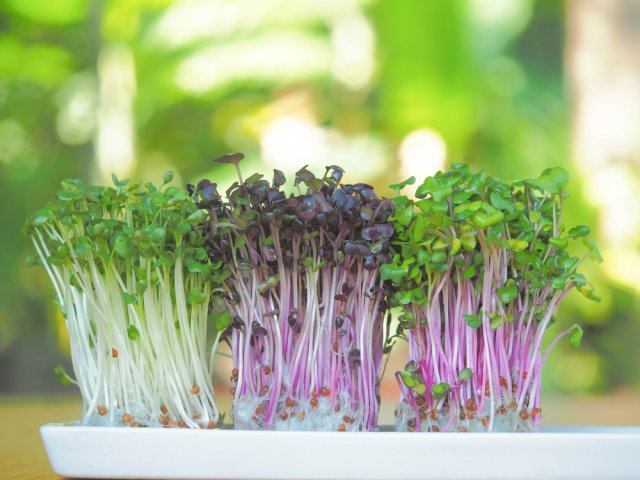 Microgreens are becoming popular for a good reason as these young green vegetables are extremely healthy and should be a part of your regular diet. Just between 1-3 inches in size, these baby plants are loaded with nutrients. You will find these greens available in a variety of textures, colours and aromatic flavours. Some of you may confuse microgreens with sprouts, though both are different. Sprouts do not have leaves whereas microgreens are mainly the leaves.
Important Microgreen Benefits to Know About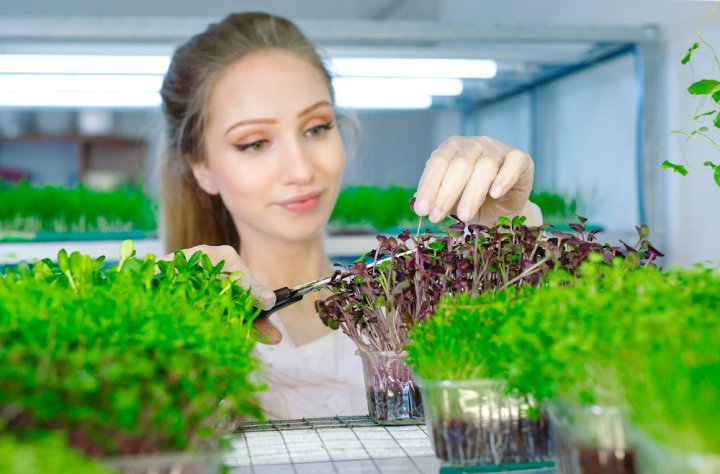 There are several benefits of including microgreens in your regular diet. Here, we talk about some of the most important benefits that microgreens have to offer:
Rich in Antioxidants:

An antioxidant-rich diet is something that you all desire but may find it challenging to maintain. Simply including microgreens in your diet can however solve this problem without you having to procure the exotic food items to satiate your daily need of antioxidants. Use microgreens in salads, stuffing or dressing to add the daily dose of antioxidants to your diet.



Reduces the Risk of Heart Disease:

As you age, the risk of heart disease looms and therefore rectifying the diet becomes essential. In the fast-forward life that you are living today, heart ailments have become common even in youngsters. Microgreens help in controlling blood pressure and therefore reduce the risk of heart ailments. Experts believe that plant-based food that is rich in vitamin K and fibre works well for the heart.



Improves Eyesight:

Even our ancient wisdom has taught us to include green and leafy vegetables in our diet for better eyesight. Increase your microgreens intake as they are a rich source of lutein, a phytochemical for good vision. If your eyes feel tired after sitting in front of the system all day long, then add microgreens to your diet. There have been several research studies concluding that lutein helps in absorbing the excessive light intensity emitting from the screens.



Rich Source of Minerals and Vitamins:

These small super-plants are a rich source of essential vitamins and minerals. It comes as a good surprise to know that some microgreens pack 4-5 times more nutrients compared to the mature plants. Since the harvesting of microgreens is done right after germination, these small plants are loaded with all the health benefits.
Healthy Microgreen Recipes You Should Try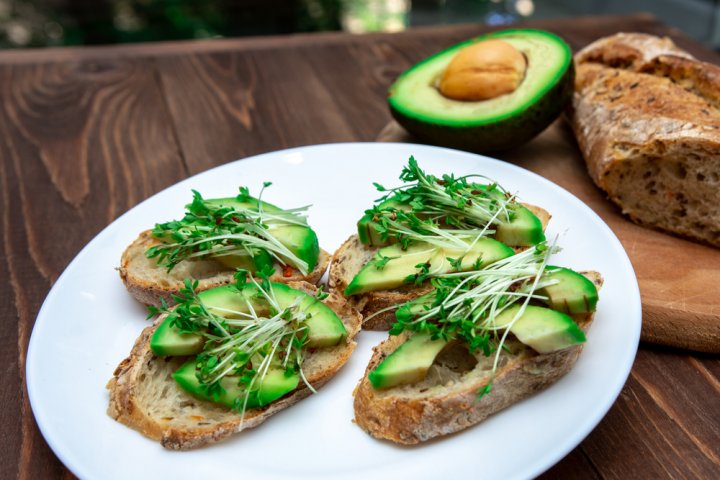 Now, that you have got acquainted with the numerous health benefits of microgreens, it's time to devour on some flavourful microgreen recipes:
Asian Microgreen Vegetable Salad
Indulge in the goodness of veggies and microgreens without sacrificing on the taste. This Asian microgreen vegetable salad can be a daily in your diet as it is simple to make and full of flavours. Let us start with the ingredients:
Ingredients:
Microgreens – 1 cup
Chickpeas – 1 bowl, soaked and boiled
Coriander leaves – ½ bunch
Basil – 8-10
Crushed ginger – 1 tbsp
Chopped onion – ½
Chopped tomato – ½
Carrot julienne – ⅓ – ¼ cup
Capsicum – ¼
Sesame oil – 1 tbsp
Lime/lemon juice – ¾ tbsp
Chat masala – ½ tbsp
Garam masala powder – ¼ tbsp
Pink salt – ½ tbsp
Seasoned salt – ¼ tbsp
Method:
Take a mixing bowl and put the boiled chickpeas into it followed by all the veggies, except the microgreens.
Thereafter, add all the spices and mix the ingredients in the bowl well.
Add microgreens, fresh lime juice and sesame oil.
Mix everything well with delicate hands.
You can serve this bowl of health immediately or refrigerate it for some time. However, make sure to eat this salad the same day.
Wheat Grass Rasam
Rasam is a part of the staple diet in South India and is known for its many health benefits. The dietary fibres, vitamin A and C, folic acid and niacin are some of the many nutrients that your body needs. Wheat grass on the other hand is known for improving metabolism, lowering cholesterol and improving the immune system. This recipe gives a twist to the traditional rasam by adding microgreens to it and making the preparation even more healthy and delicious. To make wheatgrass rasam you need:
Ingredients:
Wheat grass – 100 gm
Cherry tomatoes – 8
Tamarind – 20 gm
Turmeric powder – ¼ tbsp
Rasam powder – 1½ tbsp
Mustard seeds – ½ tbsp
Garlic – 2 cloves
Cumin seeds – ½ tbsp
Curry leaves
Coriander leaves – handful
Dry red chilli – 1
Heeng – ½ tbsp
Water – as required
Method:
To start with, wash the wheat grass thoroughly and keep it aside.
Soak the tamarind in water to take out the juice.
Now take a mixer jar and put the wheat grass and tamarind water in it to make a fine blend.
If its too dry then add a little water but not more than 500 ml.
Strain the wheat grass juice from the jar and remove the extra fibre.
Next, take a pan with a heavy bottom and add cherry tomatoes, wheat grass and tamarind juice, salt, turmeric and curry leaves and let it come to a boil.
After one boil, add rasam powder and switch-off the gas as the mixture starts to get frothy.
Now, it is time to make the tadka for the rasam.
Take a pan and add ghee, mustard seeds, garlic, cumin seeds and red chilli. Once it is ready, add the mixture to the rasam and serve the dish hot.
Microgreens Methi Thepla
Healthy and delicious, the Indian flatbread or thepla, made from methi (fenugreek) has been around for decades now. In India fenugreek is used in all forms such as herb, fresh leaves, dried and microgreens. Methi is know for its health benefits such as preventing heart ailments, lowering cholesterol levels, providing relief from constipation, etc. So let's start with this delicious and easy to make microgreen recipe Indian style:
Ingredients:
Whole wheat flour – 1¾ cup
Besan (chickpea flour) – ¼ cup
Microgreens methi – 1 cup
Green chillies – as per taste
Carrom seeds (ajwain) – ¼ tbsp
Red chilli powder – ½ tbsp
Turmeric powder – 1 tbsp
Coriander (dhaniya) powder – 2 tbsp
Oil – 2 tbsp
Salt to taste
Ghee for cooking
Method:
To start with the recipe, take the whole wheat and chickpea dough in a large bowl and add all the ingredients mentioned above.
Mix all the ingredients well and then start the process of kneading.
To maintain consistency, add water gradually, else the dough could become too moist.
Once the dough is ready, apply 1 tsp oil and let the dough rest for 15-20 minutes.
After 20 minutes, knead the dough again and divide it into 10 equal portions by creating 10 balls out of the dough.
Put one ball on the rolling surface and start rolling it with the help of some flour to dust.
Remember that theplas are quite thin but should be moist even after cooking.
Now, take a pan and drizzle some ghee or oil of your choice.
Cook the thepla on both the sides by pressing with a spatula. Repeat the process for all the theplas and serve with green chutney or pickle of your choice.
Green Smoothie
The microgreens used in this recipe packed with various health benefits, are blend into a complimenting smoothie. Ditch the caffeine in the morning to go green and healthy with this green smoothie. The best part of this smoothie is that you can add any readily available microgreens into it. You need the following ingredients to make this green smoothie:
Ingredients:
Microgreen sunflower shoots – 90 gm
Kale, cabbage and broccoli microgreens – a mix of 20 gm
Frozen banana – 1
Grated carrot – 170 gm
Chia seeds – ½ tbsp
Flex seeds – ½ tbsp
Ice cubes
Lemon juice – to taste
Water – ½ cup
Method:
The recipe is a breeze once you have all these ingredients ready to be blended.
Put everything in a blender except the lime juice.
Blend the mix to form a nice smoothie and add lemon juice as per your taste.
Your microgreen smoothie is ready to be served.
Corn, Feta & Microgreens Fritters Recipe
Microgreens are so versatile that you can put them in any dish to make it healthier. However, when added to these corn and feta fritters, the crispiness and flavours of the microgreens just add to the overall taste. Let us start with collecting the ingredients for these fritters first:
Ingredients:
Flour (maida) – 1 cup
Baking powder – 1 tbsp
Black pepper – 1 tbsp
Eggs – 2 (avoidable)
Soda water – ½ cup
Whole corn kernels – 2 cups
Crumbled feta cheese – ½ cup
Microgreens of your choice – kale, wheat grass, basil, fenugreek, etc.
Method:
Start with sifting the dry ingredients to ensure there are no lumps.
Now form a smooth batter of the flour without any lumps.
Once done with a smooth batter, add feta cheese, microgreens and corn in the batter.
Take a stand mixer and mix all these ingredients for 10 minutes.
Next, heat the oil in a pan (kadhai) and put spoonful in it to cook on a medium heat until golden brown.
Take out from the oil and place the fritters on a plate layered with tissue. The tissue will absorb the excessive oil.
Your microgreens fritters are ready to be served with the green chutney.
Microgreen Dal Curry
Lentils form an essential part of the Indian diet for their rich protein content. On top of that if you add microgreens such as radish greens, methi or mustard greens, the health factor of the dal goes up even higher. So let us start with the recipe where we will use all 3 microgreens. However, you can skip or add more microgreens depending on your taste and preferences.
Ingredients:
Moong dal – ½ cup
Microgreens of radish, methi and mustard – ½ cup
Grated coconut – ½ cup
Shallots – 3
Garlic – 1 clove
Green chilli – 1-2
Currey leaves – few
Turmeric powder – ¼ tbsp
Cumin seeds – ¼ tbsp
Oil – 1 tbsp
Mustard seeds – ¼ tbsp
Red chillies – 2
Method:
In a pressure cooker add washed moong dal, salt, water and cook it till 1 whistle. Switch off the gas after 1 whistle and let the pressure release.
Meanwhile in a blender add ½ cup grated coconut, shallots, garlic, green chilly, curry leaves, cumin seeds and turmeric powder.
Mix some water and form a fine paste.
Add this paste in the dal along with salt and water.
Let the dal come to a boil after which you can add the microgreens.
After adding the microgreens boil the dal just for a minute and turn off the flame.
For tempering, take red chillies, mustard seeds and sliced shallots and sauté them in ghee.
Turn off the flame when the shallots turn golden in colour.
Serve the dal hot with any Indian flatbread or rice.
Tomato and Mozzarella Salad with Microgreens
Who does not love the fresh tomatoes and mozzarella cheese combination. But with the microgreens added to this duo, you can not only add to the taste but also take the health quotient to a new level. To make this dish you need:
Ingredients:
Tomatoes – 2 large
Sliced mozzarella – 4 ounces
Microgreens of your choice – 2 large handfuls
Basil leaves – thinly sliced
Olive oil, to taste
Balsamic vinegar, to taste
Sea salt
Black pepper – freshly ground
Method:
All you have to do now is to assemble these ingredients in the order we suggest.
Place the thinly sliced basil leaves and the microgreens on a plate.
Cut the tomatoes in round shape and thin slices and place them over the microgreens.
Top the tomatoes with the mozzarella cheese.
Now, add 1 tbsp olive oil and ½ tbsp balsamic vinegar.
Sprinkle salt and pepper according to your taste.
Your healthy microgreens meal is ready.
How to Store Your Microgreens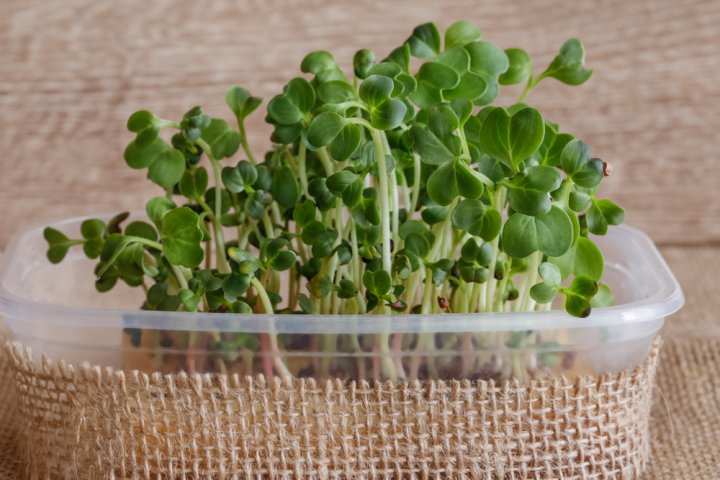 Here are a few tips to ensure that your microgreens stay fresh for longer:
Always keep you microgreens in the plastic zip-lock or a container and store them in a refrigerator.
Set the humidity level in the refrigerator right to ensure that the microgreens are neither too dry nor too soggy when you want to use them.
The ideal way to store your microgreens is to buy the speciality bags specially designed for them. Any other containers made of glass or plastic have their limitation in keeping your microgreens fresh for longer duration.
To increase the shelf life, you can dehydrate the microgreens and powder them to use in smoothies and other recipes.
From our editorial team
Microgreens – A Perfect Ingredient for Indian Dishes
As you would have realised by now, microgreens are a perfect ingredient for Indian dishes from rasam to salads and from dal to theplas and much more. They not only enhance the taste of your regular dishes but also make them more nutritious. We hope this BP Guide would have helped you decide which microgreen recipe you would like to try out first. Share your experiences with us and stay connected for more such engaging content.