Vienna: A City of Culture, Romance, Art and Music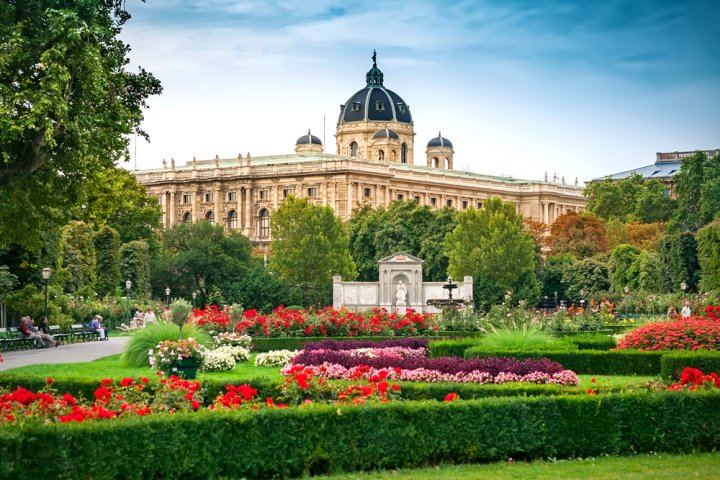 Vienna, the capital of Austria, is one of the beautiful and cultural cities of Europe. Europe is known for its beauty and culture in which Vienna is in the very middle of Europe. It is in the heart of Europe. This city relishes its past and has attractions to prove it. It is known for its inspirations, infrastructures, culture, music, and art. This city has warm summers with an average high temperature of 21-27°C from June to September and relatively dry and cold winters with average temperature of almost freezing point. Snow covers the roads in winters which makes it a city of romance and love.

Vienna is known with different names such as the city of love, city of music, city of culture, and the city of art. This city also comes under the UNESCO World Heritage City and is also known as the city of love, romance, culture, art, and music.
Facts You Should Know About Vienna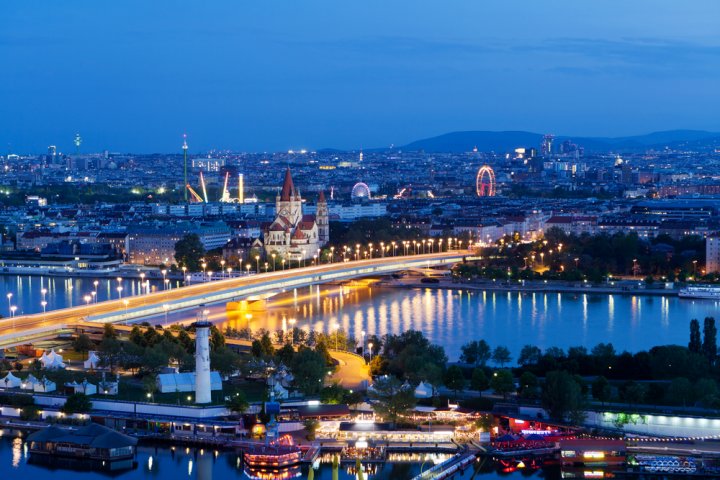 A City of Culture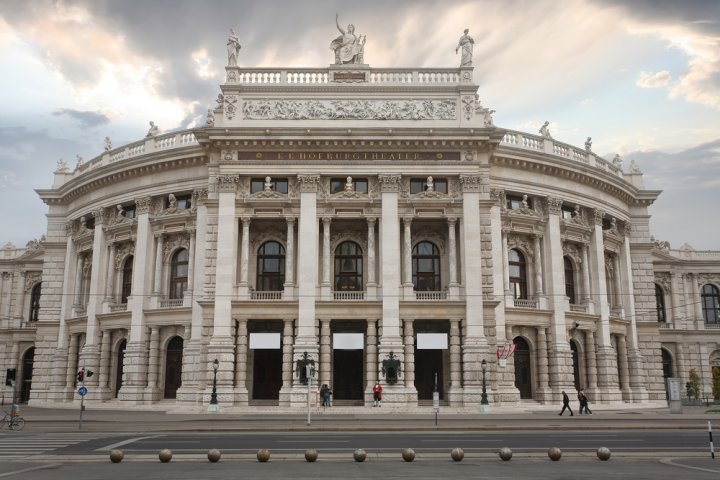 Vienna is known for its culture. You can explore its culture in the infrastructure of museums, music, and various historical monuments. Each infrastructure and palace explains its rich history and culture. Burgtheater, the world's most important theatrical stage also situated here, explains the various facts about Vienna's culture. This city is equally famed for its coffee culture. Vienna was ranked 1st in the 2014 Innovation Cities Index for its culture of innovation. Hence, this city encourages research and innovations in major fields like life-sciences.

Vienna is also home to many opera houses which showcase classical performances of its culture like the Weiner Musikverein.
A City of Music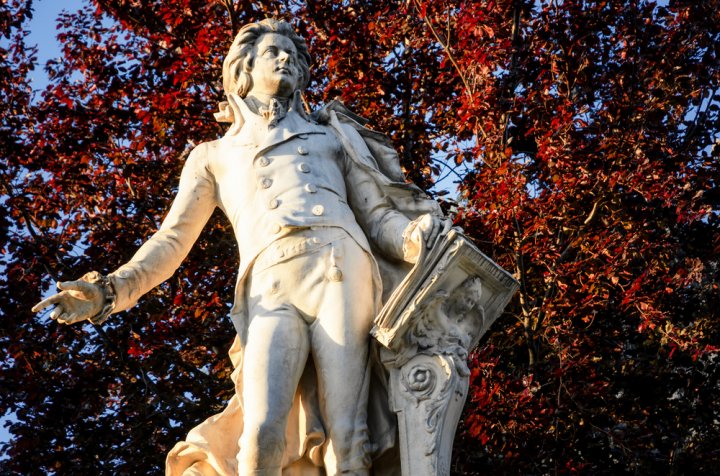 Its culture is also linked to its classical music. The notable performances of composers like Wolfgang Amadeus Mozart or Gustav Mahler can also be seen here. Vienna is the home for many world-class composers and musicians. For centuries, these performances and music have played a significant role in Viennese life. People enjoy these performances and feel free from all the tensions and problems dwelling upon their mind. They feel relaxed and peaceful in this musical environment. This city also gave birth to many famous world-renowned musicians which includes Anton Webern, Joe Zawinal and Louie Austen.
A City of Art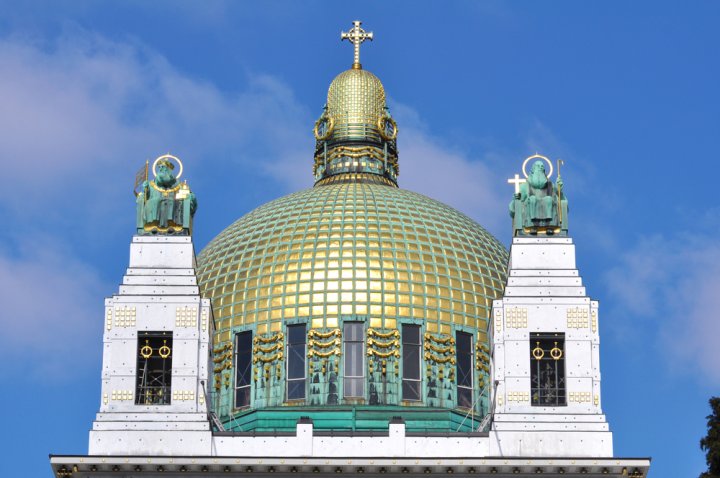 The city's monuments and museums depict diverse and rich architectural arts. It produced and nurtured many artists. Past rulers and monarchs of Vienna had a tremendous passion for collecting art and paintings which made this city world-famous for arts. The world's most famous museum of fine art which includes a vast collection of priceless paintings is also situated in Vienna.

A variety of architectural styles can be found here. These styles range from classical to modern architecture. The most typical example of Vienna's architecture is Otto Koloman Wagner, a leading member of the Vienna Secession movement which introduced an architectural style popularly known as Art Nouveau.
A City of Romance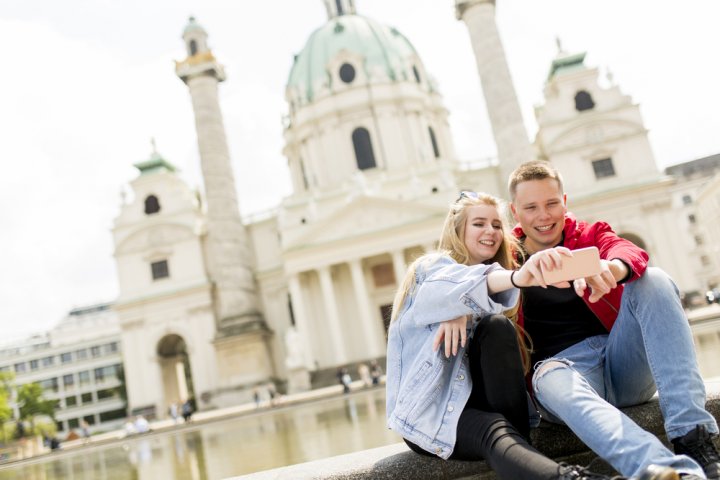 Visiting Vienna in winters is full of love and romance. Magnificent architectural monuments, old-charm roads full of snow, and its unique coffee culture make it an ideal place to visit in winter, which is a high season to visit this place. Christmas is celebrated on Christmas Eve here, i.e. on 24th December, which includes parties and events at various locations. The city's square turns into various beautiful Christmas markets at Christmas time. If you are visiting on New Year's Eve, be prepared for a wonderful firework. There are special boat tours on the Danube at this time. They welcome the new year with spectacular fireworks.
10 Best Places to Visit in Vienna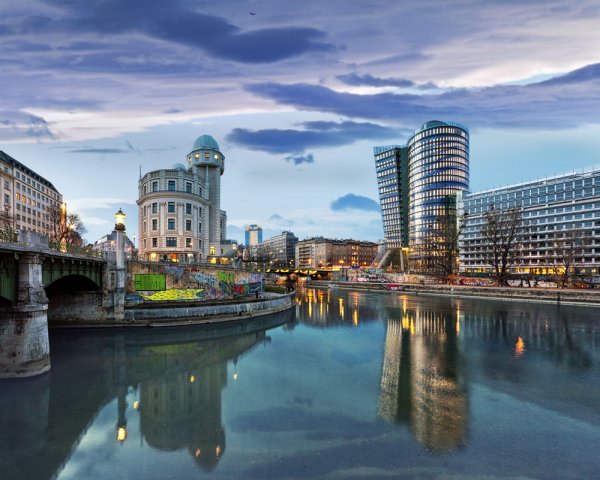 Schönbrunn Palace and Gardens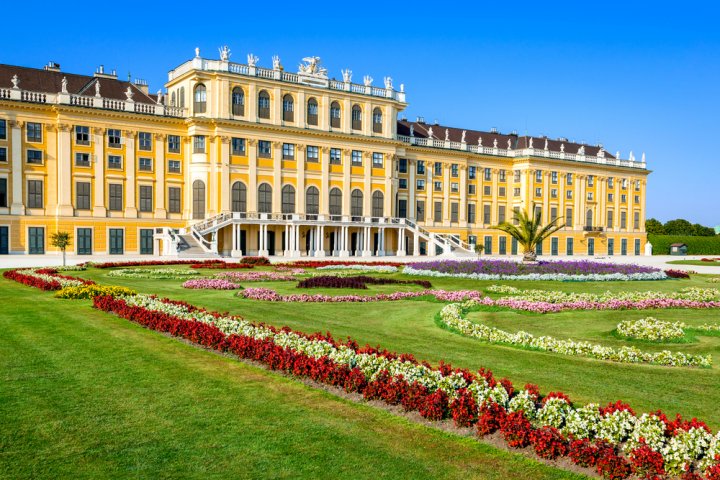 This place is located in Heitzing. It was the main summer residence of the Habsberg rulers. It is a beautiful palace having 1,441 large rooms with Baroque architecture, which is a highly decorative and theatrical style. This type of architecture was introduced by the Catholic Church. There is a famous fountain at this place called the Neptune Fountain. You will also see the magnificent Gloriette perched on the crest of a 60 m high hill.

Various sculptures depicting the different types of culture of Vienna are placed in the garden of this palace. This garden is called the Great Parterre. It contains 32 sculptures that look like a real human communicating with people due to its emotional and life-like architecture.

Firstly, you should see the sculpture of Artmesia II of Caria. She was the sister and wife of Mausolus, the ruler of Caria. The next sculpture you can see is Calliope. He was known for his epic poetry. There are different people shown by these sculptures and all had a different role and position in the history of Vienna. This is one of the most visited places in Vienna.
Belvedere Palace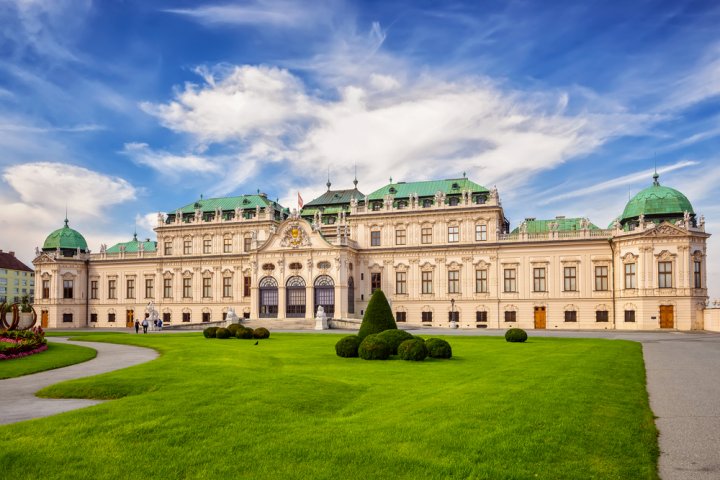 This is a palace having a museum inside it. It was developed as a summer residence of Price Eugene of Savoy in the 18th Century. It consists of two Baroque palaces – the Lower and Upper Belvedere, the Orangery, and the Palace Stables. Both the Upper and Lower Belvedere palaces are in Baroque style.

The museum is in the Upper Belvedere and includes the finest Austrian paintings. Also, the most divine part of this palace is its Marble Hall, sculptures, and paintings. It includes the best of Greek sculptures. There is one another notable building called the Winter Palace. The garden and fountains link the two places. The breath-taking beauty of this place makes it one of the most popular tourist attractions in Vienna.
The Prater and the Giant Ferris Wheel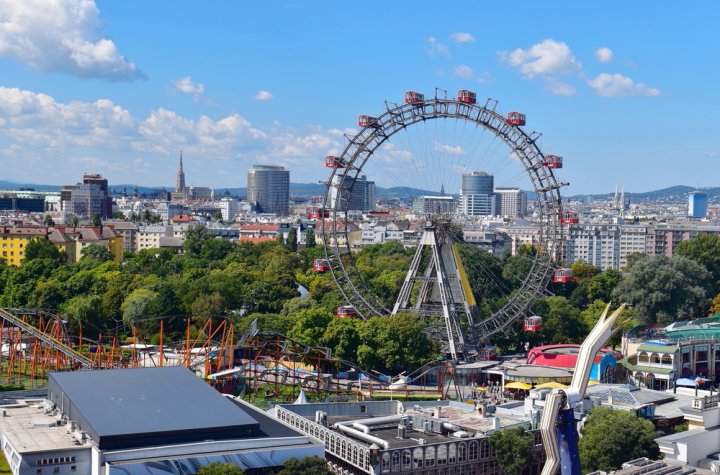 If you love adventure and want to visit a fun-loving place, then you must visit this place. This place is the best place for kids and fun-loving adults to enjoy. It is situated between the river Danube and the Danube Canal. It includes something for everyone from thrills and spins to dining, dancing, and a dinosaur-themed park.

If you visit this place, then a ride on the Prater Giant Wheel is a must. It's a landmark that provides a mesmerising 360° view of the whole city. The other part of the park includes monuments, statues, and a planetarium.
The Vienna State Opera House
It is one of the world's largest theatres. This theatre has hosted many of the world's most famous composers, dancers, and soloists. It holds more than 50 operatic and ballet performances for at least 300 days in a year. The play's music will take you back to 1625.

It was built in 1869 in the French Renaissance style. Its interiors include a grand staircase leading to the first floor. The opera house can accommodate an audience of 2,211 along with 110 musicians. If music is your thing, you must visit this place.
Vienna City Hall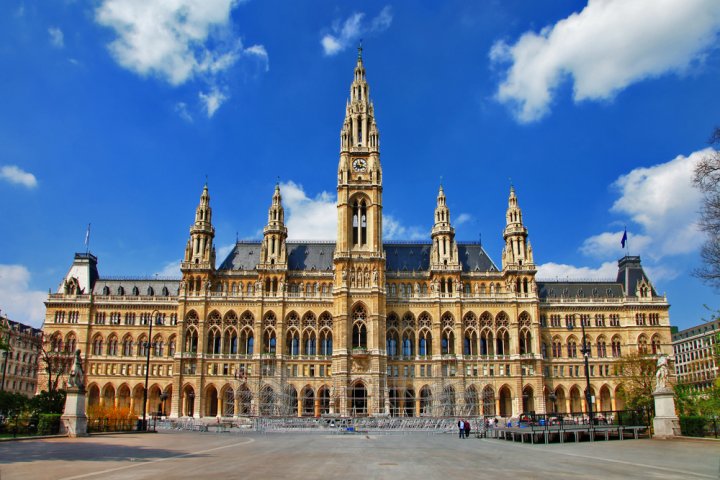 Vienna City Hall, also known as Weiner Rathaus, was designed and constructed by architect Friedrich von Schmidt. You will be amazed to know that this giant building has been constructed using 40,000 cubic meters of natural stones with 3 million bricks. The hall was built in traditional Gothic style. Vienna is home to many theatres and halls, as this city is known for its heartwarming music and shows. One of the most famous balls, The Life Ball, is organised here every year in the month of May. Other balls are also arranged at Christmas. It also has an ice-skating rink.
Karlskirche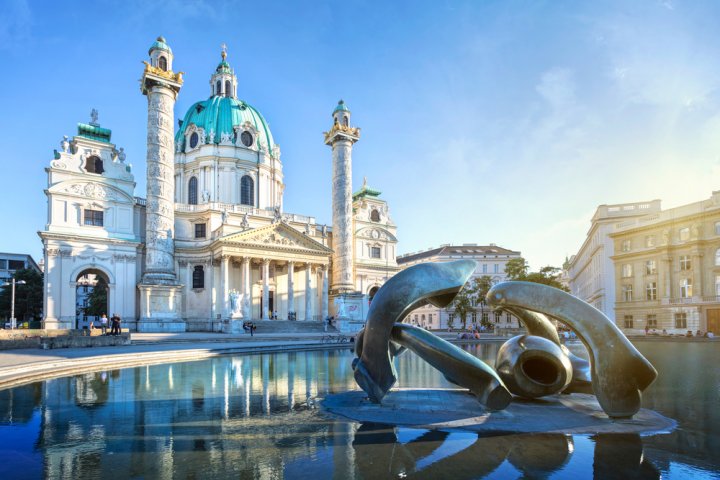 Karlskirche was built in 1737 and dedicated to St. Charles Borromeo. The emperor Charles VI built this in honour of his namesake patron saint, Charles Borromeo, who healed and helped several people during the times of the Black Plague. The construction began in 1716 under the supervision of Anton Erhard Martinelli. But, unfortunately, he died in 1723 after which his son, Joseph Emanuel, completed the construction in 1737. You can view the Hofburg from this place.

It is crowned by a 72 m dome and is famous for its twin 33 m Triumphal Pillars. It is a mixture of Renaissance, ancient Greek, ancient Roman, and Baroque styles. A lift inside the church takes you to the top so that you can have the best view of Vienna. It is one of the most religious places in Vienna. A visit to the Karlskirche will be a memorable event for you.
Kunsthistorisches Museum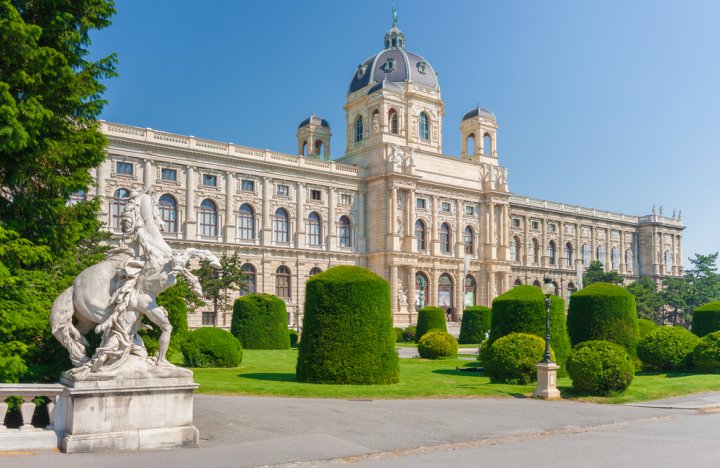 Vienna's Kunsthistorisches Museum is a magnificent building created to showcase the magnificent art collection of the Habsburg royal family. It is crowned with an octagonal dome and is the largest museum in the country. It was opened in 1891 by Emperor Franz Joseph. Two museums face each other across the Maria-Theresien-Platz. It was created to find a suitable place to showcase Habsburg's art collection. Nowadays, it has become one of the most famous Art Museums, which includes the Great Tower of Babel by Pieter Bruegel and paintings by Raphael, Titian, Bellini, Vermeer, Velazquez, and Caravaggio. It has tall and decorated walls and ceilings.
Donauturm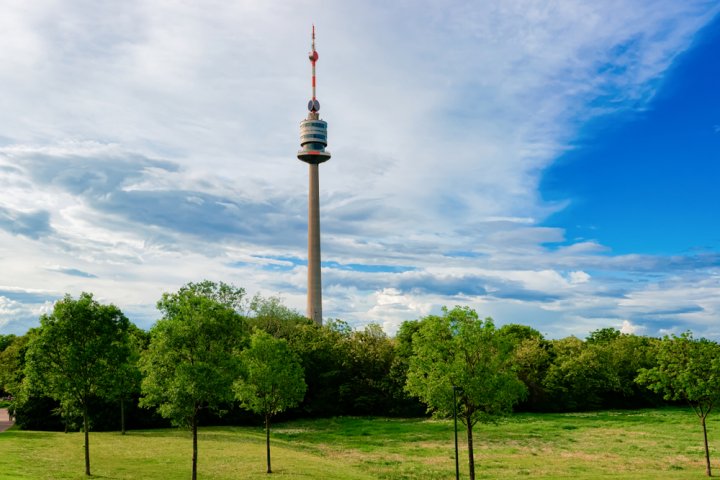 Donauturm is the tallest structure in Austria and among the 75 tallest towers in the world. This 252 m tall tower is also known as the Danube Tower. The tower is located near the Danube river.

It was designed by Hannes Lintl for the International Horticulture Show in 1964. It consists of two high-speed elevators that transport passengers to the viewing platform situated at a height of 150 meters. The elevator travels at half-speed during the time of strong winds. There is also a staircase of 779 steps to reach this viewpoint. It consists of two restaurants at its top to enjoy the view. It is also one of the most beautiful and romantic places in Vienna.
KunstHausWien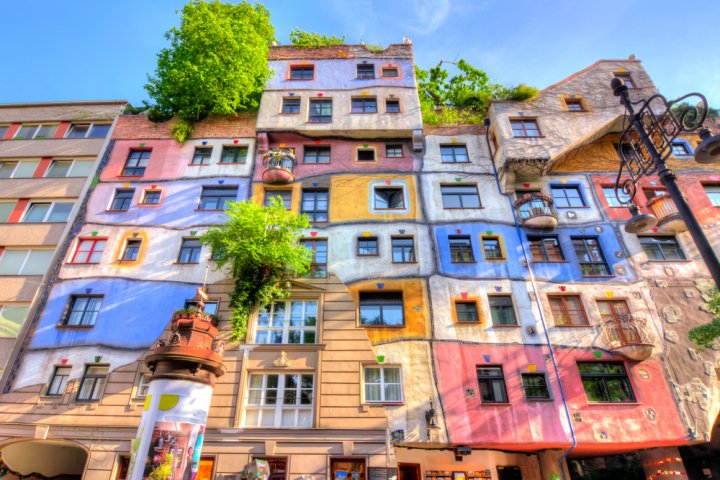 The KunstHausWien is again an attractive museum designed by artist Friedensreich Hundertwasser. It is the world's only permanent exhibition of Hundertwasser's works. It also hosts temporary exhibitions. It operates as a private business and does not have any government aid. In 2009, it received 1,74,000 visitors.

It was created through a renovation in the 1892 building. Its renovation was developed by Hundertwasser. The building is designed in the Hundertwasser style and decorated with vibrant glaring colours throughout. There are fountains and a restaurant for the tourists here.
Stadtpark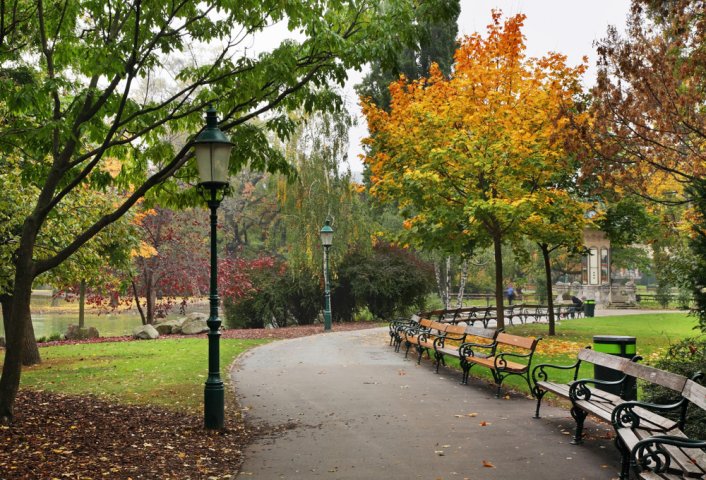 The Stadtpark, or the City Park, is a vast municipal park in Vienna. It is divided into two sections by the Vienna river. This garden is spread across 65,000 square meters or 28 acres of land. The park features statues of influential Viennese artists, composers, and writers. It was the first public park in Vienna. It also includes various monuments including the Johann Strauss Monument, Franz Schubert Monument, Robert Stolz, and many others. If you are visiting Vienna with your family and kids, this site would be an ideal place to rest or enjoy a peaceful time. This spacious park can provide you rest when you get tired of exploring the tourist attractions in the city.
Places You Can Visit in Winter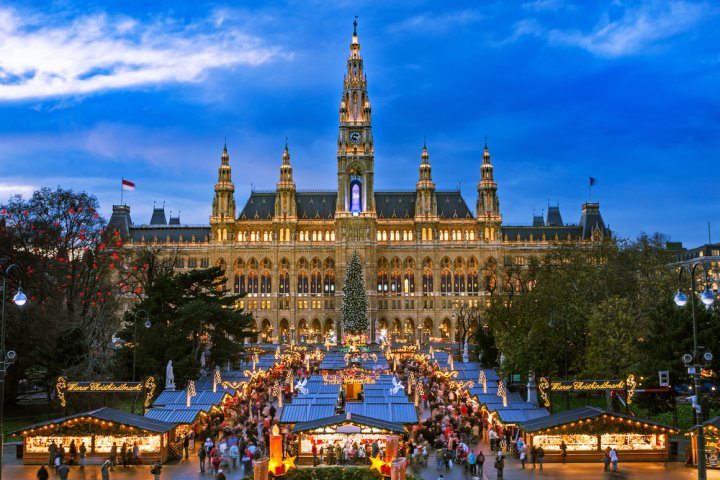 Winter in Vienna is full of love and romance. Its fabulous infrastructure, snowy roads, art and music, and the world-famous coffee culture makes it a perfect place for a winter break. The city is full of life-like human sculptures with almost freezing point temperature that lets you involve in love and romance. New Year's Eve and Christmas are the perfect time to visit this city. At this time, Vienna is decorated with magical Christmas markets. and the atmosphere is very different. You will definitely enjoy the winter in Vienna.
Cafe Central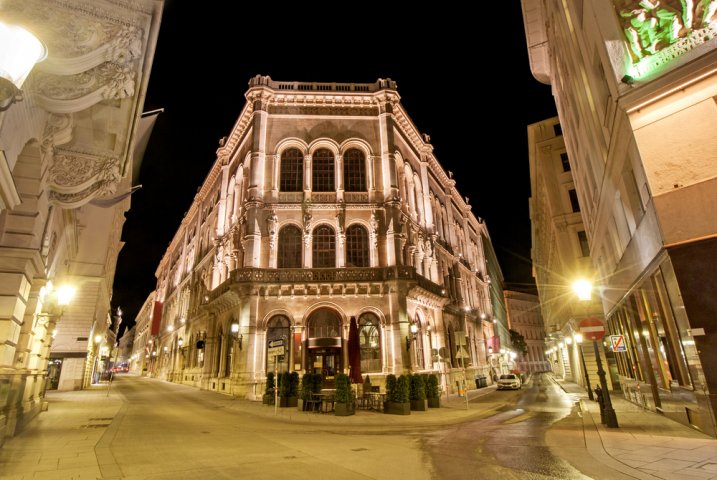 Vienna is known for its coffee culture. You can enjoy a cup of coffee with a delicious dessert. This cafe provides you an opportunity to spend quality time with your loved ones or family members. You can relax and enjoy a warm and cheerful mug of coffee in the freezing temperature of the city after hours of sightseeing. A large variety of coffee is on offer in this city, so take your time to read and explore the menu first.
Sofitel Vienna Stephansdom
The spa, in cold freezing winter, is the best option to escape from the cold winds. It consists of an incredible design that will help you to release the tension from your mind. Your body will feel warm and relaxed even in such a chilly winter. It is surrounded by colourful paintings by Swiss artist Pipilotti Rist. You can spend hours at this place and truly enjoy the winter.
Christmas Market at Wiener Christkindlmarkt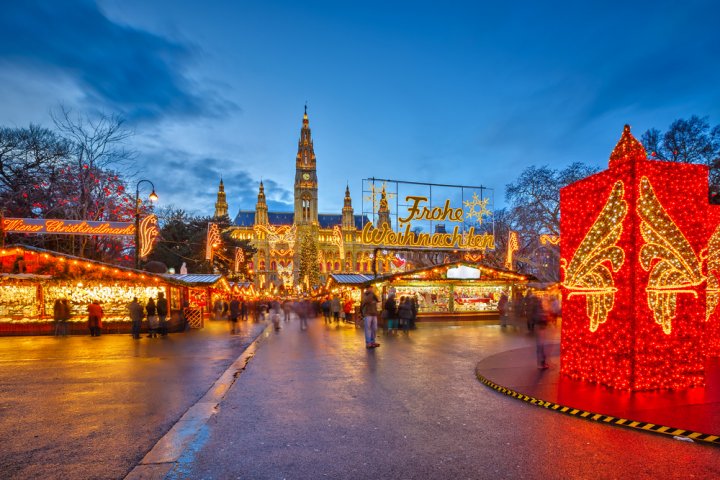 During Christmas time, this place is decorated with beautiful Christmas markets and glowing lights. This is one of the best times to visit Vienna. You will find various decorative things at this festive time. You can spend hours shopping here. You will enjoy more at night when the glowing lights will make you feel like you are in a Hollywood movie's Christmas market.
Vienna Association of Ice Skaters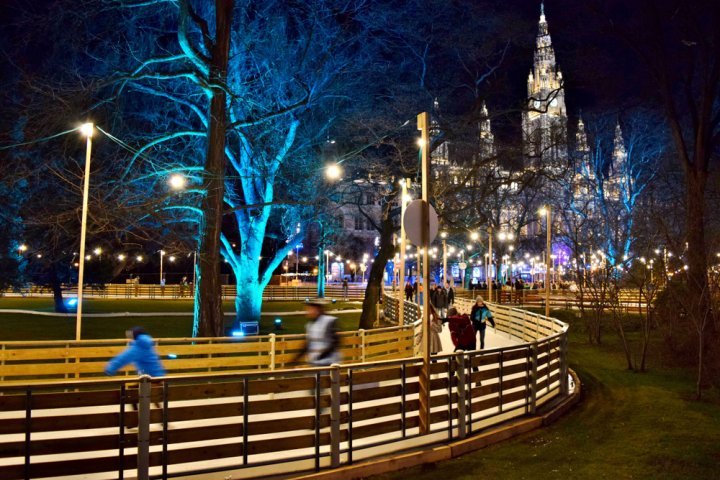 Ice-skating is one of the most delightful things to do in winter. Both locals and visitors enjoy this adventure sport. Besides all the sightseeing, this place will provide you a unique experience which can be enjoyed only in winter. It is spread over 6,000 square meters. You can rent ice-skates for a few euros. Without this adventure, your visit to Vienna is incomplete in the winter season.
Spanish Riding School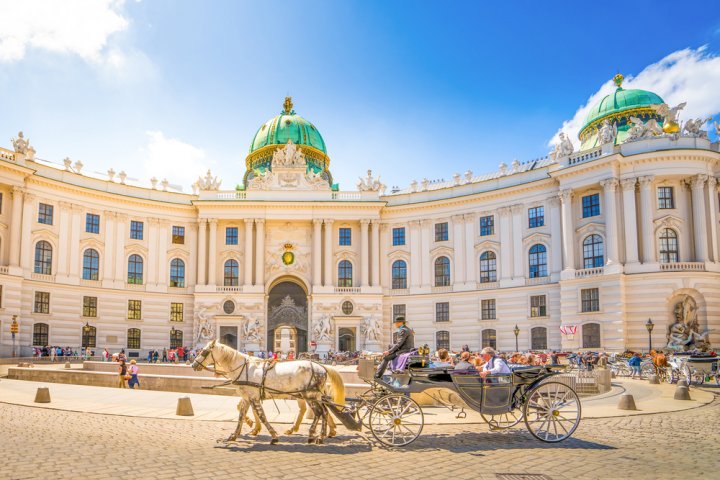 This will also be a unique and adventurous experience in Vienna. If you love adventure, you must visit this place or at least give it a try. You can enjoy the performances of Lipizzaner horses, which is a rare experience. It is one of the most prestigious classical riding academies in the world. You can choose between training and performance option depending on the time and your budget. This place is a very popular tourist attraction. The day starts with the morning exercises of the horses and ends with their performances.
Bonus Idea: Take a Walk on the Snowy Roads of Vienna
Vienna is a city of history, love, art, culture, and romance. If you truly want to explore the city more than any other ordinary tourist, consider taking a long walk on the snowy roads of this city. You just have to wear warm clothes with boots and the walk will provide you an incredibly satisfying experience like no other. You will be lost in the art and architecture of the roadside monuments and sculptures of the city and feel the love of this place. A walk can heal your mind and also provide quality time to you. Vienna is an ideal place to be explored walking on the roads which are surrounded by beautiful monuments and sculptures.
From our editorial team
Vienna Promises the Traveller an Experience Like No Other
Vienna is a beautiful city and promises to give you a memorable experience like no other in the world. It is no surprise that it is one of the foremost tourist hotspots of the world. We hope this BP Guide would have helped you in planning your forthcoming visit to Vienna. Stay connected with us for more such engaging content.