Cough in Kids – Home Remedies or Medicines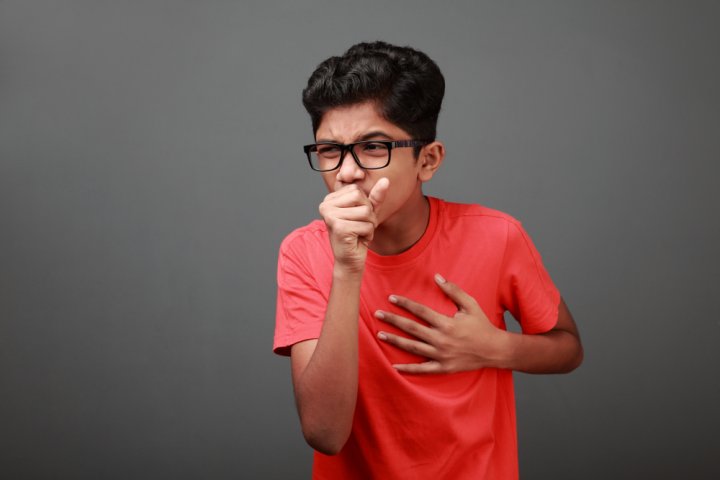 Cough is quite common in the winter and rainy seasons. Kids especially are prone to it as their immune system is still in the developing stage. Cough is rarely a sudden occurrence – first comes the congestion, which after persistence turns into cough. It could last for weeks making things uncomfortable for kids. Instead of opting for cough syrups or OTC medications, try home remedies that help the little ones feel way better and they are a safe choice too.

When to see a doctor?

While home remedies are a good idea to try out, keep in mind that you need to see a doctor if you notice any of the following signs in the child:
Has been coughing for more than 3–4 days.
Breathing is difficult or faster than usual.
Has very high fever with no stuffy or runny nose and cough.
Has stridor.
The child is irritable, cranky and weak.
Is dehydrated. Drowsiness, dizziness, crying without tears or very little tears, sunken eyes or peeing less often shows that the kid is dehydrated.
Coughing blood.
Has wheezing while breathing.
The colour of the lips, tongue or face changes to dusky or blue colour.
If you notice any of these signs then seek immediate medical care.
Causes for Cough in Kids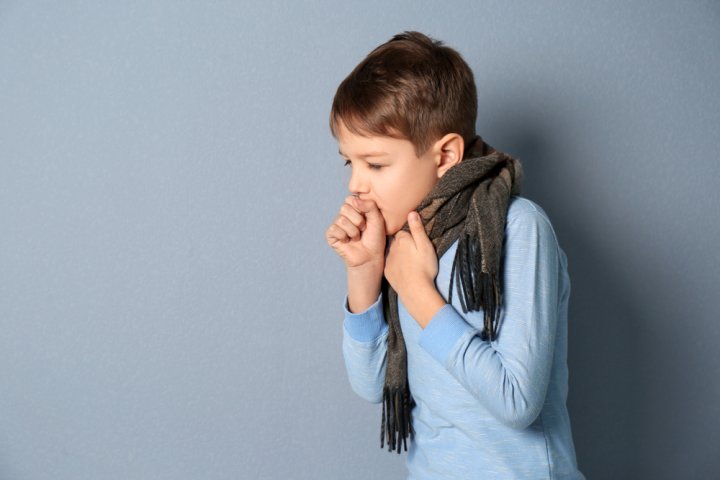 Acid Reflux:

One of the main reasons for cough is acid reflux. However, if there is acid reflux, it is accompanied by many other symptoms along with cough.



Infection:

Infections like cold and flu lead to cough.



Asthma:

One of the symptoms if the child has asthma is an increased rate of cough in the night, and during and after high physical activity. It is quite difficult to diagnose asthma in kids as the symptoms differ on a case-to-case basis.



Entry of a Foreign Object:

It is common for kids to put things in their mouth and during that time, if a foreign object manages to enter the system, it might get stuck in the airway causing cough in kids.



Irritants:

There are many environmental irritants around and they can cause inflammation in the throat, which results in dry cough. Irritants like dust, moulds, car exhaust, smoke, dry (or cold) air and air pollution are some of the environmental irritants.
10 Safe Home Remedies for Cough for Kids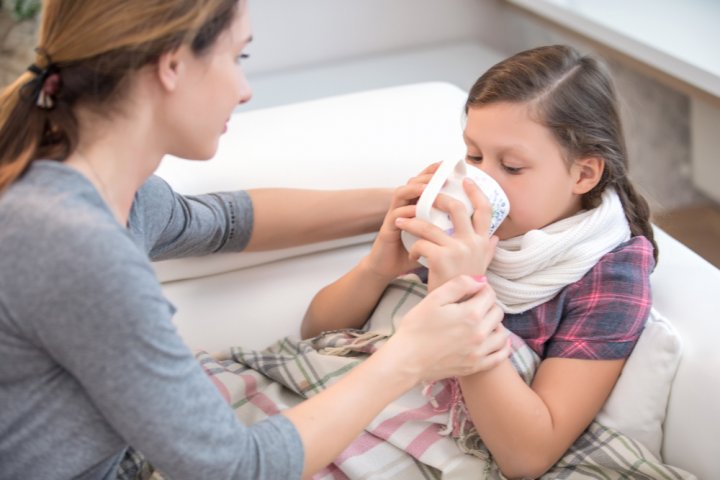 1. Honey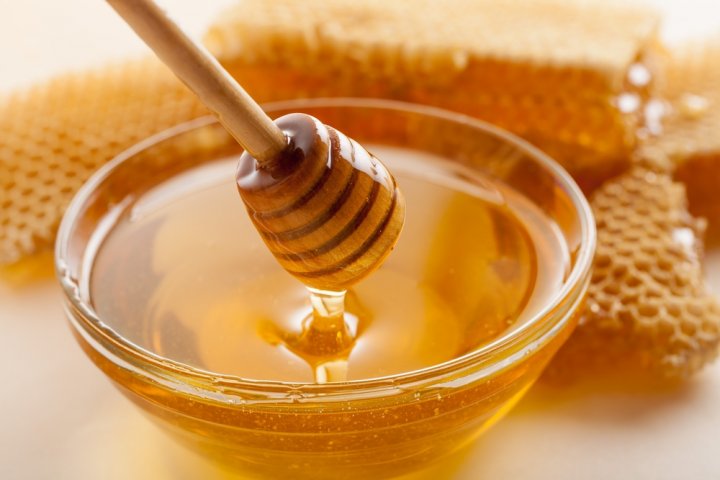 Honey is valued since ancient times for its medicinal properties and in traditional medicines, it was used to treat cough. Various studies have demonstrated its antiviral, antibacterial and anti-inflammatory properties. These properties are helpful to relieve cough. Also, due to its viscous nature, honey coats the inner lining of the throat giving a soothing effect. However, honey is not advisable for babies below one year as it may cause infant botulism.

In a study, children aged 1–5 years having upper respiratory tract infection were administered 2 tsp honey before sleeping. It was found that honey not only improved sleep in the children, but also reduced night time coughing. It also lowered the severity of cough symptoms. Over the counter cough medicines can lead to serious side effects. However, honey is well-tolerated by children and only in very rare cases, it causes side-effects like nausea or vomiting.
How to Use?
Children above one year can take 2–5 ml honey directly, which thins the mucus and helps loosen the cough.


Boil a cup of water with a few tulsi leaves. Cool this mixture and strain. Add 1 tsp honey and give this to your child to get relief from cough.
2. Turmeric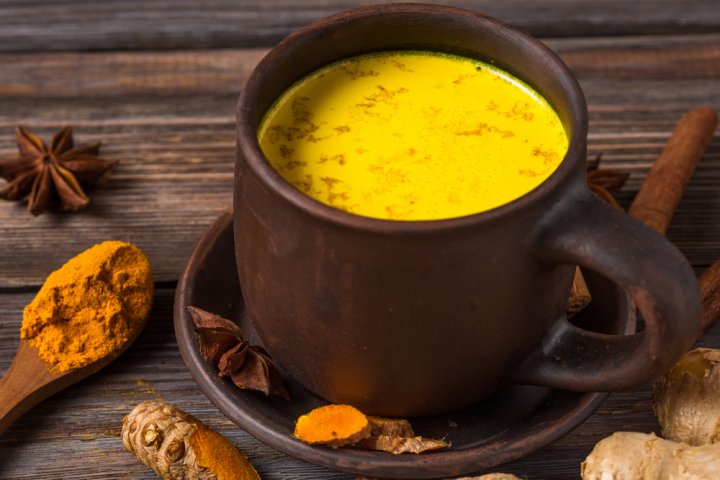 Turmeric is one of the powerful spices that is widely used in ancient remedies like Ayurveda to cure various ailments. Curcumin, one of the active ingredients in turmeric is known to be a potent component and is attributed for most of the medicinal properties of this yellow spice.

One of the big-time recommendations for cough by our grandmothers is the golden milk or golden latte. This is effective for both adults and kids and is a well-known desi remedy to cure cough and cold. It is difficult for small children to drink the whole glass, so initially you can give them a few spoons and then gradually increase the quantity.
How to Use?
Turmeric Milk:

Take 1 cup milk in a bowl and add ½ tsp turmeric to it. Add 2 crushed peppercorns and organic jaggery. Boil this mixture while stirring it continuously for about 5 minutes. Filter the milk and serve warm.



Turmeric Gargle:

This gives a soothing relief from cough. Add ½ tsp turmeric powder and ½ tsp salt to 1 cup hot water. Mix well and ask your child to gargle with this liquid.



Honey and Turmeric:

For dry cough, a mixture of ½ tsp honey and ½ tsp turmeric powder is recommended to be taken 3–4 times a day.
Turmeric has antibacterial properties and hence these turmeric based remedies soothe the irritated throat and reduce cough.
3. Warm Soup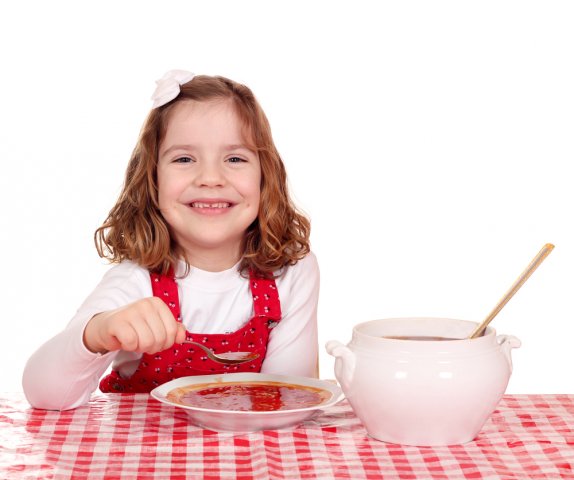 When temperatures drop, children, especially, catch common cold with symptoms like coughing, sore throat, sneezing, etc. which is caused due to the upper respiratory tract infection. Although getting good sleep and medicines are usually recommended, it is not a secret that the simple home remedy of a bowl of hot soup is also of great help during this time. The nourishing, easy to digest, restorative and nutrient-dense soups help kids to recover quickly. Here are a few soup recipes that will soothe cough and cold in kids:
Tomato Soup:

In a pressure cooker add 4 medium sized tomatoes with 2 cups of water. Pressure cook until the tomatoes are soft. Peel the outer skin of the tomatoes and blend them in a mixer to obtain a fine puree. In a saucepan, add ½ tsp butter. Once the butter melts, add ½ tsp finely chopped garlic and 1 tbsp onion. Sauté for a minute and add the tomato puree with ¾ cup water. Boil for 5 minutes on high flame. Season it with salt, pepper, ¼ tsp tulsi powder and oregano.



Vegetable Soup:

Pressure cook 1 tbsp carrot, 1 tbsp green peas, ½ small potato, 1 clove garlic and ⅛ tsp jeera, turmeric and 2 cups water. Cook for 5 whistles. Once the cooker cools, transfer the ingredients into a blender and finely puree it. Season it with salt and pepper. Serve this lukewarm soup to babies above 6 months.
4. Carom Seeds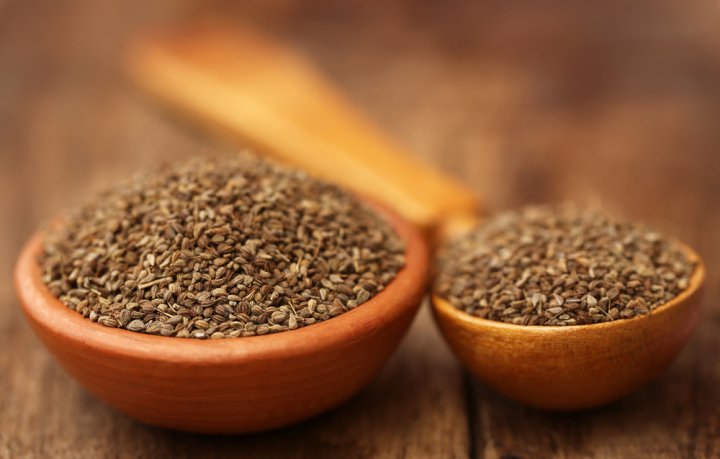 Children are often affected by cough and cold and it is better to avoid strong antibiotics to treat this condition. You can try a few home remedies before giving medications. Carom seeds is a commonly used spice in India that is also effective in getting relief from cold, both in children and in adults too. The ingredient known as thymol found in carom seeds has antimicrobial property that is proven to provide relief from congestion. Here are a few ways you can give ajwain or carom seeds to your kids:
Herbal Decoction:

Prepare a decoction using 8–10 tulsi leaves, 1 tsp carom seeds, 5 black peppercorns, ½ tsp ginger powder, ½ tsp turmeric, ⅓ cup jaggery and ½ cup water. Boil all these ingredients for 10 minutes. Strain and give the lukewarm decoction to the kids. Dosage – 1 tsp for babies less than a year two times a day after food for 3 days. ¼ cup of the herbal decoction is ideal for kids above 1 year. Avoid giving cough syrups or other medications when children are taking this decoction.



Hot Pad:

Dry roast 2 tbsp carom seeds in a pan until it is aromatic. Transfer the roasted seeds on a muslin cloth. Tie it to make a pouch. Use this pouch as a hot pad, placing it on the kid's chest. Make sure, the pouch is not very hot as it can burn the child's skin. This remedy is known to clear chest congestion and stuffy nose.
Seek doctor's advice if the cough and cold persists for long and accompanied by fever.
5. Garlic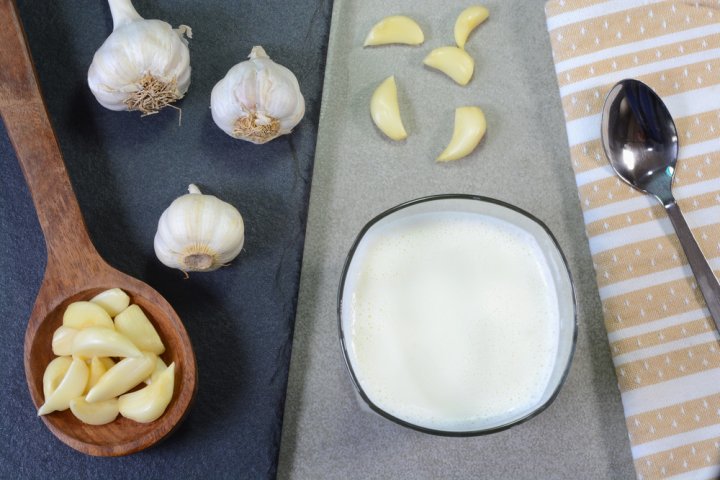 Cough and cold is pretty common in kids and also inevitable, as the immune system is not very strong in children. There are several ingredients in the Indian kitchen that are known for their medicinal properties and provide natural respite to little ones suffering from cough and cold. One such common condiment is garlic. The antioxidants and several potent compounds in garlic boost the immune system thereby preparing the body to fight diseases.
Garlic Milk:
This is packed with immune boosting properties and is a perfect remedy for cough and cold.
Ingredients: 1½ cup milk, 3 cloves garlic and 2 tbsp palm sugar.


Method: Roughly mince the garlic cloves. Boil the milk until frothy. Reduce the flame and add the palm jaggery and minced garlic. Mix well and boil on low flame for 5 minutes. Strain and serve this warm milk for children above 1 year. Palm sugar not only adds sweetness, but also activates the digestive enzymes, thereby cleansing the system.


Dosage: 25 ml garlic milk at night before bedtime 2 times a week. Start with small quantities and then increase the dosage.
6. Mustard Oil Massage
Mustard oil has been used for massaging new-borns in India from ancient times. There are several reasons why mustard oil is used for a massage. The oil is widely used in regions with a cold climate, as it helps retain heat in the body and functions as an insulator. It is also an excellent decongestant.
Decongestant:
Heat 100 ml cold pressed mustard oil with 8–10 garlic cloves. Heat until the garlic turns black. Filter the oil and slightly cool before using. Use this oil to massage the back and the chest area of the baby. Apply some oil to the feet and the baby's palms to get an instantaneous relief. The massage is especially good in winters and for treating the symptoms of cough and cold.
Massaging babies with mustard oil also:
Strengthens Bones: Besides helping in blood-circulation, it also strengthens the delicate and soft bones of babies.


Anti-Bacterial and Anti-Fungal Properties: Mustard oil inhibits the growth of fungus and bacteria, which can be harmful to babies if not treated in time.
7. Pepper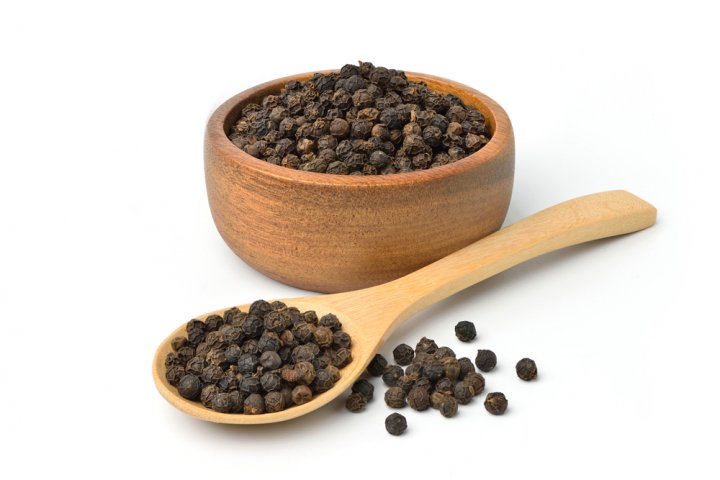 The pungent pepper is one of the many spices used in Ayurvedic kashayams to alleviate cough and cold and boost immunity naturally. Packed with anti-inflammatory and antibacterial properties, pepper will keep infection at bay and reduce stubborn winter cough in children. It is also a wonderful antibiotic. It is known to give respite by de-clogging the nose and alleviating chest congestion. Pepper serves as a natural cough suppressant.
How to Use?
Add ¼ tsp freshly powdered black pepper to 2 tsp honey. Let your child drink this spoonful of pepper and honey to get cough-less sleep. Make sure not to eat or drink anything for about ½ hour after taking this mixture.


Add a few ground tulsi leaves, ½ tsp chopped ginger and ½ tsp black pepper to 1 cup water. Boil this kada for about 10 minutes or until the liquid is reduced to ½ the quantity. Sweeten this with honey and let your child sip the lukewarm decoction to soothe cough and sore throat.


Pepper rasam gives instant relief from sore throat and runny nose. It also improves digestion and boosts immunity. Hence, it is one of the widely used home remedies to treat cough and cold. This remedy is suitable for babies above one year.
How to Make Pepper Rasam?
In a pan, dry roast 2 tsp peppercorns, 2 tsp urad dal, 1 tsp cumin seeds, 2 tsp coriander seeds, ¼ tsp fennel seeds on medium flame for 5 minutes. Cool the ingredients and coarsely powder them.


Extract tamarind juice (lime sized tamarind). To the tamarind pulp add 1 tsp jaggery powder and ½ tsp turmeric. Add 2 cups water, ground masala powder, salt to taste and simmer on medium flame for 5 minutes.


In a pan, add 1 tsp ghee. Add ¼ tsp mustard, few curry leaves, 1 pinch hing and 1 red chili. You can also add a few cloves crushed garlic to the tadka. Pour this in the rasam mixture and switch off the flame.


Garnish with coriander leaves and serve hot.
8. Cinnamon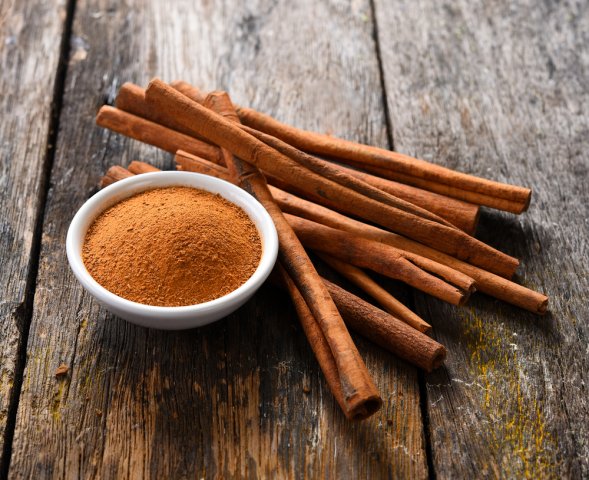 Cinnamon is a popular spice used in baking and cooking. One of the prominent benefits of cinnamon is its ability to give respite from cold and sore throat. It has antifungal, antibacterial and antiviral properties. It is also known for its constituents like proanthocyanidins and polyphenols that boost immunity. Cinnamon is generally considered safe for babies above 6 months when given in small amounts. It does not usually cause any allergic reaction.
How to Use?
Mix ¼ tsp cinnamon powder with 1 tsp organic honey. Give this every few hours once you notice initial signs of cough or cold coming in. You can also mix this honey and cinnamon mixture in hot drinks or as a fruit dip and kids will just love it.


In a cup of water add ½ tsp black pepper and 3–4 cm cinnamon stick. Boil until the liquid reduces to half the quantity. Strain and give this kada to children. You can sweeten it with 1 tsp honey.


You can add a pinch of cinnamon powder to sweet yogurt, or sprinkle on fresh apple slices or add a pinch to milk, sweet potatoes, bananas, oatmeal or just any other baby food. This will not only enhance the flavour of the food, but will also give respite from cough and cold symptoms.
Important Tips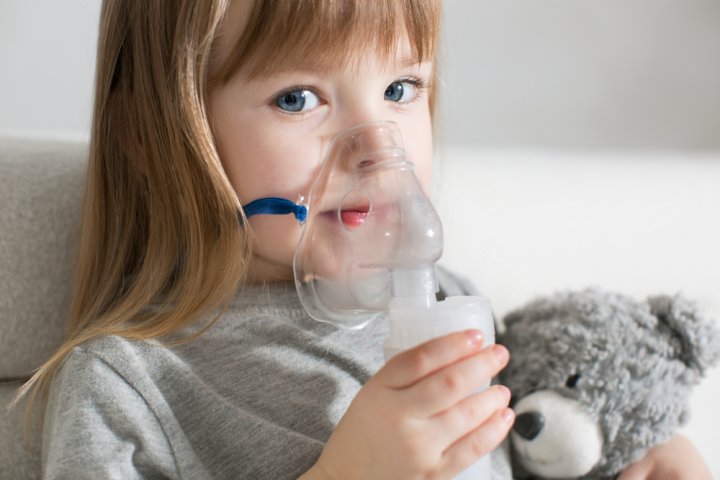 Here are some important tips to get relief from cough at home:
Steam: Let the kid inhale steam to clear the passages either through standard steaming technique, or simply turn the shower on and close the bathroom door, let the room fill up with steam and let the kid inhale the moist air.


Drink Warm Water: Warm water is one of the best remedies for cough. Warm water or any warm fluid like soup helps soothe the sore throat caused due to cough.


Humidifier: Cough is also noticed when a kid's airway is dry due to dry air present in the room. So if the moisture content in the room is low, use a humidifier to make the air moist.
Writer
Malathi
Malathi is a freelance content writer offering blogging, ghost-writing, and copywriting services. In addition to developing digital marketing content, she maintains niche websites related to kids, parenting, and pregnancy. Malathi's works have been featured on several prominent blogs and websites. When she is not writing, you will find her exploring exotic locales on our beautiful planet.
From our editorial team
Indian Home Remedies for Cough – Your Perfect First Line of Defence
The Indian home remedies for cough for kids mentioned in this BP Guide can act as your perfect first line of defence which will provide relief to your child naturally and without any side effects. However it is also important to note that in case the situation does not improve in a few days it is prudent to consult a medical practitioner to remedy the situation. We hope you would have found this BP Guide informative and interesting. Stay connected with us for more such engaging content.