Reasons Why Mug Soups are So Popular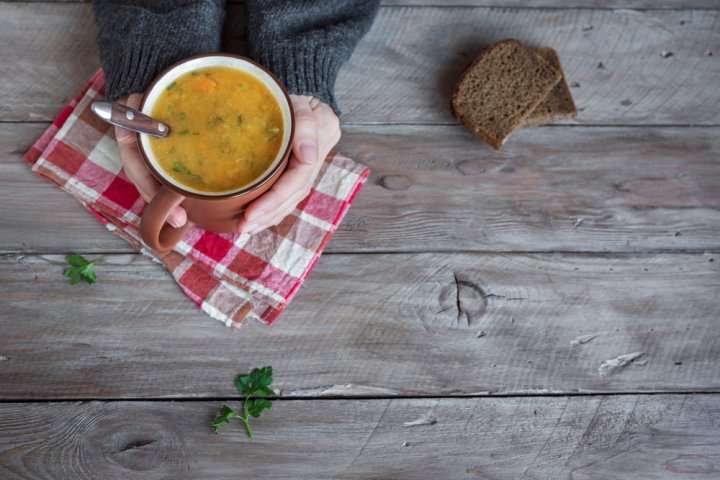 A warm bowl of soup is a therapeutic food that is usually cooked by boiling meat, veggies and spices. It is one of the favoured foods during the winter and rainy season when people want something to make them cozy and warm. Mug soups have become quite popular in the past few years. The soup is literally made in a mug typically in a microwave. These Mug Soups are popular as they are not only super easy to make but also it is single-serving. The handles of the mug give a good grip and you can wrap your cold hands around it for that extra warmth. Moreover, soups are pretty easy to sip from a mug, especially clear soups. Listed below are few appetizing soup recipes that you can make in mugs to warm up your taste buds in the cool weather.


Super Easy Mug Soup Recipes
1. Vegetable Egg Soup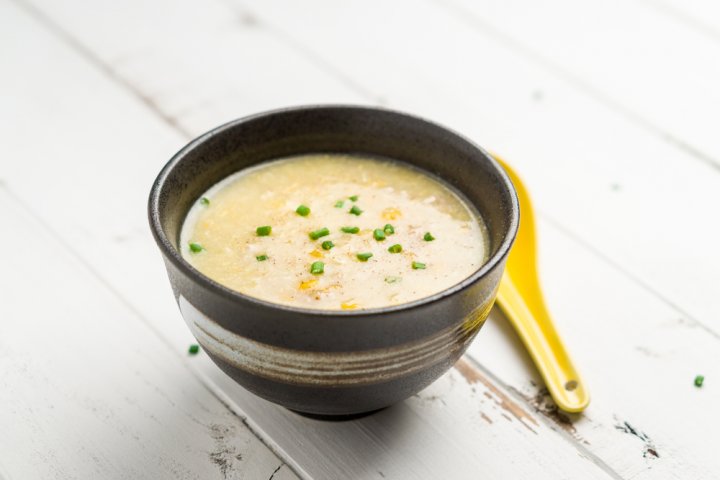 This Vegetable Egg Soup is perfect for brisk mornings when you need something healthy, simple, warm and comforting food. You can make this quick and easy recipe in a microwave.



Ingredients
Chopped Peppers – 1
Chopped Carrot – 1
Celery – 1 Stalk
Bouillon of any flavour – 1 Tbsp
Egg – 1
Water
Instructions
In a mug add celery, peppers, bouillon, and carrot. Don't fill it to the brim leave about 1" space at the top of the mug.
Fill the mug with water just enough to cover the veggies.
Microwave for 3 to 4 minutes on high. Make sure that it does not overboil.
Now crack the egg into the mug and gently stir it. Microwave again for 1 to 2 minutes until the egg is cooked.
Tip: You can also add onions, chicken, mushrooms, peas etc to the above recipe to make it richer and tastier.
2. Potato Soup Recipe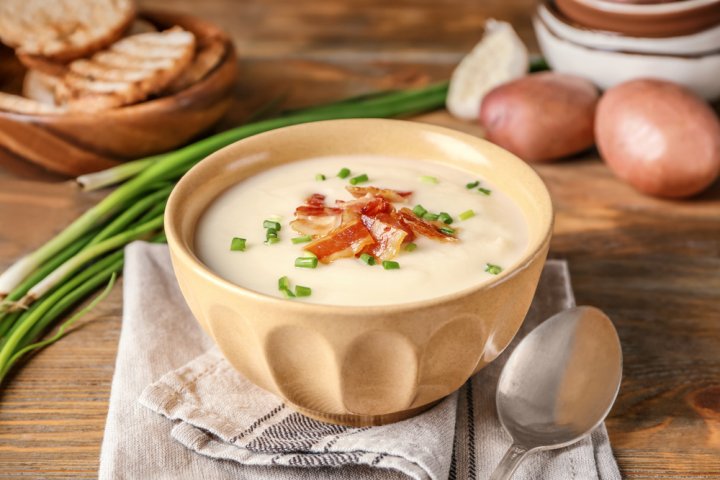 You just need a handful of ingredients to make this delicious soup. You can cook this soup in minutes and is perfect when you crave something simple and homemade.
Ingredients
Small Cubes of Potatoes – 3 Tbsp
Water – ¾ Cup
Cooked bacon – 1 tbsp (optional)
Chopped Onion – 1 Tbsp
Cornflour – 2 tsp
Cheddar Cheese – 2 Tbsp
Vegetable or Chicken Stock – ½ Cup
Salt and Pepper to Taste
Milk – ¼ Cup
For Garnish – Sour Cream
Instructions
Take a microwaveable mug and add water and potatoes to it. Microwave for about 3 to 4 minutes until potatoes are soft. Once cooked drain the water.
Add cheese and cooked bacon along with cornflour and onions into the potatoes. Add milk and season with pepper and salt.
Microwave for another 2 to 3 minutes until the soup thickens. Make sure the ingredients do not overcook or overflow while cooking in the microwave.
Top it with sour cream.
3. Veg Tom Kha Soup Recipe
This fragrant vegetarian soup is lip-smacking and is ready in minutes. The basil and coconut add a sublime sweetness to the soup. It is so simple to make that you may not want to try the elaborate recipe once you make this tasty version.

Ingredients
Vegetable Stock – 3/4th cup
Coconut Cream or Coconut Powder – 2 Tbsp
Tofu Cubed – ¼ Cup
Lemon Grass Stalk
Red Chili Paste – ½ Tsp
Ginger Garlic Paste – ½ Tsp
Finely Chopped Onion – 1 Tbsp
Butter – 1 Tsp
Lemon juice – ½ Tsp
Fresh Basil
Salt and Pepper to taste
Steamed Carrot and Peas – 1 Tbsp
Instructions
Add the butter to the mug along with ginger garlic and red chilli paste and onion. Microwave for about 30 seconds.
Add tofu, carrot and peas, lemon grass stalk and salt and pepper.
Add vegetable stock, basil leaves, coconut powder and lemon juice. Microwave for about 2 minutes. Make sure that the ingredients in the mug do not spillover.
Remove lemon grass. Serve hot garnished with basil leaves.
4. Chicken Noodle Soup
A hot mug of chicken noodle soup is quite comforting, especially if someone is feeling a bit under the weather. Try this protein-packed homemade recipe in a small batch and enjoy it!

Ingredients
Chicken Broth – 1 Cup
Lemon Juice – 1 Tsp
Shredded Roasted Chicken – ½ Cup
Sliced Carrots – ¼ Cup
Thinly sliced Scallions – 1 Tbsp + 1 Tsp (both dark and light green parts)
Egg Noodles – ¼ Cup
Salt and Pepper to Taste
Chopped Parsley or Dill leaves – 1 Tbsp
Instructions
Mix together carrots, scallions, chicken, noodles, lemon juice and salt & pepper.
Transfer the contents to a mug (16-ounce). (If you do not have cooked noodles, you can microwave noodles before adding it to the soup. Cook the noodles in 2/3rd cup of salted hot water for three minutes).
Cover and microwave for seven minutes or until the veggies are tender.
Garnish with parsley or dill .
5. Thai Noodle Soup
This delicious, and quick recipe is packed with flavours and is perfect to relish anytime you crave warm and comforting food!

Ingredients
Rice Noodles – 75 g
Garlic – 1 Clove
Ginger – 1 tiny Knob
Fresh Chopped Coriander – 2-3 sprigs
Coconut Milk – 80ml
Lime – 1
Water – 100ml
Red Chilli Paste – 1 tsp
Soy Sauce – 1 Tsp
Fish Sauce – ½ Tsp
Frozen Soy Beans – a handful
Frozen Raw Prawns – 5
Instructions
Grate ginger and garlic in the mug.
Add water and coconut milk along with red chilli paste and zest of ½ lime.
Stir in fish and soy sauce.
Place prawns, beans and noodles in the broth. Heat for about 3.5 minutes on full power.
Stir the broth and garnish with coriander. Serve with a lime wedge.
6. Hot and Sour Soup
If you are craving a hot bowl of soup then Hot and Sour Soup is just perfect. This single-serving soup is spicy, sour and savoury!
Ingredients
Chicken Broth – 1 Cup
Soy Sauce – 1 Tbsp
Chili Oil – ¼ Tsp
Rice Vinegar – ½ Tbsp
Mushrooms – 2
Tofu – ¼ Cup (chop in 1/2-inch cubes)
Water – 11/2 Tbsp
Cornstarch – 1 Tbsp
Whisked Egg – 11/2 tbsp (about half-egg)
White pepper – 1/8th tsp
Salt and Pepper to taste
Thinly sliced Scallion – 1
Instructions
Mix cornstarch and water in a bowl and stir until it dissolves completely.
In a microwave-safe bowl, add broth, rice vinegar, soy sauce, and chilli oil. Mix well.
Add mushrooms and tofu to the broth.
Cook for 2 minutes on full power. Stir and cook for another 1 minute until mushrooms are cooked.
Add cornstarch slurry to the hot soup while stirring continuously to avoid lumps. Drizzle in the egg and sprinkle some pepper powder. Stir a few times until the egg starts to ribbon. Make sure the soup is hot enough to cook the egg partially.
Microwave for another minute until the soup thickens and the egg cooks fully.
Garnish with scallions.
7. Macaroni Hot Dog Mug Soup
This hearty, and satisfying macaroni hot dog soup is perfect for both lunch and dinner and is super easy to make.
Ingredients
Macaroni – ¼ Cup
Water – 1 Cup
Milk – ½ Cup
Tidbits of Hotdog
Salt and Pepper to Taste
Instructions
Pour a cup of water into a microwaveable mug. Add macaroni and hotdog tidbits.
Add salt and microwave for about 4 to 5 minutes.
Remove from the microwave after 5 minutes. Pour ½ cup of milk and salt and pepper. Mix well. Microwave for another minute and enjoy the delicious soup!
8. Vegetable Manchow Soup
Ingredients
Chopped Cabbage, Carrots and Mushrooms – ¼ Cup each
Chopped Green Onions – 1/8th Cup
Chopped Green Bell Pepper – 3 tbsp
Minced Garlic – 3 Cloves
Minced Ginger – 1/4 inch
Cilantro – 1 tbsp
Sugar – 1 Tsp
Soy Sauce – 1 Tbsp
Chili Powder – ¼ Tsp
Cornstarch – 1 Tsp
Vegetable Broth – 11/4th Cup
Salt and Pepper to Taste
Fried Noodles for Topping
Instructions
Add oil and sugar in a mug and microwave for about a minute.
Stir in minced garlic and ginger and microwave for one more minute.
Add chopped cabbage, carrots and mushrooms. Microwave again for a minute.
Add chopped green onion, bell pepper and cilantro.
Microwave for 11/2 minutes.
Mix cornstarch in 3 tsp of vegetable stock. Add this slurry to the vegetable stock and mix it with the veggie mixture. Microwave for 4 minutes.
In another mug, add oil, chili powder, minced garlic and mix well. Microwave for a minute. Add this chili garlic oil on top of the soup and garnish with fried noodles.
Best Soup Brands in India: Enjoy A Bowl of Soup without the Fuss with Their Readymade Mixes
1. Continental Soup
This is a popular Australian Brand that has a range of exotic flavours like Chicken Noodles, Spanish Tomato, Garden Veg, Cream of Chicken etc.
2. Ching's Secret Soup
This popular food brand in India offers Chinese Flavoured soups like Manchow Soup, Beijing Hot Soup etc. It is perfect for those who love Chinese soups.
3. Knorr Soup
This is the best selling soup brand in India and is available in various authentic flavours like Thai Veg, Sanghai Hot n Sour, Mexican Tomato and several other flavours.
4. Keya Soup
Organic certified Keya Soup is made of finest ingredients and is preservative free. It has a range of flavours like Sweet Corn Chicken, Hot and Sour, Creamy Mushroom, Creamy Tomato, Mixed Vegetable Soup etc.
Writer
Malathi
Malathi is a freelance content writer offering blogging, ghost-writing, and copywriting services. In addition to developing digital marketing content, she maintains niche websites related to kids, parenting, and pregnancy. Malathi's works have been featured on several prominent blogs and websites. When she is not writing, you will find her exploring exotic locales on our beautiful planet.
From our editorial team
Make Use of Left Over and Double up on Ingredients
Soup is a good meal on a cool day and a good way to use leftovers. When you are using leftovers don't forget to cool foods properly for safekeeping. Storing food correctly keeps it safe to eat. Soups are easy to make in large batches and freezer-friendly dishes. So, double up on ingredients, grab a larger pot and make two meals instead of one and store in the fridge.