Is Soup Diet Effective for Losing Weight or Just a Myth?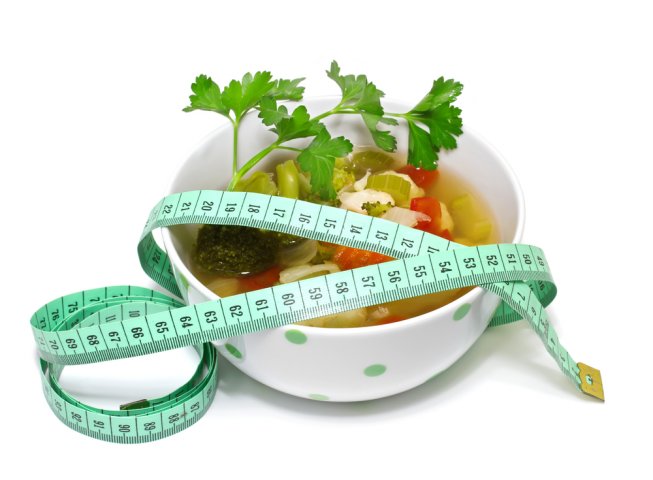 Soup diets have been quite popular amongst fitness enthusiasts and folks who have been working on getting back in shape. While the regular soups such as tomato, hot & sour are the more common type known across, there are soups especially meant for people who want to be on a soup diet. These soups are rich in ingredients that ensure that your body is not starved of the essentials. However, it is up to us to make soup as healthy as possible by adding various veggies and ingredients that work for our body.
Do's and Don'ts in Soup Diet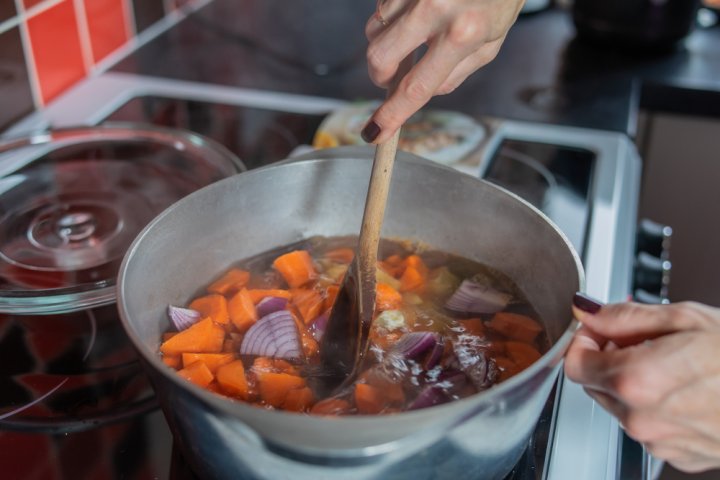 Just starting a soup diet does not guarantee weight loss as not all the soups are healthy. Talking about the canned ones or the processed soups, it harms your body more than benefitting and should be avoided at all costs. While making a soup, we should keep in mind Do's and Don'ts that make the soup healthier.
Avoid Using Canned or Instant Soup: Like we discussed, canned or instant soups are nowhere near to being healthy. The sodium content in these soups is much higher compared to what a normal body requires. High sodium content can, of course, lead to high blood pressure and even heart disease. Rather than consuming canned or processed soup, try to make fresh soup at home and consume it.


Do Make Superfood–rich Soup: Superfoods are rich in minerals and boost the natural immune system of the body. Try adding ingredients such as kale, chickpeas, sweet potatoes, etc., in your soups to make them healthier and nourishing. One of the most common practices that people on a healthy diet follow is making leftover soup wherein that takes out the vegetables left in the fridge, not making enough portion even for one person. You can then make a delicious and healthy soup of these leftover veggies and enjoy.


Don't Add Cream and Other Types of Calories to the Soup: Adding cream definitely takes the taste of any soup a notch ahead. However, you are dissipating the goodness of soup by adding cream and other such calorie–heavy ingredients. When taken before the meal, soups enable you to control the calories you have in dinner or lunch. Soup gives the feeling of fullness, and you end up taking lesser calories. However, creamy soups are very high in calorie content and actually might be working adversely for your body. Moreover, check the label for the word 'bisque', which might mean that soup could even be loaded with cream or high–calorie content.


Don't Use Artificial Colours in the Soup: Not just the soups, but artificial colour added to any food increases the chance of allergy, irritation, memory loss, sleeping disorders, unwarranted aggression, and even depression. When making soup, do not add colours and keep the soup as healthy as possible.


Do add a Handful of Sprouts to Increase the Fiber Content: Fiber can do wonders to your diet plan, and sprouts are one of the richest sources of it. While cooking the soup, add a handful of sprouts to increase the fiber content and the crunch in the soup.
The Most Delicious Indian Vegetarian Soup Recipes for Weight Loss
Now that we know how to make the soup even healthier, let us check out the recipes of some of the most sought–after Indian vegetarian soups for weight loss.
Carrot Soup
The first one on our list is the most popular soup cooked in Indian households. Perfect to be added to your weight loss regime, the recipe of this soup is simple with the following ingredients:
Ingredients
Washed and sliced carrots – 7–8
Canola Oil – 3 tbsp
Chopped Onion – 1
Curry powder – 2
Vegetable broth –1
Salt –2 tbsp
How to Make
Start with taking a pan and heating oil, followed by curry powder.
Stir it for 2 minutes and then add chopped onions and carrots. Cook for up to 10 minutes, and then add the simmered vegetable broth and salt.
Keep it on the flame for another 2–3 minutes, and then keep it aside for 6–8 minutes.
That's it; your carrot soup is ready to be served hot.
Tomato Soup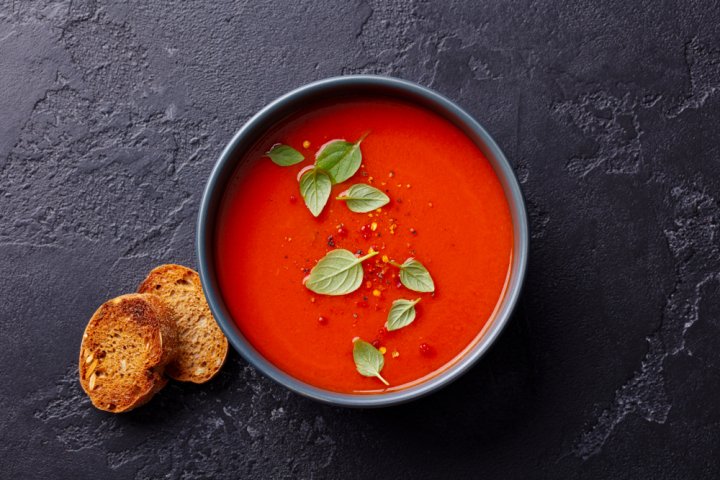 When we talk about soup, and the first option that comes to our mind is tomato soup. One of the favourites across the world, this tangy soup is super healthy and simple to make. So, let's begin with listing the ingredients:
Ingredients
Diced Tomatoes – 4–5
Garlic – 2–3 cloves
Olive Oil – 2 tbsp
Chopped onion – 1 small
Salt – ½ tbsp
Pepper – ½ pepper
How to Make
Heat a pan and put olive oil in it along with the garlic and chopped onion.
Ideally, butter goes very well with the tomato soup, but since we are making a healthy recipe here, so skip the butter.
After 5–6 minutes of cooking the onion and chopped garlic, add diced tomatoes to it.
You can also put all these ingredients in a pressure cooker and initially give it a boil after cooking the chopped onions and garlic.
In the pan, put a lid and allow the tomatoes to cook nicely on medium flame. Add fresh tomato juice and cook for another 2 minutes.
Now put the mix in a mixer and grind it well. Strain the mixture and separate the juice from the pulp.
You can add salt and pepper and serve the tomato soup hot.
Cabbage Soup
We bet you will not need to add extra cream to this original creamy cabbage soup. Both healthy and tasty, this soup is easy to make and tastes best when served hot. Here is the ingredient to make the cabbage soup:
Ingredients
Cabbage Juliens – 2 cup roughly chopped
Olive Oil – 2 tbsp
Garlic – 2 clove finely chopped
Spring onion – 4 finely chopped
Carrot – 1 shredded
Capsicum – ½ slice
Water – 4 cup
Vinegar – 1 tbsp
Pepper Powder – ½ tbs
Salt – As per your taste
How to Make
To start with the recipe, first, heat a kadhai and add olive oil, ginger, clove, and spring onion. After 2 minutes of sauteing, add cabbage, carrot, capsicum and stir fry for another 2 minutes, letting the vegetables shrink.
Add 4 cups of water and salt and let the mix come to a boil.
You can add cornflour slurry to thicken the soup, but we suggest avoiding it to make the soup even healthier.
Add vinegar and pepper powder after switching off the flame. Garnish with some spring onions and serve it hot.
Indian Spiced Bean and Tomato Soup
We all know the goodness derived from beans and tomatoes and how much our body needs these ingredients to remain healthy. So, let us start with the delicious recipe with an Indian spice twist.
Ingredients
Olive Oil – 1 tbsp
Chopped onion – 1 ½ cup
Minced garlic cloves – 1 tbsp
Peeled fresh ginger – 1 tbsp
Jalapeno – 1–2 finely chopped
Cumin and coriander powder – 1 tbsp each
Cinnamon powder – ½ tbsp
Turmeric – ½ tbsp
Fresh tomatoes – 2–3 diced
Cooked Beans – 4 cups
Salt
Fresh coriander
How to Make
Take a pan and add oil followed by garlic, ginger, and chopped onions and saute for 2 minutes.
Now, add cooked chopped chillies and spices and cook for another 2 minutes. Put tomatoes, beans, and salt in the pan now and let the ingredients simmer on a medium flame and thicken a bit.
Add water if you feel that the tomato juice and the beans are thickening way too much.
Take a third of the beans and mash them using a potato masher. Check the soup's consistency and take it off the flame to garnish with fresh coriander and yogurt.
Veg Clear Soup – Weight loss Soup
As the name suggests, this soup helps a great deal in reducing weight. Moreover, it is also a quick and easy recipe to try at home. So, without delay, let's dig into the recipe for this soup.
Ingredients
Chopped Cabbage – 1 cup
Grated Carrot – 1 Cup
Chopped Onion – ½ cup
Lemon Juice – 1 tbsp
Ginger Garlic Paste – 1 tbsp
Salt –2 tbsp
Black Pepper Powder – 2 tbsp
Oil – 1 tbsp
Water – 2 cup
How to Make
Start with heating the oil in the pan and add ginger garlic paste and onion to saute till it becomes golden brown.
After that, add chopped cabbage and grated carrots to cook everything for 2–3 minutes.
Add water, black pepper powder, and lemon juice and cook it for 5–10 minutes. Take the soup off the flame and serve it hot.
Spiced Spinach Soup with Cottage Cheese Croutons
Winter and spinach are a perfect combination of taste and health. This spiced spinach soup in Indian style is a quick recipe for developing the best immunity. Here are the ingredients that you would need to make this soup.
Ingredients
Mustard Oil – 1 tbsp
White onion – 1 chopped
Fennel – 1 bulb
Ginger – ½ tbsp
Curry Leaves – 6–7
Mustard Seed – 1 tbsp
Vegetable stock – 1 litre
Turmeric powder – 1 tbs
Chopped Green Chilly – 1
Red Lentils – 1 Cup blanched
Sorrel leaves – 1 bunch
Dill Leaves – 1 bunch
Methi – 1 bunch
Cottage Cheese/Paneer – ½ cup
How to Make
Before starting with the soup, fry the paneer cubes or roast in an oven and sprinkle some chaotic masala over it.
Now, heat a pan and put oil, onion, fennel, turmeric powder, green chillies, ginger, and mustard seeds.
Saute all these ingredients for 3–4 minutes for an aromatic tempering of the soup. Now, add the stock and soaked lentils and cook it for 12–15 minutes until the ingredients are soft.
Add chopped spinach, dill, and methi and cook for another 3–4 minutes. Once all the soup ingredients are cooked to perfection, put it in a blender, add some ice and blend into a chilled soup.
Season the paneer cubes with olive oil, black pepper, and salt and top up the soup with it. Serve the chilled and super healthy soup.
Moong Soup or Protein Dal Soup
Easy to digest and high on protein content, moong daal soup is a dish you can snack on guilt-free. To make this soup, you will need:
Ingredients
Yellow lentils – 1/4 cup
Tomatoes – 3–4 and seeded
Red Lentils – ¼ cup
Red Onion – 1 small and peeled
Cucumber – 1 peeled and seeded
Green pepper – 1
Garlic – 2 cloves
Vinegar – 1 tbsp
Olive oil – 2 tbsp
Cumin powder – 1/4 tbsp
Freshly ground black pepper – 1/2 tbsp
Salt to taste
Basil
How to Make
Heat the oil in a pan and add green bell pepper, tomatoes, onion, garlic, and cucumber.
Cook these ingredients for 2 minutes on a high medium flame. Now, transfer the ingredients to a blender, add some water and blend it into a smooth paste.
Now, put the paste in the pan and add water to adjust the consistency.
Sprinkle salt, black pepper, cumin powder and let the soup come to a boil. Take the soup off the flame and garnish it with fresh basil leaves before serving it.
Type of Soup Diets
Now that we are through some of the best Indian veg soup for weight loss recipes, it becomes even more important to know the different types of soup diets you can try.
Broth-based Soup Diet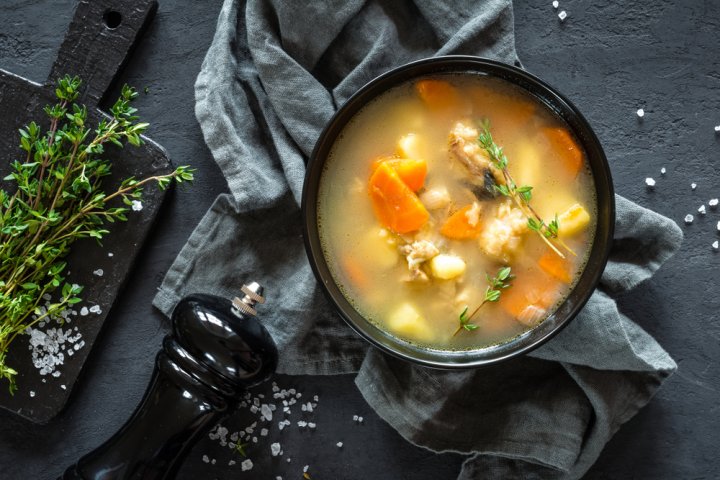 You can include broth-based soups in your diet for weight loss. There are different durations for which these soups should be taken, with the least one being for seven days. Some people even stretch the diet to 20 days, but that depends on your choice. Avoiding cream-based broth soups are restricted if you are working towards weight loss. Moreover, the soup should be made freshly at home and consumed for the best results.
Chicken Soup Diet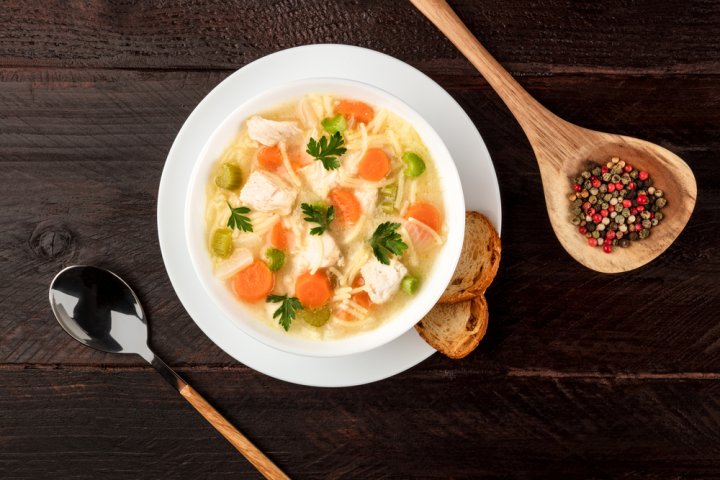 Chicken is known for the high protein content, and chicken soup has been a go-to food for those working towards their weight loss. A decent duration for continuing this soup diet is 7 days, and the rest depends on the specific body needs. The diet requires you to have chicken soup for every diet except for breakfast, where you can pick from low-calorie breakfast options.
Keto Soup Diet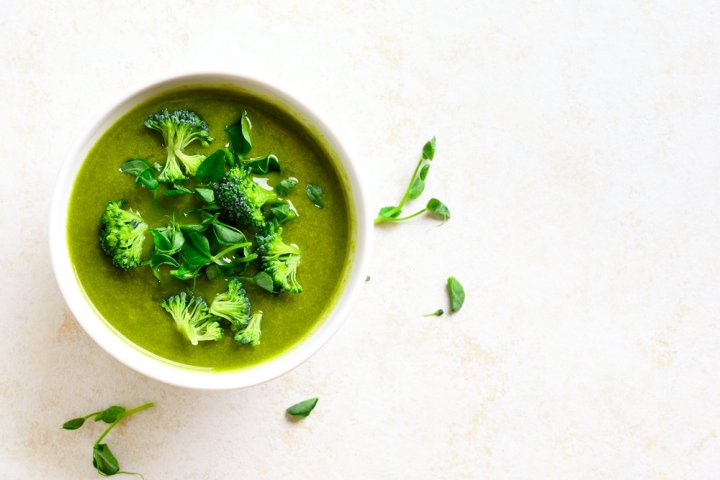 One of the most popular forms of diet has been the keto diet, and the keto soup diet is one of them. The diet requires to split four cups of soup diets between lunch and dinner. The recipe could include chicken stalk, chicken, bacon, sun–dried mushrooms, tomatoes, etc.
From our editorial team
A Trick for Adding Noodles
If you're going to add noodles to any of your soups (which, by the way, takes the taste to another level!), remember this crucial tip: Never cook the noodles separately; instead, directly add them to the soup and cook along with them. This will bring the soup's flavour to the noodles also. While if you add them after cooking, chances are they would break down right after being added to the soup!