5 Tips for Buying a Small but Great Gift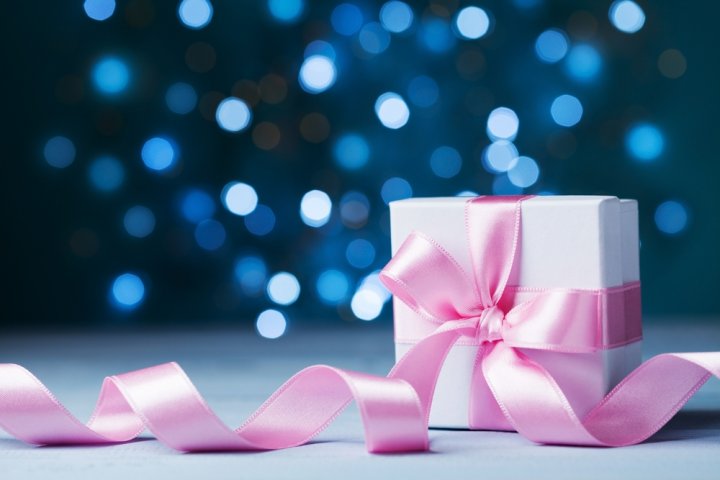 1. A Small Treat She Wouldn't Splurge On
Special gifts are things she probably would like to have but is unlikely to buy for herself - the small treats and luxuries that can make her day a tad nicer. The trick to getting this right is to think ahead so you have sufficient time to look for unusual things that will interest, amuse and fascinate her. A small treat doesn't have to mean a gift, it can be an experience or doing something for her. She loves strawberries and her birthday happens to be in winter? Find the nearest strawberry farm and take her strawberry picking. Make it an adventure by not telling her beforehand where it is you are going.

2. Make it Meaningful so Size Won't Matter
Pay attention when she is talking about things important to her, or just be always attentive when you are spending time with her. Don't plan dates or hang out if you are going to be busy on the phone or thinking about work you have to catch up with. Spending quality time with her will help you understand her likes, dislikes, things she wants to do, hopes and aspirations, things going on in her life, all of which are needed to give her something meaningful. A gift that connects with her will make it special for her, no matter its size.

A great gift isn't the cutest, most expensive, trendiest or popular item, it is something that appeals to her. Things that are meaningful to her may have nothing to do with price, size of gift or even material objects: she may simply want to spend a day with you, having your undivided attention.

3. Personalise It
Find ways to personalise the gift. This means ways to show her the gift was bought or made just for her, such as a chain pendant with her name on it, a keychain with her initials, or a mug with her favourite picture of the two of you. A great way to personalise a gift is by making it yourself. Framing a photo, making a picture collage, creating a painting (it can be a painting by number if you don't have a particularly artistic hand), or putting together a small gift basket are some ideas for gifts you can make.

Completing a chore for her, helping with a work or college project, or doing something sweet and thoughtful will also be greatly appreciated. She will like how you made the time to do a nice thing for her. These also help create fond memories for your relationship. Boyfriend coupons offering to do certains chores or favours is an interesting way to offer her your services when she needs them. They are amusing and useful at the same time. However, be prepared to honour those commitments when does take you up on them.

4. Small Doesn't Mean it Should Look Cheap
This one is an important point as a cheap looking gift will make her feel like you don't think she deserves a better gift, or you are cheap. Both are things you absolutely want to avoid. Rather do not give a gift than giving her a tacky looking present. There are plenty of things you can buy that fit in a small budget yet come across as nice gifts. Personal care items such as body scrubs, shower gels and lotions, or a travel pack with mini versions of all of these is a useful gift she will like, yet is small and easy on the pocket.

Once you stop equating small with cheap and looking at only the low budget gift options available, you will find creative and unusual ideas for gifts she will like. A DIY option you can try is taking her for a tour of the city you live in. People are usually oblivious to the attractions and features of the city they live in, or have done the rounds and aren't interested in visiting them anymore. Create an interesting itinerary and treat her to the simple pleasures that your city has to offer, turn her into a tourist and be her tour guide for a day. Throw in fun activities like a picnic, a snack at a famous street food vendor, visit a gallery, etc. Put effort in making it an enjoyable day for a wonderful gift that will cost you very little.

5. Buy Something She Can Use Often
Practical gifts are always a good option. If you can't come up with ideas on what type of present to get for her, buy something she can use. A useful present is never disappointing to the receiver as well. Besides, if you get her something she can use often, she will remember you each time she does. Things like perfume, a pair of nice headphones, a pack of face masks or a keychain that doubles as a handy tool are some of the options you can consider.

She may have also mentioned something about wanting or needing something and she will be pleasantly surprised if you get it for her. If she has a public wishlist on Amazon or a Pinterest board, those are other great places to search for things she wants; you will have to do a little digging to find whether she already has those things or no.

10 Small Gifts for a Girlfriend
1. 3D Unicorn Mug
Every girl should have a special and unique mug of her own to drink her daily cup of tea. Whether she drinks tea, coffee or green tea, everything will taste slightly better when it comes in this 3D Unicorn Mug. Add a little magic and colour to her daily cuppa. When not in use she can simply put it up on her shelf or desk as decor as it is very pretty to look at with it's smiley face, metallic gold horn and multicolour tail serving as handle. It is made of ceramic and can hold upto 300 ml of liquid. However, it cannot go in the microwave oven due to the metallic paint, nor is it dishwasher safe. Buy it for Rs.899 on Bigsmall.in.

2. A Cute Tote Bag
A girl cannot have enough bags. She needs them in different shapes, sizes and colours to go with her different outfits. They aren't just pretty accessories as she uses them to keep all the things she needs with her on the go. A tote is a very useful bag as it can be used all the time. They are usually made in a sturdy fabric which can easily go in the wash as well. When searching for totes for her, select a piece that has been made with a strong material, has a pretty design or colour which will compliment a variety of clothes, and is lightweight. Because girls often carry many things in their bag, having a lightweight bag is essential.

We suggest this Mast & Harbour beige tote bag. It has two short handles and an additional detachable strap that easily converts it to a sling bag. It has a main compartment with a zip pocket and zip closure and two slip pockets. Lightweight and made of synthetic, its easy to maintain and can be wiped clean with a dry cloth. Buy it on Myntra for Rs.879.

3. Essential Oil Diffuser Locket Pendant
Girls love jewellery in all shapes and sizes as it compliments their clothes, allows them to make a personal style statement and feel pretty. Another thing girls like is perfume and nice smelling things. Give her a gift that combines the two in a unique new way - an essential oil diffuser pendant. These pendants are pretty to look at and contain soaking pads or a small vial to which drops of perfume or essential oil can be added, serving as a personal diffuser.

You can try this perfume and essential oil diffuser pendant necklace with a rose design. It comes with a tiny pink vial for the oil which fits inside the locket style pendant. Made of copper and glass, it has a silver finish and is priced at Rs.620 on ebay.

4. Pretty Cushions
Your girlfriend must like to use cushions at home. She would have them on the couch, on her bed or at her favourite spot by the window where she likes to sit and read. Get her pretty cushions or cushion covers that she will enjoy using daily. We found this cute cushion with the inscription: 'The good things in life are better with you'. It makes for a good gift for any occasion like birthday, Valentine's day or just like that. This pack comes with a cover and a vacuum sealed cushion. Buy it on Amazon for Rs.349.
5. Bake Her Favourite Cookies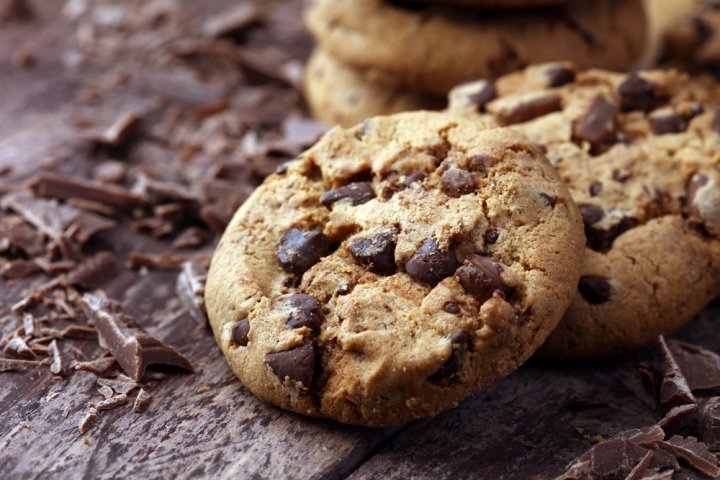 Girls love it when their significant others can cook. Gone are the days when girls tried to impress their boyfriends with their culinary skills. Today, a man who knows his way around a kitchen, and whip up delectable treats is immensely appealing to a woman. Even if you aren't a genius chef, just the fact that you learnt a new skill, or put in the effort to make something for her will endear you to her a great deal. If you are absolutely hopeless in the kitchen, why not offer to bake together and turn that into a fun way to spend time together. If you do want to give it a shot, try these delicious peanut butter cookies.

Ingredients
1 cup plain flour
1 tsp baking soda
1 tsp salt
1/2 cup peanut butter
1/2 cup coconut oil
1 egg
1/2 cup granulated sugar
1/3 cup light brown sugar
1/2 tsp vanilla extract
1/2 cup oats
1/3 cup peanuts, chopped or crushed
3 dozen assorted chocolate heart

Directions
Preheat oven to 175 degrees celsius and line a baking sheet with parchment paper. Whisk flour, baking soda and salt in a small bowl till evenly mixed. Take a large bowl and using a hand blender, cream together the coconut oil, peanut butter, both types of sugar till light and fluffy. Add the egg and vanilla extract and and beat till uniformly mixed. Next fold in the dry ingredients just until combined. Add the oats and chopped peanuts. Use an ice cream scoop to drop scoops of the dough onto prepared baking sheet, spacing them 2 inches apart. Bake for 10 minutes or till edges turn golden. Remove from the oven and let cookies rest on the baking sheet till they are cool enough to remove by hand. Cool completely on a wire rack.

6. A Bunch of Beautiful Roses
Nothing says 'I love you' like flowers. They are the classic romantic gift that will never lose their appeal. They will not last more than a few days but their fragility is what makes them so appealing. Girls like to receive flowers as it makes them feel special. Red roses are the ultimate romantic gift but you can choose another colour if she isn't a fan of the red ones. Even the roses are optional if she has another favourite flower. Have them delivered to her or show up at her door with the flowers in your hand.

You can order a bunch of 8 long stemmed red roses from the online store of Ferns n Petals. Wrapped in a red paper and tied up with a red ribbon, it makes for a beautiful gift for her. The bouquet is priced at Rs.449. There are optional upgrades priced at Rs.599 for 12 roses, and Rs.949 for a bunch of 20 roses. You can also choose from roses in other colours or pick a completely different flower combination.

7. Funky Yoga Pants
Yoga pants are such a versatile piece of clothing that they are extremely popular. Available in a number of different designs, colours and material, they can be used for lounging in at home, worn with T-shirts, kurtis or blouses, or used for low to medium intensity exercise - and we don't mean just for yoga! Those made of cotton or other natural fabric are more suitable for regular wear; if you want to give her something to wear for her workouts, the synthetic ones made with breathable stretch fabric and designed to keep you dry while sweating it out will be a more suitable option. Look for pants in cute prints and colours that she will enjoy flaunting.

This funky geometric print Women's Cardio Fitness Leggings in white and grey at Decathlon caught our eye. These fitted, high waisted leggings are made from a breathable material and are meants for low to medium intensity cardio activities. It retails at Rs.749. There are other designs and colours to choose from as well.

8. Unique Notebook
Journals and notebooks are extremely useful to have handy. Girls like to have them in various sizes to keep at home, in her bag for college or school, for office use, or to make small notes in. Journals can serve as diaries, pen thoughts, ideate, makes lists or plans or just some good old fashioned doodling. They also make great gifts provided you aren't thinking of those standard lined notebooks available stationary stores. When shopping for notebooks to give as gifts to a girlfriend, you need to find one that is pretty, has an unusual shape or design or interesting themes. Notebooks made with handmade paper is one such option.

We were drawn by the slightly psychedelic design on this Inhale Exhale vivid notebook by Letternote. It is a plain ruled notebook with 144 pages in a natural shade paper with a laminated soft cover. At 5" x 8" it is a good size to carry in a bag. This one is priced at Rs.325, although there are several other designs to choose from too.

9. Make Her a Bath Scrub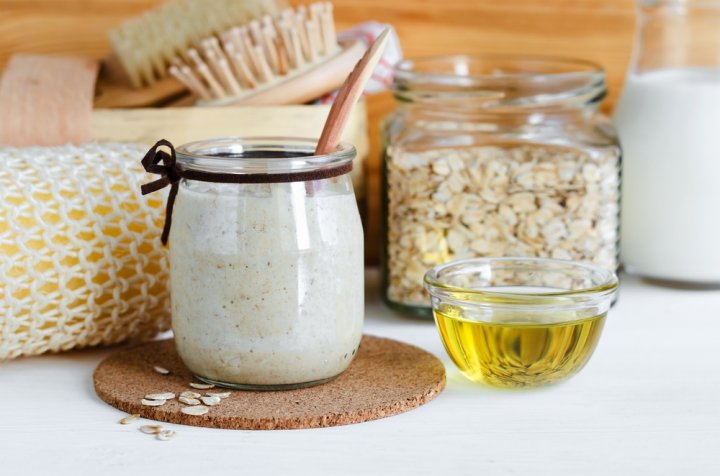 Beauty treatments, rejuvenating face masks, lotions, and scrubs are important are important aspects of a girl's life. She uses them to not just to look beautiful but they are also a way to treat and pamper herself. Indulging in a beauty treatment is about making herself feel good. A sweet and thoughtful boyfriend will not just buy her a jar of body scrub (she can do that too!) but will make some for her. She will be so pleased with your gift, you can even expect to hear her show off to her friends how her boyfriend 'made' the most wonderful bath scrub for her!

Here is a recipe for you to try: DIY Lavender-Eucalyptus Salt Glow Scrub with essential oils

What you will need:
1 pint (450 ml) mason or glass jar with lid
1 cup Epsom salt
1/2 cup fine sea salt
/2 cup table salt
3/4 cup sweet almond oil
¼ cup vitamin E oil
20 drops lavender essential oil
20 drops eucalyptus oil
5 drops rosemary oil

Mix all the oils in one bowl, the salts in another. Next add the salts to the oils and mix till evenly blended. Transfer to the jar and label it.

You can also try a sugar based scrub, like this Peppermint Sugar Scrub

What you will need:
1 cup granulated sugar
1/2 cup coconut oil (melt it if it's solid)
2 tsp almond oil
10 drops peppermint essential oil
10 peppermints

Directions:
Using a food grinder, grind the mints till you get a fine powder. Mix this with the sugar. Add the peppermint oil to the coconut oil and mix it with the sugar till you get a uniform mix. Transfer to a jar and seal tight.

10. Trendy Catchall
A catchall is a bowl, tray or dish used to keep the small things that come out of your pocket of purse - keys, small change, hair clips, accessories. It is a very handy thing to ensure these small but important things stay in one place instead of getting misplaced. People do usually have a designated space where they empty their pockets or throw the things in their hands when they come home each day, but having a little bowl to collect it is nicer still. You can even get a slightly bigger catchall for her dresser where she can keep her makeup, combs, jewellery and small odds and ends. This pretty Blue Pottery Peacock Plate will add a lovely touch to her dresser and she can throw her earrings, rings and other small pieces of jewellery in it. This ceramic platter is completely crafted by hand and it retails for Rs.599.
Make the Gift Giving into an Occasion
1. Make a Cool Wrapping
Think of unique ways to wrap your present. You could always wrap it in regular gift wrap but what is the fun in that? A funky wrap makes even the tiniest gift seem more exciting for the receiver, so think of how to make it interesting. Is there an old shirt that she is always making fun of and asking you to get rid of? Use that! She will get such a kick out of it. Emoticon boxes look very cute and you can make one to put her gift inside, or you can try a furoshiki gift wrap. It is a traditional Japanese wrapping cloth and makes for a beautiful and unusual wrap. Scour the internet for cute and interesting ideas that will appeal to her.

You may want to avoid trying out a gift wrap that makes it appear much bigger than the present inside, or a gag stunt like placing it in boxes of increasing size to create a large looking gift; you don't want to be drawing unnecessary attention to the small size of the gift. Opening a big box to find a tiny gift inside is disappointing for the receiver.
2. Hide it in an Unexpected Place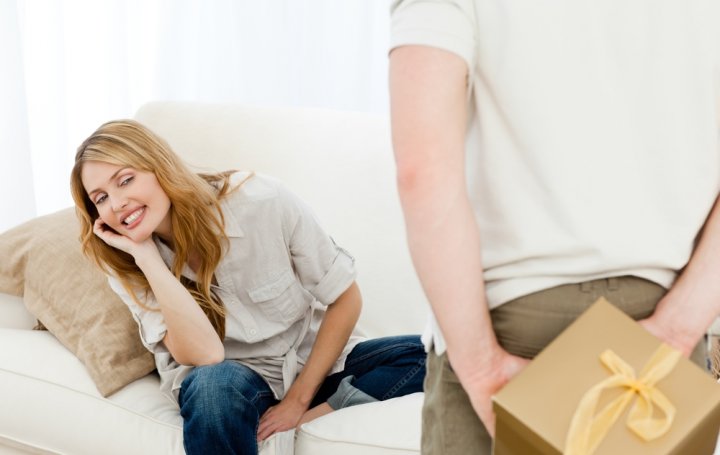 Place the gift in such a way or location so she chances upon it unexpectedly, like her bag, inside her coffee mug (if it is large enough), on top of the box of detergent, nestled in the fruit basket so she finds it when reaching for an apple, or arrange for it to arrive with her morning paper. The element of surprise creates a feeling of pleasure that extends to and increases with actually opening the gift. Having a stranger come up to her and hand her the gift is another unusual way. Have a friend who she is not familiar with do it, and ask them to not startle or creep her out. The effect you are aiming for is 'pleasantly surprised', not 'freaked out'.
3. Take Her to a Special Place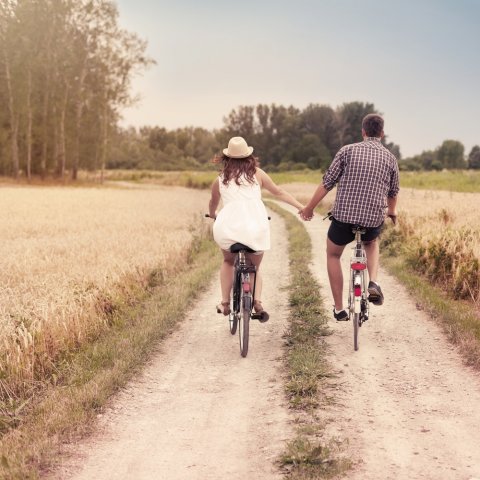 Every couple has special places that witnessed important milestones of their relationship - the spot you asked her out or shared your first kiss, the coffee shop where you had your first disastrous date and spilled coffee on her but which she remembers fondly. Think of all the places that are special to the both of you, but more so for her. Like you may have been mortified by the coffee shop date but she remembers it fondly because she found your nervousness endearing, and loved how hard you tried to make up for it.

Dinner at a nice restaurant or giving her a small gift during an elaborate date can be as nice a setting as an everyday thing like watching movies at your place. If that is your comfort zone, your 'thing', slipping a gift to her in between, specially after a touching scene in a movie can also be very romantic. Find a nice setting and location where you both can have a good time, and a surprise gift will be a bonus for her.

4. Cook Her a Meal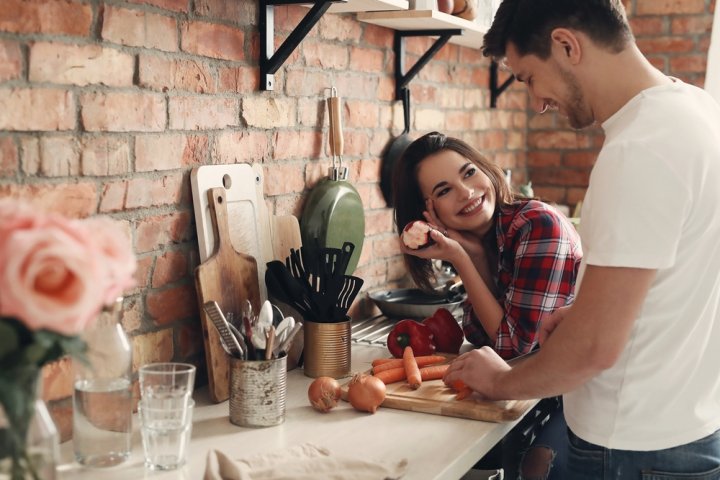 Cooking for your girlfriend can be such an intimate and romantic experience. If you have the cooking chops to fix a fabulous meal then that's wonderful, else you can engage the help of a friend or family member. Fix a simple but delicious meal if that is all you can manage, be assured she will be touched. More so if you aren't someone who normally cooks. Plan the meal as a surprise so she doesn't know what she is in for when she comes over; that way the meal can be a gift in itself. Or you can have the surprise and slip in a gift as well. If you aren't doing too well in the food department, supplement it with her favourite drink. If you intend the meal to be a surprise but you want to make sure she doesn't eat before she comes, just say you will order in; don't let her know you are doing the cooking!

It is also enjoyable doing things together and you can invite her to cook together. Plan the menu, gather all the ingredients, try doing all the heavy lifting beforehand so when she comes around you can discuss which herb to toss in next instead of washing vegetables or searching frantically for the soy sauce.

From our editorial team
She Should Like It
What matters most at the end of the day is if your girlfriend liked your gift and if it made her happy. That is what you must keep in mind when going gift hunting. Things you like may not please her and the gift is about her. So put your likes and interests on the back shelf and focus on what makes her happy. That is the whole point of giving gifts.