Don't Baby a 4 Year Old, She is a 'Big Girl' Now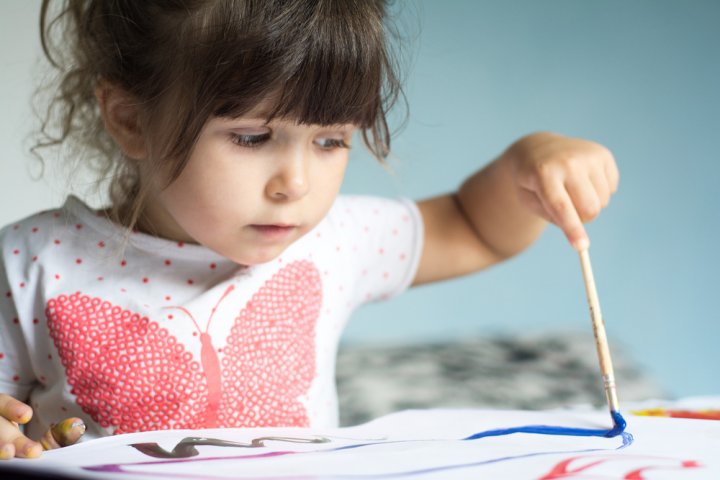 Your four years old has entered an age where she starts thinking of herself as a grown up girl. Now the styles, toys, clothes, accessories and even friends should be of her choice. At this age she is getting a bit independent. The tantrums are still there but have changed their shape. Around this age it becomes quite challenging for parents and near and dear ones to choose a gift for a 4 years old girl. It should interesting as well as a creative one so her enthusiasm can be well-challenged plus it should be good according to her tastes too. At this particular age, some colourful toy which can help her develop her different skills can be a better gift idea for your 4 year old daughter.
Things to Look for When Buying Toys for a 4 Year Old
Get Toys That Help Them Learn and Enhance Their Skills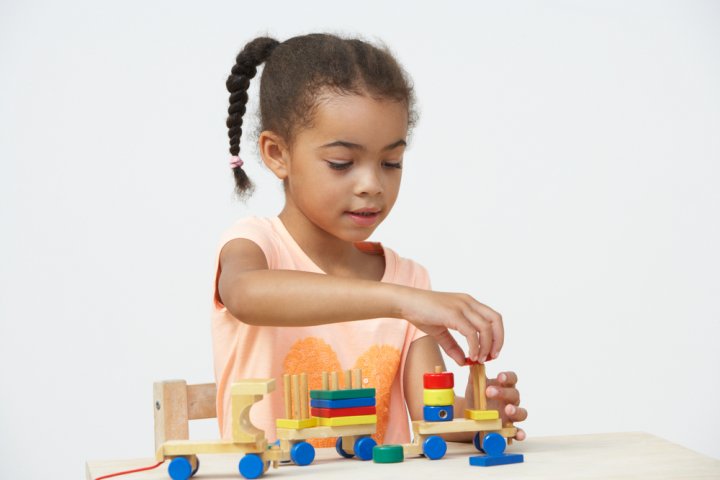 Now they have reached an age where they are more attracted towards their toys. Earlier their attention span was very short so they couldn't enjoy a toy for more than a few seconds. But now they can not only understand the toy, they are willing to know how to get the most out of it. Exploration is the remarkable trait at this age. They love to communicate, collaborate, create and ponder over everything that interests them. An all time favourite game of kids at this age is pretend play where they love to behave and act like elders and people around them, even those they see on the television. They enjoy imitating them the way they conceive their behaviours. So try to choose from the best educational toys for 4 years old.
Get Them Gifts According to Their Preference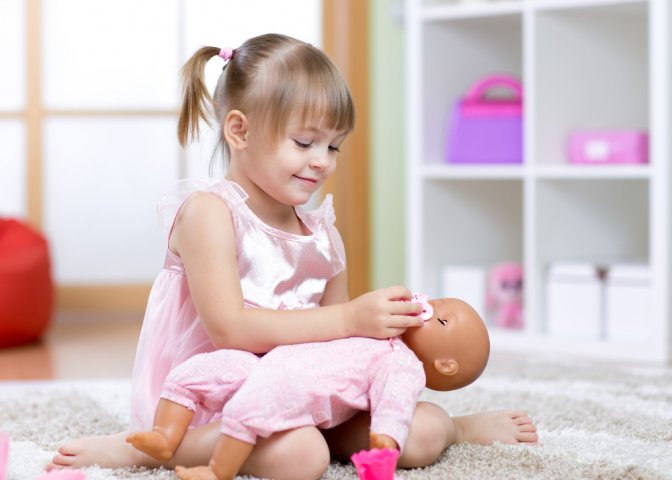 By this age kids are really expressing their personality and talents through their toys – be it paintings that resemble actual things, musical instruments that create tunes rather than sounds or role play games with multiple engaging storylines. Talking or interacting with them can be great fun. They can think over what you have said and then respond with a comprehensive reply. So try to pick such a gift for your 4 year old that can develop her core and cognitive skills. Sharing with peers and family members is very important at this preschool age. Choose a gift that can sharpen her communication as well as physical balance. We know you love your baby doll so much and finding it difficult to buy the best gift for your 4 years old. Kids may have different choices and she will clearly display whether she likes colouring, books, outdoor sports, puzzles or any other kind of toy. Also keep in mind her choice of colours, favourite cartoon or movie characters and gifts accordingly.
School Supplies and Useful Presents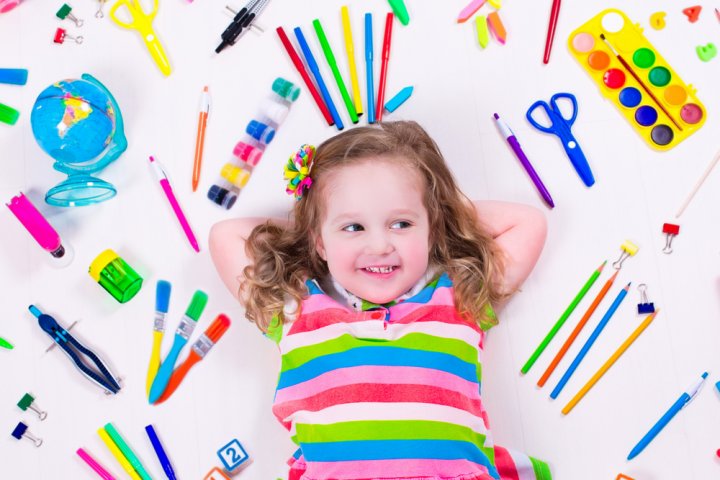 Now your sweet baby girl is ready to go out and experience the world and will soon start going to school. You and she both will be going through an emotional phase now with mixed feelings. You feel happy to send her to start her new journey on her own but at the same time you're a little worried how your cute little girl will cope with a completely different environment where you cannot pamper her at every step. Similarly your adorable little fairy is a bit happy and a little afraid, simultaneously.

She is happy because ultimately she is a grown up girl who is going out alone to explore new things but she is afraid how will she do it all without you. But as far as gifts are concerned you have a lot of options for your 4 year old girl. You can buy her a backpack by Pottery Barn Kids, a water bottle, a planet box which has space for lunch box, water bottle and snack, an ice pack, a hand sanitizer, tissues, and last but not the least labeling all these items. Get rid of all worries about her losing her bag and buy a personalised backpack as a gift for your 4 year old girl. Get her name embroidered on it. It has space for almost all above mentioned items. It comes in eight beautiful designs.

Another option is the Fire 7 Kids Edition Tablet which is the best educational toy for 4 year olds. It has 16 GB memory with a 7 inch display and a battery time of at least 8 hours. Pick up any of these items depending on your budget and her needs.
Cute and Educational Gift ideas for 4 Year Olds
Classic Lego Set
Lego, the building blocks has been one of the most popular games among kids since last many years. There are thousands of gift ideas for your four years old girl we have summed up in few most loved one.

First Cry has a Lego Friends Heartlake Surf Shop for just Rs.1,800. It includes a range of water sport equipment such as a kayak, a paddle to flippers, surf boards, waterproof camera, a sun lounger, a shower, a jetty with buoys, a rock, a seal figure, a mini doll in wet suit etc. It has 186 pieces, all made of plastic, and weighs 360 gm.

Lego Friends Roller Coaster Amusement Park can be purchased for Rs.8,500 only on amazon.in. It's a complete amusement park which includes Ferris wheel also. It includes 4 mini dolls which can be seated in any of the ride. It has vibrant colours like purple, pink and blue. Real food items are also included to make it a complete joy for the kids.

Another super educational toy for four years old is Lego School Block Set. It is also available on firstcry.com for only Rs.6,500. It is a block set, in multi colours. It has fantastic music and sound for singing and dancing practice. It is a very interesting game. Your baby girl would definitely have a lot of fun with her friends. Lego Elsa Magical Ice Palace by Wellindal.com is available at Rs.7,000. This is crystal clear set which unfolds the magic of Princess Elsa, Princess Anna and Olaf. It has 292 pieces with figures of two princesses and Olaf. Castle stand is 9 inch tall. It keeps your young girl keeps imagining the icy environment of the famous movie and she weaves her own stories.
Creative Brain Boosters
Another wonderful educational toy for 4 years old is the Creative Brain Boosters 4. When you buy it from firstcry.com, it will cost only Rs.200. It is an interesting game with 12 plastic laminated cards. It has different pictures on these with questions on both sides. It has total 22 questions and two answer sheets. The child has to complete different activities on different topics. The box includes 13 items, 12 cards and one special pencil. This card game stimulates cognitive learning of your 4 year old baby girl by sharpening skills of keen observation, concentration, visual discrimination and logical thinking. This game is also available for 3 year olds in case you are buying it as a gift for a younger child.
Activity Books
Activity books can be fun and educational at the same time. The 2nd Activity Maths Books by Dreamland Publocations is available on firstcry.com and will cost you just Rs.200. This book is the best gift for a 4 years old girl. It consists of various colourful illustrations to help your little baby understand basic numerical concepts. This is specially designed for young kids with plenty of activities like tracing, counting, joining the dots and many more. The book is a part of a series and you can buy her other activity books on English, logical reasoning and so on. This book is designed keeping the age and level of small kids of age 4.
Stationery With Cartoon Prints
Another great gift for a 4 year old Indian girl is Wonderkart 10 in 1 Cartoon Printed Stationary, available on Amazon for just Rs.500. It is ideal for little girls staying home but ready to go to school. This stationary set includes all she needs for school, 2 pencils, a pencil box, 2 sharpeners, an eraser, a ruler, a 5-piece crayon set, a notebook and 1 drawing book.

You can also buy Hello Kitty Stationary Set on Amazon for Rs.300. All the items are of very good quality with bright attractive colours. All the stationary can be kept safe in the pencil box provided. This amazing cartoon character printed school stationary set is a very useful gift for a 4 year old.
Sterling Disney Frozen Look-A-Likes Card Game
Learning can be fun with Sterling Disney Frozen Lookalike Card Game available on firstcry.com for Rs.230. It consists of colours and shapes in card form and is a board game. Each player plays a card on their turn and tries to reach the palace first by simply matching the colour and shapes card. It includes 8 colour cards and 40 playing cards.

If you are looking at card games, Sterling 10 in 1 Disney Frozzen Games and Fun on Amazonis available for just Rs.1,300. It is a multi-coloured sequence play game where the child has to turn all the cards on the way to reach the palace.
Cute Sling Bags
Little girls love copying their moms and you would often find her trying to strut around with your purse or handbag. Give her a bag of her own to carry little treasures in when she goes out. Hello Soft Toys Sling Bag with a smiley printed on it is available in yellow colour for just Rs.235 at First Cry. It is 8 inch in size with two compartments, an adjustable strap and is quite fashionable. It is made of durable but soft fabric. A lightweight and comfortable bag, it is perfect for a 4 year old cute girl.

There are plenty of such plush bags available for small kids. You can also buy her a Hello Toys Fruit Shaped Sling Bag, also available at First Cry. It measures 7 inch in size and pick in colour with a price tag of Rs.225 only. Bleu Kids Bag Shaneel is available for Rs.500 on Flipkart. The cream colour bag with a colourful cartoon printed on it has one compartment with a handle too. It's a nice plush shoulder bag made of shaneel fabric. Any of these will make for nice gifts and your little one will be delighted to have a bag of her own to carry.
Vegetable, Fruit and Kitchen Play Sets
Four year olds are bursting with imagination, creativity and curiosity, which is why you will often see them play in an imaginary world of their own. Copying what they see around them is their way of examining the world they are exposed to. Give your little one toys that will help fill her imaginary world of pretend play. Play sets comprising fruits and vegetable, perhaps paired with a kitchen set is a great choice.

Toyshine Vegetable and Kitchen Set is available on firstcry.com for Rs.500. It comprises of different vegetables which can be cut into half. They are joined with a piece of velcro to provide maximum fun by giving her the real life experiences of 'slicing' vegetables. It is a great gift for your 4 year old Indian girl who is fond of imitating her mom cooking. Items included in the package are 4 vegetables, a tomato, corn, brinjal and a carrot. There is also a salt and pepper bottle, a frying pan, a regular sized pan, a lid, a cooking stove, 2 plates, a chopping board, a knife, a fork, a butter knife, and 2 serving spoons, providing her with everything she will need to whip up delectable dishes on her own.
Play Tent
As your little one gets older she is starting to explore the concept of privacy and personal space. She may have her own room but there are times when she'd like to be left alone to play with toys on her own or create her make-believe world. Give her doll houses and play tents which will enable to better create her own little world.

Bestway Playhouse is available on flipkart.com for Rs.900. It is plastic tenting and camping set. It's width and height is 40.16 inch x 44.88 inch, making it suitable for both outdoor and indoor play. It makes the kids learn how to keep their place clean and tidy. It gives them a feeling of owning a house they made themselves and a feeling of adventure at the same time.

Another option is the Cuddles Queen Palace Playhouse with Curtain. You can buy this on First Cry for just Rs.825. This is also a great gift idea for your 4 year old daughter. It is pink in colour and handcrafted with good ventilation. The play curtains add a cozy home feel to it and the tent can accommodate two kids up to the age of 5 years.
Doctor Play Set
Playing doctor is another all time favourite with kids. As they begin to name and understand the functions of different parts of the body, a doctor set can encourage them to learn more about how the human body works. In any case, she will enjoy treating patients such as her dolls, friends, and even you with one of these.

Happy Kids Real Action Role Play Doctor Set is priced at just Rs.1,500 and can be purchased on Flipkart. It weighs 1500 gms. It comes with a stethoscope, scissors and a complete set of medical tools. It is an ideal gift for your 4 year old and all parts are made with non-toxic plastic. Another option is AEC My Family Operated Doctor Set which has 12 accessories including stethoscope, otoscope, pulse oximeter, thermometer and mirror. It makes your sweet baby girl feel like a doctor and will encourage her to 'treat and heal' others. It will let her feel the pain and suffering of others and stimulate the urge to help them. It can be a valuable birthday gift for your 4 year old girl.
Speedage Ahnna Doll
A doll is an indispensable childhood toy. There are the classic Barbie dolls, soft stuffed dolls, rag dolls, life like baby dolls that cry and gurgle, and so many more. If you are looking for something new , you can purchase Speedage Ahnna Doll at firstcry.com for just Rs.300. This doll makes your daughter learn to share and can be her best companion throughout her childhood. This is real look alike doll dressed in a skirt, top, socks, shoes, cap and also carries a purse. It is made of durable material and measures 35 cm in height. Dolls serve as companions, teach your child to think creatively and also develop empathy. You can also buy a set of 3 Speedage Ahnna Dolls in different costumes for Rs.700 on ebay.in.
Give Her the Gift of Your Time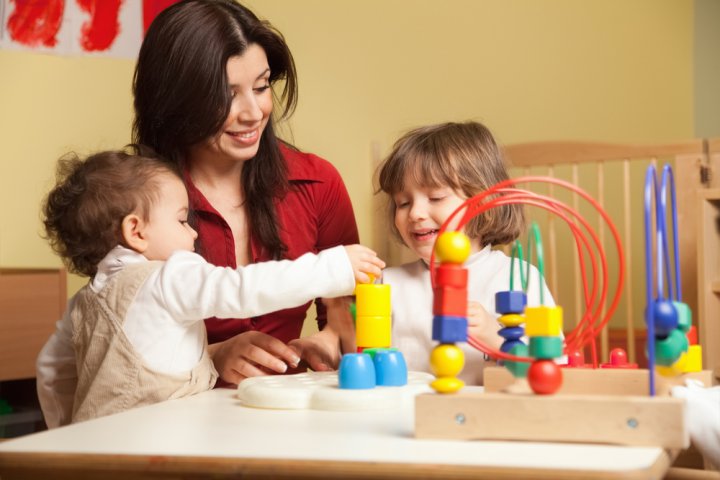 All the gifts bought for your lovable young kids can definitely bring a spark in their eyes and a shine on their face but gifting them your time is the most precious of all gifts. The smile it brings to their face is matchless. Nothing can be more expensive than lying with your kid in bed tickling and talking to her. You must take out some time from your busy routine and have fun with your kids. And the best part is you don't need to spend a thing. If you're an aunt of a grand father, take her for an ice cream. Sharing that one ice cream with soft hugs and gentle kisses can be a best gift for your 4 year old. These are the things she will remember when she grows up. A few favourite toys may remain in her mind, but the time she spent basking in your love and attention is what will remain with her.
From our editorial team
Give Careful Thought to the Toys You Buy Her
Playing with toys and games, and even their imaginative play are all means of learning for a young child, so look for creative, imaginative and well made toys. At age 4 she is already displaying what she is partial to, so give her things she will enjoy playing with. But also pay attention to her development and get her things she needs. Such as, is she lagging behind in Mathematical or language skills? Find fun games that will boost these areas of her mind which she will also enjoy.