Best Hair Care Tips for Men for All Kinds of Hair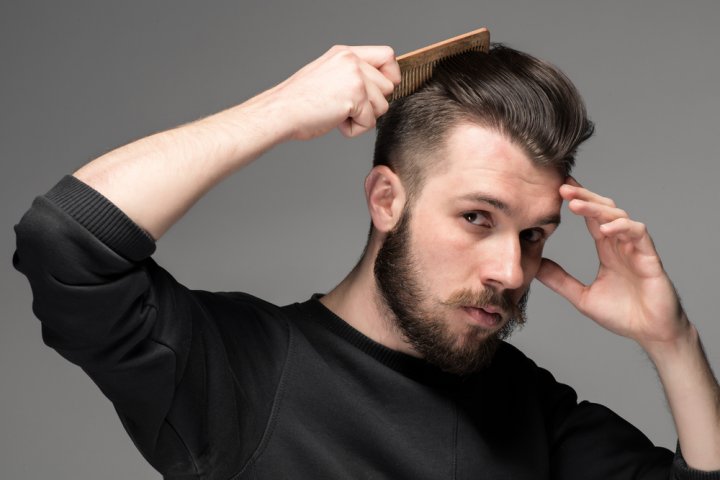 Dry hair gently: Our busy schedules make us rush from our bathrooms too. After a shower, men tend to dry their hair vigorously with the towel. Or blow dry their hair very fast. It is not the right way to dry the hair. When hair are wet, they are susceptible to damage and rubbing them vigorously make most of the strands of hair to be caught in the towel and break. You must pat your hair to dry and stroke it in the direction of hair growth. When drying using a dryer, you must have the lowest settings and leave it a bit wet to prevent any overheating.


Do not wash hair every day: Bathing every day is a must – but shampooing every day isn't! It is even harmful to your hair. Shampooing removes the essential oils from your hair. The oils are a great way to keep your hair hydrated. Men with even a short haircut should not use shampoo every day. It should be limited to twice or thrice every week for most men.


Always use a conditioner: Did you wash your hair today? If yes, we hope you used a conditioner! While it can save you time while bathing, not using a conditioner after shampooing could be damaging in the long run. The conditioners help by replenishing the oils necessary for having healthy hair. You can also use a conditioner on days you have not used a shampoo. Using an egg-based conditioner provides the proteins and Sulphur that is needed to keep your hair healthy. It penetrates the scalp and provides the necessary additional nourishment for your hair.


Use fewer products: Men aren't far behind when it comes to using too many products for styling hair. Using several products such as hair gels can be dangerous for your hair. Excessive usage is proven to be unhealthy and heavy. You must not overdo the hair with too many products. Also, you must not use too much of the styling agents at a time. In case you have too much on your hair, you need to wash it off.


Use natural products: While styling can be on your mind, you must be careful with what you use on your hair. Shampoos with harsh and synthetic ingredients must be avoided. It is safe to use one that is free from sulphates. Often we're tempted by two-in-one products, like a combination of shampoo and conditioner which are advertised for saving your time. However, they might be unsafe to use as they may contain chemicals which aren't required in the first place and make your hair prone to damage.


Hydration is key: While it is important not to wash your hair every day, you need to keep your hair hydrated. A conditioner is an excellent option as it helps to retain moisture that is necessary for your hair. Some of us have an issue of our hair drying out fast. They need to use conditioners positively to keep their hair healthy. Shampooing too often also removes the oils which keep your hair hydrated. For people with dry hair, they can use shampoos that ensure moisture hydration. And that too, sparingly.
Tips for Preventing Balding for Men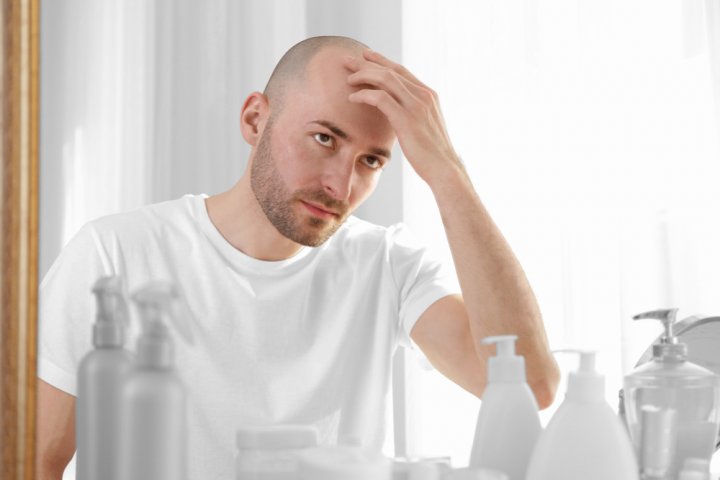 Use a mild shampoo: You must use shampoo at regular intervals. While washing your hair every day is not suggested, you need to shampoo your hair every two to three days. It helps to keep your scalp clean and prevents dandruff from ruining your hair. However, do not use shampoos with heavy chemicals as too many chemicals can destroy the hair and lead to faster balding. You must always check the ingredients of your shampoo before using it and always use a mild shampoo.


Healthy eating habits: There are many reasons for premature balding. One of them is not eating healthy food. A diet containing raw vegetables is known to reduce balding in men. It is suggested that you take greens and basil more than thrice every week. The follicles are mostly made from proteins. Hence it is necessary to include it in your diet. Proteins can be found in eggs, chicken, fish along with peas and beans. Food rich in vitamins also helps in preventing hair loss.


Vitamins prevent hair loss: Deficiency in vitamins is a significant worry for balding men. It is a primary reason for hair loss, and you need vitamins from a balanced diet. Vitamins are useful for your hair in various ways. Vitamin A helps the skin to secrete sebum that helps to keep the scalp healthy by moisturising it. Vitamin B helps in making of the red blood cells that are the carriers of oxygen and other nutrients to the scalp. Vitamin C creates a protein – collagen which is an essential constituent for your hair and along with Vitamin E, is an antioxidant.


Drink sufficient amount of water: Most of us do exercises every day to stay fit. But without healthy hair, most of it is useless. Healthy hair is essential for good looks. Balding is a major worry for men. You can reduce your concerns by hydrating your hair. If your hair lacks water, it will get dry and ultimately fall off. It is recommended to have at least eight glasses (200-250 ml) of water every day to ensure that your hair stays healthy.


Minimise stress: Relentless work pressure throughout the week is a significant cause of stress in most men. Again, stress is a significant cause of hair loss in men. There are various conditions when stress can push the hair out of your head, or your immune system could attack the follicles, making it fall. The best way out is to manage your stress effectively. An option is to meditate regularly. Exercises and yoga can also help.


Give up smoking and alcohol: If you are a regular smoker or an alcohol addict, the chances of you going bald prematurely are high. Daily intake of alcohol can lead to severe hair loss. Consumption of alcohol in high proportions can lead to spikes in blood sugar levels. It could lead to a reduction of the hair follicles. Alcoholics also have irregular diet patterns which are harmful to hair. Smoking is another habit that you need to give up. It reduces blood flow to the scalp and leads to hair loss. Moreover, nicotine also damages hair follicles.
Best Hair Products for Men
Kama Ayurveda Himalayan Deodar Hair Cleanser
Kama Ayurveda is known for products made with natural materials. It is a purifying cleanser for the scalp that prevents hair breakage and strengthens your hair. It does not contain the sulphates and petrochemicals considered harmful for your hair. The vegetable-based proteins improve the strength of the follicles and hair shaft. It is also enriched with the oils from the Himalayan Deodar that leads to healthier hair.

The cleanser is available on Amazon and is priced at Rs. 1,295 for a 200 ml bottle.
Park Avenue Beer Shampoo
Men love a chilled beer after a hectic day. But did you know it could be useful for your hair as well? The beer shampoo from Park Avenue is produced using beer derived from barley. It nourishes your hair and can be used as a two-in-one product as a shampoo and a conditioner.

The beer shampoo removes the excess oil from your hair while the amino acids help to nourish your hair. As the beer seeps through your hair, it makes your hair lighter.

The 180 ml bottle of Park Avenue Beer Shampoo is available on Amazon for Rs. 195.
The Body Shop Banana Shampoo
Bananas are rich in potassium, vitamins and calcium along with natural oils. Apart from helping in the growth of your hair, bananas also help by reducing breakage and strengthening your hair. You need to use the shampoo gently every day to cleanse your hair that adds shine to your hair. The 250 ml bottle of The Body Shop Banana Shampoo is available on Amazon for Rs. 695.
Tigi Bedhead for Men Clean Up Shampoo
It comes from the stable of one of the best hair care brands. You can use the shampoo every two to three days and is gentle on your scalp. The Tigi brand also has a conditioner. It does not allow the build-up of products and retains the necessary moisture. The added menthol provides a cooling sensation.

You would need to massage the shampoo into the scalp and then rinse. Follow it up with the conditioner. The 250 ml bottle costs Rs. 900 Amazon.
Bonus: Hair Care for Dry Hair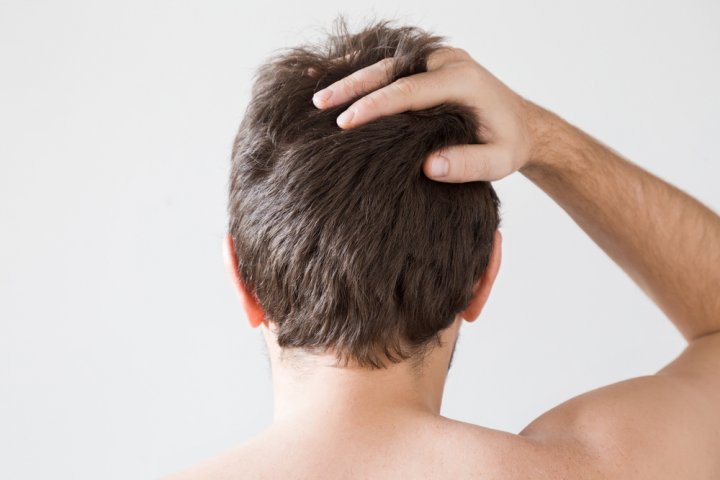 Add antioxidants to your diet: Are you looking for ways to nourish your dry hair? You must include antioxidants in your diet. Seafood is a major source of antioxidants, peptides as well as Omega-3 fatty acids. These foods also help in combating stress which is also a major cause of hair loss in men. Seafood like tuna, sardines, salmon, etc. along with canola oil is right for your hair. Vegetables like broccoli, kidney beans and tomatoes are also rich in antioxidants.


Do not use too much of driers: You must refrain from washing your hair every day. Moreover, are you aware that your hair becomes brittle after you wash it? Again, when you use a drier, it could be over dried and lose the necessary moisture it should have. While using a towel, do not forcibly clean your hair. A towel should be wrapped on your hair for drying. While sleeping, you can use a silky pillow cover to prevent the moisture of your hair being drained out.


Use beer as a conditioner: We have already seen that proteins are right for your hair. While we have also seen how alcohol addiction can lead to serious side effects that can lead to hair loss, using beer on your hair can help you combat dry hair. Beer is rich in proteins that can refurbish the cuticles and repair your hair. You may also use some beer after washing your hair. It will help like a conditioner.


Avoid hot showers: Some of us prefer a warm shower even in summers, but did you know excess of it can even harm your hair? Yes, using hot water for your hair is damaging in the long run. The hair can be turned dry, and the necessary oils could also be drained out. You can rinse your hair in colder water and then use the shower, ensuring that the warmer water is not on your hair.
Digital Marketer, Blogger
Sanjay Das
Sanjay is a marketing professional with more than 15 years of experience. He has a penchant for writing blogs and articles and has written over 350 blogs across diverse topics and industries. Sanjay takes a keen interest in SEO-based content writing for websites and social media. He also runs his own blog for digital marketing articles.
From our editorial team
Staying Healthy Also Means Healthier Hair!
We take great care of our body by exercising regularly. Are you aware that staying fit can be helpful for your hair too? If you have a chronic condition, it can be grave for your hair. Men need to have nourishing food and have a strict exercise regimen. You must also have control over your stress levels as there is a direct link with hair loss. Increased stress levels prevent blood from being circulated to your hair. Moreover, hair is made from proteins, and lack of it can have adverse effects. Hence, ensure that you maintain a healthy lifestyle as well if you want to have healthy hair!