Gift Wrapping Ideas and Tips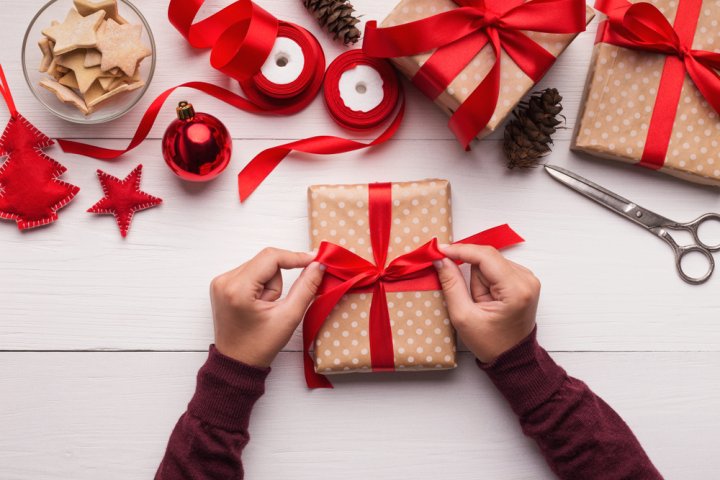 Use Textured or Coloured Wrapping Paper for Plain Gift Boxes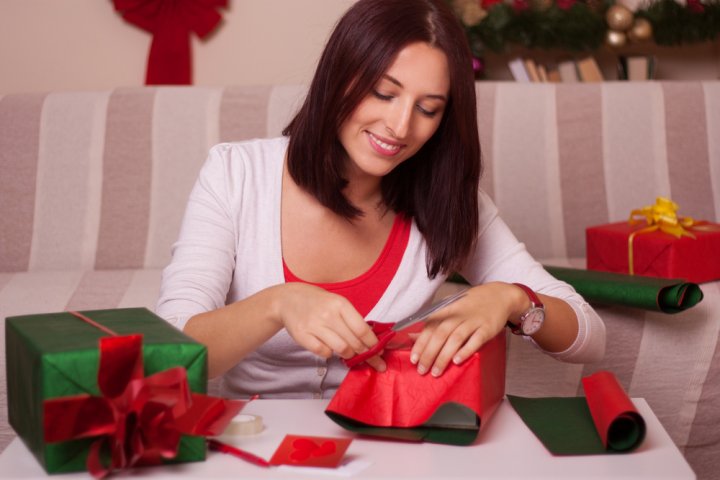 One of the first gift-wrapping techniques is that you should always keep a balance between your gift and the wrapping paper. For example, if the gift already comes in a nice box then you do not need much of wrapping and you can simply decorate it as it is.

However, for plain gift boxes, you should go for textured or coloured wrapping paper. This will create the impression that the gift is really nice and super presentable. Using craft paper for plain gifts isn't a nice idea so don't even think about it.

Workspace Preparation is Really Important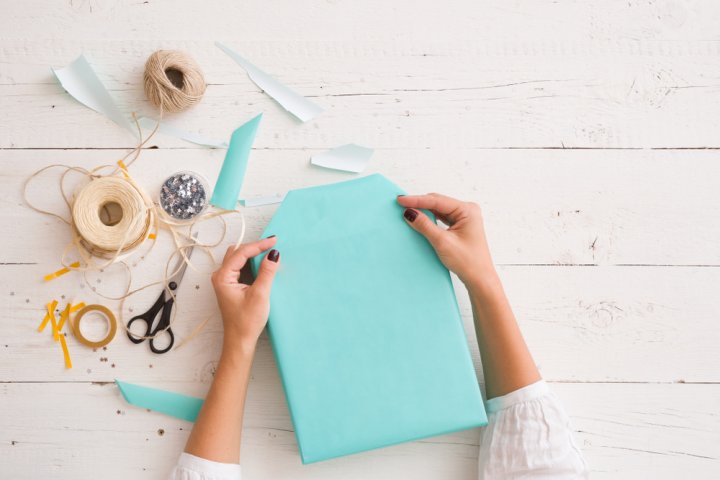 No matter what you do, workspace preparation is really important and it should be the first thing to be kept in mind. You should always go for a sturdy table with a clean and even surface. A clean surface provides better results and your final wrapped gift would be flawless.

Also, keep your hands clean because a layer of lotion on the wrapping paper is not going to look good. Make sure that you have put together all the items which are needed for the wrapping. This will save a lot of time for you and you won't have to keep on leaving your seat.

Use Double Stick Tape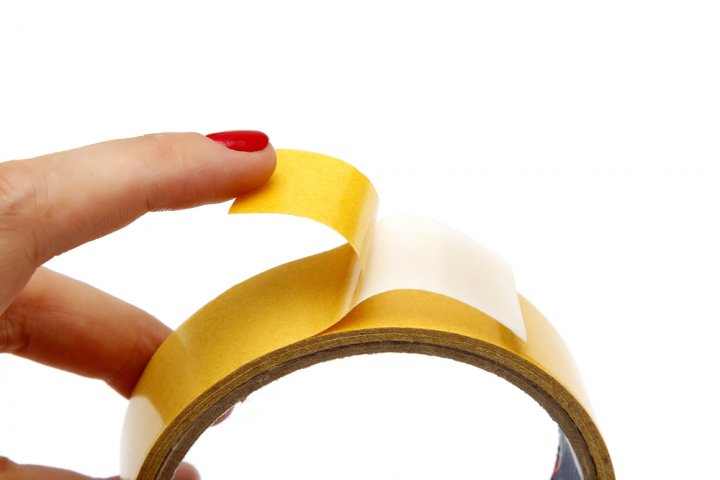 If you don't know it already, double-stick tape is life-changing and you can totally bet on it. If you want everything to look seamless and nice and quite like a professional job then you should always go for double-stick tape rather than the regular one.

In this way, no sign of tape will be there on the packaging and it will simply speed up the process too. The double-sided sticky tape also ensures that your gift is wrapped perfectly with no signs of added efforts. Even if the tape is peeling a bit, you can always cover it up with decorative items.

Prefer White and Golden Foil Paper to Maintain Elegance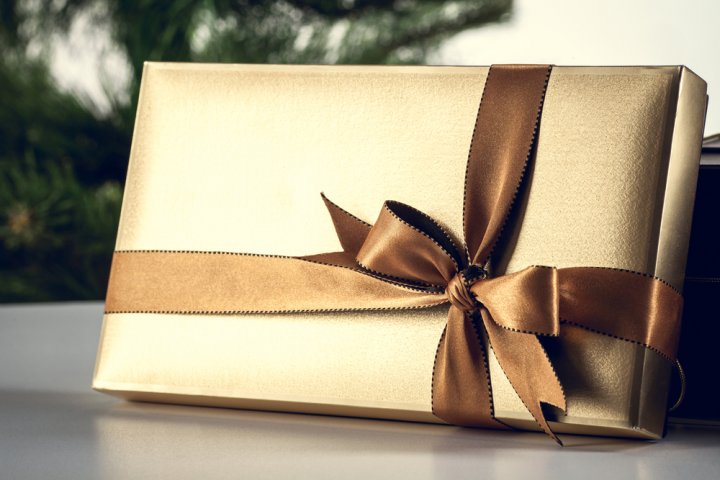 If you want to learn a thing or two about fancy gift wrapping techniques then you should always remember that the colour of the wrapping paper can entirely change the look of the gift. This is why when you are attending functions like weddings or some other important occasion, you should always go for white and golden foil paper for wrapping your gift.

This colour combination is all about elegance and class and you can never go wrong with this old trick. You can easily find such gift wrap papers that have golden designs on it. Make sure to use a golden ribbon with these papers.

Use Medium Grade Paper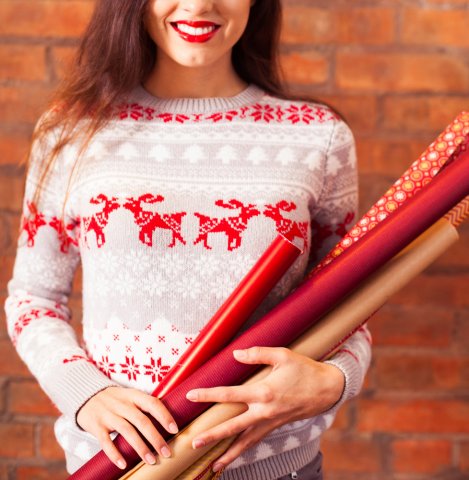 If you are using a paper that is too thin in its texture, it will tear apart easily even before handing over the gift. While a very thick paper makes your gift look bulky and they are hard to crease too and of course they are a bit costly too.

So, avoid the confusion and go for medium grade paper instead. You can go for a metallic finish which will bring a controlled shine to your final piece. Also, medium grade paper is great for creating sharp and clean creases which will give a nice look to your present too.

Don't Spend Too Much on Decorative Items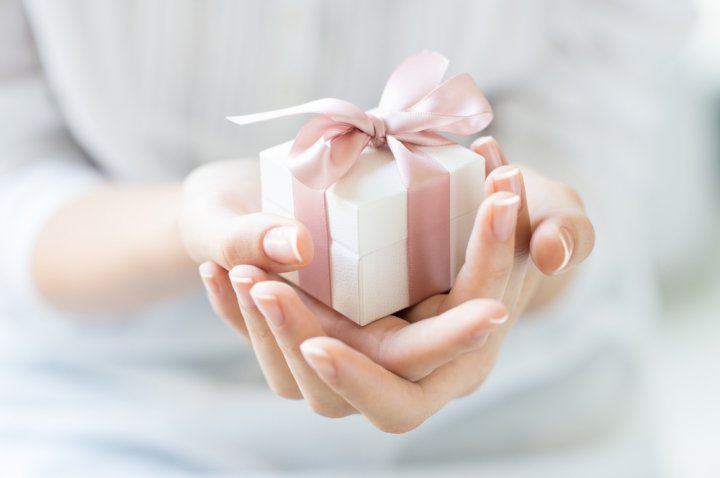 It is not necessary to spend a fortune just for decorating your gift. The person you will be giving this gift to is not going to use these decorative pieces at all and all your money and hard work are ultimately going into the garbage.

If you think smart, you can recycle existing items instead, to decorate your gifts and give it an entirely new look. Small pieces of textured paper, clothes, extra buttons, ribbons, flowers and all such kinds of stuff can be used for decorating your gifts without even having to spend money on it.

Choose Round Boxes over Rectangular/Square Ones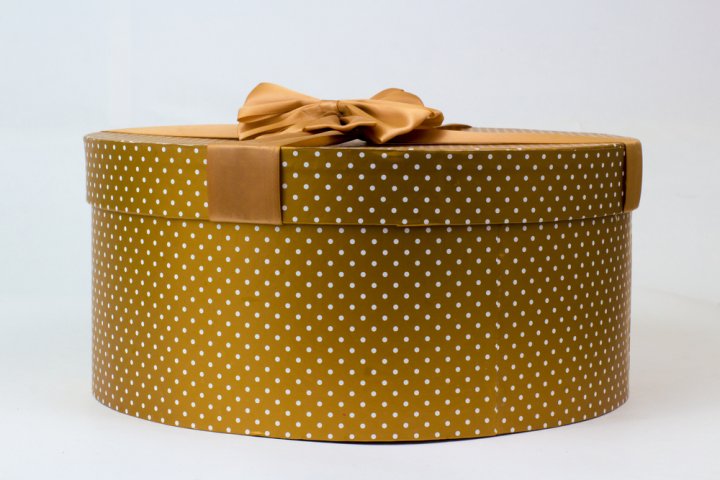 One of the most admiring gift wrapping techniques that we found was to prefer using round boxes over rectangular ones. See, the idea is to reuse the boxes for some other things rather than just using them for gifts and then throwing them away.

You can also pack different gifts in different sized round boxes and finally pile them up to pack them all together. This way your gift will look unique and the recipient can have interesting boxes too.

DIY Stamp Roller for Decoration
If you are in the mood of saving some money in the long run and DIY then we have the perfect tip for you. Making DIY stamp rollers is a great idea to not only decorate boring gifts but to also get creative too.

All you need to do is cut the shapes with thick paper and stick it on a roller or maybe a stamp. Dip it in colour and roll it on the plain gift wrapping paper to turn it into a masterpiece. You can create these rollers for different themes too.

It is Important to Measure Your Paper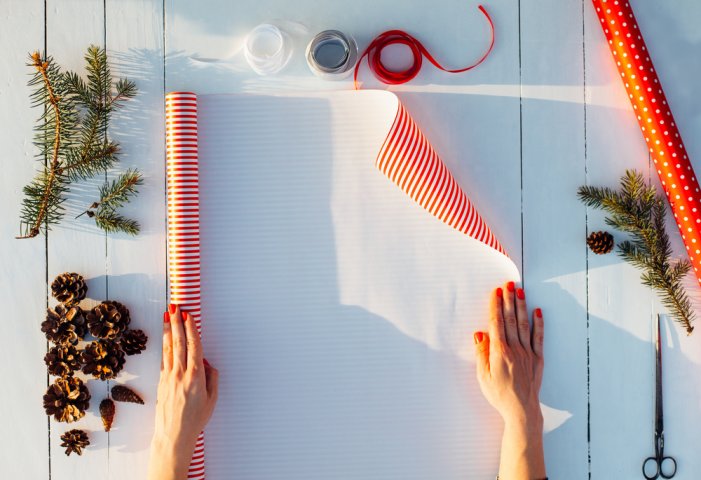 There are some people who just go with the flow and don't measure the wrapping paper they need for the gift. Well, you should know that using more wrapping paper than actually needed can lead to bulky wrapping outcomes and also you are wasting too much paper.

This is why just put the gift on the paper and see how much is needed to cover your gift nicely. Make a crease by folding the paper around the gift and then cut it smoothly. Make sure the paper slightly overlaps each fold and not too much and you are good to go.

Ribbons are Essential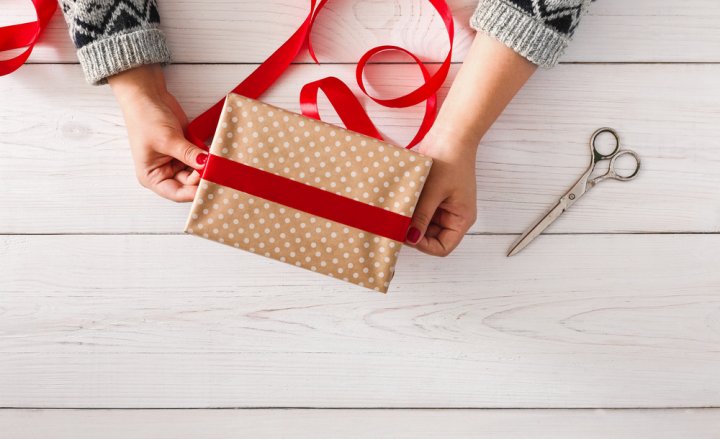 One of the foremost gift wrapping tips which you should always remember is that ribbons are very much essential when it comes to gift wrapping. You can simply change the look of a dull present by adding ribbons on top of it for the decoration.

This is an inexpensive and traditional idea that works like a charm all the time. You can use a blunt scissor to curl up the ribbons after tying them and then you are good to go. Ribbons are easily available and you can always find great variety in them.

Mix and Match Different Wrapping Papers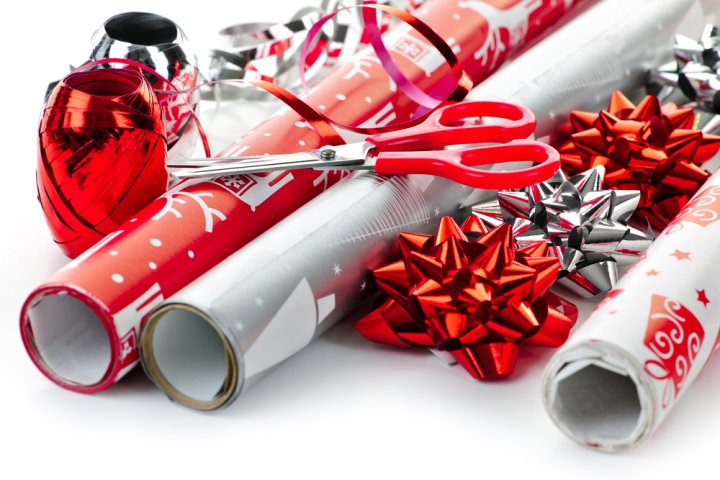 The idea of mixing two different wrapping papers is simply marvellous. You can even use more than two wrapping papers. The idea is to use those pieces of wrapping papers too which were discarded earlier while wrapping other gifts.

This way you can recycle even small pieces of wrapping paper and this can entirely change the look of your gift too. The idea might come off as a bit weird but when you will try it, you won't be disappointed with the outcome. You can also cut shapes from these papers to make your gift look more unique.

Make Gift Tags on Your Own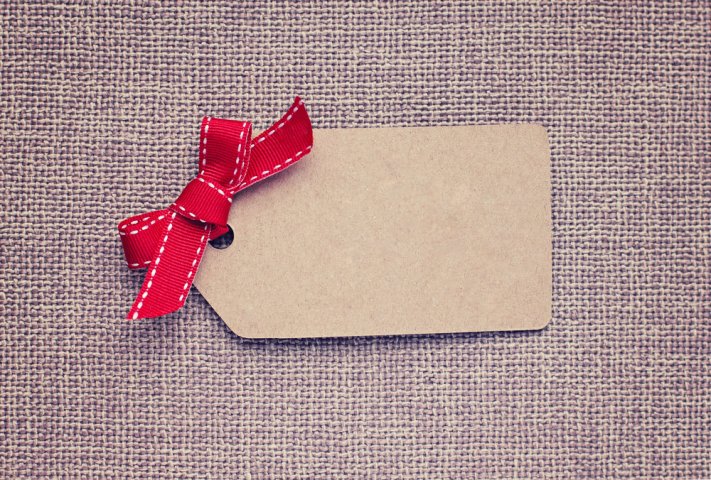 Gift tags are something that is used by a few people especially when it comes to individual gifting. Well, if you are talking about wedding favour then gift tags become crucial. You can totally make some changes and create gift tags on your own for your loved ones. Making gift tags is quite simple and you just need a thick paper for creating tags. Simply write the name of the person and tie it with the help of a ribbon to your gift. Not only will the additional effort be acknowledged but you can also save some money by making it on your own.

Use Paper Mesh for Wrapping
And our very last inclusion to this list of gift wrapping techniques is that you can use the popular brown paper mesh to wrap up your gifts. Well, this might sound silly and a bit offbeat but it can totally work if you want to try it out.

Such kinds of papers are flexible, durable and of course recyclable too. You can particularly this for bottles and other similar fragile stuff. You can roll up the bottle in mesh and tie the ends like candy. Make sure to use small ribbons to tie the ends to give it a nice look.

Gift Wrapping on a Budget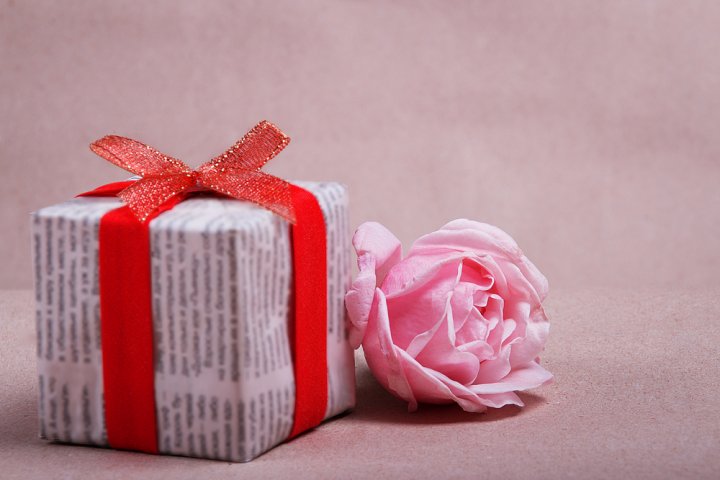 So, we tried our best to pick some of the best gift wrapping hacks and tips for you in all scenarios possible. However, what if you are on a budget and do not want to spend too much just for wrapping and decoration? Well, in that case you can use these tips where you can wrap your gifts in a budget with things already available in your home. This way you won't have to make much effort to make your gift look presentable.
Use Clothes for Gift Wrapping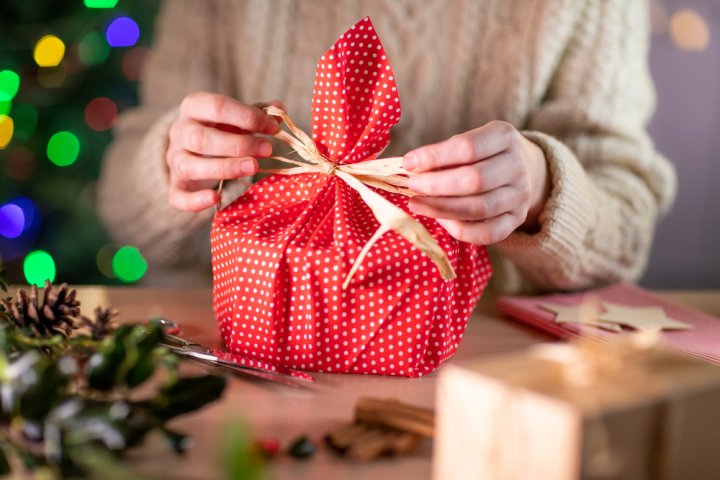 Kim K. seriously broke the internet when she wrapped her holiday gifts in clothes. Much to your amusement you can do the same and save a lot of money too. We all have a space in our home that we use for keeping old clothes, hankies and more such things. In fact, old sweaters would do the trick too. You can simply put the gift in the centre of the cloth and then tie the cloth around the gift by making knots. This is the simplest and most wonderful idea for gift wrapping when you are on a budget.
Plain Paper and Leaves Can Do the Trick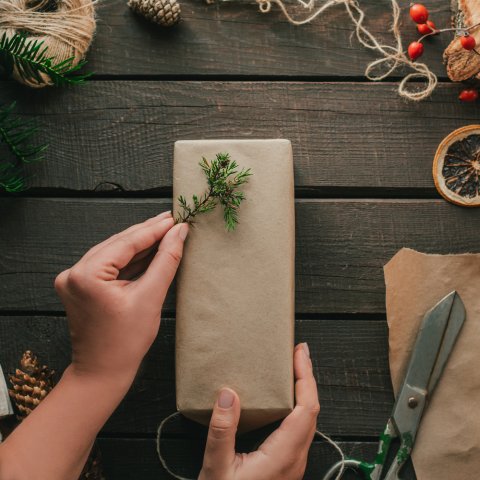 If you have plain craft paper or any other paper in your home then you can use it to wrap the gift. Simply wrap the gift in the paper and then use some leaves of any tree or plant to decorate the gift. You can also use some flowers or even dried pressed flowers and the gift is going to look way more presentable than it was earlier. And of course, you won't have to spend too much money on it too.
Turn Paper Lunch Bag into Gift Bag
One of the easiest gift wrapping techniques is to transform a paper lunch bag into a gift bag. It is cute, cheap and definitely easy to convert. Just pick the right bag for the required size and you are good to go. You can use old buttons and ribbons to decorate the bag and seal it to secure the gift inside.
Newspaper Can Come Handy Too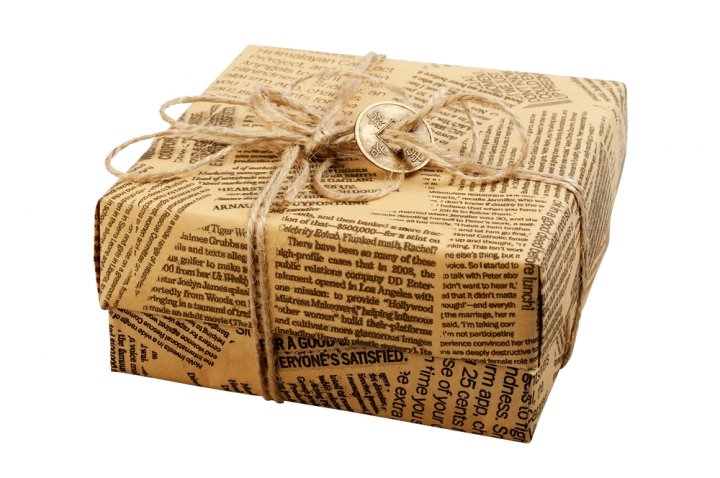 Newspapers are another way to wrap a gift in it. And this is not just about the newspaper but also about any other paper available in your home which can be of magazines too. You won't have to spend a single penny on it and this way you can recycle your old newspapers too. Just make sure that there are no violent news articles content on the paper when you are wrapping the gift in it.
Learn Gift Wrapping Techniques Online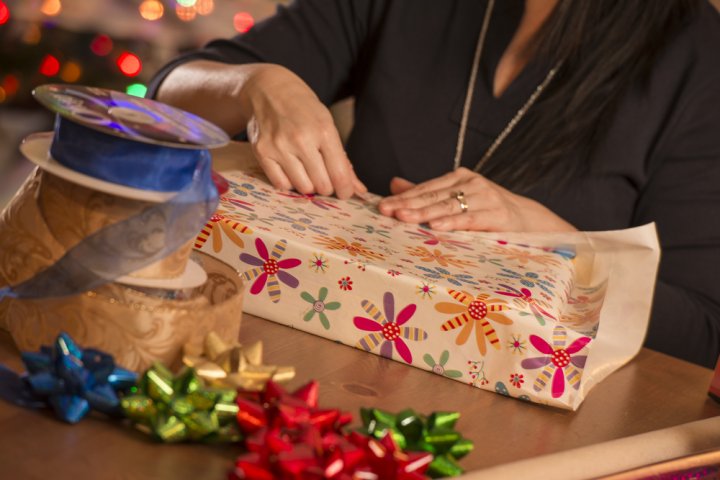 Shiho Masuda
Shiho Masuda is a professional gift wrapping artist and you can definitely find a lot of gift wrapping tutorials and ideas on her blog. In fact, she also offers a variety of gift wrapping services apart from writing blogs about gift wrapping.

You can also be a part of her online gift wrapping courses and learn entirely different concepts of gift wrapping sitting at your home. She has an online shop too where you can buy gift wrapping tools and supplies as well.

Gift Wrapping Courses
Pretty Present is another blog which is all about gifts and gift wrapping. There aren't much blogs which are all only about gift wrapping, so you should definitely follow this one. You can find a lot of interesting stuff in their blog. They have ideas for all sorts of occasions which are quite unique and interesting. You can also try out their services for gift wrapping as well.

YouTube
And finally, you have the vast platform of YouTube to learn about gift wrapping techniques. You can find so many channels on YouTube which are all about gift wrapping hacks and tips and they truly work too. Some of the channels which are truly worth following are Rosa Ramalho, Paper Guru, Jane Means, Gift Elements and many more. They provide detailed videos and tutorials on creative gift wrapping ideas which you can easily learn and apply in your day to day life.

From our editorial team
DIY Gift Wrapping is a Better Option
Do-it-yourself gift wrapping is a better option than getting your gift wrapped at the store. You not only make a personal statement with the type of gift wrap you choose but also the extra effort put in by you is appreciated by your loved one. We hope this BP Guide would have helped you to appreciate that gift wrapping is not so difficult and can fit all budgets too. Stay connected with us.