What are Microgreens?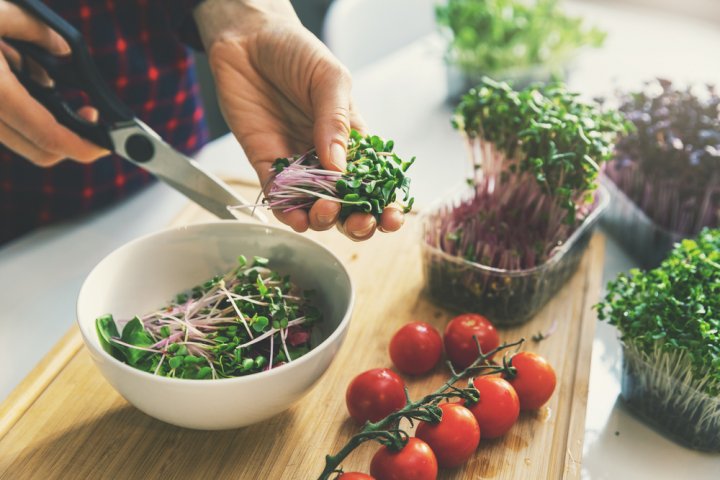 Microgreens have steadily gained popularity since the time they were introduced in the market. These aromatic greens are also known as vegetable confetti or micro herbs. They serve a fresh splash of colours in the food along with various essential nutrients. Their high nutritional value gives a punch of important nutrition as an addition to the diet. These are baby vegetable greens that are approx 1-3 inches tall, somewhere between sprout and baby green, with an aromatic flavour and variety of colours and textures.
Health Benefits of Microgreens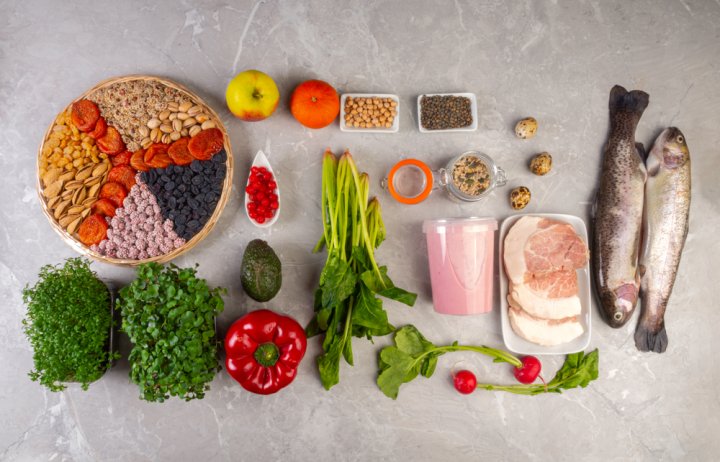 Eating microgreen vegetables leads to many health benefits, including many vitamins, minerals, and beneficial plant compounds. It contains a similar or often more significant amount of nutrients like mature vegetables, which lower the risk of various diseases. It is a rich source of antioxidants like polyphenols, reducing the risk of heart diseases, Alzheimer's, diabetes, and certain types of cancer.
Types of Microgreens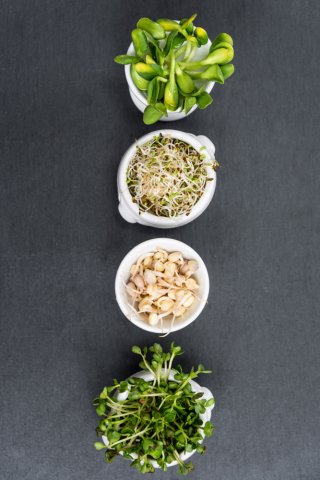 You may include microgreens in different ways in your diet as it comes in various forms. Microgreens can be used in sandwiches, wraps, salads, and can be used for garnishing pizzas, soups, curries, omelettes, and other hot dishes. Microgreens come in different families - Brassicaceae, Asteraceae, Apiaceae, Amaryllidaceae, Amaranthaceae, and Cucurbitaceae family. Cereals such as wheat, rice, oats, corn and barley, and legumes like chickpeas, lentils, and beans.
Microgreen Juice Recipes You Can Give a Try
Microgreens are a super versatile food, and you can incorporate this powerhouse of nutrients in various ways. Making juice of the microgreens is an easy option among many other recipes. Here we are sharing some mouth-watering yet healthy juice recipes you can make yourself.
Bright and Fresh Smoothie
A bright and fresh microgreen fruit smoothie is packed with antioxidants, vitamins, and minerals. It is a great way to start your day or power up your afternoons with healthy food. To prepare this recipe, you will need:
Ingredients
A handful of microgreens
1 cup of almond or regular milk
One banana
One orange peeled and deseeded, or ½ cup of any fruit of your choice
1 tbsp of honey, or any sweetener you like
How to Make
Add all the ingredients to a blender and blend well. Add protein powder if you need an extra boost of protein.
It has high calorie and nutrition value, which is perfect for a breakfast or brunch.
Broccoli Sprout Shot
Broccoli sprouts are an essential hormone-balancing superfood, and the tonic you can make from this is a nutritious addition to your diet. You can use this tonic as a healing food, which helps to reverse estrogen dominance.
How to Make
In your speed blender, take ½ cup broccoli sprouts, ½ cup filtered water, a pinch of salt, and juice of one lemon.
Then blend until it becomes bright green, and all the nodes are combined.
Serve immediately and enjoy the shot fresh.
Cure-all Smoothie
In spring fever, cold or flu, we deserve something that can improve our health by boosting immunity. This microgreen power-packed juice, which you can call a 'Cure-All' smoothie, can be a winner. It is combined with three microgreens with the sweetness of banana and mango. It provides Vitamin C from the pea shoots folate, potassium, magnesium in the radish, and riboflavin. All of these ingredients help boost the immune system and have the power to fight against diseases.
Ingredients
1/4th cup mixed microgreens
½ cup sweet green pea shoots
1/4th cup radish microgreens
⅛ cup oregano
1 frozen banana
½ cup cubed mango
6 cups orange, pineapple, or grapefruit juice
1 cup plain yoghurt
A tsp of honey for taste
How to Make
Blend all the ingredients in the blender before serving and serve the juice chilled for the best flavour.
Green Juice with Sprout
To make a green juice full of vitamins, minerals, and chlorophyll, you will need:
Ingredients
50-gram peas for sprouting
20-gram organic ginger
Two organic apples
10-gram cm organic cucumber
How to Make
Sprout the peas in a place and let it grow.
When the sprouts are done, you can wash them and put into the juicer with all the other ingredients and blend thoroughly.
Sprinkle some sprouts over it for decoration before serving.
Leaping Leprechaun Juice
When you make your green juice with organic ingredients, the essential nutrients help you and your family stay healthy and energised. The sweetness and the fruity flavour of the ingredients are appealing to both children and grown-ups. You will need:
Ingredients
½ cup strawberries
One banana
2 cups of spinach leaves
1 cup water or ice as per your taste to make this juice
How to Make
Combine all ingredients in a blender and blend it until it gives a smoothie kind of consistency. You can always make it thinner like a juice later on by adding more water.
Wheatgrass and Avocado Smoothie
Wheatgrass smoothie or juice is one of the most common microgreen recipes you will encounter in any country. To make this juice at home, you will need:
Ingredients
One handful of spinach
One lime
One apple
Two carrots
½ avocado
1 tbsp wheatgrass powder
Chia seeds (optional)
How to Make
Blend everything very well and make excellent green juice. You can decorate the glass with a slice of lime and carrot.
Detoxifying Green Smoothie
Add more green to your diet and detox your body anytime you want by making this special green juice. You can enjoy this juice, especially in the springtime, with:
Ingredients
½ chopped avocado
½ cucumber
½ cup microgreens or pea shoots
1 cup coconut water
Two tablespoons of fresh lime juice
6 ice cubes
How to Make
Blend them all except ice. Put ice before serving the delicious and healthy juice.
Pucker-Up Green Juice
Juicing your microgreens means making a healthy and wealthy antioxidant powerhouse right in a glass. To make this juice, you will need:
How to Make
1 cup roughly chopped apple
1 small juice of a lime
½ cup of microgreens
½ cup water or green tea
Ice
Honey
How to Make
Place all ingredients in a blender and blend until smooth and serve with ice.
Additional Tip to Store Microgreens
After harvesting, microgreens can be stored for 10-12 days in the fridge. Scallions stay longer than basil sprouts. So you will need to use microgreens in your juice as fresh as you can.
From our editorial team
You Can Also Grow Your Own Microgreens!
A container, a bit of potting mix, and seeds are all that you need to grow your own microgreens. They are super easy to grow, and there are plentiful video guides available on the internet that you can go through to know about the do's and dont's of growing microgreens at home.