What is a Hair Serum and Why You Should Use It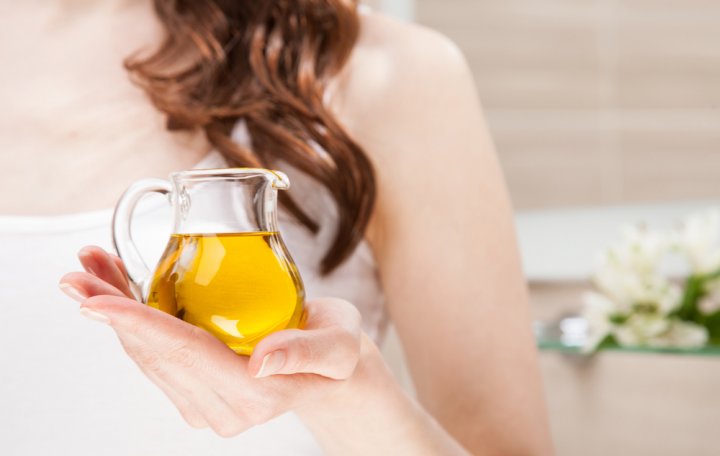 Remember your mothers or grandmothers telling stories about applying Reetha or Multani mitti when they really wanted to pamper their hair? Yes, it's true, there were not many things you could do for your hair but things have changed now. There are uncountable hair products in the market which are specifically designed for different hair types and for treating various hair problems. You can find millions of shampoos and conditioners from Indian and International brands and one recent product that is surfacing in the market for hair is the hair serum. Those of you who already know about the hair serums, great but for those who don't know much about it, this article will prove to be very helpful especially if they like to use homemade products.

Let's say you wash your hair with the best shampoo you could buy and they use the best conditioner in the market but do not use a hair serum then you are missing out on the most important product that can do wonders for your hair.

Hair serums are a liquid based product which is made by silicones. The hair serums work by creating a protective layer over the hair and smoothens it out. The hair serum is very smooth and shines up when under the light or sun thus gives your hair a glossy shine rather than an oily look like hair oil.

Although most of the hair serums are used for controlling frizzy hair but it also provides solution for many other hair issues. It works great on thin hair which tend to tangle easily. It locks in the moisture in your hair and keeps it from getting dry and breaking of easily. Its protective layer saves the hair and root from the pollution in the atmosphere and it also works on hiding split ends till you get to a hairdresser and remove them permanently.
You Need to Use the Right Hair Serum for Best Results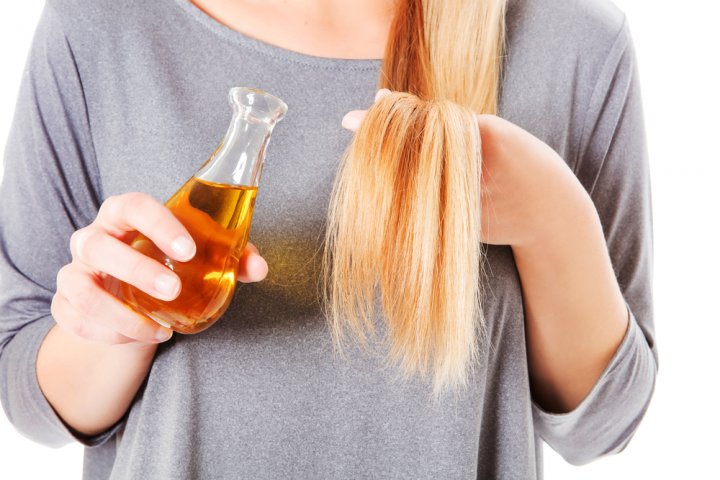 There are tons of different hair serums from various brands available in the market therefore it is important to choose the best one for your hair according to your hair type and its need. Hair serums can be used daily but it is not necessary to use them every day. According to experts it is said that hair serums should always be used in winters due to dry and harsh winds that damage the hair to a great extant. You should also use them if you like to take long swims in a swimming pool to protect your hair from the ill effects of chlorine.

If you still think that you can get by, by using hair oil then you need to know the difference between the two. Hair oil and serums feel and look a lot similar texture wise but are two totally different products. Hair oil is made to seep in past the hair cuticles into the cortex of the hair fiber to repair the damaged hair especially after coloring or styling whereas hair serum as used as a styling product, they protect the hair, give your hair an oil free glossy shine and reduces frizz thus making your hair look salon perfect.


The Benefits of Using Hair Serums and Some Tips to Get it Right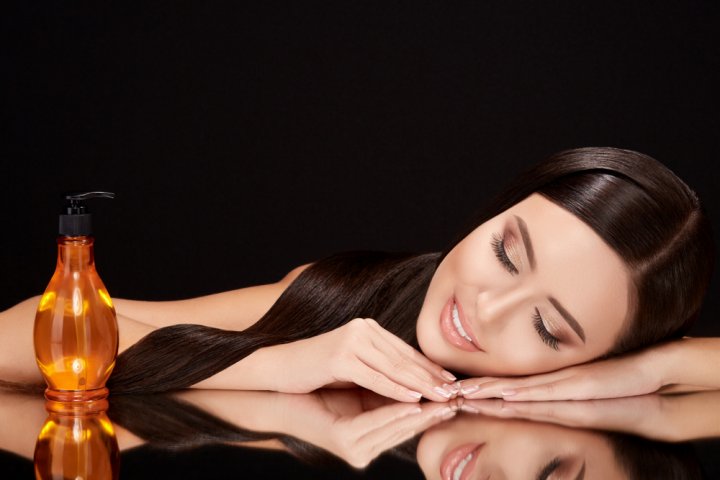 There are numerous benefits of using hair serum for your hair such as:
Using a hair serum makes your hair look perfect and feels very soft after each use. It makes your hair manageable and shiny.
Hair serums are made with components that fill in the follicular cracks of the hair shafts and make them stronger and prevents hair fall.
If you have dry hair, serums can be very helpful as it traps the moisture in the hair shafts and reduces dryness.
The protective layer made by a hair serum protects your hair from sun damage, pollutants and heat from the styling tools.
A hair serum can be very helpful for people who are busy like a bee and do not have too much time to take care of their hair. They can achieve salon perfect hair within minutes of applying it.
If you are a party goer then you will love using hair serums as they make your hair look gorgeous and silky making you the talk of the party because of your lustrous locks.
7. Hair serums are a blessing for curly and frizzy hair. They smooth out the frizz immediately and make them look ultra soft.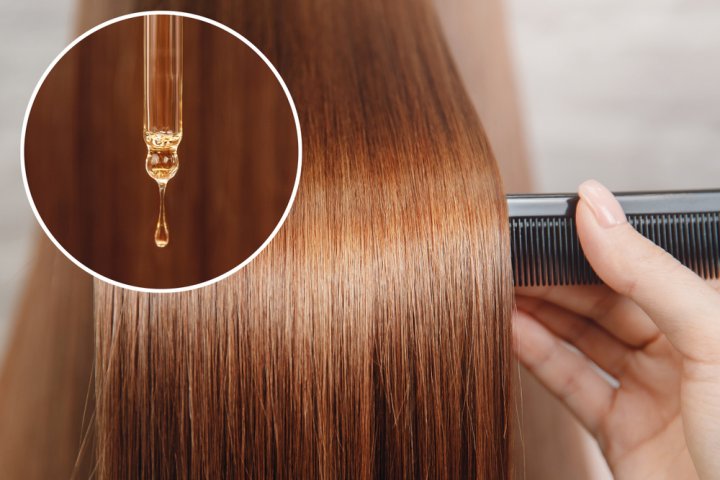 Here are a few tips on how to use a hair serum to get the desired look for your hair.
Always buy a branded hair serum even if they are expensive to save your hair from harsh chemicals and damage.
When applying it on the hair, do not rub it in. Simply take some and comb it through your hair gently.
If after using a hair serum you feel your hair getting drier than it is best to change the brand as all brands are not suitable for everyone.
Try not to use too much of hair serum as a little will do just fine. Also don't use it every day and if you do use less of it.
Make sure to apply hair serum on damp hair or towel dried hair but not wet hair.
Always use hair serums on clean shampooed hair for best results.
8 Homemade Hair Serums for Beautiful Hair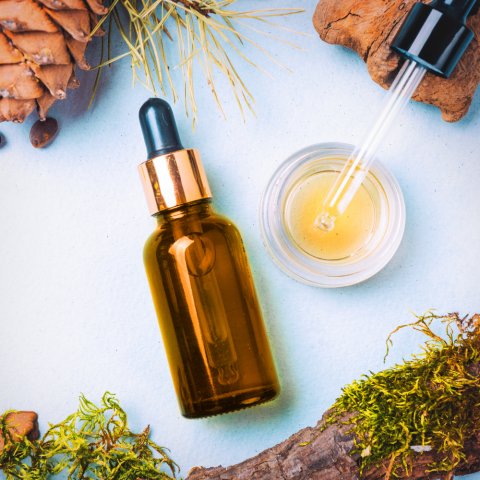 You can either buy some great hair serums from the market or make some effective hair serums at home easily. Here is a list of few hair serums you can make for yourself and pamper your hair.
Hair Smoothing Serum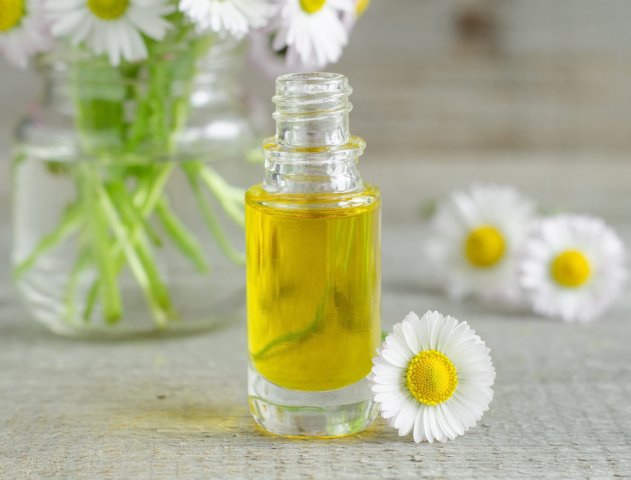 Curly hair is pretty and most of us want them but the people who have curly hair know that it comes with a lot of frizz. No matter how hard you try you end up with frizz after your hair dries up and this is when a hair serum can come in handy. Frizz also happens after coloring or using heated styling tools. Here is how you can make a hair serum for smoothening your hair.
Ingredients
1 tsp. Vegetable Glycerin
1 tsp. Argan Oil
10 drops Rosemary Essential Oil
10 drops Lavender Essential Oil
Tops off with Aloe Vera Gel
Method:
Take all the ingredient listed above and put them in a glass bottle and your done.
To use it shake it well before each use and take a small amount of it on your fingers.
Apply it on damp hair and brush them.
This hair serum is light therefore you can reapply it after a few hours without weighing down your hair.
You can also use it before or after using a curling iron or a hair straightener.
Homemade Hair Serum for Straightening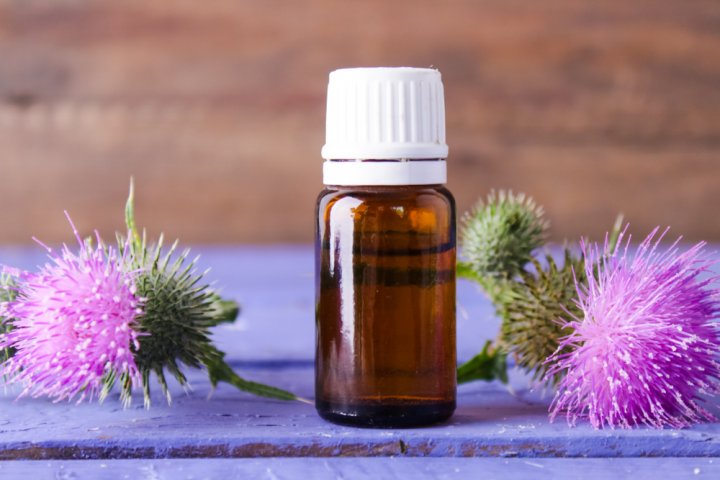 If you don't like the waves in your hair and want to sport straight hair, you can use a hair serum for that. By adding a few ingredients together can easily give you straighter and shinier hair in a jiffy. Here is how you make it.
Ingredients:
Coconut Oil (3 tablespoons)
Soy Oil (3 tablespoons)
Jojoba Oil (3 tablespoons)
Olive Oil (3 tablespoons)
Method:
Take a dark colored glass container and mix all the oils in it.
Before applying it keep the bottle in bowl of warm water to warm up the oils.
Apply this from roots to the end and brush your hair with a good brush.
Brush till you see all the hair falling straight on your shoulders without any waves.
You can now apply heat with a hair dryer.
Wash with a mild shampoo after half an hour.
You can also use this serum after hair wash each day by applying a few drops on damp hair.
Homemade Hair Serum for Hair Growth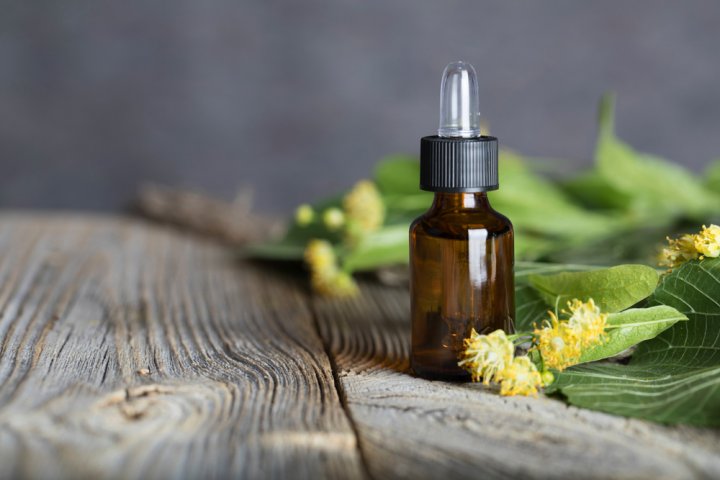 Most of us are worried if our hair is growing or not. Hair growth can be disturbed due to using chemicals or due to bad eating habits. You can now make a serum for boosting your hair growth significantly.
Ingredients:
Distilled water – 1 cup
Dried nettle leaf (boosts hair growth) – 2 tablespoons
Aloe vera gel (imparts shine) – 2 tablespoons
Clary sage essential oil (regulates scalp oil secretion) – 10 drops
Rosemary essential oil (boosts hair growth) – 10 drops
Lavender essential oil (prevents hair loss) – 10 drops
Method:
Take 2 tbs of dried nettle leaf and boil them in one cup of distilled water.
Let it sit for 10 minutes then strain it in a container.
Add 10 drops of aloe vera gel with rosemary, lavender and sage essential oil each in it.
Shake the bottle and put it in a dark colored spray bottle.
Spray it on your hair and the roots and scrunch your hair to distribute it.
You should use this serum once every day before bedtime and wash it out in the morning.
Keep this serum in the refrigerator for up to 3 to 4 months and use it when you want to.
Homemade Hair Serum for Frizz Control
Let us get rid of the frizz with this effective homemade serum. It is easy to make and an affordable way to keep your hair smooth and smelling great.
Ingredients:
2 tablespoons argan oil
1 tablespoon jojoba oil
5 drops rosemary essential oil
5 drops ylang ylang essential oil
2 drops lavender essential oil
Optional: 1⁄8 teaspoon sea buckthorn oil
Method:
Take all the ingredients and mix them well.
Pour it in a glass bottle with an eyedropper.
You can use this serum on damp hair after you shampoo to keep your hair frizz free and smooth.
Nourishing Rosemary Hair Serum
If you hate your dry and damaged hair and have tried everything under the sun to bring the life back into it then you need to try out this great Rosemary hair serum. This serum provides the much needed nourishment to your hair and makes it look brighter and healthier. It will repair your damaged hair as well. Simply out of it on your fingers and apply it to the ends of the hair and till halfway up the length or your hair. Do not use it on the roots unless your hair is super dry. You will love the results this serum will yield.
Ingredients:
6 drops lavender essential oil
6 drops rosemary essential oil
4 drops sandalwood essential oil
1 tablespoon jojoba oil
1 tablespoon argan oil
Method:
Take the oils and the essential oils and put in a glass bottle with a dropper.
Shake it well for it to mix properly and you are done.
It is a good serum to massage your scalp weekly.
Simply apply it into the roots and massage with your fingertips.
Apply it at the end of the hair to stop split ends and leave it overnight.
Wash it off the next day.
You can also add a tsp of baking soda if you feel the serum is not rinsing off easily.
Herbal Hair Serum for Silky Soft Hair
We all want soft and silky hair each day to look our best and the best part is that you don't have to use chemicals or go to a saloon for that. You can use this effective herbal hair serum and get silky hair right at home. This is an all natural serum that does not damage your hair at all and is easy to make.
Ingredients:
3 tablespoons jojoba oil (about 1.5 oz)
1 tablespoon argan oil (about 0.5 oz)
25 drops vitamin E oil
A pinch of dried rose petals
10-15 drops rosemary essential oil
Approximately 0.5-1 tablespoon dried gotu kola
Approximately 0.5-1 tablespoon dried Calendula
Method:
Take dried gotu kola and Calendula in a heatproof glass jar.
Add enough jojoba oil to cover the herbs and put the lid on.
Now take a kitchen towel and put it in the bottom of the crockpot to avoid the glass jar heating up to quickly.
Place your glass jar on the towel and fill the crockpot with water halfway. You can put some weight on the jar to prevent it from floating in the water.
Place it on low setting and let it sit for around 10 hours. Make sure the temperature does not go over 140 degrees.
Turn the heat off and let the jar come back to room temperature.
Strain it and pour the oil in a glass bottle.
Add Vitamin E oil, rosemary essential oil, dried rose petals and fill the bottle with argan oil.
Take 5 to 10 drops of the serum in your hands and apply it on damp hair or even or dry hair.
Apply it 2 inches away for the roots and you'll get soft and silky hair immediately.
Hair Serum with Essential Oils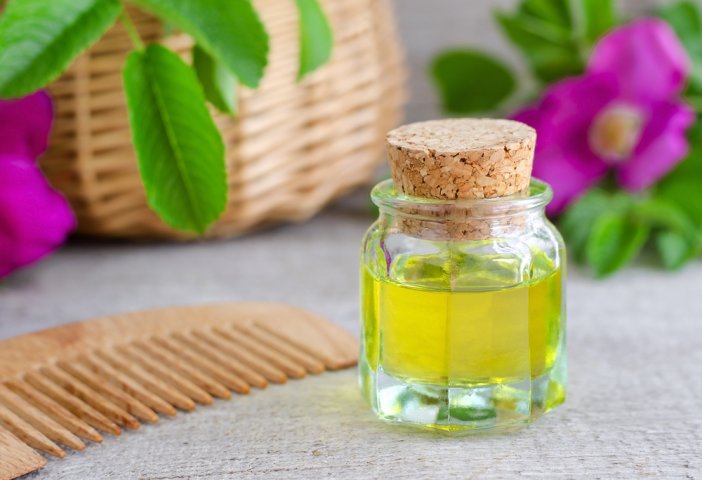 If you love essential oils you will love this serum.
Ingredients:
1 tbsp jojoba oil
1 tsp Castor oil
8-10 drops of lavender essential oil
5 drops of rose water
A spray bottle
Method:
Take a bowl and put in jojoba oil, castor oil and a few drop of rose water.
Add a few drops of essential oil and mix.
Pour the mixture in a spray bottle and keep in the fridge for 24 hours.
Spray the serum on your hair before you go out for great looking hair.
Home Serum for Dry Hair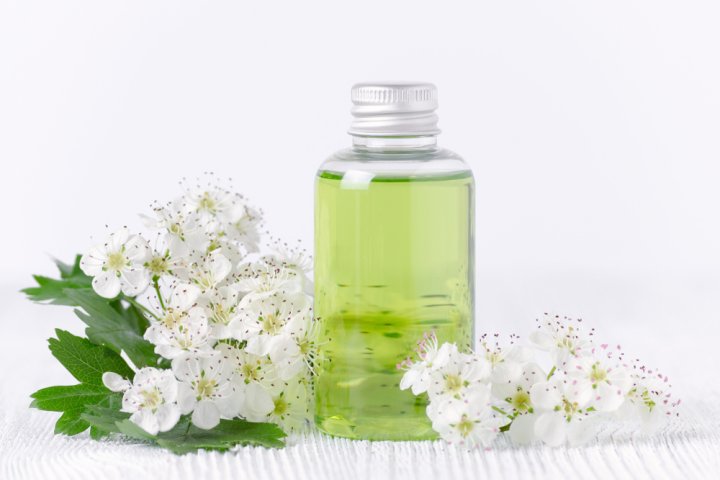 Here is another great serum for dry hair.
Ingredients:
Castor oil (nourishes hair follicles) – 1 tablespoon
Avocado oil (unclogs hair follicles) – 2 tablespoons
Sweet almond oil (prevent hair loss) – 6 tablespoons (about ⅓ cup)
Lavender essential oil (prevent hair loss) – 8 drops
Sandalwood essential oil (soothes scalp) – 7 drops
Method:
Take 6 tbs of sweet almond oil in a bowl.
Add 1 tbs of castor oil and 2 tbs of avocado oil in it.
Add 8 drops of lavender essential oil, 7 drops of sandalwood essential oil and blend it with a hand blender.
Pour it in a dark bottle.
To use it apply it to shampooed and damp hair and use it as a leave in conditioner to keep your hair moisturized.
From our editorial team
The Stunning Ability of a Homemade Hair Serum
Taking care of the hair is not all it does. With a homemade hair serum, one gets to figure out what makes their hair grow, dry or frizzy. With this knowledge, one is thus best suited to make a hair serum that works best on their hair. Moreover, above are some outstanding tips to help out when making homemade hair serums.