North India - Pure Delight for Travellers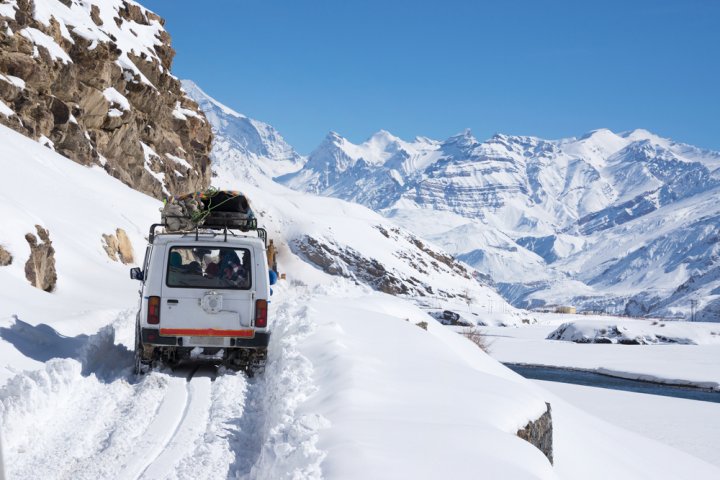 North India, with its picturesque delights, is flanked by mountains and mythology. While the Himalayas stand tall, giving way to a scenery one hardly forgets, the chants at Mathura and Haridwar is enough to dissolve all your worldly troubles in an evening. For the travellers who flock to North India, it is a delightful journey to a beautiful destination. No wonder that people from all parts of the country and from beyond our boundaries travel to North India to take in a little bit of nature and a little bit of the Holy Spirit.
Top 8 Refreshing Holiday Destinations in North India
Travelling to North India is easy but figuring out the places you want to explore can be a little complicated. North India is a beautiful region, and you will want to capture as much as possible before saying goodbye to it. However, that can make the trip a lot less enjoyable given that it will end up being tiring instead of being delightful. If you are planning a trip to North India and do not know where to go, then you are in luck today. We have put forth eight destinations that you must visit while you are in North India.
1. Dharamshala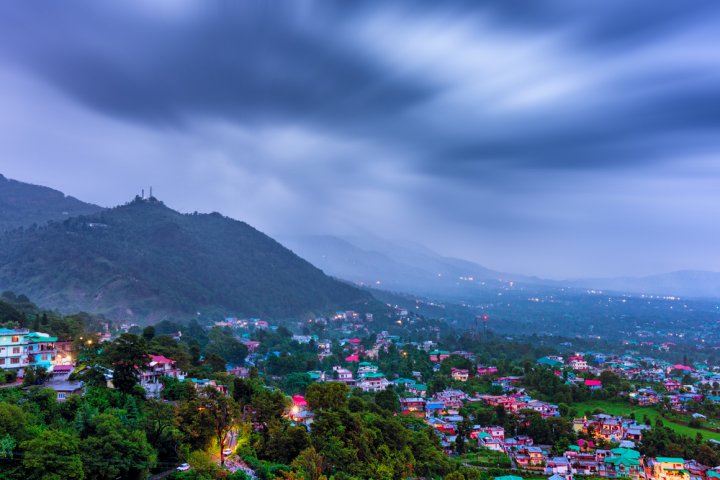 Dharamshala offers you everything that is needed for a good trip, not just scenically but also spiritually. Dharamshala, a small hill station in North India, is the abode to his holiness, Dalai Lama. Surrounded in abundance with tall, green deodar trees, Dharamshala, which was once known as Bhagsu, is home to a variety of birds ranging from terns to various Siberian birds. It is a real paradise for travel enthusiasts and bird watchers.

Apart from the scenic beauty of Dharamshala, there are sites that tourists can explore. These include the Dal Lake, Kangra Fort, Tsuglagkhang complex, and Naddi village. Another place that tourists cannot miss is Mcleodganj. It is a 9 km trek uphill, or tourists can book a car. You can take a flight to Gaggal Airport, which is about 18 km away from Mcleodganj. Or you can take a train to Pathankot junction, which is 90 km away from Mcleodganj. One can also take a bus to Dharamshala.
2. Dalhousie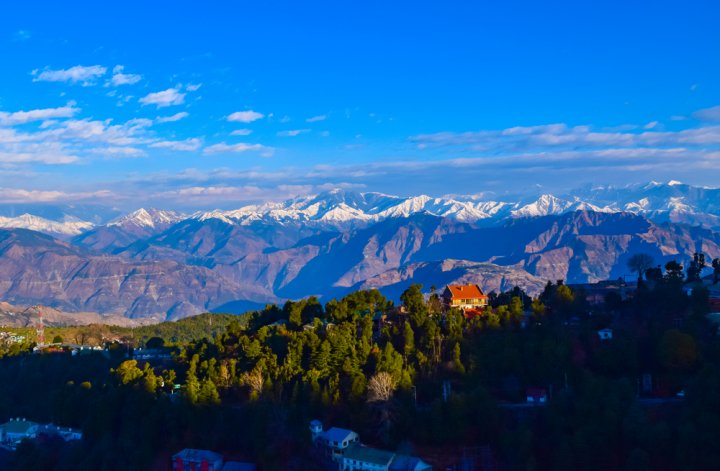 A place decorated in green and white, Dalhousie is a quiet hill station in the lap of the Himalayas. Nestled snugly are its valleys teeming with life. The serenity and silence of this destination make it a perfect getaway for tourists looking to spend a few days in the arms of mother nature. If quiet is what you crave for, then Dalhousie is the place for you. It is considered to be a major attraction for honeymooners, photographers and tourists travelling alone.

If you are planning a trip to Dalhousie, then there are a few places that you must visit. There are Chamba and Khajjar and Daikund Peak that will mesmerise you. Then there is Kalatop Wild Reserve housing birds and animals. Apart from these, there are places like Panchpula and St. Francis Catholic Church. Wondering how to reach Dalhousie? Take a flight or a train to Pathankot. Pathankot is 80 km away from Dalhousie.
3. Nainital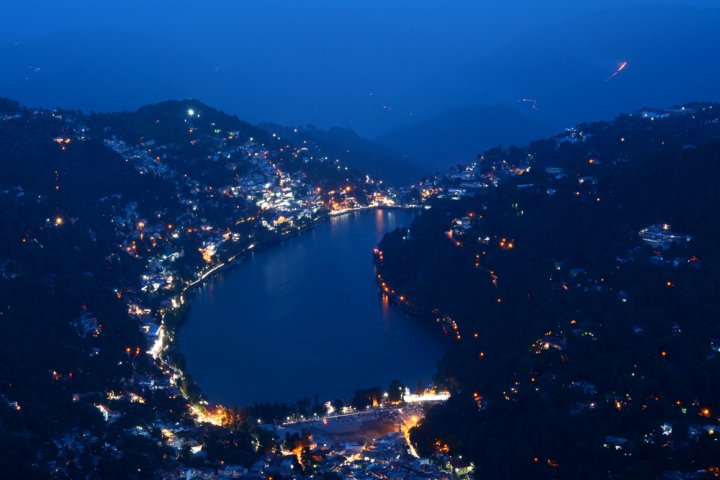 Nainital is the perfect blend of serenity and life. This city is bustling with people on the one hand and calm and silent on the other. Set along the banks of the beautiful, Naini Lake, Nainital is home to beautiful maple trees that adorn the city in Autumn colours. People of all kinds frequently visit it. You will find the younger generation flanking the streets with a cups of buttered corn in one hand and shopping bags in another; then there are the devotees who come to worship at the Naina Devi temple. In abundance are the photographers looking to take back memories captured in their cameras. Nainital brings you everything that a holiday destination is supposed to. It will make you forget the stress of the metropolitans in a flash!

The Naina Peak, Snow View Point and Tiffin Top are a few other places that Nainital is famous for. Although Nainital has no airports, it is very close to Delhi, is situated only 8 km from there. If you wish to take a train, you need to reach Kathgodam which is 34 km away from Nainital.
4. Varanasi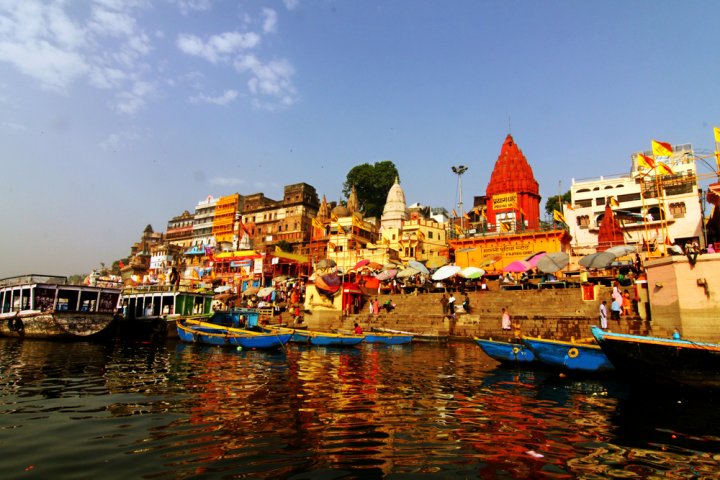 Varanasi is the place of holy devotion and spirituality with the dominating deity being Lord Shiva. A visit to Varanasi shows you the congruence between life and death. With its ghats famous for being cremation areas, Varanasi will make you realise how thin the line between life and death is. The river Ganges is considered as the holy mother where all living beings dissolve after their purpose in life is solved. An evening at one of these burning ghats will soothe your heart to think that the soul and the divine spirit will unite one day. The aarti in the evening at the banks of the river Ganges is a sight to behold.

Places like Dashashwamedh Ghat is rumoured to always have at least one pyre burning at all times. Vishwanath temple is another attraction here. Reaching Varanasi is simple given the airport and railway station that it has.
5. Mathura & Vrindavan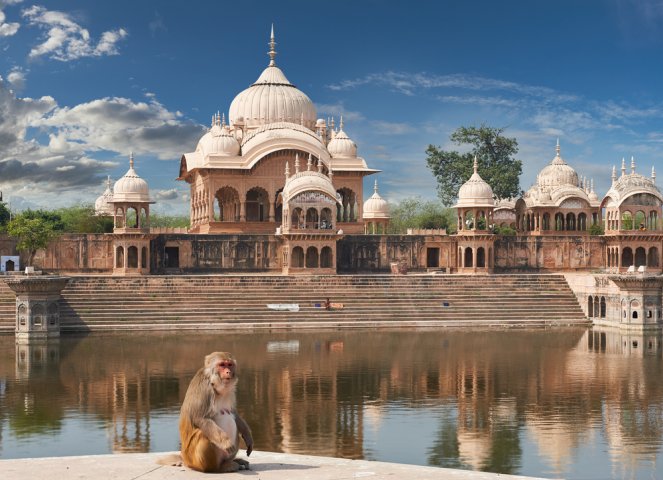 While Varanasi was the abode to Lord Shiva, Mathura is considered to be the home to Lord Krishna. It is, in fact, his birthplace while Vrindavan is where he spent his early years. Both these places are considered holy by Krishna devotees. Millions of people visit every year to breathe in the same air as Krishna once did. Spending a few days in the city of the Lord is a soothing experience for many. Mathura and Vrindavan are considered to be of historical importance to historians who study mythology and spiritual concepts.

The places of interest for the tourists are almost all related to Krishna. There is Krishna Janma Bhoomi that is in Mathura and is considered to be the place where Krishna was born. The other areas are the Dwarkadish temple, Bankey Bihari Temple, and Keshi Ghat. Both Mathura and Vrindavan are easy to reach from Delhi. Tourists can go there via road, or they can take a train.
6. Kasol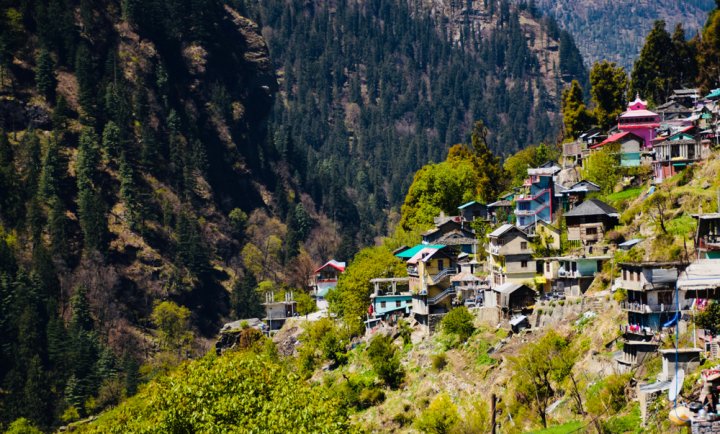 Kasol is a hill station with a picturesque postcard landscape. To be taken in under the wings of commercial tourist attractions, Nature here remains untouched and unpolluted. Tall, lush green trees line the high rising mountains here as the snake of the river through the valleys. Nestled in the Himalayas, this is a destination for those who look forward to escaping the hustle and bustle of the metropolitans.

Since this place is yet to develop into a tourist attraction, the things that one can do here are trekking, camping and exploring the local culture. For travel enthusiasts, this is one of the best places to visit. To reach Kasol, one has to travel via Bhuntar. It is 42 km away from Bhuntar airport. One can also reach Kasol via the road connecting Bhuntar and Kasol.
7. Amritsar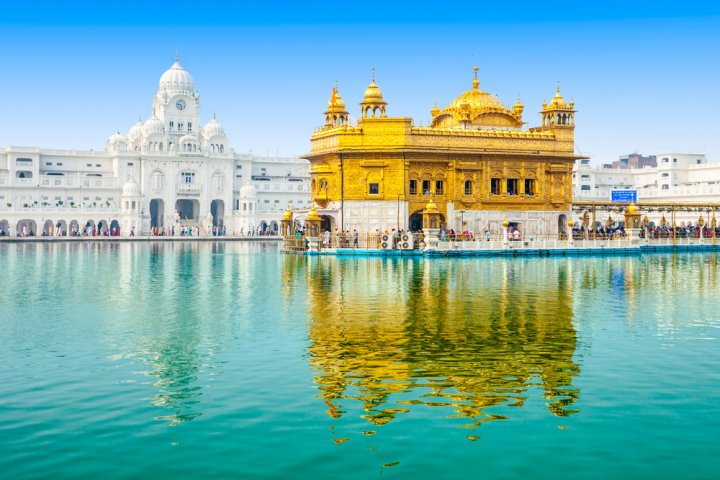 Amritsar is a beautiful combination of religion and history. The Golden Temple is the highlight of the place. The holy temple of the Sikhs, the Golden Temple as its name suggests is made of gold. It is surrounded by water on three sides and at night, cast golden shadows on the same waters creating a magical web of beauty. Tourists from all around the world flock to Amritsar to behold the glory of the Golden Temple.

The city also has a lot to offer apart from the temple. Jallianwala Bagh, the famous garden that stands as a witness to the Jallianwala Bagh massacre, is yet another destination to visit. It was here, at this very garden, that the British killed hundreds of Indian freedom fighters during a peaceful meeting. Not far away is the Wagah Border, one of the most critical borders between India and Pakistan. Every evening, the soldiers of both countries put up a show commencing with a parade for the audience. It is an exhilarating experience.

Reaching Amritsar is fairly easy as it has both an airport and a railway station. Road connectivity from New Delhi is also excellent.
8. Lucknow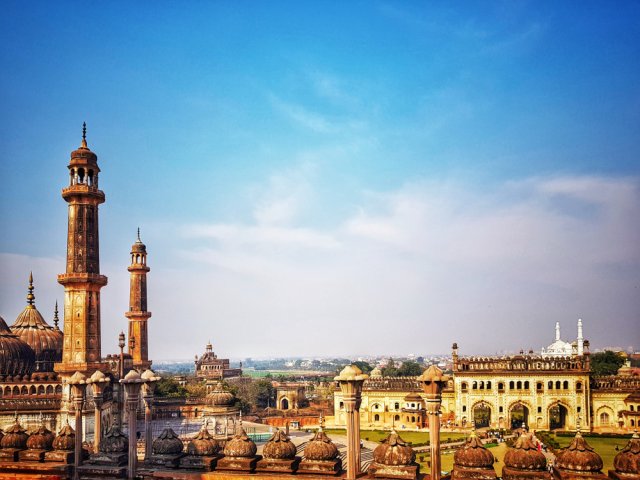 Lucknow is the city of all things royal. Lucknow was the home to the Nawabs, and without a doubt, it was made to suit the magnanimous personalities of the royal blood. Although monarchy has long been discarded and the descendants of the Nawabs have been given the title without any powers, Lucknow has managed to retain the charm of the rulers. Lucknow is the hub of explorations. It is not just flanked by tourists, but also historians and enthusiasts who wish to study the culture of Lucknow.

Apart from the various princely edifices dominating over Lucknow, there is the food that wins hearts. If you are a fan of Awadhi cuisine, then Lucknow will feel like home to you. If you are in Lucknow, you must visit the Imambara, Rumi Darwaza and the Residency. It also has excellent connectivity, which makes it easier for tourists to reach there. It has its airport and its railway station.
Top 3 Tips for Travellers on a Budget
A lot of people perceive North India to be costly when it comes to travelling. However, this is far from the truth. You can make your holiday in this part of the country extremely affordable and enjoyable at the same time by taking a little effort. Read below the top 3 tips to have a fantastic holiday in North India on a budget.
1. Make Use of the Extensive Railway Network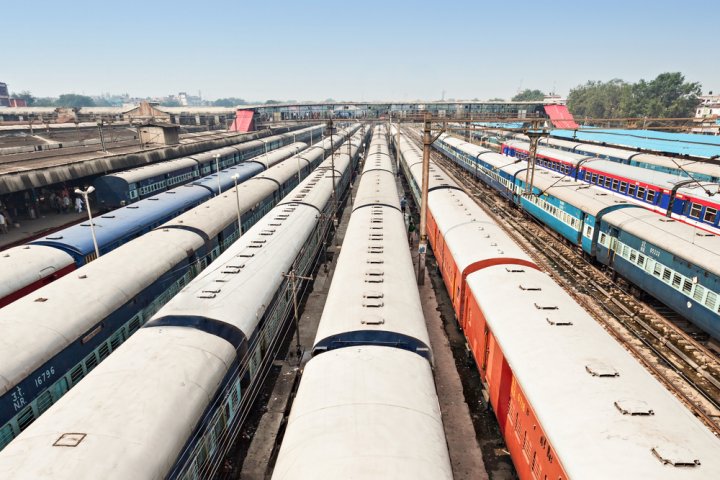 Although the rail network all across India is pretty good, however, when it comes to North India, it is excellent. You can find connections between all the places mentioned on the list and travel by train quickly and affordably. From AC to Non-AC coaches, there are various affordable options to travel across the region. Book your rail tickets in advance and make your trip more affordable. If you are taking a connecting train, then you can also make use of the resting rooms or lounge services on some of the major railway stations. They are very affordable and don't cost so much as compared to booking a hotel for the night.
2. Book Yourself a Rest House Instead of a Hotel
If you are travelling on a budget, then find good rest houses or commonly known as 'dharamshalas' in the area. These have basic amenities, and some also have AC rooms and restaurants. They are also safe and secure accommodation options and, the best part is that they are also very affordable. You can get a double-bed room in a dharamshala for about Rs. 400 to Rs. 500. If you are travelling to Varanasi, Mathura, Vrindavan or Amritsar, you will be spoilt with choices when it comes to selecting a good and affordable dharamshala.
3. Find Delicious Food for Affordable Rates at Dhabas
The dhaba culture is something which is typically associated with North India and, for good reasons. You can get delicious, authentic and very affordable food at these dhabas which are found in abundance in this part of the country. They are usually small and sometimes large establishments serving good quality, hygienic food at great prices. You are also sure to be in awe of the welcoming way in which they serve. It adds up to the complete dining experience. A square meal in a dhaba for one person would cost about 100 – 120 Rupees only.
From our editorial team
Northern India Has a Lot to Offer to Travellers
It's said that approx every 25 km, the language of people changes in India. With such vast cultural diversity, you're sure not to get bored travelling around this mesmerizing country! Northern India has everything a traveller seeks, from snow-covered mountains to historical forts. These places are some of the best places to be visited in north India which would not only ensure a fantastic travelling experience but also will make you rich with such exquisite culture.