Things to Keep in Mind Before Deciding on a Gift
Before you set out to do your shopping for Gruha Pravesam return gifts, make sure that you keep a few important things in mind.
Plan and Organise in Advance
A Gruhapravesam is a significant household event. Therefore it needs to be planned and organised well in advance. There is a lot to do with making a list of people to invite, giving out the invitations and also planning a return gift for them.

Giving return gifts is not a compulsory part of the rituals. But it definitely is a nice gesture on the part of the host. Plan your guest list before setting out to buy your gifts. Do a headcount of all the people who will be attending and buy the presents well in advance so that you don't face any issues due to out of stock products. Buy separate gifts for people belonging to different age groups. The elders of the family will not have the same taste as the people belonging to a younger generation such as your friends.
Set a Budget
Deciding on and sticking to a budget is one of the most important things to do. Considering the fact that you have bought a new house, you will have a lot of other vital expenses to make. The smart thing to do would be to decide on an expenditure limit and then search the gifts accordingly.

Keep, an eye out for discounts both in stores and online. If you are buying gifts for a large number of guests then you could visit a wholesaler. You can save a lot of money that way. Also, consider the cost of gift packaging. A nicely wrapped gift creates a good impression on your guests and makes the gesture look sincere and heartfelt. Don't go overboard with the wrapping of gifts but make sure that they look nice and presentable.
Choose Useful Gifts
Try to choose useful and practical gifts. Avoid gifts which have the potential to be re-gifted. People appreciate utility items which can be used on a daily basis and the best part is that they will always remember you while using them.

You could opt for a coffee mug or a set of spoons. If everything fails then present your guests with boxes of chocolates. They will definitely appreciate and savor it. Avoid gifting useless and common gifts like showpieces or wall hangings.
How to Plan a Gruha Pravesam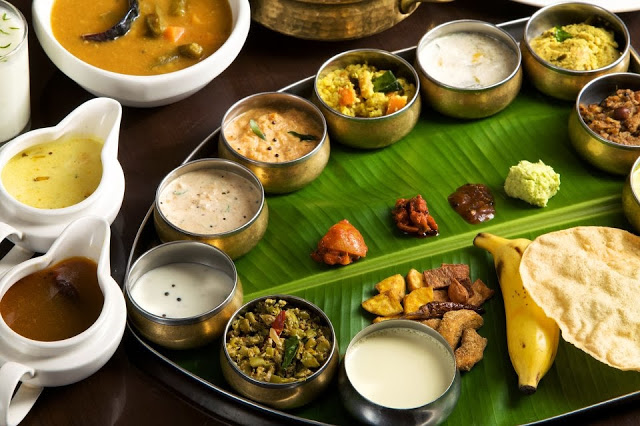 Planning a Gruh Pravesam can seem like an uphill task, but actually, it's not. With a little bit of careful planning and organisation, you can plan a successful Gruha Pravesham without undergoing an insane amount of stress. The first task would be to make a list of people you would want to invite. Call them individually instead of emailing or sending an invitation over social media. It's a personal gesture. that people greatly appreciate.

Next, decide on the food. An important element of a successful party is good food. In fact, most of the time a lot of people only show up for the food. Decide the menu in keeping with the time of the event. Are you hosting it in the morning, evening or at night? Plan your menu accordingly and discuss with the caterer.

Do not hesitate to ask for help from your parents or friends. You will definitely need a helping hand to attend the guests and keep them engaged. Decorate your house with traditional elements like a rangoli or flowers at the entrance. It looks welcoming and creates a festive ambiance.
10 Thoughtful Gift Ideas for Gruha Pravesam
Ganesha idol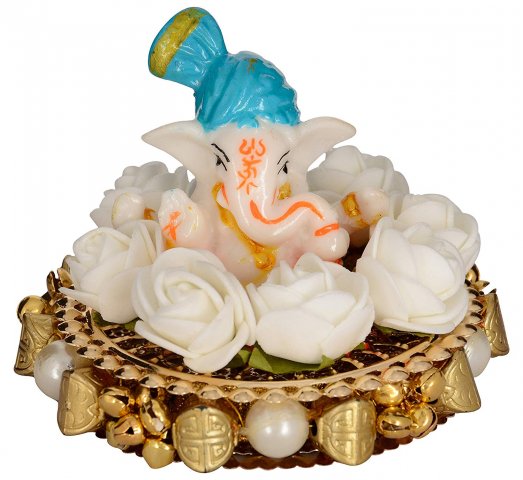 You could consider gifting a Ganesha idol. Lord Ganesha is considered a symbol of good luck, prosperity, and success. Pick the One Roof Store Microfiber Lord Ganesha Idol from Amazon.in. The brightly coloured idol is made from microfiber and has the dimensions of 10.3X10 cmX10 cm. The product is priced at Rs.299. This will make the perfect gift for the elderly guests.
Pooja Thali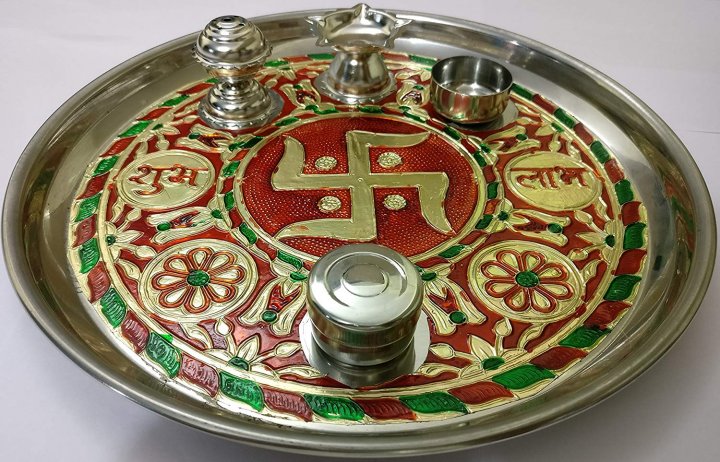 A simple and attractive Pooja Thali from amazon.com is a great gift. These items are normally used during religious rituals. This set contains an aggarbatti stand, diva batti stand, kumkum dibbi and one open dibbi with the pooja thali.

The stainless steel thali is round in shape and measures 25 cmX25 cm in diameter. The colour of the thali is silver. It is priced at Rs.299 on Amazon.in.
Artistic Handicrafts Brass Bowl, Spoon and Tray Set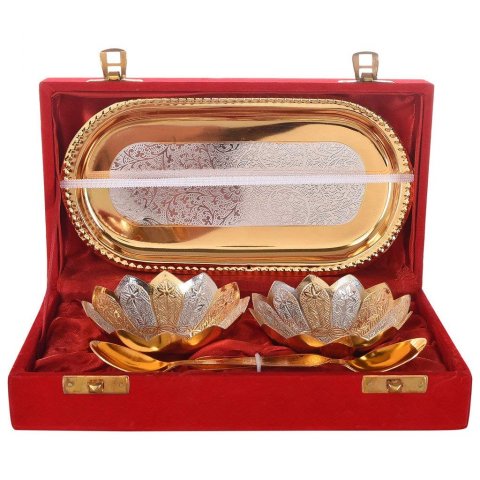 Artistic Handicrafts Brass Bowl, Spoon & Tray Set, from Amazon.in, is another great gift option. These kinds of valuable gifts are commonly given during the occasion of Gruha Pravesam as a symbol of good luck.

This five-piece set is made of brass and is silver in colour. The package contains one tray, two bowls, and two spoons. The bowl has a capacity of 150 ml. It is priced at Rs.283.

Borosil Akhand Diya (Medium, Brass)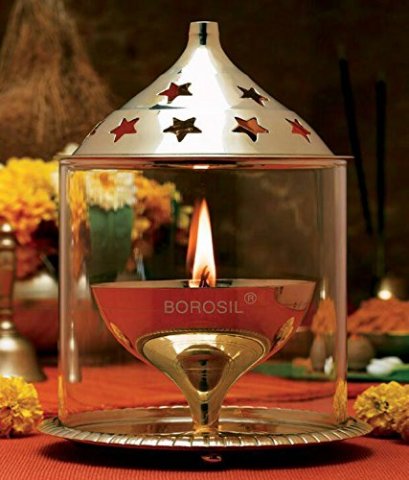 Borosil Akhand Diya from amazon.com is a beautiful and useful gift. It can be used for special Puja rituals and also on a daily basis.
The multicolour diya is constructed of mixed materials. it measures around 9.8 cmX9.8 cmX13.6 cm. It is heat resistant i.e. the outer body does not get hot even after burning for long hours. To clean it you just have to wipe it with a soft dry cloth. It is safer than openly flamed diyas and brighter too. This product is priced at Rs.449 on Amazon.in

Juice Glass Set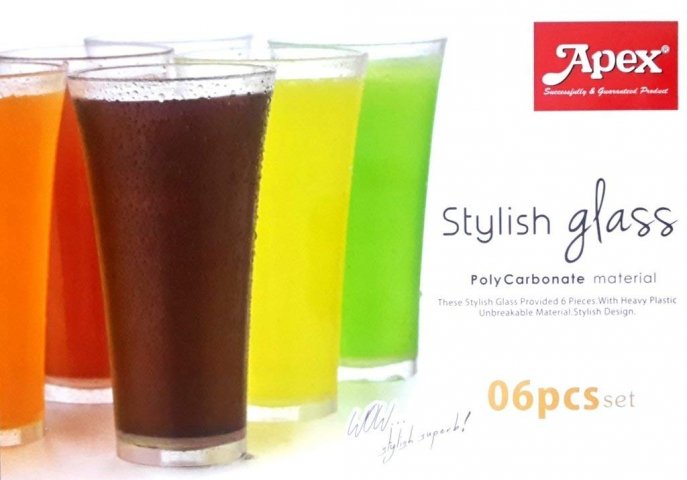 People are always in need of some extra crockery which makes the Apex 6 Pcs. Unbreakable Stylish Transparent Glass Set from Amazon.in a very useful gift. You can gift this set to your office colleagues and/or business associates. These unbreakable glasses are made of polycarbonate and are dishwasher safe. The set is priced at Rs.298.

JaipurCrafts Beautiful Mor Pankhi Wooden Key Holder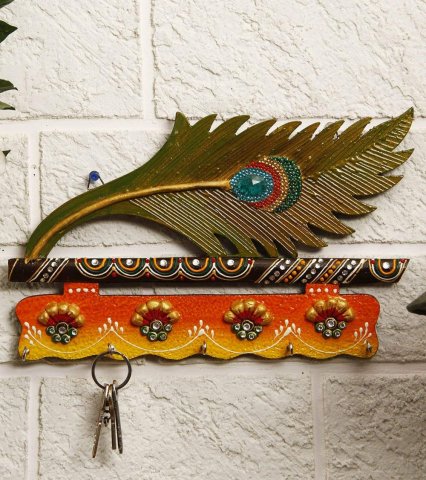 JaipurCrafts Beautiful Mor Pankhi Wooden Key Holder from Amazon.in is a great gift. It is both a beautiful home decor piece and a utility item. It's an appropriate gift for people of all age groups.

The product dimensions are 22.86 cm x 2.54 cm x 15.24 cm. The primary material used in the making of this is high-quality peacock shaped key holder is wood and papier mache. The item is priced at Rs.299.

Sri Jagdamba Pearls Laxmi Silver Coin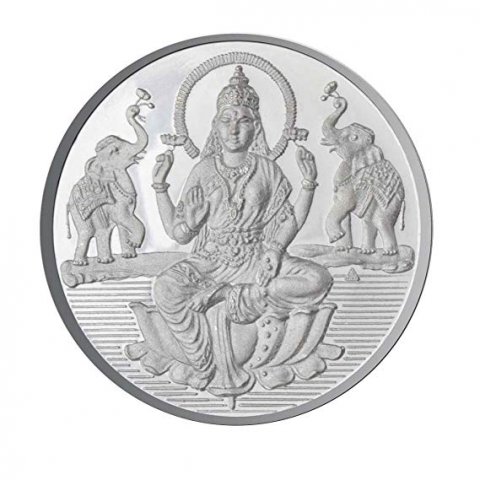 Silver coins are considered a symbol of good luck and prosperity which makes Sri Jagdamba Pearls Laxmi Silver Coin from Amazon.in is a great gift option. It is one of the best ways to thank your guests for attending your ceremony and celebrating your achievements. The coin is made of 90 per cent pure silver and weighs around five grams. It is priced at Rs.399.

Cadbury Chocolate Hamper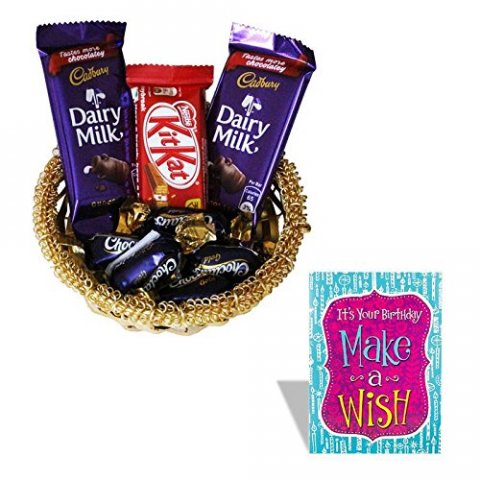 Chocolates are suitable gifs for almost any occasion and also for people of any age group. There are chocolate gifts suited to various budgets and they come in different sizes as well.
We recommend the Cadbury Chocolate Hamper from Amazon.in. It contains assorted chocolates from Nestle and Cadbury's and weighs around 499 gm. The hamper is priced at Rs.259. The products are a completely vegetarian.

Hand Blender Mixer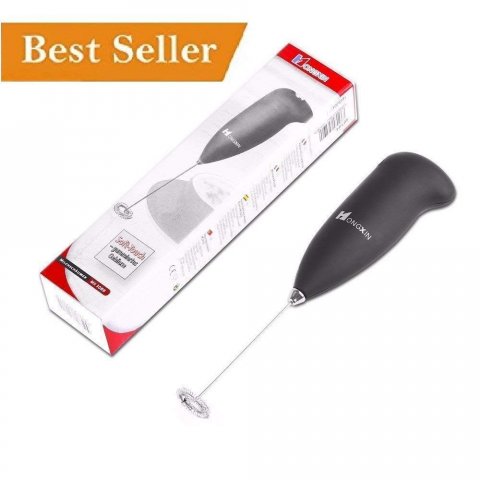 A utility item for the home is always greatly appreciated as a gift. The Easezap Hand Blender & Mixer from amazon.com is a perfect choice. This handheld blender is best for whisking and blending different beverages such as buttermilk, coffee, milkshakes and more. Made of stainless steel and plastic, this highly useful product is priced at Rs.179. You can buy it on Amazon.in.

Coffee Mug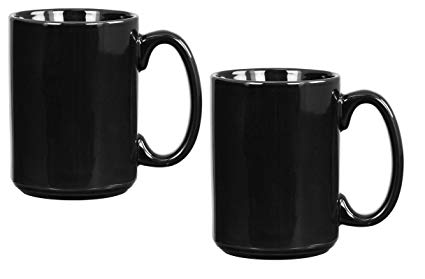 The Kittens Black Matt Finish Multicolor Large Coffee Mugs from amazon.in is an item which will definitely come in useful around the house. These coffee mugs come in sets of two and are made from food-grade ceramic. These are microwave, freezer, and dishwasher safe. these black coloured mugs are not only useful but also look great! They have a capacity of 275 ml and are priced at Rs.270. You could gift it as a set or as single pieces if you are a bit tight on budget.

Stay Within the Budget and Avoid Expensive Gifts
Buying a home comes with a lot of associated expenses. Therefore spend wisely on your Gruha Pravesh ceremony. There is no need to splurge on expensive gifts. Set a budget from the beginning and stick to it. Explore various options before you decide on a particular gift. be on the lookout for deals and discounts. It is always a good idea to save as much money as possible.

If you have time on your hands then you could go for inexpensive DIY gifts. If you are good at creating crafts or are a gifted baker, then you could consider making your own gifts. Look online for ideas. Personalised and handmade stuff do carry a special charm. Wrap up your gifts in eco-friendly paper bags instead of using plastic or synthetic wrappings. Your guests will be impressed beyond words.
From our editorial team
Buy Gifts According to the Age and Sensibilities of Guests
A house warming ceremony usually involves family with perhaps a few people who are part of your inner circle attending the event. Keep in mind the sensibilities of the people coming to the puja, if need be buy different return gifts for different age groups. Unless you have a very large gruha pravesam with lots of people attending, gifts can reflect the intimate nature of the gathering.